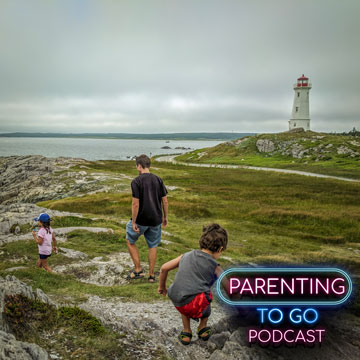 Travel and Leisure Magazine calls Cape Breton Island the best island in Canada, the third best in the world in fact. A photographer's dream, a seafood lover's delight, and hiker's paradise, the island is a great vacation destination for the whole family. Listen up if you're looking for things to do in Cape Breton with kids.
Being from the island, I had to leave my homeland to truly appreciate its beauty, but we make sure to return home often. Over two weeks in August, we decided to explore all of the areas that I had never thought to visit as a resident but have kept tourists coming back for decades.
On this week's episode of Parenting to Go, we discuss our adventures in Cape Breton, starting with a trip to the Cape Breton Highlands (2:02), where we explored the beaches and restaurants of Ingonish before driving the Northernmost section of the Cabot Trail to Pleasant Bay. There we found the Gampo Abbey Buddhist monastery, located in a stunningly beautiful section of the coast.
From the Highlands, our family visited Baddeck (13:25) and many of the attractions in and around the town, including the Alexander Graham Bell Museum and Big Spruce Brewing.
During our stay in Sydney, we explored a number of the attractions near the city, making stops at the Glace Bay Miner's Museum (23:41) to explore the coal mine, in Louisburg for a walk along the picturesque Lighthouse Trail, and in Big Pond along the Bras D'Or Lake (30:55).
To close out the show, Yashy provides some details on the Two Rivers Wildlife park (32:48), where we encountered a moose and several other animals indigenous to the island. Lastly, we provide some tips on what to do in Sydney, where my parents still reside.