A family trip to Les Îles de la Madeleine (also known as Magdalen Islands) had been on my Canadian bucket list for years. This past August, amidst a pandemic, that wish to explore these Quebec islands came true. If you're looking for a unique Canadian destination for your next family vacation, I have all the deets you need to explore Les Iles de la Madeleine with kids in tow. We joined my friend Solmaz, from The Curious Creature, and her family on this trip so we were four adults and three kids under 10 years of age. Not once were we bored and it was pure joy to experience the wonders of red cliffs, rolling green meadows, pristine beaches and tantalizing local fare. If you're looking to stay in Canada whilst escaping the hectic city life and embracing nature in all her glory whilst stuffing your face with the freshest seafood, look towards the magnificent Magdalen Islands. We loved our week long visit so much that we're already planning a return trip with the grandparents because there's still plenty of things do on the Magdalen Islands for us! While this blog post is FILLED with loads of tips to help you plan your Magdalen Islands itinerary, if you want to SEE what it was like, my live shares are saved on an Instagram highlight.
Disclosure : This post is in partnership with Quebec Maritime but, as always, opinions are TOTALLY ours! During these times, please follow all safety protocols in place during your travels and do not travel if you're unwell.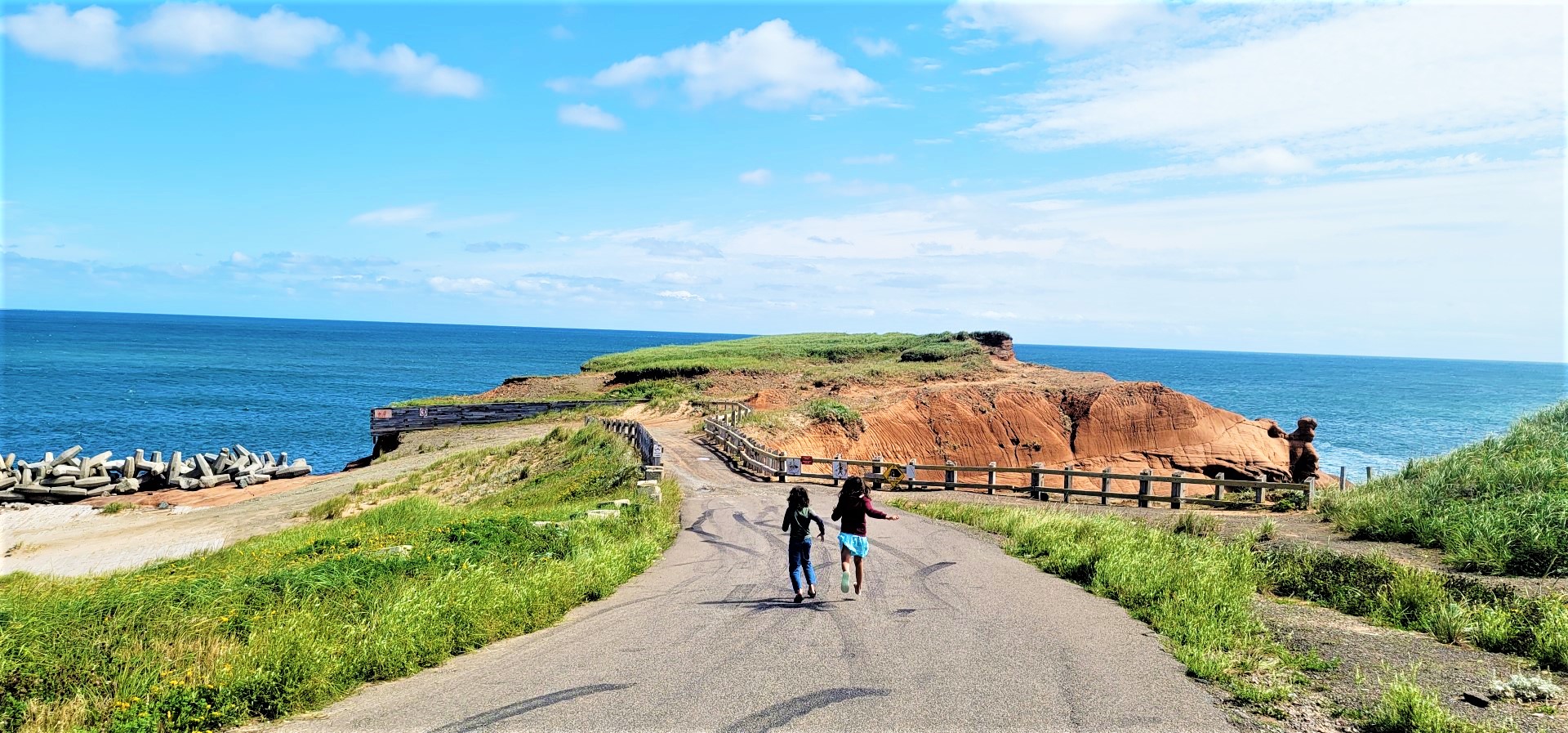 We explored Les Îles de la Madelaine with kids in the midst of a pandemic and felt completely safe as the community has maintained very low COVID-19 numbers. It was our mission to ensure that we followed all protocols and did our best to be responsible travelers who kept the safety of the locals in mind during this Canadian vacation. Masks are mandatory indoors with the exception of indoor dining establishments once you're seated at your table. Also keep in mind that proof of vaccination is also now required on Magdalen Islands.
Where are the Magdalen Islands?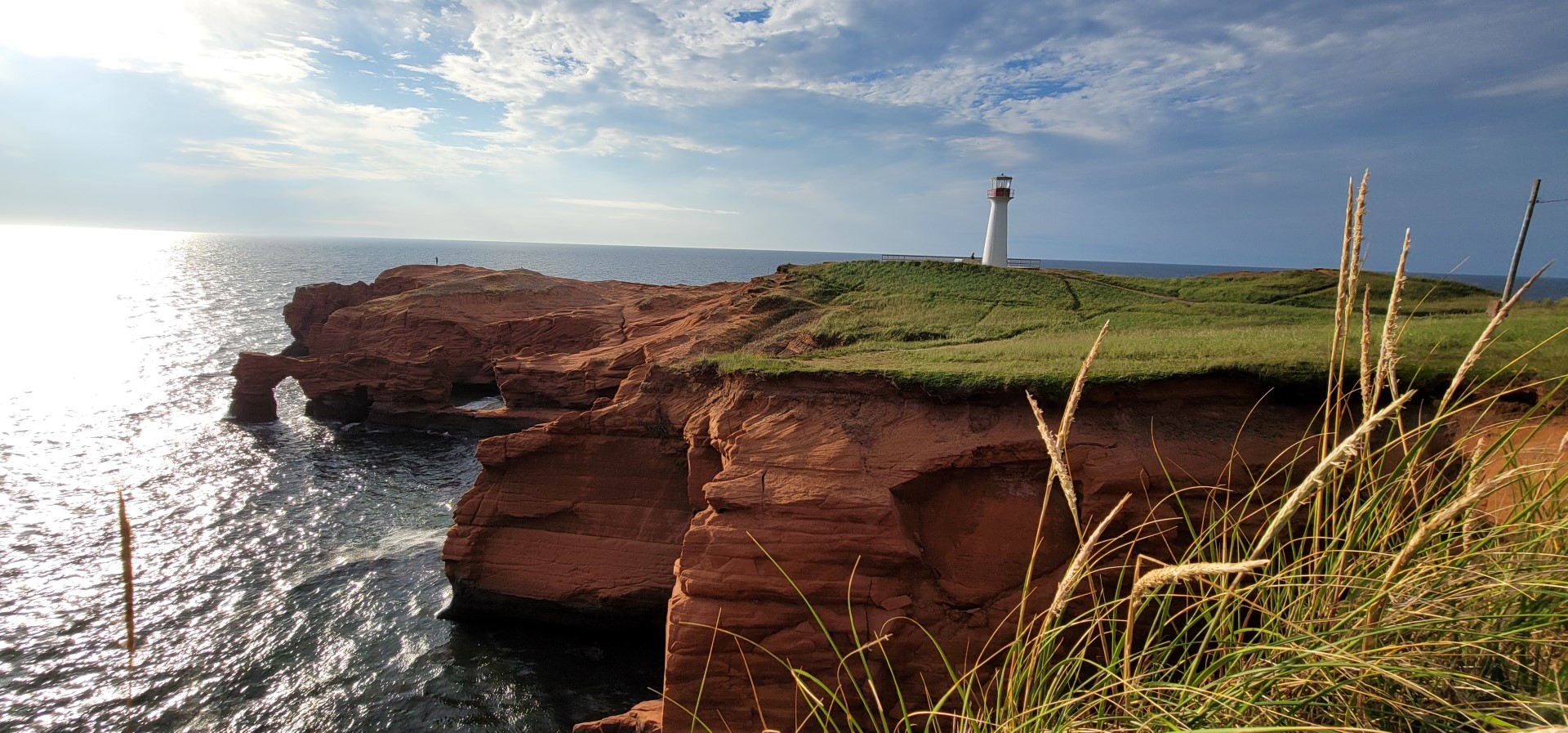 This archipelago, in the middle of the Gulf of St. Lawrence, is part of the Maritime region of Quebec and closer to PEI and Nova Scotia than to Montreal or Quebec city. Made up of about 15 islands and islets, Îles de la Madeleine has eight major islands: Amherst, Grande Entrée, Grindstone, Grosse-Île, House Harbour, Pointe-Aux-Loups, Entry Island, and Brion. All except Brion are inhabited and yes, the local Madelinots speak French on most of the islands. The only exceptions are Grosse-Ile and Entry Island where the locals speak English (many Anglophones settled on these islands when they first arrived).
How to get to the Magdalen Islands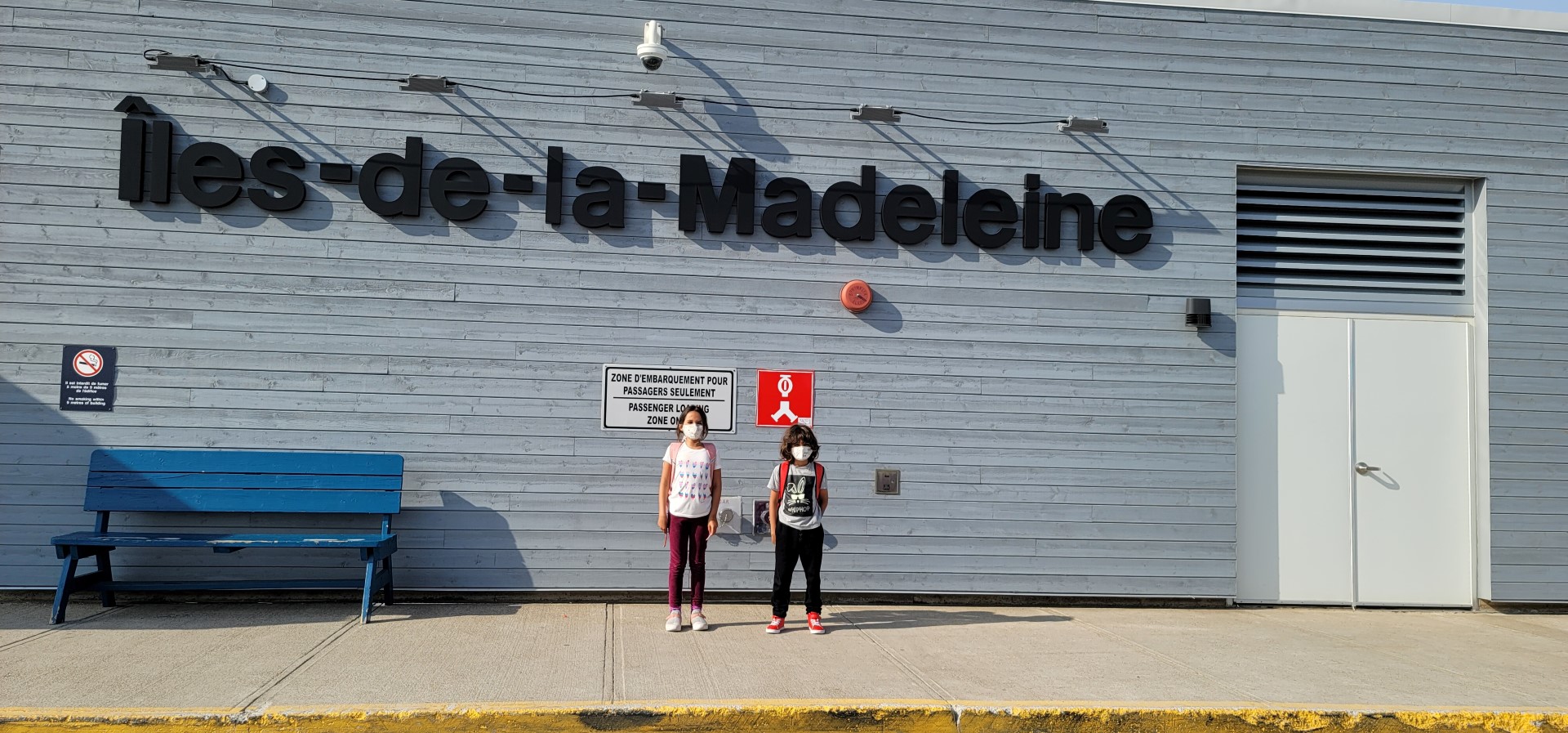 Many people asked me how to get to the Magdalen Islands and luckily for us, there are various options to choose from. We obviously chose to fly to Îles de la Madeleine. No surprise there!
From Toronto, we opted to fly to with a connection via Montreal. No tests or visas are required to fly into the Islands but as always, please follow protocols and monitor your health and symptoms. Our flying time was 3.5 hours in total but keep in mind that you may encounter long layovers for your connecting flights (we had 5 hours on our journey there and 2 hours on the way back). Just remember to reserve your rental vehicle once you book your flights!
From Prince Edward Island there are daily year-round ferries. You can easily pre-book the five hour Magdalen Islands ferry from PEI and drive your vehicle over if you prefer
From Montreal, if you did not want to fly you could take a cruise during regular times. The CTMA cruise to the Islands is usually offered from mid-June to late September. This cruise lasts 8 days and 7 nights, including 3 days on the archipelago and at least one stopover on the mainland
Best Places to Stay in Les Îles de la Madeleine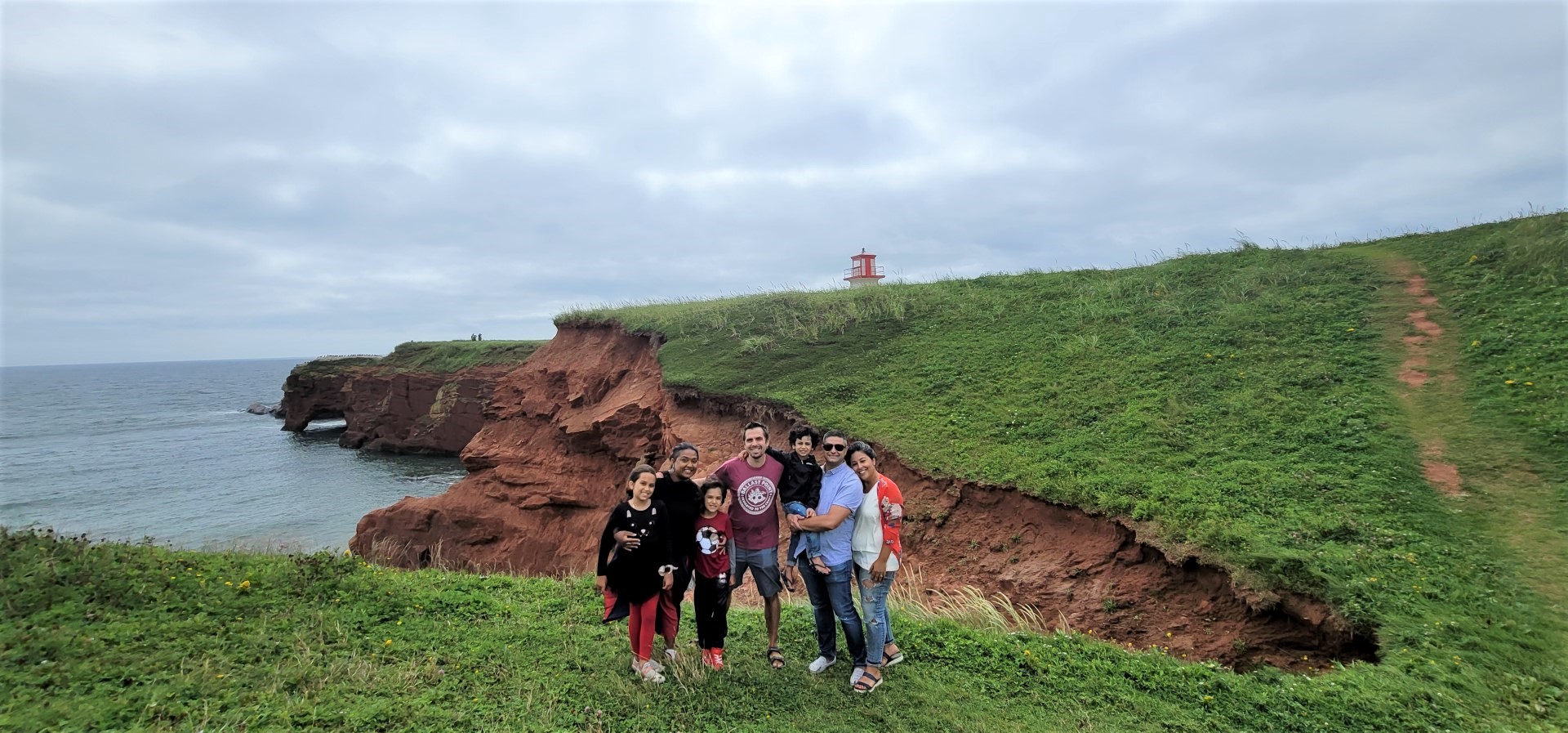 There are a variety of places you can stay at when visiting the Magdalen Islands with kids but keep in mind that you should book your accommodations 8 to 12 months in advance if you plan to visit during the busy summer months. During our trip to Îles de la Madeleine we stayed at a variety of places and received some tips from the locals too. Depending on the activities you choose to do during your trip, you may prefer to be based on one island versus another, despite it being relatively easy to drive between most of the islands. We bounced around to a few places in the hopes of experiencing a variety of options to share with you, and so here's my take!
Hotels in Îles de la Madeleine
If you would like to sleep in a former convent and enjoy gorgeous views at sunrise, a stay at Le Domaine du Vieux Couvent would be a great option. This boutique hotel only has 11 rooms and each room has 1 king or queen bed with the option for a single roll away bed add-on. So it may not work great if you have more than 3 people in your family. The staff are friendly and you'll enjoy an intimate experience similar to staying at a bed and breakfast. While Akira did have a meltdown after our long travel day, the kids were (luckily) relatively quiet during our one night stay here. If Chris and I were to return by ourselves, we'd definitely stay here in the future because the heritage property had modern touches and the most beautiful views even at night!
There are quite a few budget friendly hotel options on the islands and in the next few years, I anticipate that we'll see some luxury options crop up. For now, you'll find clean and simple room configurations at most hotels such as Château Madelinot. This property has over 100 rooms (quite a few with double beds in each room, a few suites and some with kitchenettes) and most rooms have been recently renovated. Apollo loved the indoor pool and jacuzzi overlooking the lush lawns here and I loved the Resto Bistro Accents on-site. Some of my favourite meals were enjoyed during our two night stay at this Magdalen Islands hotel. If you visit in the winter, look into their seal excursion package because that looks like an incredible experience.
Camping in Îles de la Madeleine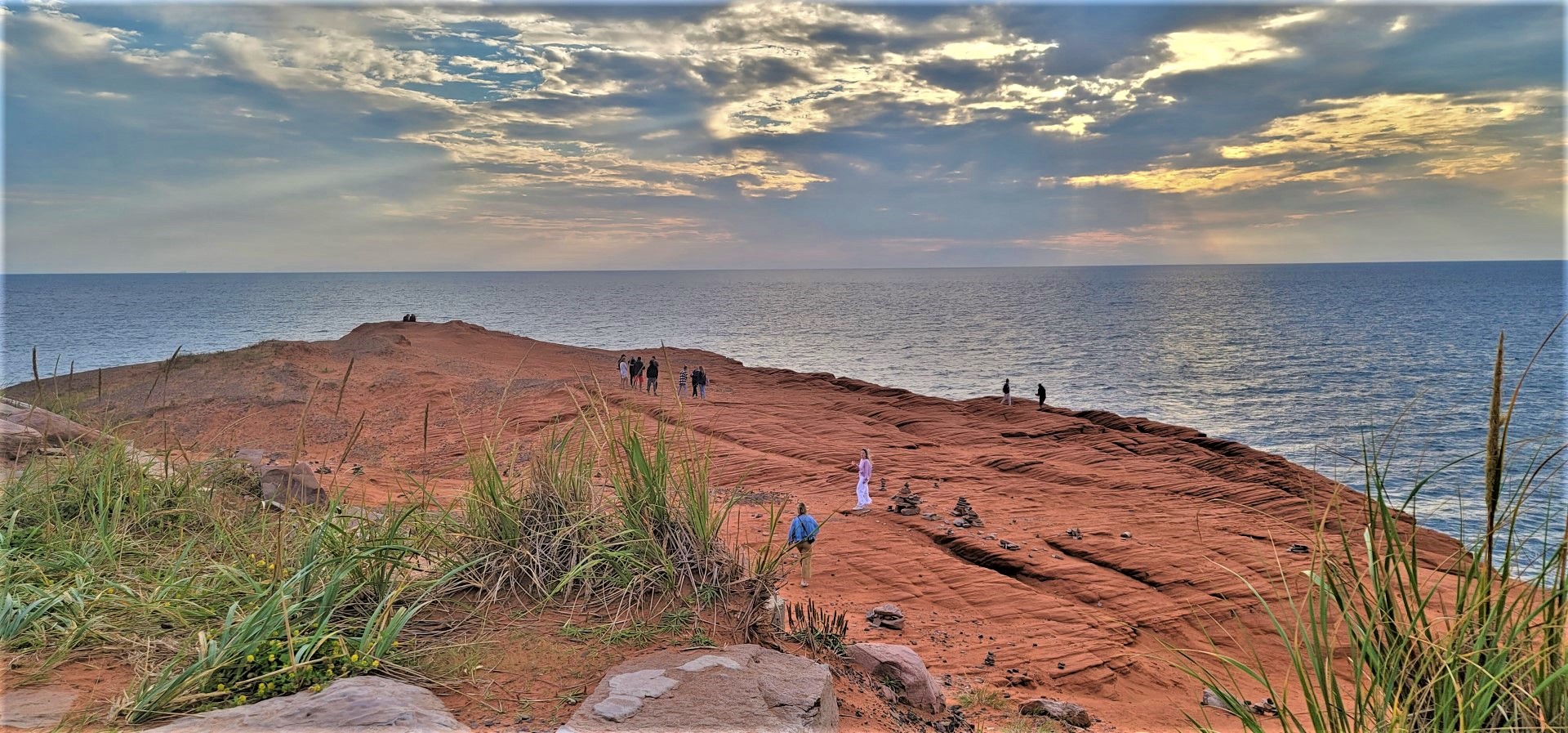 Okay, okay. You know I didn't go camping in Îles de la Madeleine but if you're thinking of exploring that route, there are a variety of options based on what we saw as we drove around the islands. Parc de Gros-Cap is definitely a popular camping spot in Iles de la Madeleine but we saw a couple trailer parks throughout the islands. For more Magdalen Island camping options check this link.
Cottages and Rental Homes in Magdalen Islands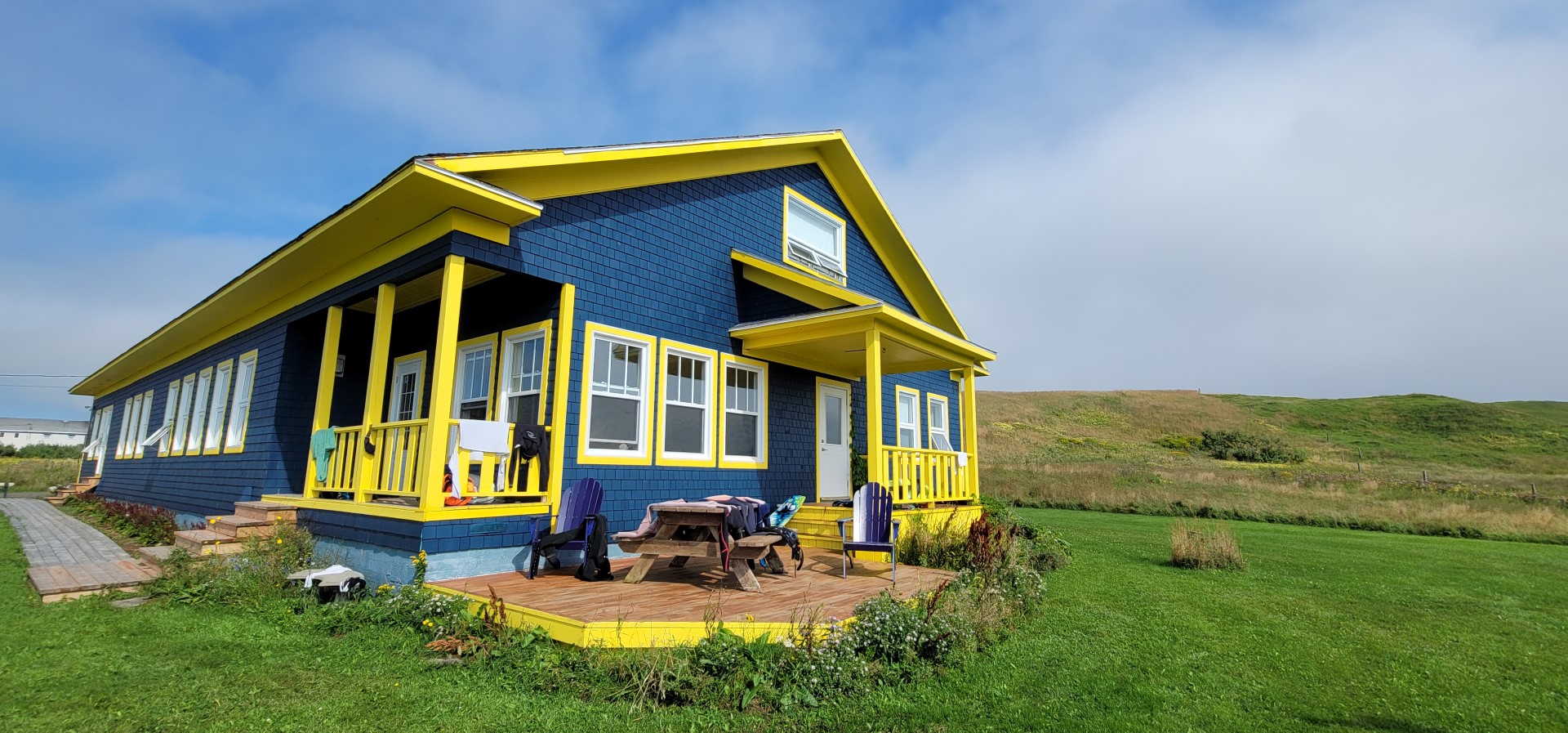 Many locals have their homes and cottages available for rent via Airbnb and the likes. The one I'm eyeing for our future trip back is Auberge La Butte Ronde. Not only did I meet the owners (who generously took my friend Solmaz and I on a boat ride one afternoon) but we also got a walk through of their space and it's truly fabulous for a multi-generational trip. Everything you could possible want was at the home, including a lovely fire pit and private backyard close by to some main attractions. These are booked a year out so be sure to book ahead!
All-Inclusive Magdalen Islands Resort
If you want to land at a property and have endless activities and tours at your fingers tips along with freshly prepared meals, Auberge La Salicorne on Grande-Entrée is where you'll want to stay in Iles de la Madeleine. Designated as Québec's Lobster Capital, I had 3 lobster rolls in the span of 24 hours during my visit to this area!! Auberge La Salicorne is a resort where you can stay in a country style room (room reminded me of the one I imagined Goldilocks lived in), enjoy activities like clam digging, mud baths, nature hikes, island tours and guided cultural outings. Each and every staff member went out of their way to ensure that each guest had an amazing time.
The views from this resort are stunning, the kids loved the adventure course on-site and we had access to bikes, kayaks, canoes, SUPs and pedal boats at no extra cost. In addition, the kitchen staff prepare breakfast and 4 course dinners each day of your stay. Honestly, what more could you want?
If you're looking for unique accommodations in Magdalen Islands, they also offer bubble tents that come with comfy beds (and they'll bring extra mattresses for kids). There is no shower or toilet facilities in your bubble, so it isn't something I would enjoy, but it was very cute I must admit!
The guided tours and the experiences here are unique and well worth a stay at the resort for. IF you can squeeze in at least two nights at this resort, I think it's absolutely worth it. Most people go here for a full week!
You'll find more inspiration on where to stay in Iles de la Madeleine here!
Things do in Magdalen Islands with Kids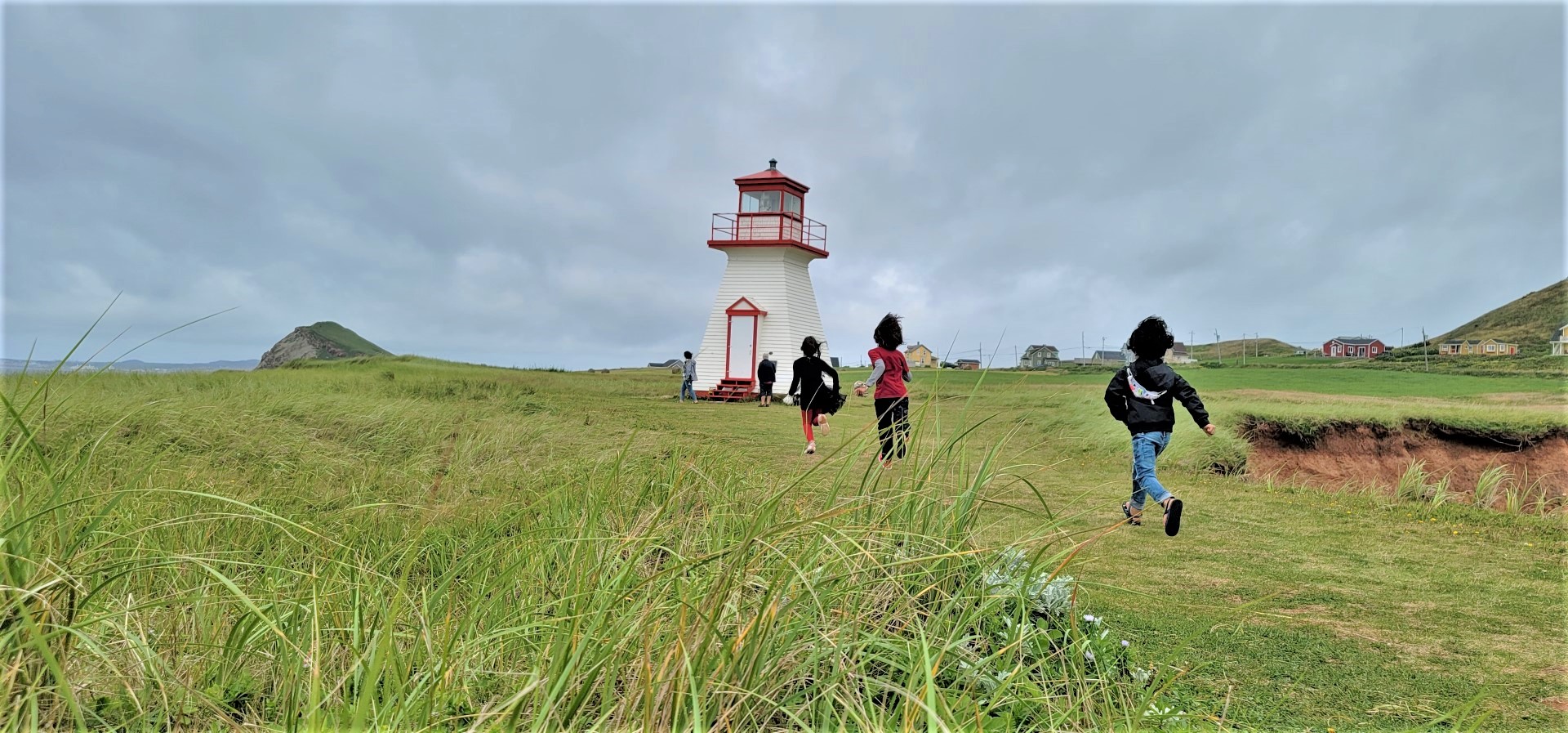 When planning your list of things to do in Magdalen Islands, keep in mind that it's relatively easy to island hop as long as you have your own set of wheels. Whether by car, scooter or bike, you'll need some set of wheels. We flew in and had a rental car waiting for us at the airport and this made things very easy. Just remember to book your rental vehicles as early as possible because options are relatively limited. One of my favourite things about Îles de la Madeleine was how dramatically the sceneries unfold as you drive around the islands. The landscape reminded me of past vacations to Europe (looking at you Ireland and Portugal) and each and every one of us (regardless of age) would often be spell bound looking at the horizon. A truly magical experience.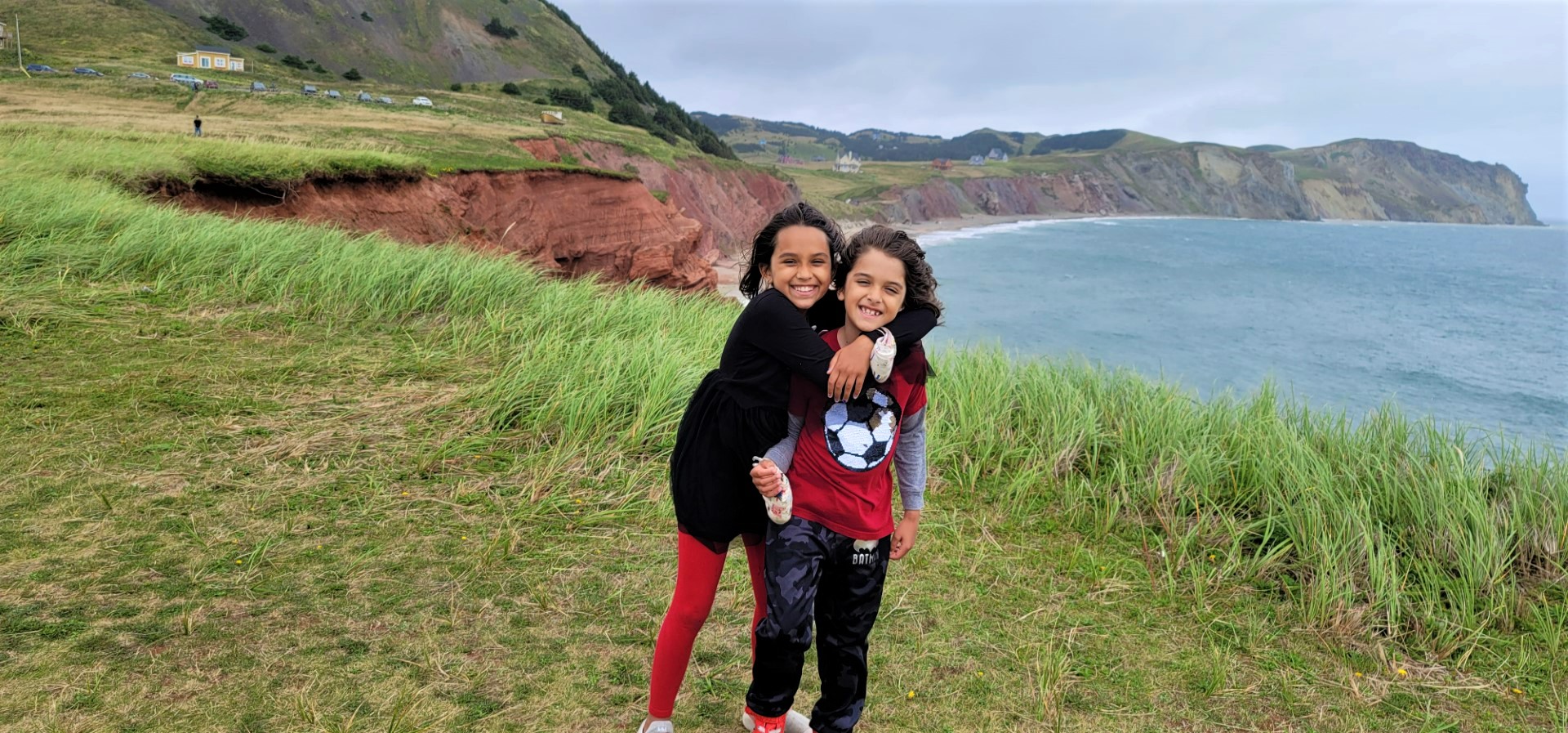 One thing I implore you to talk to your kids about is leaving no trace behind and being respectful of the natural habitat. These islands are experiencing erosions at alarming rates and I would often remind Apollo not to touch certain sand cliff because they would crumble in his hands. Respect the guidelines and be careful when exploring caves and cliffs please. Also, if you're adventuring towards sunset in the summer, be sure to pack bug spray because we encountered mosquitos nightly!
Spot Seals
It should come as no surprise that Akira's main mission was to interact with the local wildlife on Magdalen Islands. Four different species of seals can be found around the islands including the harbour seal and the gray seal. We spotted a couple seals during our visit and the best way to see them in the local waters was to join an 8:30 a.m. zodiac tour with Excursions en Mer. On this seal tour adults and kids are given life jackets and told to hang tight as we zipped through the waters in search of seals in their natural habitat. The kids (ranging from 4 to 9 years of age) had no issues holding on during the speedy and bumpy portions and our guide was happy to give us the tour in English and French. Our guide mentioned that the water levels, temperatures and wind can determine how many seals they see on the 1.5 hour excursion and she was a bit disappointed that we didn't see any of them lounging around. To be honest, while that would have made for some great pictures, the kids and adults were all thrilled at seeing the ones we did. The seals would bob up and down about ten to fifteen feet away from us and we're quite certain that one of them even waived at us!! I will mention that while we did share the Zodiac with a few others, we had fresh air blowing every which way, which made us feel safe when we were seated and removed our masks.
Solmaz spotted a seal on our first night as she walked along the cliffs at Cape Hérissé Lighthouse/Lighthouse Du Borgot and during one of our beach walks as well. So keep your eyes open, you don't have to go on a tour to see seals when on Magdalen Islands. Another great way to see seals in the wild is at Chateau Madelinot. Every year in late February or early March, tens of thousands of harp seals make their way to the ice surrounding the Îles de la Madeleine to give birth and you can book a package to take part in a seal-watching excursion to see them up close—sounds incredible!
During our stay at Auberge La Salicorne, we visited the Seal Interpretation Centre at the hotel and it was very educational. Kids loved being able to touch real seal fur and learn about the various stages from pup to adult. Even parents will love a visit here. Even if you're not a hotel guest, you are allowed to book tickets to visit the centre and although the space is relatively small, you can spend 45 mins to an hour exploring if you stop to read and interact with the various exhibits.
Chase Lighthouses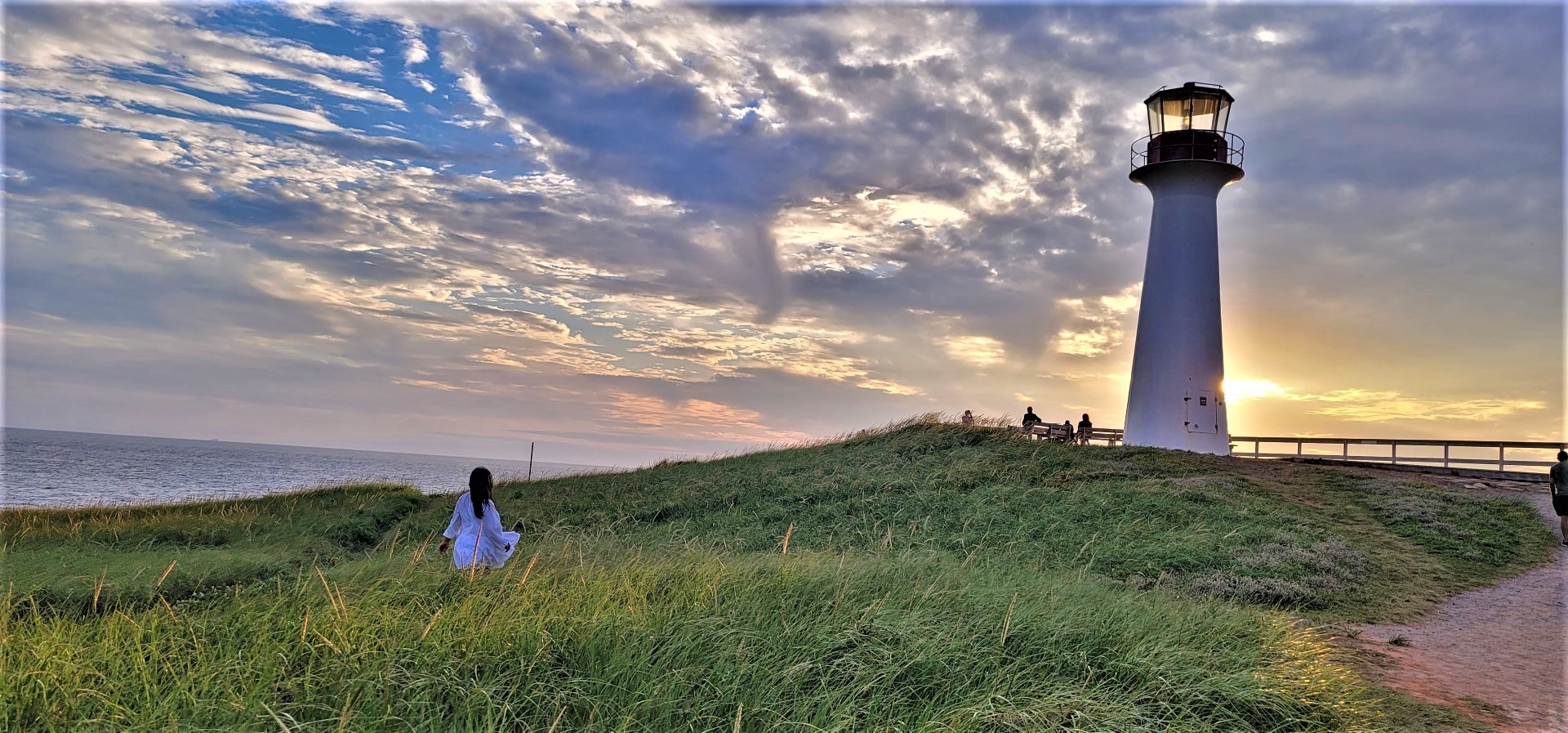 Lighthouses are quintessential landmarks for family photos taken on the East Coast and Magdalen Islands has some striking ones. There are six lighthouses on Les Îles de la Madeleine and most are easily accessible. There is said to be over 500 sunken vessels in the waters surrounding the Magdalen Islands and these lighthouses represent history for many locals who are descendants of shipwreck survivors. If you're looking for more historical details about each of the lighthouses, Lighthouse friends has all the details for each and every one of them!
During our visit, we made our way to 4 of them and each one was quite picturesque. It can be windy but bringing a tripod makes for some great family pictures. Cap-Alright (Île du Havre aux Maisons) Lighthouse is probably the most pictured having been featured on a Canadian postage stamp but my favourite was Borgot lighthouse on Cape Hérissé, at Étang-du-Nord because of the pretty sunsets and the ability to easily picnic amidst the dramatic views.
That said, if you're chasing lighthouses, be sure to visit the lighthouse at Anse-à-la-Cabane because it's also home to the William-Cormier Heritage Park which showcases the history of ALL the Magdalen Island lighthouses.
Tour the Magdalen Island Wineries, Breweries and Distilleries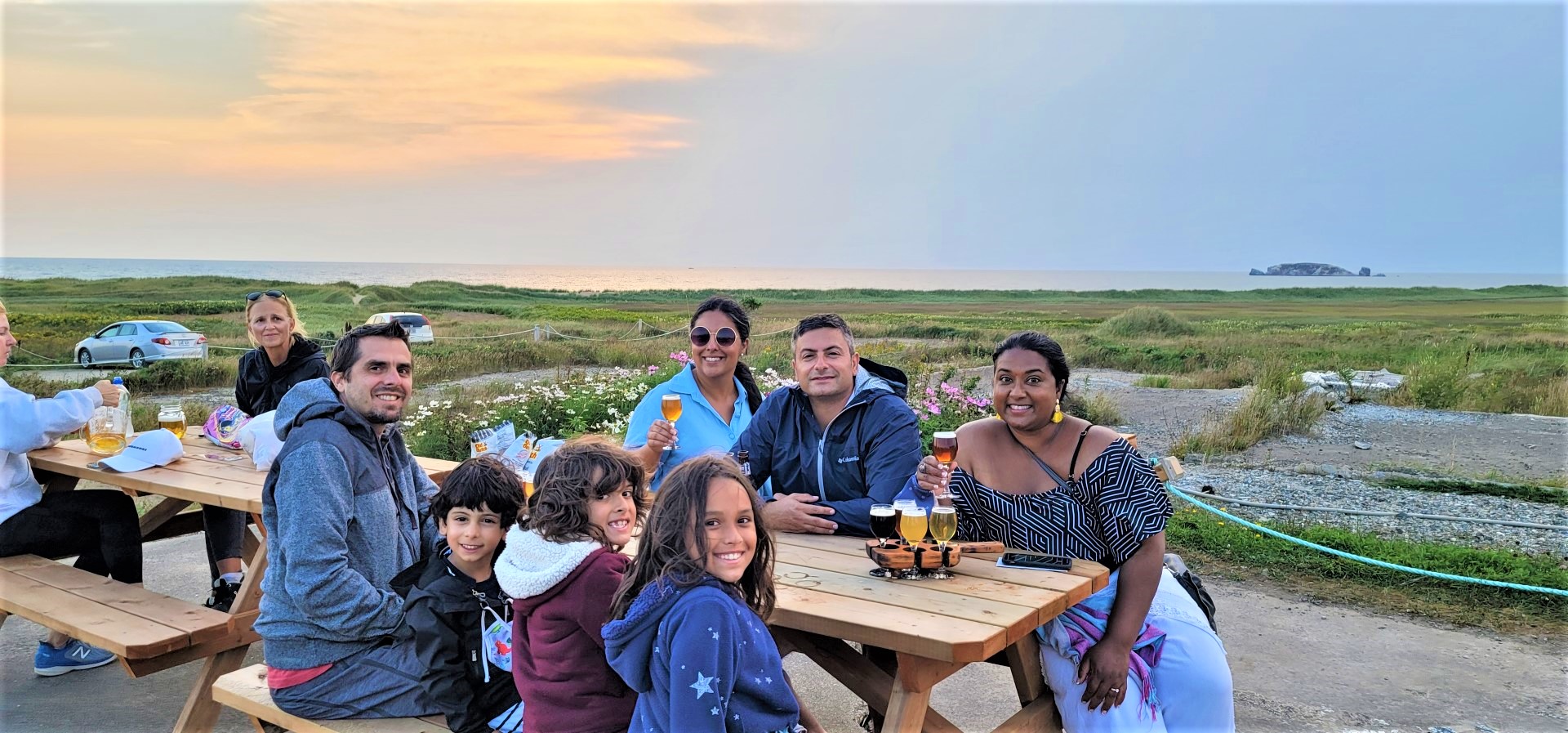 If you're like Chris and I, and enjoy learning about local beverage alcohol products, ensure you swing by a few of these spots to get a local flavour.
Taste the Local Îles de la Madeleine Cheese
You know I love cheese and I especially love Quebec cheese so I made it a point to hunt down some local ones on Magdalen Islands. We swung by Fromagerie du Pied-de-Vent who not only offers tours but has a small cheese museum onsite. We didn't have time for a tour but I did learn about the oldest breed of cow in Canada, the Black Canadienne which is a cross between Bretonne and Normande cows which were brought from France in the 17th century. These are the cows producing the milk for the delicious Jeune-Cœur farmstead cheese. I even brought back a wheel of this creamy melt-in-your mouth ripened cheese. I did of course try some of their other cheese but this was by far my fave and one I'll be asking friends to bring back for me as it's hard to find beyond the islands! Also keep a close eye on restaurant menus as many of the Magdalen Island restaurants featured local cheese in their dishes.
Tour a Magdalen Island Smokehouse
One of the most fascinating (and stinky) tours we did was at Le Fumoir d'Antan. In 1940 there were 40 smoke houses on the islands, today Le Fumoir d'Antan is the only smoke house remaining. This family run smokehouse offer tours (from June to August) where you can learn about the entire process from start to finish and yes, you get to taste some products too. The 45 minute tour can be a bit boring for young kids so bring along some entertainment for them but since you're walking through the facility, they have plenty to look at. During our tour we learn about the artisanal process of smoking fish and how it has passed on from generation to generation at this family run establishment. Highly recommend purchasing some products when you're here and bringing a cooler if you're planning to explore before going back to your hotel fridge! Chris purchased a few items that ended up being our midnight snack and breakfast on a couple occasions and I was delighted! They also have a economuseum on-site if you wish to explore further.
Explore the Unique Magdalen Island Beaches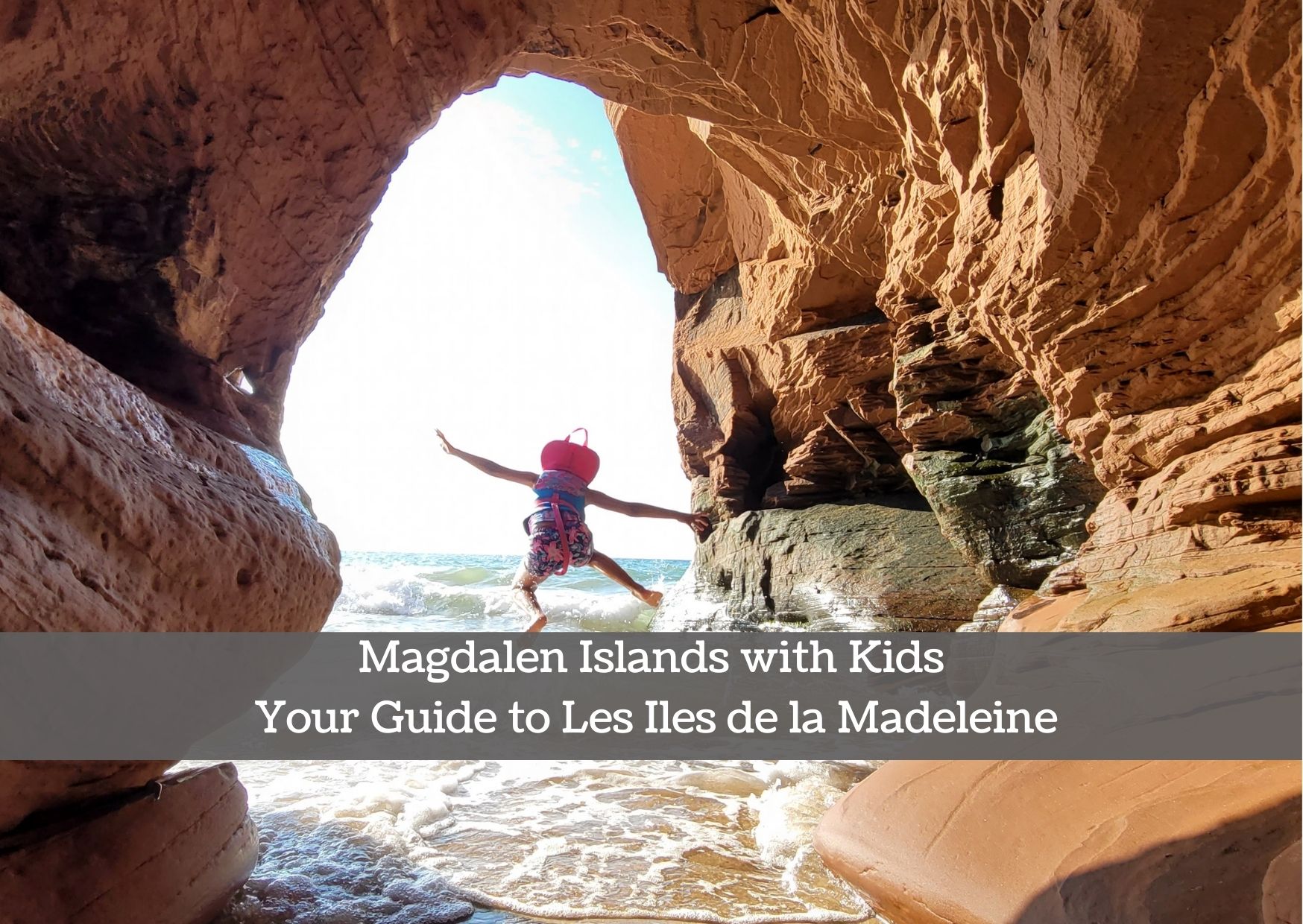 Holidaying on a Canadian island means you're never too far from a beach. During our family trip to Les Iles de la Madeleine, we made it a point to visit the beach as often as possible and I discovered one of my all time favourite beaches in the WORLD! The water can be cold for those used to South Asian and Caribbean waters but even I managed to get in the water on a couple occasions. I will also highlight that you should keep an eye out for choppy waters as windy days can bring rough waters and not everywhere has a life guard on site. This is why we travel with our lifejackets for kids. From red sandy beaches with towering cliffs to squeaky white sandy beaches, they have it all. There are many many beaches but here are my faves because they offer something unique!
Pointe-aux-Loups Beach : This is the most wonderful beach I've been to because we were able to swim through the caves. Can that be a bit dangerous? Absolutely, so please be cautious when you visit. Apollo spent most of his time playing in a nearby cave away from the water (again, those can crumble so keep a close watch and be near kids at all times) while Akira joined me and Solmaz in the cave that was IN the water. Keep a close watch on the tide because you definitely do not want to get stranded in here at high tide! Being able to walk and swim through the caves was a once in a lifetime opportunity and truly, the main reason I will be returning to these breathtaking islands. I was informed that there are two beaches near the island of Pointe-aux-Loups and this is the one that's away from the main beach and closer to the cliffs (since I loved it and it's not easy to find, here are the GPS coordinates : 47.5317594,-61.7072109)
Dune du Sud Beach : The most striking mix of white sandy beach and red sandstone cliffs awaits your visit here. You can't help but plan an impromptu photoshoot that will have you with magazine cover worthy photos. The kids loved crawling into the various caves here…just keep walking along the beach, ducking between cliffs and you'll discover some secluded sections, especially at low tide.
Grande Échouerie Beach aka Old Harry Beach : This is the famous 'squeaky beach' where you'll notice a singing sound as you drag your feet across the sand near the shore. When we first pulled into this Grosse Île beach and saw the locals seated away from the beach, I was puzzled. I soon found out why!! Don't be like me and plop close to the shore, spreading a picnic… because you'll soon end up with sand ALL over your food! The winds and tide move at quick speeds here and we didn't let the kids get in the water but we still think it's worth a visit as it keeps being featured as one of the prettiest beaches in the world. If the kids whine about not being able to get in the water, distract them with the small wooded playground on-site!
Spend a Lazy Day at L'Anse-aux-Baleiniers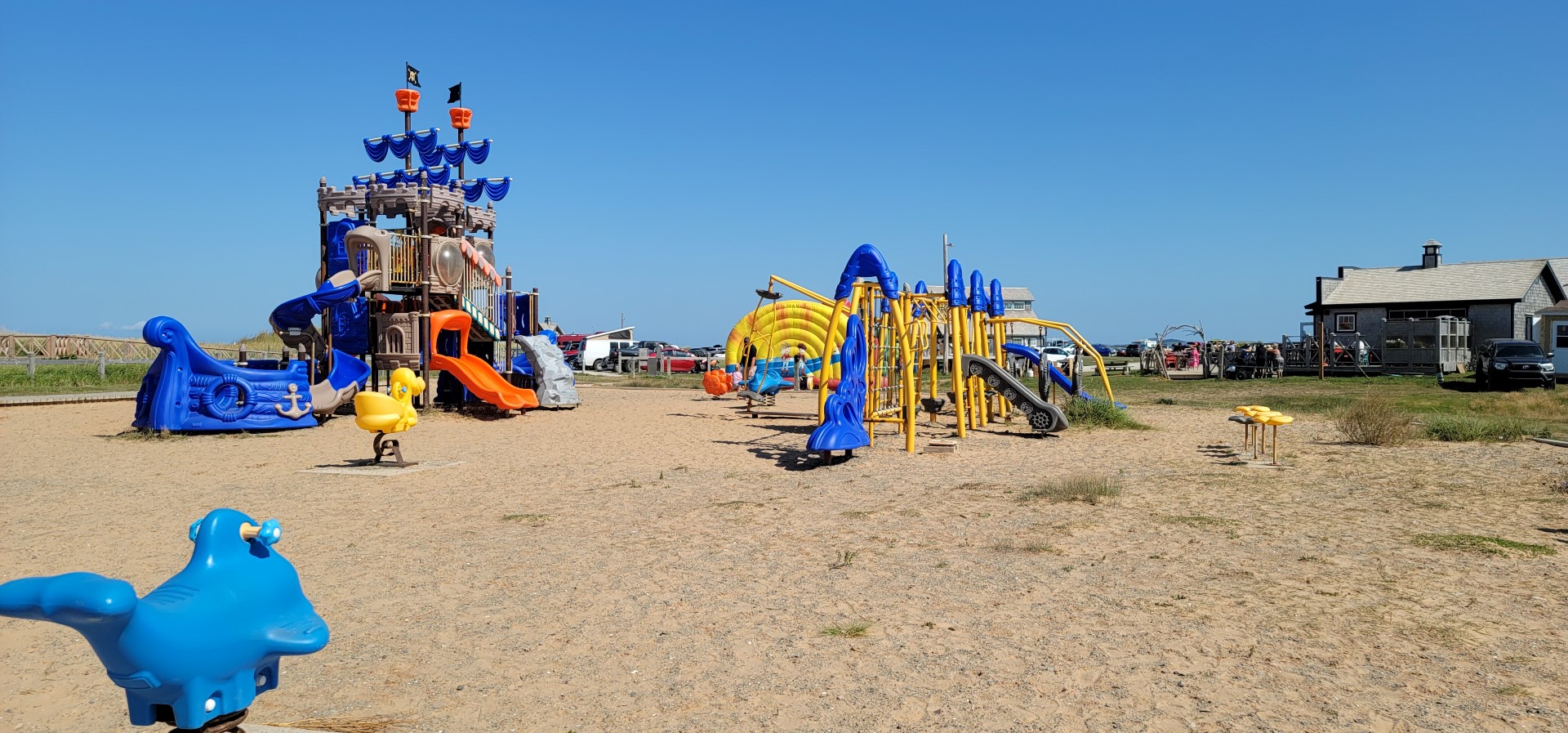 We returned to this spot thrice during our trip because the kids absolutely loved it. Truth be told, even I loved the vibe here at L'Anse-aux-Baleiniers. Yes, there is a massive playground and there are bouncy castles which were inflated on weekends but there's more too! Once you've parked here, you have access to the beach (La Dune du Nord) along with casual eateries and picnic areas.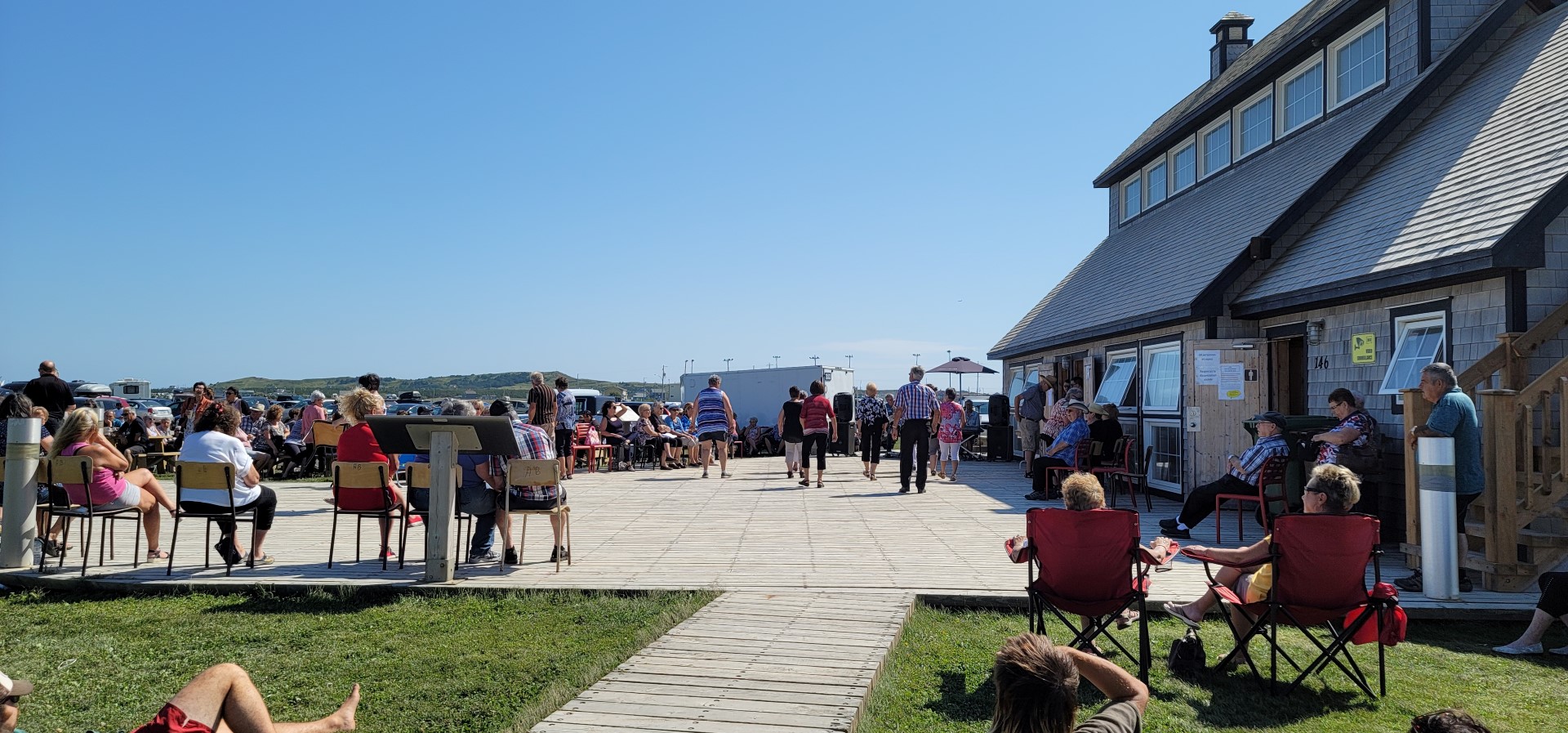 If you want to rent surfboards check out La Shed Surf Bar for beers and water activities! There's also a showroom with a whale skeleton, public bathrooms and outdoor showers. Best of all, these are all free to use when in Fatima. On our final Sunday, we swung by here before our flight and witnessed locals dancing and performing on a make-shift stage close by to the bar. The vibe was welcoming and instantly put a smile on my face. Watching older couples dance is so cute!
Embrace the Culture at Site de la Côte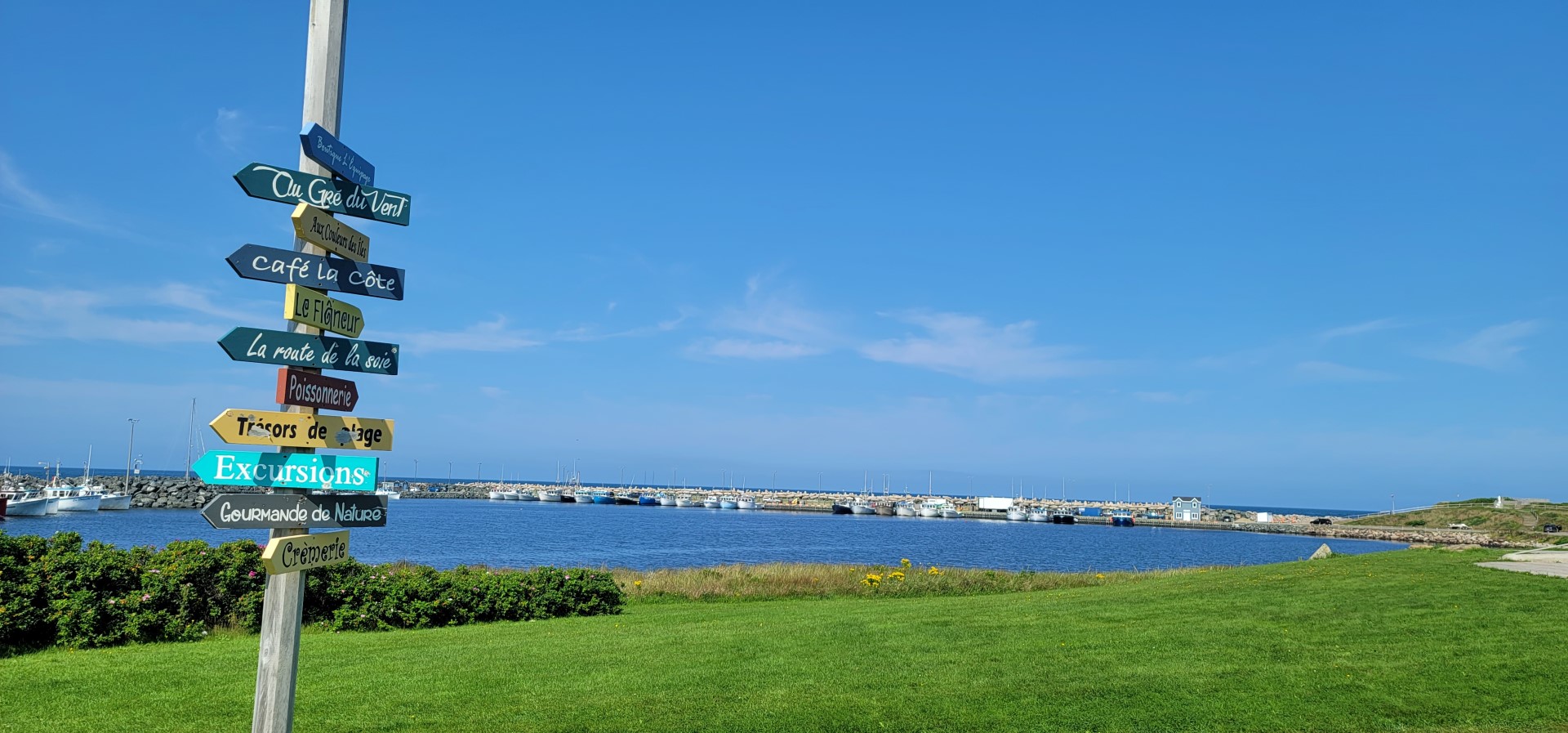 This fishing wharf area is a destination where you'll want to spend a couple hours at even though at first glance you may just drive pass it, only noticing the fishermen sculpture. This is yet one of those spots we returned to because there are quite a few things to do. For the kids, grab an ice cream from Crèmerie du Port and visit the playground attached to the Magdalen Islands ice cream shop (as with quite a few playgrounds on the islands, on weekends there are bouncy castles).
You'll also want to take them to the kite store across the road (there are some FANCY kites here but they also offer kite camps if you're around for longer). If your child is like Apollo, they'll also want to play with the giant chess pieces in the outdoor games section. As for the adults, there are two main reasons to visit Site de la Côte. First up, the food options here are fab (I'll share more about Gourmande de Nature below) and we were told that we must catch sunset and dinner from EVA restaurant on our next trip.
Secondly, although Le Flâneur may seem like a creepy doll sore, it's actually quite fascinating and is the ideal place to visit if you want to learn about the local characters. They were closed on Wednesdays (the day we first visited the area) so I made it a point to return and I'm so glad I did. This is a tea room, quirky store and art gallery all mixed into one. Even the garden is Instagram worthy! We didn't sip any tea here but we did wander around the store looking at the various dolls the owner and artist, Pierrettte Molaison (artist name – Arthure), had made. They truly belong on movie sets! As we kept exploring I noticed that the basement had a ticketed section. Downstairs is where the real art gallery is along with the many local characters she has immortalized by creating life sized dolls of them. Each character has a story about their ties to the island and the contributions they've made and I was happy to spend 20 minutes in the small basement room soaking it all in. The kids thought it was all too creepy! If you like quirky things like me.. ensure you visit here! Also… we missed this but don't forget to open the haunted house door in the garden!!!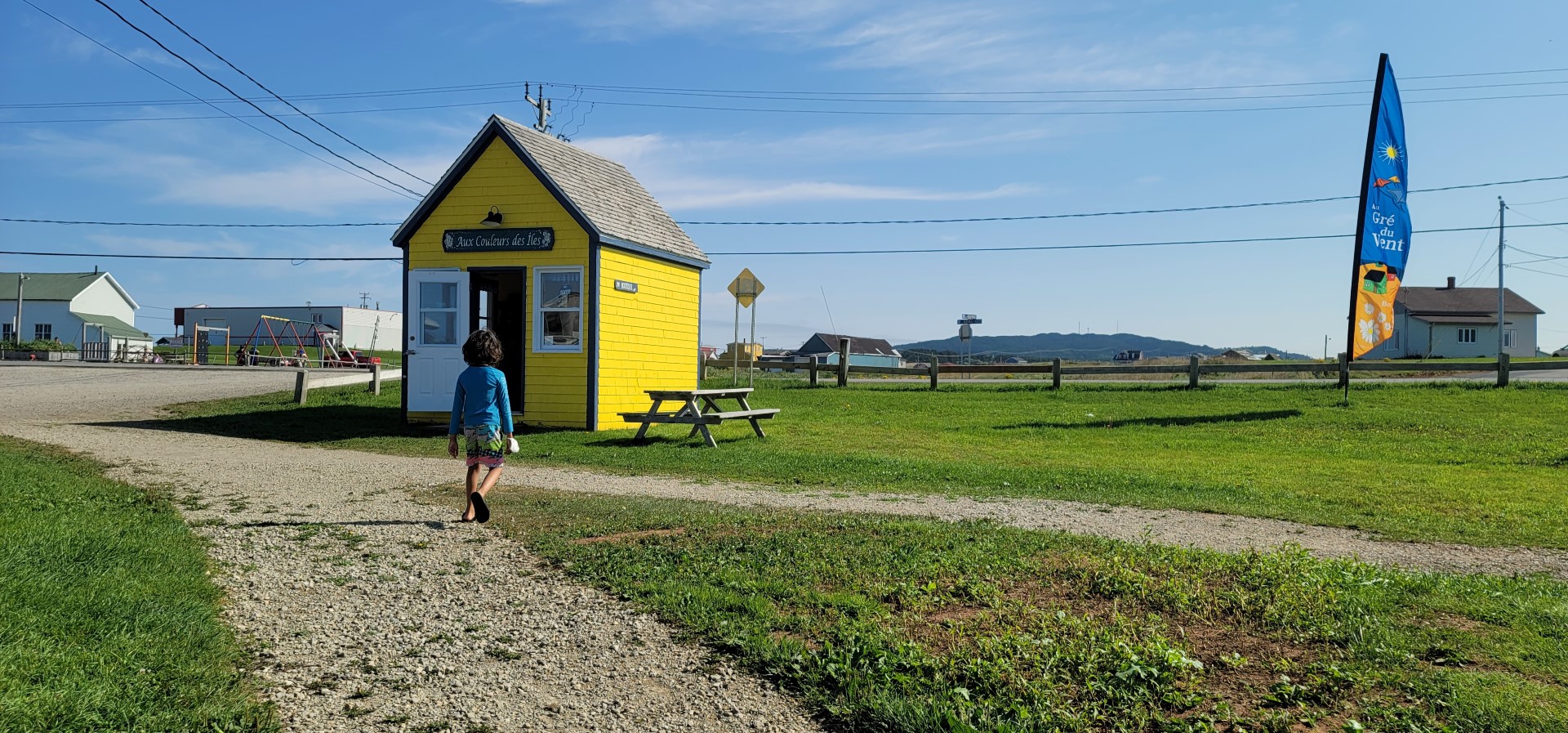 In addition, there are cute shops in this area, featuring the work of artisans and it's a great spot to buy some non traditional souvenirs.
Enjoy the Artisans at La Grave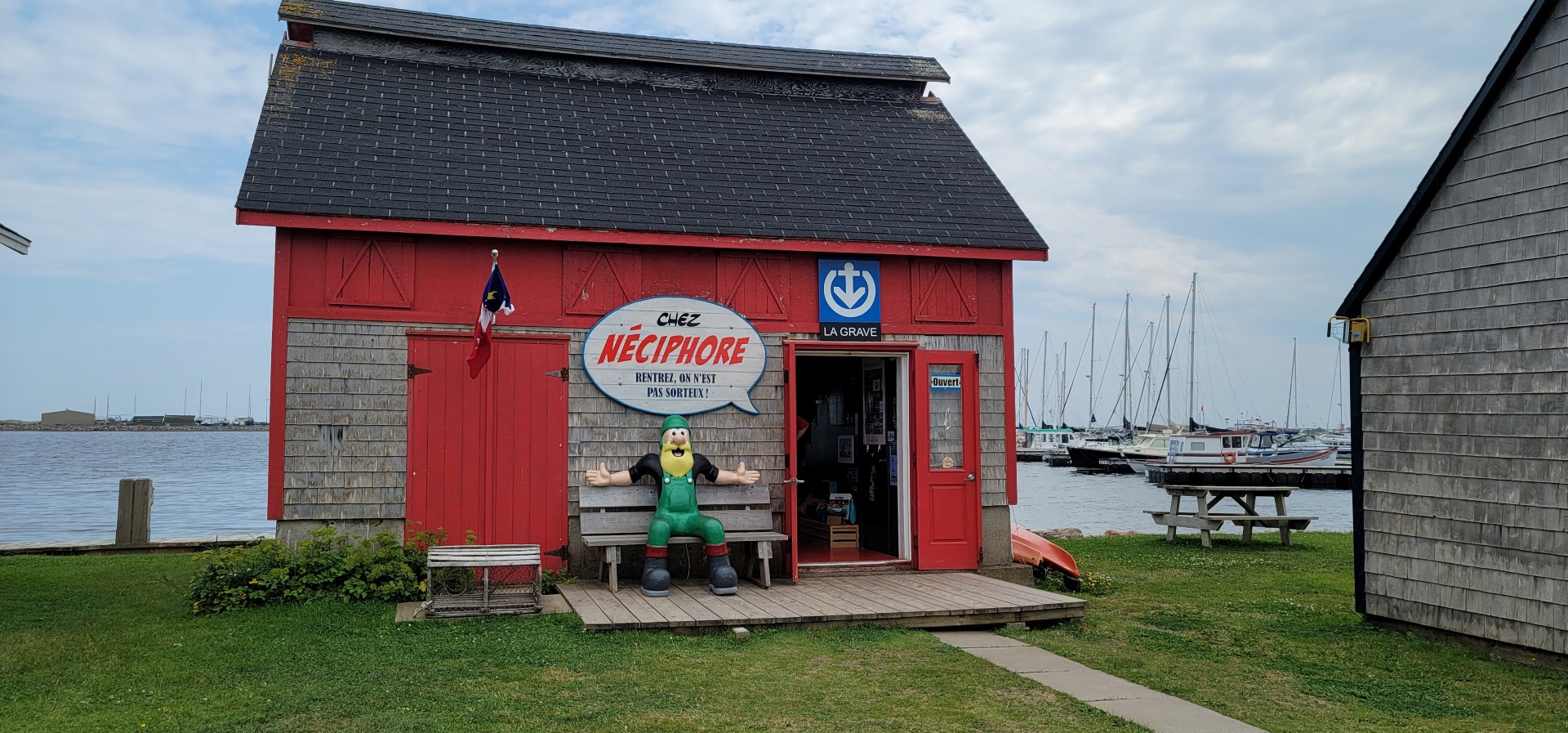 This is the site of the Islands' first settlement as well as the beginning of the archipelago's fishery industry. Today, it's a charming town filled with boutiques featuring local crafts and restaurants. We only popped by for lunch and rushed through a few shops but on our next visit, I know Chris' mom will make us spend an entire afternoon here. Whilst waiting for a table at Café de La Grave (more on that below), the kids enjoyed the pebble beach access from their patio and I roamed around the various shops. Friends of ours also recommended Vent du Large for a meal but we ran out of time!
There are many stores selling jewelry, clothes, souvenirs and other arts and crafts here. The street isn't that long but you could easily spend 5 hours roaming through the boutiques if that's how you'd like to spend your trip. Kids will love Atelier Côtier which is a shop featuring sand in many forms. The store has a sandbox at the entrance for kids to play at and they have "please touch" displays throughout the store. Another shop you must visit is At Low Tide. Exploring this store owned by three female artists was like being in a spa…everything was so zen!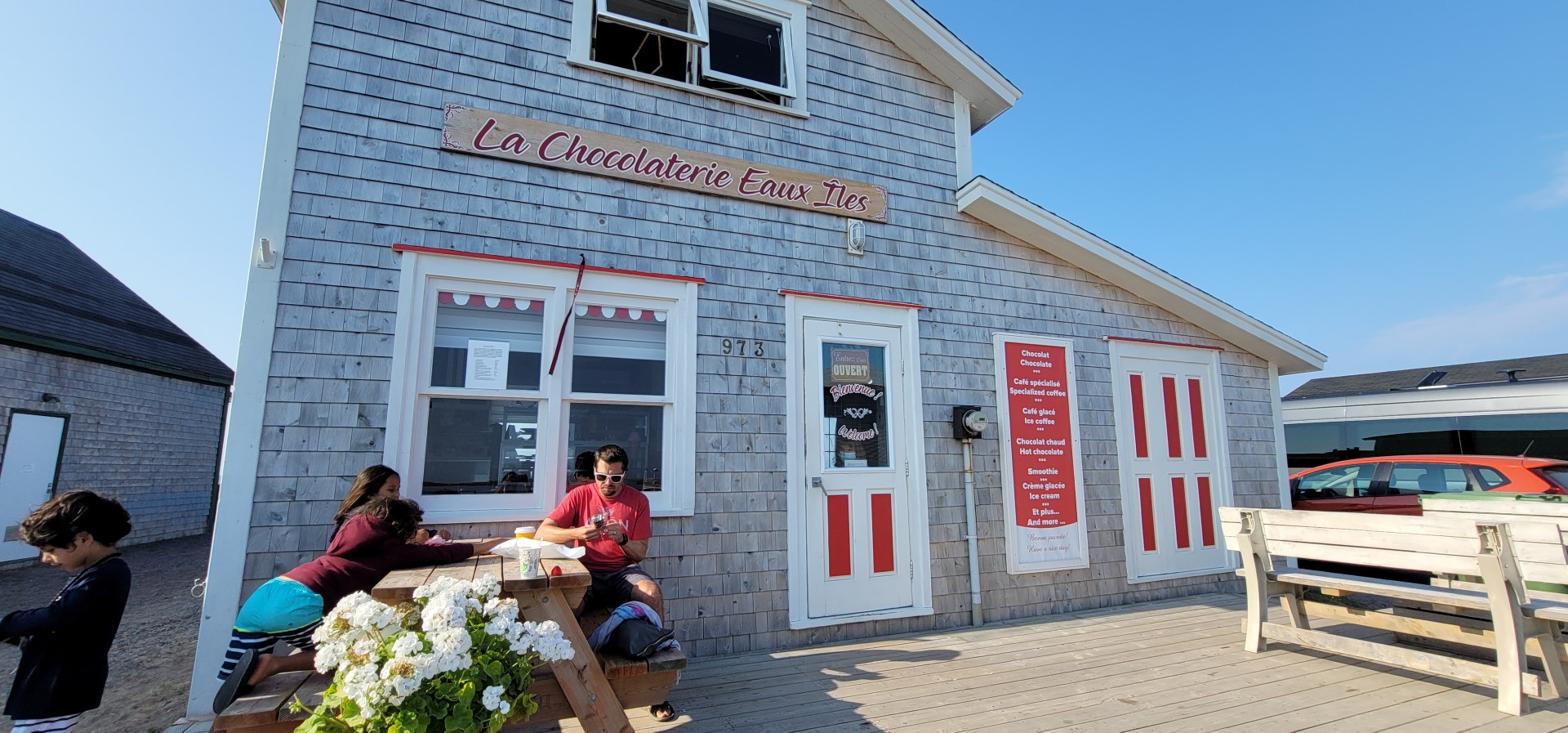 Whatever you do, don't forget to swing by family owned and run La Chocolaterie Eaux Îles (next door to Café de La Grave). Their Affogato is amazing (equally as amazing as the one from Gourmand de Nature) as is their artisanal chocolate. The two sisters were there during our visit and they generously offered complimentary freezies for the kids too!
Splash Around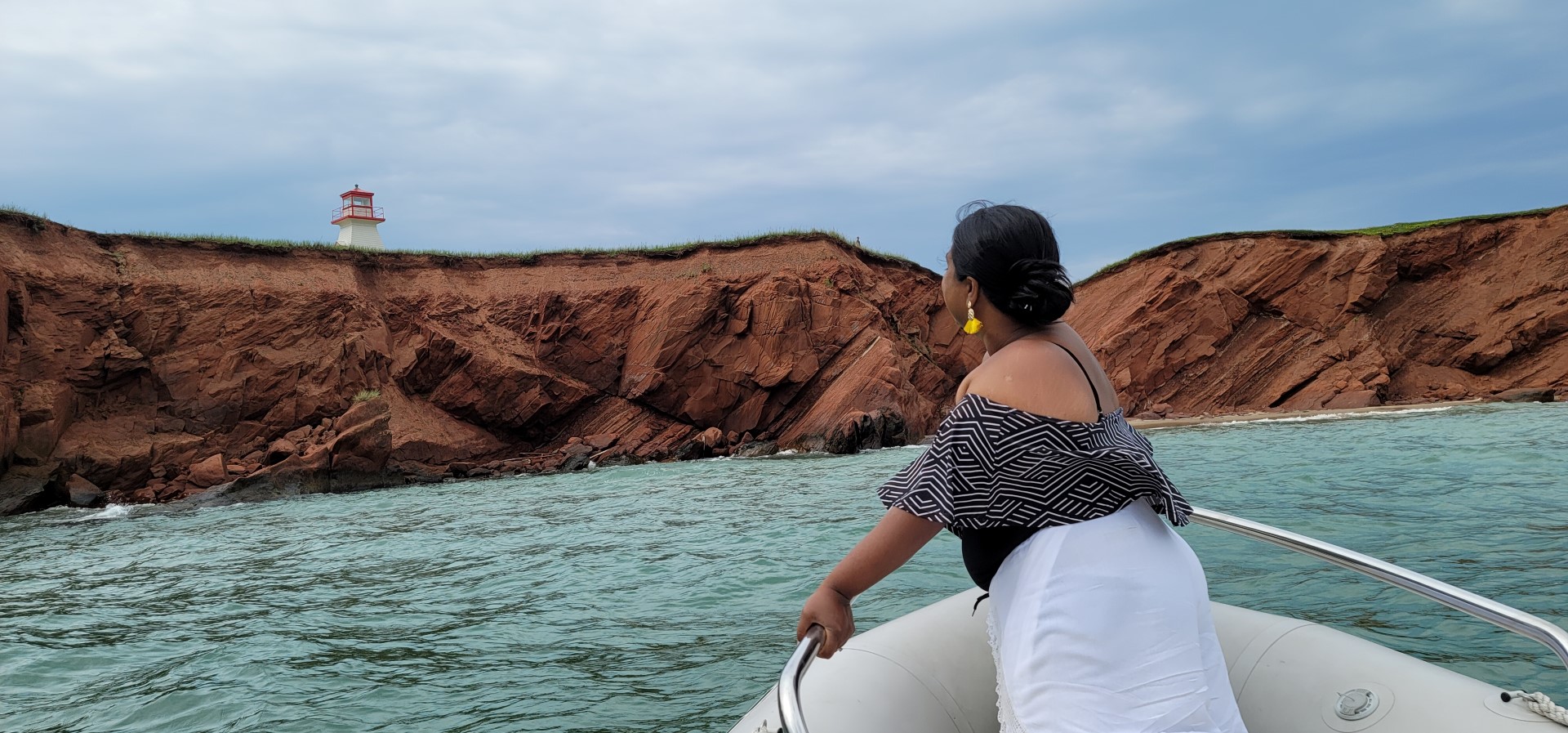 There are many water activities that you can enjoy when on the islands. Kite surfing is what most locals seem to gravitate towards but there are others of course. Kayaking through caves was on our list of things to do but unfortunately that one didn't happen. There are quite a few places where you can take tours or rent gear from so that you can safely explore the surrounding waters.
Cindy Hook was our favourite coffee shop and playground but they also rent gear and you can enter the water from their site. The company we did our seal tour with, Excursions en Mer, has many tours on offer as does Parc de Gros-Cap (these guys even have a sand castle building workshop!). I've already told you about clamming and clay baths in Îles de la Madeleine when at Auberge La Salicorne but if you chat with the locals you meet, they may tell you of other spots you can do these activities at!
Head off on an Artisanal Shopping Spree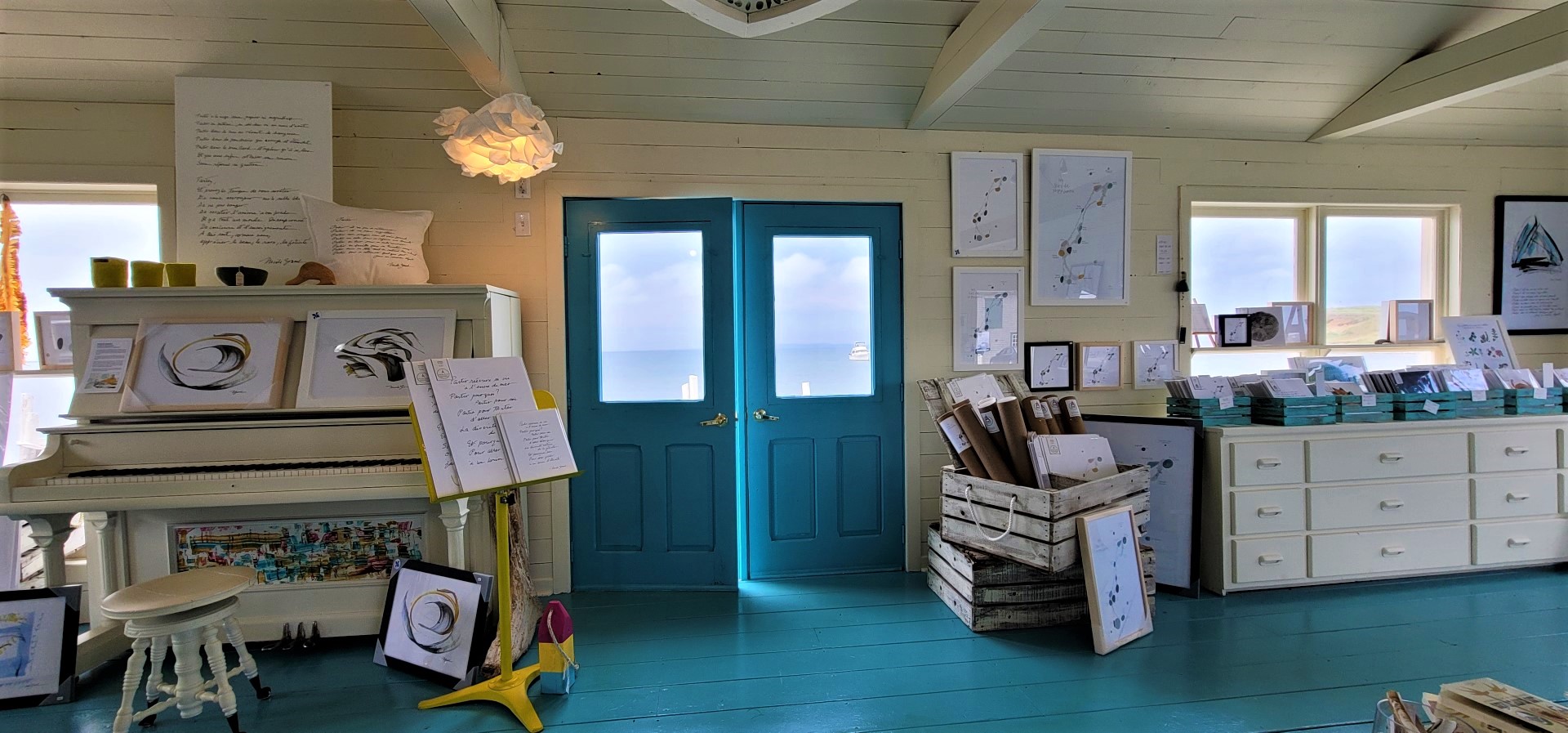 The island is filled with artists and crafters so at every turn it's easy to spot a store that beckons you. It was hard practicing self-restraint here, that's for sure! Keep an eye out for stores displaying the Circuit de Arts sign as a bunch of boutiques, studios and art galleries have gathered to shine a light on the local artistic diversity.
Low Tide and Atelier Cotier we mentioned above are on that circuit, as is La Méduse where Akira wanted to purchase every hand blown glass item for my mom! We didn't have time to take one of their glass blowing lessons and we didn't time our visit to watch a demonstration either but it's definitely something my mom would enjoy! If you like to shop for pottery as souvenirs, then a swing by La Maison du Potier is called for!
At yet another one of the stores, Boutique de la Pointe (near Bistro Plongée Alpha), Akira purchased a Rachel Drouin seal fur ring and there she learned about seal hunting and the strict rules in place for this sport. I was actually quite surprised that this animal lover was interested in purchasing seal fur so we had a deep discussion before actually purchasing the ring.
Another area we spotted art and jewelry at was in Cap-aux-Meules at Place des gens de Mer (Seafarers Square on Google). On summer weekends there are festivals and markets but during our week day visit, the area was quiet and we made use of the picnic tables and the kids jumped around the ramps while some of us shopped at the nearby stores. If you love shopping for artisanal products, Îles de la Madeleine has plenty on offer for you, so keep your eyes open as you roam about because there are cute stores at every corner!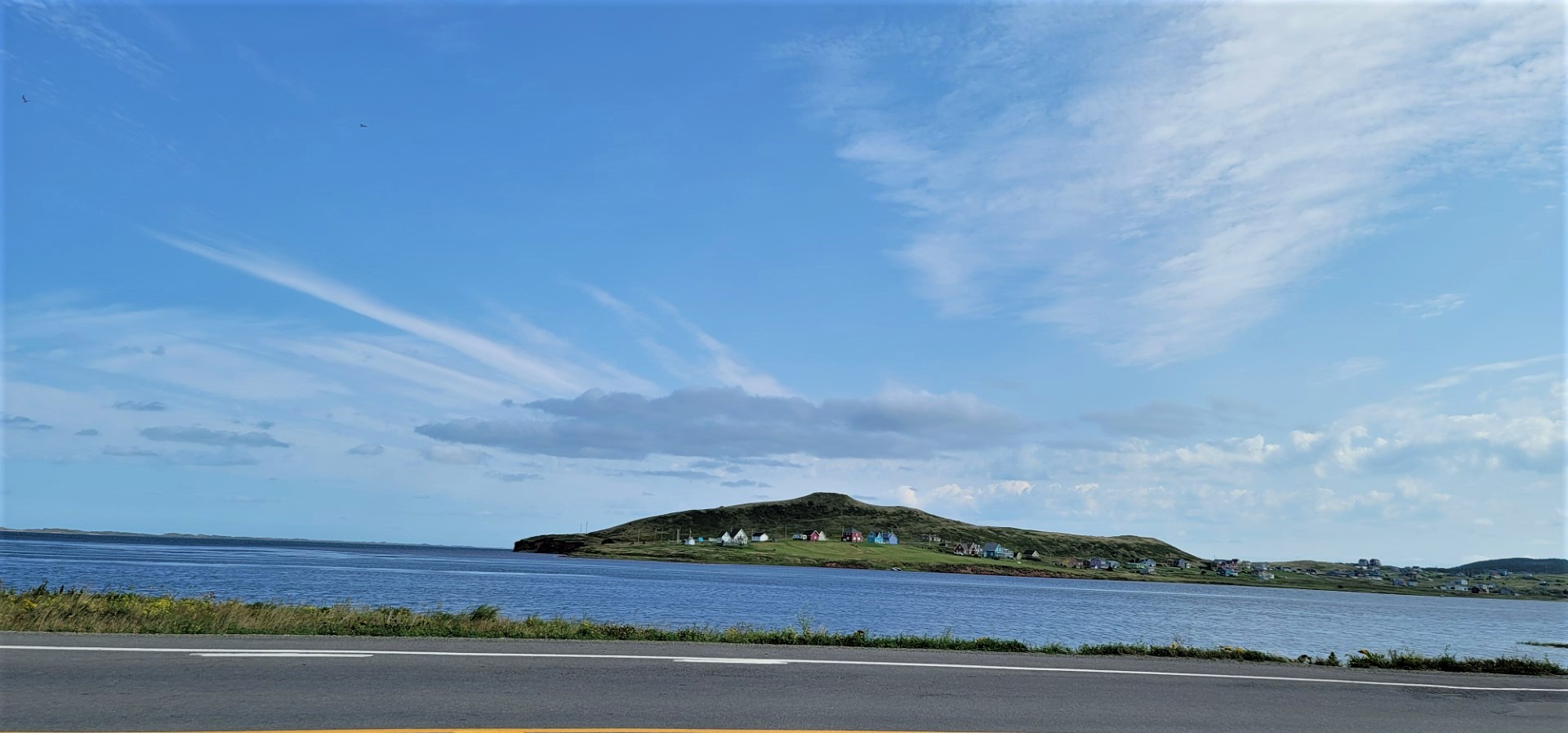 You will notice that we did not visit Entry Island – saving that 45 minute ferry journey for a future trip but it is there if you want to swap out one of the days to explore that one. Go with the flow, chat with the locals… see where you end up!
Where to eat in Îles de la Madeleine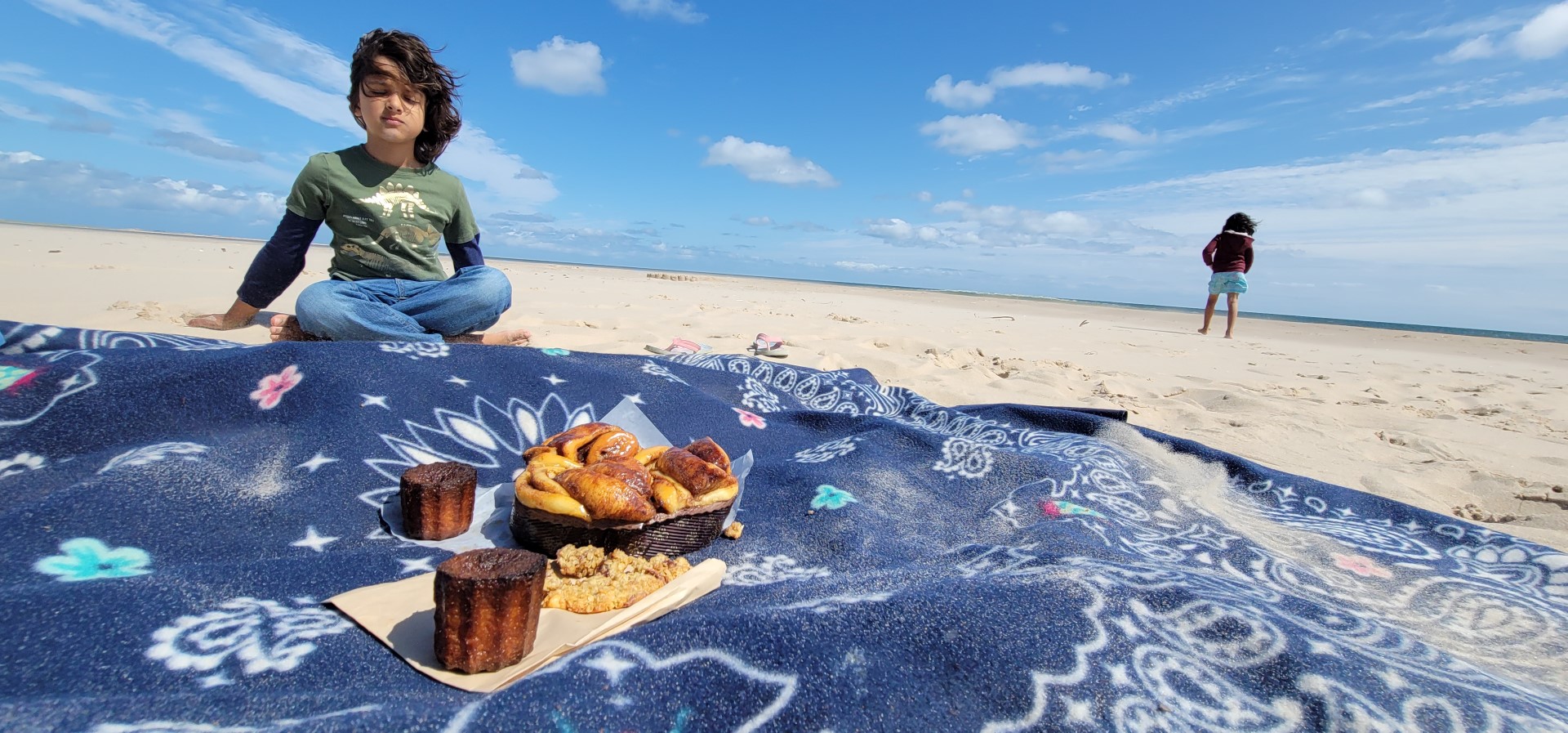 We were pleasantly surprised by the variety of food options on Îles de la Madeleine. I wasn't expecting to be greeted by a variety of fusion cuisines and was thrilled by the selection of seafood found at each and every place we visited (well, except at the bakeries). Depending on where you are, I hope you have a chance to try a few of these places out and I hope you'll come back to let me know of any restaurants I should try on my next visit to the Magdalen Islands.
Bistro Accents : Shockingly this Magdalen Island hotel restaurant was one of my top eats in Îles de la Madeleine! During our stay at Château Madelinot, we dined here for dinner and breakfast with both meals being very memorable. The restaurant specializes in seafood, fish, wild game, beef and local products (as do most eateries on the islands) and offers ocean views as you dine. Honestly everything we had here, we loved! The tuna tartare, scallop ceviche, calamari and the pan seared scallop. They do have a kids menu here with the usual burgers and spaghetti but we opted for the fish and chips. If you're here for breakfast, I really hope they serve the breakfast fritters. This is a local dish that's also known as Beignets or Banax and is a braided dough (think donut like) dipped in a variety of sauces (caramel, chocolate, egg jam). Even if you're not staying at the hotel, I'd make it a point to dine here and be sure to make reservations (though I've heard that breakfast is only available to hotel guests during peak season).
BJ Casse Croute : One of my favourite lobster rolls on the island was from this little snack bar by the sea in Grosse-Île. If you're driving by (and you will be if you're heading to Auberge La Salicorne). I'm not a huge poutine fan but they have a lobster one that I see good things said about online.
Bistro Plongée Alpha : This was yet another spot recommended to us by the locals and I'm so glad we swung by for lunch when we were in Grande-Entrée. This Îles des la Madeleine restaurant is owned by Mario Cyr, internationally renowned expedition leader for Arctic and Antarctic missions, a cold-water diving expert and a world-class cinematographer. As you dine in this quaint shack, you get to watch some his work on a tv screen. It was quite educational for me! This was also our first indoor dining experience after AGES and being shoulder to shoulder with strangers felt a bit odd but also wonderful. You're here for the seal so be sure try some! We continued sampling the seafood dishes and ordered the clam chowder and the halibut patties. They do have a kids menu here as well. Also, if you put your name down and are waiting for a table, be sure to roam around the boutiques around the corner, one of them had a photography exhibit showcasing local fishermen.
Hélène des Îles : Do yourself a favour and pick a few treats from here. Their Cannelés transported me back to our week in Bordeaux! We also bought their famous cinnamon buns and the kids loved it. Just don't be like me and take them to Old Harry Beach okay? Take it elsewhere to enjoy! Also, it's a busy spot so expect to stand in line before you enter the cute kitschy store.
Grandma's Bakery : Those with a sweet tooth will want to swing by this family run bakery. They make fresh bread, pastries and pies daily but they can run out of items as well. I was lucky enough to nab the last coconut pie and let me tell you… it was really good!!! Reminded me of the one Chris' grandmother once made many many years ago.
Café de La Grave : What was once a general store is now a bar, entertainment venue and bistro. Highly recommend heading to the back patio if you have kids because they'll enjoy the easy beach access and you can sip your drink in peace! We went here for the famous 'pot-en-pot' and it was delicious! This local dish features a medley of seafood baked in a pie and even Chris enjoyed it. The scallop ceviche was fab too! The kids ordered the Millet Pie but the kids portion was way too small for them so keep that in mind if you have relatively healthy eaters. La Chocolaterie Eaux Îles is right next door so we went there for dessert and affogato (another great one!).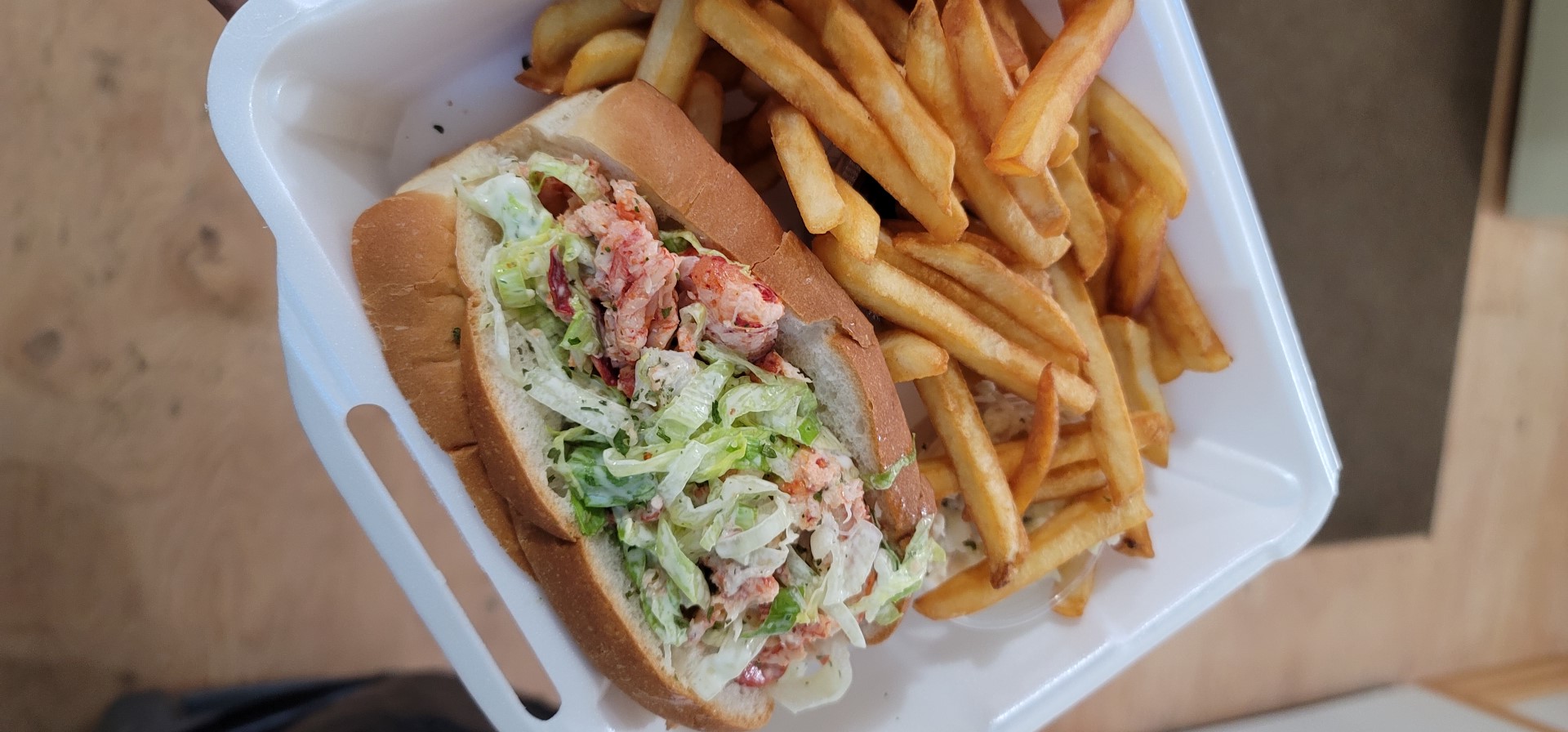 Chez Armand : The lobster roll and sunset here are truly awesome! While our original plan was to dine outdoors on the picnic benches, we quickly realized that we'd be bitten royally by the mosquitos so we ended up dining indoors at this shack. The kids were extra hungry on this visit and dug into my fried clams in addition to eating their spaghetti. If you're looking for a picnic lunch or snack, this is a great spot to grab and go from!
Gourmande de Nature : Make this a MUST visit. Chef and owner, Johanne Vigneau, is at the helm of this gourmet store meets bistro. While the cooking classes have been paused, the bistro and store are worthy a visit to. I had one of the best meals on the island during our lunchtime visit and even the kids loved each dish. I ordered tartare that was melt in your mouth goodness and the kids and Chris enjoy poke bowls and crab cakes. The fish tacos were also divine, based on comments from Solmaz and I encourage you to try their Affogato because I still wake up dreaming of that decadently creamy coffee treat. On my next trip to the islands I will be making reservations for dinner and will also enlist myself for one of the classes. Also, be sure to peruse through the store, they make my favourite finishing salt and this will be another thing I have friends bring back for me when they visit the Magdalen Islands.
Les Pas Perdus : Dinner on this patio was a memorable one. The restaurant came to be when a couple friends who love to travel came together to recue the heritage building from demolition. Today this bar and restaurant has a sister venue for live shows but on our visit it was all about the restaurant. While many come here for the seal burger, we did not have any (sadly) but I bet it is delicious! We enjoyed each and every seafood dish we had, including the Japanese scallop salad, the Oysters (had to fight Apollo for them) and Calamari. The kids had steaks and said it was good too. No going wrong here, that's for sure. If you are a poutine lover, you should try the Boss Poutine which comes loaded with scallops!
Boulangerie Madelon : This bakery has been around since 1964 and is a good place to stock up on snacks and essentials like milk for the hotel room. They do serve hot lunches and sandwiches but it's their treats that will see me returning. Be sure to try their Florentine Cookies, which are crispy and gooey at the same time. Their almond croissant was also REALLY good.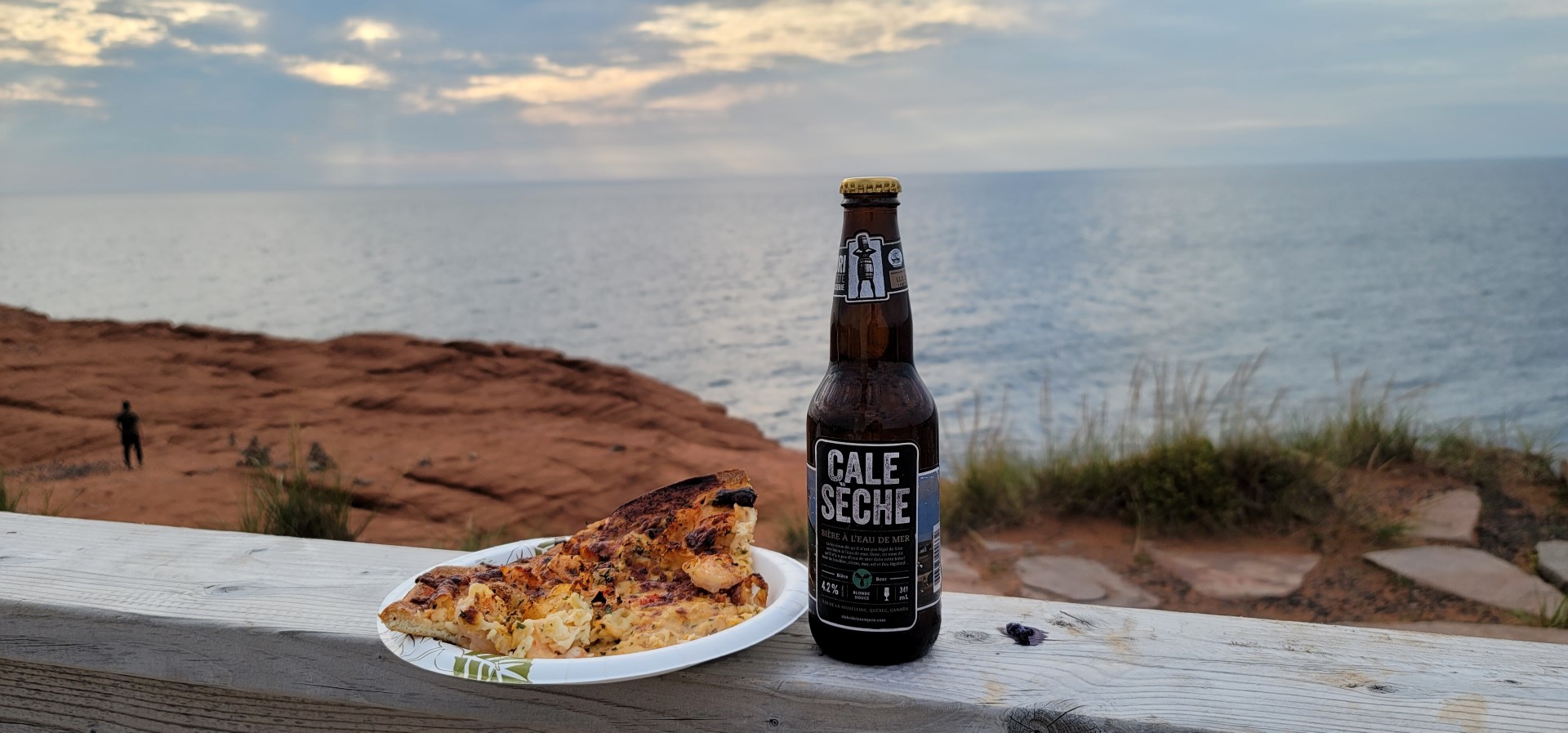 Pizza d'la Pointe : We enjoyed a couple slices of seafood pizza by Borgot Lighthouse the first night we arrived and I was surprised by how much I liked it. Honestly, seafood pizza sounded gross to me since it reminded me of Shakey's frozen shrimp pizza from my school years in Dubai. This was not that and I'm so glad I gave it a try. The "sinner pizza" was loaded with well seasoned shrimp, scallops, lobster and more. A couple locals continued to recommend this spot to us so it's clearly a local favourite, and yes, they have 'regular' pizzas for the kids too.
Tips for Visiting the Magdalen Islands with Kids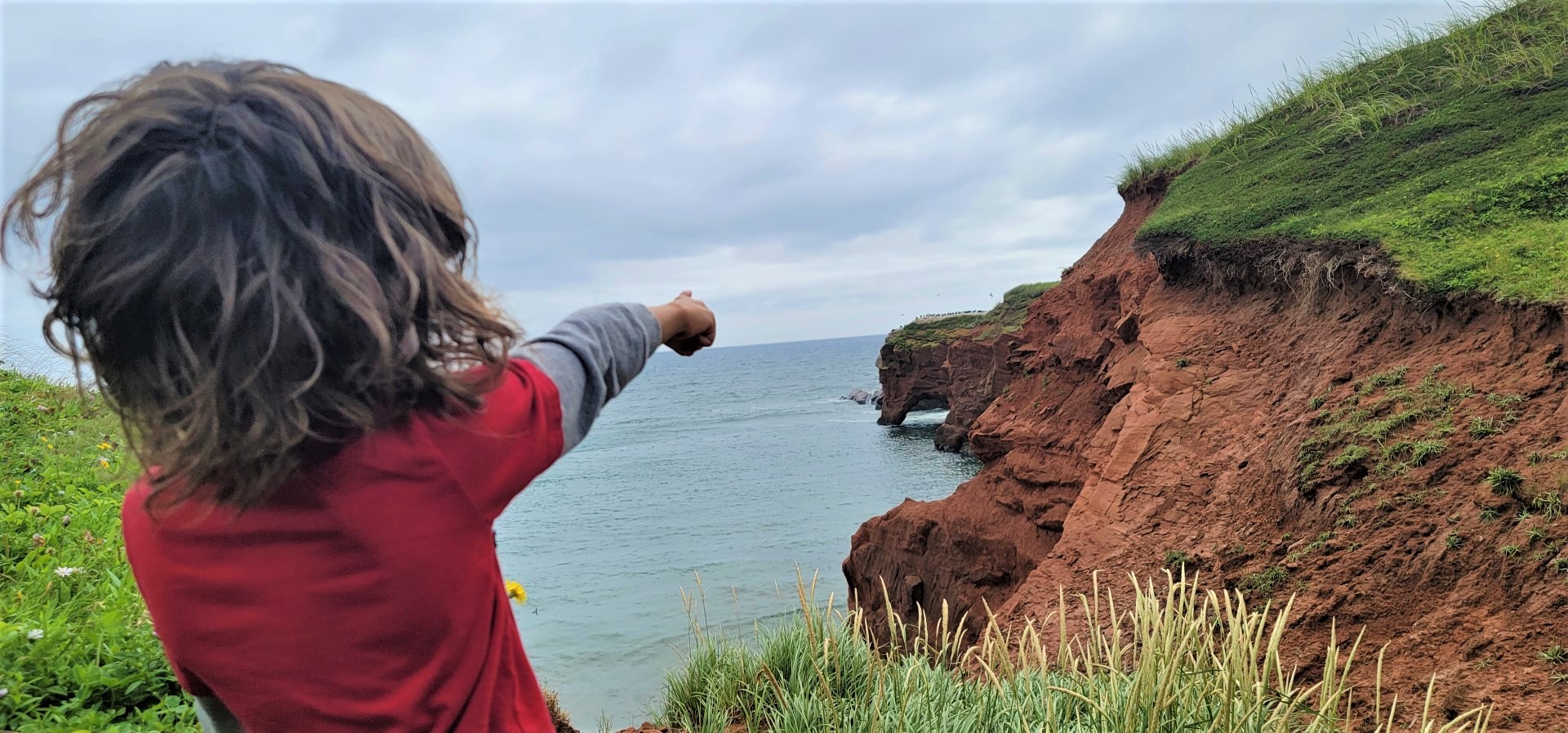 As always when visiting the Canadian East Coast, pack for all weather. Bring layers because it can be windy and cold even in the middle of summer
Remember that you're on Atlantic time here. You will be setting your clock ahead by an hour if you're visiting from Toronto, but also, remember you're on island time. Things take a bit longer, no one is rushed. It's the way of life. Pack patience along with your layers
July and August are considered the best time to visit Magdalen Islands but remember that September is quite nice as well. That said, most attractions have shut down by mid September and won't open until the following May.
You are at the mercy of the winds when planning tours and excursions so build buffer days for missed activities and be ready to move your schedule around as required
Winter is a unique experience so if you don't mind cold temperatures, scope out the winter activities on the Island. I hope to do so one day!
As always, pack all medications and pharmaceutical items you may require. There are pharmacies and stores on the island but they may not always be easily accessible depending on your route
Don't forget bug spray
Since we are living in a pandemic, I will mention that visitors who test positive for COVID-19 during their stay in the Îles de la Madeleine, will be required to complete their quarantine period on the islands and follow the instructions of the Government of Quebec for people with COVID-19 in home isolation
5 day Itinerary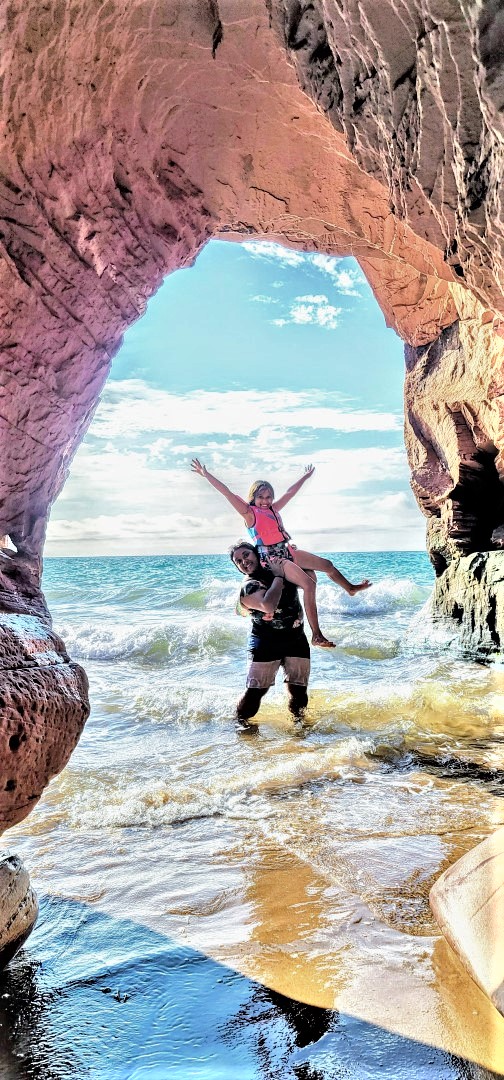 You will definitely need a day for arrival and departure so I'm not counting those days on your week long Magdalen Islands itinerary. In my youth I would have said you could visit the islands for a weekend but if this is your first trip, I honestly believe you need extra days to really embrace the island vibes. Even after our 6 full days on the island, we still have a list of things to do in Îles de la Madeleine on a future visit! Please note that for days 1 to 3 you can stay in the same accommodations but for day 4 and 5 you may want to stay on the other side.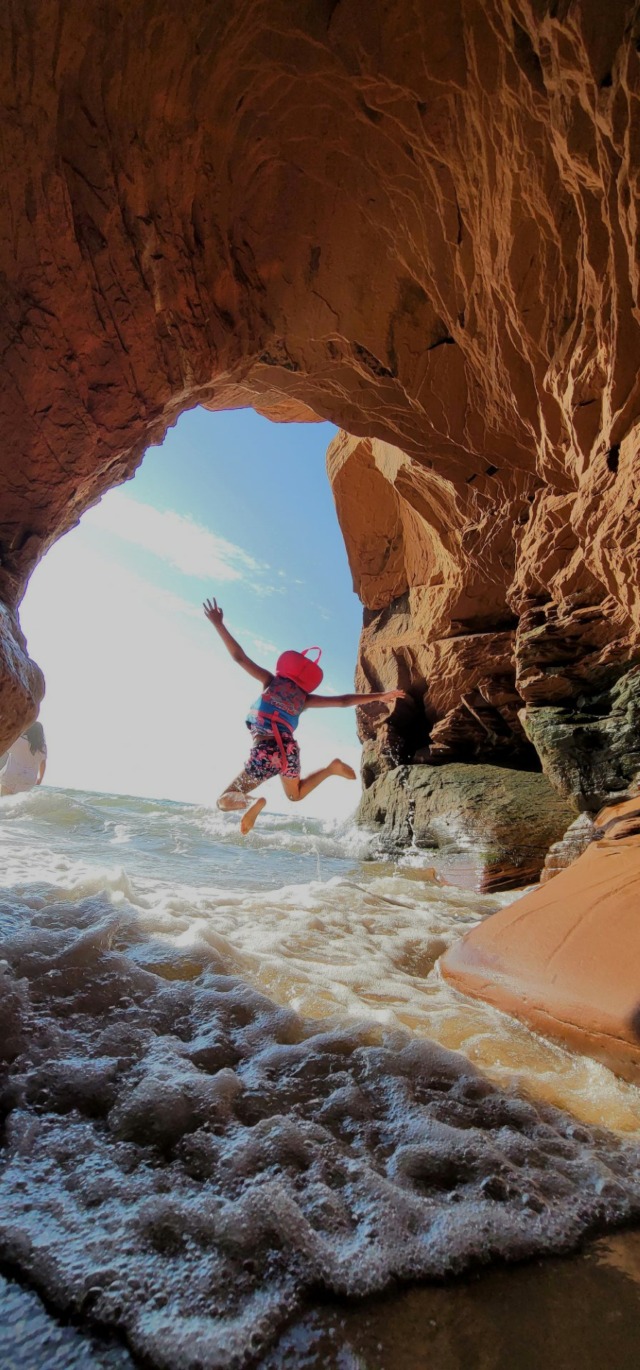 Day 1 – Havre-aux-Maisons Island. Most of these spots are close to each other so it's easy to pack a lot into this day.
Coffee and playground time at Cindy Hook
Pick up treats from Hélène des Îles (expect to stand in line for 30 to 60 minutes on busy days)
Pizza d'la Pointe for lunch
Fromagerie Pied-de-Vent cheese (quick visit or schedule a tour and tasting)
Fumoir d'Antan smoked herring economuseum (quick visit or schedule a tour and tasting)
Cape Alright Lighthouse
Le Barbocheux for a tasting or La Méduse for glassblowing
Dune du Sud beach
Dinner at Les Pas Perdus (it is on a different island but quite close by)
Day 2- Cap-aux-Meules Island
Seal Excursion (early in the morning)
Site de la Côte (visit shops, build a kite, lunch at Gourmande de Nature, visit Le Flâneur for a snack and grab an ice cream before a playground visit. Plan to spend 3 to 4 hours if you're doing it all. If you can return for sunset dinner at Eva restaurant it was highly recommended to us)
À l'abri de la Tempête brewery
Grab a lobster roll snack from Chez Armand
Spend evening at L'Anse-aux-Baleiniers (playground, beach, bars/snack shops) or take in some water activities at Parc de Gros-Cap (kayak into caves)
Sunset at Borgot Lighthouse (Cape Hérissé Lighthouse), Belle-Anse or go for dinner at Eva Restaurant at Site de la Côte
Day 3 – Havre-Aubert
L'Anse-à-la-Cabane Lighthouse
La Grave (plan to spend a few hours here, enjoy lunch at Café de La Grave and get your shopping on)
Le Verger Poméloi
Dinner at Bistro Accents (back near your accommodations)
Day 4 and 5 – Grande-Entrée (Spend a night or two at Auberge La Salicorne)
Pointe-aux-Loups beach (start your day here)
Check into Auberge La Salicorne and enjoy the many activities and excursions on-site
When you're in the area be sure to visit Old Harry Beach, Grandma's Bakery for treats, BJ Casse Croute for lobster rolls and Bistro Plongée Alpha for a meal
If you made it all the way to the end… congrats!! You now have ALL the tips I have to share! Until our next visit anyways!