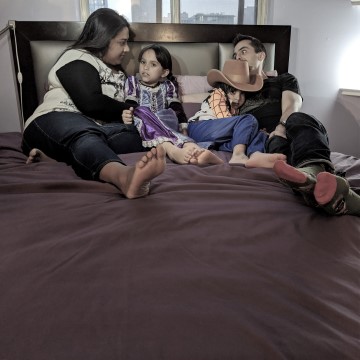 One of our new year's resolutions was to make small upgrades to our condo and cut back on some of our travels so we could fund these changes. Well, what do you know, it'll soon be December and I've only done one room. And that's okay because I learned many things as we refreshed our small condo bedroom on a budget. The best part is that this is now my favourite room in the house and where I spend most of my day at. It's my zen spot and I want to show you how I managed to get the various pieces together without tickling my non existent design bone. If you're looking for some ideas on how to refresh your condo bedroom on a budget, I hope this helps you achieve the feeling you're after because our bedroom gives me all the bright cozy feels I was craving. Fair warning, the pictures you're about to see are exactly what you'd see if you popped in to visit us. There has been no staging or rearranging JUST for the photoshoot. What you see if what we live in. Also, there's a giveaway for a ring holder so keep on reading!
Disclosure : This post contains some items I've received as gifts and samples for review but, as always, opinions are TOTALLY ours!
Downtown Toronto Condo : The Before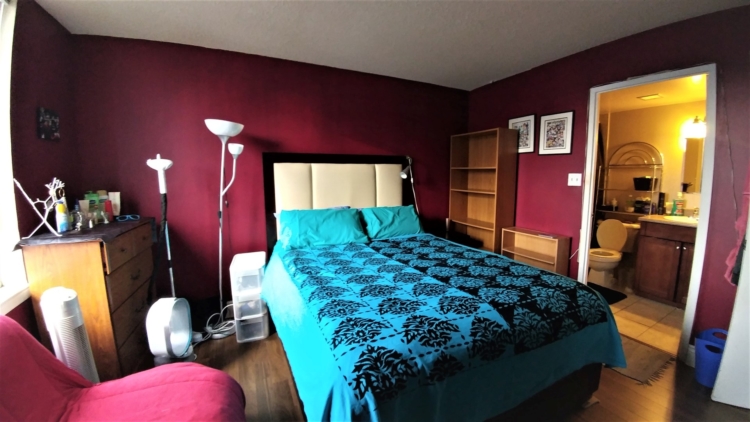 Our bedroom has mostly remained the same since we got married and Chris brought over his love of bookshelves. At one point we had a TV in there as well but we got rid of that around the time the kids were born (as we started actually living in our living room) but the main issue was that our room was cluttered and some people (ahem! Chris!) was starting to use the various shelves and nooks to house random pieces of paper,tissue and items that should be thrown out. This picture above was taken when we cleared out the room for the renters who lived here during our big trip back in 2017 and below is what it looked like right before I started making changes.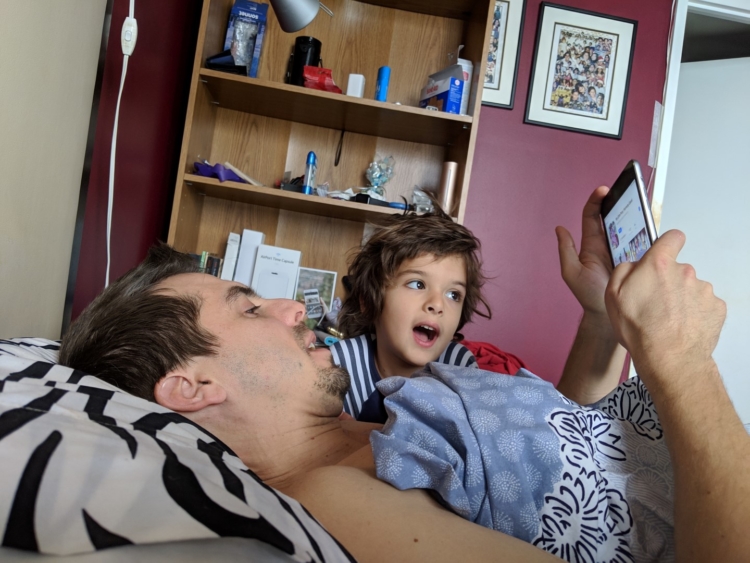 First Step : A Wave of a Brush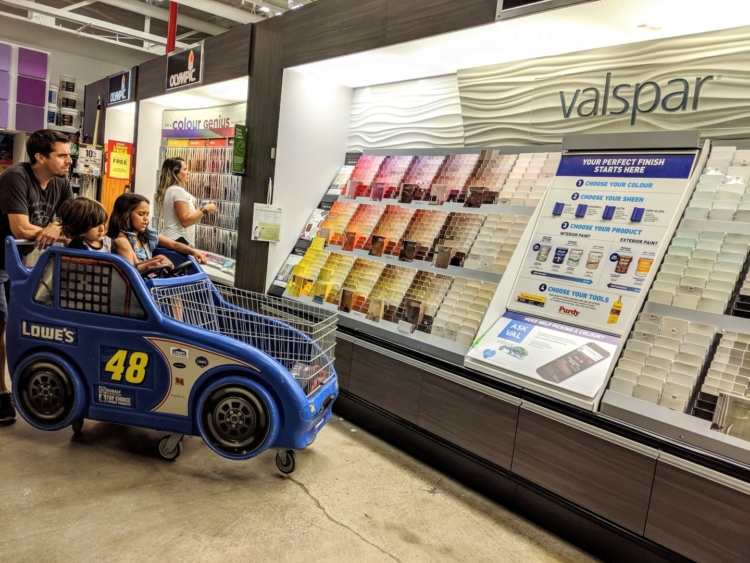 Chris helped me paint the previous dark shade of pinky red when we first started dating back in 2006 and little did he know that he'd end up living in that same colour! While I loved the dark tones in my younger days, it was starting to feel claustrophobic and I was craving a change that would make our bedroom more relaxing. I was being drawn to light greys and lilacs which is how I ended up choosing the Valspar Signature Carousel Purple. It was the perfect tinge of grey, purple and blue and we chose the Valspar Signature semi-gloss ultra white for the trim. This Valspar range is currently only available at Lowe's and while I was gifted 3 gallons of the Valspar Signature Carousel Purple, I only needed one for our 12×13 downtown Toronto condo bedroom. I was so sure that we'd need four or five coats to cover up the deep red but Valpsar paints not only have the primer built into their Signature line, but the painter we hired (honestly, $140 was worth Chris and I not procrastinating and doing a shoddy job) was impressed that he only needed two coats to make our room look brand new! Choosing the paint colour was the first step for me and was the foundation for all the other choices we have made along the way.
Paint Costs : Approx $50 and $140 for the painter
Second Step : Pops of Colour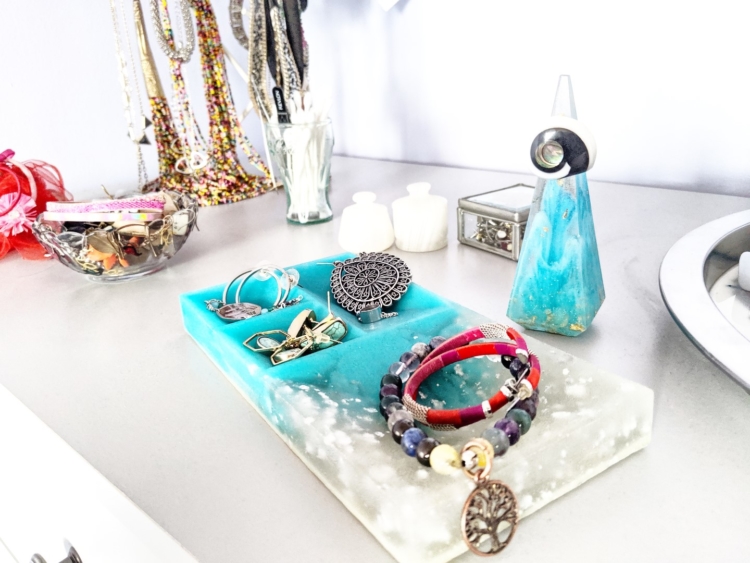 I recently connected on Instagram with someone I went to middle and high school with in Dubai (but didn't know her back then) and she is an amazing resin artist. I fell in love with her work and she gifted me with a ring holder and a jewelry tray in one of our my favourite teal colours. This colour (along with fuscia) was actually part of our wedding theme and it immediately warmed my heart. It also paired beautifully with the Valspar Carousel Purple which made me want more of that teal colour in our room. This is why I actually asked Chris to buy me one of Yolanda Fernandes Ly' resin trays for my birthday (which we had customized to match the silver we were also accenting with)! In addition to supporting local artists in Toronto, I now have a gift that puts a smile on my face every single day. I loved the teal colour so much that I went on Ali Express and ordered a $10 fuzzy rug to wipe our feet on before we jump into bed…. no more cheerio crumbs from the kitchen and living room creeping into our bed! I also had a bed spread I had purchased during my days in Karachi and so that comes into rotation, especially if we have guests visiting.
Colour Accent Costs : Resin items $125 and $10 for the rug
Invest In Your Sleep – Best Cooling Mattress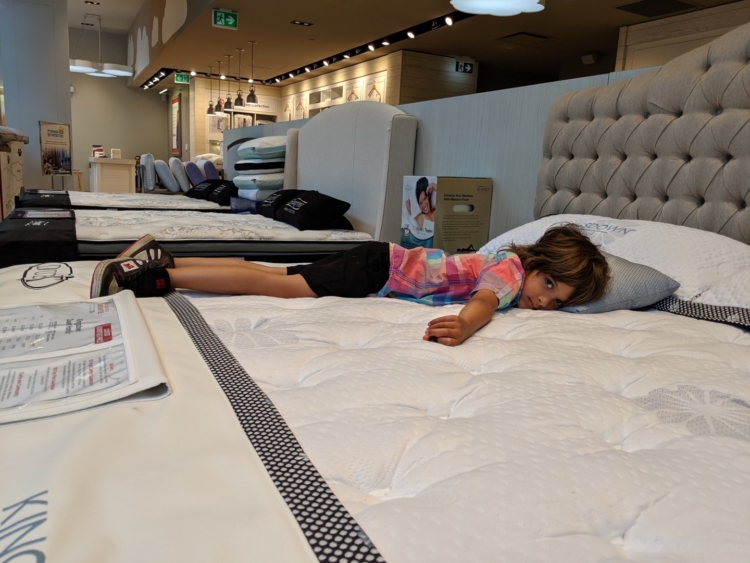 I know I said we did things on a budget but we totally splurged on our mattress because it's where the two of us spend a majority of our day at. We love to sleep and I also work from our bed these days, so this technically wasn't on a budget. Ten years ago we had purchased a $1000 mattress from Sleep Country and as a recent graduate, I remember thinking how "adult" I felt having made a conscious decision to invest in a really good Sealy pillow top mattress. I also knew that over the ten years our mattress was stained (kids had peed all over it during the baby stages) and just thinking about the sweat and dust that would have seeped in was making me itch. I took the kids and went into our Sleep Country store one day as part of "Camp Yash" this summer and we tested a bunch of mattresses out. While we did purchase an online mattress for Baby Boy, I still prefer going in and chatting with the sleep experts because I always learn so much. We left thinking we had found another pillow top replacement that would be better for my aching back and the plan was to bring Chris back the following week. We did end up going back with Chris a couple weeks later and he totally threw in a surprise by going out of our agreed upon $2000 budget by looking at a Tempur-Pedic PRObreeze Orange Mattress.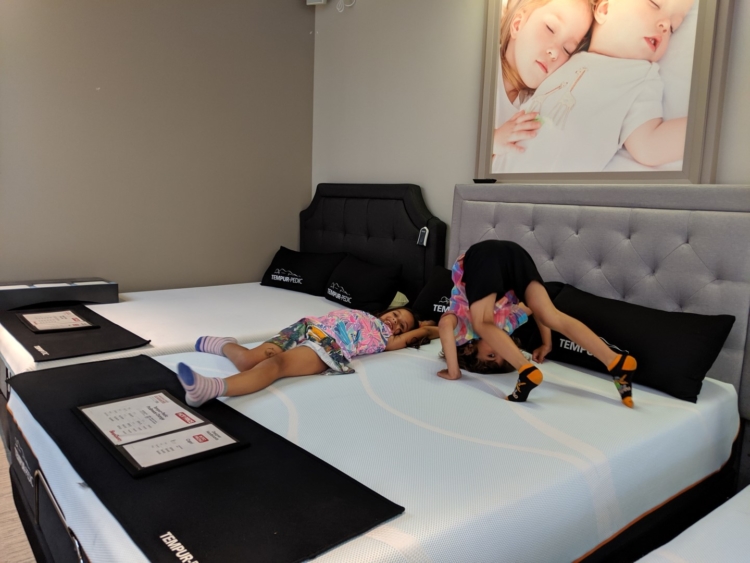 He was smitten and truth be told, so was I. The mattress just hugged us in the right places and the medium version was firm but not rock hard. Since Chris had given the green light to splurge on a $4500 mattress, we went ahead to place the order and discovered that there was a floor model that had never left the warehouse which was on discount! We put down a refundable deposit and took another 4 weeks to really think about it. I returned to the Sleep Country store two more times to ensure I really loved it and we finally ordered it two months after my initial visit. Going in a couple times enabled us to learn about the various trade shows they were doing as they seem to offer discounts at these shows and pass on the savings to their customers who didn't make it to the local show. I really like to do my research, as you can see and just before I placed the final order, Sleep Country gave us a gift card to help us out a bit with the purchase. The experts at Sleep Country were very generous and allowed me to come in with numerous questions and guided us towards the best purchase for us. We also had 100 days to test out the mattress and while I wasn't fully convinced during the first week…given that I now spend about 10 hours each day in bed, you can guess how much I love it. The mattress provides exclusive phase change technology which absorbs excess heat so you sleep up to 3 degrees cooler and this has significantly reduced my night sweats. In addition, there's a SmartClimate Dual Cover System, featuring the world's first removable, machine washable cooling cover and thanks to the Original TEMPUR Support Layer that automatically responds to your temperature, weight and shape, you are perfectly cushioned. Honestly, had we just gone online to purchase a mattress, we would have just bought the same one we had but now I'm so much happier, as is my lower back!
I should also mention that during our July visit I noticed that Sleep Country has was  accepting donations of new and gently used children's pajamas and storybooks to help provide children in need with a better night's sleep. What a great initiative! Looks like they have a couple different community programs throughout the year and I'm thrilled to be a Sleep Country shopper.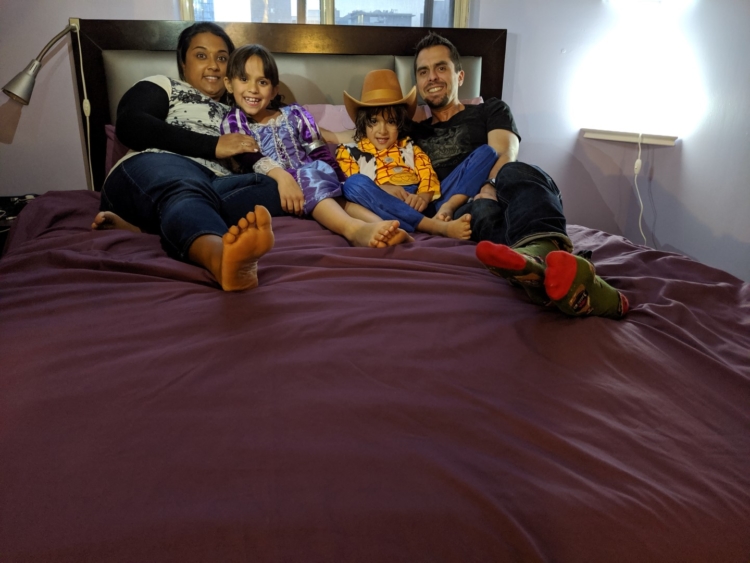 My parents gifted us with these lovely purple bamboo sheets and despite owning 8 other linen sets, this is the one we use the most. Bamboo sheets are life changing you guys-keeps me cool and is luxuriously soft but doesn't snag the bottom of my feet like satin sheets do.
Bed Costs : $3200 for the mattress and $50 for sheets
Move Things Around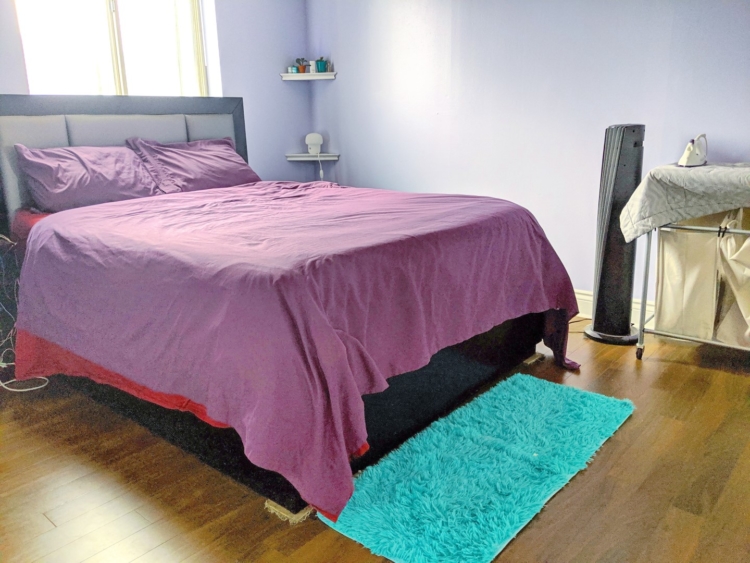 Once we had painted the room I knew that we should move our furniture around because it would open up the space and give us that "new" feeling. Chris wasn't fully on board with this idea but as you can guess, I just went ahead and did it. Now he loves it. Our main challenge was that our headboard was too high to be placed in front of our windowed wall but luckily my brother was visiting and did us a huge favour by cutting our headboard AND swapping out the torn beige pleather for a lovely gun metal wipe-able (and less dust absorbing) fabric I found at Fabric Outlet. I knew what I wanted but neither Chris nor I would have been able to do this job so we're super thankful that my brother was able to help us by sawing our wooden headboard down. We bought our bed ten years ago as well and still love it because it's made of sturdy wood and has 6 large drawers for us to store our towels, hat collection, sheets and clothes. Living in a condo, we need ALL of the storage solutions! Moving the bed made a big difference and made us realize that we didn't really need some of those bookshelves Chris brought with him when he moved in ten years ago (can you picture me doing a happy dance?)!
Headboard Redesign : $75 for the headboard fabric
Get Rid of Unused Items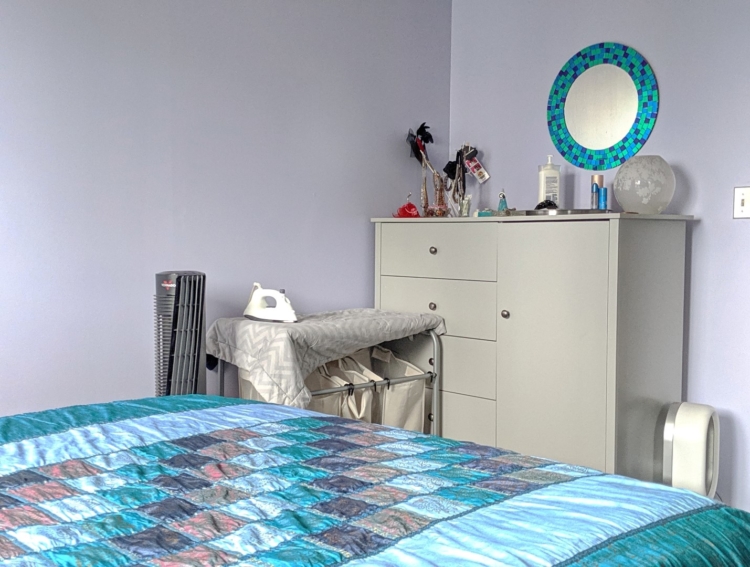 As soon as we moved the bed we realized very quickly that the bookshelves had to go. Well, I realized it. Chris wasn't happy about losing the shelves that housed his numerous Starbucks napkins, batteries and receipts. Honestly, the shelves were clutter filled with dust and junk which was really bothering me. We moved the large shelf to the kids room so now they have additional toy storage and the smaller one turned into our condo's  free little library!
We also decided to get rid of my dresser by passing it on to Baby Boy whose change table had outgrown him. However, we still needed something to house my jewelry, night gowns, underwear and t-shirts. Plus, Chris did have a few important documents and tech gear that he wanted to hold on to. This is when I spotted the perfect grey dresser on Wayfair. The Olympia 5 Drawers Gentleman's Chest was the best solution for us as it has drawers for me on one side and a CLOSED section of shelves on the other. Chris could now put his junk away and it wouldn't be an eyesore! The top was mine to play with and it's where I put my gorgeous resin work by Yolanda. My goal is to ensure it doesn't get cluttered!
Once I put the dresser in my online cart I noticed that there was a laundry hamper with a built in iron board that could be wheeled around. Talk about being perfect for a condo! It's what our friends notice as soon as they peek into our bedroom! Such a brilliant idea. I had received a gift card from Wayfair and it helped cover half the costs on this one!
Furniture Costs : $330 for the dresser and $99 for the laundry hamper
Finishing Touches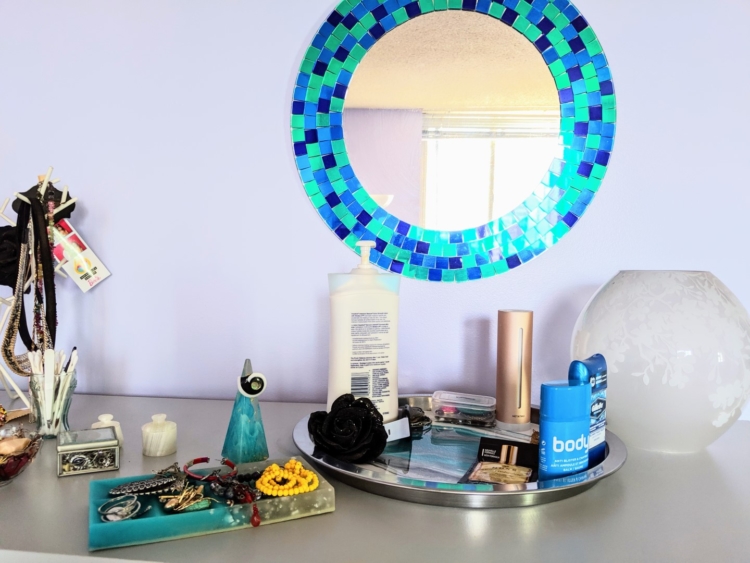 Once most of the things had been set up I realized that we needed a couple things to round things out. Our finishing touches included pulling out an old IKEA lamp (which they still sell 8 years later mind you!) and moving an IKEA mirror a MBA friend had passed on to me when she left the country eight years ago. The mirror matches the pops of colour I have in our room and the lamp gives us the cozy vibes I was looking for. We also ordered some Wiz bulbs for it and now we can not only turn the lights off by using the app on our phone from the comforts of our bed, but we can also change the colours and have the lights turn on and off at certain times of the day. I think we'll eventually get a second Google Home Mini for our room so we can control it via that as well.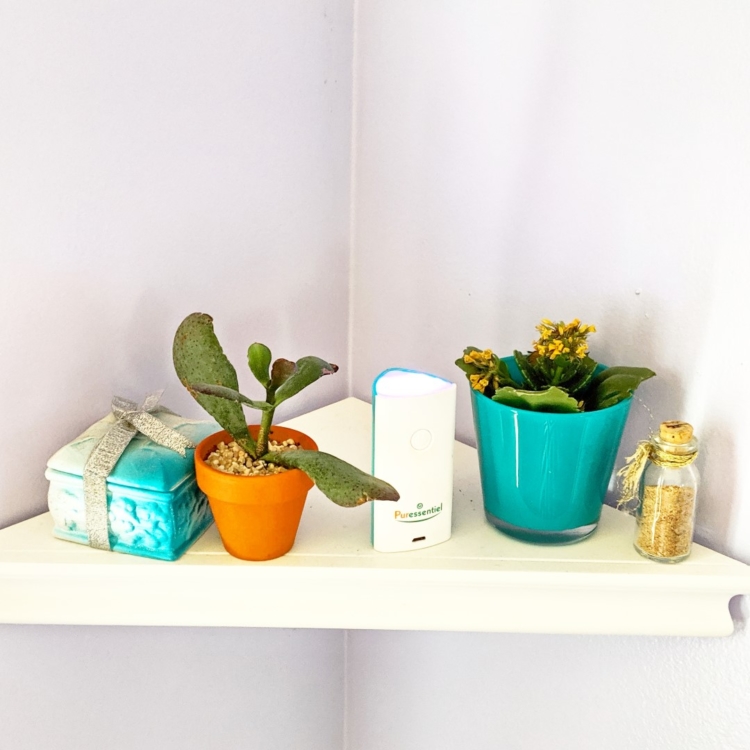 I also realized that while Chris had his old side table, I had got rid of the plastic drawers I had next to my bed and now had no place for my specs, books and glass of water. I plopped in the Kikkerland Bedside Caddy I had received from Staples a while back and purchased these triangle corner shelves from Wayfair. We added in another IKEA lamp and some cacti I found at IKEA to tie things together. I think it's a great use of otherwise wasted space in a condo bedroom. It's also the perfect spot for the Puressentiel cordless diffuser which dispenses essential oils in a fine mist through its ultrasonic diffusion system. Love that it's tiny, has a rechargeable battery and is totally movable. I usually turn it on a couple times a week to add in a spa like vibe when I'm getting cozy in bed with a good book.
Decor Costs : $25 IKEA lamps, $30 Wix bulbs, $50 Diffuser and $63 Wayfair shelves.
Best Advice : Take Your Time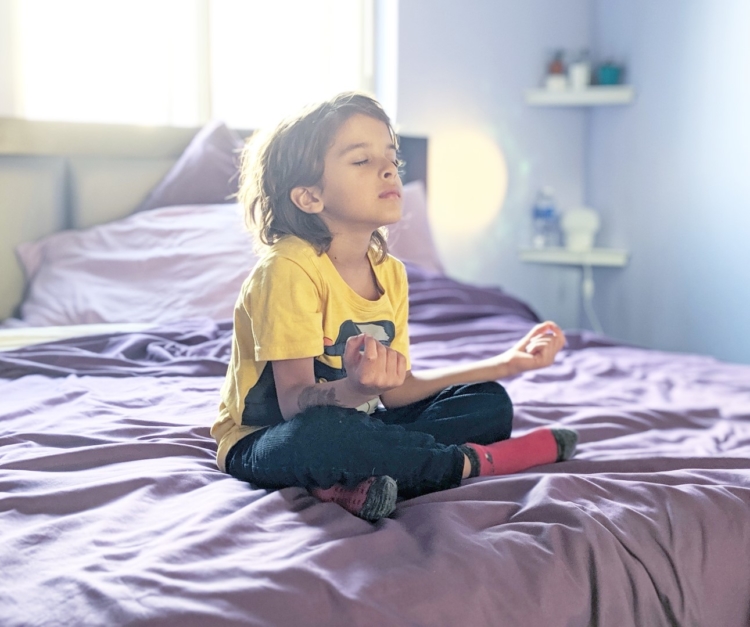 As I mentioned previously, I'm no interior designer. I no longer have the time to watch home renovation shows (though I'd love to be on one!) and hence I started this journey clueless. All I knew was the FEELING I wanted to have. I moved things around, bought a bunch of items which I ended up returning and spent three months on this project. We also incorporated things like our Dyson Humidifier (which is silver and white and totally in theme!) and I'm yet to spray paint the new tower fan Chris bought me for our anniversary! It's black and not in theme so I may eventually spray paint it like I did with our light switch plates. Condo living means we need a fan in the winter so dealing with that eyesore is a necessity it seems. Give yourself the time to play with things and don't rush into it, especially if you have a strict budget to adhere to.
I'm not sure if you noticed but our walls are still bare and I still need to decide if I want curtains or blinds for the window. Those are two pending items I will update you on when I make my decisions! I'm quite certain that I want black artwork or black and white images for the walls but I need to find some silver/chrome frames first!
While the kids love coming into our room, I've told them that they can no longer jump or stand on our mattress. They also know that when I get mad and the house is a mess, my bedroom is the place I come to unwind and calm down in. Of course, our room doesn't always look picture perfect. Chris invariably brings in his junk and his side table is always a mess. Often times our cordless HOOVER ONEPWR Blade vacuum can be found in our room because we're always trying to suck up the hair I shed on an hourly basis. I do swiftly clear up anything Chris "accidentally" leaves on my dresser, but I do have to live with clothes being hung on hooks, random gift bags being left in a corner and of course our towels and hoodies hanging off the door. I'm not insane enough to believe that our bedroom will look like those in magazines because the reality is that we actually do live and use the space. The above pictures show you some of the every day messes which I can deal with because the room is still mostly bright, light and zen-inducing.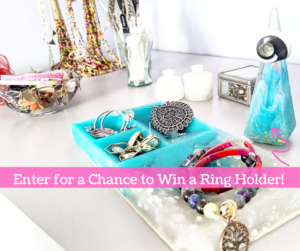 My friend Yolanda has generously offered one of her ring holders (you may have a chance to choose your favourite colour from her existing collection) as a giveaway so enter below for a chance to win one before November 13 (anyone, anywhere can enter)!
a Rafflecopter giveaway

I'd love to hear of any refresh projects you're doing. I especially need inspiration for our disgusting condo bathroom which needs a full overhaul!