Last week started off on a very sad note,  we hopped on a  plane to Newfoundland. While we were hoping to say goodbye to Nan Murphy in person, we unfortunately missed doing so. I've always associate death with lots of crying and a miserable atmosphere overall. However Nan Murphy, the greatest soul one could ever meet, would most definitely not have appreciated that at all!
She always had a smile on her face, a song on her lips and her dancing shoes on. Wherever she was, there was always a party.  You wouldn't expect a 83 year old to be on a dance floor for three hours straight, but that's exactly what she did at my wedding nearly three years ago. This wasn't a rare happening at all.
She touched anyone who came across her way in a deep and meaningful way. My favourite story of Nan would be from the summer of 2008 when she came to Toronto. The family was walking around downtown and the group split up momentarily. Nan comes back and when I  asked her where she'd been she said  she met an old man and that they sat down on a bench and had a bit of a chat. He asked her to marry to him because he loved her Irish accent. Definitely not something I was expecting from a grandmother.  I remember thinking….geeez I should really brush up on my flirting skills!
This week the family gathered for a song and dance every night. Yes there were many tears during the two day wake, the funeral mass and the burial, but in between we shared many Nan stories (there were many!), sang her favourite songs and expressed our love for each other. It's exactly  how she would have wanted us to celebrate and toast her life.
I absolutely love this concept of revelling in the things that the deceased adored. Not to sound morbid, but  that's how I'd like to go down…with a big shindig! So as our week long  Fête winds down I'd like to raise a virtual pint for Nan Murphy. She left  us with a lifetime of memories  and surely many generations will  hear stories of her …even those not related to here! Sláinte!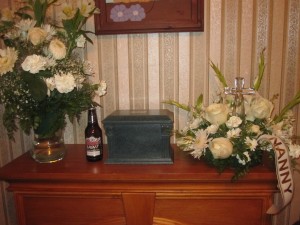 The Life of the Party!