Given that the hubs hails from Nova Scotia, we had to make a trip there this summer to introduce the Little Monkey to her roots. She'd done Newfoundland so this was her second trip out East. We spent two glorious weeks in August with Cape Breton being our home-base , don't worry I'm not going to tell you about the Cabot Trail with a baby, because we didn't do that… saving that for a future roadtrip with a screaming, kicking the seats toddler! Since we were staying with the parents (in-laws) travel was easy because the mom (in-law) has more baby stuff than we do! Everything from a crib to the Little Monkey's favourite blanky was there amidst toys from the 1980s! We did a weekend trip to Mahone Bay and Halifax and another one to PEI. I'll save the PEI tips for a future post ( I LOVED PEI.. so much to share!!) but highly recommend Cape Breton during the month of August when you're more likely to have bright sun shinny days. You'll be surprised but I shopped more at the small mall in Sydney than I do back home living across the Eaton Centre! Go figure. Sparkly shoes for the Little Monkey, full work wardrobe compliments of the mom (birthday gift) and a few random pieces filled the suitcase on our return. Vacationing in Cape Breton means taking a break from the hectic city life, you relax the moment you land into the small tiny airport (if you land into Sydney as we did , that is) and from that moment on, our life was in slow mode. No rush, no agenda, just going with the flow.
Here's our recommendations on what to see, where to eat and stay when visiting Nova Scotia with a baby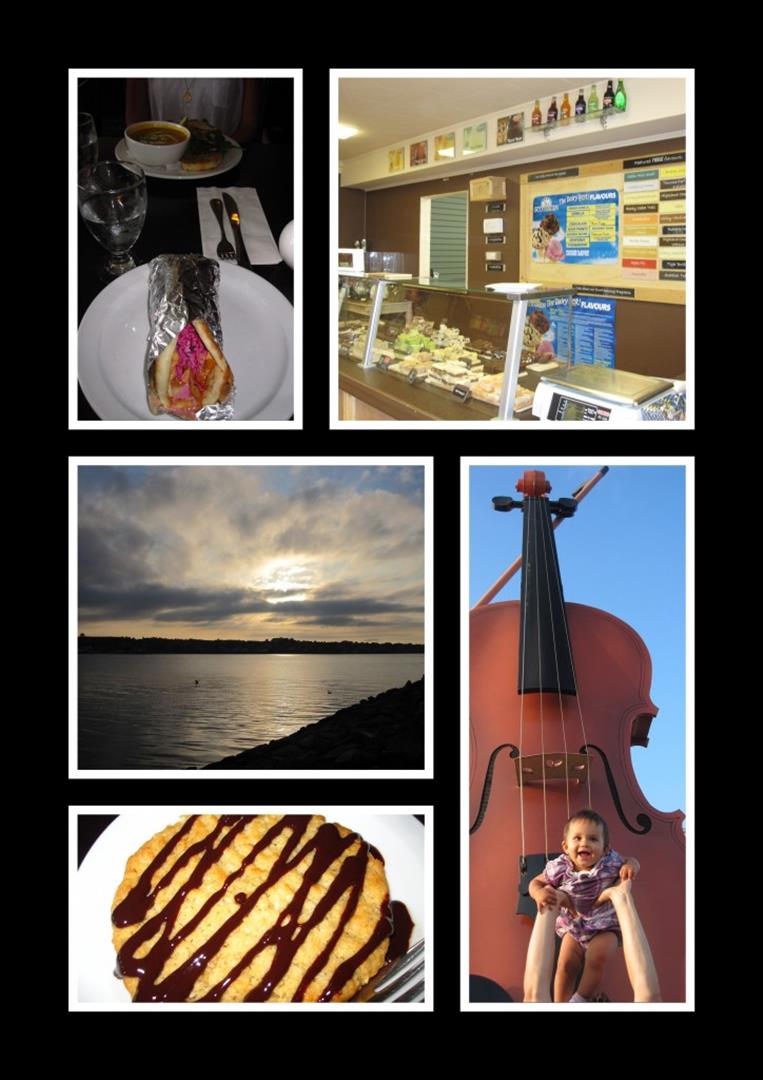 Sydney – We stayed at home so no recos on where to stay but there are great B&Bs and hotels in the area ( I hear good things about the new Hampton Inn at Membertou – we celebrated our wedding at the Membertou three years ago and the place and staff were fantastic, now that they have the new hotel, I hear the same level of service is to be expected). Catch a sunset on the boardwalk and take an obligatory picture with the big fiddle ( I finally made it to the Fiddle on my fourth visit to Sydney!). Being on the East Coast means smiling strangers and friendly people chatting you up, no matter where you are. It also means good seafood! We discovered Flavour on this trip and highly recommend this baby friendly spot for delicious soups, fresh innovative sandwiches and the most decadent coconut cookie (a family recipe). Their Sunday brunch looked fabulous but we didn't get a chance to test it out. All the locals love Napoli pizza, I'm not in love with them as much as the hubs, his passion for their pizza is absolutely ridiculous! For dessert, pop by the Cape Breton Fudge Company for some fresh fudge in so many flavours you'll have a hard time deciding what all to buy! They are the Baskin Robins of fudge!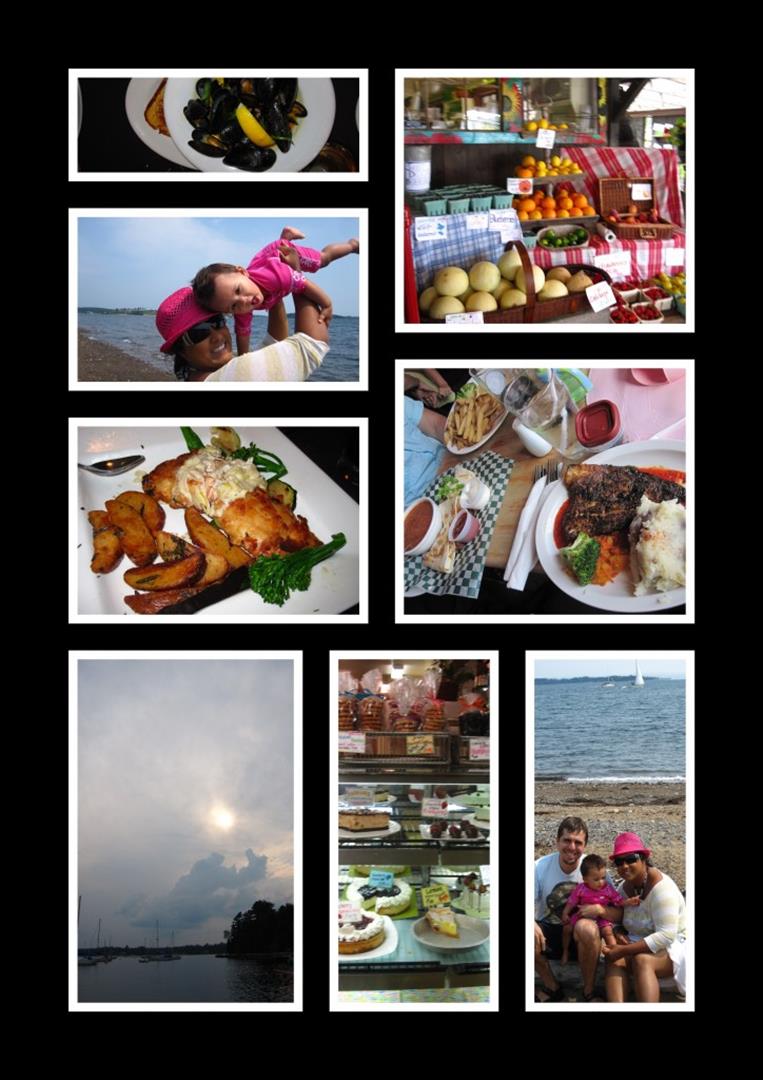 Mahone Bay – A quick weekend getaway led us towards Mahone Bay. It was surprisingly difficult to find a spot that would accommodate four adults and a baby but we totally lucked out by stumbling on Cherry Lane cottage. The owners Maureen and Barry ensured that we had a comfortable stay and even had a baby gate waiting for us on arrival! We had our own crib and high chair so it wasn't an issue but they didn't have any (incase you were hoping to have those available). The added touch of having board games available meant that we were able to amuse ourselves after the Little Monkey went to bed! Situated right in the middle of the town within walking distance to everything, from ice cream at the corner store at 9 p.m (everyone closes early! They got the whole work-life balance down!) to Jo-Ann's Deli and Bake shop where you can find some stellar chowder and lobster rolls. They also have some amazing creamy goodness that's called a coconut cream pie. If you're looking for fresh 'homemade' pies, jams, pickles and bread this is your spot! A great place to pick up items for a picnic as they also have an impressive selection of local fruits and veggies! We tried to swim in Mahone Bay but the water was too cold for the Little Monkey and I , the rest of them loved it and kept telling us the water was actually warm (hah! warm in Sri Lanka equals 25 c!). You pass a lot of little places on your drive to Mahone Bay from Sydney and we were lucky to dine at two great spots. I highly recommend the Dock Food Spirits & Ales for some baby friendly (high chair available!) service and food! The dishes for the adults did not disappoint either! I had some of the best fish I've had in ages, a blacked cod served with a vegetable smash medley that had me licking my fingers. All at a pub! Pop by the Galley Restaurant and Lounge in Chester Bay for some wine, appys and a peaceful sunset if you get the chance. The curry mussels are a must. Just drooling thinking about that dish.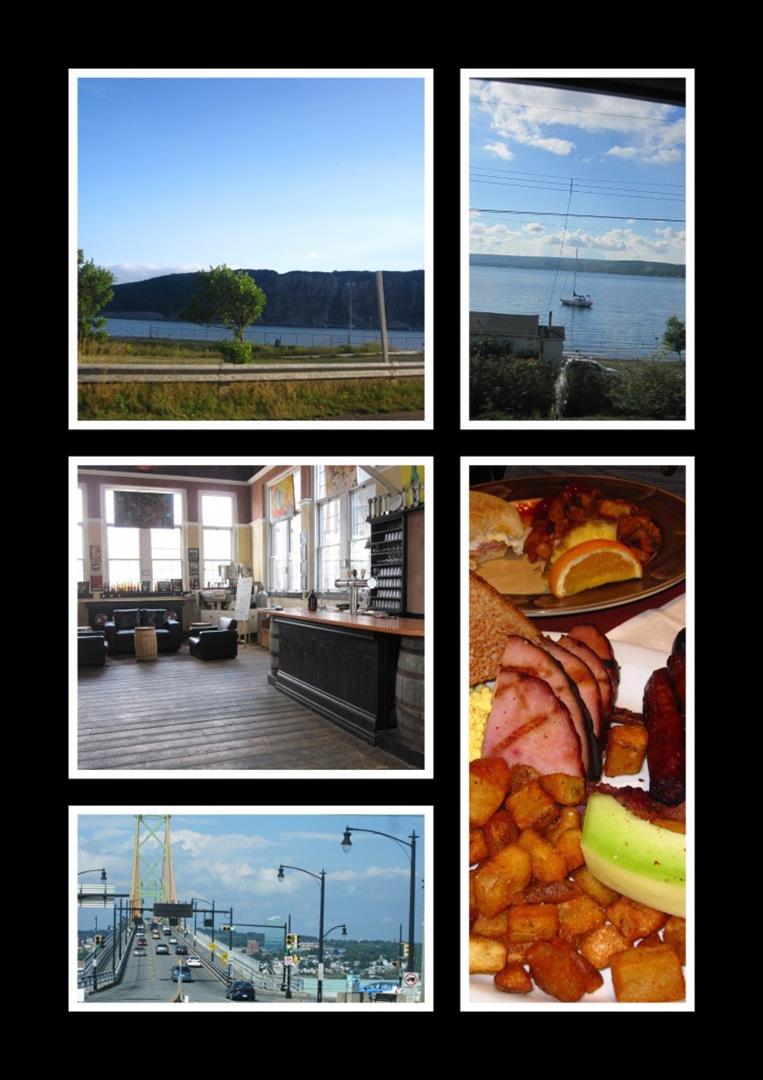 Halifax – Having spent Friday and Saturday night in Mahone Bay we decided to head back to Sydney early Sunday with a quick stop in Halifax to refuel with old friends at Your Father's Mustache (pretty average joint, there's plenty of better places to eat but they were baby friendly and able to accommodate our group of 10 with no reservation). Oh and hey.. what a cool name! No trip to Halifax is complete without a pit stop at Garrison and Propeller breweries. Yes one wasn't enough, we needed both! Sydney's booze selection at the NSLC leaves much to be desired so it was stock up time.
Nova Scotia and Cape Breton are both peaceful places to visit with a baby in tow. Just wish I had the chance to get in a Ceilidh! Always next time! For us, this visit was all about family time and spending the two weeks relaxing.