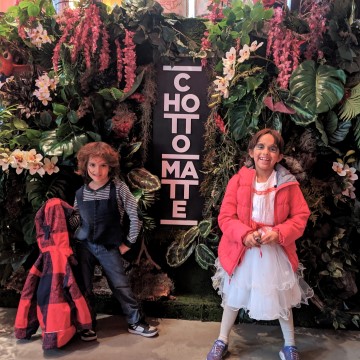 We do love our Toronto brunches so when we were invited for Chotto Matte's Jungle Brunch, we went hungry! It was Halloween weekend and the kids were dressed up for Spookfest so if you're wondering about their outfits, now you know! Chotto Matte's Jungle brunch takes place every Saturday from noon to 3:30 p.m and we had an absolute blast with our 8 and 6 year old. For those looking for a different experience from the usual brunch scene, this is where you'll want to dine at in downtown Toronto. I'm glad to finally have new options close to Union Station, that's for sure!
Disclosure : We were guests of Chotto Matte but, as always, opinions are TOTALLY ours.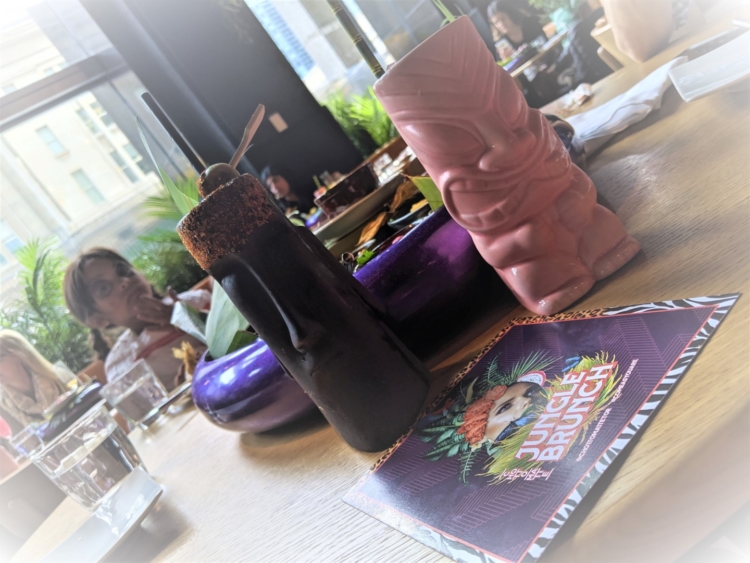 Chotto Matte has locations in London and Miami with Toronto being the latest opening (they also have some pop ups in spots like St. Tropez). The restaurant offers Nikkei-inspired cuisine. Nikkei, a Japanese-Peruvian fusion food, has been sweeping the globe (we even saw this at our Mexico resort) and given that Chris and I are HUGE ceviche lovers, this was totally up our alley. Chotto Matte's ingredients are natural, locally produced and made with no artificial flavouring which is not something we hear often from restaurants in Toronto. I hear amazing things about their regular menu but today we're going to share our brunch experience with you.
Chotto Matte's Fun Vibes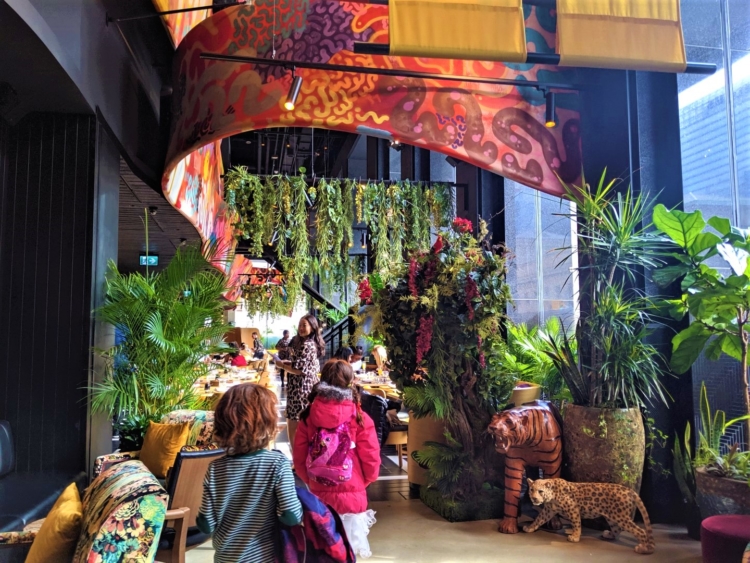 I absolutely loved the jungle vibes here and the kids were all over it having spotted jaguars and snakes statues upon entering the restaurant. The entire space looks lush and immediately transports one to a warmer frame of mind. Colourful graffiti and artwork can be spotted at every corner making it easy to take some awesome pictures at this downtown Toronto restaurant. There are many seating options which families will enjoy and high chairs for little ones as well. We were seated in the main dining room and opted for chairs over a booth as the kids had face paint and I didn't want any of that rubbing off!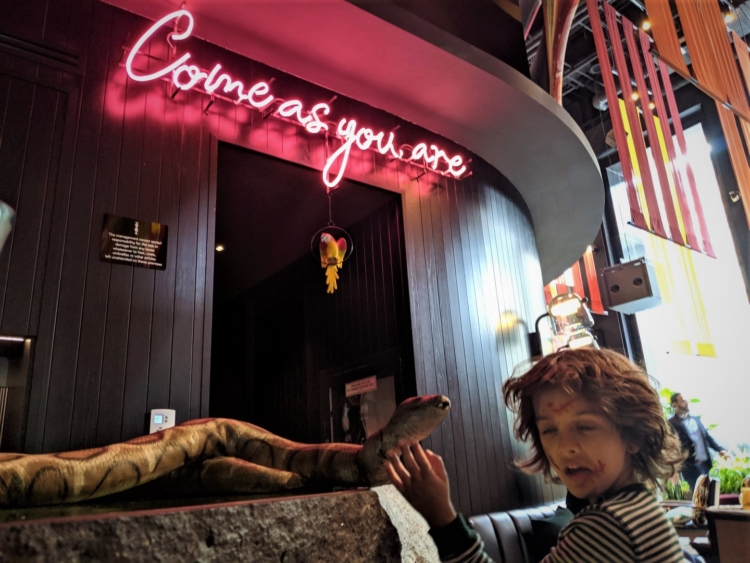 I'm glad Little Monkey asked me to join her in the washroom because I would have missed the black light/UV hallway leading to the bathroom. The bathrooms are not unisex but it's a tad difficult to figure out which was for males vs. females until we walked in and noticed the urinals! Chris said he did the same by accidentally walking into the ladies one! OOOPPS! Note that there is a spiral staircase to get to the washrooms, something to keep in mind if you have a babe in arm.
Towards the end of our meal(around 2:30 p.m.) dancers and a musician popped by for a fun act. They were great at getting the crowd on to the small platform area by the stairs and raising the energy of the place. Little Monkey and I joined the conga line, making this the most interactive brunch in the city we've experienced to date!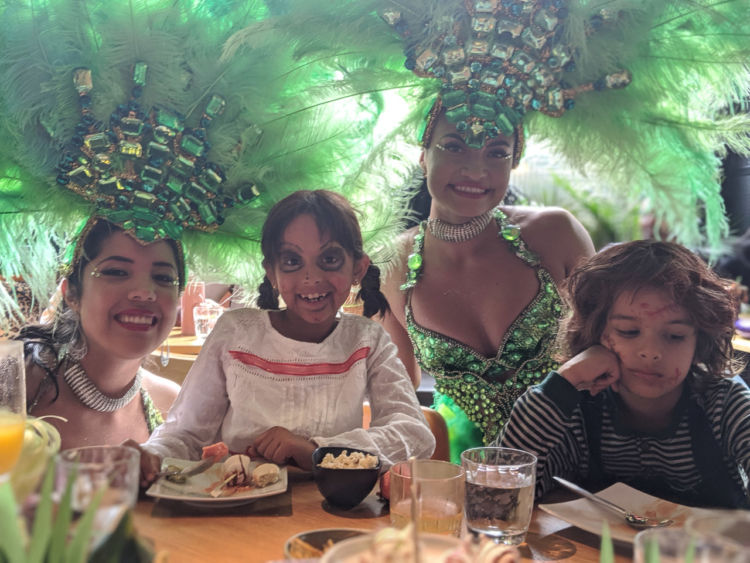 Nikkei Brunch – Let's Talk About the Food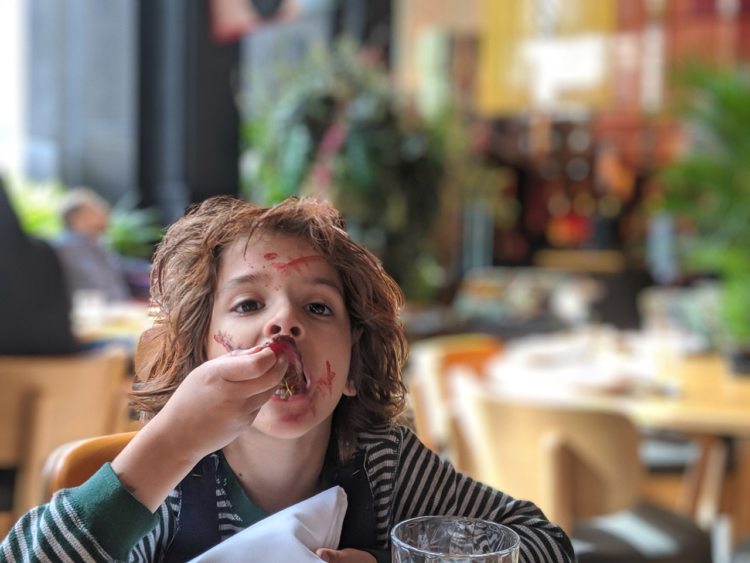 First of all, if you're looking for a classic brunch experience, this isn't the spot for you. Nopes! Don't expect eggs benny and waffles here. Instead, you're in for a treat of fresh seafood and a mix of flavours that will have you wanting more. This is a Toronto brunch restaurant for those looking for a unique experience. I will make a note that as much as my vegetarian mom would LOVE this spot there weren't any vegetarian hot dishes on the menu (though I have a feeling that if she were with us, the kitchen would have mixed and matched a few main dishes to make it work for her). If you love seafood and eat meat, this is a great spot for you!
For $49 you get to enjoy three courses at Chotto Matte's Brunch. Kids aged 10 and under dine for 50% off that price and I will leave it up to you to decide if you think your child would eat most of the menu items. I've had a friend recently inform me that she'd love to go here on a date with her hubby but would not dare take her picky tween who would just scoff at everything. Baby Boy and Little Monkey found enough to eat and so Chris and I felt that spending $25 for each was a worth while expense (drinks were additional).
We started at the canape bar where we enjoyed numerous helpings of Nikkei Sashimi (yellow tail), Sushi (kids mainly had the vegetarian ones), Salmon  Tiradito and Chotto Ceviche (sea bass). There was also Brussels Sprouts, Corn,  Spinach Truffle Salad, Jungled Eggs and a couple more dishes spread out near the Sushi bar and Robata grill. We were able to help ourselves to numerous helpings and even the kids were tall enough to grab a few of the items they wanted.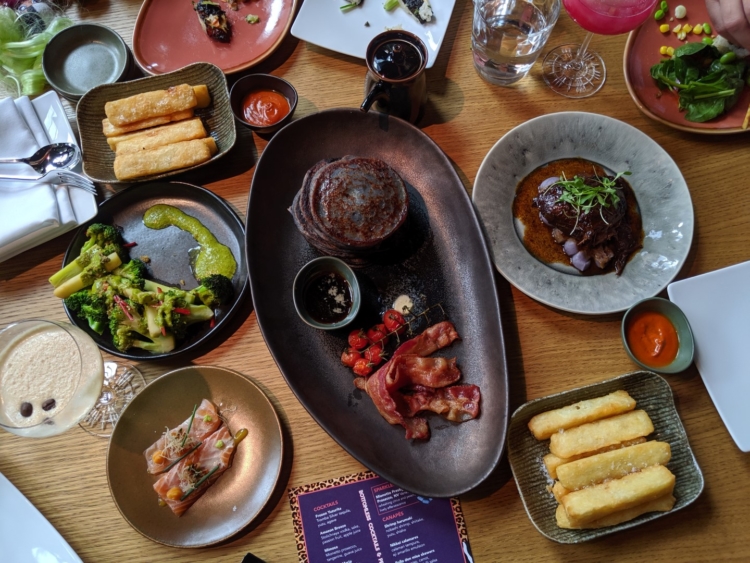 For the second course we each had a choice of hot dish and had seven options to choose from. Each of the dishes also came with a side of Yuca Fries (kids REALLY loved this) and Steamed Broccoli with Huacatay sauce (perhaps see if you can get it with sauce on the side if you have picky eaters). If you're weary of food waste like I am, mention to the server that you only want a couple of the sides so as not to end up with 8 sides of the two dishes between 4 people!
I regret not trying the Pork Belly and Tiger Shrimp because Chris LOVED his Sea Bass and my slow cooked beef was perfection. I will admit that I wasn't a huge fan of the Purple Pancakes (though it looked super pretty) and should have got the jungle eggs for the kids.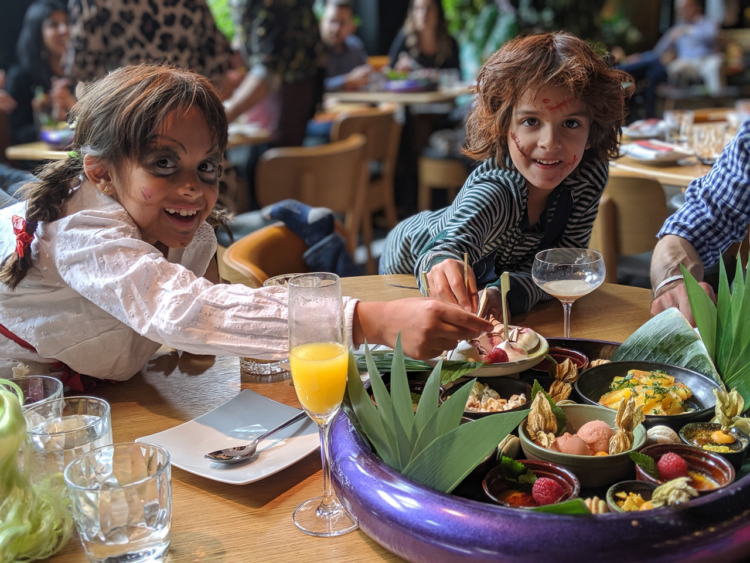 Dessert was the third course and I was so glad that I didn't have to choose between the six dishes on offer. Dessert is presented in sharing format and the kids and I loved the Yuzu and White Chocolate Macarons, Meringue and Pineapple Chicha Morada. We did let Baby Boy have some dairy but he mostly enjoyed the caramelized popcorn and the meringues while Chris stayed healthy with some oranges.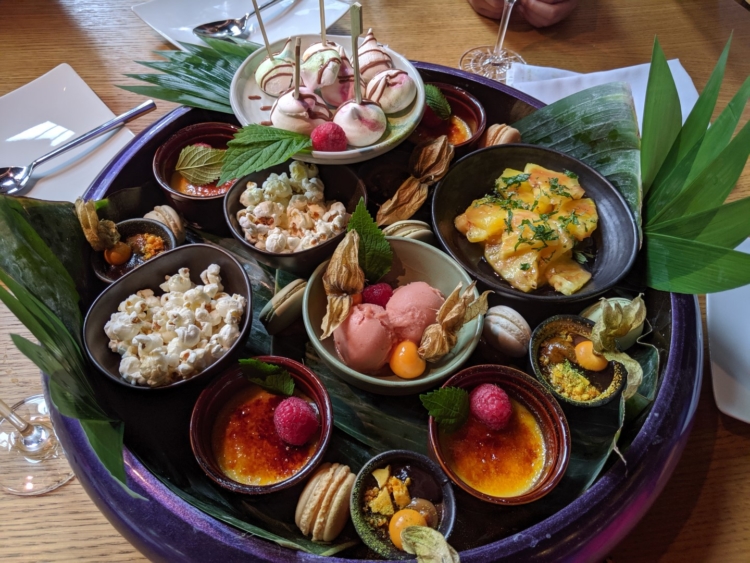 Chotto Matte Drinks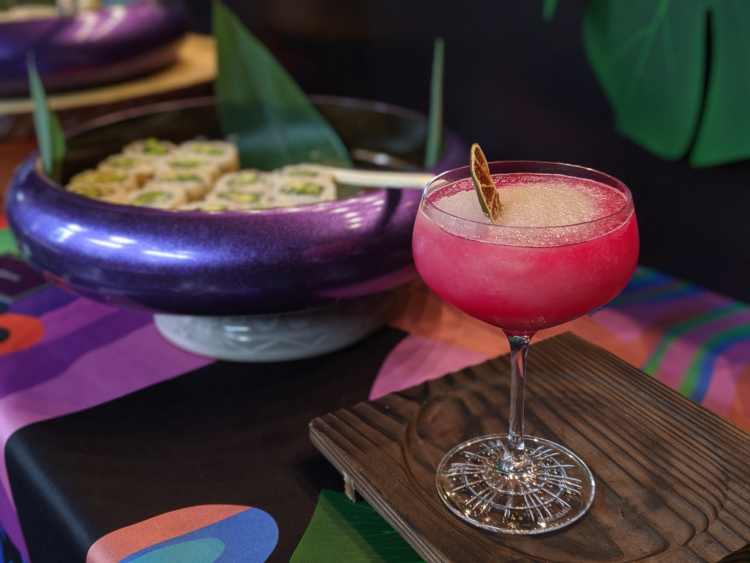 I don't know about you, but a good brunch involves some cocktails for me! Chotto Matte's Jungle brunch comes with an option to upgrade your experience for an additional $40. This enables you to enjoy 5 cocktails each (adults only OBVIOUSLY!).  While repeat orders did show me that the drinks weren't consistent, the cocktails were all well balanced and Chris and I enjoyed each and every one we had. Favourites of mine include the Espresso Martini (you know me and my coffee martinis!) and Frozen Yurita. Oh and don't worry, they totally offer Mimosas and "Bloody Maria".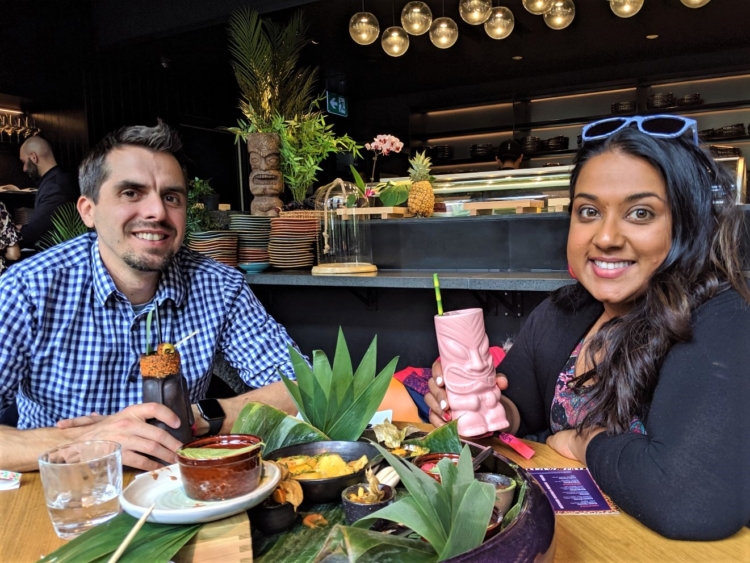 We all enjoyed this experience and highly recommend
Chotto Matte's brunch
for sophisticated and chic family gatherings this holiday season. There's a fabulous mix of delicious food, great drinks, fun entertainment and an unique backdrop right in the heart of downtown Toronto. Next up for us will be to swing by for lunch and dinner here!