Niagara on the Lake has some of the best restaurants in the Niagara region and over the last few years there have been many new restaurants, bakeries and take out shops opening in downtown Niagara on the Lake (NOTL). I visit my parents' Niagara on the Lake Bed and Breakfast frequently and on each visit I discover new NOTL restaurants. Not all of them are good mind you – there's plenty of tourist traps but most have stood the test of time and with the flood of young families entering the region during the last few years. we're seeing some fun dining options beyond the winery restaurants that Niagara region was known for. Read on I'll share our favourite places to eat in Niagara on the Lake but my one tip will be to check the timings because each Niagara restaurant and bar has seasonal timings and many places close early (much to my constant surprise).
From Fine Dining to Casual Eats: Where to Eat in Niagara on the Lake

Whether you're going for a stroll in downtown Niagara on the Lake's Queen street or hoping to surprise a loved one with an epic meal they'll remember for years to come, Niagara on the Lake has food options ranging from grab and go to fancy sit down. We even discovered some awesome Niagara on the Lake Happy Hour deals! The menus change often so I won't delve too much into the various dishes we've enjoyed at each of these Niagara on the Lake restaurants, but I will highlight out favourites NOTL restaurants to help you plan a delicious weekend in Niagara on the Lake.
Place to Eat in Downtown Niagara on the Lake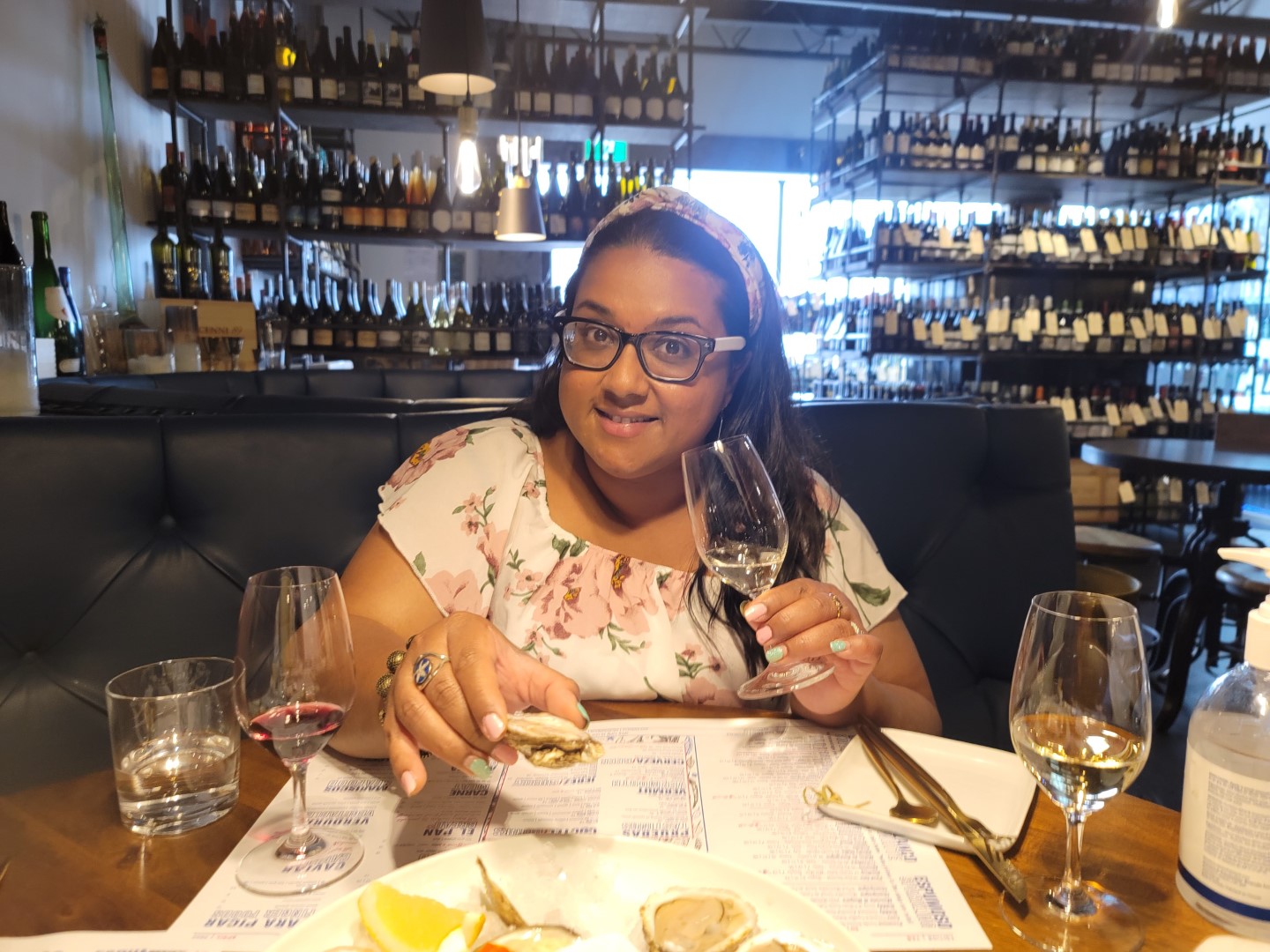 Queen Street Niagara on the Lake is filled with stores selling everything from jam to Turkish lamps. Although spring and summer are the busiest seasons, some stores continue to stay open all year long. I usually window shop, making a point to stop in at the Niagara on the Lake bakeries and cafes to grab a treat or drink.
For a Niagara on the Lake lunch on the go, I highly recommend Gyro's on the Lake. If you're looking for a sit down option, Cork's Wine Bar and Eatery has a solid Fish and Chips. My favourite spots on queen street are the bakeshops and cafes. Most of them are just slightly off Queen Street in Niagara on the Lake but will still enable you to keep shopping as you pop into them. Fritters on the Lake does one thing and one thing only and boy is it good! I also love the savoury chimneys at Budapest Bakeshop but they have some epic looking sweet ones as well (and they make sandwiches out of them!)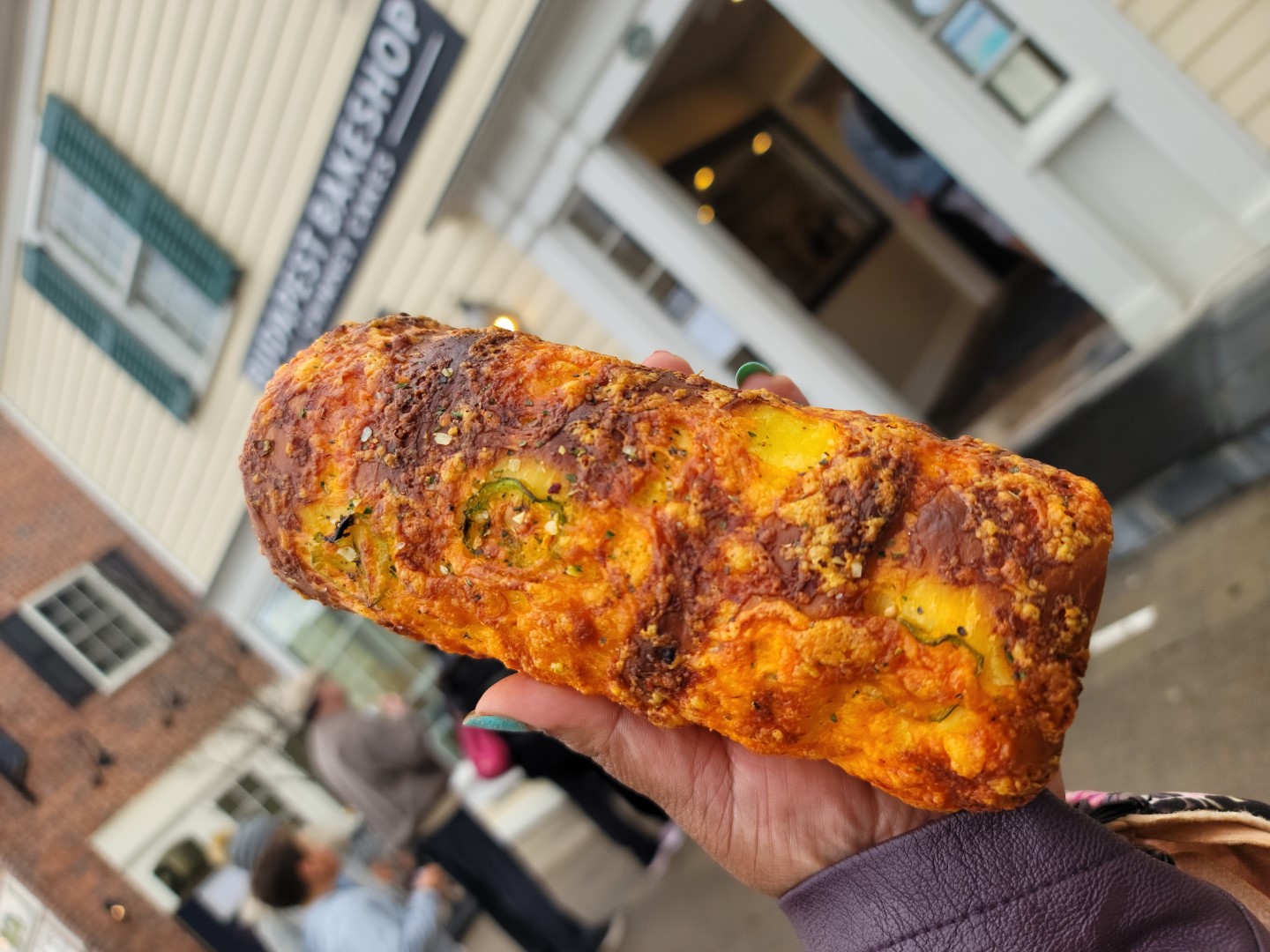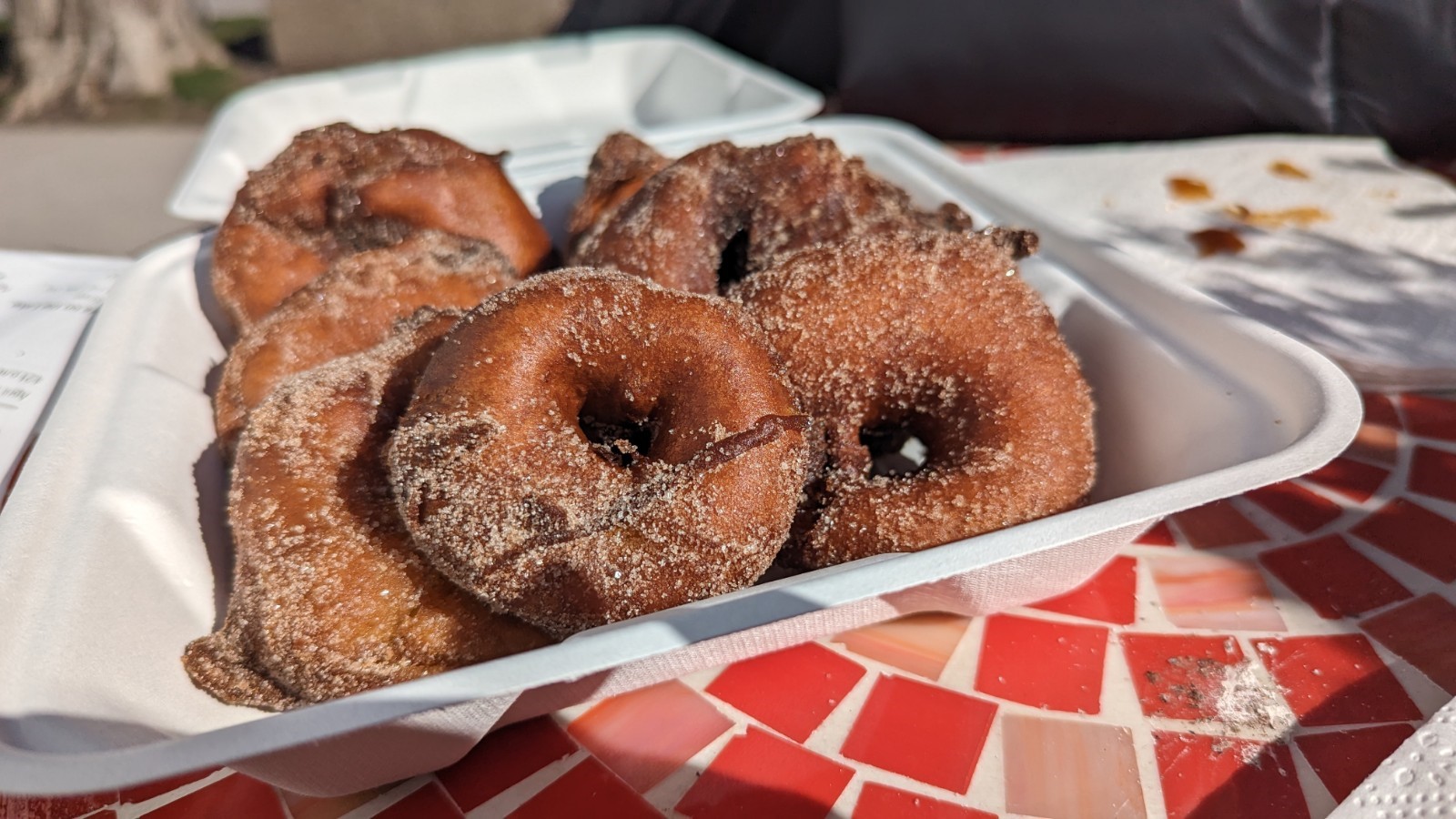 If you're looking to picnic in Niagara on the Lake, Cheese Secrets and PicNic have you covered! No matter the season, it seems everyone loves lining up at COW's and trust me, I get the hype. It's damn good but so is the gelato at Il Gelato de Carlotta and you most likely won't be in line for longer than 5 minutes!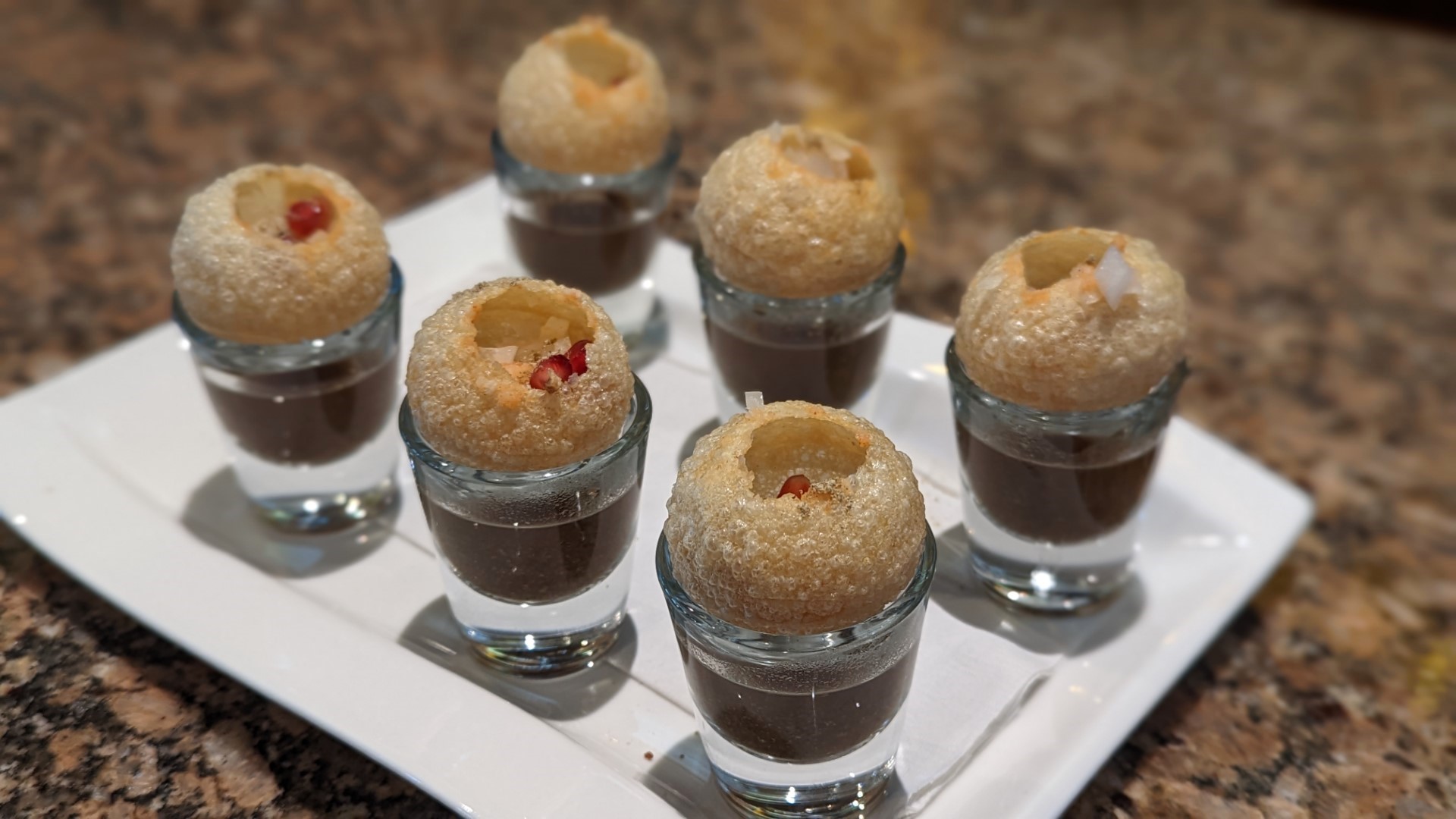 If you're craving for some Indian food in Niagara on the Lake, family owned and run, Aura on the Lake serves up a mix of traditional and fusion dishes. I saddled up to their bar and enjoyed some pani puri vodka shots once! No joke!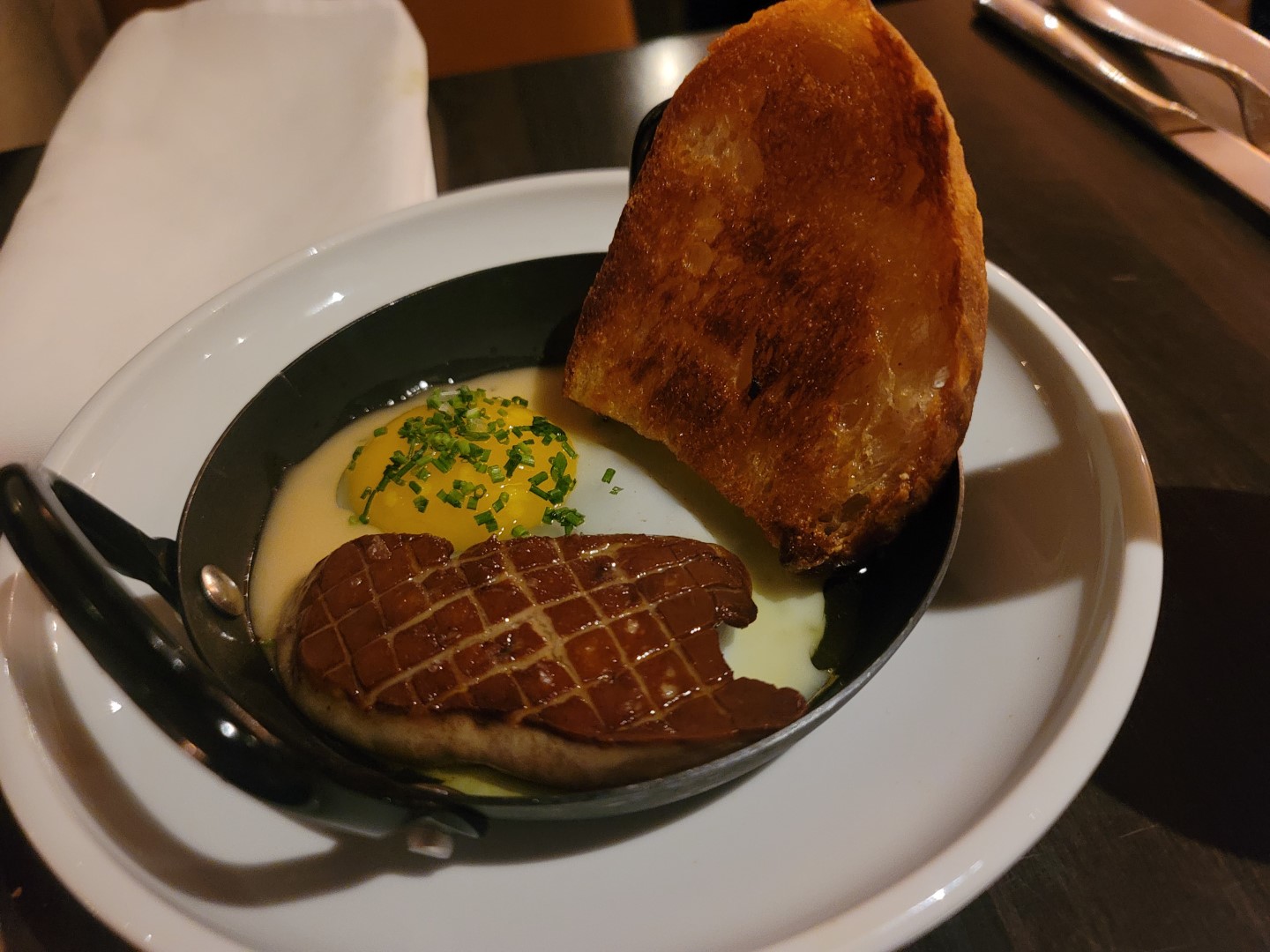 If you're looking for a set menu option or a date night in Niagara, Treadwell offers a memorable meal and the service is stellar here too.
Of course there are plenty of other options when it comes to the best restaurants in Niagara on the Lake's Queen Street but the ones I mentioned are my faves.
Niagara on the Lake Winery Restaurants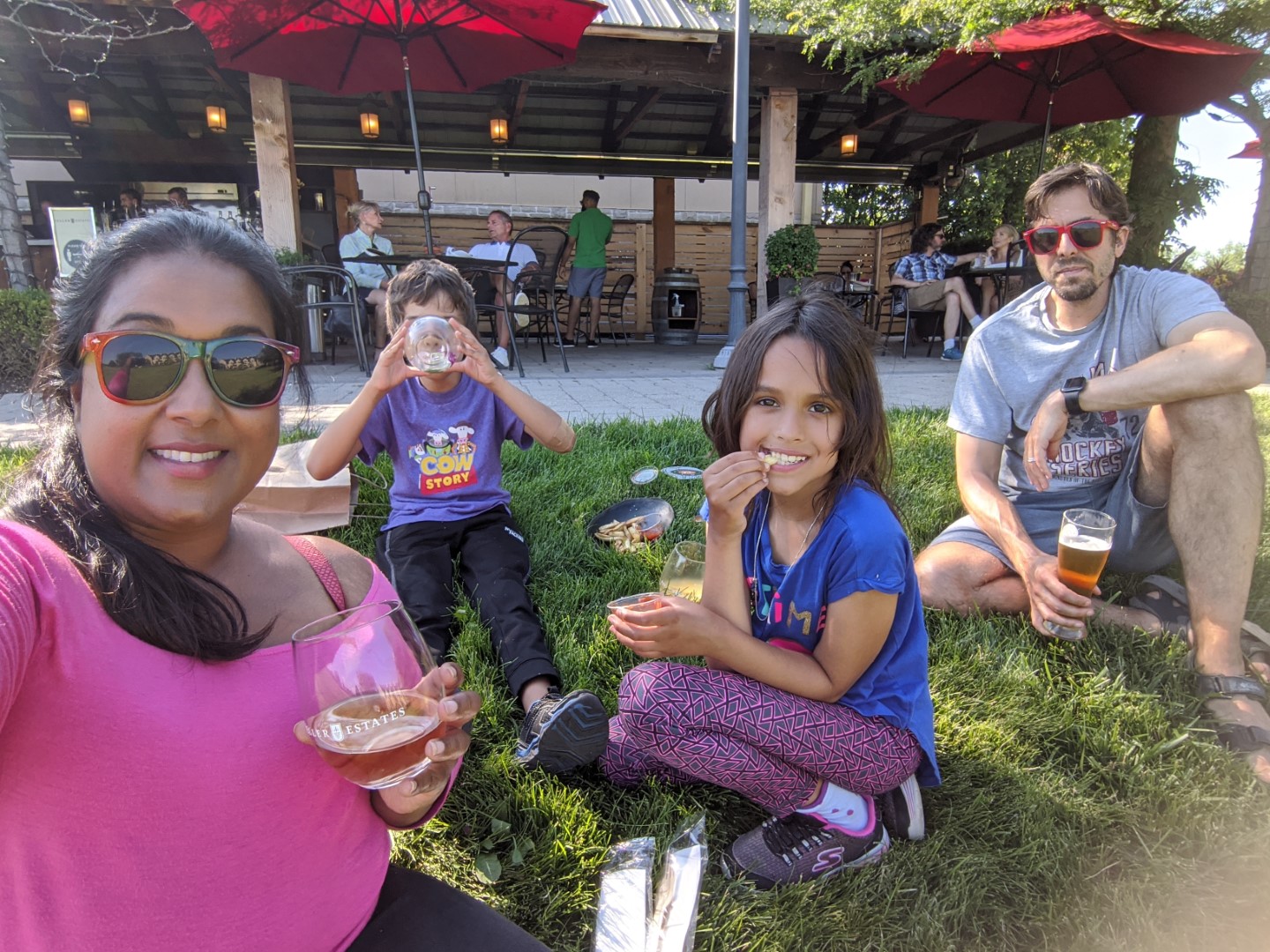 Obviously many flock to Niagara on the Lake to visit the fantastic wineries that calls the area home. As you winery hop during your weekend in Niagara on the Lake, you'll notice that many offer creative pairing options for lunch and dinner. Some even have fantastic views with patios overlooking the Niagara on the Lake vineyards. Most of the Niagara on the Lake wineries welcome toddlers and kids of all ages so not to worry!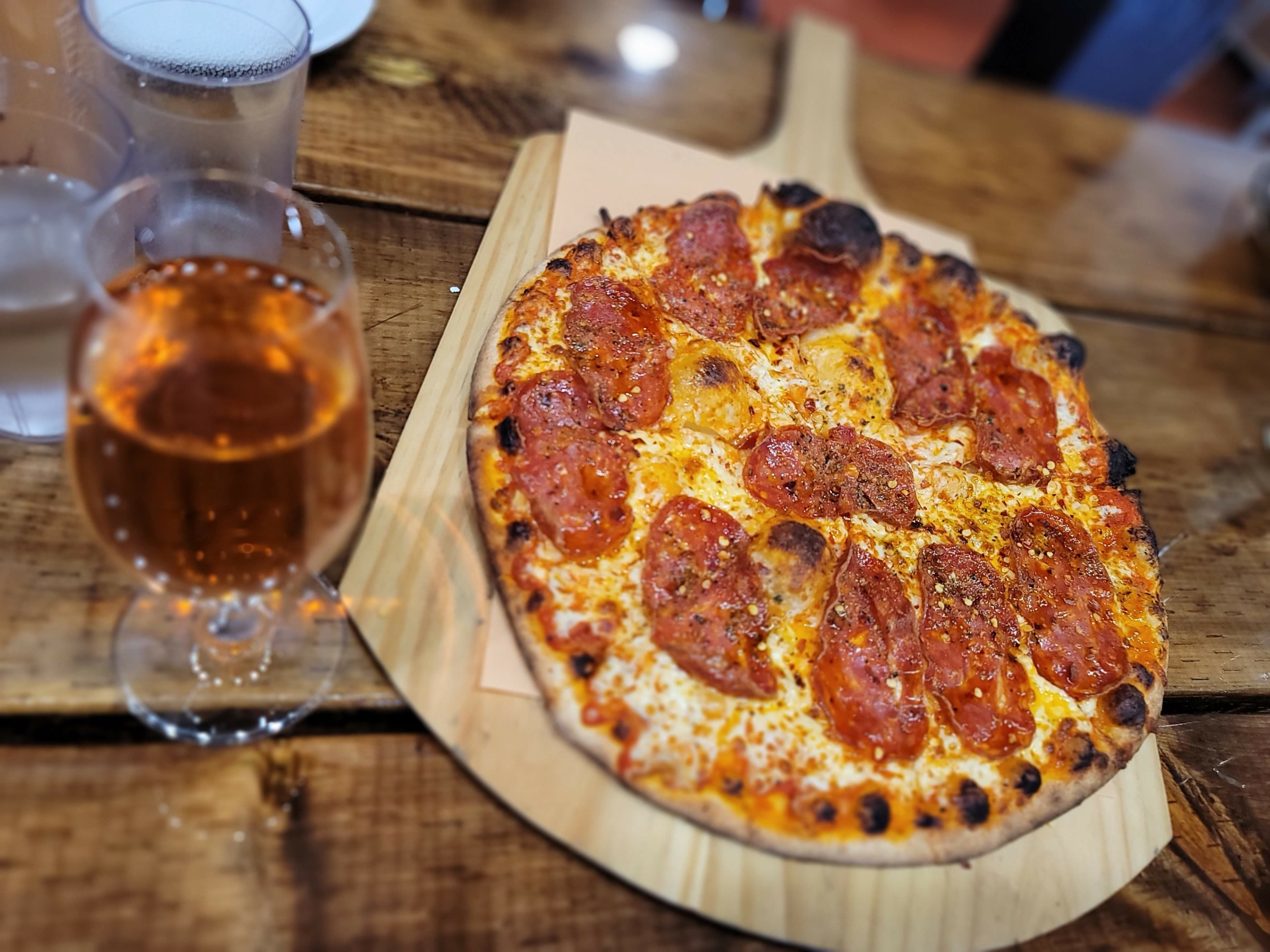 For a family friendly vibe, dine at Peller Estate's Terrace patio which allows parents to enjoy Chef Parson's cooking whilst the kids roll around the lawn (they also have kid friendly slushy like drinks on occasion and some killer fries) of course if you'd rather dine indoors, their upscale winery restaurant is also on offer. If you're looking for a fantastic Niagara on the Lake winery restaurant pairing menu, look no further than Ravine Vineyard's restaurant offering farm to table lunch and dinner options. It's a la carte menu for lunch and dinner is a pre-fixe menu where you can enjoy a 3 course meal and wine pairings for under $100. I mean… talk about a deal!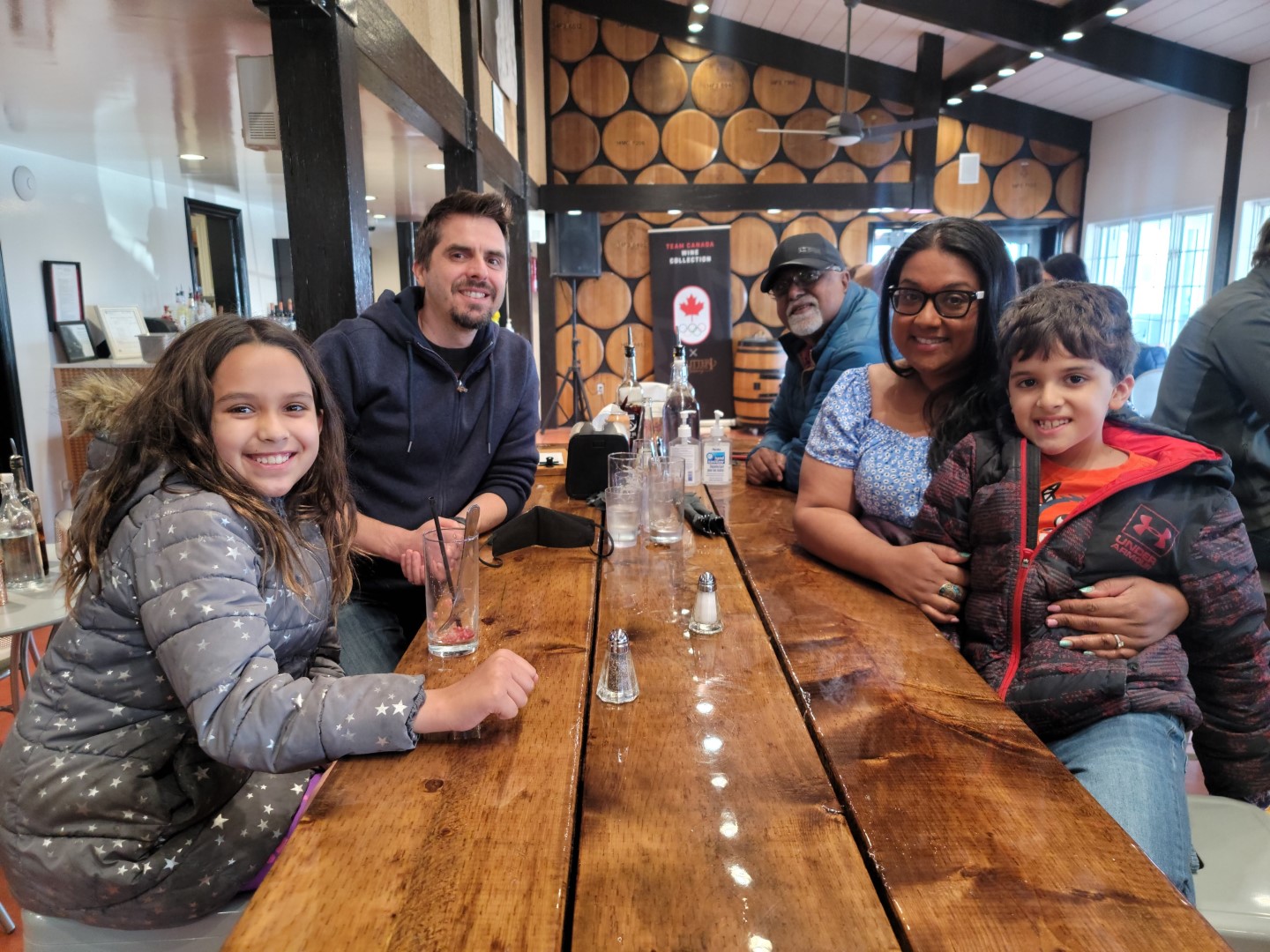 For afternoon hangs, Pillitteri's Barrelhead offers a mean artisanal woodfired pizza and they have live music on occasion too. We've taken the whole family here so it's great for medium sized groups as well. There's also no going wrong at Caroline Cellar's Farmhouse Cafe.
If you're looking for more winery restaurants in Ontario this site has you covered!
Niagara on the Lake Brewery Restaurants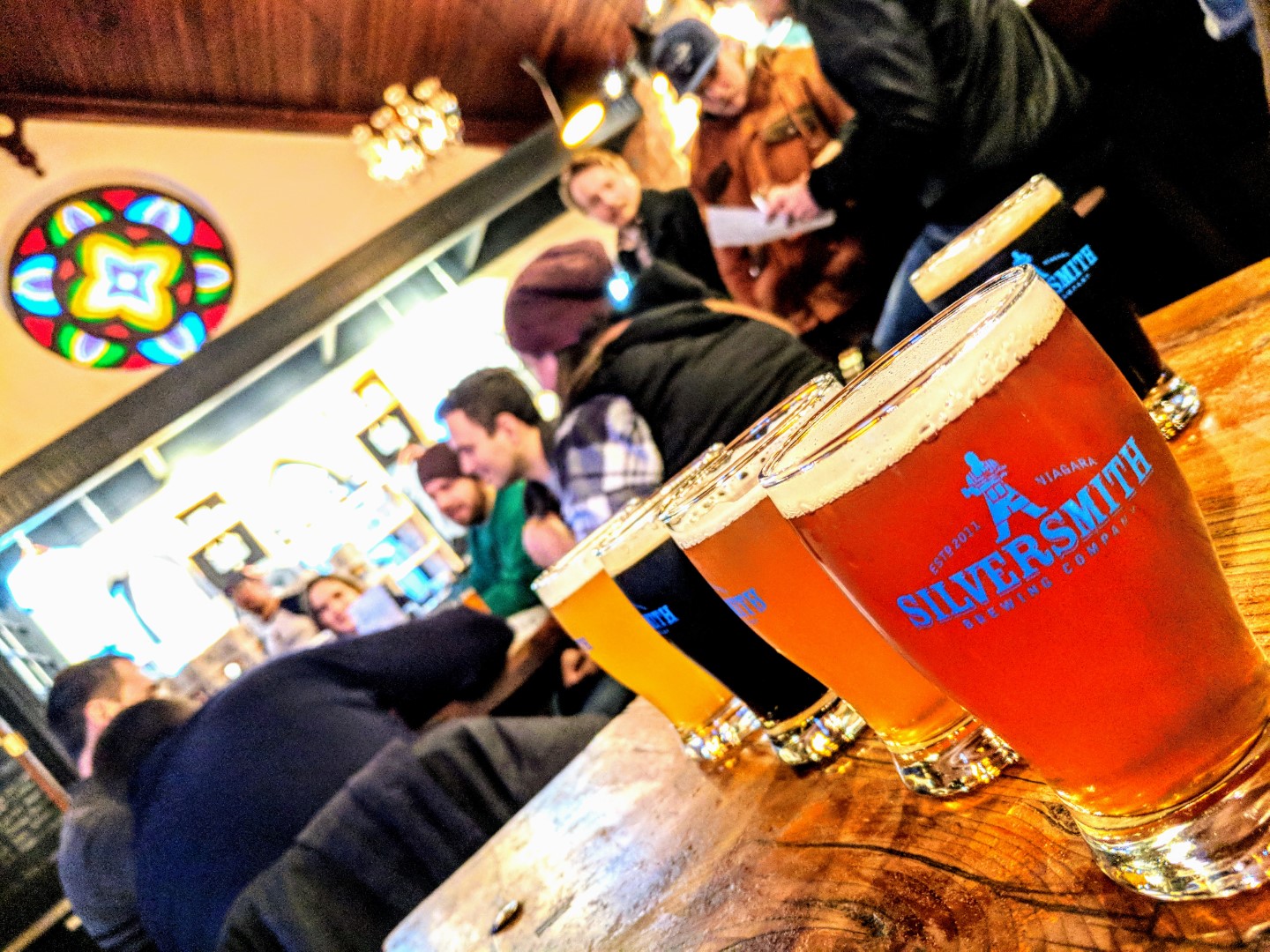 You may be shocked to learn this but Niagara wine country is home to some amazing breweries too! Chris has written all about his favourite Niagara on the Lake Breweries here, if you want to read more. In your search for the best places to eat in Niagara you may find a few breweries on the list if you're looking for either a unique setting or a relaxed vibe.
We've enjoyed chilling at Oast House over the years and love how they've expanded their barn to welcome everyone. With multiple indoor and outdoor options, this is a great place to hang out, enjoy some beers and sample a variety of dishes. They used to have a rotation of local chefs popping in and I did hear that for summer 2023, Brushfire Smokehouse will be pumping out some delicious BBQ!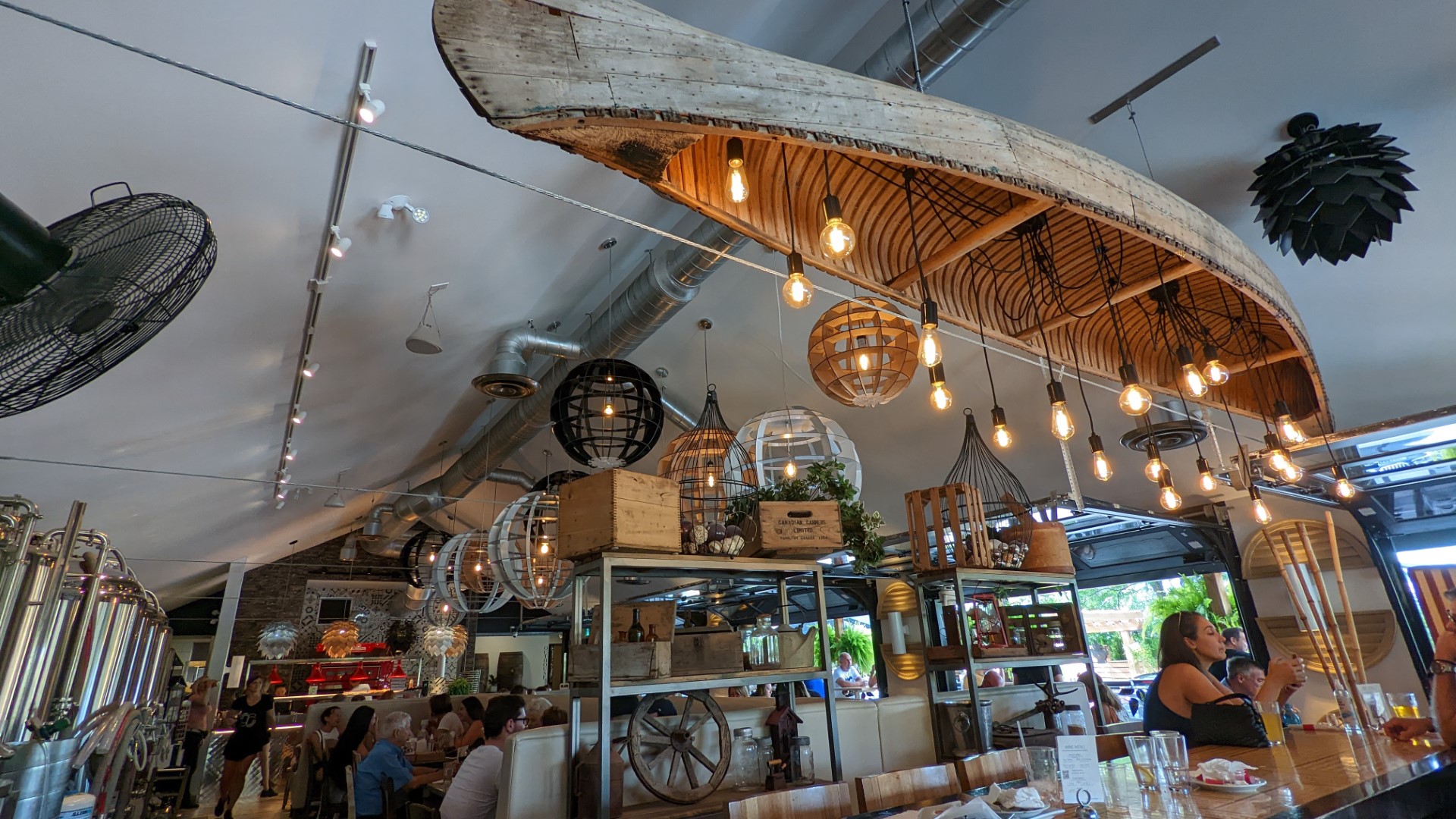 For some odd reasons Chris and I have ended up drinking beers in Church on more occasions than our younger selves may have anticipated. Silversmith Brewing is housed in an old church and all sins are forgiven here when you take a sip of their Niagara beer and a bite of their local cuisine. The space is relatively small and it does get busy but the kitchen pumps out some solid comfort food like flatbread pizzas and burgers so it's certainly worthy a spot on your best places to eat in Niagara list.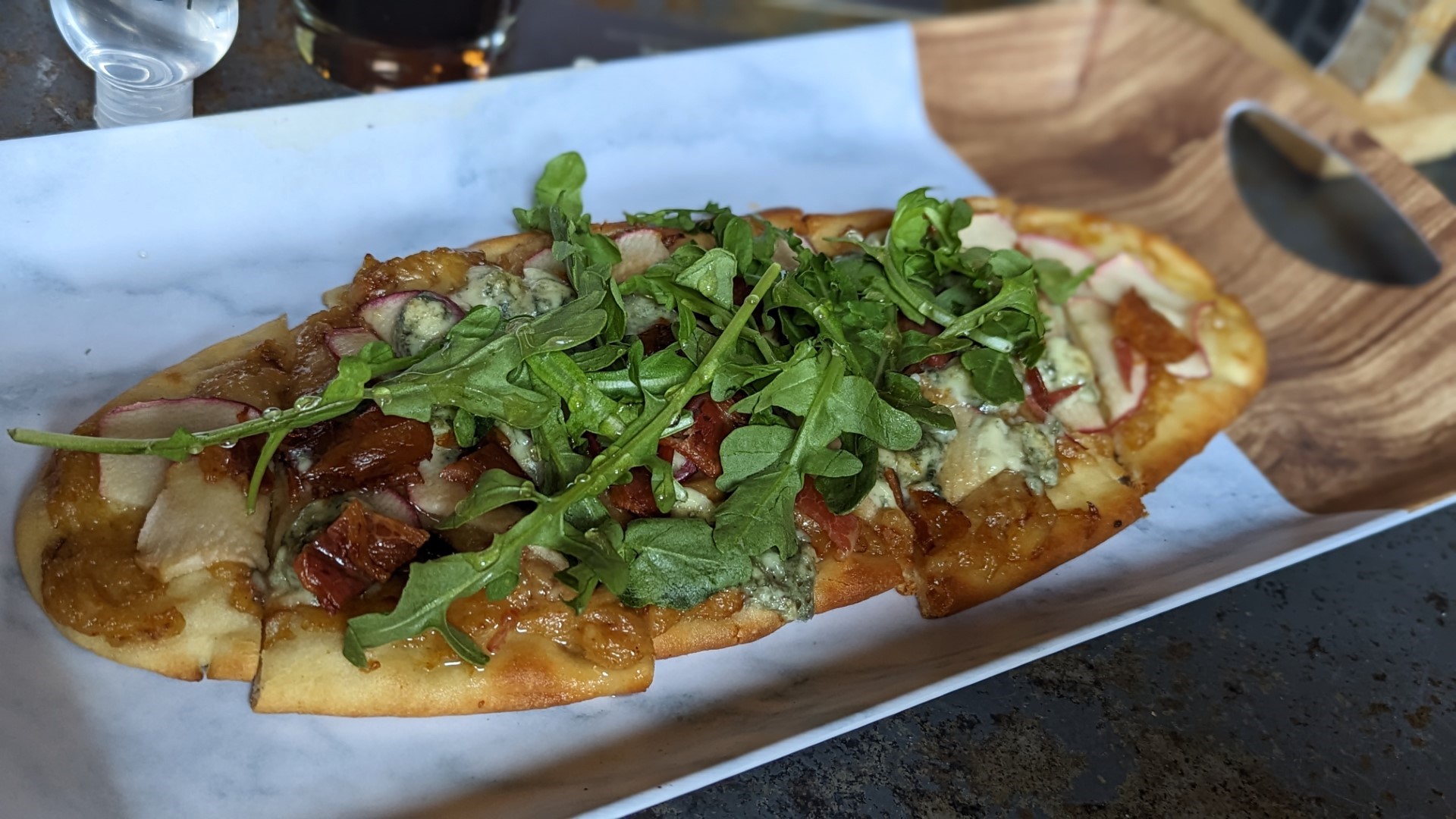 Whether it's for a date night or an afternoon hang, Grist always delivers a fantastic experience. They have a beautiful main room where you're surrounded by all the brewing goodness and the staff are fantastic but they also have great pizzas and some fun looking nacho platters. I certainly give them the most aesthetically pleasing Niagara on the Lake restaurant award!
Family Friendly Niagara on the Lake Restaurants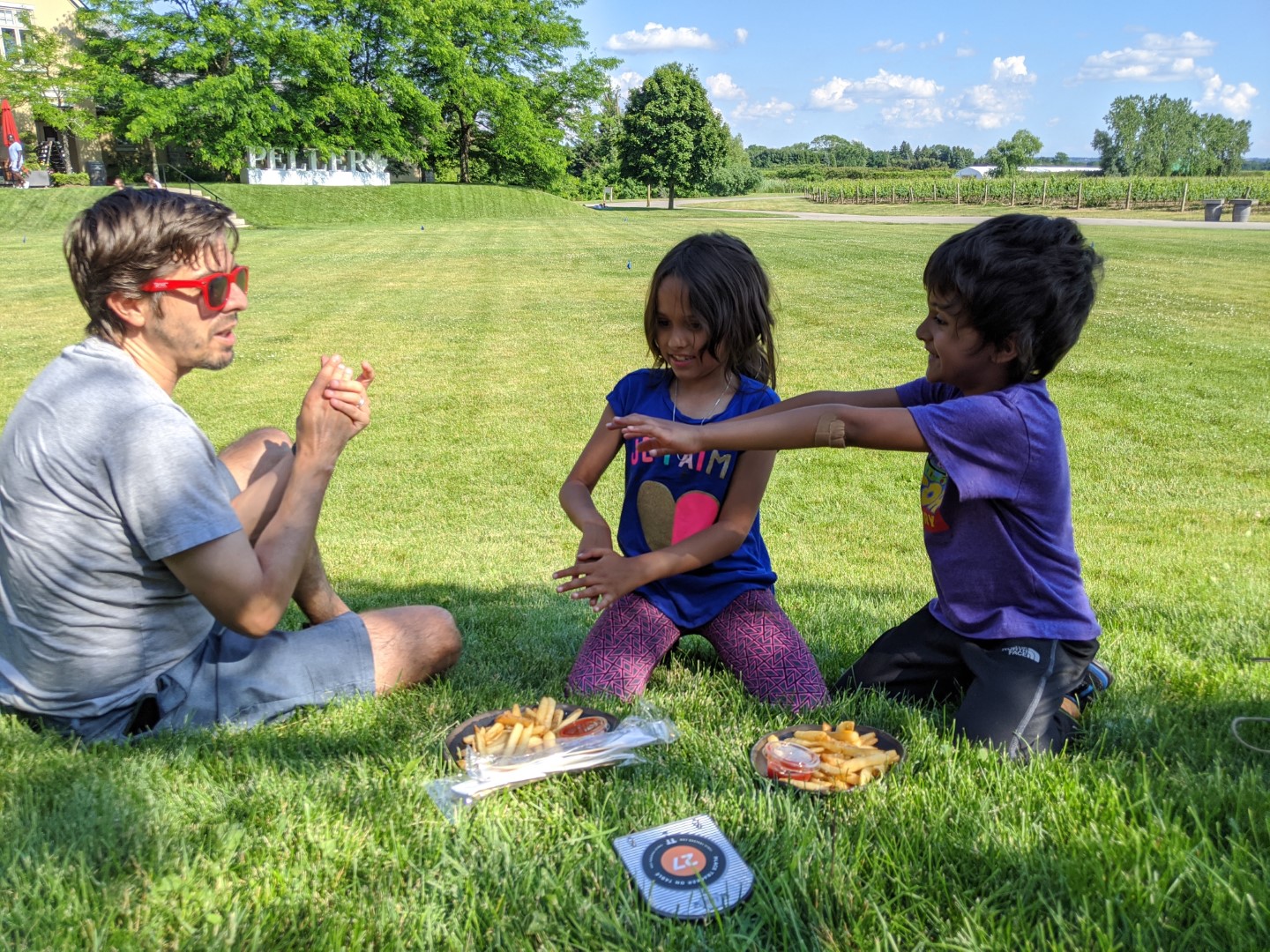 You know I have been taking my kids to Niagara on the Lake since they were newborns, and we see so many families out in the area. So there's some solid family friendly Niagara on the Lake restaurants to choose from. I always recommend Peller Estates for families so that's certainly an option. The Irish Harp is also very family friendly (mine have listened to Irish tunes here late into the night). The Garrison House is another place we frequent when we have multiple families with multiple kids, though they don't accept reservations so that's a bit tough with kids in tow. We've seen families flock to most of the restaurants that flank Queen street so there's certainly no shortage of Niagara on the Lake restaurants that will welcome little tots and some even have high chairs! Ruffino's is also a great spot for families who love Italian cuisine.
When we used to visit Niagara on the Lake with toddlers, I remember having a pleasant experience at the Niagara Golf course restaurant which is open to the public.
Niagara on the Lake Date Night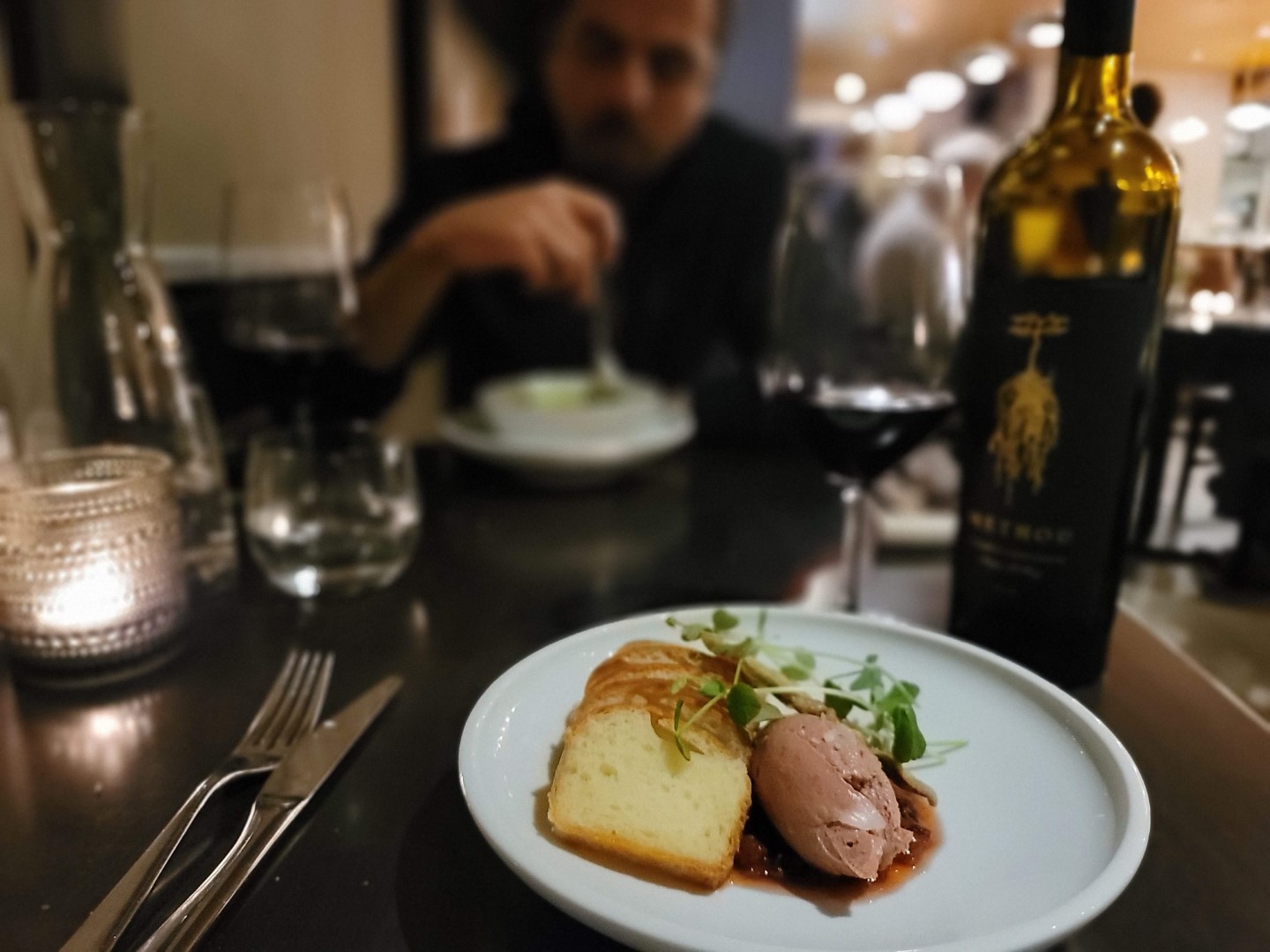 Wine country is certainly one of the most romantic places in Canada and I know I visited the region first pre-kids. If you're looking for a romantic Niagara on the Lake restaurant, Treadwell comes high on my list. It's closely followed by Bar Bea, a tapas wine bar that has quickly become one of the best places to eat in Niagara on the Lake, as far as I'm concerned. If you're looking for a fancy winery setting, then Kitchen 76, the Two Sisters Vineyard restaurant, is where you'll want to nab a reservation at.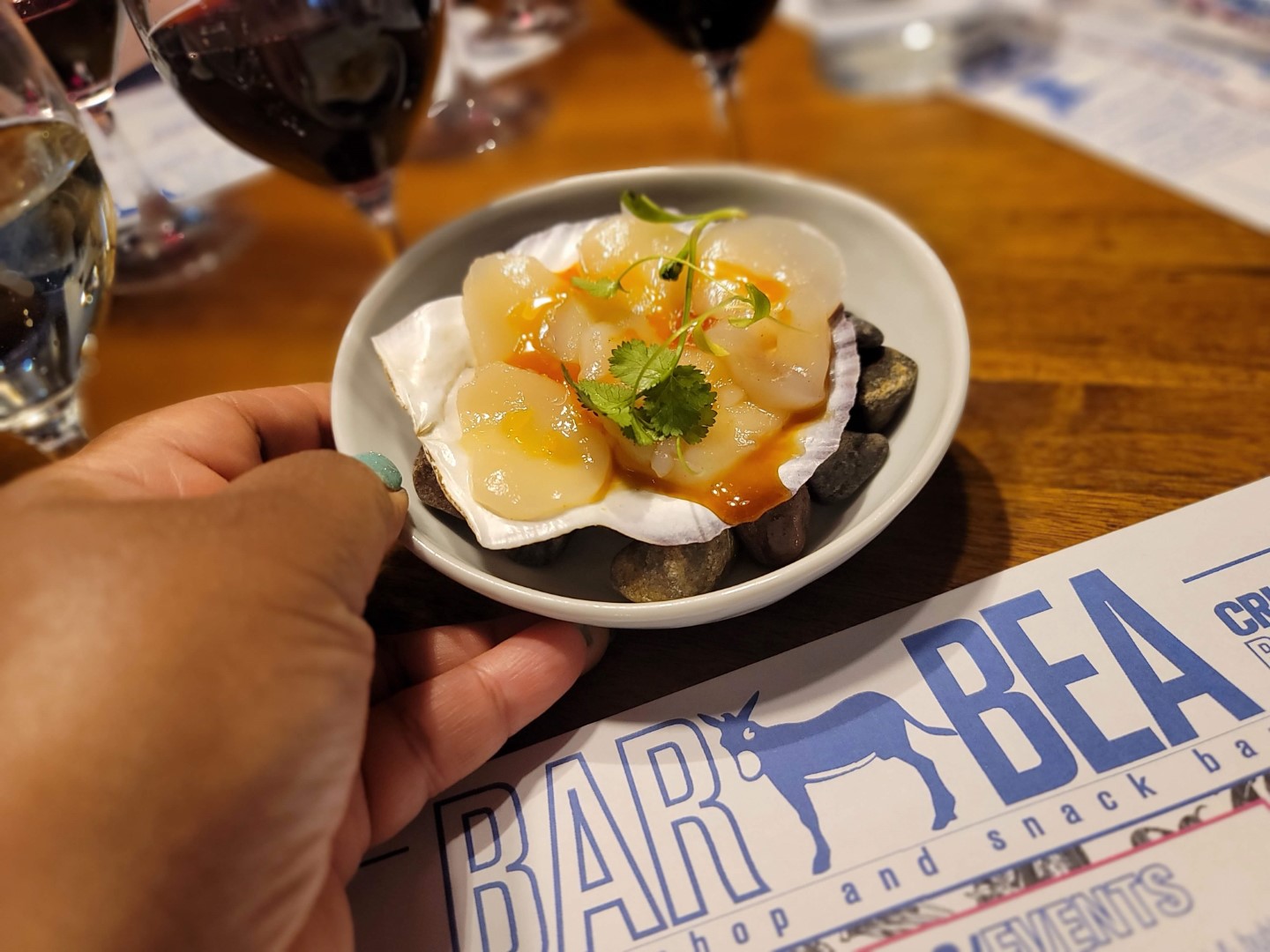 I know I mentioned Grist before as well but I will definitely mention them again because their bar area is definitely fun for a date night hang session. And there's certainly no going wrong with the menu at Masaki sushi in Niagara on the Lake. We once ordered take out from there for a Niagara on the Lake picnic but dining in is certainly the way to go. Another solid spot for nibbles and cocktails would be the Spirit of Niagara's Confessional lounge. They also offer a tasting menu.
Best Niagara on the Lake Patios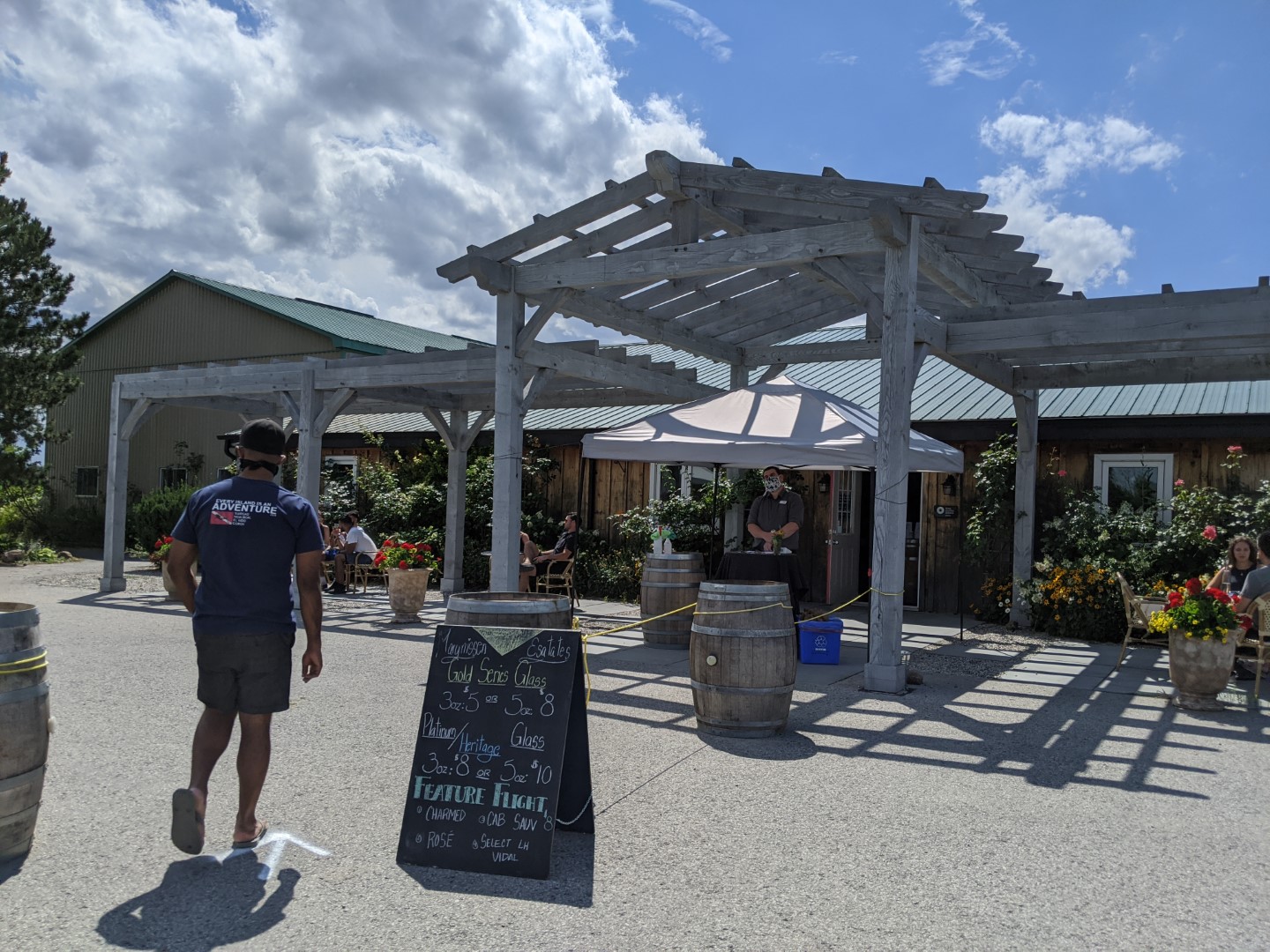 When the sun is shining the Niagara on the Lake patios is where the action is at but securing a spot is difficult as most are on a first come first served basis. However, if you can get a spot my recommendations would be Oast House for a casual hang out, Grist for a group situation and Spirit in Niagara for a whimsical setting. If you're looking for a waterfront Niagara on the Lake patio then there's only really one to my knowledge, the Niagara Golf Course pub.
Although it may not be a traditional patio, the Gardens at Pillar and Post is one of the "funnest" patio's in the area. The Outpost serves drinks and eats along with some lawn games during the peak season.
Brunch in Niagara on the Lake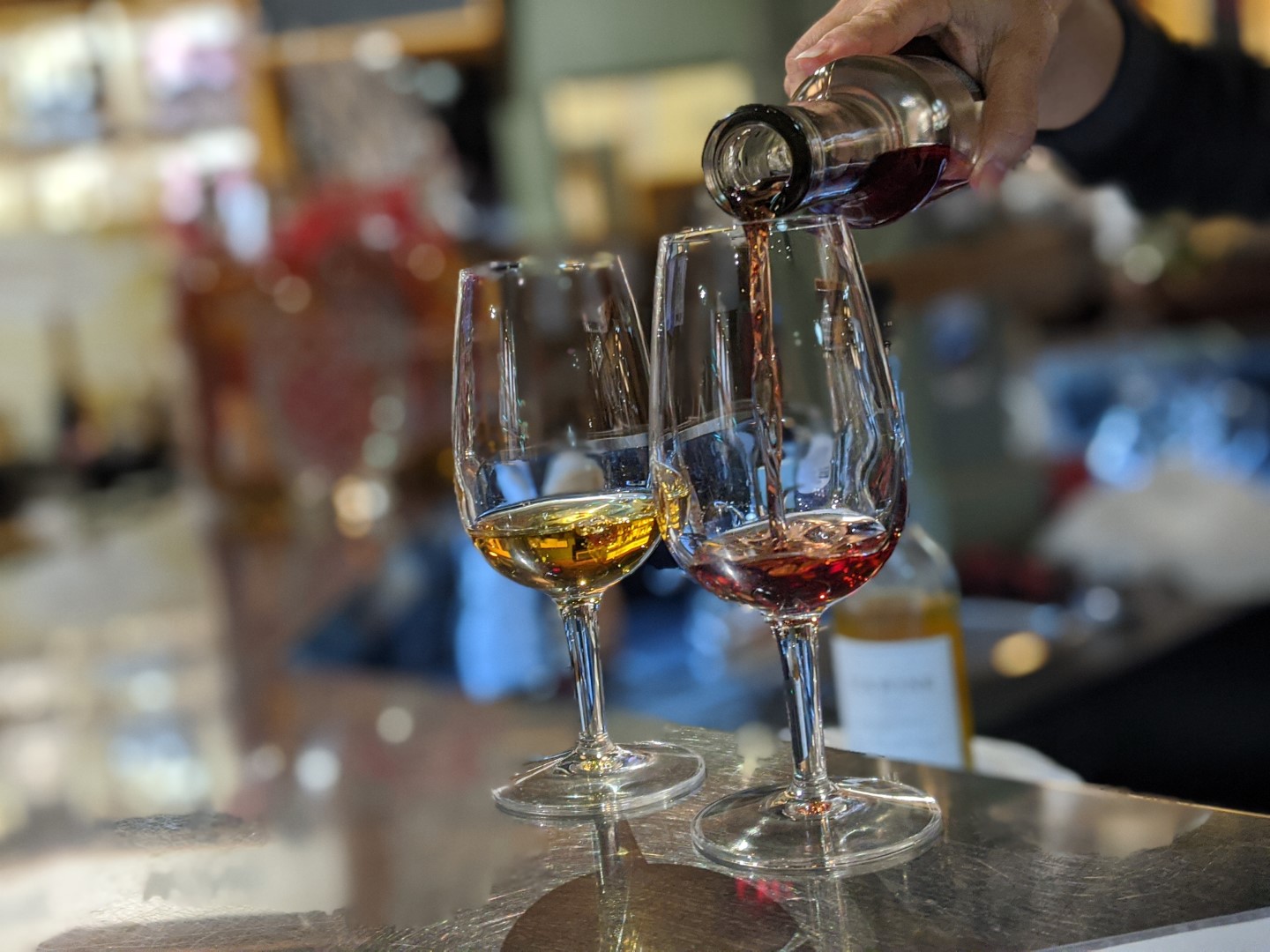 Weekends are certainly meant for brunchin' and it is a fantastic way to wrap up a weekend in Niagara on the Lake. When it comes to brunch at Niagara on the Lake restaurants, you should look towards the hotels. The Pillar and Post's buffet style brunch is very popular with tourists visiting the area as is the Sunday brunch at Tiara, housed at the Queens Landing. If you want to enjoy some pretty views and a buffet style brunch Niagara Park's Queenston Heights restaurant is known for their famous Sunday brunch in Niagara on the Lake.
Happy Hour in Niagara on the Lake
Shockingly there are a few Niagara on the Lake happy hour deals to be enjoyed and some even have all day long specials -especially on week days! Bar Bea offers half priced bubbly and $2 oysters for their happy hour which runs from 4 to 6 p.m. daily. They also have a Paella Monday 4 course set menu for $59pp which I hope to try soon.
Silversmith has a "Silver House" from 2 to 5 p.m. Sunday to Friday where it's $2 off all pints and snacks.
Bachuss Lounge at Queens Landing has a Taco Tuesday (from noon to 8 p.m.) offer where you can get 2 tacos for $10 when you purchase a beverage (Margaritas are also $10- just sayin'). They also have a Pasta Friday menu from noon to 8 p.m. where you can get some vegetarian pastas for $10 and can add a side salad for $4 – with the purchase of a drink of course.
Spirit in Niagara has a Friday happy hour from 4-6pm, where you'll find $8 cocktails from their seasonal deadly SiN collection.
Late Night Bars in Niagara on the Lake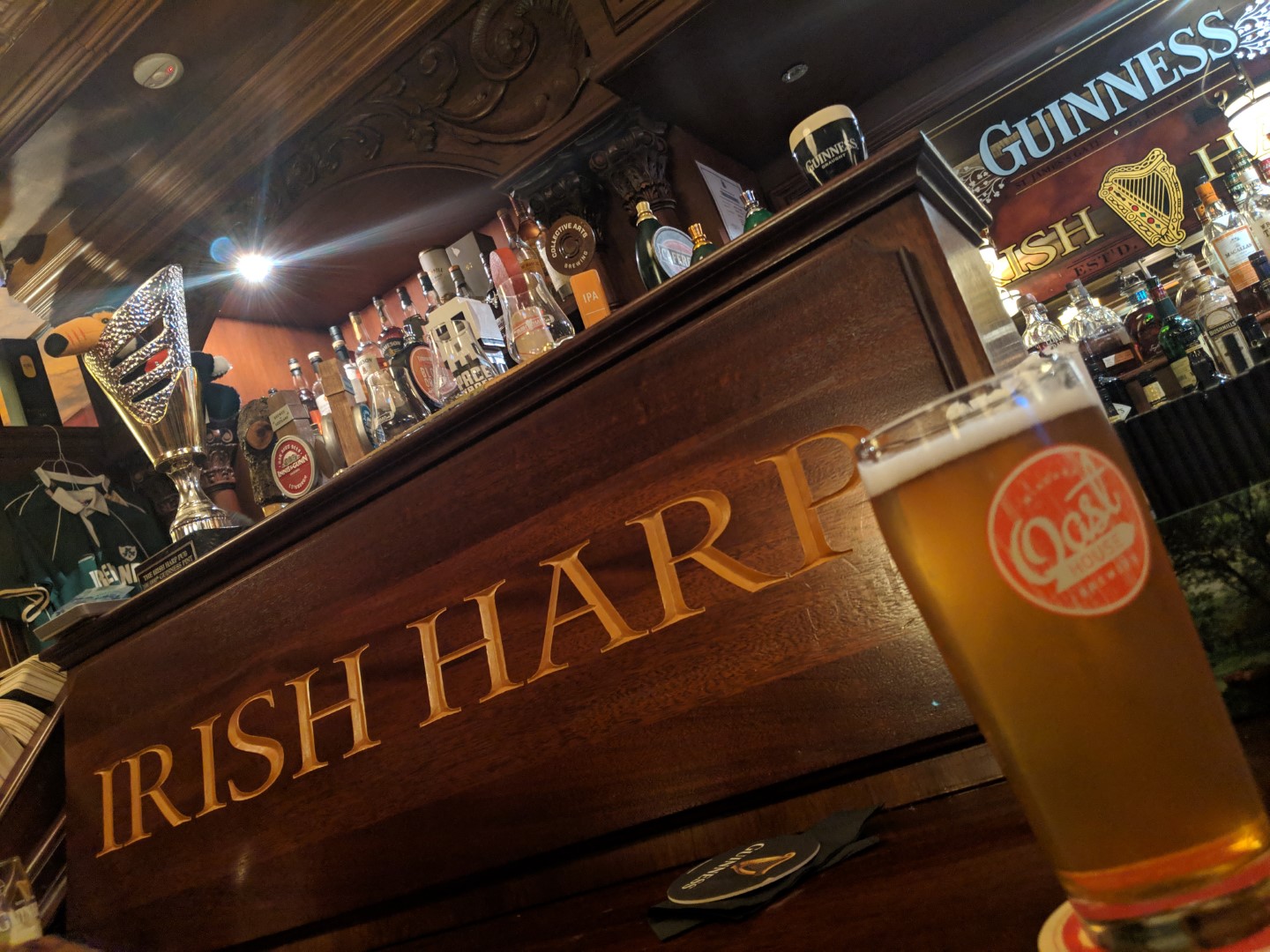 Finding spots that are open later into the night can be tough in Niagara on the Lake. So I want to share a few places you can hang out later into the night (past 9 o clock anyways). Obviously there's the Irish Harp for a bit of a live music and semi-high energy pub in Niagara on the Lake and they're usually good until about 1 a.m on weekends. Sandtrap bar and restaurant is a place my parents enjoy for dinner but I say it's a solid spot for a few beers late into the night. Olde Angel Inn is known for their famous fish and chips but they also remain open until 1 a.m. and offer a British style pub ambiance. Butler's is also another pub for some beers and bar rail cocktails. For something a bit more cozy, the Q Lounge & Bar at 124 on Queen hotel is swanky and worth a visit.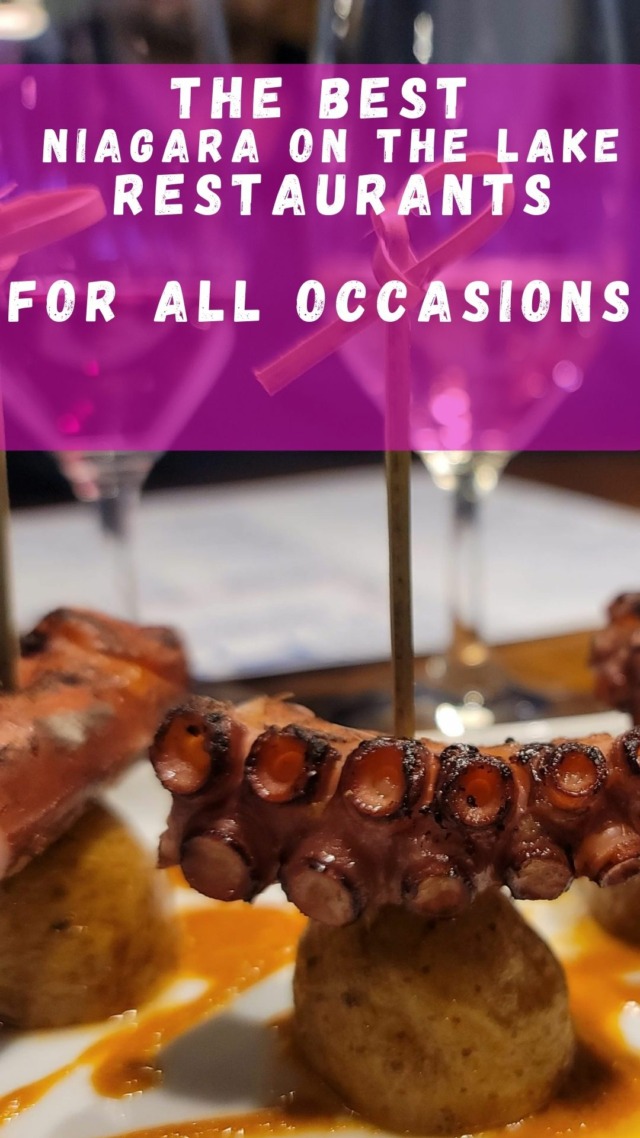 There you go! That's my list of places you should eat and drink at in Niagara on the Lake. If I haven't mentioned your favourite Niagara on the Lake restaurant or bar, comment below and I'll be sure to check it out if I haven't been (or give them another try if I wasn't impressed in the past).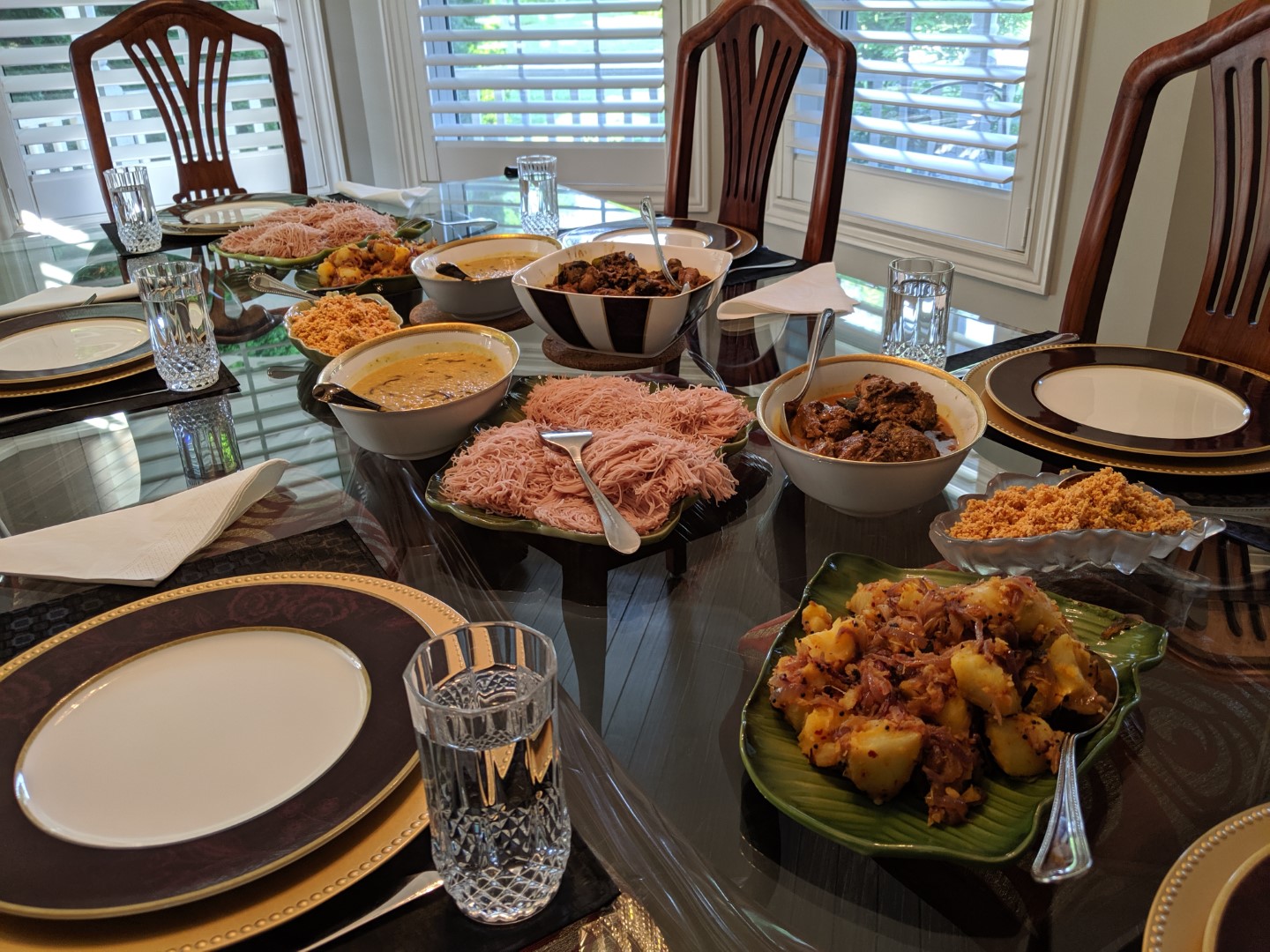 Oh also, if you want Sri Lankan food in Niagara on the Lake, then you simply must book a stay at my parents' place because you have that option for breakfast and my mom puts an epic continental spread too!