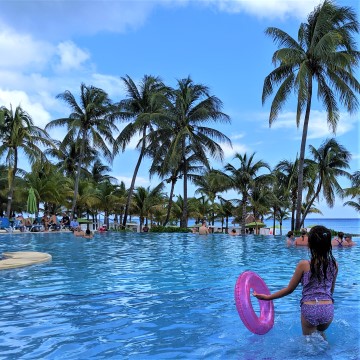 We're back after a relaxing week at The Fives Beach Hotel and Residences with our young kids thanks to Air Transat. Shakespeare said "a rose by any other name would smell just as sweet" and that holds true for this resort in Playa del Carmen. Previously known at Azul Fives, the resort has re-branded but still delivered an experience similar to our last visit. Prior to boarding our Air Transat flight, I was curious if the all-inclusive resort was the best choice for our vow renewal, for which friends and family joined us, but the moment our bus pulled up to the resort, it truly felt like we were welcomed back home (a phrase we heard quite often on the resort).
During past visits to all-inclusive resorts, we have learned that we are not the kind who can sit around, bask in the sun, and enjoy the stillness. Our family needs adventure, which is why we visited a theme park resort in Mexico last year. In the past, we've split many vacations between all-inclusives and apartment rentals, giving ourselves a chance to enjoy both worlds. However, with friends and family joining us this time, we wanted a resort that would cater to adults and kids without putting any pressure on us to manage the details. We wanted a resort that offered many dining options and the chance to relax in kid-free spaces when we wanted. The Fives Beach Hotel, a AAA Four Diamond hotel, was the perfect choice for this trip and we have the Air Transat all inclusive vacation package to thank for that. This ALL-SENSES INCLUSIVE  idyllic escape enabled kids, grandparents, friends and couples to each enjoy their family vacation to the max!
Disclosure : We were guests of Air Transat but, as always, opinions are TOTALLY ours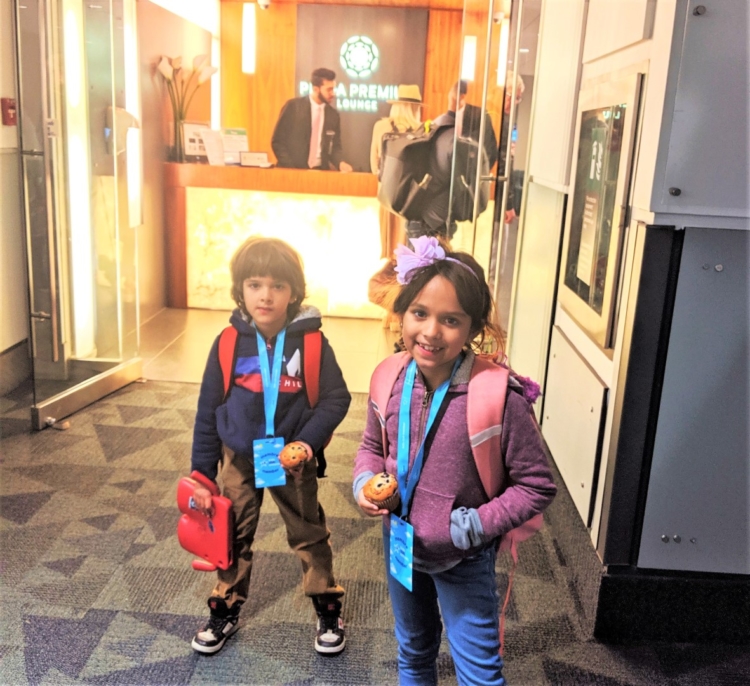 We started our vacation in Toronto by taking the very first UP Express train of the day from Union Station to the airport, where it was easy for the seven adults and two kids travelling in our group to check-in at the Options Plus check-in counter (we also could have checked in at the Kids Club counter). Security was a breeze and we actually had some time to spare so while my parents and friends enjoyed some Duty Free shopping, Chris and I took the kids to Plaza Premium lounge in Terminal 1. This is the smaller of the Plaza Premium Lounges at Pearson Airport, and it was quite busy during our visit, but we were able to grab a quick breakfast and stock up on water (we each travel with a reusable water bottle) before joining the rest of the group for our priority Option Plus and Kids Club pre-boarding. Our flight was a smooth one. I enjoyed some sparkling wine and a warm dish (Option Plus Perks).  Seated next to Little Monkey and my friend, I chatted a bit before retreating to our in-flight movies (and yes, I snuck in a nap too).
[themify_box style="white rounded" ]Check out the other Air Transat Kids Clubs perks we've enjoyed over the years[/themify_box]
On arrival in Cancun, immigration put us through a full search and we were nearly the last to board the complimentary bus taking us to the hotel, but they waited for us all. In under an hour we were pulling into our home for the week and were greeted with more sparking wine (and apple juice) where digital bracelets were placed on our arms. We were ready to get our relaxation ON!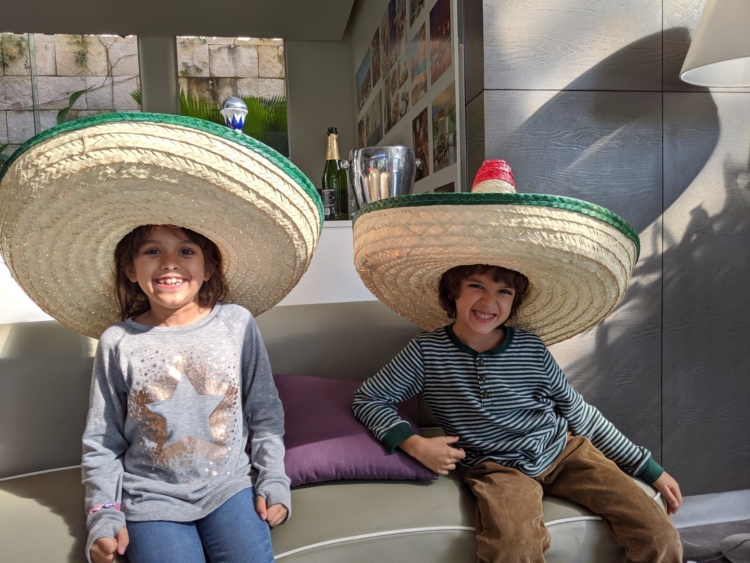 General Overview of The Fives Beach Hotel, Playa Del Carmen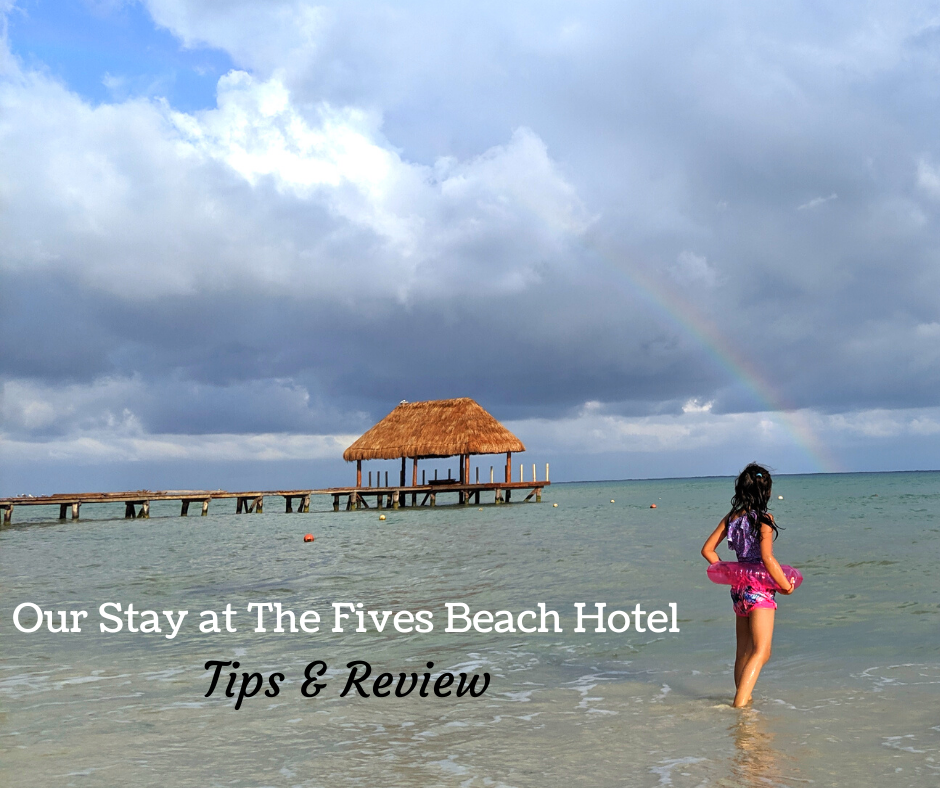 The newly re-branded The Fives Beach Hotel still delivers the great service and culinary options that many of us were used to raving about when the resort was called Azul Fives. The reason for this is that the staff are still the same and the only changes has been in the name, even the management team is the same as before. If you're looking for a review of The Fives Beach Hotel, rest assured, I'm going to share all the details with you now that we spent a week there in early November. The first thing I'd like to mention is that there's a fair bit of construction taking place as there are plans to double the accommodations. There's a lot of money also being put towards restaurant renovations and there are additional pools and amenities being added as well.  They're also ramping up the staff and many staff members we spoke with shared how much they love working at the resort because they're well taken care of. I'm not going to lie, I truly am already thinking about heading back in 2023 to see all the new upgrades!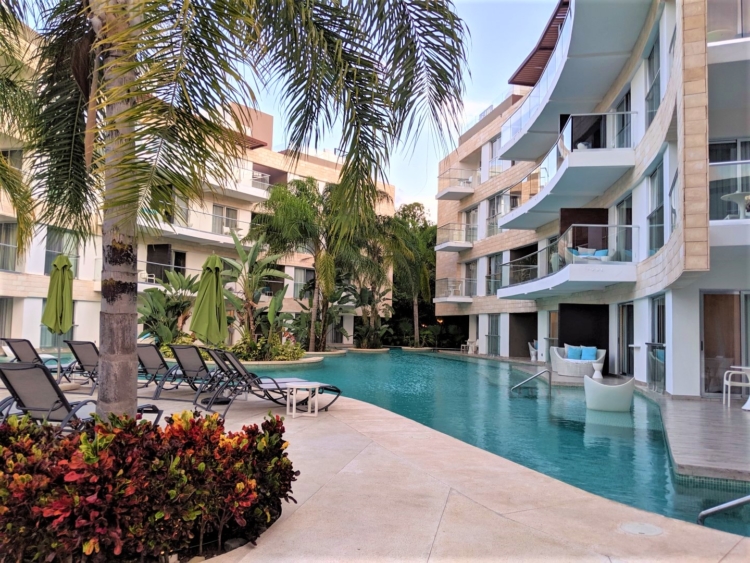 The good news is that it's still business as normal at The Fives Beach Hotel. Despite visiting in the off-season, we still had plenty of restaurant options and there was some sort of nightly entertainment. We were also able to find a golf cart easily to transport us from various points of the resort (though now that the kids are older, we were able to walk from one end of the resort to the other in under 15 minutes).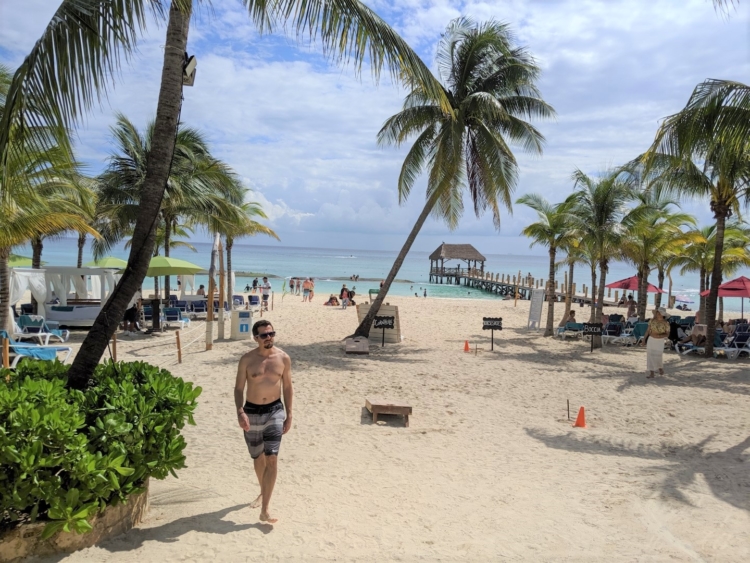 For those looking for a place to relax as a family, The Fives Beach offers high end service, a variety of room options and culinary delights. There are beaches, over 10 pools (some of which are adults only), a spa and even a cenote (you can't swim in there) on-site. What I love most about the layout of this resort is that you feel like you're in nature the entire time. There are trees everywhere and you can even spot monkeys and other wildlife if you time your daily walks properly.
If you're looking to venture off resort, it's easy to do so. Our Air Transat representative on the resort provided advice on tour options and would have gladly booked them as well. My parents went on a shopping tour and our entire group of 15 did a full day Chichen Itza tour as well. In addition, one evening Chris, my friend and I took a taxi to 5th ave for some shopping (cabs have flat rates of 20 USD or 350 pesos).
Villa and Room Options at The Fives Beach Hotel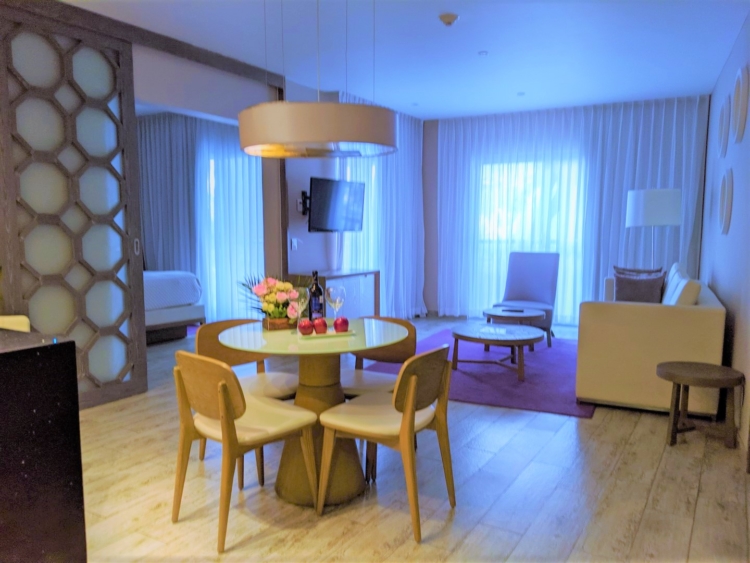 The Fives Beach Hotel is spread out and during our recent visit there were 19 villas (more were being built during our visit). On this trip we stayed in Villa 16 and I think we stayed in Villa 5 on our last visit. We also had friends stay in Villa 14 and 1 so I think I have a pretty good idea on what you can expect in each of them. The main point to note is that there is an old (Villas 1-14) and new (Villas 15 to 20) section (and always has been) but the main difference I find is that the old section has larger rooms and more storage spaces. The newer ones are sleek and more contemporary. Some of the older ones are being upgraded to have the new sleek design so on our next trip I'd opt to stay in one of the "older" villas mainly because I really need drawers and cupboards to neatly arrange our items.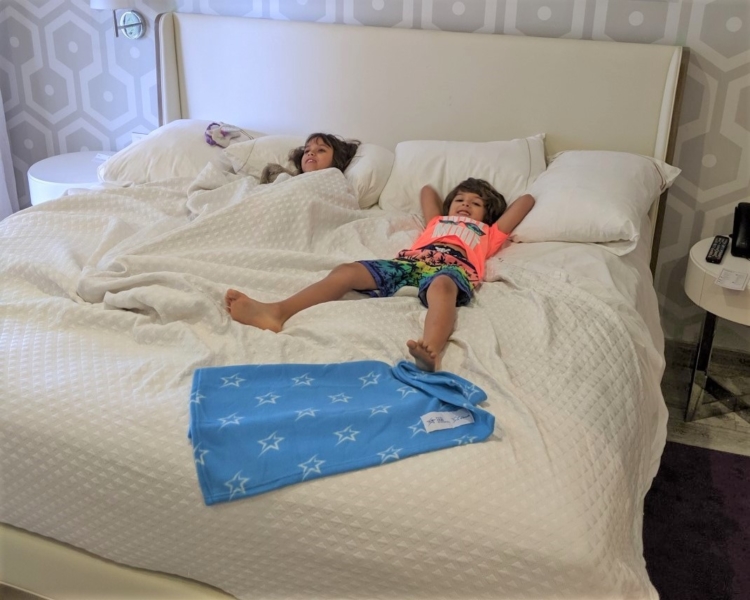 Beyond that what you need to keep in mind is where you plan to spend most of your day at. If you're going to be by the main pool or beach, then Villas 4 to 7 will be better for you. If you prefer to be closer to the kids club, Villa 5 and 6 would work best for you. Overall, Villa 5 is what is recommended for families usually and the suites have been upgraded despite being in the "old" section. If you're looking for an adults only experience, Villa 19 and 20 is where you'll want to stay at as it's right by the adults only lunch restaurant and the adults only pool.
The beds are comfy and there are tvs, wifi and basic hotel amenities on offer. On this trip we didn't have any towel animals but my parents and friends did have them daily – I think it depends on who is looking after your suite during your stay. We did get nightly turn down service and occasionally a chocolate was left for each of us. In addition, we always had plenty of bottled water in our kitchen, fridge and bathroom. They always stocked beer, chips and juice as well.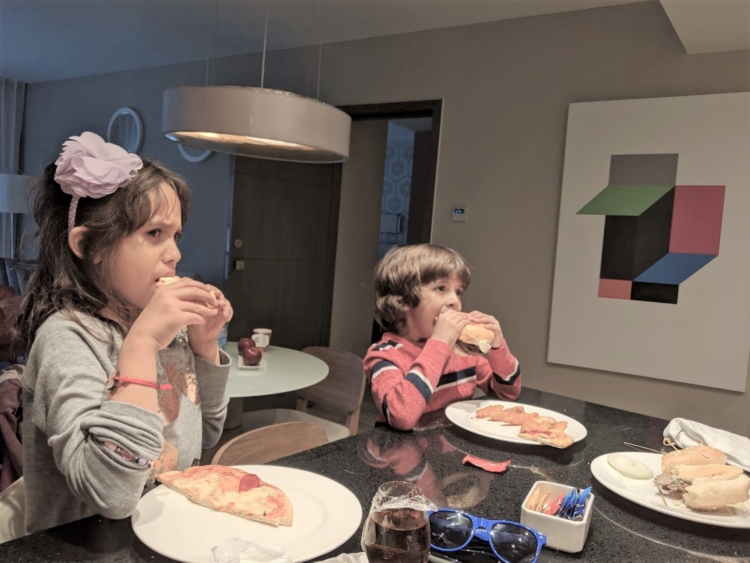 The Fives Beach Hotel has various room configurations, making it a great place for multi-generational or group travel. There are the basic deluxe rooms in addition to 1-, 2 -or 3-bedroom suites and spectacular Penthouse Sky Suites. My parents and a friend of mine stayed in a 2 bedroom suite in Villa 16 and it had a different layout to the 2 bedroom suite in the same Villa that we had. So I think it's important to call ahead if you have young kids. My parents' layout was such that my friend had her own room off to the side while my parents had their room directly connected to the living area. Each bedroom had its own bathroom and there was a small foyer where my friend and my parents would see each other on their way in and out. This was an amazing layout for them but would not have worked well for us. In our suite, we had two rooms that connected directly into the living area and that enabled us to see the kids room from our room, when we wanted to. The suites have a full kitchen (stove, microwave, fridge, coffee maker) but you may need to call and ask for utensils and any additional items like kettles. We had full control of our A.C and had blackout curtains in our rooms (bring a large clothes or food bag clip to pinch them together – also great for holding down your towel on chairs). I will also note that the 1 bedroom suite also has a pull out couch and that's where we stayed on our previous visit as a family of 4.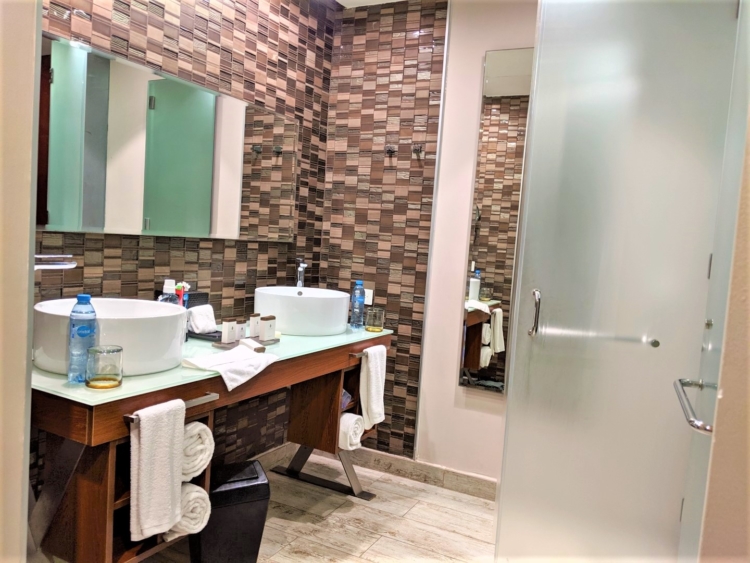 All bathrooms I visited featured a rain shower, double sinks, bath amenities, a hair dryer, magnifying vanity mirror, bathrobes, and slippers. One thing I will point out is that the bathrooms aren't noise proof as the doors don't go all the way from the ceiling to the floor. What this means is that if you're sharing a room with a friend, you may want to be aware of that. Even with the sliding door into living area, I'm quite certain that guests could hear your bathroom rituals. Our Villa 16 suites only had standing showers but the upgraded Villa 5 rooms had tubs.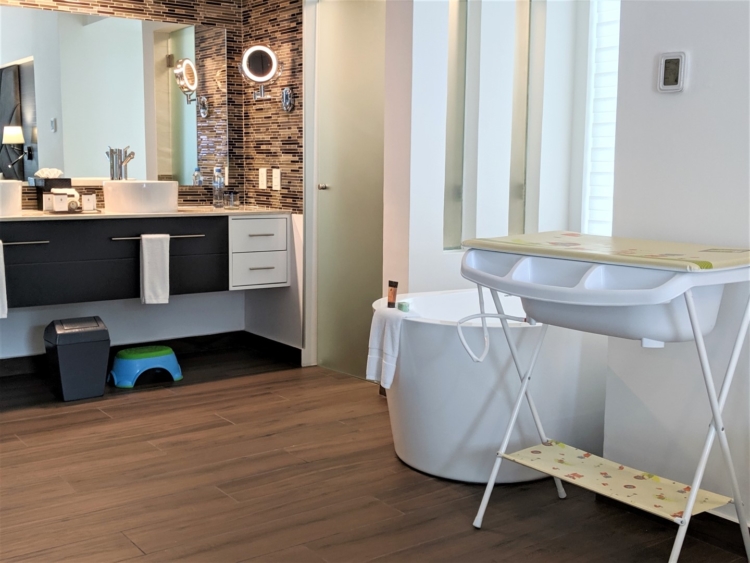 Penthouse guests enjoy a rooftop deck with a patio, a dining table for 6, a pergola, barbecue grill, a hot tub, chaise lounges, a relaxing Bali bed and views of the gardens and pools. Also keep in mind that you can request for baby gear to be delivered to your room at no extra charge, no matter what type of room you're in.
Your resort bracelet unlocks your room so there's no need to lug any keys around and I love that. Mine was loose enough that I was able to slide it off my wrist when I needed my mom to access our room one night when she was watching the kids. We also loved having our own seating area so we could play cards (even once the kids went to bed)!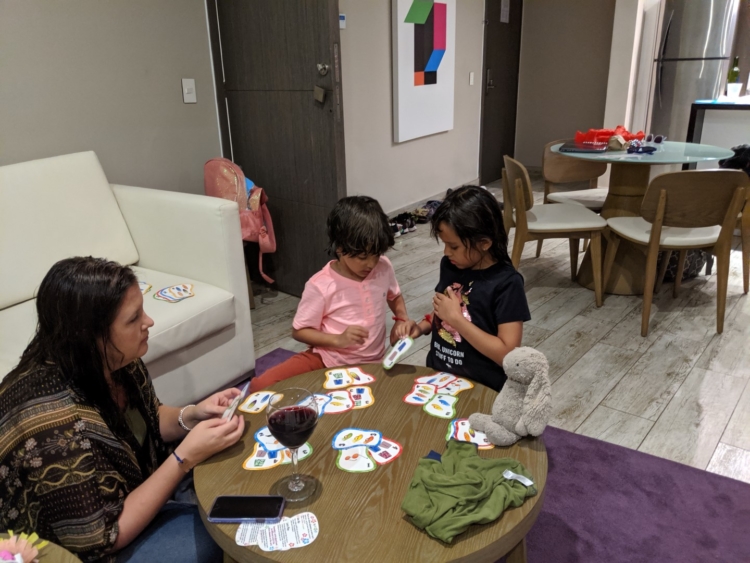 Family Friendly Amenities at The Fives Beach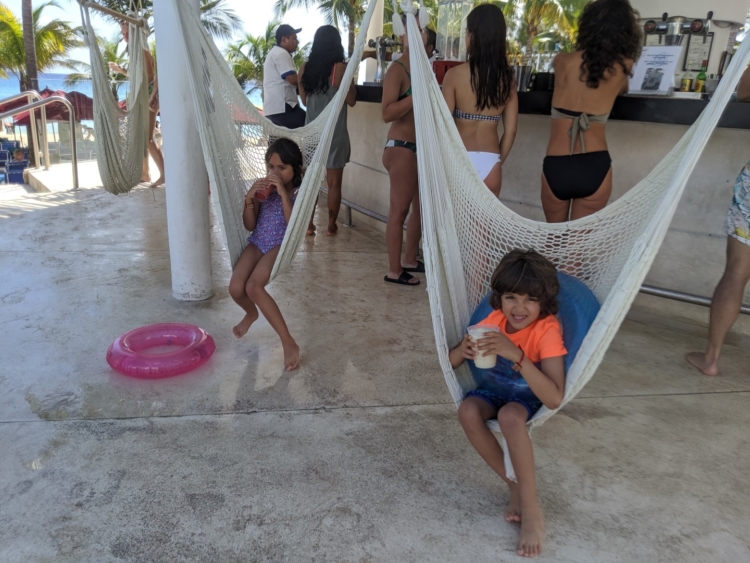 The beauty of The Fives is that parents get to enjoy the luxurious property while having their kids in tow. From the kids club to baby gear, the resort offers services and amenities to help make it a more enjoyable family friendly vacation. Below are some of the services we made use of with our 6 and 8 year old on this trip. We also had friends with 3.5 and 4.5 year olds along on this trip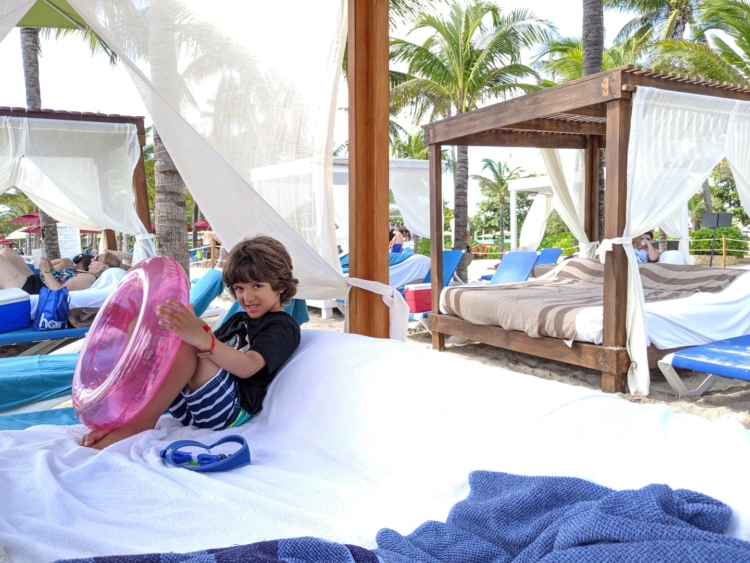 Prior to your visit you can email [email protected] and request for any baby gear you might want. They have baby bath tubs, change tables, high chairs, cribs, strollers, bottle sterilizers, baby monitors (sound only) and a few other items on offer at no extra cost
Most of the restaurants had high chairs, baby change tables and step stools (in the washrooms) for the younger guests
Food wise, buffets had plenty of cereals, fresh fruit, variety of milk options and kid friendly dishes. Certain a la carte restaurants also offered a kids menu
We loved the kids club during our previous visit but it was being renovated during our most recent visit. However  our kids still wanted to visit the pop up kids club which had activities from 9 a.m. to 9 p.m. (with a one hour lunch and one hour dinner break). From arts and crafts to swimming and PJ parties, the staff take care of the kids and made them feel welcomed. We took our own life jackets and swim tubes and the staff were diligent in ensuring that the kids wore them when the group went swimming. We're excited to experience Aluxeittos (the new kids club) on a future visit but keep in mind that the activity list is released at the start of each week. One point I will  note is that they don't feed kids at the kids club so that's something to keep in mind if you have a snacker!
Beach toys can be borrowed from the kids club but there are also large bins near the beach and they often have toys stocked up for use
The beach has a shallow entry though parts can be quite prickly with shells – experiment and see where the best entry way is for your kids. Our kids also loved playing on the man made barricade in the middle of the sea and luckily the dads were all happy to be up there with the kids so I didn't have to be there when I wanted to relax!
Every Friday evening there's a Pinata breaking session around 8 p.m. and there were also daily pop up activities for kids by the pool area on most afternoons
There is a doctor's office by the main pool and my parents took Baby Boy for a check-up as he was complaining of a ear ache. She was attentive and there was no charge as we never did get around to ordering the antibiotics he needed. They also offer in-room service but that comes with a fee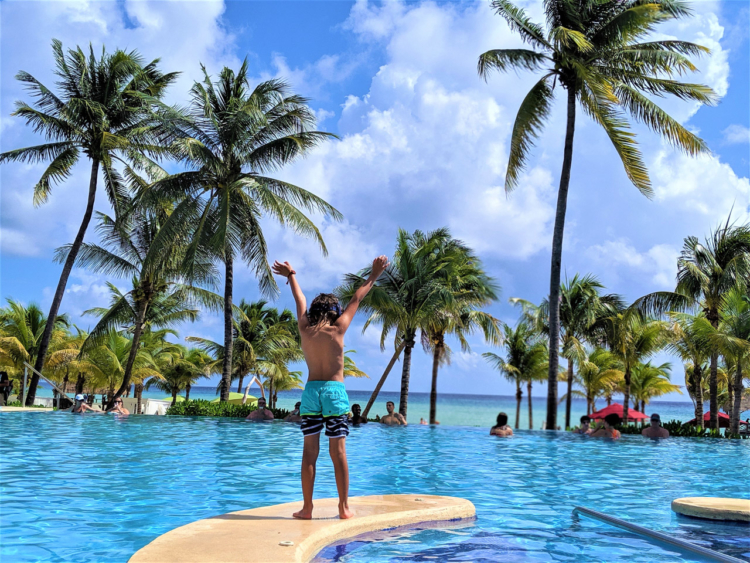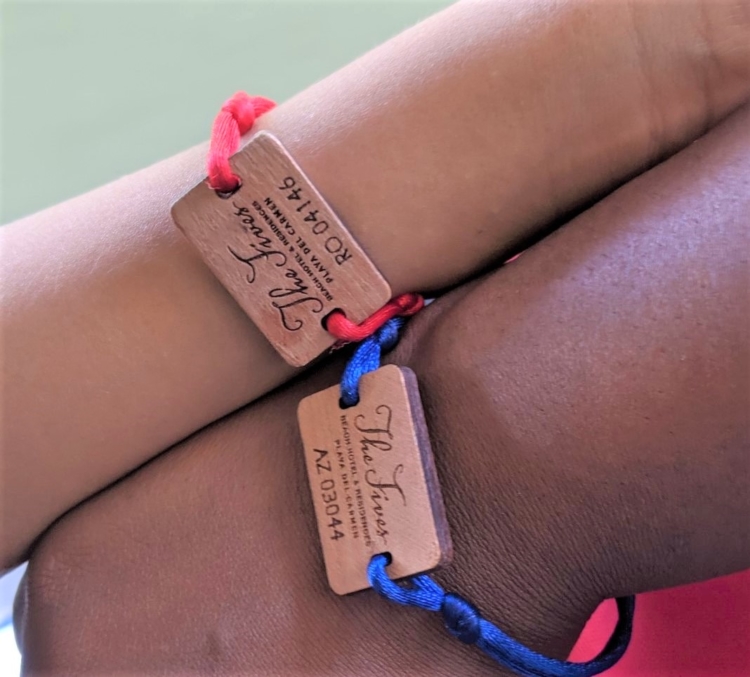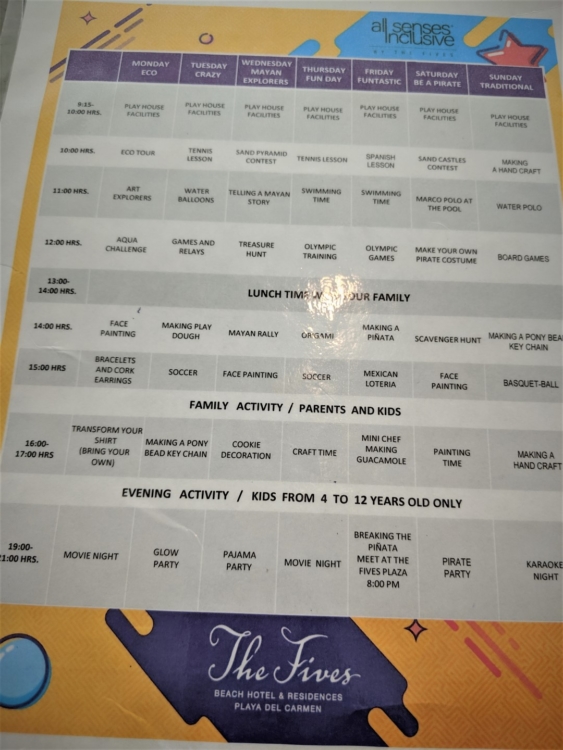 Food Experiences at Hotel Xcaret Mexico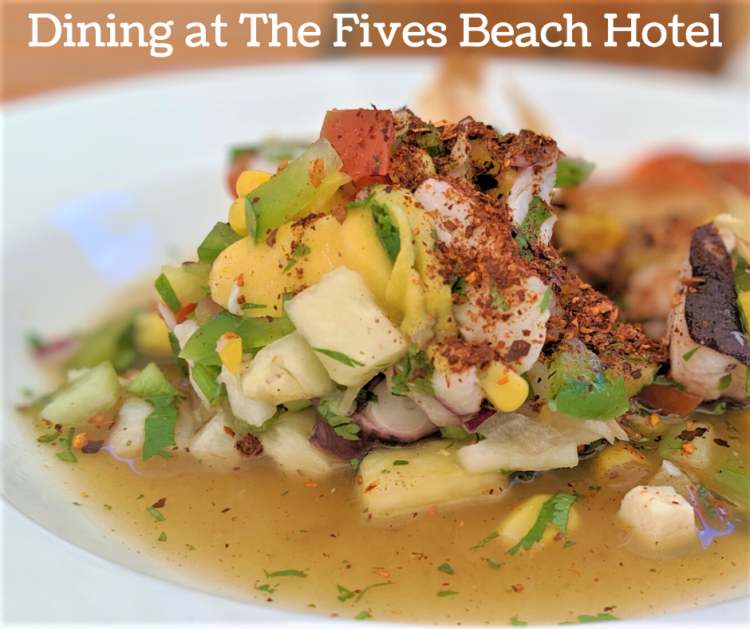 The Fives Hotels cater to all 5 senses and taste is definitely one of the most important ones for us. On our first visit we were so shocked that we actually discovered an all inclusive hotel with AMAZING food. We were used to the regular repertoire of burgers and fries at all-inclusives back in the day but most resorts have upped their culinary game these days. The Fives Beach Hotel has a variety of restaurant options depending on your mood  and below are highlights from each of the spots we dined at during our recent trip. Most restaurants you can walk in to but some did require reservations. Remember that dining was all inclusive and you didn't have to pay unless you wanted to upgrade to an experience ( I've highlighted the few upgrades). Each restaurant offers you hand sanitizer as soon as you walk in and always asked about dietary needs. We were able to find dairy substitutes when needed for Baby Boy and though we didn't need high chairs on this visit, most restaurants had them on offer.
Flavours : I did hear a rumour that this restaurant might close for renovations soon but during our visit, it was the one that was open on most days. The breakfast buffet offered breakfast tacos which I loved. Not to worry, they always had eggs, fruits, cereal and baked goods for breakfast as well. If you timed your visit properly you'd even have warm churros! For dinner they have a theme each night so you can decide when you want to dine there but it was definitely the most convenient with kids so we'd go here to feed the kids and drop them off at the kids club before we enjoyed a second leisurely dinner elsewhere. I wasn't a fan of the Caribbean one but the Italian dinner was AMAZING (included freshly made pizza to order). This is also where you want to go if you want a large selection of dessert!
Arezzo : Reservations were required for this Italian restaurant and this was my favourite meal. Mind you, Chris wasn't a fan but most of our friends and I loved this spot! The wild mushroom cream with white truffle soup and  the wild mushroom and black truffle risotto were both amazing. If there's one dish you MUST order, it's the BEET carpaccio and that's coming from a meat lover! They had a variety of seafood options on offer (but Chris didn't enjoy his dish) and my lamb was cooked to perfection. My mom's a vegetarian and she found plenty of option here and they also offer gluten free pasta. That said, the regular raviolli and gnoochi were definitely made in-house because it was truly 'melt in your mouth'. To end it all we ordered one of every dessert and the tiramisu was my favourite from them all.
La Brasserie : We swung by here for breakfast a couple times and my parents loved the French vibes while the kids loved the cereal bar. Sipping on a Cappuccino with fresh baked bread was a nice start to our day. They of course had fruits, eggs and other baked goods here.  I also had lunch here one day while the kids were at the kids club and it was a very leisurely meal as we ate tacos and sipped on sparkling wine! As I recall one of our favourite dinners on our previous trip was here!
Click here to read about our favourite meals from the previous trip. 
Koh Thai : This was our favourite restaurant on our previous visit but sadly it missed the mark on our recent visit. I loved the ambiance but the Thai dishes were just "okay" for us.  They did have a kids menu and of all the ones we tried in our group of 15, the Crispy Beef was the one I liked the most (others weren't fan though).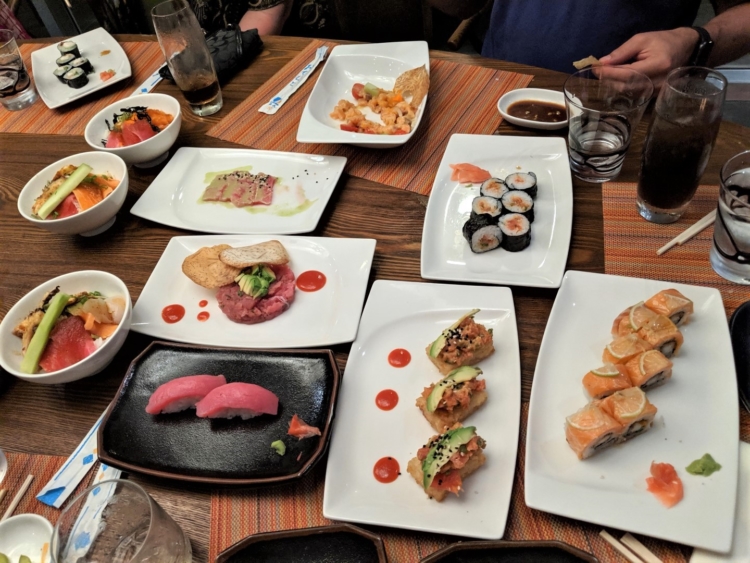 Oka Sushi Bar : If you love sushi and sashimi, you'll want to dine here. It was a fabulous experience and we kept eating until we could eat no more (it was basically an all you can eat session)! Even my mom who is a vegetarian found plenty to eat here. They also had a kids menu.
Mestizo : If you want an upscale Mexican dinner, this is the spot for you. The dishes we had were flavourful and we were able to enjoy some items we hadn't had before. The Pumpkin soup was delicious and the grilled Octopus was really good too. They also had vegetarian dishes and while our kids were not with us (wohoo!! Kids Club), we did spot kid friendly amenities.
Oriola Beach Grill : Ceviche lovers must dine here as they have a ceviche bar that you can customize your dish at! They also have a pretty epic Texan burger that really hits the spot. Open only for lunch, this is a busy spot given the proximity to the beach and pool but I have no doubt that you'll dine here a couple times during your stay at The Fives Beach.
Natura : Open only for lunch, this ADULTS ONLY spot has a beach club vibe because it's right next to the pools and has a tiki bar set up. We enjoyed lunch inside a stunning gazebo light structure (such an awesome event space) and you must eat the bread and meats made in the green egg!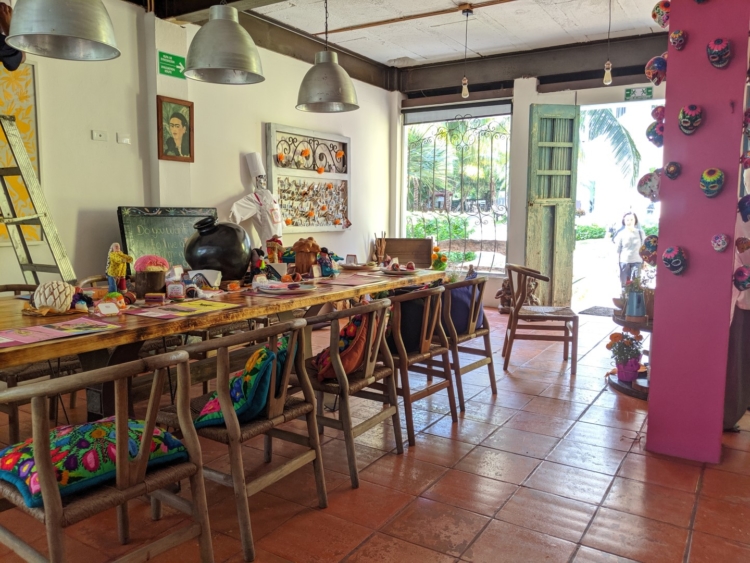 La Casa de Rosa : We didn't dine here but really wanted to! It's an interactive informal cooking class and party combination and there is an additional fee of $50 /adult $25 for those under 12. This food experience embodies all that Mexico is and takes about 3 hours.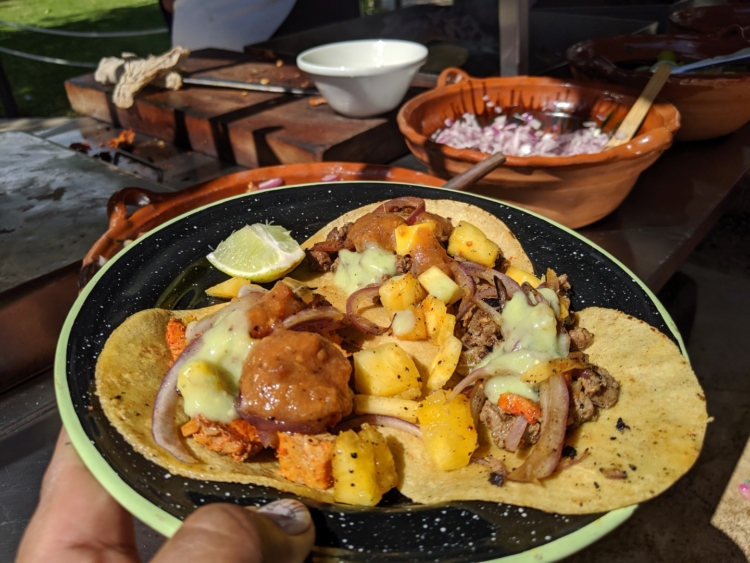 La Taqueria : The taco cart by the main pool is an easy grab and go option between noon and 4 p.m. Just wish we could have had access to it all day long!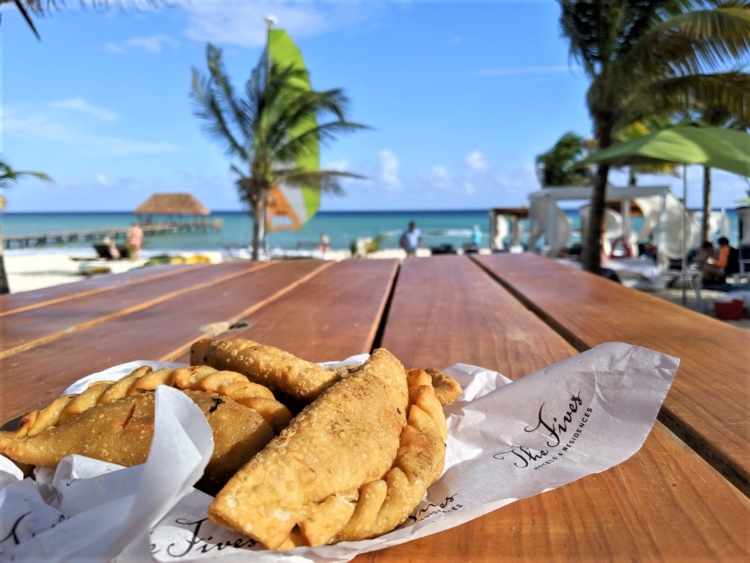 Breeze'n'Burger : Tucked behind the pool area near the beach, you MUST get some empanadas from here. We loved it last time and continue to do so. It's also a great spot to grab hot dogs and burgers at if your kids don't want to leave the beach. Just remember that it's only open from noon to 4 p.m. Yes, I totally stocked up on some for our trip back home – no shame!
Lizards : Vegetarians and vegans must dine here but if you're not, don't fret because they do have seafood and meat dishes as well. We found a delicious dairy free cheesecake for baby boy and some great salads for a much needed light lunch before we dropped the kids off a the kids club and headed to Natura for another lunch.
Sea Olive : We dined here on our previous trip but it was closed during our recent visit.
Pisco Nikkei Cuisine & Raw Bar  : This spot was not open during our visit but I do love a good raw bar!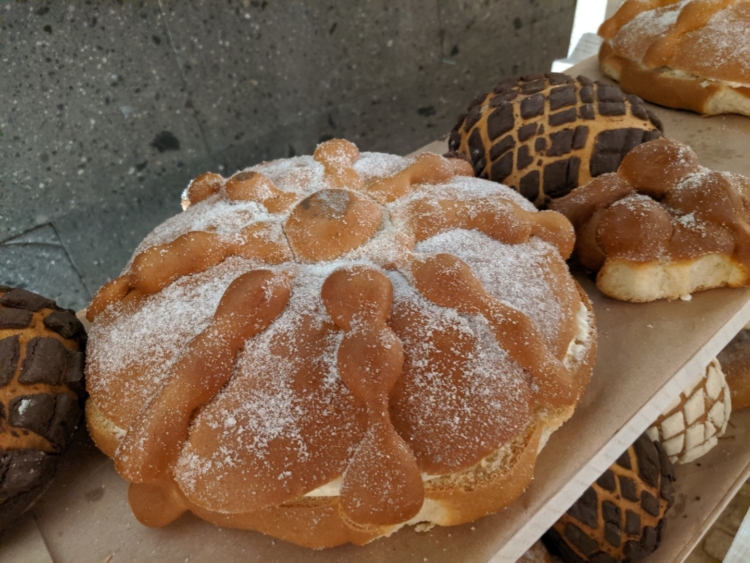 One thing I will mention is that it was rather hard to find guacamole at the restaurants this time- which I found rather surprising! One of our favourite meals was the celebratory local party that takes place on Friday evening. Many carts are set up and you get to sample a variety of local dishes and chat with the various vendors.
Drinks at The Fives Beach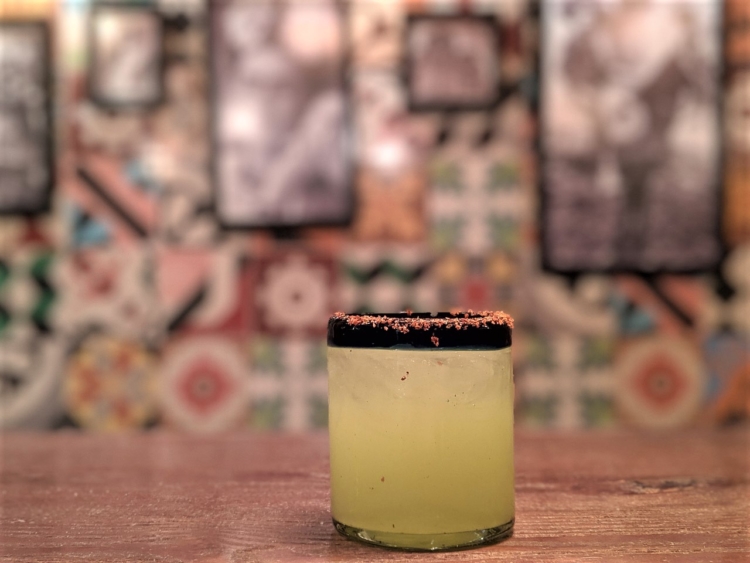 I do love a good cocktail and there's no denying that! During the course of the week we soon found our hangout spots and favourite bartenders so I thought I'd share them with you. On this visit only the pool bar had a cocktail list but I was informed that the other bars would soon get their new menus.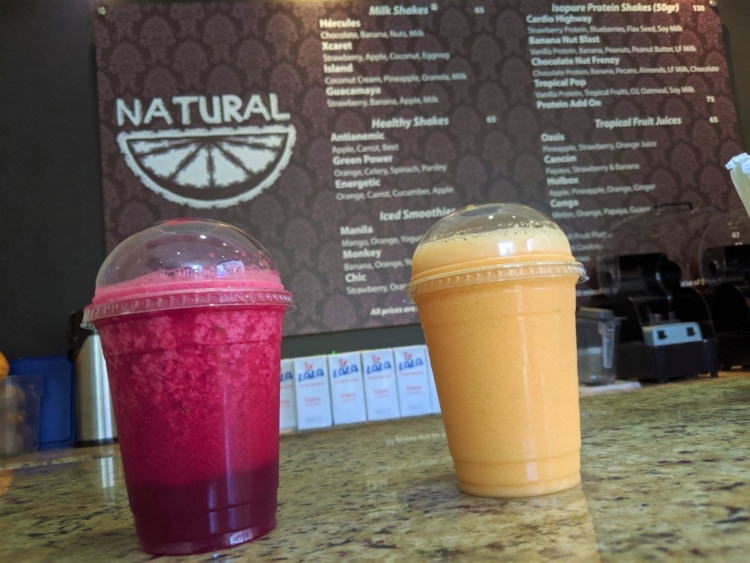 Natural : Smoothies galore!!! If you want protein shakes you have to pay but the rest are included with your all-inclusive stay
Cantina 1910 : This was hands down our favourite bar because the main bartender knew how to mix drinks well. From standards like mini beers and passion fruit margaritas to random surprises, Luis would customize our drinks based on our mood. There's a mariachi band here twice a week and occasionally you'll find groups gathering here after their wedding celebrations. Kids are not allowed here after 7 p.m (but they can sit on a swing outside and you can take your drink to be near them) and you can upgrade your experience to top shelf choices with additional payment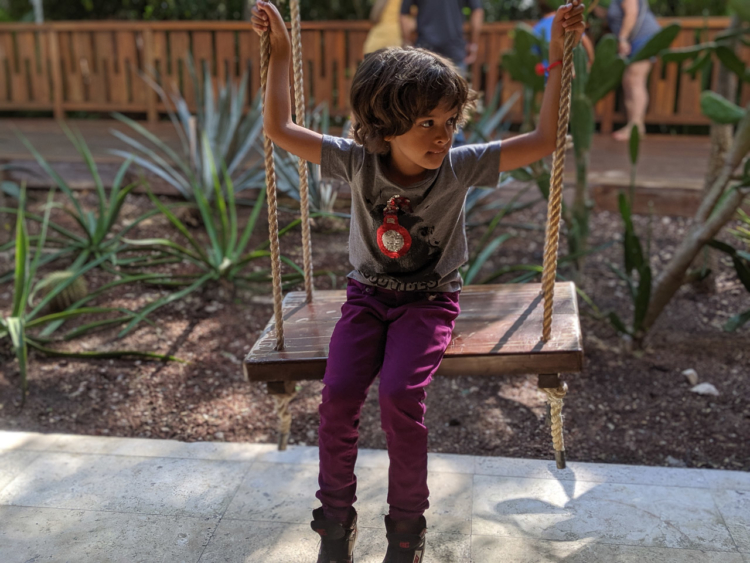 Sky Bar : More of a disco (it had a sports bar vibe during our last visit), this is where you want to end the night at if the DJ's spinning good tunes. However don't expect craft cocktails as it's more of a quick serve spot and yes, no kids allowed here at night either.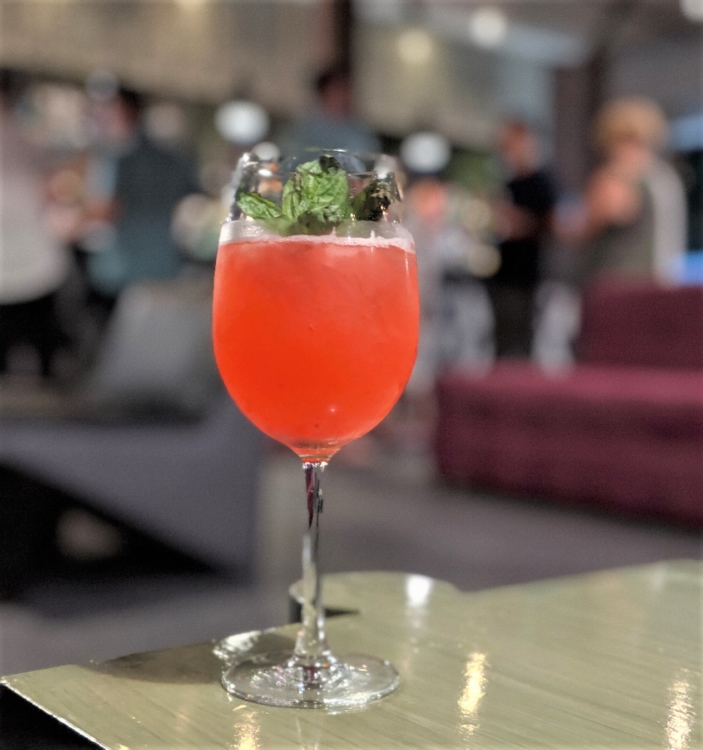 The Gin Bar : This was sadly a miss for us during two visits and so we avoided going back. However, the gin bar (with the right bartender) will have the best gin cocktails ever!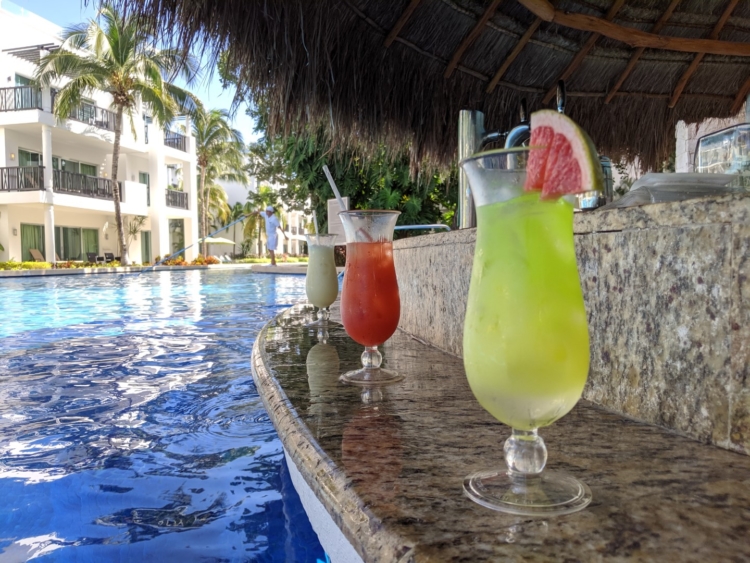 Pool Bars : There a couple pool bars but my favourite was the one right by Villa 16. The Bartender there made deliciously fun cocktails and I regretted only discovering him on my last day!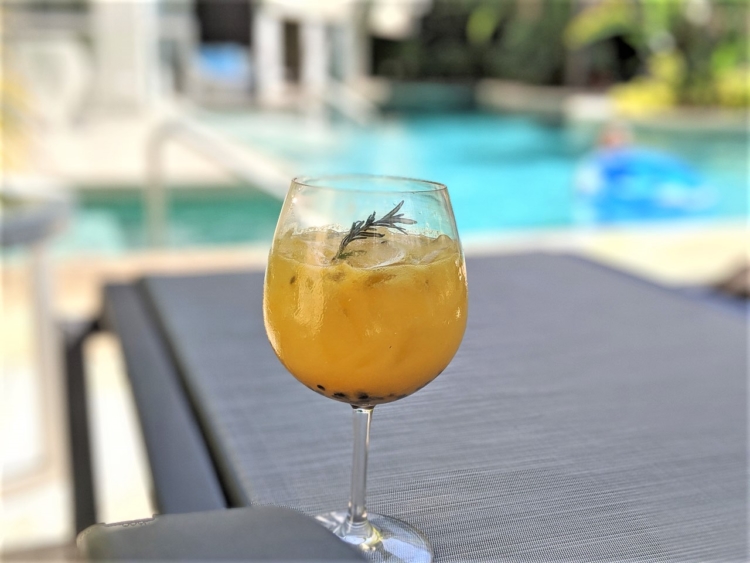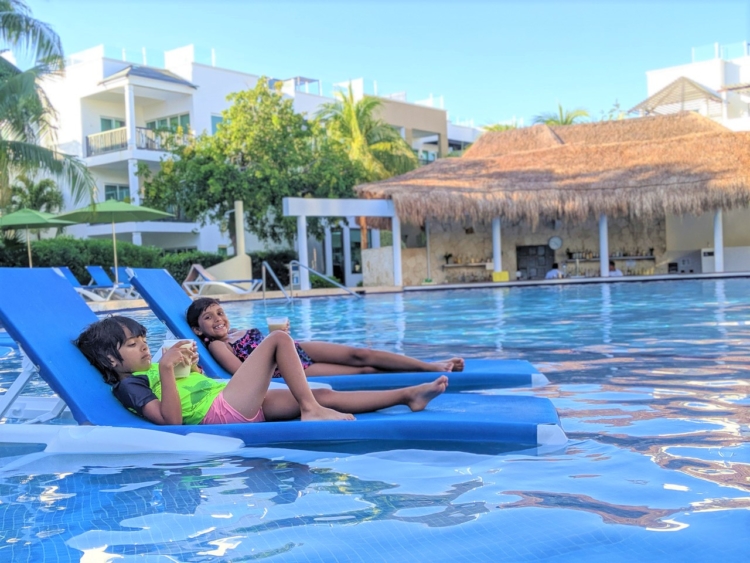 Things to do at The Fives Beach Hotel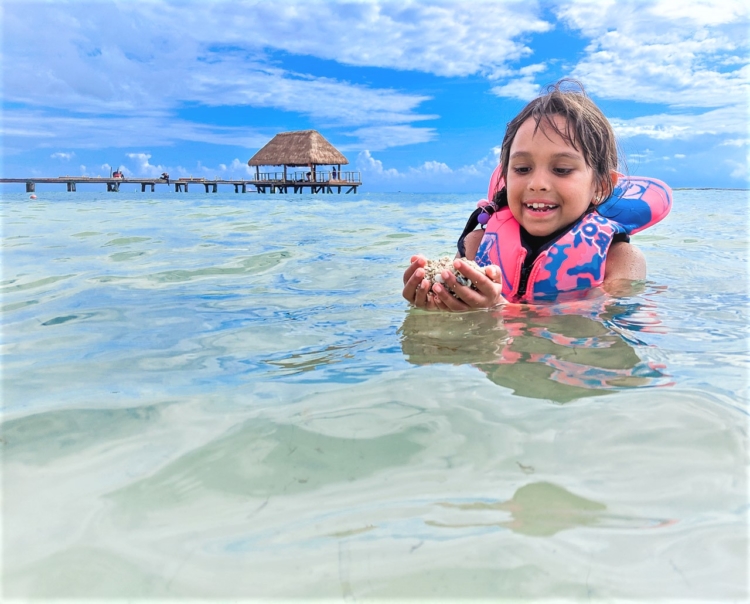 We're not the type to sit idle and we were concerned that we'd be bored spending an entire week at an all-inclusive resort. However, with friends along, I didn't even read one single page in the book I took with me! I also only manged to enjoy an afternoon siesta on our final day – clearly, there were enough activities to keep us busy!
Splash away at one of the 10 pools at the resort (ensure you visit the adults only one when the kids are at the Kids Club)
Look for monkeys and iguanas (and other animals on the resort)
Build sandcastles by the beach – the beach was crystal clear with ZERO seaweed during our November visit
Partake in the many organized free activities – pick up a schedule on Sunday and you'll see that there are at least 5 different activities per day. We enjoyed water aerobics, attempted to get to zumba and boot camp (but failed), my mom wanted to take in a dance class (think she went on a shopping tour instead) and there's even kayaking when weather permits
Book yourself some water activities (there is a cost to these – jet skis, catamarans, etc)
Upgrade to a Bali Bed and enjoy a day of being pampered with your own beach/pool server
Dance the night away at the Sky Bar disco
Book a spa day – my friend and I enjoyed the hydro therapy and massage one afternoon (though I will mention that the hydrotherapy area could use a small face life). There were also ladies offering massages by the beach and these were at a lower price point
Saddle up at Cantina 1910 and have Luis mix you cocktail after cocktail. This was my favourite bar but the bartender near Villa 16 was also awesome
Enjoy the special Friday night show and dinner (the best local eats!)
Book a tour to explore off resort – your Air Transat rep on-site can help you plan a visit to wherever you'd like to explore

Tips to Make the Most of your Air Transat Stay at The Fives Beach Hotel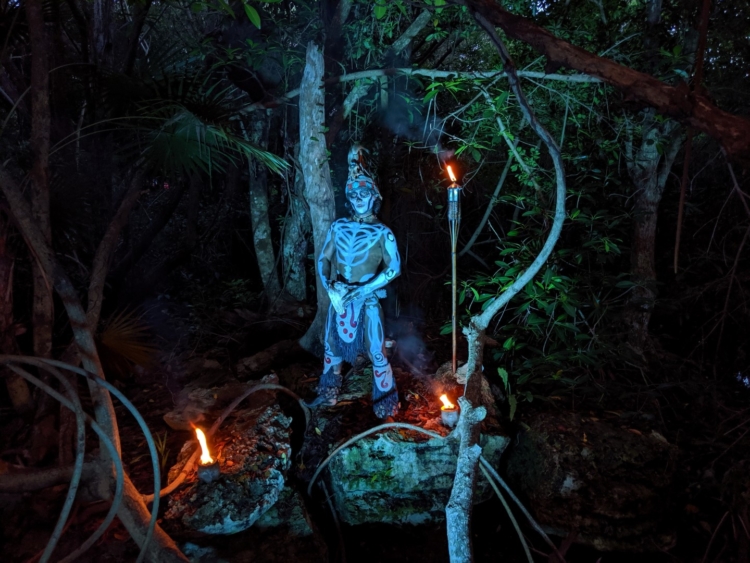 Make your restaurant reservations as soon as you can. During our visit, the restaurant and activity list was published on Sunday and I was able to plan our entire week of eating on Monday
If you're able to upgrade your room to one with butler service, do it! It was so easy for us to get restaurant reservations because our butler did everything for us (including leaving surprises for us in our room!)
It was difficult finding lounge chairs by the main pool area (super easy at the other pools) so if you think your kids will want to be by the main pool or beach, it may be worth paying for a Bali bed.
Depending on the season you're visiting, you may need bug spray. We were bitten severely on our first night and asked friends arriving the next day to bring us some bug spray. We didn't need it for the rest of the trip – go figure!
As always, pack your first aid kit. We always take Baby Tylenol, advil for adults, bandaids and bug bite cream. IF you do forget things, there's a shop on the resort that you can purchase basic items at
Email [email protected] and see if they'll upgrade your room, if you'd like that! I'd also take this opportunity to mention any additional requests you may have if travelling with kids
Have pesos on you for tips. While the staff will gladly take anything you offer, there is definitely a preference for pesos
While there isn't an active nightlife on the resort, there is always something to do at night. So keep an eye out for the pop up events and of course there's always Sky Bar or a Cantina 1910 session!
See what you can borrow from the resort to avoid over packing (toys and baby gear) but take your own floaties/puddle jumpers
Water shoes are helpful in case the beach has a shell-ey area but know that if you do forget them, there's always a shallow shell-free entry nearby
Remember that room service is included in the all senses inclusive concept – while we preferred a buffet breakfast, ordering in breakfast does make it easier with young kids!
Make use of the kids club by feeding your kids first and then dropping them off to the kids club before you enjoy a more leisurely 'grown up' dinner
Sign up for the Air Transat Kids Club prior to departure and enjoy quite a few perks (click here to read more about our experience over the years)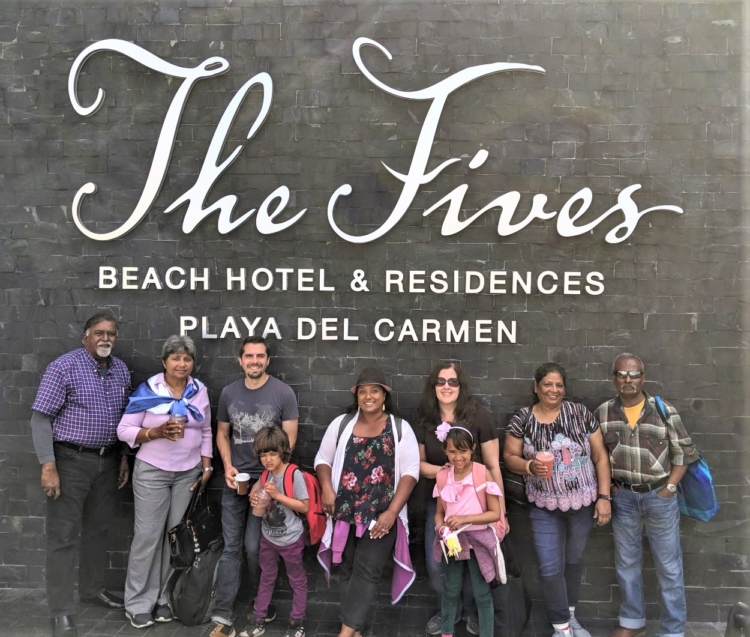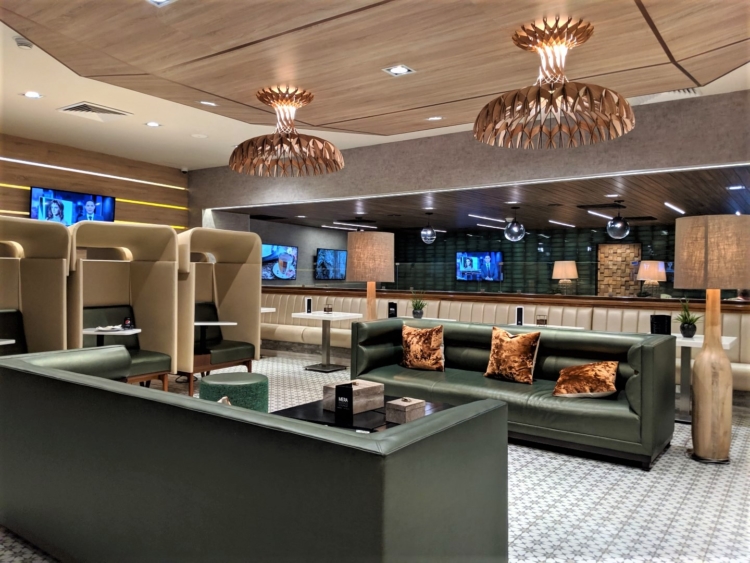 We highly encourage you to take a look at Air Transat's The Fives packages if you're looking for a family vacation. We truly had an amazing multi-generational trip that also included friends and their kids. They say the people you're with makes all the difference, well, the backdrop also helps! On our return we swung by the Plaza Premium Lounge at the Cancun Airport and boy was it ever amazing! I only had two passes on my credit card so my friend and I enjoyed a leisurely drink while Chris hung out with the kids at the gate (hahah.. he's nice like that!).
Time to start planning another large group trip for my 40th next year, I reckon!