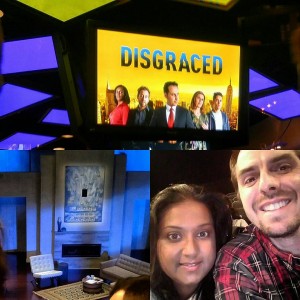 When we were visiting friends in NYC they had mentioned how we should see a play called DISGRACED and as things unfolded, we never did end up watching it. Then I noticed that DISGRACED was in Toronto! I knew we had to make a date night out of it and not only did the hubs and I go on a date night last week, we were also joined by friends of ours visiting from Dallas. Ironically our NYC friends had told our Dallas friends to watch the play too. Funny how things works out eh?
My friend had warned us that DISGRACED was a very intense play and that we should be prepared for it. Yet when the play opened with a lighthearted scene, I threw caution to the wind and settled in with my beer for a relaxing evening while the kids were with the baby sitter (yes!! No crazy date night fiasco like the last time we hired a sitter). Let's just say I wasn't at all relaxed when the next few scenes unfolded! INTENSE is definitely the right word here! This play pulled us all in a way that had us leaving with questions and no answers and that's a good thing.
Premiered in 2012 and awarded the Pulitzer for Drama in 2013, DISGRACED is the story of an ambitious young lawyer who seemingly has everything going for him until one day he is forced to confront his cultural and religious background, which he has partly denied and partly ignored. The set was simple with the entire 90 minute play (no intermission break) focused around a living room and the cast comprised of five characters. Raoul Bhaneja, Karen Glave, Ali Momen, Michael Rubenfeld and Birgitte Solem really gave us much to think about after their heated performance.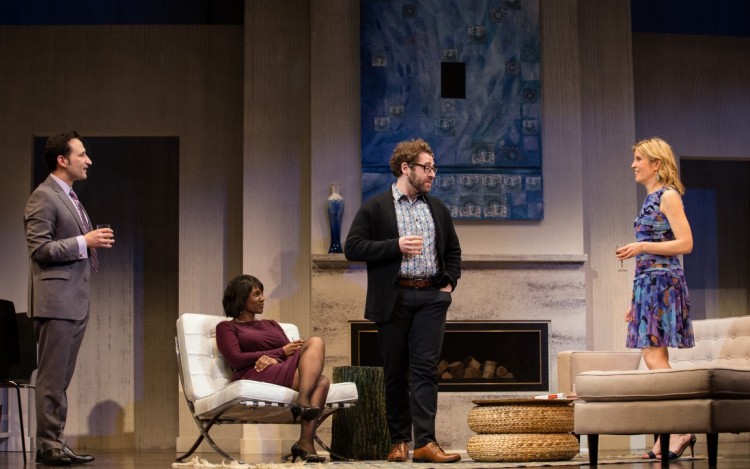 Being in a mixed marriage, having grown up in the Middle East and attending the play with Muslim friends, DISGRACED obviously resonated with me. The story touches on the topics of race, religion and infidelity in a very "in your face" manner. The most intense part that had many audience members gasping was around what started out as a casual dinner. Things escalate and racial slurs and phobias get thrown around and I found myself holding my breath. I've witnessed many racial prejudices and am guilty of using derogatory terms (mostly in a joking manner) but this was the first time I've seen it all thrown out there in public. Initially I thought it was all a bit too much but having discussed it further with our friends, I realize that playwright Ayah Akhtar did this intentionally. When people's buttons are pushed they are forced to say what they really feel, they occasionally end up discovering things about themselves they never knew.
This is definitely a very serious play with a topic that we don't really dig deep into but often chat about. DISGRACED makes us step back and look at the issues and perceptions of race and religion head-on. I was left wondering if the crux of the issue lies on the individual's perception of themselves and those around them after all.
One thing I found interesting was that the topic of Islamic art was also a focus and my friend was the one who noticed that the main piece of artwork on display really wasn't as typical of Islamic art as one would think. I took a snoop into the one showcased on Broadway and she was right! They were different paintings. That said, the theme was about bringing Islamic art techniques into the modern age so I'm not going to nitpick on that!
Since performances began on April 3, the play has had a packed house and received standing ovations, so it should come as no surprise that DISGRACED, will run until April 24th at the Panasonic Theatre. It's a small a theatre and there really is no bad seat in the house! Grab a bite at Banh Mi Boys and make a date night out of it…with it being a short play we only needed to hire a sitter for 3 hours, making it a very reasonably priced night out!