To kick off our summer we embarked on an impromptu road trip from Toronto to Detroit. For last minute planners, Detroit is yet another destination that you can easily get to from Toronto and you won't struggle when it comes to booking Detroit accommodations (even on a holiday long weekend). Detroit offers many family friendly attractions and has a great culinary scene…or so I had heard over the years. Our weekend in Detroit with tweens proved this to be true.
Spend a Family Friendly Weekend in Detroit with Tweens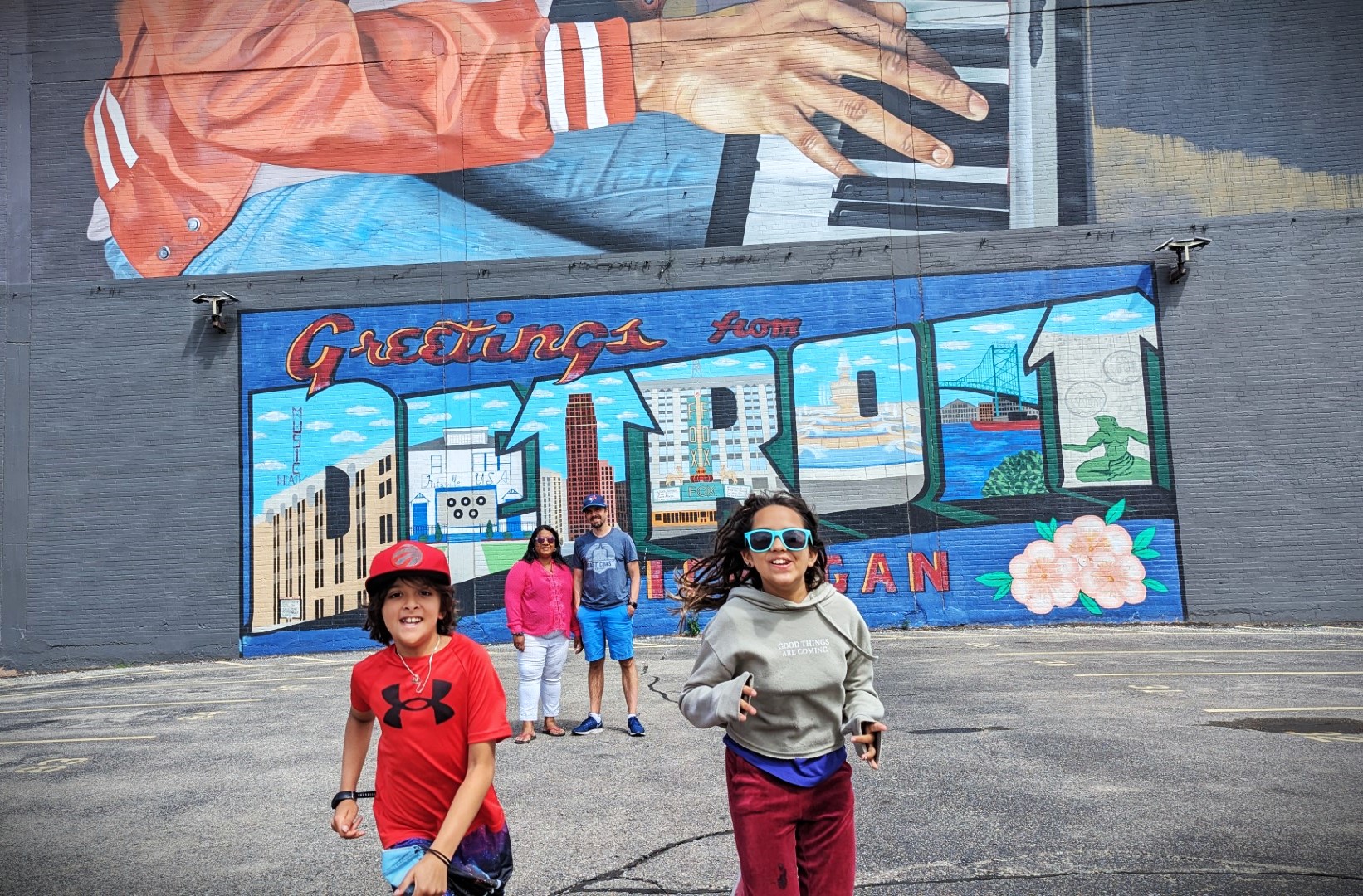 If you've been reading our content over the last few months you know that we're on a mission to showcase tween friendly destinations and I would be lying to you if I don't tell you straight up that Chris and I are already planning a Parents Escape in Detroit because there are so many live music bars and amazing restaurants we want to try without our whinny kids in tow! For this trip though… I attempted to find things that would appeal to our tweens who aren't fans of traditional museums and who we wanted to drag away from screens!
The drive from Toronto took us four hours and leaving at 9 a.m. ensured that we were able to miss any downtown traffic and still enjoy a full day in Detroit with kids. The 2023 CR-V Hybrid Touring we were test driving that weekend ensured that we were all very comfortable. Chris especially appreciated the hybrid because we got 680KMs per tank of gas on it, making this a very economical road trip from Toronto. The kids certainly enjoyed the One-Touch Power Moonroof, especially on a sunny day (but also equally fun to watch the rain pellets hit the moonroof).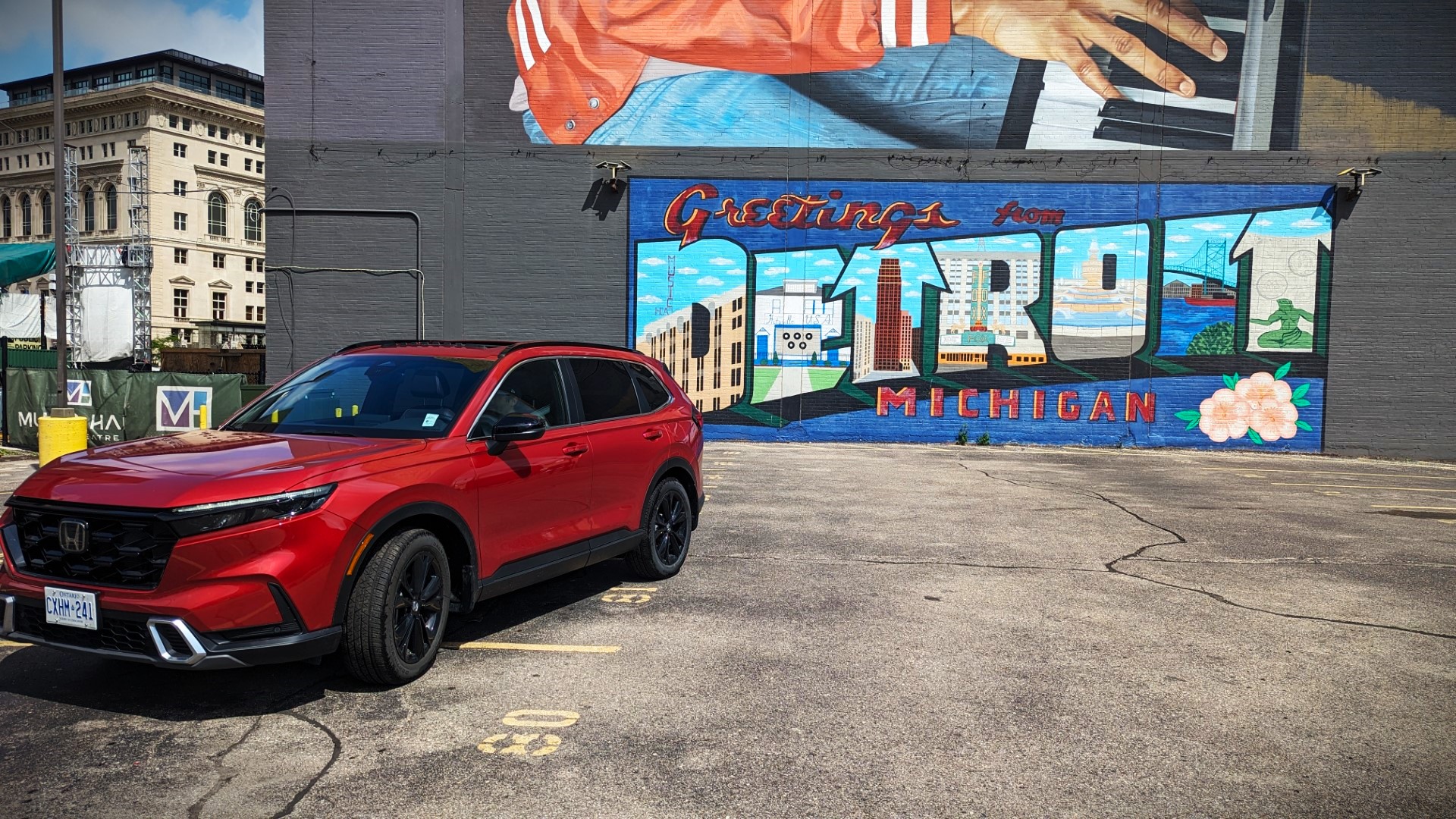 As for the boot (trunk), we made good use of that space for our cross border shopping. We brought back many craft beers (within our legal allocations of course) and a bunch of Trade Joe's foods. Since the kids were we us we didn't fold-down the rear seatback but we did make use of the extra cargo volume with the two-level adjustable cargo floor height.
One thing that really stood out was how quiet the engine is with this crossover versus others we've driven in the past. It also was very smooth on take-off after stopping at traffic lights and such (yes peeps, I took plenty of naps along the way as Chris drove).
Given that I'm an Android user while Chris is an Apple user, I was very surprised by how easily my phone connected to the system (not something I'm used to since most vehicles connect with Apple devices quicker than Android). I soon learned that there's a new wireless Android Auto which makes for seamless integration.
While Detroit does have public transit (and we rely on public transit when visiting most cities), we found it convenient to have a car to get around to some attractions and parking was fairly easy to find and pay for via the ParkDetroit app.
Family Friendly Hotel in Detroit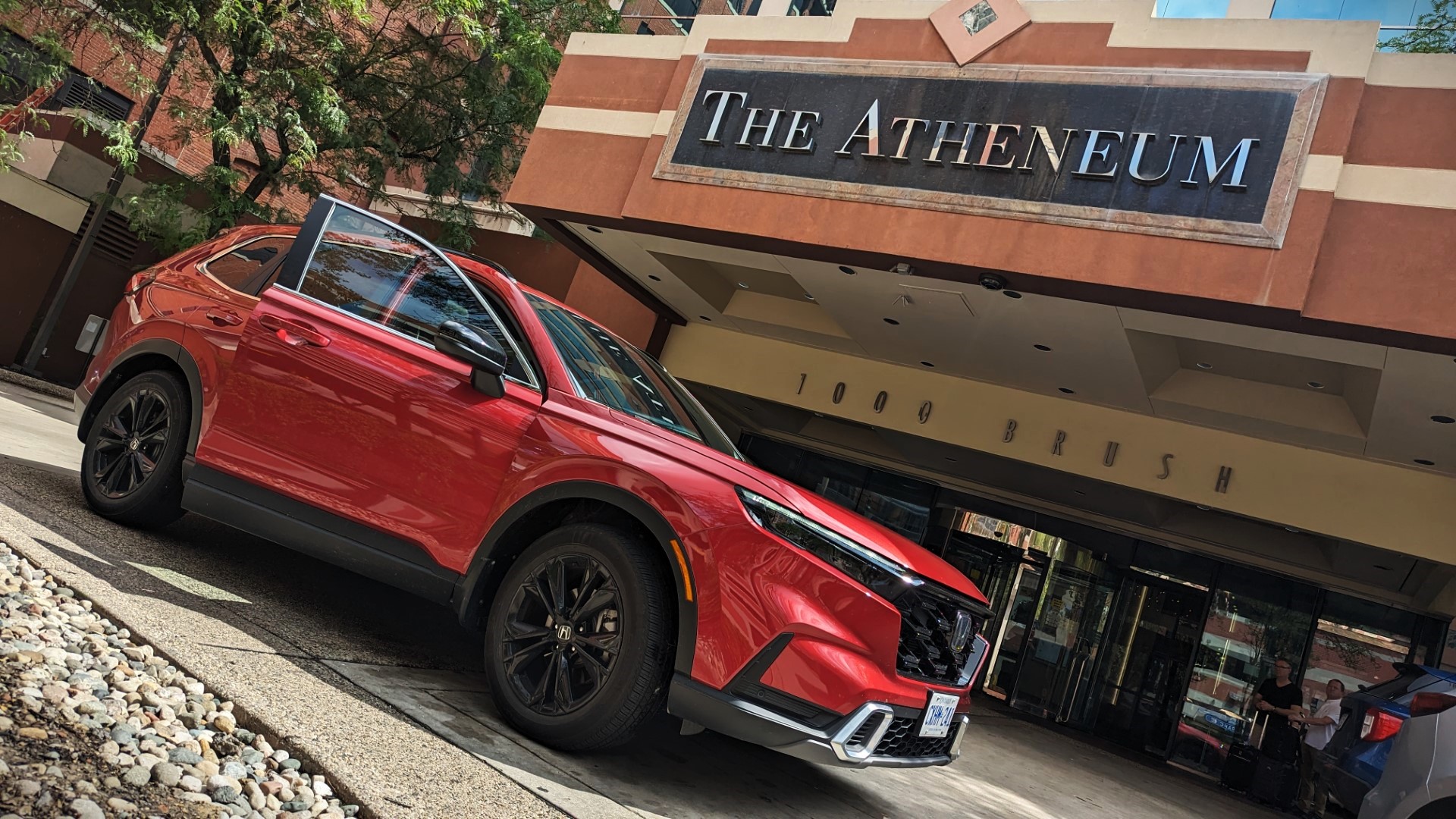 Detroit has many hotel options for all budgets and even though Chris originally wanted us to stay at Shinola Hotel, I veto-ed his decision and booked us into the Atheneum in Greek town. Why you ask? While Shinola Detroit was centrally located and offered boutique vibes (including a gorgeous lobby), it did not provide the space that Atheneum Suites Detroit did. We're at an age where Akira and Apollo would like their own space (maybe because these condo dwelling kids don't have much space at home) and Chris and I certainly enjoy some wine-down time when we travel.
The suite we booked had two double beds with a large bathroom and a separate living space. There was also a fridge to stock the beer and leftover food we brought back to the hotel each day and the lobby was beautiful. We sadly did not dine at the restaurant on-site but it did look stunning, as did the bar in the lounge.
Location wise, we conveniently walked around the downtown area because Detroit's Greektown (where the hotel is situated) is centrally located. The hotel also has a free shuttle which you can jump on but we only remembered this on our last night when it was raining like crazy and Chris wanted to enjoy a few drinks.
So our Honda CRV sat in valet that night and we made use of the shuttle to get to the restaurant and Ubered back. As far as parking goes, we opted for the valet ($30 per day) but there are a bunch of parking garages nearby and if you sign up for the Casino programs, they offer free parking too. So that's certainly one way to keep your budget in check. For our two night stay we were zipping all over the town and preferred the convenience of having the valet bring and park our Honda for us.
Detroit Attractions for Tweens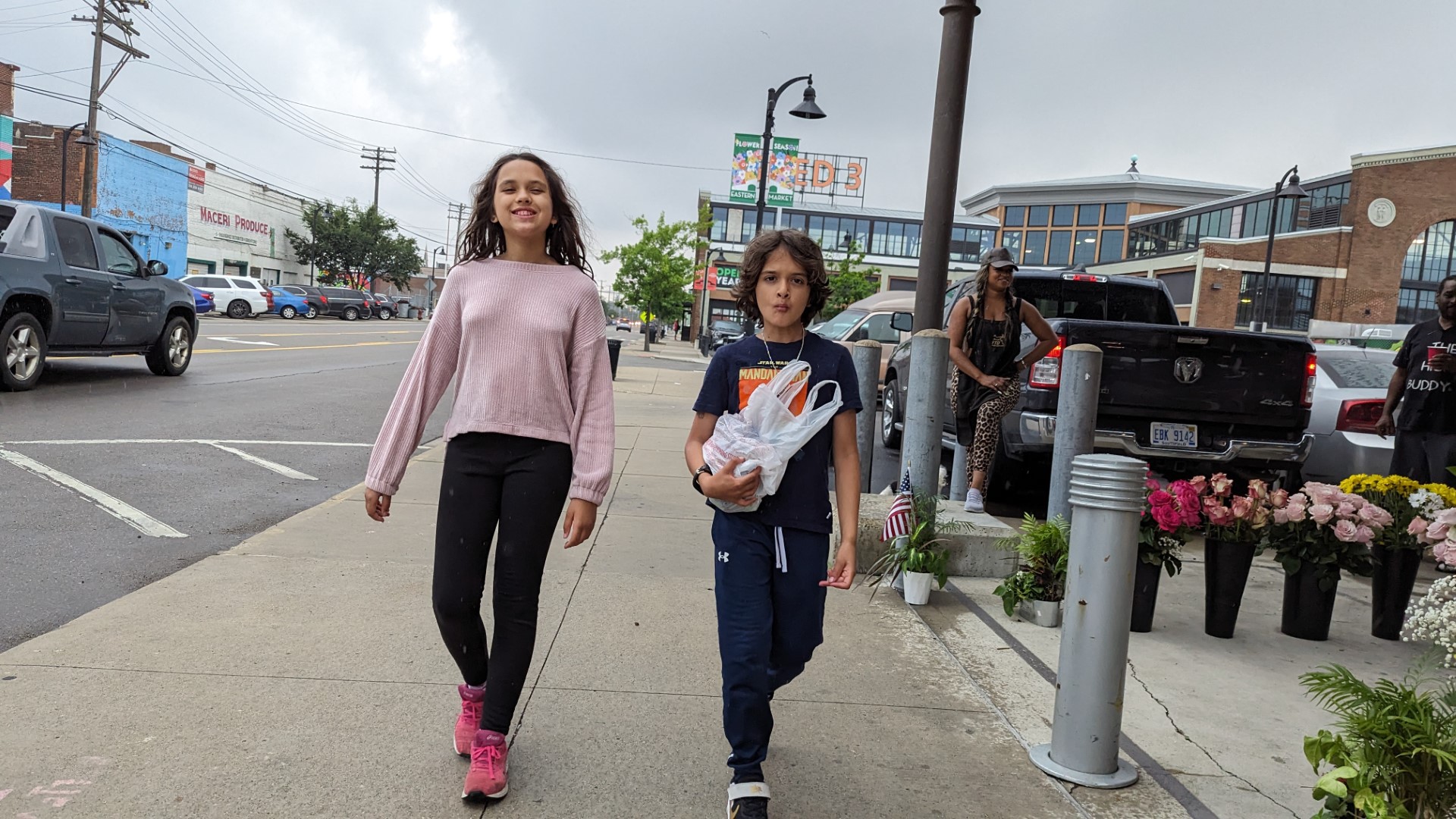 There are certainly many kid-friendly activities in Detroit but the challenge in travelling with newly minted tweens is that we're trying to cater to what excites them. When it comes to Akira and Apollo, they want nothing to do with even the word "museum" and prefer active adventures and hands-on activities. So even though Detroit is home to some amazing museums like the The Henry Ford Museum of American Innovation, Michigan Science Center , Ford Piquette Plant and Legoland Discovery Center , we didn't get to any of them. I also know that on a future kid free trip Chris and I plan to visit the Red Bull House of Art, Arab American National Museum and The Wright. If you have young kids with you and are looking for suitable attractions this website has you covered. Below are the places we explored (or had on our list to explore) during our two day Detroit visit that kept them entertained for the most part – and yes we did drag them to one museum but they weren't very engaged, you'll hear why below!
Eastern Market : Okay so a market might seem like an odd choice but it's truly brilliant because you get to immerse your family in the local culture, eat from local vendors and get your shopping on! This is a very popular 19th-Century Detroit market with vendors selling all sorts of things. Even though the market takes place on Saturday all year long, during the summer months there's markets on Sundays and Tuesdays as well. As soon as we parked our car (parking is free and easy to find) on an early Sunday afternoon, Akira bee-lined to get a Coney Island hot dog and we then proceeded to peruse the various vendors, sipping freshly made smoothies and sampling all sorts of treats. It was certainly a great way to spend an hour and a half.
Belle Isle : We found it helpful to drive to this 982-acre island park, paying the USD11 car fee. The park is home to the Belle Isle Aquarium, Anna Scripps Whitcomb Conservatory (currently closed until 2024), Dossin Great Lakes Museum, Belle Isle Nature Center, the James Scott Memorial Fountain and more! We swung by the Aquarium which is the oldest aquarium in the country and although it's a small aquarium it's enough to feed the curious minds of tweens. When the Belle Isle Aquarium opened it was the third-largest Aquarium in the world with salt water being shipped directly in from the ocean and today it still has one of the largest collections of air-breathing fish in the world and you'll see the only known collection of all 7 species of gar in North America. It s free to enter but a donation is greatly appreciated (and you can easily tap your phone for the donation).
Belle Isle also had playgrounds onsite but sadly the carpet slide was closed during our visit (most likely due to the on and off rain that day). We did swing by the Belle Isle Nature Center where we got to see some turtles, learn about bees and roam around. There are daily programs and hikes on offer at this free Detroit attraction for families. They also have sensory bags that can be picked up at no additional cost.
Motown Museum : So this was the one museum we DRAGGED our kids to. If you've been reading our stories for a while, you know that we're all about balance and encourage parents to do what they love too. On this visit Chris and I respected the kids' request for "no museums" but also thought the Motown Museum would be fun for tweens because our friends told us so. Listen, this museum is amazing and you get a real understanding of Motown and learn how many of our favourite singers grew up on the same block, but this tour was not fun for our tweens. Luckily the kids just hung at the end of the line during the group tour and wasn't in anyone's way. IF you have a tween who is really into music and the Motown era, take them on this. If not, ensure your kids know that this is the one museum YOU want for the trip. Chris and I are certainly glad we did this and encourage you to purchase tickets early. If you like us, are last minute travellers, keep checking the website on the daily. We found last minute same-day tickets on our drive in from Toronto!
Outdoor Adventure Center : Let me start off by noting that this awesome family friendly Detroit attraction is only open from Wednesday to Saturday. Guess what, we turned up on Sunday because we were told they're open. Nopes. Closed. Luckily this spot was on our way to the hotel from Belle Isle so it wasn't a full detour for us. That said, I think this deserves a spot on your things to do in Detroit with children list because it promises hands-on activities, exhibits, simulators and plenty of spaces for kids to be inquisitive in outdoors (but indoors).
Campus Martius Park : Located in downtown Detroit, there's an urban oasis that our kids enjoyed. This outdoor space offers a sandy area, wide open spaces to flip empty water bottles and seasonal restaurants. It was very chill here and reminded me of the many urban squares in European cities. Programming at the beach includes live musical performances and lots of informal play in the sun and sand.
Offworld Arcade Bar : Located above the Checker Bar and restaurant, is this arcade bar. We swung by one evening but sadly we got there right before the all-ages hours ended. So if you're travelling with children know this – this arcade in downtown Detroit is open Wednesday to Sunday from 4 p.m to 2 a.m. but it turns into 19+ after 9 p.m. You also need quarters for the games and there is a machine that will dispense coins. Ensure you have USD with you because even though you can use your credit card to buy drinks at the bar, you need cold hard cash for the games. We didn't have time to check out Checker bar but the staff here were kind and helpful. I bet the burgers and pizza they've been serving for over 50 years hits the right spot after a few bevvies.
There's two spots on our list of places to visit in Detroit with tweens that we didn't get to. The Glass Academy and The Parade Company . I think they're both worth checking out if your schedule permits a visit.
Dining in Detroit with Tweens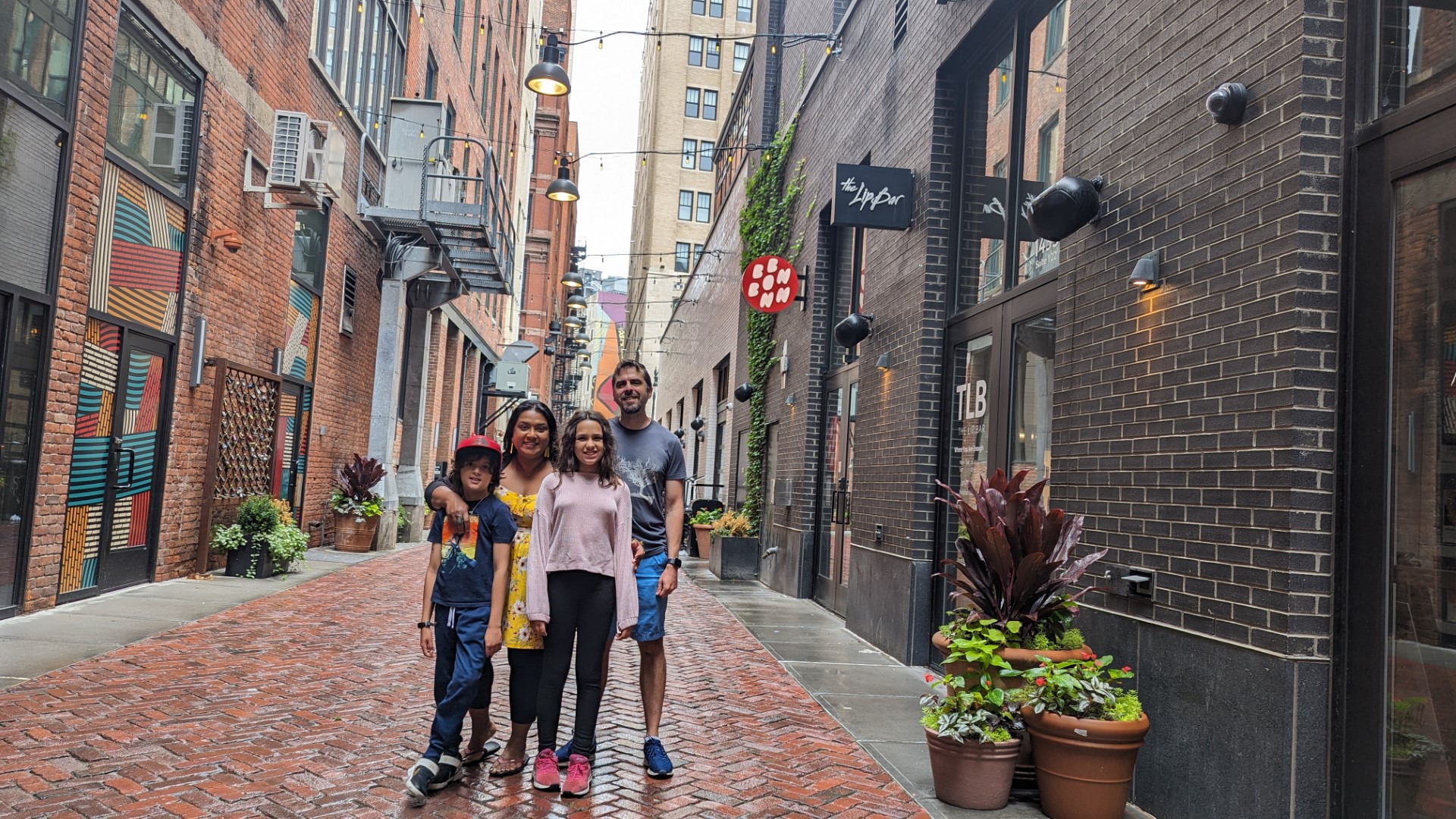 Our kids are always hungry and love a good food crawl. Chris and I are totally into that and so we plan most of our weekend around the best places to eat in Detroit. Detroit is a food city and there are so many awesome spots one can enjoy, narrowing it down wasn't easy. Below are the Detroit restaurants and bars we got to visit along with some take out/ street food style vendors we visited. If you have tweens who like to eat on the go or want to dine in the hotel room, the many grab and go options in Detroit will hit the spot with them!
Quick and Easy Detroit Take-Out Restaurants
Mom's Spaghetti : This stop was for me because I am a HUGE Eminem fan but it was Akira who ended up eating most of my Spaghetti Grilled Cheese Sandwich. Yup… it's a thing and it was surprisingly good comfort food! If you do want to sit and eat this, there's a small indoor seating area connected to Union Assembly (which looked like a fun place to drink and hangout at). Sadly Eminem wasn't at the walk up window so my hunt for him continues.
Iggy's Eggies : Here's another walk-up window option, this time it's for breakfast foods! They also have burritos and smash burgers but we opted for their original eggies and was able to customize things for dairy free Apollo. If you like your sandwiches hot/warm like I do, be sure to mention it because my Iggycado was room-temp pretty quickly. Their French Toast was an easy win with the tweens too.
Bon Bon Bon :Whether you've got a sweet tooth or are looking to buy some foodie souvenirs, keep an eye out for these Bon Bon Bon locations. We spotted one right next door to Jolly Pumpkin and one downtown on Broadway street (cute pedestrian-only brick road alleyway lined with shops). The chocolate flavours are unique with mind blowing combinations that taste great and they look so pretty too!
Dessert Oasis Coffeeshop : You can certainly linger for longer here if you wish to do so, but our kids were happy to grab a hot chocolate and be on our merry way. This cute coffeeshop serves up a wide range of coffees and their in-house roasted beans are really good.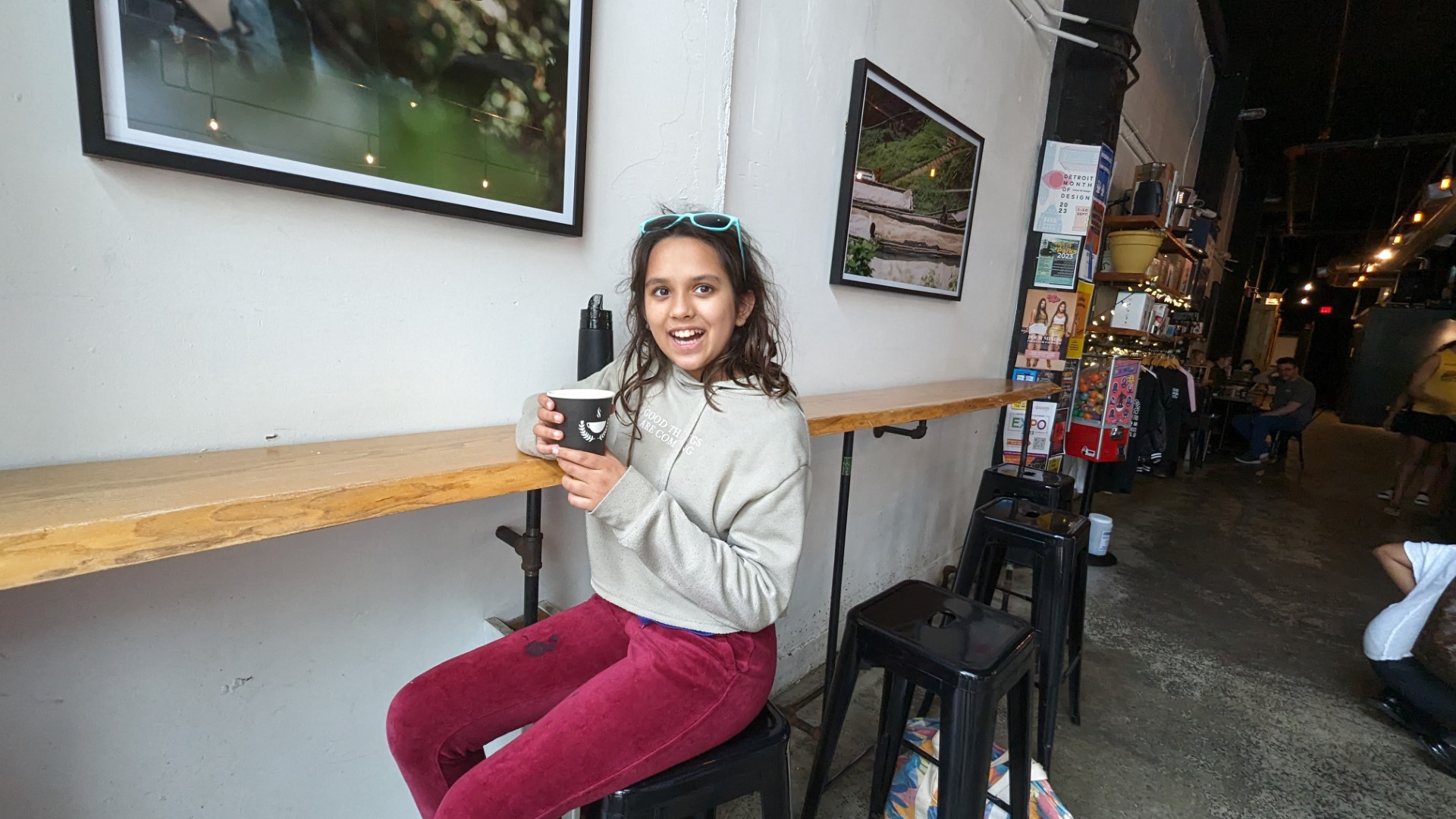 Mad Cap Coffee : According to Chris, they have the best coffee here. Yes it's pricey but it was worth every sip I believe. They source each coffee through traceable, direct relationships with producers around the globe and they have a couple locations throughout Michigan and luckily we stumbled across the one in Detroit! They also have kid sized hot chocolate and steamers. This is a very Instagramable coffeeshop with it's plants and white background aesthetics but we took the coffee to go here.
Buddy's Pizza : No visit to Detroit is complete without some Detroit style pizza. I absolutely regret not trying more of Buddy's Pizza offerings because they all sounded great and they're the ones who invented the Detroit style pizza! Chris and I left the kids at the hotel and went for a walk and finally tried some of their famous 'za here. I get the hype! You can certainly grab and go or eat it piping hot by one of two counters on offer here at the downtown Detroit location. They have a couple locations throughout Michigan and two in Detroit. I prefer the Detroit pizzas over the Chicago ones… no lie!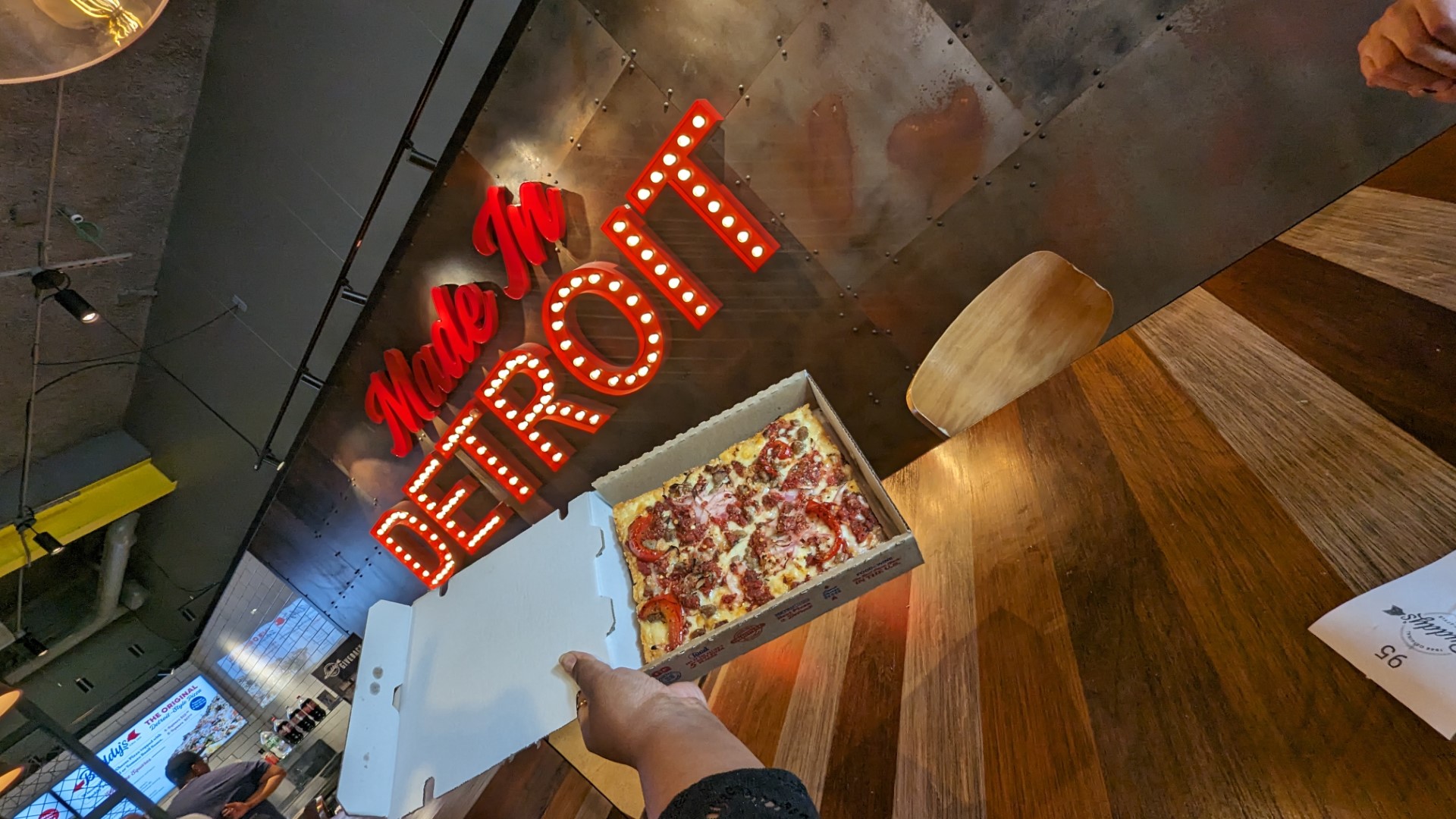 Zeff's Coney Island : When we pulled into Eastern Market, Akira was hungry (even though we had eaten less than an hour ago) and so we bee-lined to the Coney Island restaurant we saw. Little did we know that Detroit has a few Coney Island restaurants and that Coney Island is a popular diner! According to the Detroit Historical society "As one story goes, Greek immigrants passing through New York and its famed Coney Island, appropriated the Coney Island name for their Coney dog version. While no one place can definitively claim to be the birthplace of the Coney dog, Michigan, by sheer volume and duration of its Coney restaurants, makes a strong bid." Akira stuck to her basic hot dog but a Coney Island hot dog has a beef frankfurter in natural casing nestled in a soft, steamed bun topped with an all meat chili, diced white onions and yellow mustard. I've had one before and didn't even know its history! This Coney Island had plenty of seating with most of them being taken so we walked up to their takeout order and she enjoyed it on a bench nearby while the boys impatiently waited for her to be done.
Empacho : Chris and I are forever ruined since our honeymoon in Argentina. You see, we discovered Argentine empanadas and now no other Empanada style will come close. So when we spotted Empacho, we had to rush in and buy some. Oh boy were they ever good! Even the kids were asking for more and we regretted only buying 6 of them (Chorizo was a unanimous fave)! If you're heading to Belle Isle or the Detroit Riverfront, you MUST stop by here. They have a counter to dine in at or you can enjoy it in your car like we did!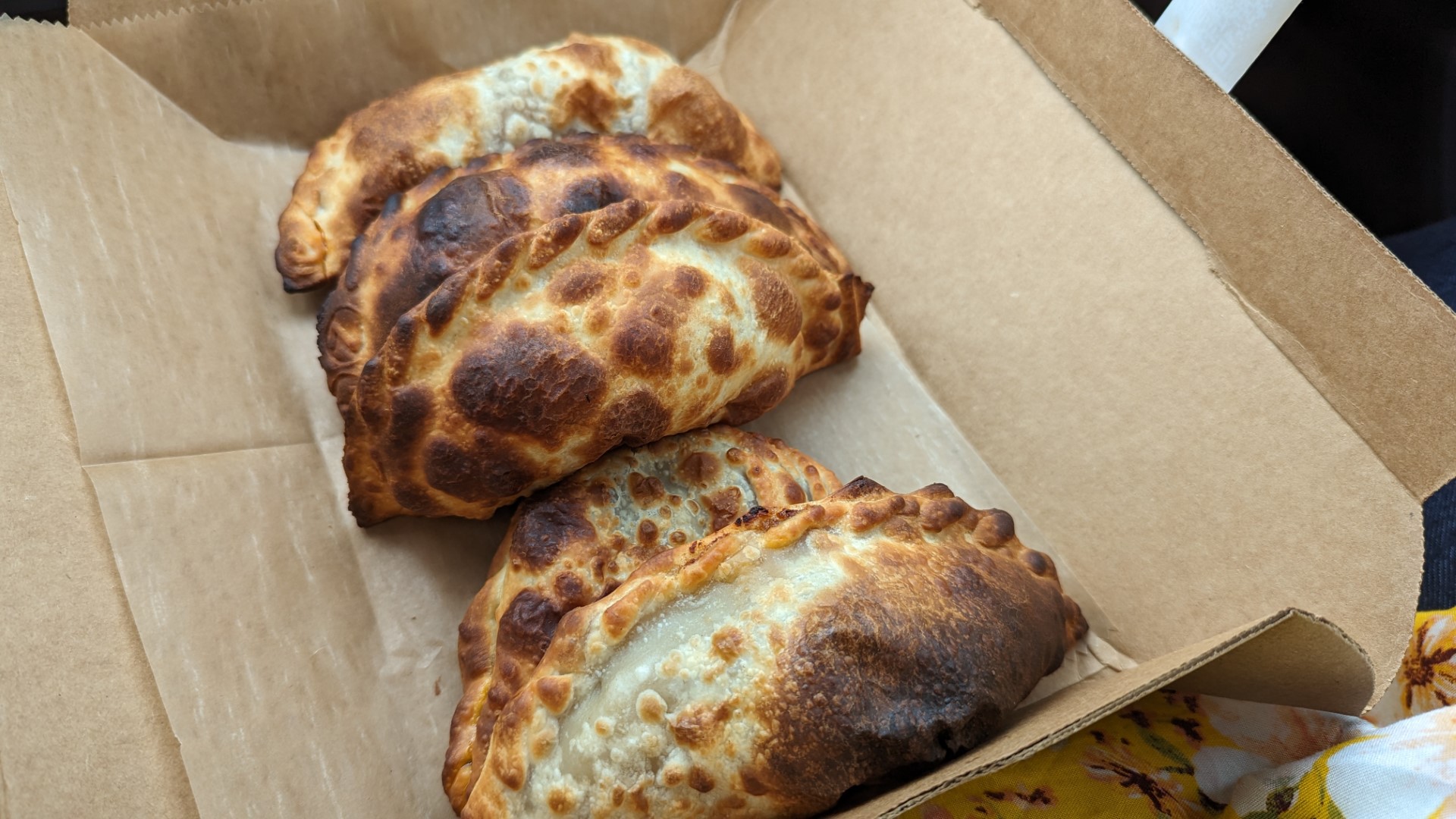 Parents in Detroit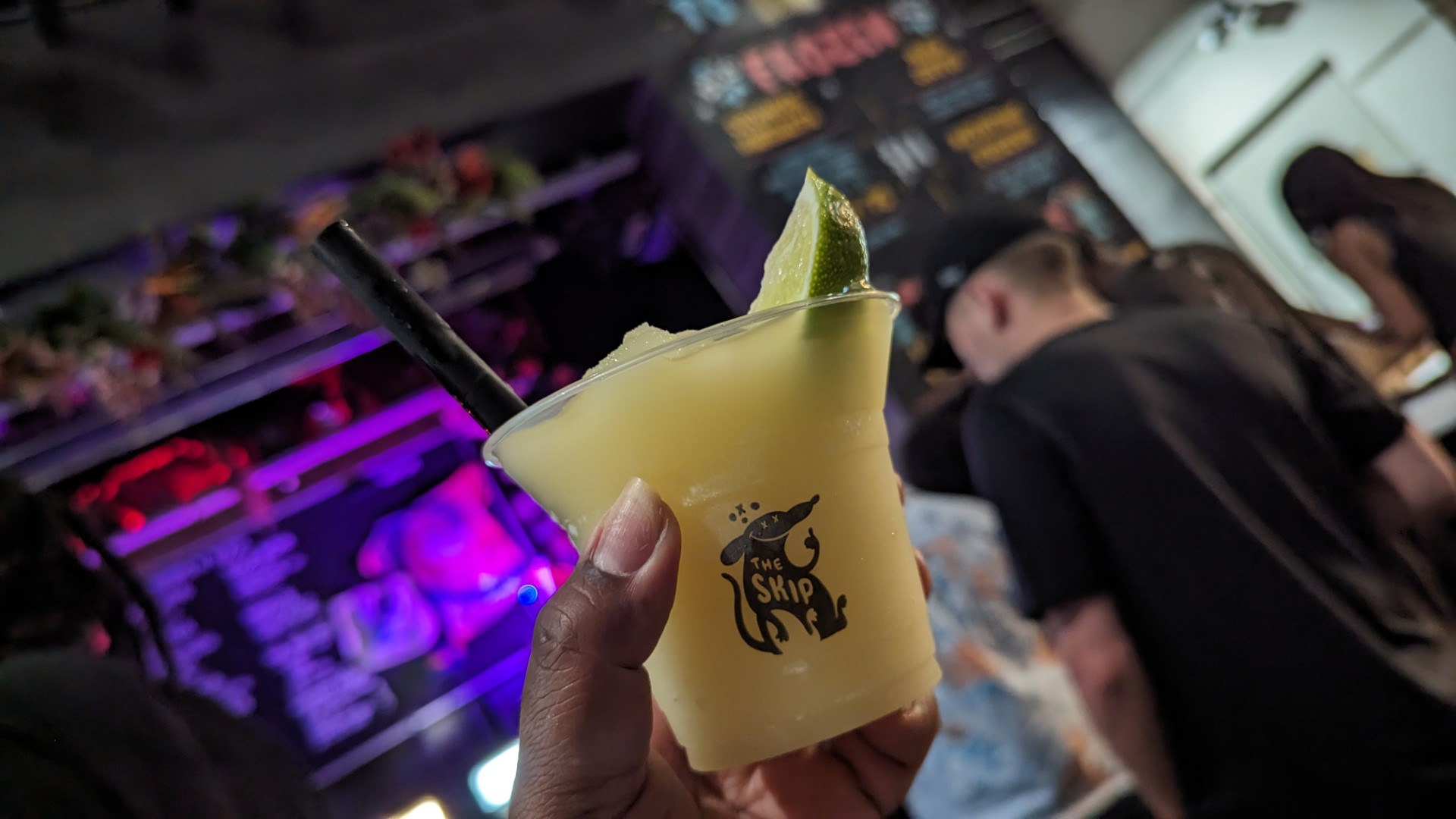 Chris and I had the chance to sneak out one rainy night for a nighttime stroll and I thought I'd mention that not only did we feel safe, but we also discovered streetside bars for a quick drink. It was a bit of spontaneous fun whilst the tweens chilled at the hotel.
If you're a craft beer lover like Chris is, be sure to swing by 8 Degrees Plato Beer Company because this beer shop and bar is filled with some of the best craft brews on offer. You can sip a beer whilst shopping for beer and although our tweens opted to stay in the car whilst we shopped for brews, they do welcome kids and dogs here! We also swung by Jolly Pumpkin for a meal but our advice is to forgo the meal and head her for beer and casual hangs even if you have kids with you.
Sit Down Detroit Restaurants That Hit the Spot with Tweens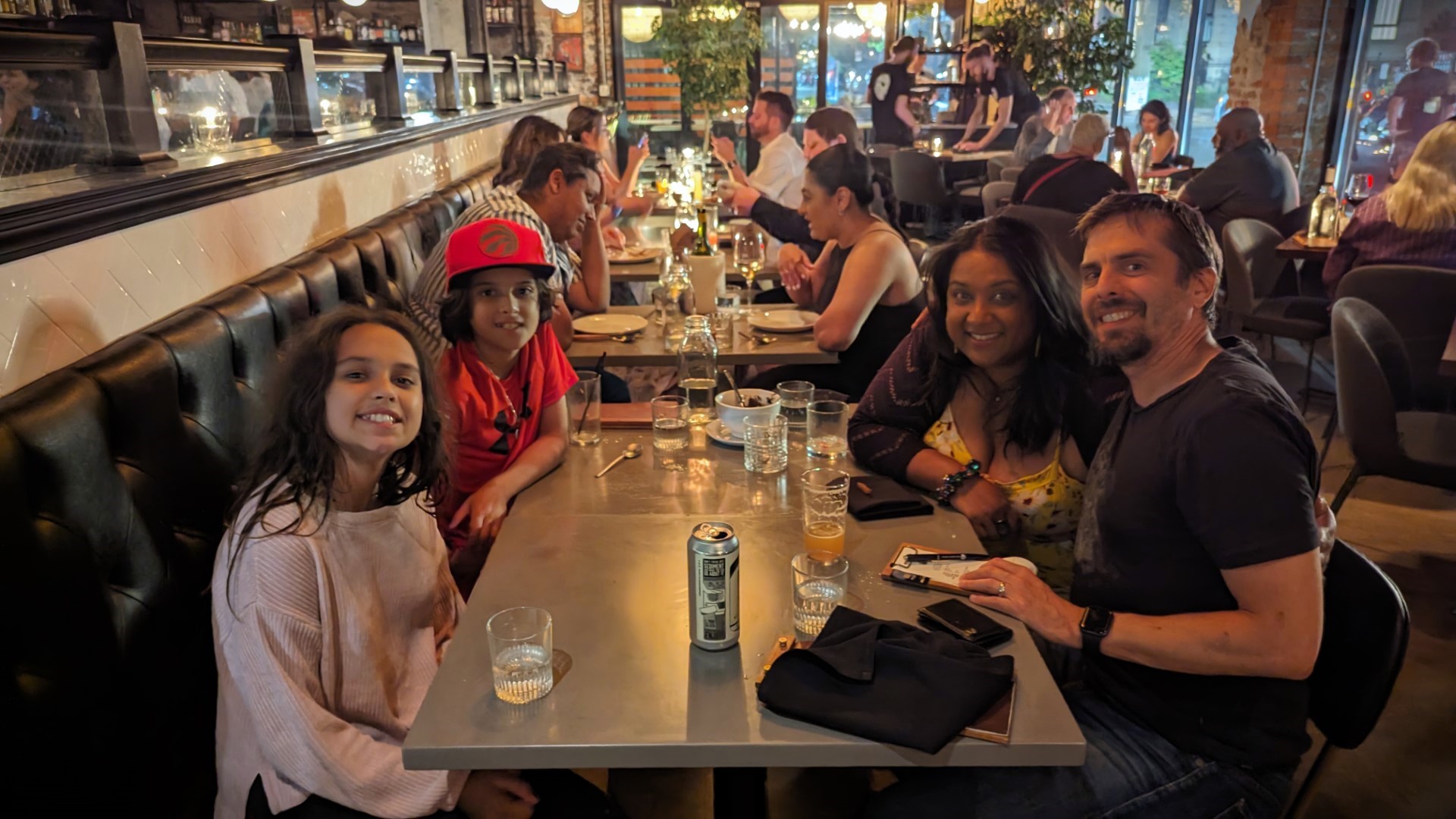 As you may have noticed, during our two days in Detroit we mostly enjoyed grab-and-go style meals because the sun was shining and we wanted to embrace the outdoors. That said, I had a long list of Detroit bars to imbibe at and Detroit restaurants to indulge at. With only two days on my hands I got to two amazing restaurants and highly recommend that you visit both!
San Morello : Located in the Shinola Hotel (yes the very same Detroit hotel Chris wanted to stay at), this Italian restaurant was the perfect chef's kiss to Detroit as it was our very last meal before making our way back to Toronto. We arrived on a Monday at noon because our original brunch spot was way too busy and had an hour long wait. Well weren't we lucky? Kids and Chris enjoyed Southern Italian pizza while I dug into some heavenly cloud of sheep's milk ricotta drizzled with honey and garlic. I also shared the lamb meatballs with the kids and it was finger licking good. I also loved the open kitchen views and brightly lit nooks throughout the restaurant. Sadly I wasn't in the mood for a cocktail (shocking, I know) but I wouldn't mind returning to try some next time!
Grey Ghost : This restaurant came so highly recommended by not one, not two but four friends who frequent Detroit. Which is why I was ecstatic when we nabbed a last minute reservation for 8:30 p.m. on a Sunday. Named after one of the most notorious rum runners during the prohibition era, this spot is well known for their cocktails and service. We enjoyed many tapas style dishes here and the kids were delighted to see burgers offered at this "fancy restaurant". Whilst Chris and I indulged in a couple cocktails and craft brews, the kids enjoy juice and mocktails. The menu does change so I won't mention any faves but know that the seafood was great here. They also had a dairy free dessert which made Apollo very happy about ending his night on a extra sweet note.
Other spots on my best Detroit restaurants list included the following (which will be saved for a future trip) : Detroit Shipping Company, Bunny Bunny for smash burgers, Pie Sci'e pizza, Slow's bbq, Al Tayab , Bar Piggale, The Custard Co ice cream, Dime Store for brunch, Castalia at Sfumato, Selden Standard and She Wolf.
Detroit Weekend Itinerary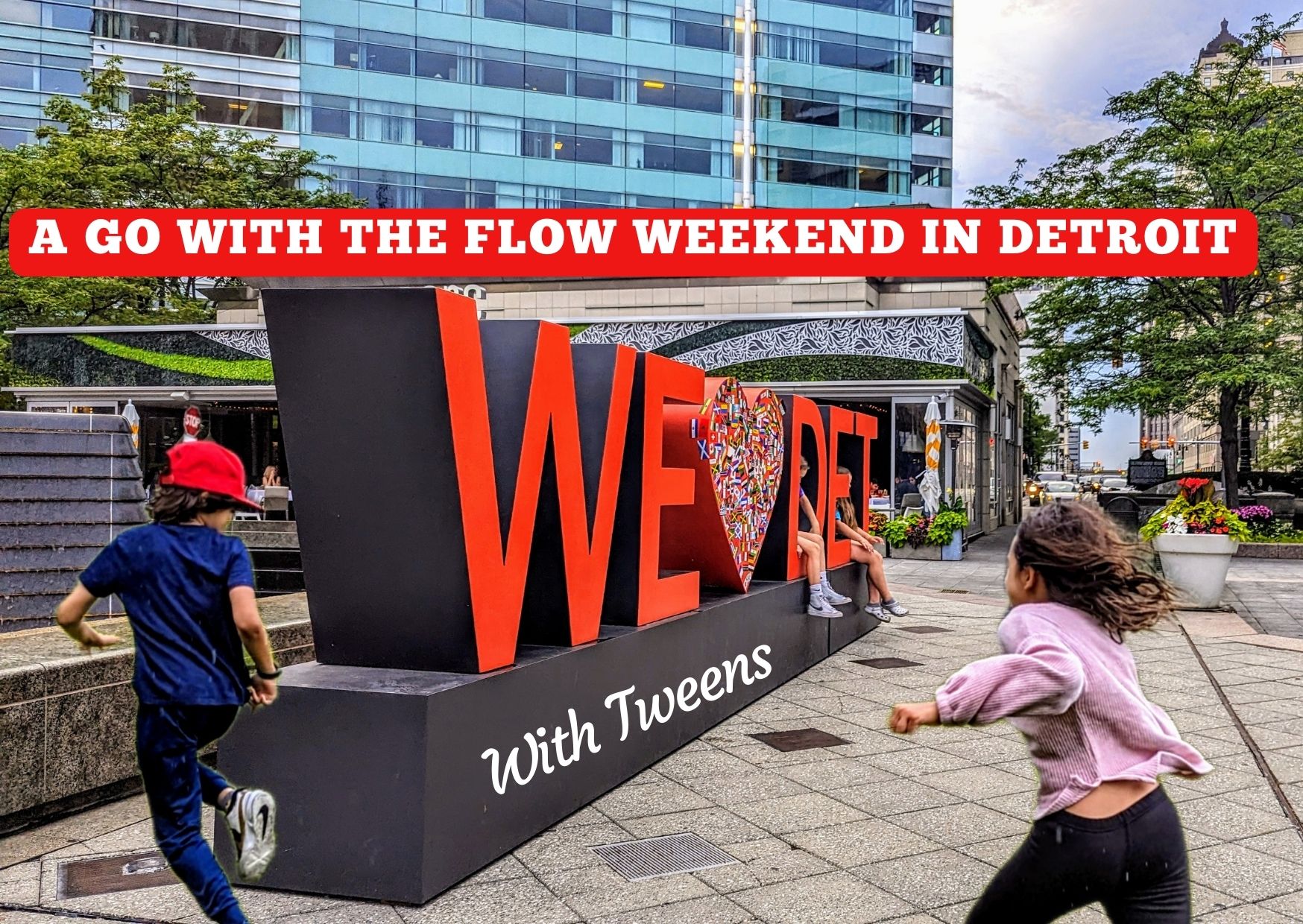 Day 1 Arrive, check into your hotel and check out a museum or two before enjoying lunch and roaming around the city. Maybe swing by the arcade before dinner. If you're kid free, check out the Willis Bar for live music post dinner.
Day 2 Grab breakfast and coffee before visiting Eastern Market. Spend the afternoon at Belle Isle and return back to the city to visit a museum or catch some live tunes before dinner.
I always had Detroit on my sights for a weekend getaway with Chris but we decided to make this a family affair and discovered that this is an awesome weekend getaway from Toronto for food lovers. We didn't rush around Motor City doing the many attractions on offer but we did enjoy a very relaxing and delicious family friendly Detroit vacation. I'll be back to look for Marshall Mathers and eat more of Detroit.