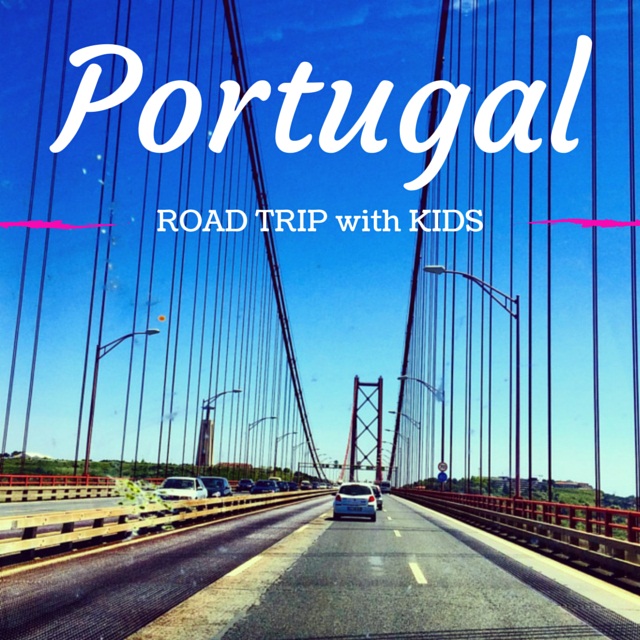 After successfully navigating Ireland with 7 passengers in a minivan in the summer of 2013, we decided to opt for a similar road adventure in Portugal. While the Irish countryside was riddled with windy backroads featuring 100 km/hour speed limits that could never safely be attained, Portugal's highways are open, congestion-free motorways with no shortage of drivers showing off their fancy sports cars in a fast and furious manner approaching madness. As we cruised along at 130 km/hour towards Lisboa from Porto, we were regularly passed by Porsches, BMWs, and Audis that would zoom by and quickly disappear into the horizon. I suspect some finished the 250 km journey between Portugal's two major cities in a little over an hour.
Tips for Driving in Portugal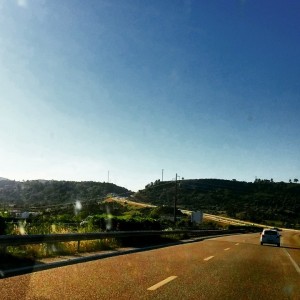 Car Rental: We had a big crew with us on this trip; my parents joined us, with my Mom carrying her usual excess of luggage, much of which consisted of children's toys. We also decided to take our double stroller and two car seats, and so we needed a large vehicle to comfortably navigate through the country. Fortunately, we were able find a large 9 passenger Mercedes Van from Avis, a model which we found traversing the roads everywhere we went. The cost was a little high because our credit card insurance only covered up to 8-seat vehicles. We also opted for a tank of gas and digital access to cover tolls highways. The total cost was a little over €1000 Euros, which is about $1,400 Canadian. Only standard vehicles were available, which I found to be a little difficult to handle given that I rarely drive a standard. Luckily, the vehicle had a diesel engine, which is cheaper to run than gas in Portugal. We drove closed to 1,400 km on a little under 2 tanks of gas, and so these vans are quite efficient.
Gas Prices: The price of gas in Portugal was very high during the summer of 2015. The average rate we saw for Diesel was €1.32 Euros. Gas was closer to €1.55, which is more than $2.00 a liter. We always complain about the price of gas in Canada, but we discovered that it could be much worse. The rates were pretty consistent everywhere and highway signs outside of all the service stops indicated the price at the next three stations, which was always the same. The cheapest Diesel we found was €1.20/liter was in Sagres, a beautiful seaside town at the Southwest tip of Portugal.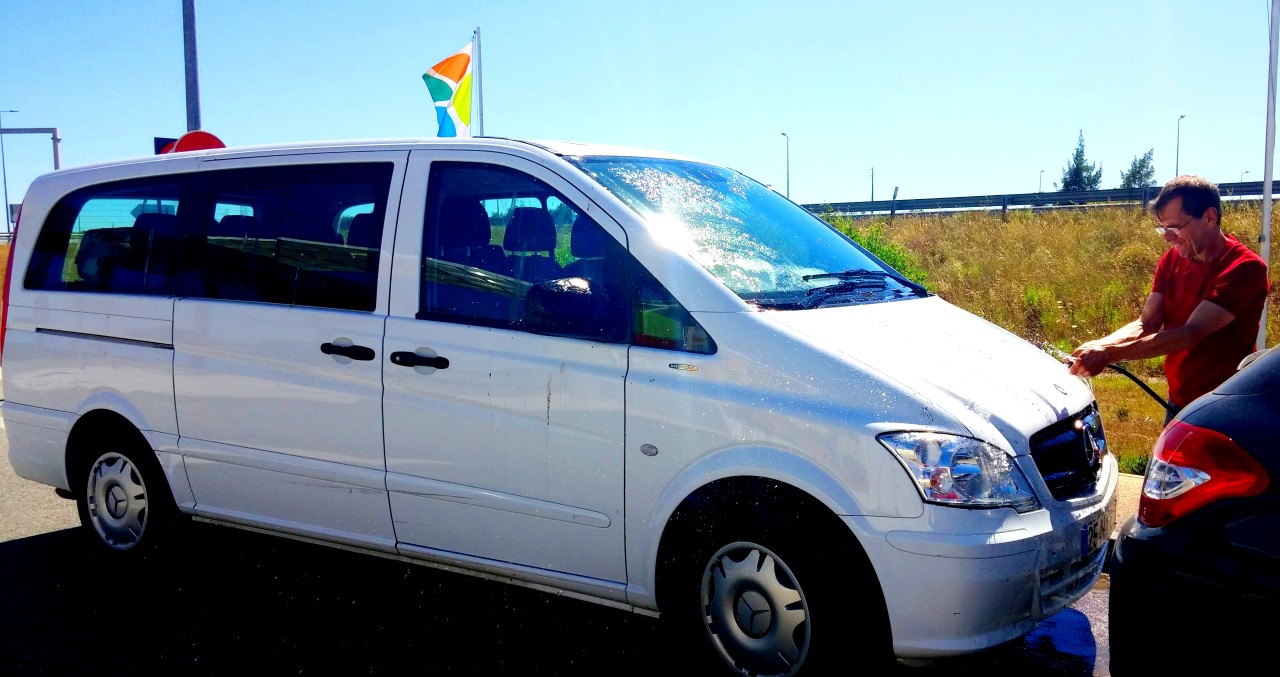 Highway Tolls: One reason the highways were so open, and accommodated such high speeds, was the pricey highway tolls in Portugal. During our 1,400 trip, we ran up about €30 in tolls, which means the rates are much higher than what we see in Canada and the US. As a result, we suspected that many of the locals use back roads for travel. However, we appreciated the pristine condition of the roads. The money is clearly being spent on road improvements. I would like to see a wider use of tolls in Canada, given the congestion and state of the highways in Toronto, but, then again, I don't drive much.
Service Stops: We passed a service stop every 30 to 40 kms, and most had a restaurant, a repair shop, air and water available, but we were unable to find a car wash (more on why we were looking below). We stopped at a station on Sunday and found that the restaurant had a very limited selection, none of which looked appetizing. We also found that snack items in a gift shop next to the restaurant were 50% pricier than the same items in the gas station next store. This stop (and nearly every other service stop) also had a playground, but the surface was too hot to touch during the day (great for evening stops though!). The frequency of the stations was great, especially for little ones with small bladders, but the food selection made me long for a Wendys/Tim Hortons stop like we see everywhere in Canada. I also found it interesting to order coffee. My 'big' coffee to go was served in a small plastic cup, half-full, with no top – it was good though.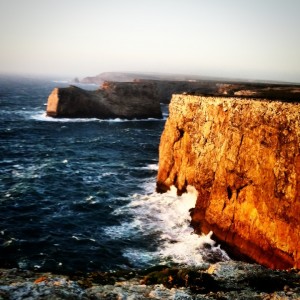 Scenery: The highway route is not very scenic. We past multiple farmland areas and one area with a distinct olive smell in the air. The real beauty of Portugal is along the coast, and if you make it down as far as Sagres, the Cape St. Vincent lighthouse is not to be missed, especially at sunset. The real scenery on the Portuguese highways was the Porches speeding by in an attempt to break the sound barrier.
Parking in Lisboa: An experience to say the least. We arrived at our Air Bnb apartment knowing that street parking was our only option, and after circling the block, we found a small dirt parking lot about 200 meters from our destination. The parking was free and so we emptied the van of everything but the car seats and left it there for 2 days. I went to collect the van on Friday, only to find that I was blocked in and the car was covered in bird crap. Double parking must be common in Lisboa because the car blocking me in had a phone number posted under the windshield. Luckily, the very kind lady who rented us the apartment had showed up to clean and so we had her call the driver.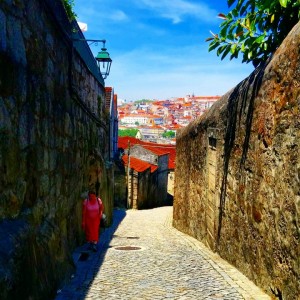 Driving in Lisboa: After we parked and left, we took cabs when we weren't exploring the city on foot, and that is an experience I recommend. Taxis are cheap, and every driver we had knew the city extremely well, weaving in and around traffic on steep and windy stone roads. Driving a big vehicle is possible in Lisboa if you stick to the main roads, but the abundance of side streets and areas with high pedestrian traffic would make it difficult  to navigate in a van.
Driving in Porto: Porto is a much more peaceful city than Lisboa. The downtown area contains the same old feel as Lisboa, and would not be a good place to drive, but the streets outside of the downtown core are well maintained. We ran into a number of one way streets but once I got the lay of the land, driving in Porto was not so bad.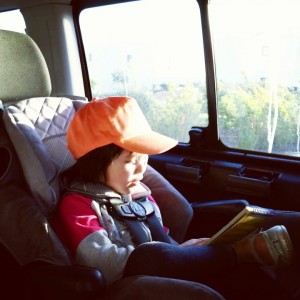 Portugal may not always have the traffic-free motorways we experienced, but the joy of driving while on vacation comes from the freedom to choose a travel time. As we cruised along empty roads on Tuesday afternoon, I kept reflecting on the struggles to drive anywhere in Toronto at any time. And given that we were traveling with two small children in the Mediterranean heat, I was grateful for the peace.