There's a reason many yearn to embark on a Nova Scotia road trip. This Eastern Canadian province is mighty and beautiful, justifying a visit that's at least a week long. My first visit to Nova Scotia was in 2009 for wedding planning reasons and since then I've returned annually (some years twice a year even). As you know, Chris grew up in Nova Scotia and his parents still call this province home. Although we mostly spend our visits in Cape Breton, I've made it a mission to explore Nova Scotia from coast to coast and this summer I even snuck in a Momcation and took in some relaxing kid-free moments during a girls trip to Nova Scotia. If you're looking for a Nova Scotia road trip itinerary, I hope our experiences help you create a memorable Nova Scotia vacation no matter which season you're visiting in. Just remember to book your car rental ASAP!
Nova Scotia Road Trip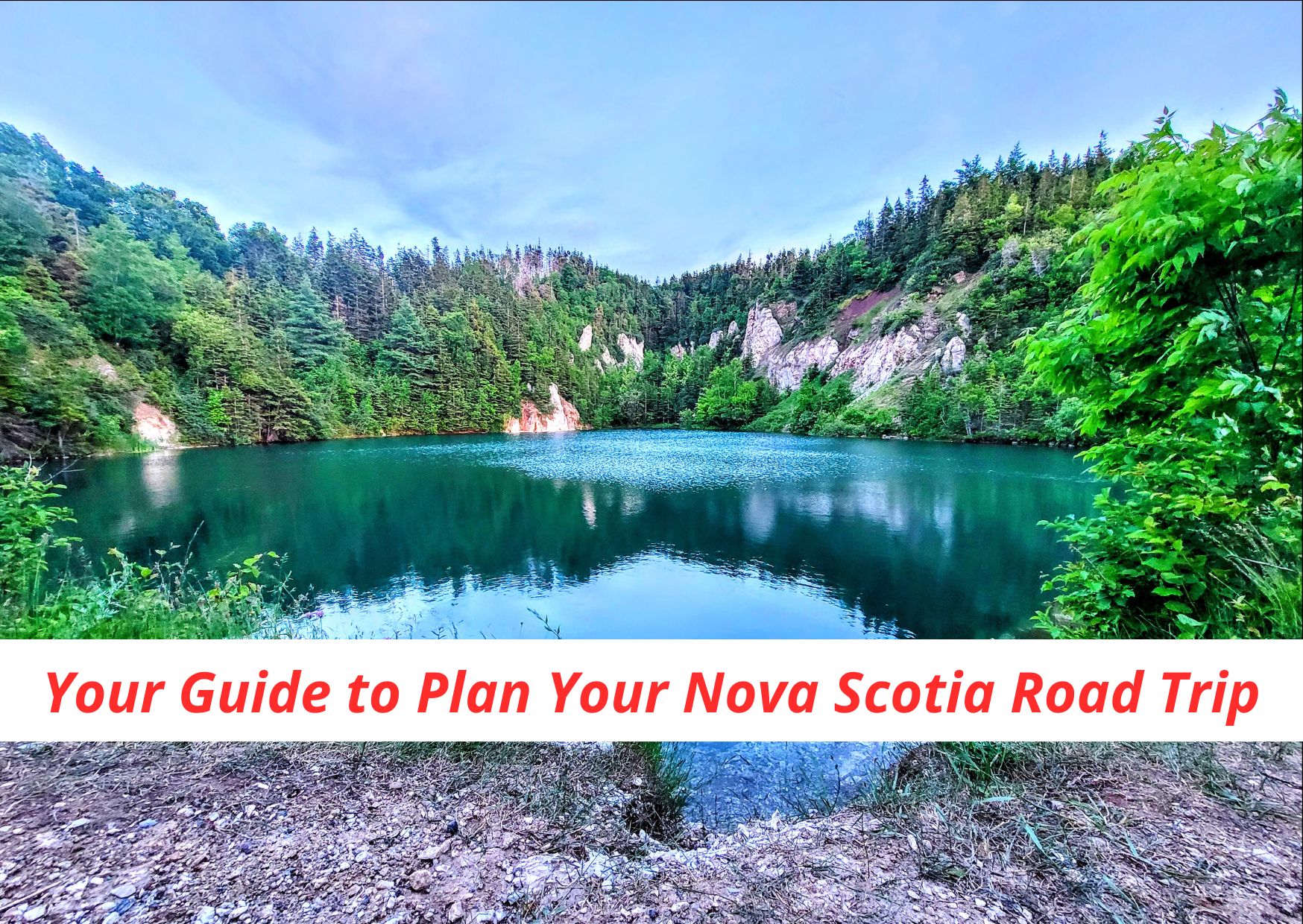 Getting to Nova Scotia
There are a few popular ports of entry if you're looking to fly or ferry into Nova Scotia. We also have some friends who've loaded their car in Toronto and driven the whole way to Nova Scotia, making it a month long trip. Given the recent shortage of rental cars ( book your car rentals NOW if you haven't already), this is certainly a great idea.
Flying into Nova Scotia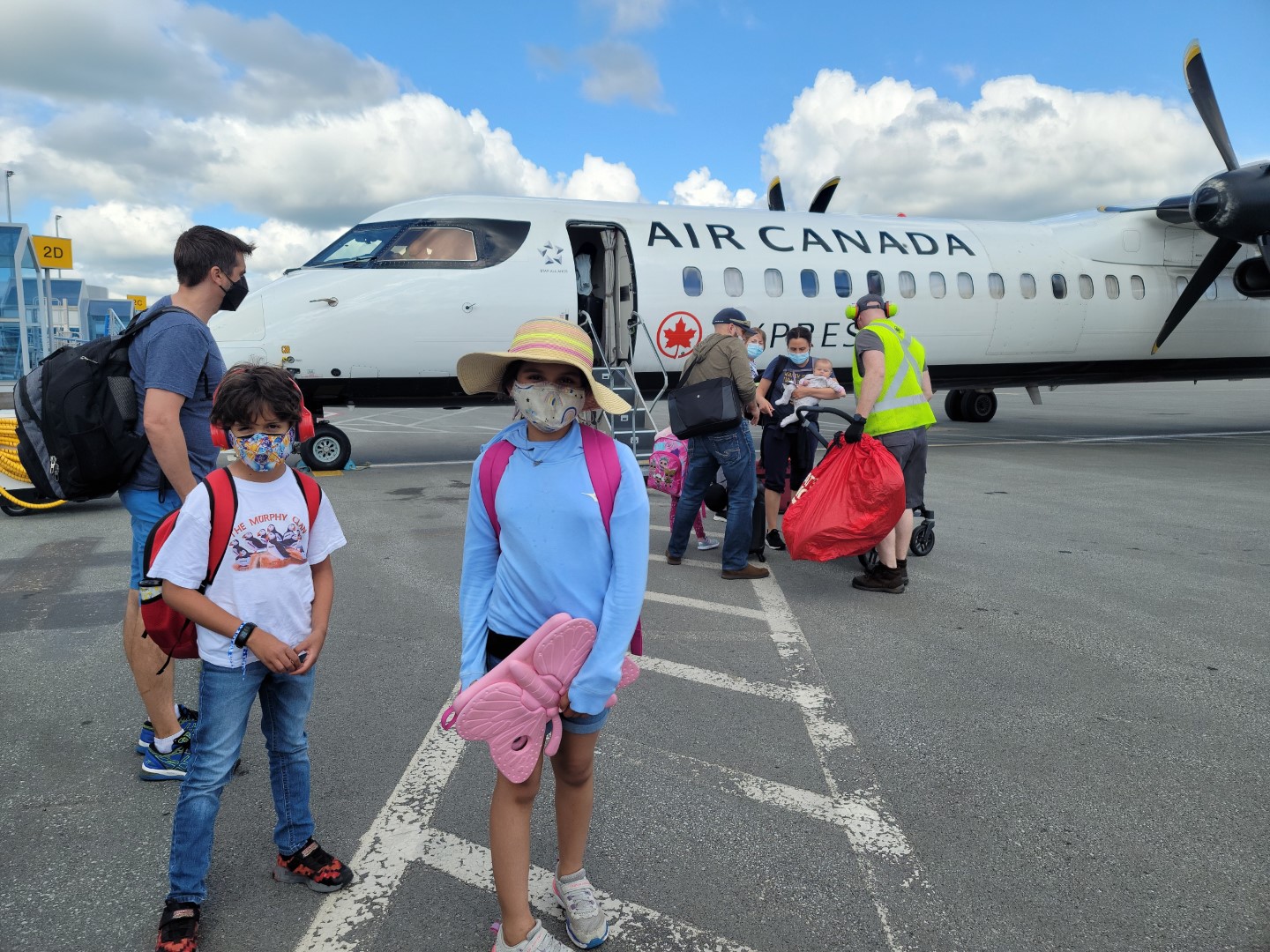 We tend to either fly into Halifax or Sydney and know that most of you are probably going to start and end your journey in Halifax I will keep that in mind as we share our Nova Scotia road trip itineraries.
Maine to Nova Scotia Road Trip – Ferry From Nova Scotia to Maine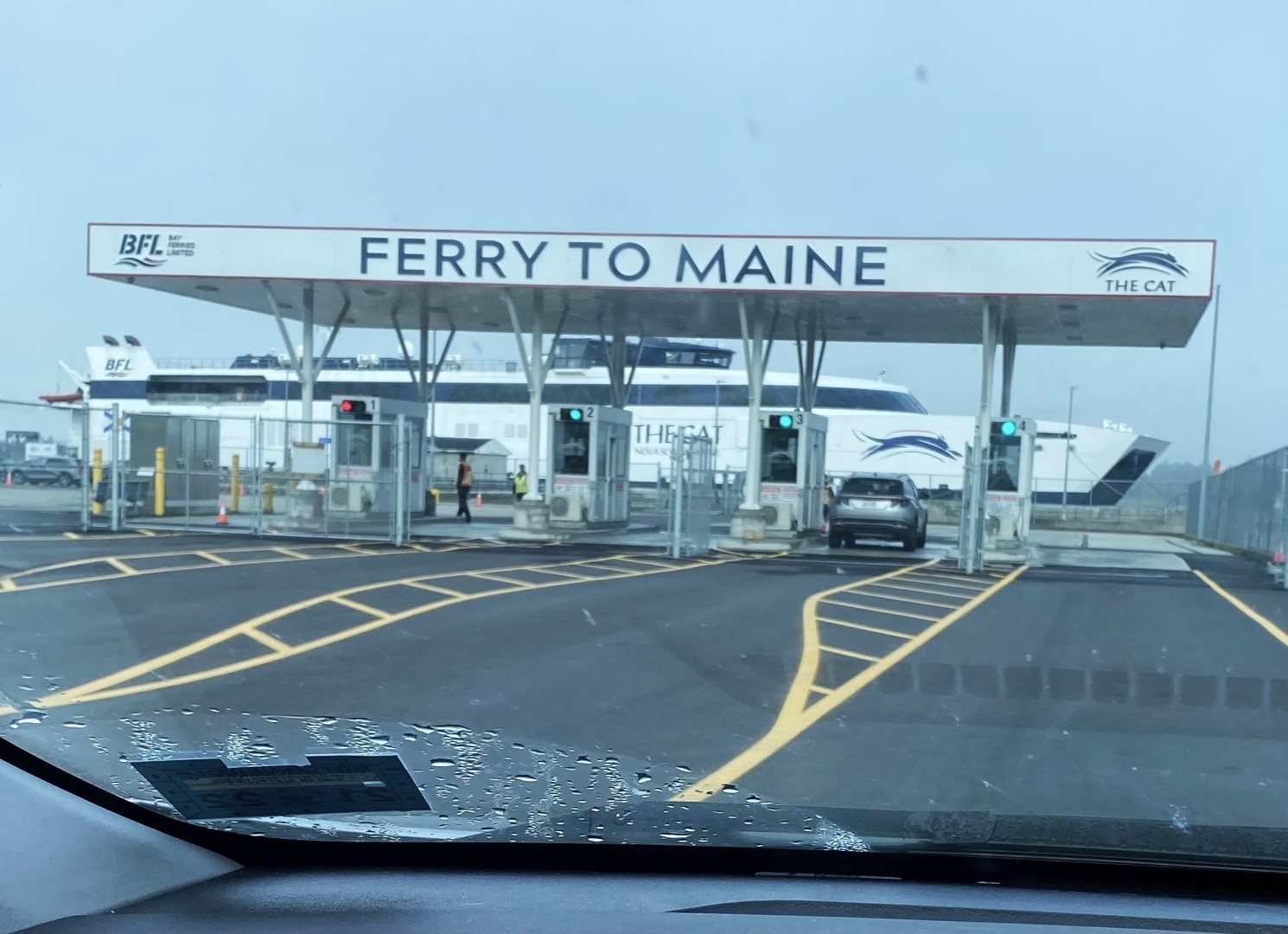 On this recent trip, my friend did a Maine to Nova Scotia road trip taking The CAT ferry from Bar Harbor to Yarmouth. I was grateful for this wise decision because she had her car with her and was able to drive us around on our Momcation! The beauty of the ferry is that you get to sit back and relax for 3.5 hours.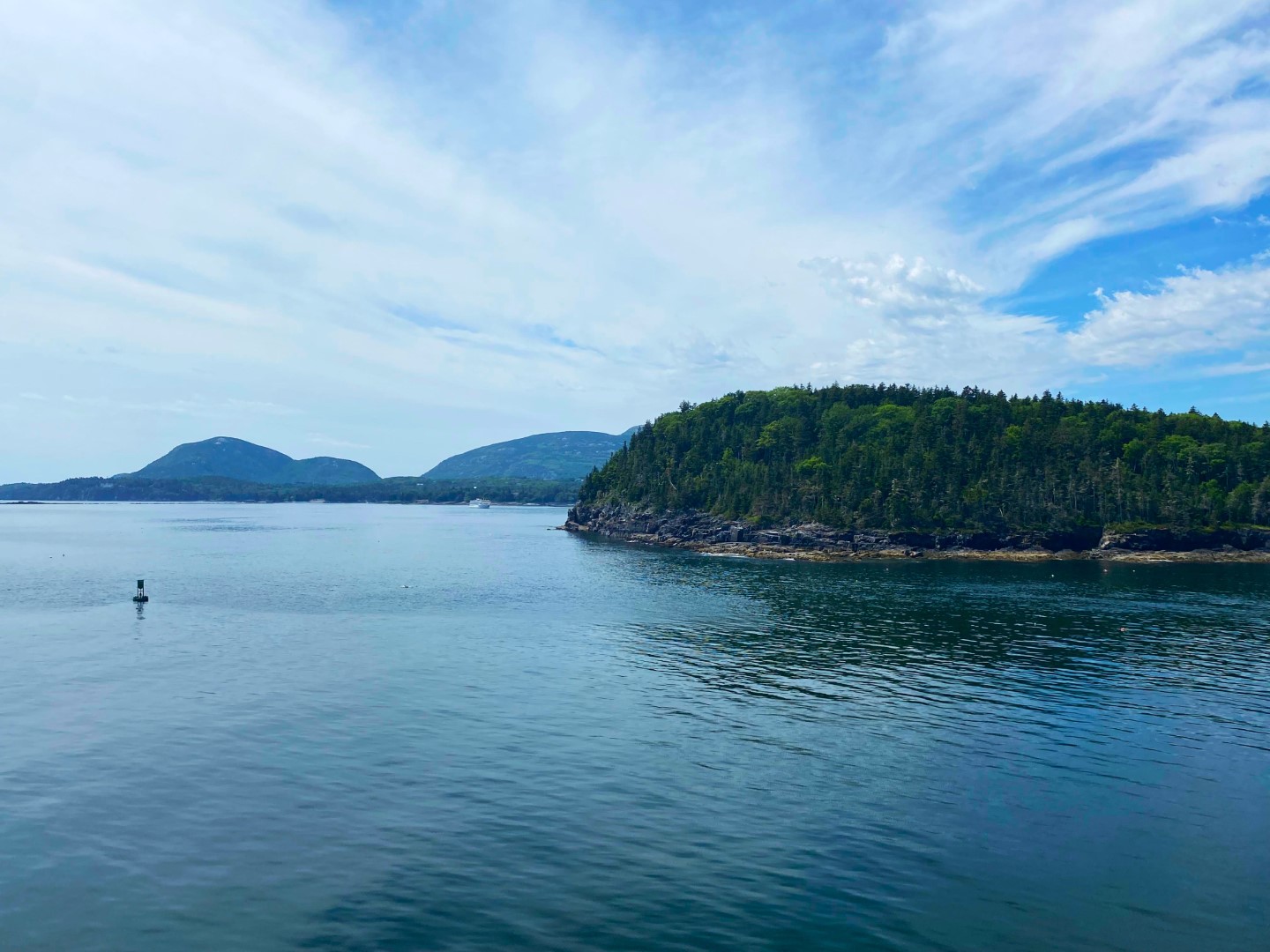 When purchasing your CAT Ferry ticket you have the option to bring your vehicle onboard (at an additional cost), which is what my friend did. She drove her vehicle on to the ferry, parked it and then went to chill in the comfy seating areas onboard the ferry. It had a cruise like layout with many tables, booths and bar areas. You also have the option to sit outside if you prefer the fresh air. The views as you depart and arrive are quite pretty and on the way to Maine the ferry had to turn around 180° making some pretty cool water designs! It certainly is worth hangout out on the deck!
The ferry departs from Yarmouth, Nova Scotia daily at 9:30 a.m. and from Bar Harbor, Maine at 3:00 p.m. One of the perks of coming via ferry versus flying is that you can bring as much luggage as you want. My friend stocked her car with everything she needed for the week and even brought the kids some presents. Yes, you still have to do immigration upon arriving at your destination and there are spot checks for your belongings but there's no need to weigh bags and go through the extra airport security hassles.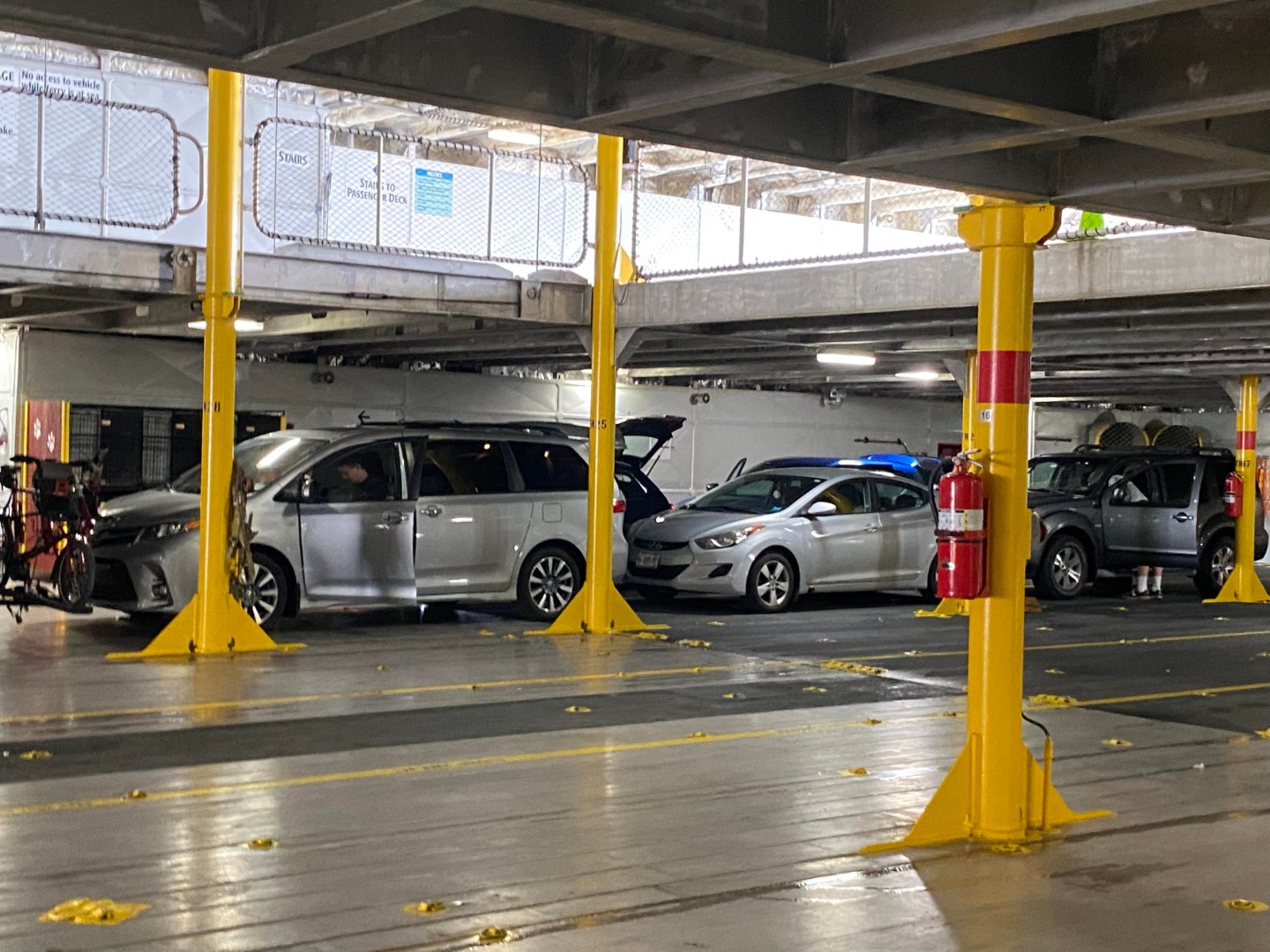 You can bring your own snacks and drinks onboard but they also have drinks and food from the local Yarmouth Sip Cafe. You can enjoy these whilst listening to the live music onboard the Maine to Nova Scotia ferry! It was very cute to see the Captain wave goodbye as everyone gets into their cars – this happened on the return journey back to Maine.
Nova Scotia Road Trip Destinations
As you plan your Nova Scotia road trip keep in mind that there are so many awesome spots you'll want to stop along the way at. From hikes and breweries to chatting with strangers who turn into friends, you'll be shocked at how time flies when you're having fun, learning and exploring. I'm going to start and end our Nova Scotia road trip from Halifax but you can easily start from your preferred city.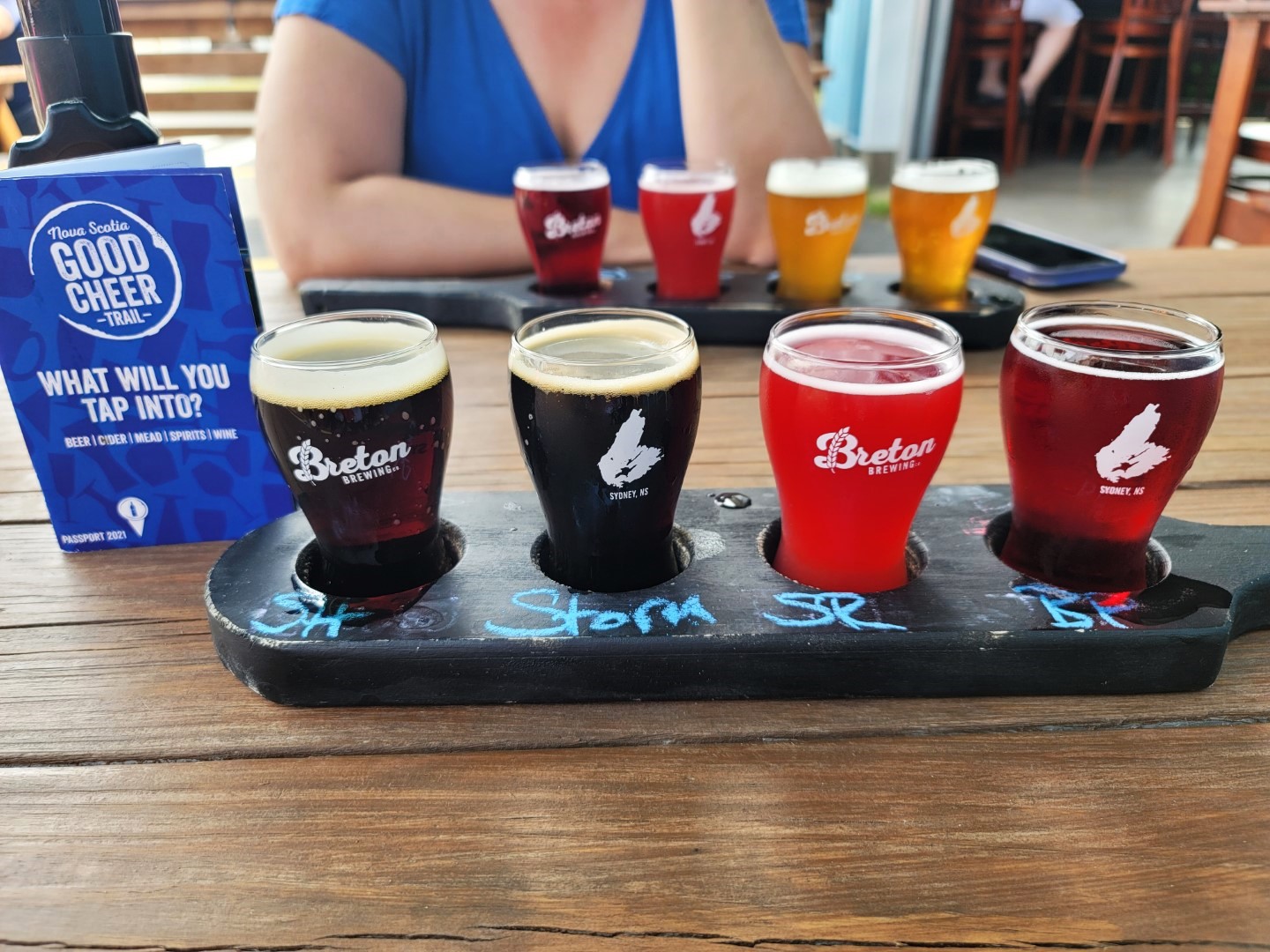 Tip for Drink Lovers : Taste of Nova Scotia has a free Good Cheer Trail booklet (there's an app but we found some locations weren't pulling up for digital check-ins). The booklet features breweries, cider houses, wineries and distilleries throughout Nova Scotia. If you visit the spots, ask for a stamp and once you complete 15 stamps, you get a t shirt. My friend and I used the booklet to guide our travels and it was fun to pop into various spots for drinks and eats as we drove around Nova Scotia. Obviously drink in moderation and know that most places have non alcoholic options for the designated driver.
I'm keeping things short and snappy but rest assured, each of these towns and cities have plenty on offer so if you want to spend more time at any spot, just adjust the itinerary to suit your needs.
Halifax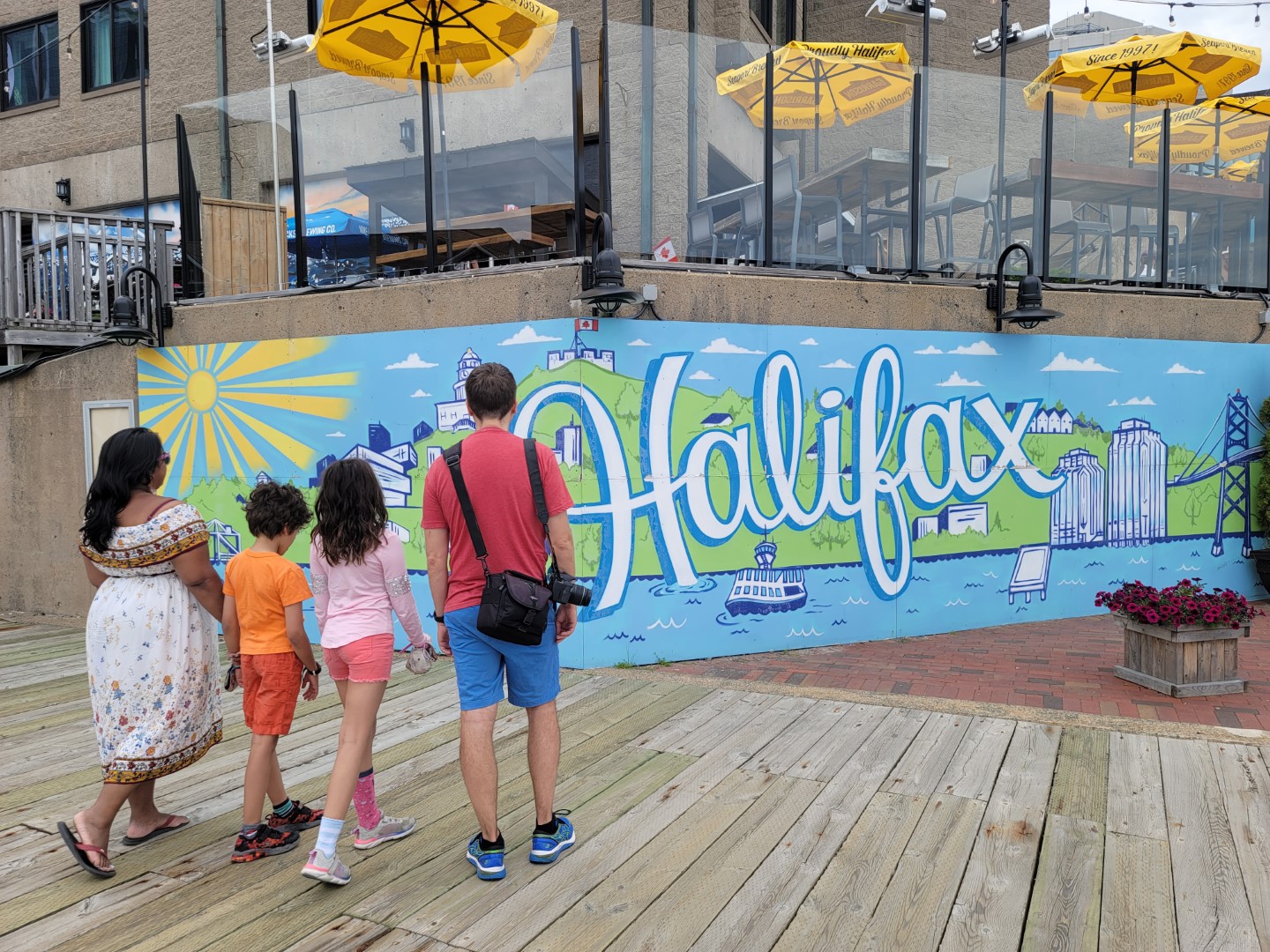 Halifax has so much on offer for all travellers and while a night or two isn't sufficient to explore everything, you can get a good feel for the city. The Halifax Waterfront is one of my favourite places to hang out in this Nova Scotia city. There's all sorts of food spots ranging from food trucks to fancy eats.
On a recent visit we enjoyed a meal and drinks at Drift and highly recommend it. I hear great things about Bar Sofia as well. If you like to visit neighbourhoods, take a ferry to Dartmouth and enjoy the cafes, breweries (Battery Park has a lovely patio) and restaurants. The downtown Halifax Public Gardens are great if you have kids who need to burn some energy. If you're looking for Halifax Attractions we enjoy getting on the Harbour Hopper for a fast-paced amphibious tour of land and water. The Citadel is a great one for history buffs and The Canadian Museum of Immigration at Pier 21 is an informative visit for anyone looking to learn about the immigrant experience.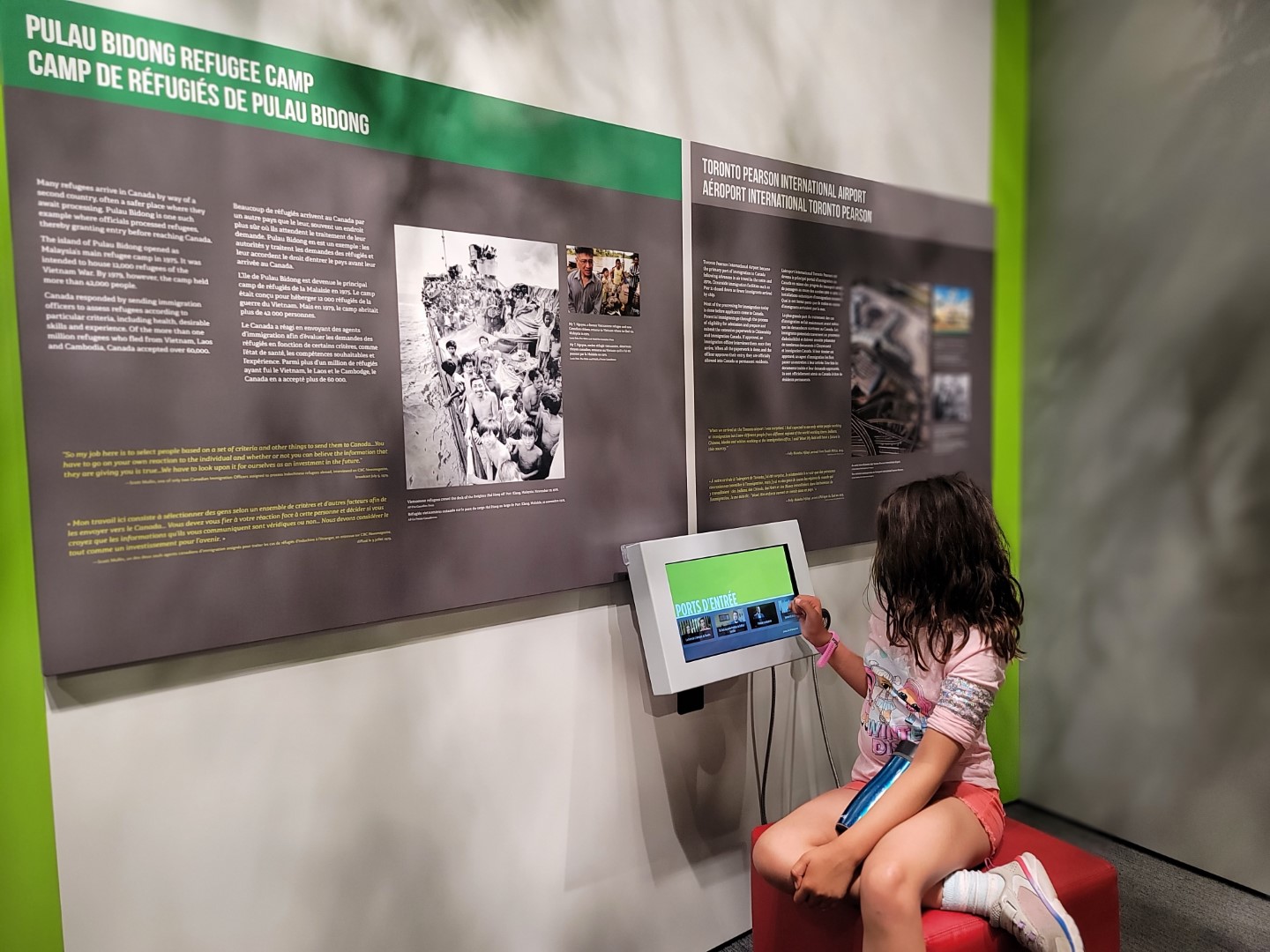 And the Maritime Museum of the Atlantic on the Waterfront is where you'll want to visit to learn about Halifax and its connection to the Titanic. Of course there's many hiking trails and beaches nearby and plenty of day trips you can do as well.
Peggy's Cove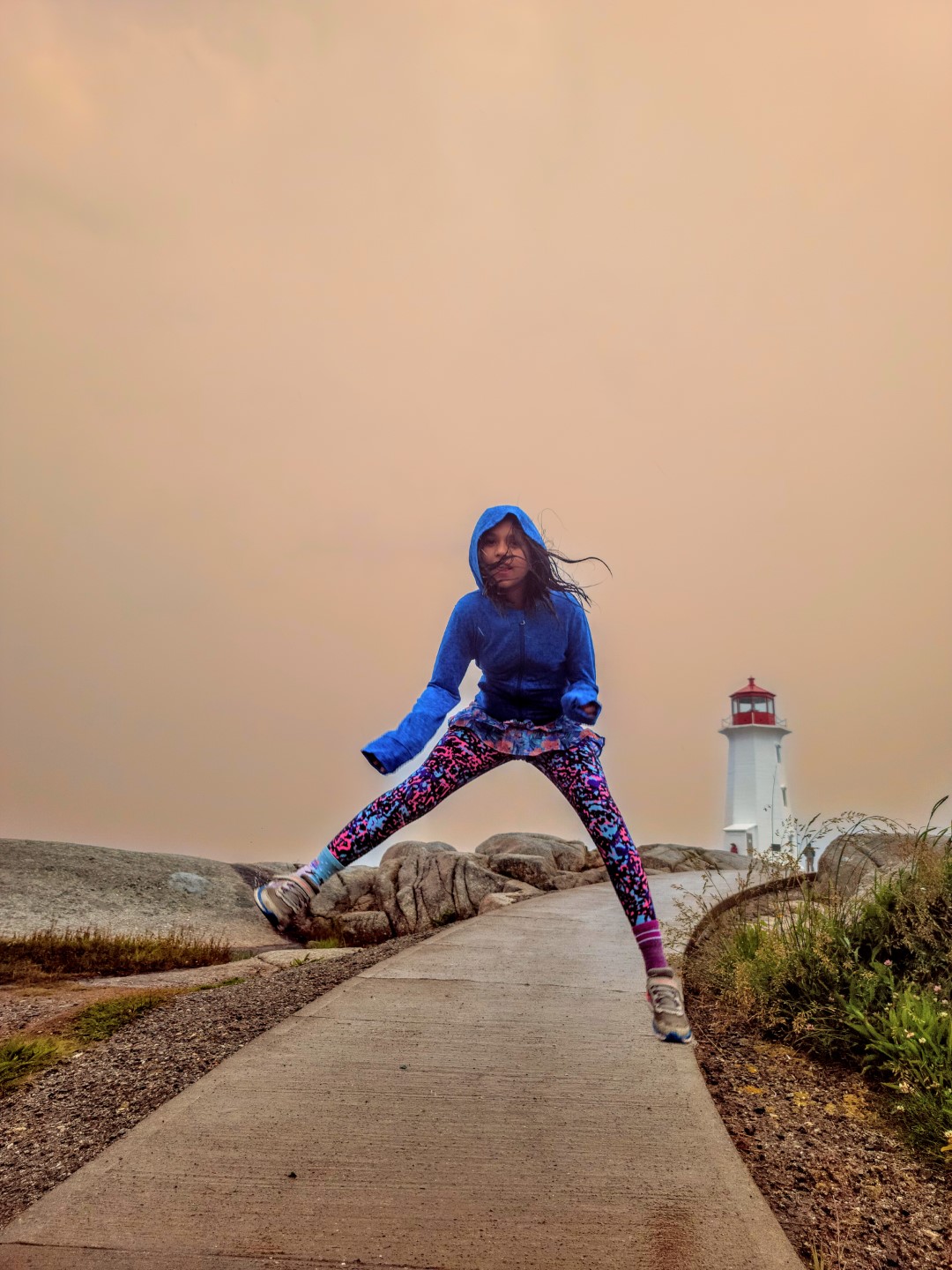 Nova Scotia is home to nearly 200 lighthouses and Peggy's Cove is probably the most famous. Might as well make it your first South Shore Nova Scotia road trip stop as it's less than an hour's drive from downtown Halifax. Peggy's Cove Region is an active fishing community and there are other activities you can partake in if you're planning for a longer Nova Scotia holiday. I'd recommend a quick stop to take in the lighthouse views (please be careful and don't go towards the edges of the rocks as there have been fatal accidents), walk along the newly constructed viewing platform and grab a warm drink at the coffeeshop. This pit stop can be as quick as 15 minutes if you wish it to be so!
Chester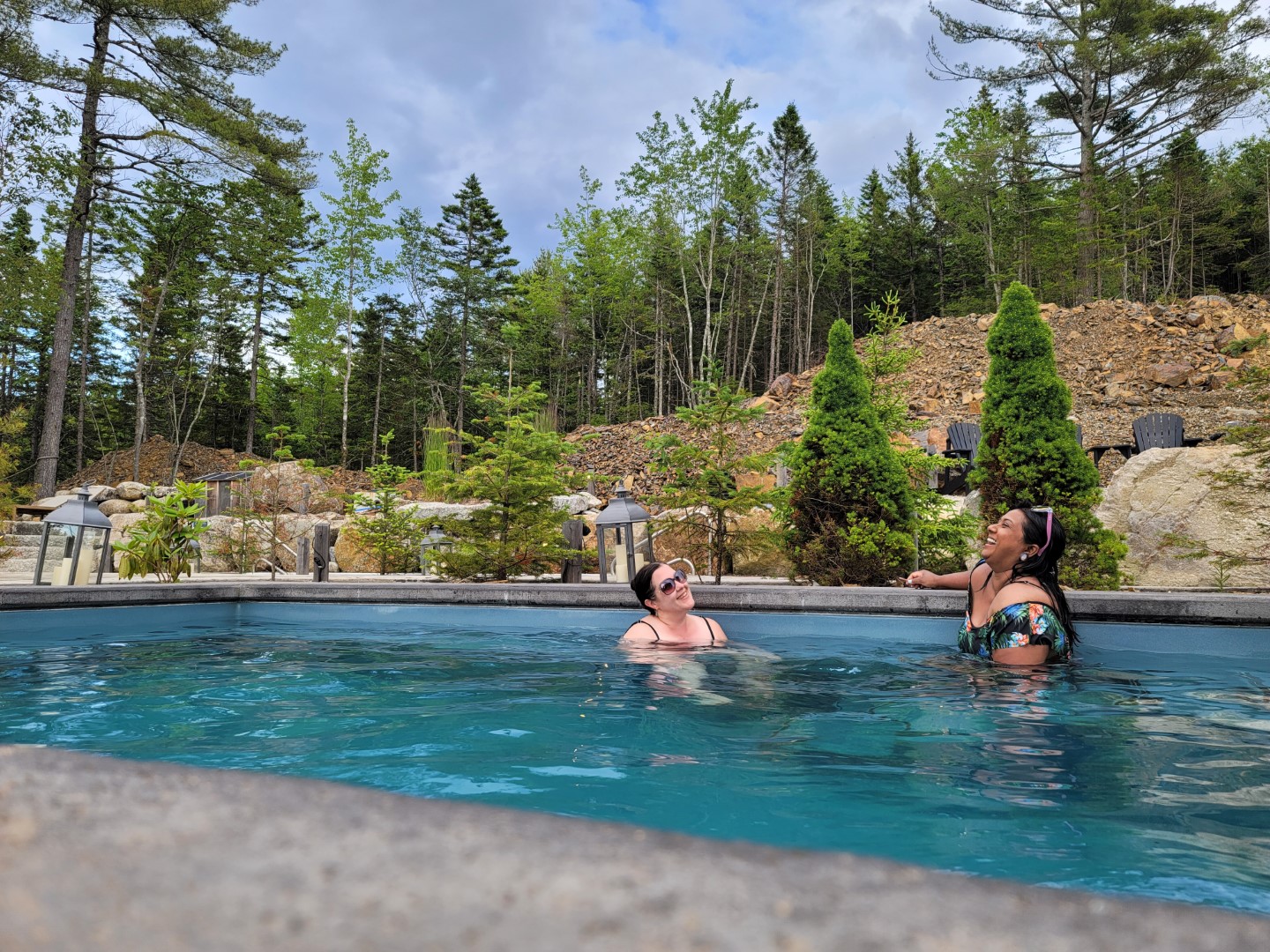 The main reason I added Chester to this Canadian East Coast trip itinerary is because it's home to the fabulous Sensea spa. After those Halifax city vibes, take the morning (and afternoon if time permits) to unwind at this spa. They open at 10 a.m and I'd time to be there first thing in the morning to maximize your day's activities. At this Nova Scotia spa you will use thermal and hydro therapy to raise the temperature of your body at saunas, hammams and hot baths, and then cool down with the cold plunge, waterfall, shower buckets and ice fountains. My friend and I went here for 3 hours and wish we spent the entire day!! Sensea is Nova Scotia's first Nordic Spa and the setting is the perfect way to melt all your stress away. While you can most certainly book a massage, we opted for a spa pass instead. We spent our time swinging between the cold and hot pools, steam rooms, hammams and hammocks. We attempted to try them all!! There's even a facial room which was a nice way to end our day.
During our summer visit the waters weren't too cold or hot for us and we managed to take in one of the steam room rituals. My advice is to look at the schedule and plan your day around those rituals because they are very neat!! I wish we had time to do more, the outdoor yoga one sounds intriguing too! Should you wish to take a nap, there are hammocks around and plenty of seating. There's a café on site should you wish to buy drinks (alcoholic ones are on offer) and soups, sandwiches or snacks. Remember to take your swimsuit, slippers for walking around and a bathrobe or cover up… if you forget, you can purchase bathrobes and slippers on site as well. I for one plan on returning here on every trip to Nova Scotia! It's a beautiful setting for spa! Know that they release their spa passes at the end of the month for the following month, keep that in mind if you're trying to book a visit ahead of time!
p.s – if you are looking for water sports, Chester is a great area for that!
Mahone Bay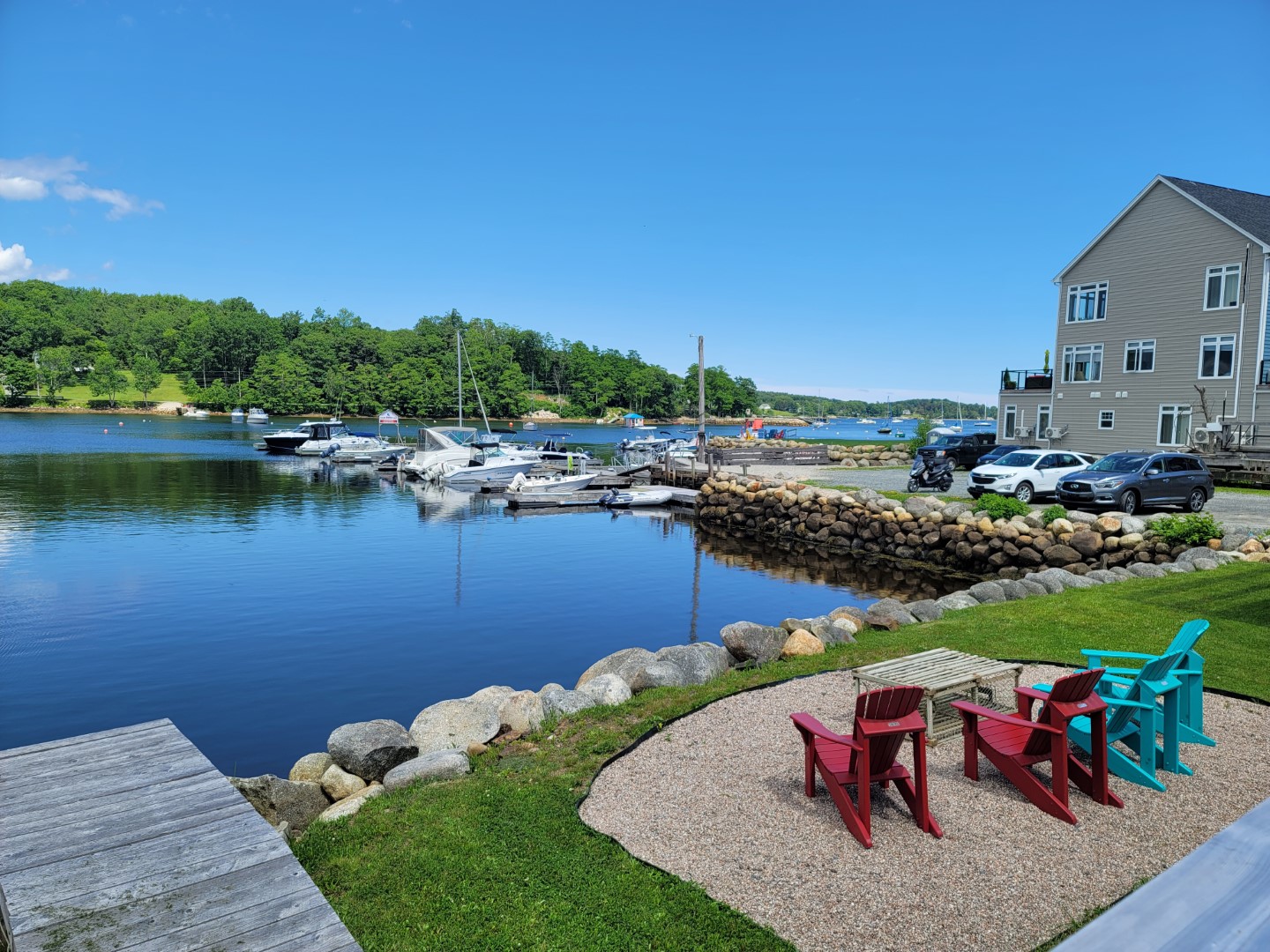 I love visiting Mahone Bay. It's a cute town filled with all sorts of interesting shops, restaurants and markets. Located only 20 minutes from Chester, it's a solid spot to spend your late afternoon.
Grab lunch at Oh My Cod! or Rebecca's and then visit the Amos Pewter shop and ask them for a free demonstration (I loved it so much that I watched it twice). Before you leave Mahone Bay, be sure to swing by Jo-Ann's deli for some baked goods for your drive! Mahone Bay is a very picturesque town to roam around and soak in the Eats Coast vibes.
Yarmouth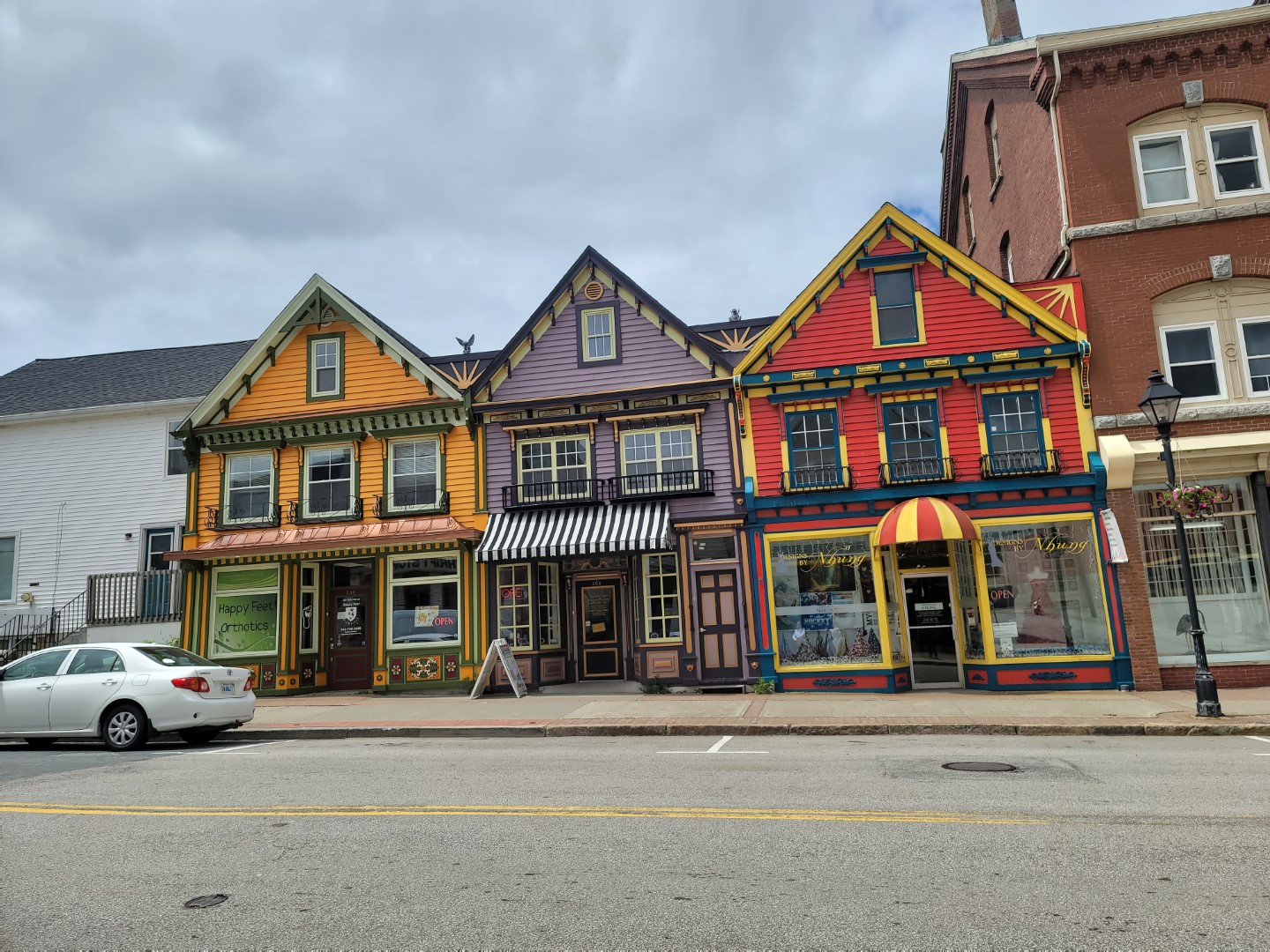 Depending on how your day is going, I'd drive to Yarmouth for your first night on the road trip. Keep in mind that it does take 4.5 hours to drive from Halifax to Yarmouth but with many pit stops along the way, its easy to do (we speak from first hand experience). You can stop in Barrington on your way in if time permits, it's the Lobster Capital of Canada after all and they have some UFO connections too! You could also stay at the Argyler Lodge if you don't want to drive all the way to Yarmouth. I recently spent a few nights in Yarmouth for a conference and was surprised by how charming and colourful this city is. I stayed at the RODD hotel which had comfy beds, a pool and friendly staff.
When you're here you can walk along the main strip, swing by for some Filipino food at Charlene's Kitchen, catch sunset by pier, sample beers at Heritage Brewing and Tusket Falls Brewing ( I actually grabbed the Good Cheer Trail booklet at Tusket Brewery) and obviously swing by Cape Forchu light house. There is an amazing dark sky observatory but I didn't get to it, instead I opted to tour around with some girlfriends and walk along the ocean floor.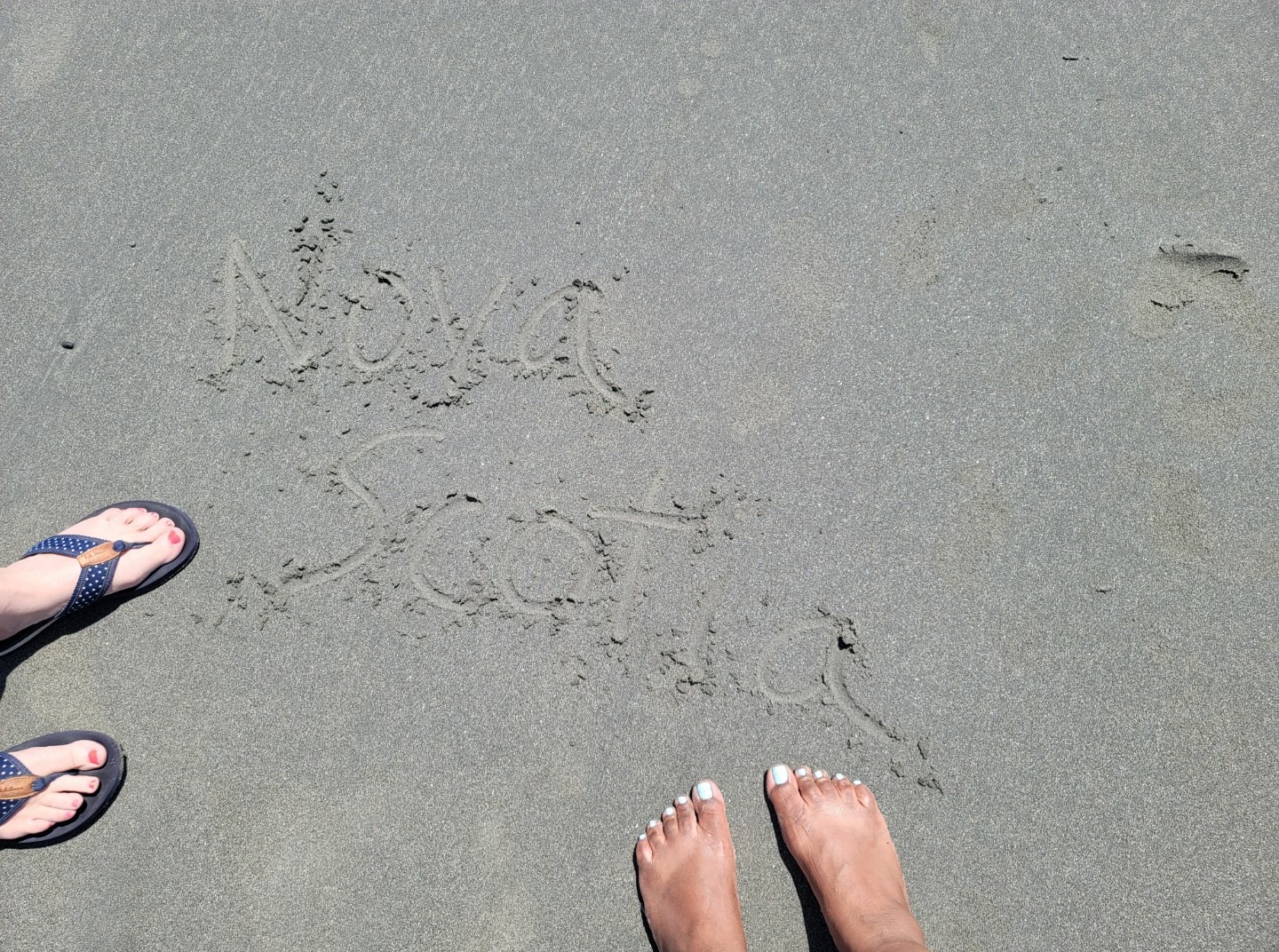 If you're looking for more things to do in Yarmouth, my friend Lindsay has all the tips! My advice is to arrive for dinner and and sunset and then roam around in the morning before setting off for the next part of your Nova Scotia road trip. Remember, for those doing a Maine to Nova Scotia road trip, the CAT brings you right into downtown Yarmouth!
Annapolis Royal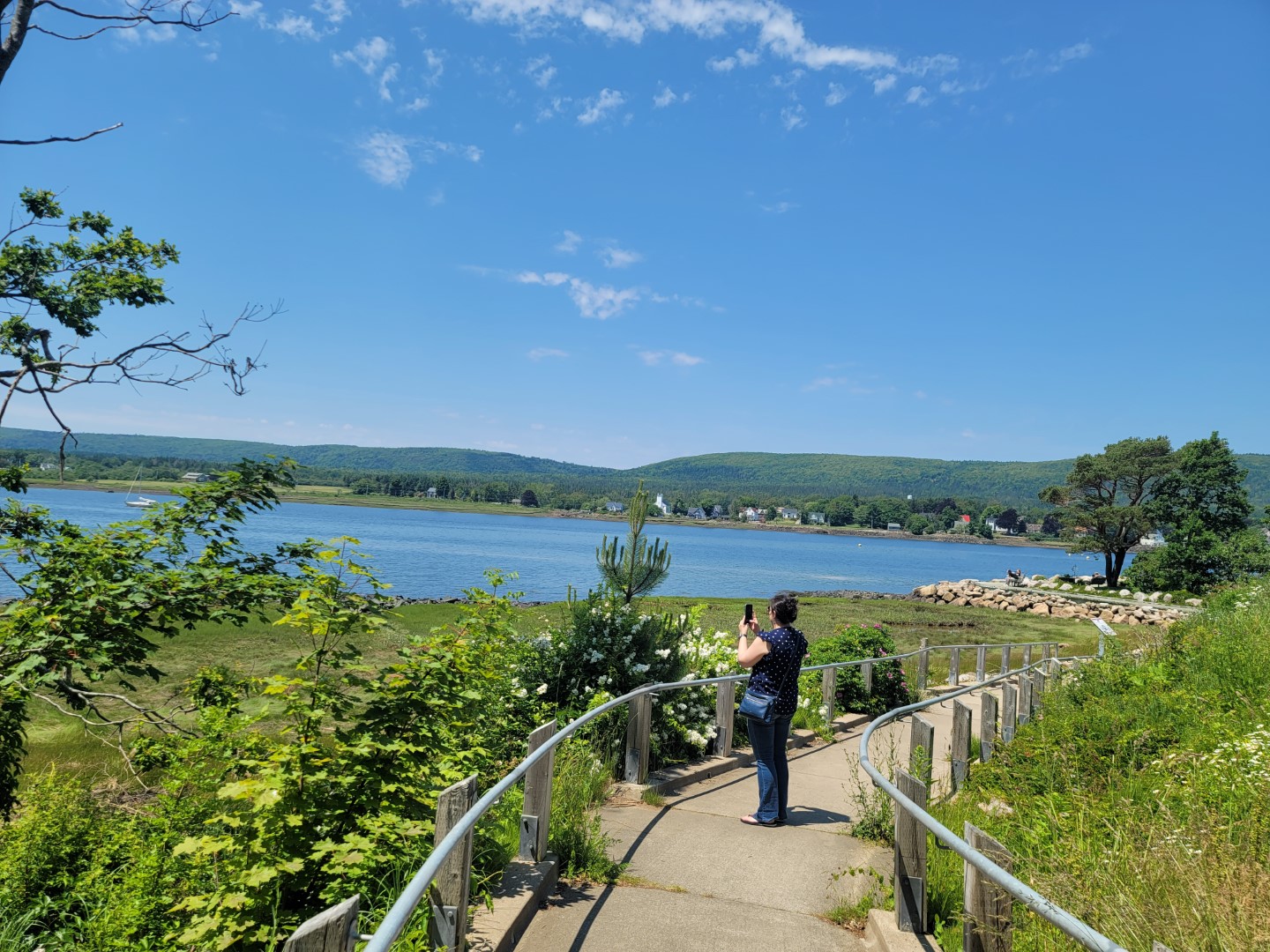 On your drive you can stop in at BMC Seafoods in Meteghan if you love lobster. I mean, eating lobster should certainly be on your list of things to do in Nova Scotia! It's a fishery with picnic tables and seating along the wharf. Alternatively, all scallop lovers MUST stop in at Digby and enjoy some fresh scallops there. BMC is where we stopped for lunch on our way into Annapolis Royal.
Originally inhabited by a strong Mi'kmaq community, in 1605 the Annapolis area became home to some of North America's earliest European settlers. Upon arrival stretch your legs and go for a walk at Fort Anne, taking in the waterfront sights. Then swing by Annapolis Brewing and Cider Company for some drinks (and eats if you're hungry). Be sure to grab some ice cream or birdhouses (random but very cute) at 1scoop 2scooop (ironically they don't carry moon mist ice cream because they feature dairy from Ontario!!).
Wolfville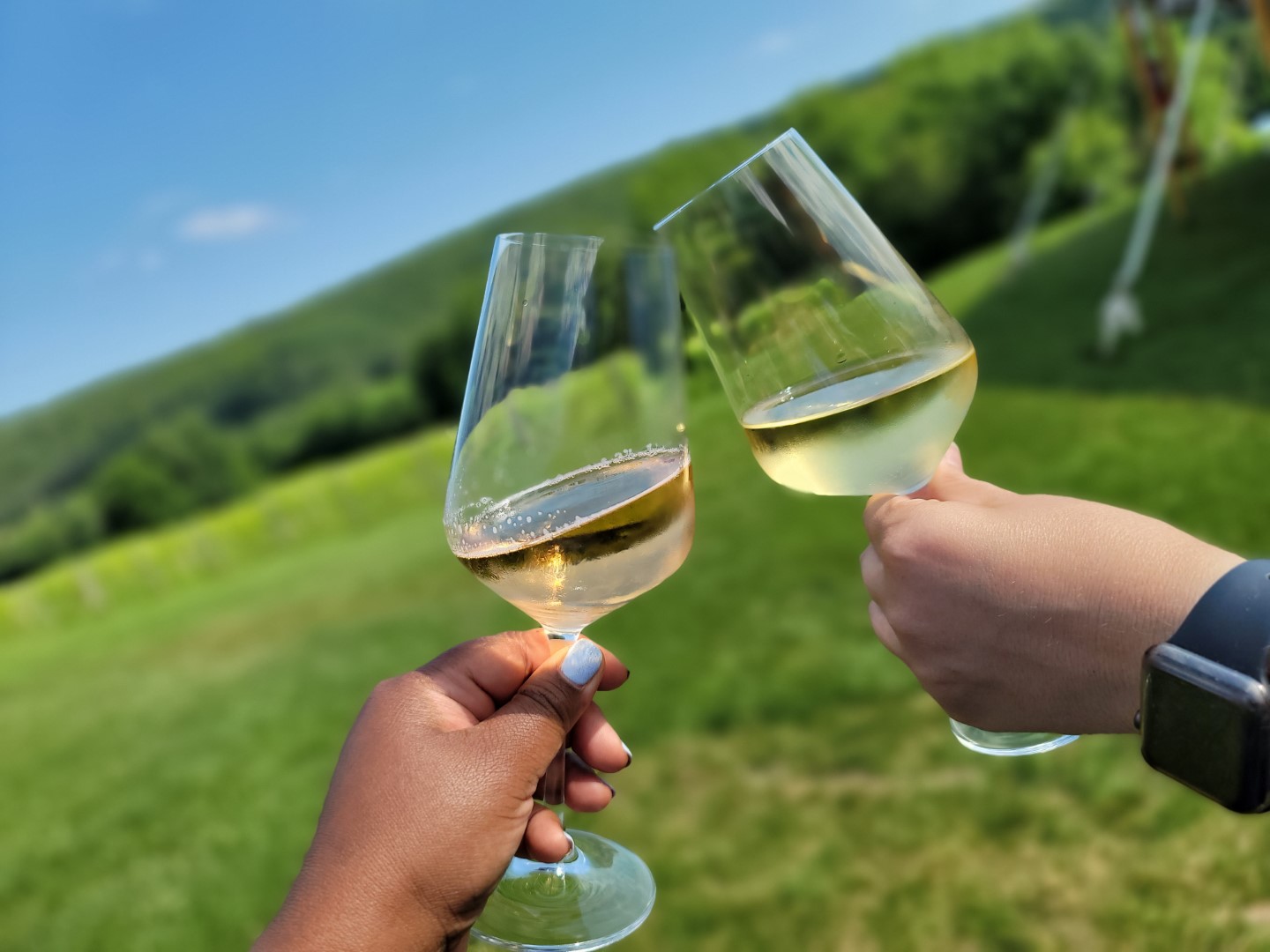 It's time to head to wine country, don't you think? Located an hour and a bit away from Annapolis Royal, Wolfville is home to quite a few wineries. On my recent trip I discovered one the best laid out wineries I've EVER been to (and that's saying a lot as I have toured through wineries in Sonoma, Napa, France, Niagara, Portugal and more). If you're looking for a relaxing spot, Benjamin Bridge is a solid option.
Known for their sparkling wines, I recommend signing up for one of their tastings if time permits. Otherwise, grab a glass and walk through their vineyards or sit back and enjoy their terrace. One thing you MUST do is order some food from the Caribbean Pot food truck that's often on site. We paired Oxtail and hot sauce with a glass of Benjamin Bridge wine and had an early dinner here. Having visited the area before, I can tell you that there's plenty to do in this region and you can easily spend a few days here, visiting other wineries like Luckett and Domaine de Grand Pre, walking through the tangled garden and of course, visiting the Grand Pre National Historic site, are all things you can do in Nova Scotia's wine region,
Click here for where to eat, sleep and play in Wolfville!
Burntcoat Head Park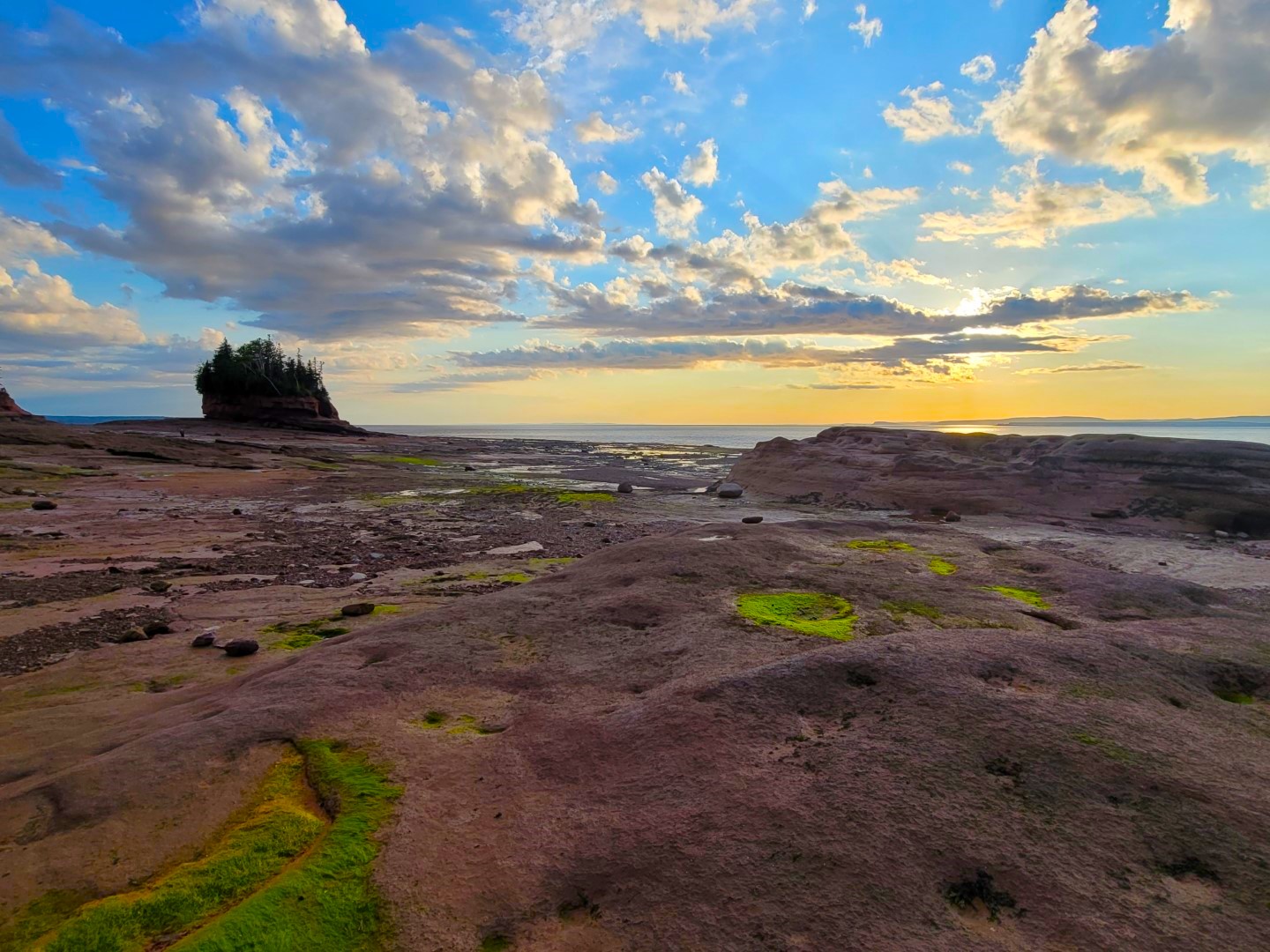 This was one of the ultimate highlights for me. I knew I wanted to experience walking on the ocean floor at low tide and timing it with sunset in the summer was brilliant! Burntcoat Head Park is the home of the highest tides in the world and you should definitely see that but if I had to choose I would opt for low tide. There's something so magical about roaming around here.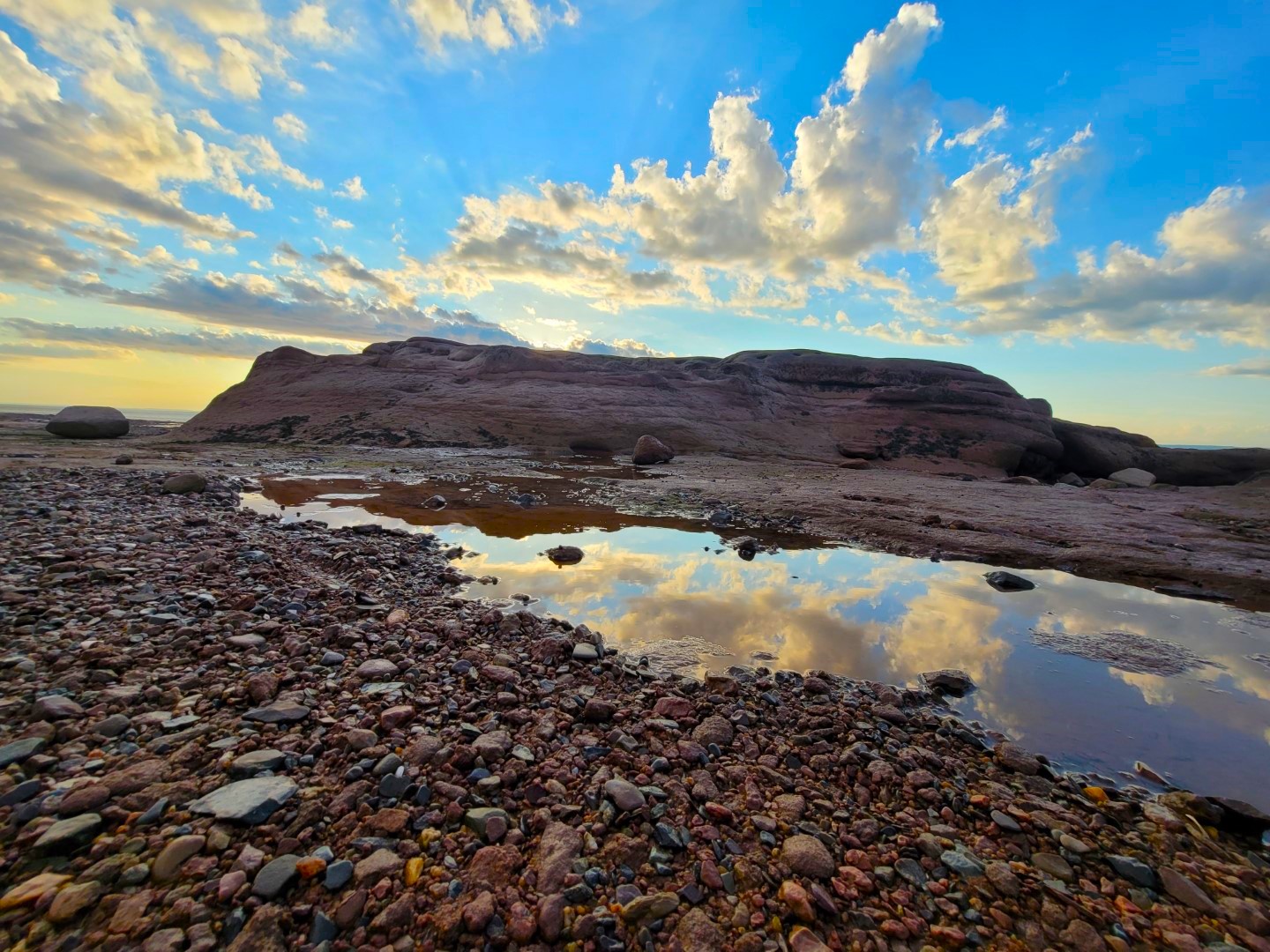 The walk in from the parking lot is easy and takes less than 5 minutes. There's a water pump before heading to the ocean floor and that's for your return journey, should your shoes get muddy (wear sensible clothing and shoes, even though I was in a dress and flip flops and had no issues).
The ideal time to walk on the ocean floor is three hours after high tide to three hours before the next high tide. This site will let you know tide timings during your visit. I am not going to over hype it but will say that it's quite magical and an experience you won't soon forget. Y0u can spend as little as 5 minutes here or as much as 3 hours! We spent an hour and caught sunset before heading to our next hotel.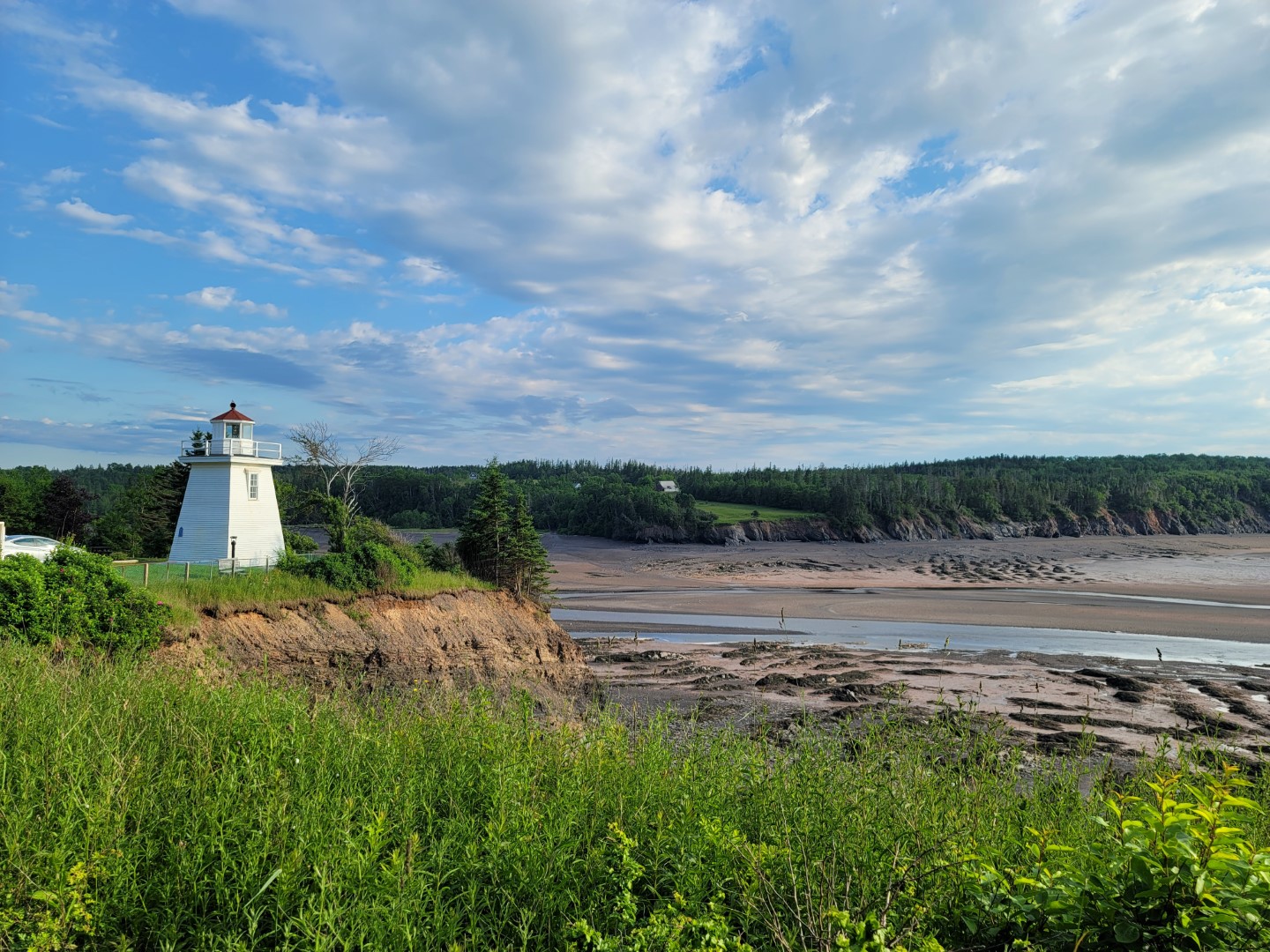 On our drive to Burntcoat we also discovered Walton Lighthouse. It's free (donations accepted) to walk to the top and we got quite the view at low tide… would be pretty cool to be here at high tide too I reckon! There's an ice cream shop on site, a washroom and a garden for a mini hike. Definitely worth checking out if time permits.
New Glasgow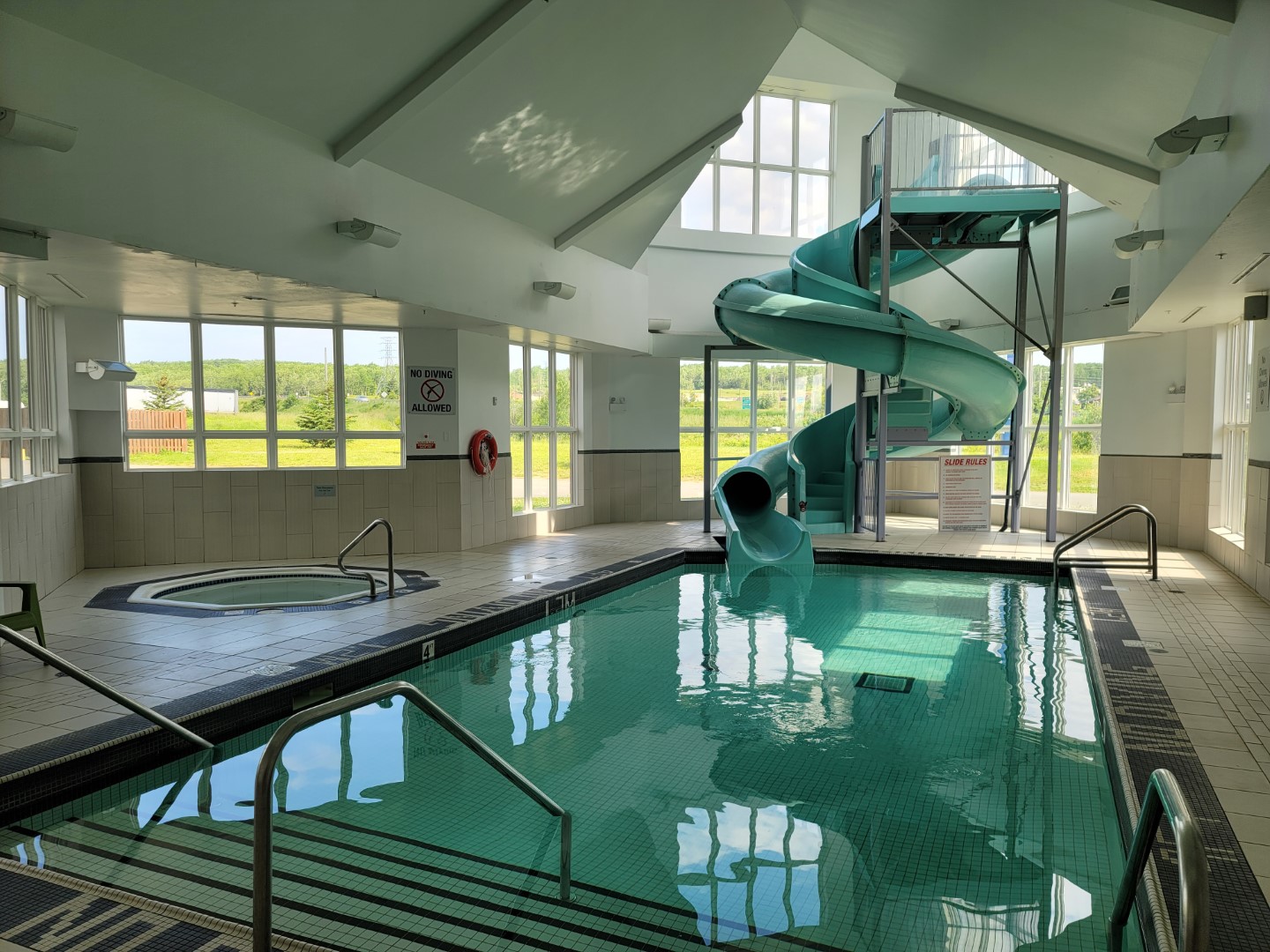 Ful disclosure, we mostly just slept in New Glasgow. Truro and New Glasgow are two spots that were easy to get to for an overnight stay (and get an early start in the morning), so we opted to spend the night at the Holiday Inn Express Stellarton-New Glasgow. The rooms were comfortable, the beds oh so cozy and they serve up a pretty great buffet breakfast. In addition, they have a hot tub and pool with a slide to soak those tired bodies after a full day of exploration.
We grabbed a quick bite of donairs and sipped beers we purchased during the day in our room before getting some blissful sleep that night. If you're travelling through Nova Scotia, you'll notice that there's very few luxury hotel options and your best bet is to secure lodging in spots like the Holiday Inns because you're guaranteed a comfortable stay. We didn't plan as well during our recent trip and ended up in some shady spots once we got to the Cabot Trail – so pre-book as much as possible!
Antigonish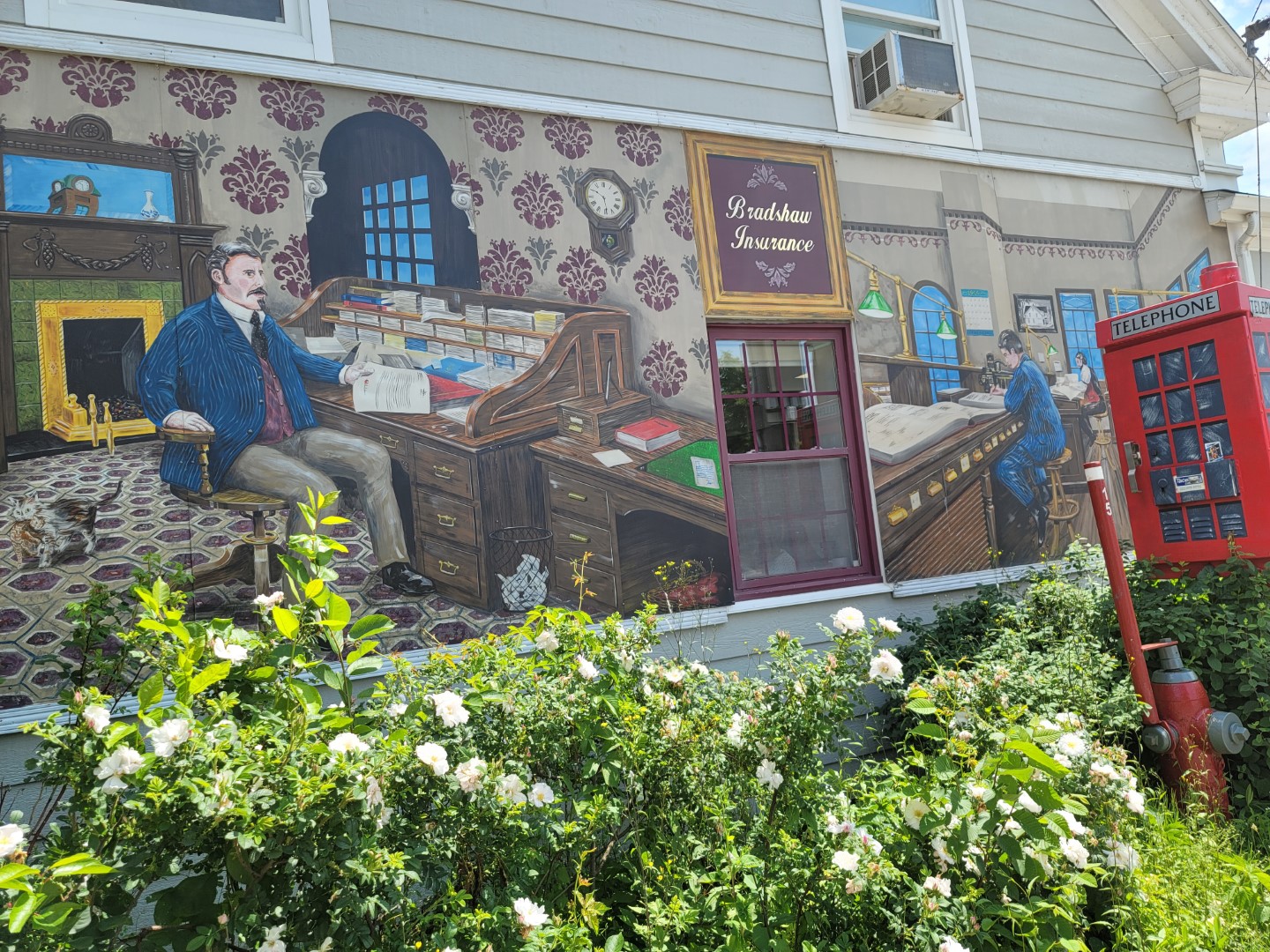 Antigonish is most famous of their Highland games which take place in early July but even if you're visiting at another time, this university town is a worthwhile stop on your Nova Scotia road trip.
Take a walk in downtown Antigonish and be sure to swing by Candid Brewing because this retro spot is a nice way to hide from the sun. If you're chasing lighthouses, Cape George lighthouse is worth visiting (and Ballantyne's Cove is great if you want to see crazy waves) and for if you're a diver, Malignant Cove Beach is where you'll want to visit and spend a few hours at.
Before arriving in Antigonish, we recommend swing by Steinhart distillery which is also home to 9Zero2 brewing. My friend and I had the loveliest chat with the staff there and they took us through quite the tasting. They have blueberry gins and habanero vodkas that made it back in my suitcase!
Driving the Cabot Trail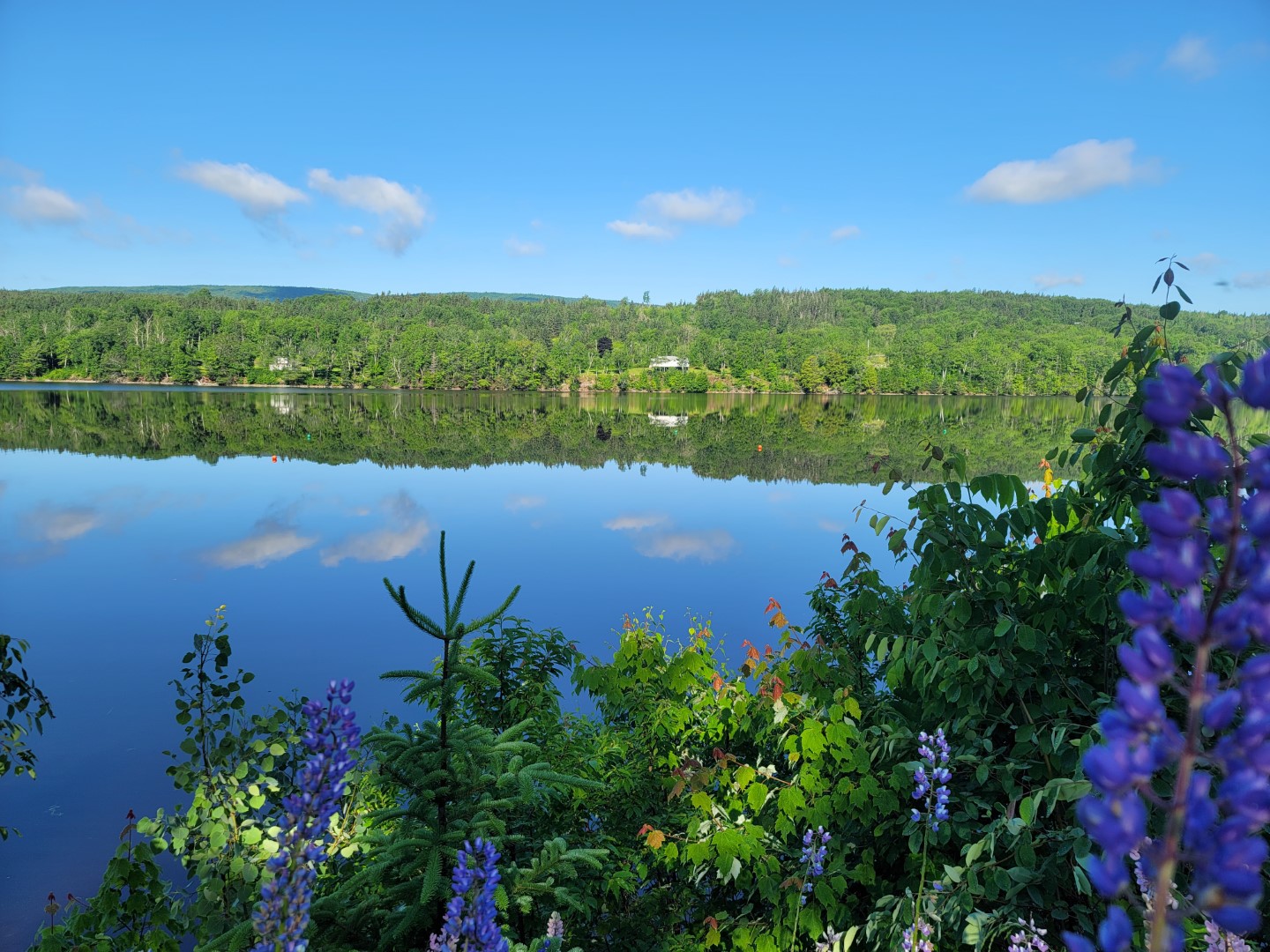 It's time to drive the Cabot Trail and make your way into Cape Breton island. We've shared many tips in the past about highlights of a Cape Breton drive and our favourite beaches on the Cabot Trail so read those if you want to spend a few more days doing this scenic drive that's frequently touted as one of the best drives in the whole world!
Egypt Falls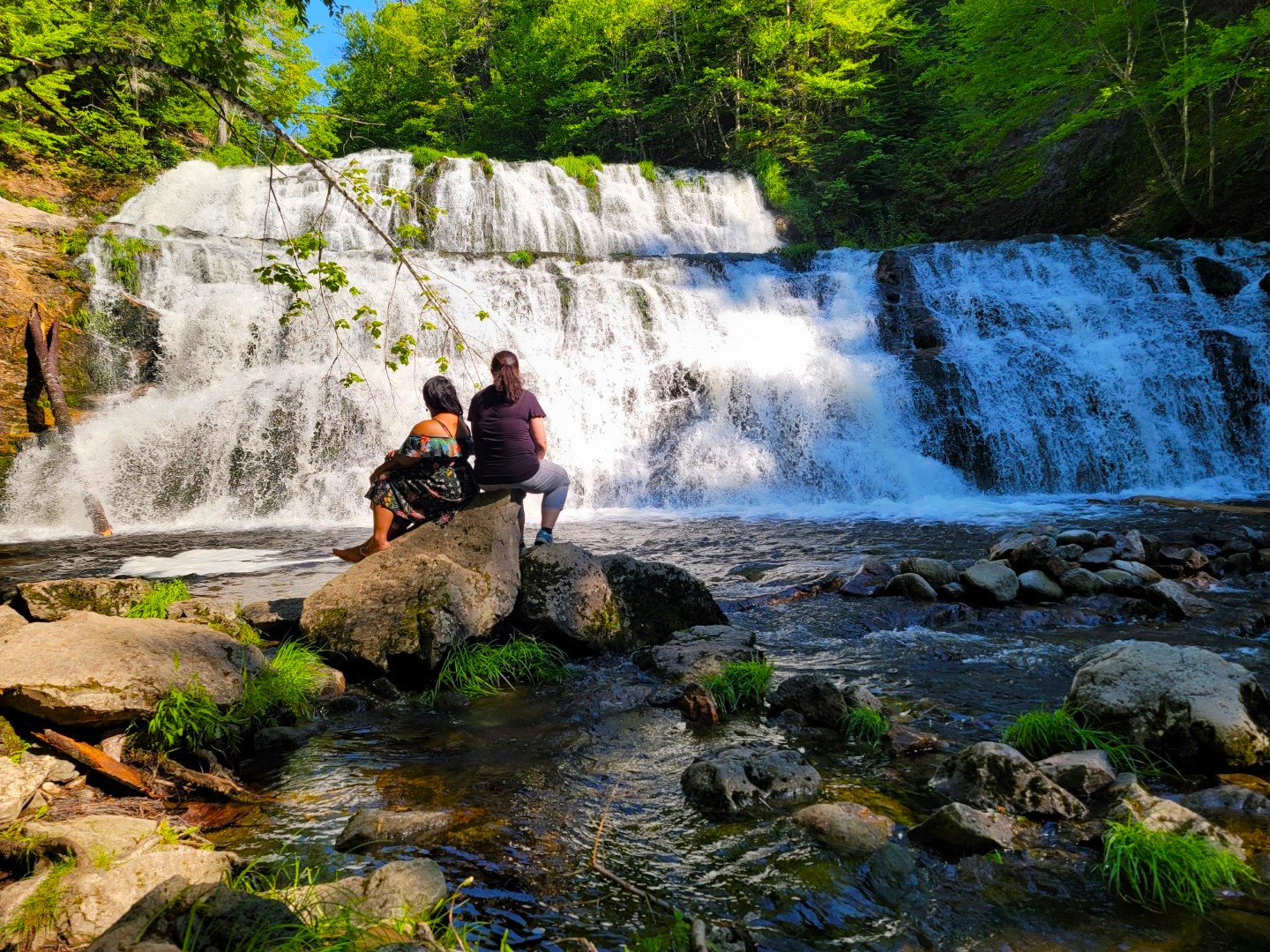 Make your way to the widest falls in Cape Breton. I've visited Egypt Falls twice in my lifetime and while the climb down is a bit tough on my rickety knees, the views are worth it. Trust me… I don't just say this lightly. As you know, I'm not into hiking all that much! I've shared my tips on how to visit Egypt Falls in the past so take a read and see if this is worth adding to your Nova Scotia road trip itinerary!
Inverness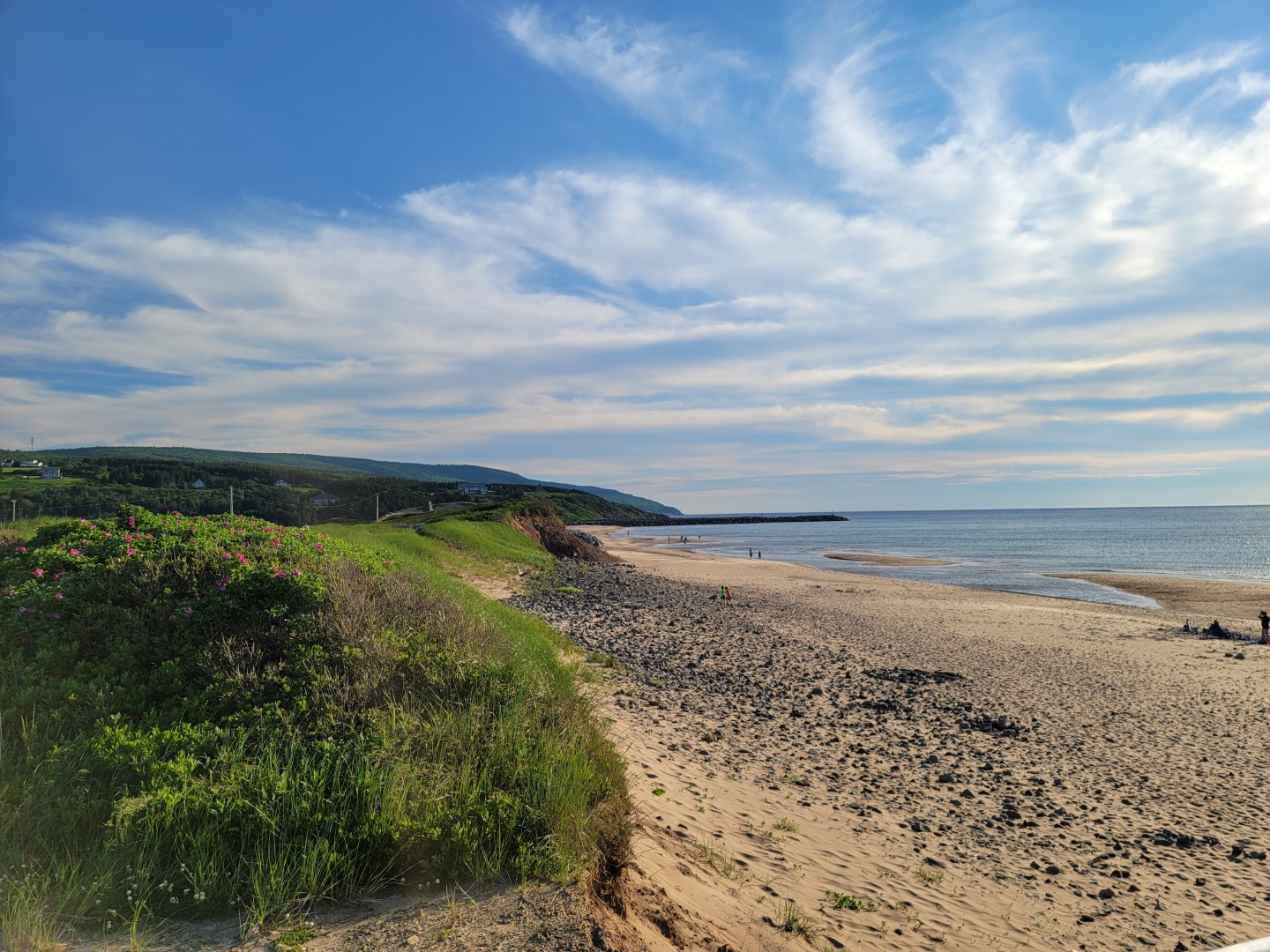 What was once a famous coal mining town is a golfer's paradise these days. I'm not a golfer but I do enjoy swinging by Route 19 brewing to fuel up after that Egypt Falls hike and visiting the Inverness beach boardwalk. Especially towards sunset! Look closely because you may spot some whales here if you're lucky.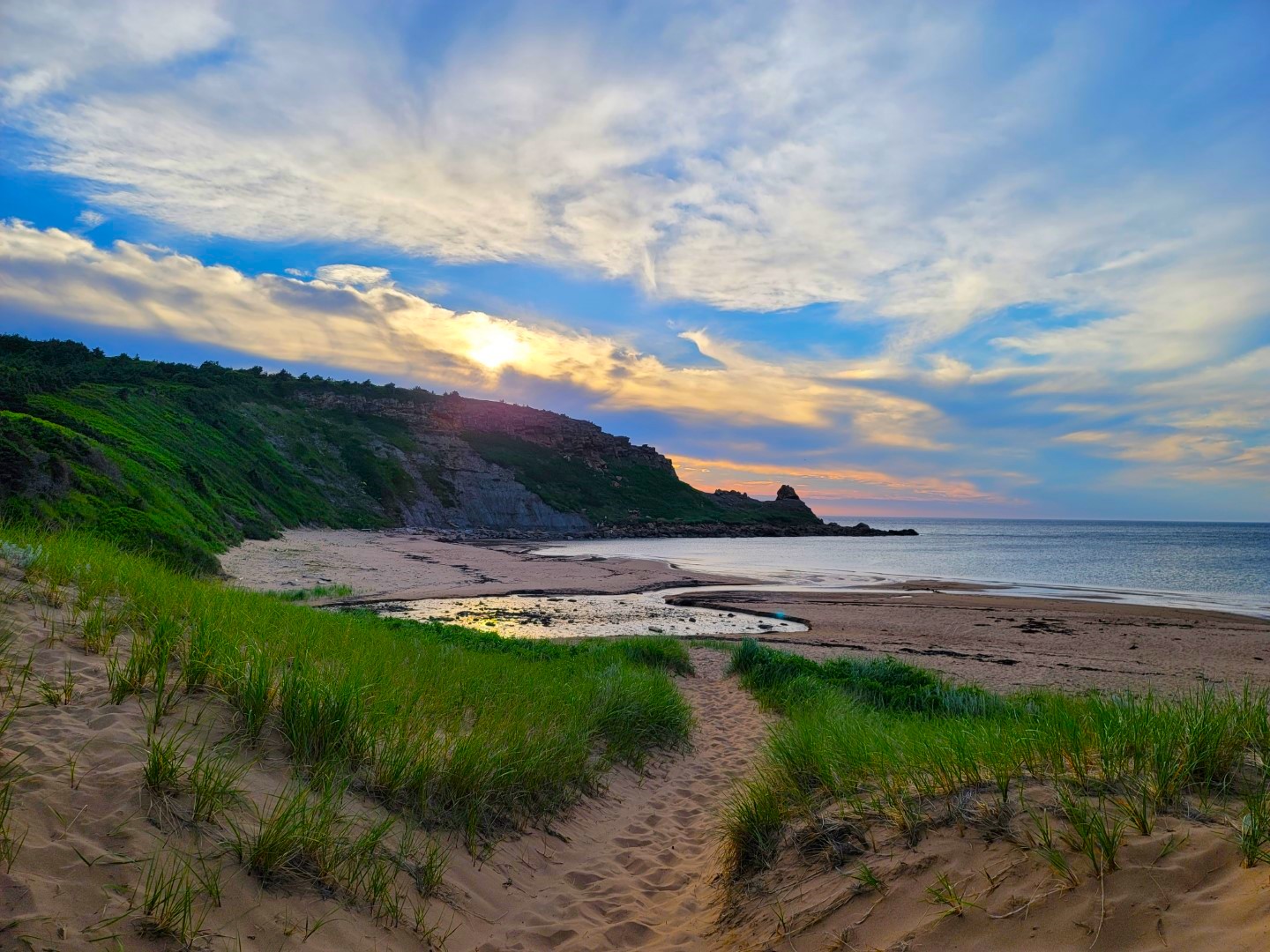 If time permits, stop by Chimney Corner beach on your way to Cheticamp because it's a lovely little beach that's off the beaten path.
Cheticamp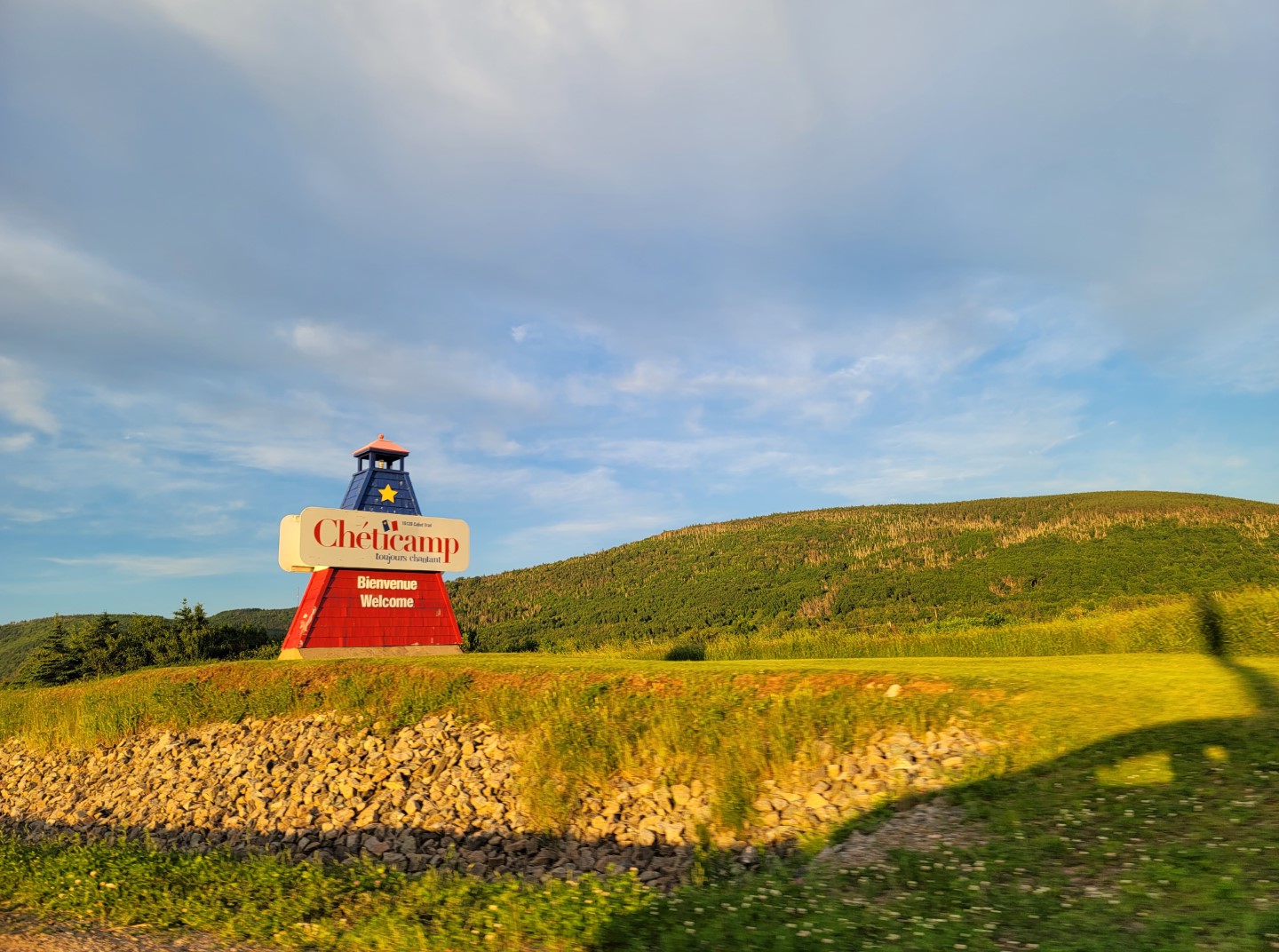 This is a great spot to have as your home base for a night or two as you roam around the Cabot Trail. During our 2022 summer Nova Scotia drive we didn't pre-book any accommodations and ended up staying at Laurie's Motor Inn. I didn't even know what a motor inn was until this stay! Luckily the place was clean, breakfast included was decent and I felt like I was on the set of the Schitt's Creek show.
There are plenty of accommodations in Cheticamp and if you book early, you'll be able to stay somewhere nicer. The main reason we chose Cheticamp for a night was because of it's proximity to the Skyline Trailhead and the Gypsum Mine Quarry. Cheticamp is also a great place for fishing and whale watching tours (Pleasant Bay is nearby), things I hope to do one day!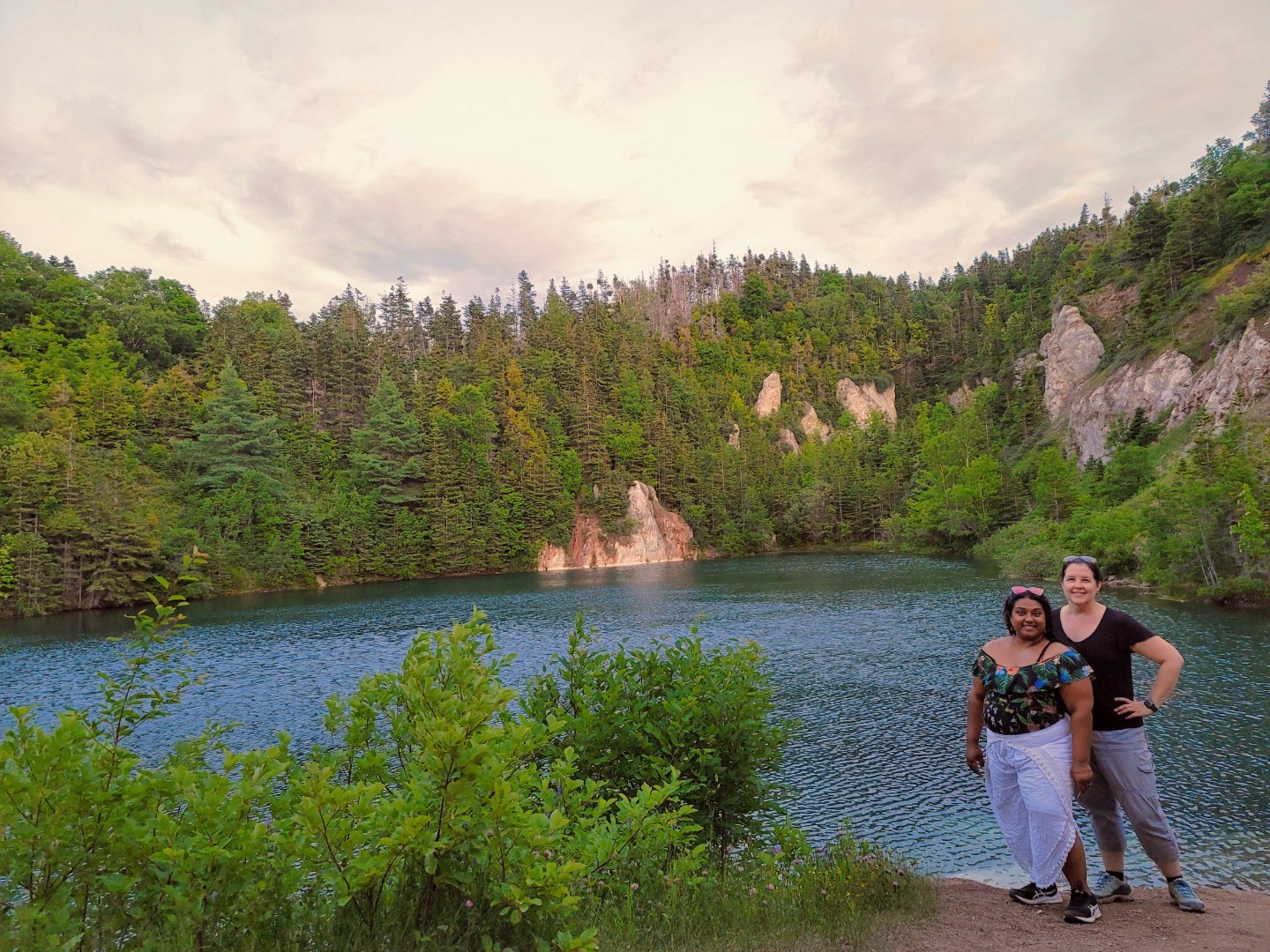 The Gypsum Mine Quarry is one the prettiest spots I've been to! It's a quick and simple 15 minute walk to the swimmable quarry from the parking lot and you can spend as much time are you want. We swung by at sunset and didn't dare jump in the water but I definitely plan to return with the kids and a few floaties! As you walk further in a few minutes you may spot a rope to pull yourself up to the top of the quarry for some epic views, but we never did spot those ropes during our summer 2022 visit. It was a lovely way to end the night before checking into the Motor Inn where we cracked a few beers to rest our tired bodies.
Armed with our Parks Canada pass, we were able to get an early start the following day at the Cape Breton Highlands National Park. Everyone raved about the Skyline trailhead and I will agree that the views were pretty but next time I'll just opt to stay left at the fork by the entrance and do the shorter version, rather than the full 2 hour walk. It's an easy flat hike but it was too boring for me, maybe if I spotted a Moose (which can happen) it would have been more exciting!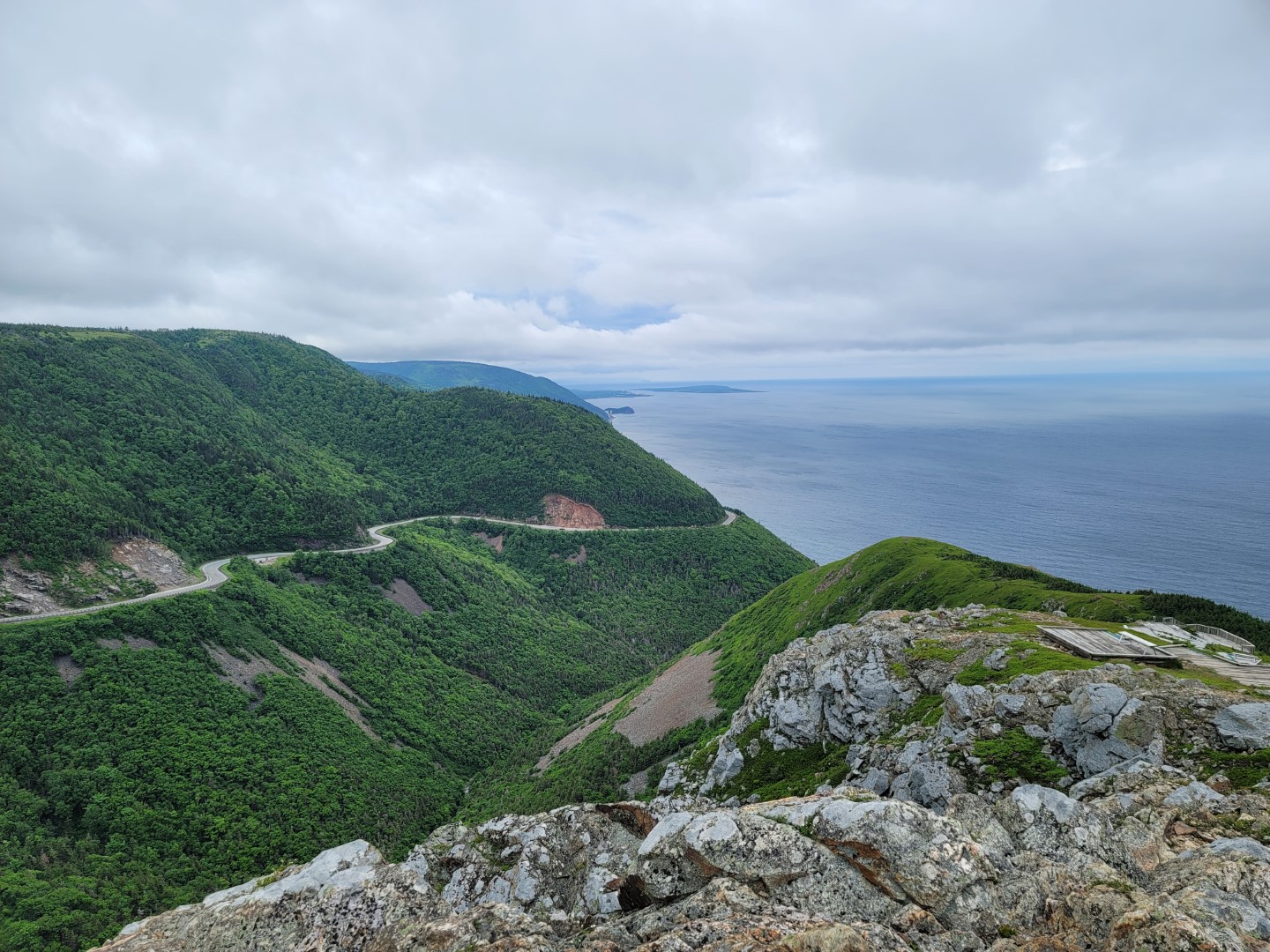 If you're planning to spend some time roaming the Cape Breton Highlands National Park, please ensure that your car is fueled up and be sure to stop at the various look outs, take pictures and swing by the restaurants along the way!
Ingonish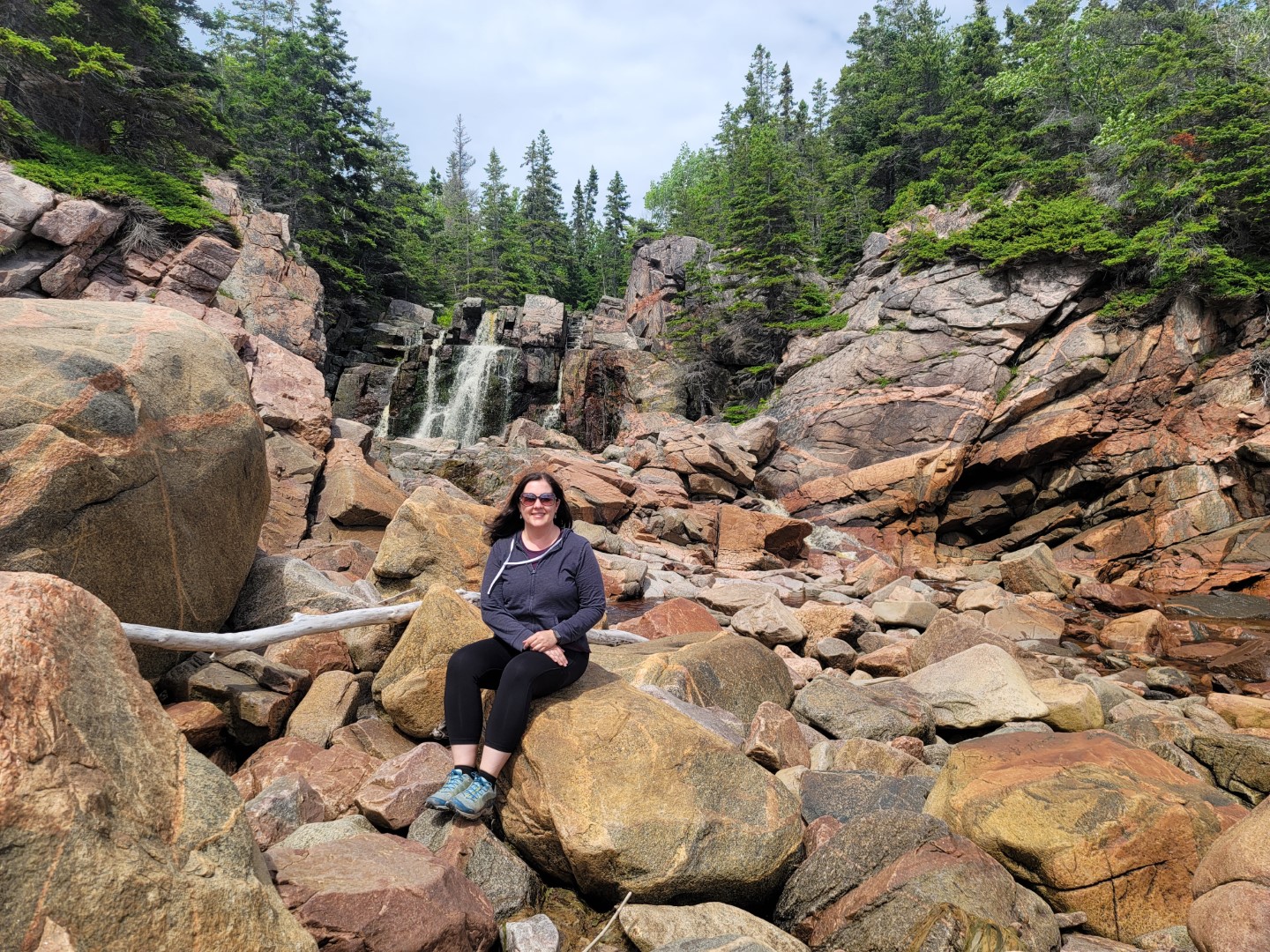 Ingonish is a fantastic area filled with beaches. Black Brook is one of my faves because there's a waterfall right by the beach. During our 2019 visit the kids enjoyed the shallow entry but during our 2022 visit, I noticed that the waters were very rough.
Luckily there's also a playground and little brook under the bridge, that's kid friendly if the main beach area looks too menacing. You can certainly spend a few days in Ingonish as there are charming holiday homes, bed and breakfasts and Inns here. It's definitely a fun beach town to base yourself at.

As you make your way to Ingonish from Cheticamp, I have two stops you may want to check out. First is Gampo Abbey, a Buddhist Monastery, were you can roam around and take in the views, hike the grounds and visit the Stupa of Enlightenment. It can be a bit hard to find and if you find yourself at a dead-end by following your GPS, just keep going and you'll see it soon enough.
The next stop should be Neils Harbour for a bowl of chowder and if the ice cream shop in the lighthouse is open, grab one of those too. Click here for things to do in Ingonish.
Baddeck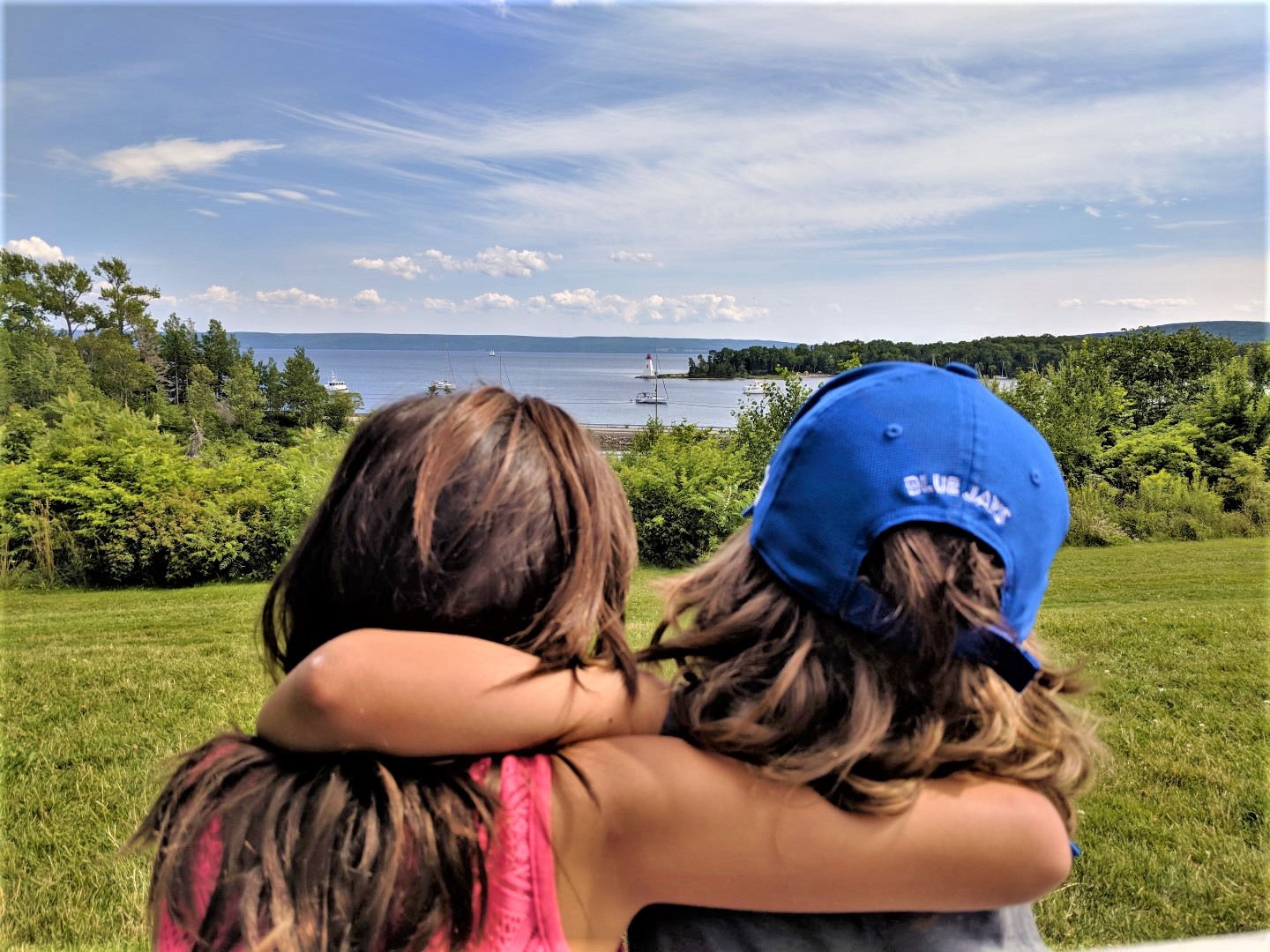 Depending on your timing, you can certainly add a few days and head to Sydney Nova Scotia or see the Fortress of Louisburg and the awesome Mines but if time is tight, head straight to Baddeck. We've visited Baddeck on numerous occasions and the main draw is always the Alexander Graham Bell Museum. It's interactive and fun for the kids. Here's more ideas on things to do in Baddeck.
Baddeck is also home to numerous boating tours and a cute downtown strip filled with antique shops and boutiques. Chris' mom loves visiting the Highwheeler Cafe so that's where we always go to grab lunch at but for a true East Coast experience, you should pop by Baddeck Lobster Supper for all you can eat mussels and a fresh lobster. If you have the time, there is a free ferry from the Lions Club to Kidston Island between July 1st and labour day. There you will find a beach with lifeguards, a bathroom and changing rooms. You can hike two of the three trails, one of which brings you to the lighthouse on one end of the island and back to the beach. Also remember that Big Spruce Brewing is nearby and is a lovely place to hang out and enjoy some fantastic craft brews. Christmas Island is nearby too!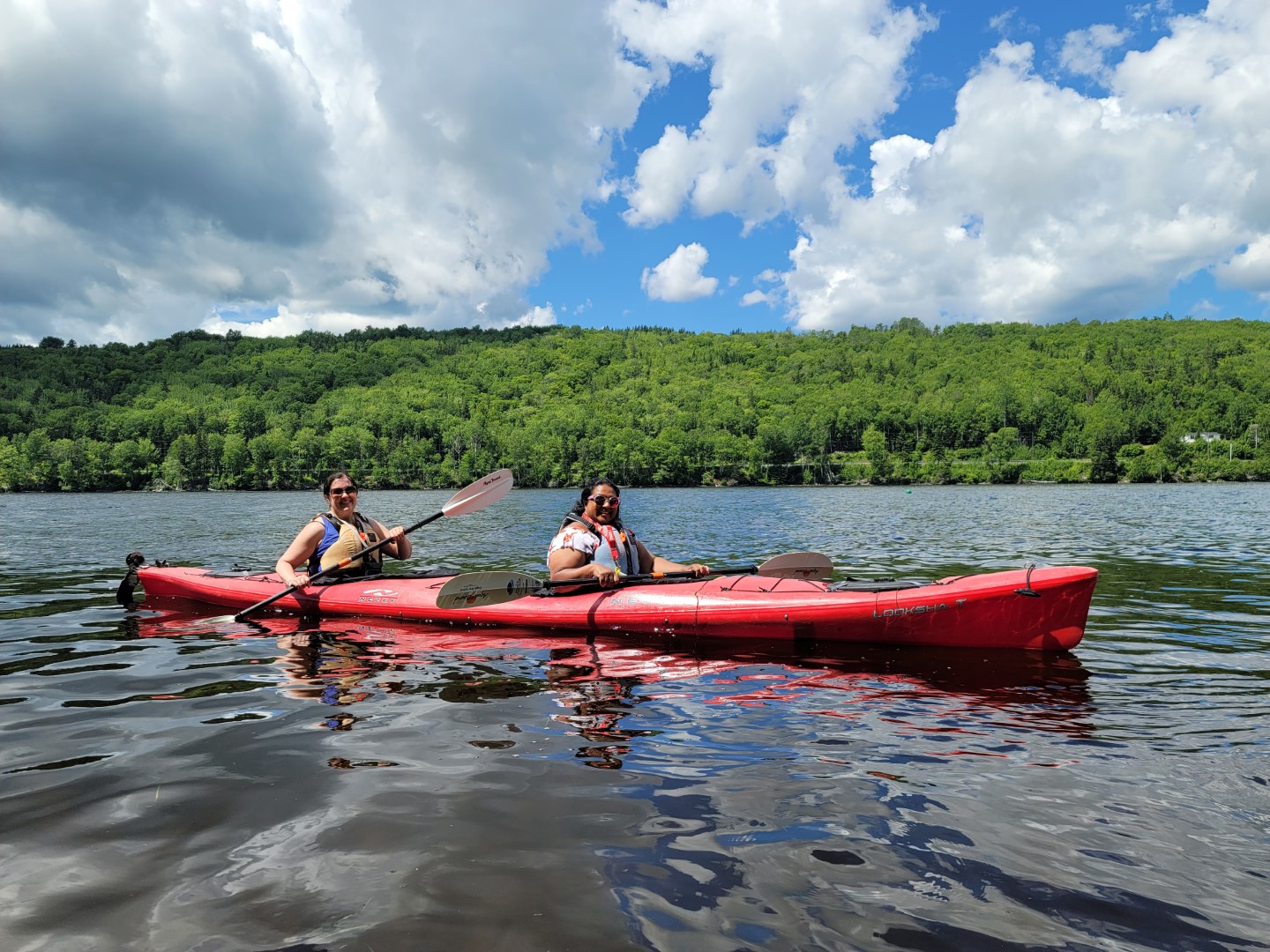 If you're driving from Ingonish to Baddeck on your Cape Breton road trip, North River Kayak is a cute little spot for some adventure. They have cabins where you can stay overnight or you can do some day tours like we did. Kayaking first thing in the morning was a zen-filled experience.
My friend and I did the half-day tour where we kayaked for about an hour before resting at a rocky beach area. The instructor was lovely and served home made bread, a pot of tea and home made rhubarb jam. Which we all enjoyed before kayaking back. As you know very well by now, I am not very good at kayaking, luckily there were two person sea kayaks so my friend was able to assist me on this excursion. My niece and nephew (who are the same age as Akira and Apollo) did this tour a few years ago, so young kids can do this tour as well!
You've pretty much completed the Cabot Trail at this point of your Nova Scotia road trip and so you can make your way back to Halifax if you have a flight to catch or… keep on exploring. If you're returning to Halifax, you can certainly follow the quickest route via Truro (Maybe stop at Mahoney's Beach or Cape George lighthouse on the return?) or do as we did one winter and go through the southern part. Stop by in Canso and learn about this original Mi'kmaq fishing base. Or drive towards the Big Wooden Playground in Musquodoboit.
Whether you're doing a Maine to Nova Scotia road trip or a local Nova Scotia drive, there's plenty to do. I speak from first hand experience having visited the province 20+ times over the last 13 years. On each visit I experience something new. Ensure you have a good vehicle, grab snacks along the way and create a fun playlist because you'll be in the car for most of this trip, but the views will make you soon forget that you're in the car for that long!
Week Long Nova Scotia Road Trip Itinerary – 7 Days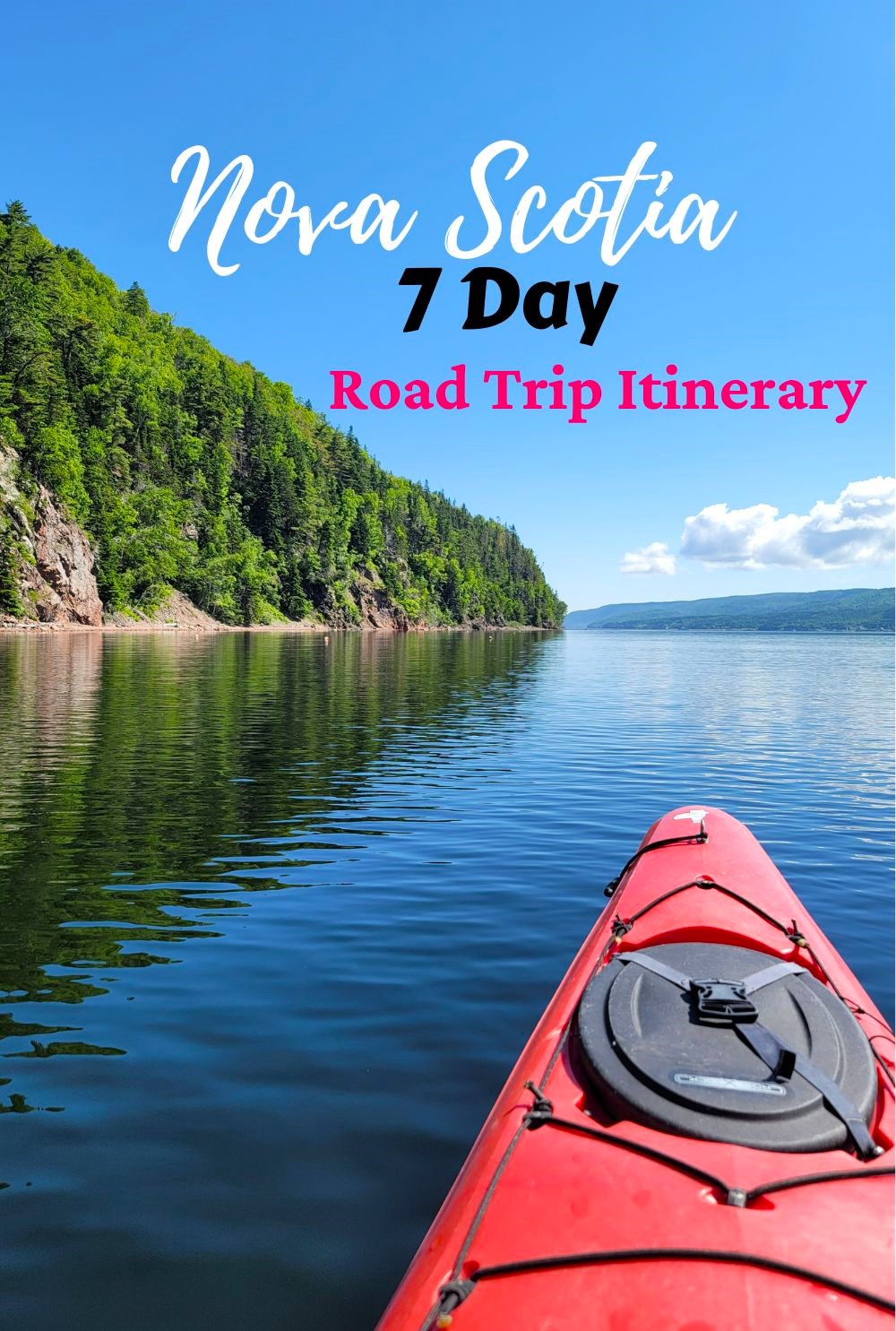 Day 1 and 2 – Halifax
Day 3 – Drive 3.5 hours to Yarmouth (stopping at Chester, Mahone Bay)
Day 4 – Morning in Yarmouth and then drive 4.5 hours to New Glasgow (stopping at Annapolis, Wolfville, Bruntcoat Head Park)
Day 5 – Drive 3 hours to Cheticamp (stopping at Inverness and Gypsum Mine )
Day 6 – Explore Cape Breton Highlands National Park and return to Cheticamp or drive 1.5 hours to Baddeck
Day 7 – Explore Baddeck and drive 4 hours to Halifax (stopping at Mahoney's Beach or Musquodoboit)