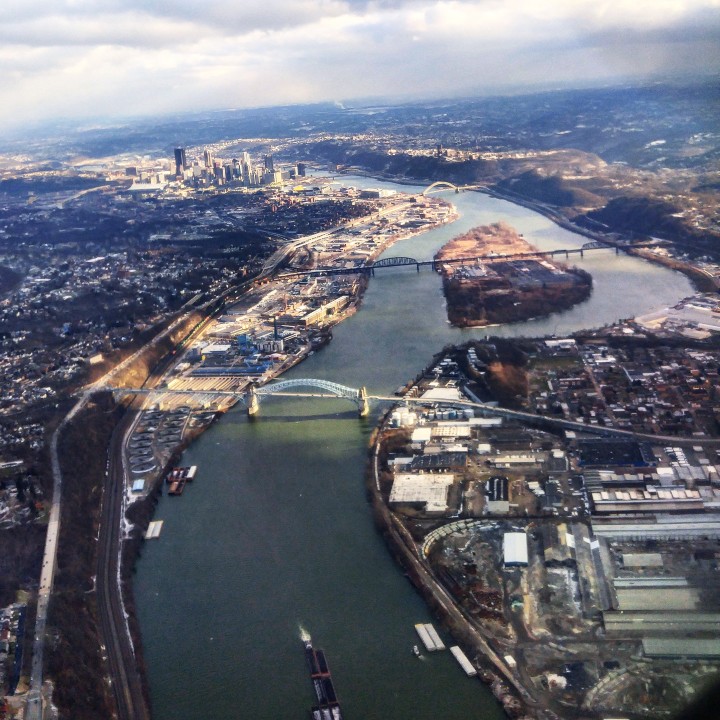 As you know we've always loved our Porter flights with the kids and the last time the hubs and I flew alone on Porter was for our Babymoon in Quebec city back in 2011. I had won a Porter flight at an event I had attended over the summer and with great deals to Pittsburgh, the hubs and I figured we should explore the city of bridges and home of passionate football fans on a quick trip – just the two of us…after all, this week we celebrate 10 years since the day we first met!
When we originally shared our plans to visit Pittsburgh without the kids, many asked us "why?"-  "Why not somewhere warm, exotic or a spot with many things to do?" When it came to picking out a spot for our first international Parents' Escapes without the little ones, we had a few criteria in mind and Pittsburgh fit our needs. It was also a city that has been named a top foodie destination in recent months.
Narrowing Down on Pittsburgh
The location had to be a quick plane ride away as we were only planning on going away for two nights. Porter Airlines offers a one hour flight from downtown Toronto to Pittsburgh and I kid you not, it only took us 4 hours door to door.
A city small enough to explore in a weekend. Pittsburgh is quite large and spread out but we got a good feel for it and lucked out with warm weather during our visit.
A relaxing destination. We really wanted to just sleep, eat and laze around and with the recent package offering through Porter Escapes, we were able to easily narrow down our hotel options and chose to spend the weekend at the gorgeously historic Omni William Penn. Within walking distance to many foodie delights, I snuck in an afternoon nap on Saturday as well!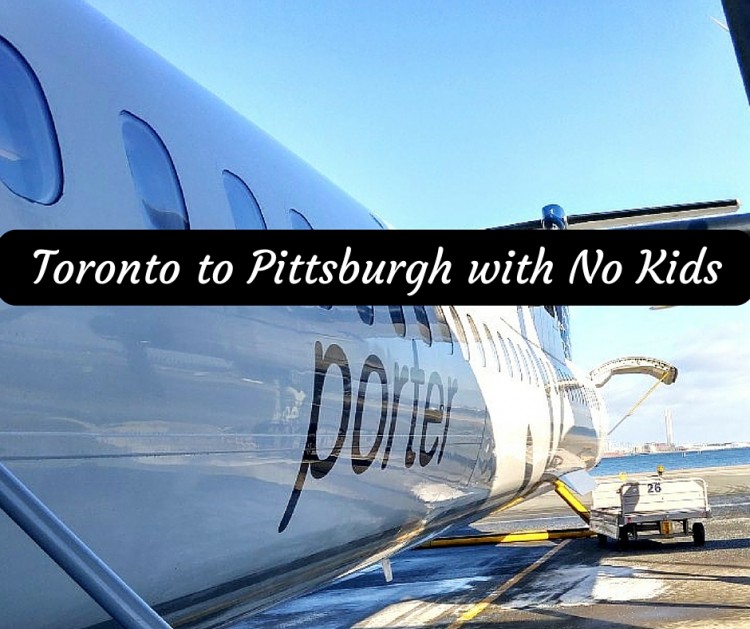 My original plan was to travel with just a back pack because no kids equals less stuff but the hubs had plans to bring back some beer (of course!) so we checked in a small suitcase and brought along our backpacks as well. As we headed to the Toronto airport I felt like I was forgetting something but I really did not miss anything over the weekend… must have been the whole no kids around phenomena!
With no one to watch over but ourselves, the hubs and I enjoyed the views and relaxed on the short one hour plane ride.
Onboard
 With No Kids
We leisurely sipped our complimentary Steam Whistle Pilsners
Had a whole bag of chips and almonds to ourselves and no brats to steal our packs!
The hubs caught up on some reading
I took numerous photos of the aerial view
No bathroom breaks were needed
I got to write this blog post!
If you're thinking about a quick escape from the Toronto area, definitely keep Pittsburgh in mind. I see this city being a top tourist destination in five years or so, but for now it's perfect for those of us who like to explore hidden foodie gems. There's plenty of kid friendly things to do in the city but I found it to be a fabulous place to eat and drink at. We spotted many kid friendly spots but it was the Speak Easy, dive bars and the bar stool only eateries that captured my attention. The Pittsburgh airport can be confusing on arrival but everything is easily laid out and you'll eventually find yourself by the bus stops and taxi stands, after a bit of a walk. We took bus 28x ($3.75) into the city and was able to buy tickets using our credit card at the machine. It took about an hour to get into the city and gave us the chance to chat with some locals who shared some of their favourite restaurants with us. Of course UberX is available and incredibly cheap (which we appreciated given our current Canadian Dollar performance) and our return trip to the airport was only $28 and 20 minutes.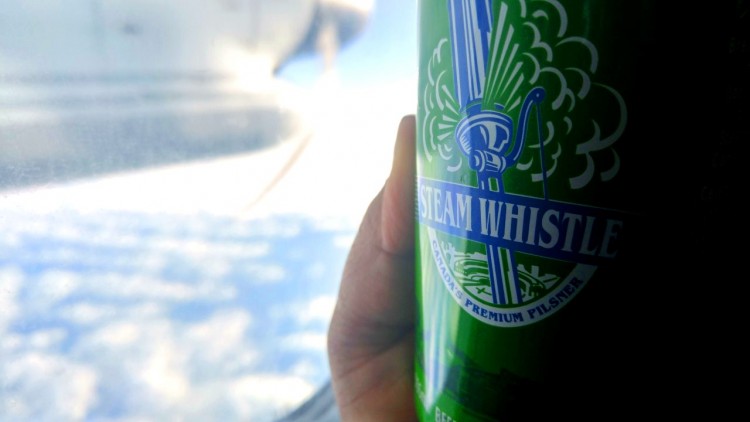 We'll be sharing exactly what we ate, drank and explored in Pittsburgh over the next couple of weeks but as I sit here in my comfy Porter Airlines seat with the sun setting outside my window, I think it's definitely work checking out these great hotels that Porter Escapes has partnered with to make quick getaways, easy and research free!