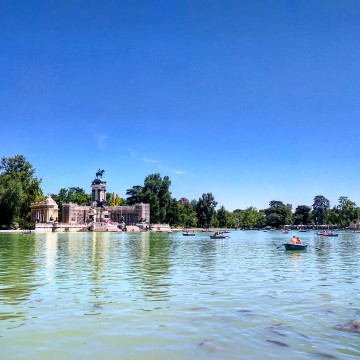 When we arrived in Madrid, we were quite exhausted after more than two months of constant travel. The temperature was sickly hot and so we decided to take it very easy as we explored the city with kids. Instead of running from attraction to attraction, we took each day as it came, enjoying sunsets from our GuestToGuest home and just going with the flow. This is exactly how we discovered a bunch of free things to do in Madrid with kids (don't worry you can do them without kids too!).


El Retiro Park : Chris and I joked that we were going to a "Top 5 Free Things To Do in Madrid" video and for each point mention El Retiro Park (also known as Buen Retiro Park) – we didn't of course! The park is massive, and we could have returned every day of the week and still not have seen everything. From ponds to running tracks to playgrounds, kids and parents can find so much to do in the park. Our top wish was to relax, and the park certainly offered the chance for us to do that. Oh, and we also found pop up libraries and cafes at this park that belonged to the Monarchy until the 19th Century. There's even a Crystal Palace there! If you time your visit properly, you'll catch free puppet shows and musical performances too. See, the list really goes on!
Free Walking Tours : As much as we love hop on, hop off bus tours when we visit a new city, pay-what-you-can walking tours are what we do when we're on a budget and want to hear a good story. Having done Sandemans New Europe tours in a couple cities, we know we can count on them for a true historic tour. The tour in Madrid lasted for 4 hours but we discovered some juicy historical facts and wish we had the time to dine at the world's oldest restaurant, which we found on the journey! The kids sat in the stroller for most of the tour and kept snacking and drinking – not a bad life eh?
Madrid Rio : Looking to cool down on a hot day? Then this splash pad calls your name. Initially Little Monkey had a full on meltdown because it wasn't a "traditional" splash pad but quickly joined her friends and started wildly running around the place. I thoroughly enjoyed watching the older ladies shimmy their bums over to the jets as they tried to cool down on that hot day. Our group of adults opted to sit in the shade and enjoy some cold beers and a baguette while the kids ran around. Well, except for Baby Boy, because you know, he's still in his "no water" phase.
Plaza Mayor : Plazas are one of my favourite spots to hangout at during our travels and the ones in Spain were fabulous! I was amazed by the number of entertaining buskers at the plaza. The bubble guy was the kids' favourite but that weird dude with the shiny costume you see in the video above was mine. In addition to the people watching, there's plenty to do in the nearby area on the cheap. We found a candy shop and snacked on one of the city's famous Calamari sandwiches for under 5 Euros.
Free Museums : As with most cities, Madrid's museums have free days and you can enjoy them on the cheap instead of lining up for tickets. I found this site, which shows the free museums in Madrid. Of course, we were lazy and only made it to one during our week there!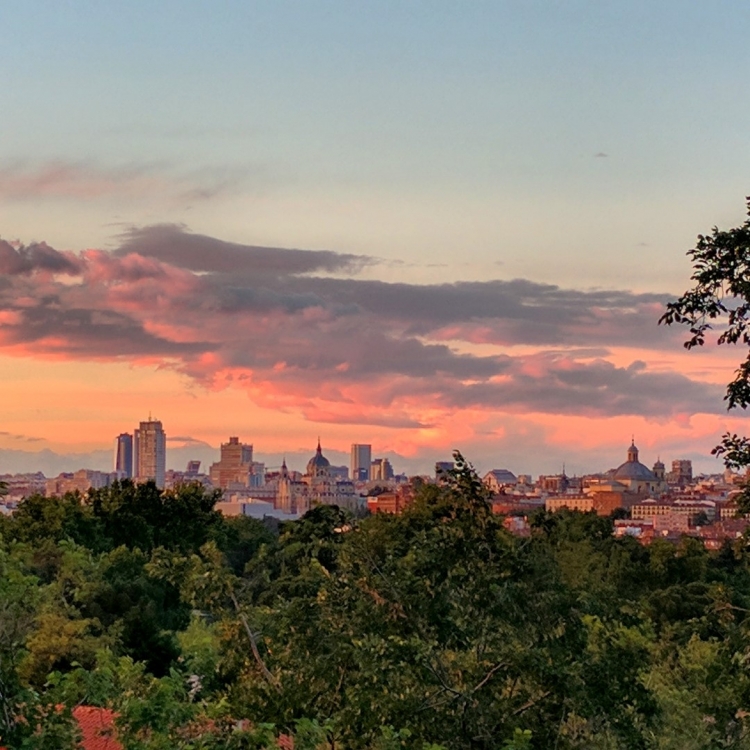 One of the biggest challenges with travel is how to budget during your trip. Our original plan for Madrid wasn't necessarily to cut back on expenses but it's just how things unfolded. We had a chance to unwind and "live" in the city vs. playing tourist and that was a nice change. We still continued to explore the food and drink scene and discovered some great finds that we will share with you soon. Don't let your budget keep you from exploring the world, because there's definitely economical ways to explore most cities and of course, staying at a GuestToGuest house will help you keep accommodation costs super low!
Go ahead and Pin the below, please!