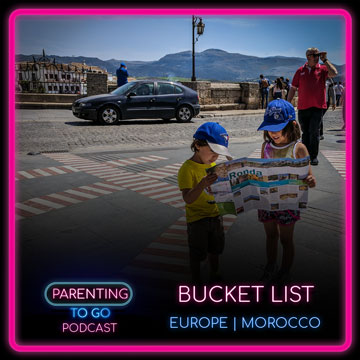 On this week's episode of Parenting to Go, Chris and Yashy compare their top 10 days from the family's 148 day trip to Europe and Morocco. Included in their respective top 10 lists are some of the most memorable experiences the family had in the summer of 2017, which include driving through mountains of Morocco, tasting the amazing food of Northern Spain, and marvelling the hospitality of the Croatian people.
If you are on your way to one of the 35 cities the family visited, or even if your just curious about their favorites, be sure to take a listen. Check our the podcast below or subscribe here via iTunes or Google Play
Click here to see a list of our podcasts
Click here to see all of our articles from the trip or visit our video section to experience it for yourself.
[themify_hr color="grey" width="100%" border_width="1″ ]