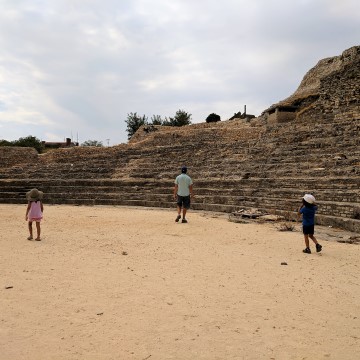 Even when we booked our ferry from Zadar to Pula we had no idea what was in store for us in Pula except that we had an Air B&B apartment booked in the historic centre. As soon as we heard everyone ooh-ing and ah-ing we looked outside and from our seats on the ferry we could see the Pula Arena standing regally and some cranes lit up colourfully. Not at all what we had envisioned for Pula but that's the charm of waking up and deciding to go somewhere new! Pula was fairly relaxing for us as we didn't rush around trying to visit every attraction found in guide books, instead we took it easy and roamed around leisurely over the four nights we stayed there.
Where to Stay in Pula with Kids
Pula is relatively small and most people will opt to stay closer to the historic centre. It's what we chose to do in Pula when we booked our Air B&B but after staying in so many amazing GuestToGuest homes, we were spoiled and didn't really love our Air B&B. Though, the ideal location couldn't be beat if you're looking to explore the historic centre. That said, we took an Uber (taxis are quite cheap in Croatia and Ubers were even cheaper!) towards the Park Plaza to pick up our rental car and I was amazed at the family friendly offerings I noticed. Located near a beach and within a 10 minute drive to the historic centre, the Verudela area is great for families too. Especially if you're looking for more of a resort feel and want the relaxing beach vibes.
Things to do in Pula with Kids
Pula is steeping with history lessons for the kids (especially if they're a bit older that our kids) and Little Monkey enjoyed running through the many pedestrian only alleyways, poking their heads into candy shops and ignoring all the restaurant owners trying to entice us to come in for a bite. Below are some of the attractions in Pula we explored during our 4 day stay in Pula with kids.
Arena : I think it's safe to say that everyone comes here to see the famous Pula Arena. We were going to buy tickets to an evening gladiator show but then thought it would be too gimmicky (based on what I saw via the live instastories people posted the night we landed). The next day we were planing to venture inside but then we ended up walking around and it looked  so magnificent that we spent an hour just looking at it from the outside! The kids got hungry and we never did buy tickets to go inside! Chris was disappointed that we weren't visiting during the Pula Film Festival because the arena hosts that annual event and it would have been a great experience.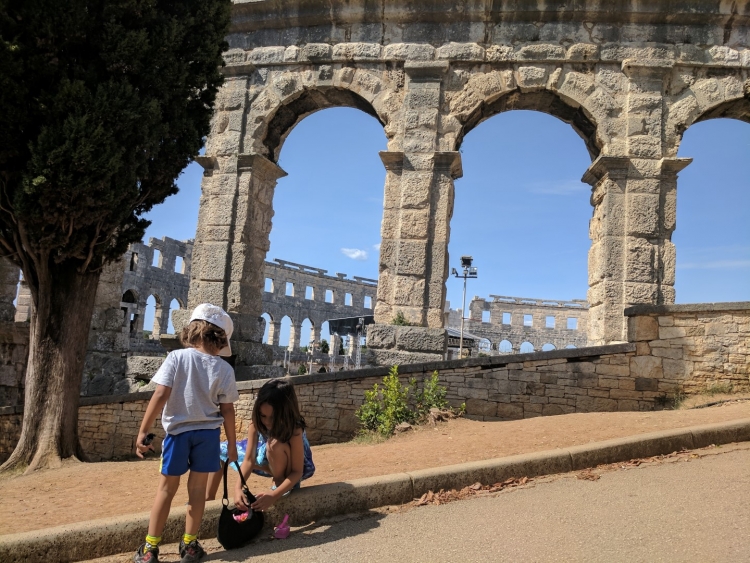 Roam Around Old Town : The historic centre is filled with many restaurants and relics so we just spent an entire day either eating or watching the kids run between tiny alleys only to end up at some sort of Roman remain. Beyond the Pula Arena there's plenty to see (or at least walk by and marvel) such as the ancient cathedral, the WWII memorial, the temple of Rome and Augustus and the triumphal Arch of Sergii. We even spotted the bar James Joyce used to frequent!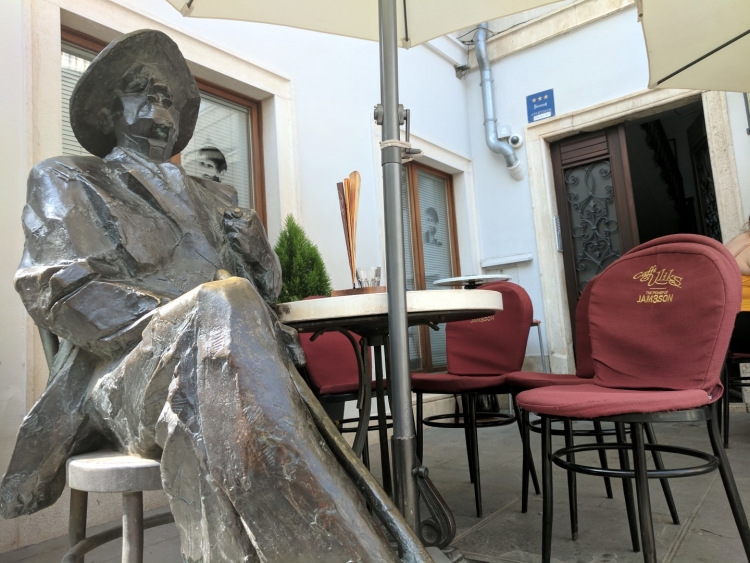 Lightning Giants : To me the sunset in Pula was the most magical and it's for a couple reasons. For an ideal viewing you have to get to the waterfront (near the amphitheater or the shipyard) just before sunset and watch the fishermen come in. The fish we saw in the water was mind boggling! Of course my anxiety was at an all time high because I was so afraid of Baby Boy falling in but once I calmed down and had the kids sit down on the ledge, it was all good. We watched the stunning sunset and then hung around for the giant cranes to light up. Every hour after sunset these giant cranes put on a 10 to 15 minute light show and I believe that the first one close to sunset is the best one! Of course Little Monkey needed to poop and so Chris and she rushed back to our apartment while Baby Boy and I enjoyed the sunset and light show in Pula!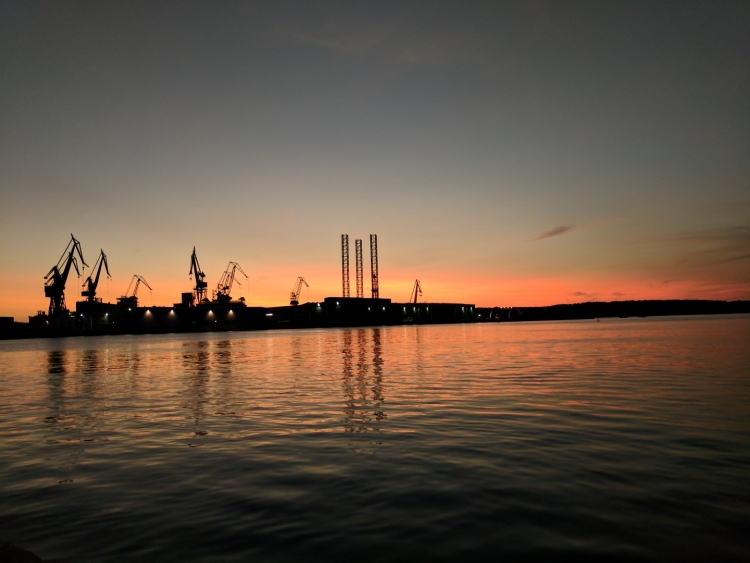 Museum of Olive Oil : We went in here to shop but didn't do the full tour unfortunately. I was informed that there is a special area for kids while the parents learn about the different types of oils in Istria. We did however purchase olive oils and truffles to bring back and while the oil was great I was disappointed by the truffles. The ones we ate at the restaurants were AMAZING and the dishes cost about $15-20 yet the small chunks I purchased for $35 each did not deliver on my expectations. If you can get the restaurants to sell their truffles to you, MAKE it happen!
Shopping : We spotted all sorts of arts and handicrafts, food products (truffles and olive oil are export items) and clothing stores during our wanderings around the town. We didn't buy much but spotted quite a few people bargaining!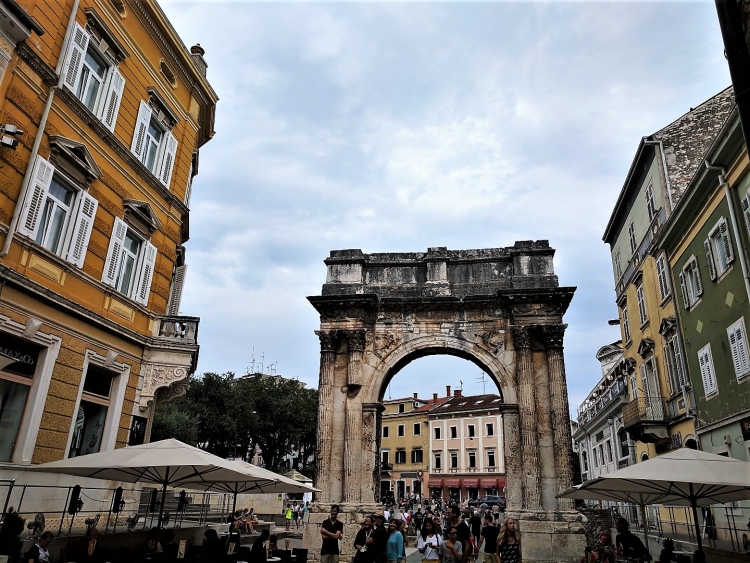 As luck would have it we were in Pula around the same time as a kindergarten friend of mine from Italy (we went to school in Dubai) was vacationing with her family in Umag and so we rented a car (relatively easy to do just don't get fooled into the 'upgrades' SIXT offers as it delayed us significantly) and drove an hour to hang with her family. Umag is a coastal town that's great for a beach day visit but we spent most of our time at their camp ground catching up on the last 20 odd years while our kids played together and my friend translated our English into Italian so her husband, aunt and uncle could understand what we were blabbing about. One of the joys of travelling is re-connecting with good people who have entered our lives over the years and left a positive impression, isn't it?
Of course just like in Zadar, I wish we got to Rovinj on a day trip as there are frequent buses but we had to save something for next time, right?
Food Highlights in Pula
I ate pasta every chance I had in Pula because they just made it so well. I unfortunately did not get a taste of Peka and for that alone I shall have to return! Of all the places we visited Pula was the one that was filled with the most smokers. I even entered a bar that ONLY had "SMOKING ONLY" signs!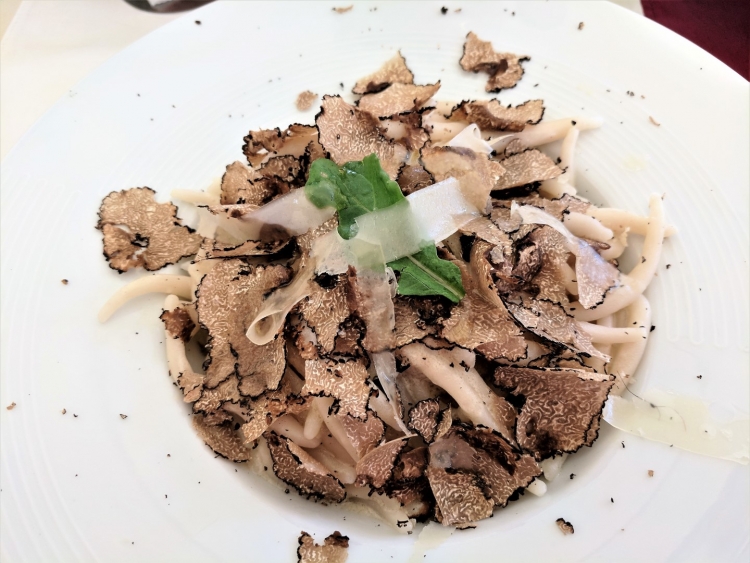 Aligheri : Plujkanci with truffles is what dreams are made of. I thoroughly enjoyed my meal and yearn for this dish now that I'm in Toronto. I mean, just LOOK at the amount of truffles on that dish (and it was around $20)! While we sipped on our drinks enjoying the later afternoon lunch, the kids ran up to the fountain and enjoyed playing nearby. We had no worries as it was a pedestrian only area.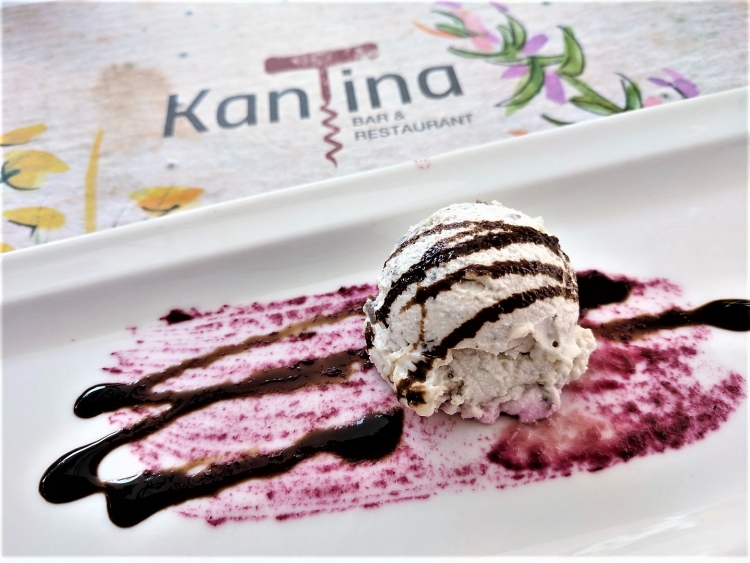 Kantina : Getting hear for an early dinner meant that we had the patio to ourselves and avoided the smokers. They surprised us with a free truffle cheese entree and yes I totally got the Plujkanci here too. The tartare was amazing too.
Old City Bar : If you're looking to have a few drinks, this is a decent spot with a lively vibe. Ignoring the smoke was our challenge but once we found a spot on the patio we were able to hang there late into the night with the kids.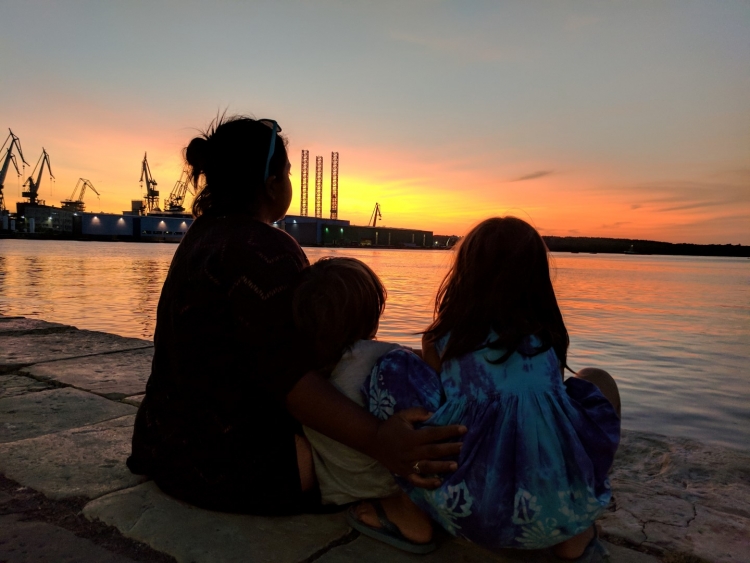 For me Pula is filled with memories of stunning sunsets and the best Plujkanci. For those looking for a relaxing spot where you can catch up on work, enjoy some culture and cafes this is the spot. There was a party vibe to this town as everyone would be up late into the night and you could hear the music from the bars into the morning but it reminded us of our big city lives and we enjoyed that.