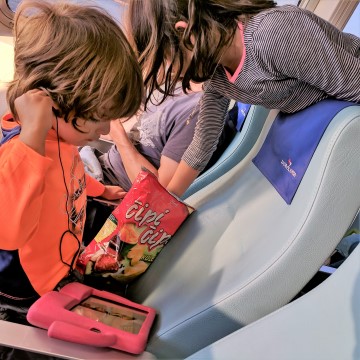 The last month of our 148 day journey was totally a 'fly by the seats of our pants' kinda month. Ironically the only flying we did was into and out of Croatia as we relied on public transit within Croatia. We landed into Zagreb and flew out of Pula but took buses to Skradin and Zadar and ferry to Pula. I knew Little Monkey wanted to get some time on the water and so I spent a fair bit of time researching reasonably priced cruise options but came up with nothing. Everyone kept telling us to rent a car for our travels within Croatia and the locals laughed at us when they saw that we had two suitcases and two kids with us, but we were determined. I struggled a fair bit in my search for a ferry from Zadar to Pula back in August but I found success! Today I want to share a few details to keep in mind if you plan to take a ferry from Zadar to Pula. We loved Croatia as it was full of surprises and we can't wait to show you all that we explored, learned and ate in Croatia with kids but for now, let me tell you about our journey from Zadar to Pula!
Zadar to Pula Ferry Ride – Tickets
After many years, 2017 was the first year the ferry would operate between Zadar and Pula. Hence, many locals weren't even aware of the ferry. We discovered the Jadrolinija Ferry details and found this ferry timetable. The locals told us to go and buy tickets from the main port on the day of travelling but we decided to buy tickets online a day before our travels. Ticket costs were the same (we were able to use our Canadian VISA credit card) and at least this way we had secured our seats (or we hoped – spoiler alert, we had no issues). Adult one way tickets costs us 200 Kunas each and kids 3 to 12 years of age were 100 Kunas each. Those under 3 years of age travel for free. We brought our two large suitcases, our double stroller and our backpacks with no issues.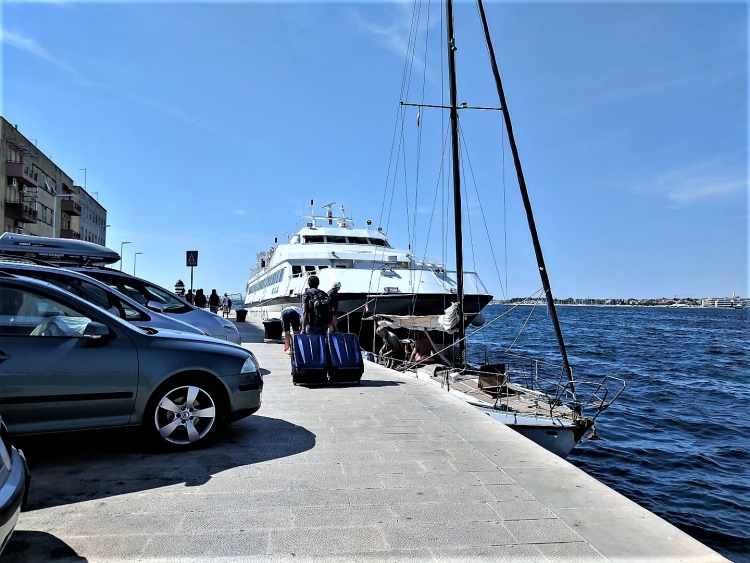 In the high season (July and August) it runs 5 times per week (every day except Tuesdays and Thursdays) from Zadar and twice a week (Wednesdays and Saturdays) during the low season (June and September). In off-season (early October onwards), the catamaran will only operate on Fridays. Journey time is supposed to be about 6 – 6.5 hours. Had we taken a bus from Zadar to Pula we would have spent 6-7 hours on the road as most of them went back to Zagreb (Zadar-Zagreb-Pula).
Ferry from Zadar to Pula – Journey with Kids
On the day of departure we took a taxi to the port and realized that we had arrived an hour too early for our 4 p.m. ferry so we roamed around and picked up a few snacks for the ferry ride. We had read that the selection on board was limited and pricey so we stocked up. People were lined up outside the ticket cabin and we noticed that a line had started to form across the street. It was a scorching hot day and we decided to stay in the shade until the boat arrived. Luckily, curiousity got the better of me and I joined the sun soaked line while Chris and the kids stayed in the shade by the ticket cabin. I got chatting with someone in line and quickly realized that this was the wrong boat and that we should immediately walk 4 minutes up to another boat! We booked it and got there in plenty of time. PHEW! If you're not familiar with the area (and where the boat will park)I recommend getting to the ferry port 45 minutes ahead of departure, especially if you have luggage and kids in tow. They only open the boat for boarding 15 minutes before departure.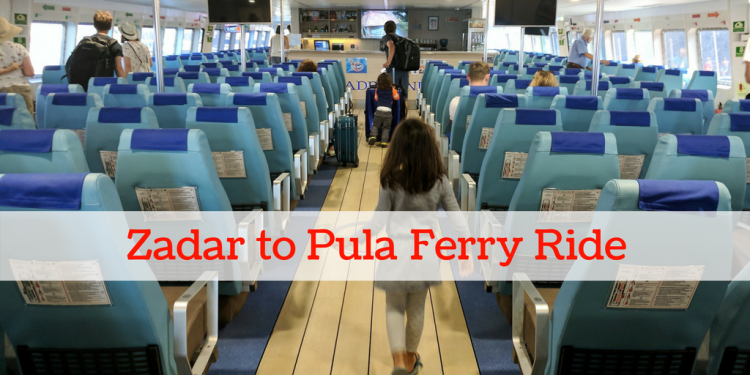 The ramp to enter the boat is very narrow and we struggled to roll our suitcases on and had to fold the double stroller as we crossed the netted ramp from the street on to the boat. Our tickets were scanned from our mobile phones and the staff were very friendly offering to help us with our gear. Seats are not assigned and it seemed that many wanted to sit towards the back of the boat. We pushed our (now opened) double stroller through the downstairs cabin with ease and went towards the front of the catamaran (it's called a Catamaran by locals and is technically not a ferry as only passengers are allowed on board. No vehicles). This was a great idea as the kids had some room to stretch out and since everyone had to store their bags in the front, we not only were able to keep an eye on our suitcases and folded stroller, but the kids were able to play with their toys and look out the window as well.
The washrooms weren't the cleanest by the time we got to them at the end of the trip but we managed. There was a change table in the women's one.
The full route took us to the islands of Unije, Susak, Mali Losinj, Ilovik and Silba before we arrived in Pula around 10:20 p.m. We were supposed to get there at 10 p.m. but we all know that some journeys do take longer. As we started approaching Pula we were greeted by the Arena and and the light up cranes (lightening Giants). It's definitely worth keeping an eye out for, especially if there's a light show happening.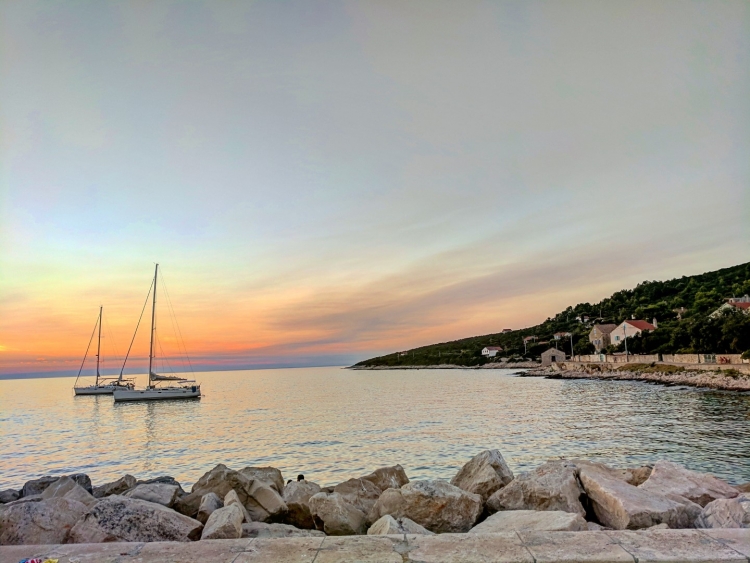 If you're wondering how we passed the 6 hours with our kids, it was easy. Between their iPads, their tiny toys, snacks and the amazing views, we barely noticed the hours tick on by. It also helped that during our stops at each of the islands, the Captain would allow us to step outside and take the views from the boat's deck. I have never experienced a prettier boat ride. Especially as we sailed around sunset! Most of my favourite pictures of Croatia are the views from the ferry. The ferry ride was very comfortable and we'd absolutely do it again when we head back. Yes, I said when. We know we have to bring Chris' dad to Croatia because it's the type of country that he'd appreciate – filled with history, easily navigable downtown cores and the most generous locals we've met to date.