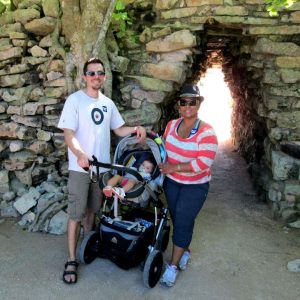 With our upcoming travels we have been in major purge mode to get our downtown condo rental ready. During this purging session I've come to part with quite a few of our baby items but one in particular was very hard to hand off. Over the weekend we passed on our UPPAbaby Vista (yes the same one that came to the hospital for the deliveries of both kids-sniff sniff) to another couple with a baby on the way and I near wiped a tear as we handed it to the mom to be. Little Monkey noticed the departure as well and threw a mini tantrum yelling at me "Why are we giving away our grocery stroller?". Which had me thinking "when does one stop using a stroller?" I mean, we've all seen that really tall kid crammed in a small stroller and I definitely do not want my kids getting lazy or molly coddled.
We've owned many strollers over the past five years but one stroller has been with us from the very start. The UPPAbaby Vista was gifted to us a month before Little Monkey was born by the hub's mom and it stayed close by ever since. I did my research and knew the UPPAbaby was what I wanted for many reasons. I'm thrilled to tell you that I knew what I was doing because that was the best stroller ever. It travelled with us to many countries, including Mexico and the U.S. None of our other strollers have travelled as well as the UPPAbaby has.
When Baby Boy arrived I wasn't ready to sell our UPPAbaby and decided to baby wear for nearly the entire first year. I eventually had to switch to a double stroller and because we had the 2011 version, we weren't able to convert it to a double the way I wanted (I like my kids to face each other vs. getting lost under one of the seats). That was the only negative thing about the old UPPAbaby Vista. Mind you the newer UPPAbaby Vista strollers have a great double option and anyone who asks me for advice on the best double stroller gets pointed that way. Yet, it was too late for us as we had already bought a side by side double (chosen by the hubs and never loved by me). Despite living in a downtown condo we kept both strollers and the UPPAbaby greeted every visitor as soon as they entered our place. Yes we live with strollers in our living room. However, like many things in life,  you don't appreciate it until its gone – how did I never write a review of our UPPAbaby? From the sturdy never punctured wheels and the reclining positions to the amazing customer service and easy fold options, the Uppa was everything we needed as a city living family (yes it fits on the old TTC streetcars). One of the main reasons we kept the UPPAbbay around was because it has an amazingly large basket and that's how we did our grocery runs. Honestly, there's a reason Little Monkey called it our "grocery stroller".
Now with a 3 and 5 year old at home, I know that TECHNICALLY it's time to stop using the stroller. But… I'm not ready and I will tell you why.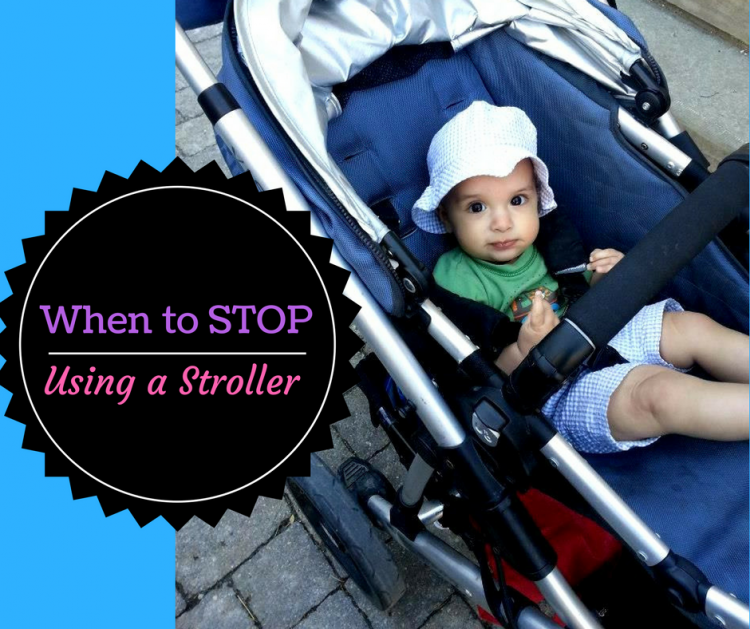 Many advice that by age 3 most kids are ready to ditch the stroller but I can tell you that living in a city and not owning a car, we need the stroller and will need it for a couple more years. We walk everywhere and making the 3 and 5 year olds walk hours at a time is definitely not practical. My ears are already ringing with the potential whining. We also can be found exploring places all day long, especially during our travels and a nap is inevitable (and greatly welcomed). A stroller makes that possible and truth be  told, the hubs and I have enjoyed many a drink at a fancy spot while the two of them take a siesta.
When do you stop using a stroller?
The answer isn't as simple as an age. It depends on the family's lifestyle. I'm all for 60 minutes of activities and all that jazz but if you spend 10 hours a day outdoors and rely on walking everywhere, then you're probably better off holding on to the stroller for just a bit longer!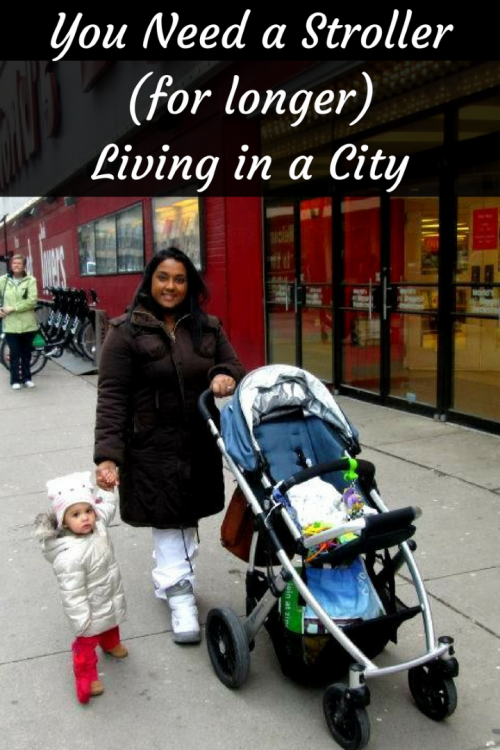 Having parted with our single UPPAbaby, I think the next step is to part with our double Mountain Buggy (yay!!) but we're not ready to ditch the stroller life just yet. As we plan to explore Europe with two kids under the age of 6, we need a good sturdy double umbrella stroller. One that's easy to take up a flight of steps with a whiny kid by your side and heavy bag on your shoulders. I have my needs and the search is on! If you have any recommendations for a good UMBRELLA double stroller, please do share!
I'm off to go fill the stroller void by shoving chocolates in my mouth.