For your family's next Ontario road trip, look towards the Oxford County Cheese Trail. Having spent a weekend exploring this delicious culinary trail in Ontario, we're here to tell you that it's one of the best places to visit in Ontario with kids. There's something for everyone and we were surprised by how budget friendly Oxford County is for city slickers like ourselves who are looking to embrace the slower pace of life, meet with farmers and have a gouda time! Oxford County is known as the Dairy Capital of Canada and there's good reason! So sit back, pour yourself a cocktail and bring some cheese to nibble on as you read today's blog post about the Oxford County Cheese Trail and why your family may soon want to pack a cooler and embark on this family friendly Ontario road trip. Oh and don't worry, although Chris isn't a fan of cheese, he still had fun! There's something for everyone, even non-cheese lovers.
Disclosure : This post is in partnership with Oxford County but, as always, opinions are TOTALLY ours! Also, please be sure to check Oxford County's what you need to know page and double check with the the hours, services and safety protocols at the businesses you'd like to visit.
Oxford County – one of the Best Places to Visit in Ontario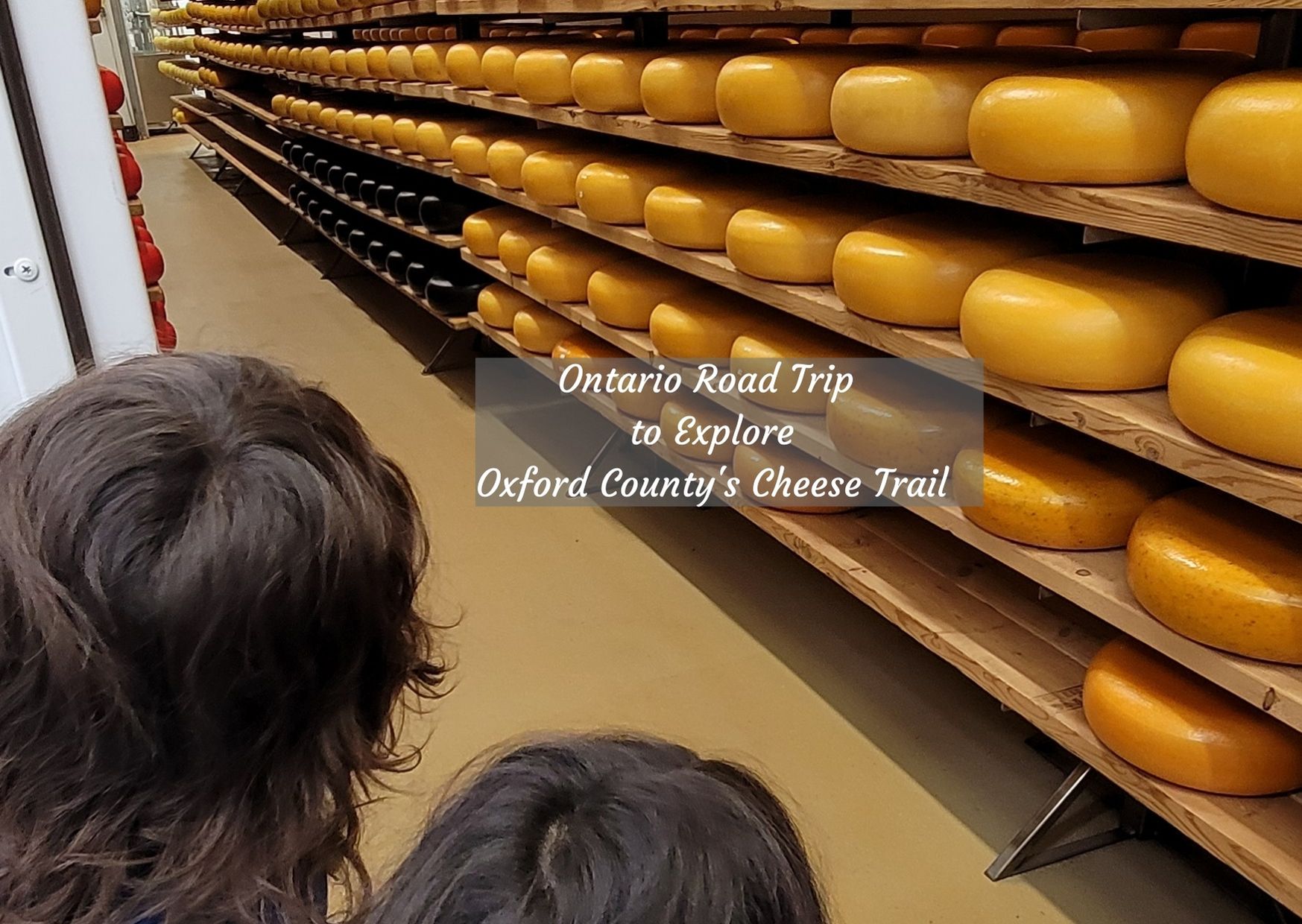 Located a 90 minute drive from downtown Toronto, Oxford County, is the traditional territory of the Anishnabek, Haudenosaunee, Ojibway/Chippewa peoples. Today, popular places in Oxford County include the city of Woodstock, Ontario and the towns of Tillsonburg and Ingersoll. Over the years I had heard about Oxford County and even had a friend move to the area a few years ago. This was a friend who I used to go clubbing with during my younger days and despite us having kids close in age, I never visited her during all these years. My loss because she's right! There is plenty for kid friendly things to do in Oxford County and for folks like me who travel for food, this is an easy Ontario road trip. Especially during these pandemic times, we were thrilled by the various outdoor activities on offer and how we got to meet and learn from the farmers and businesses owners. We enjoyed our visit so much that we're planning some future day trips from Toronto and thinking ahead to a fun fall weekend in Oxford County as well!
If you'd like to see live videos from when we were touring, check out our Oxford County Instagram Highlight.
Ontario Cheese Trail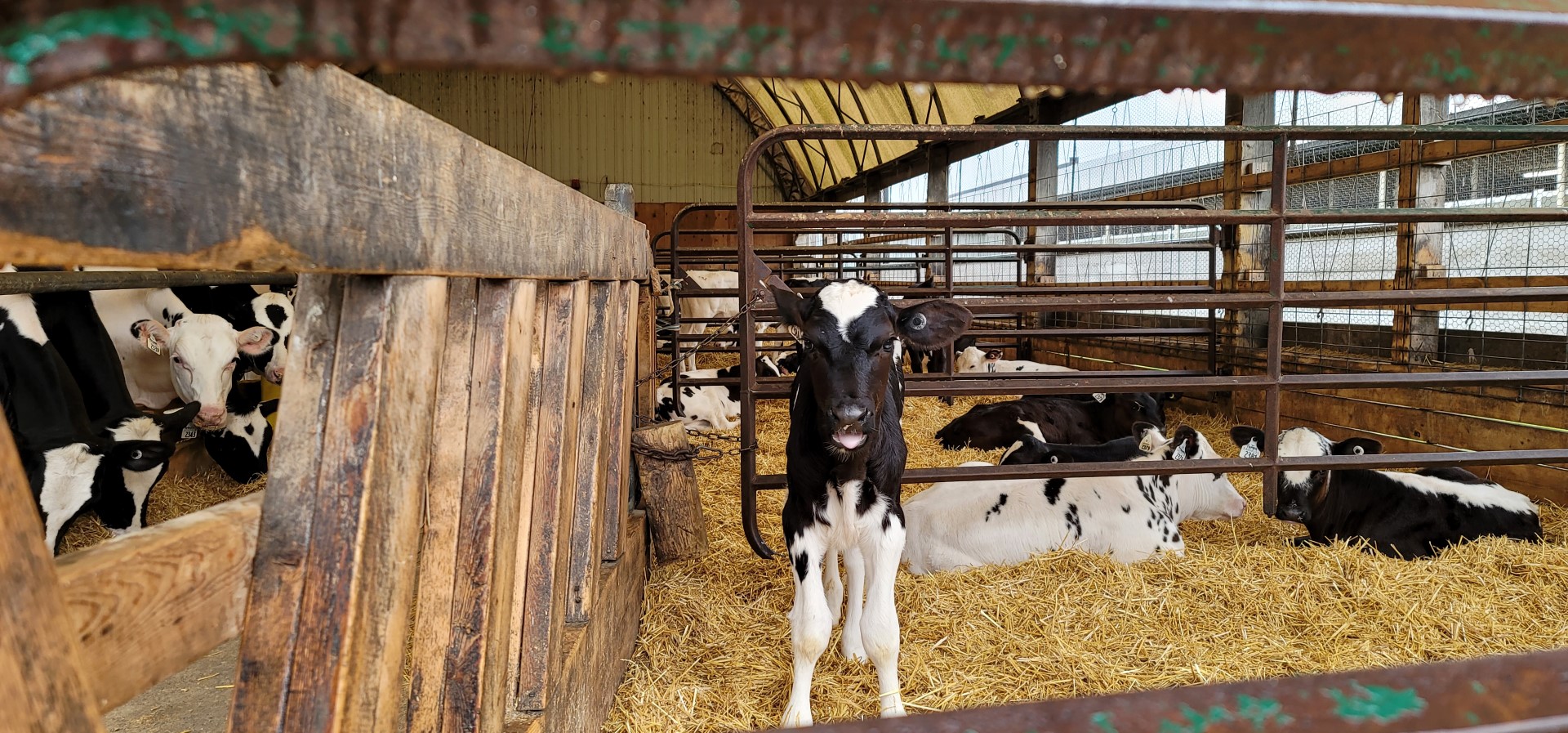 Who would have thought that we have an amazing cheese trail in Ontario? With over 20 stops, this self-guided Ontario cheese trail enables families to pick and choose where they want to go. There's no charge beyond the items you purchase at retail and a few spots have quick tours (when it's safe to do so) that are either pay what you can or under 10 bucks! Now you see why I found this road trip from Toronto such a budget friendly option! The cheese trail isn't all about eating (though you know I would have no complaints about something like that), it also features stops that showcase items made from the by-product of cheese making (things like soap). What this means is that this is also a very educational Ontario road trip for families looking to weave in some learning. Our kids not only learned about cheese making but they also learned about raising cows and got to pet bunnies on this trip.
Things to do on the Oxford County Cheese Trail with Kids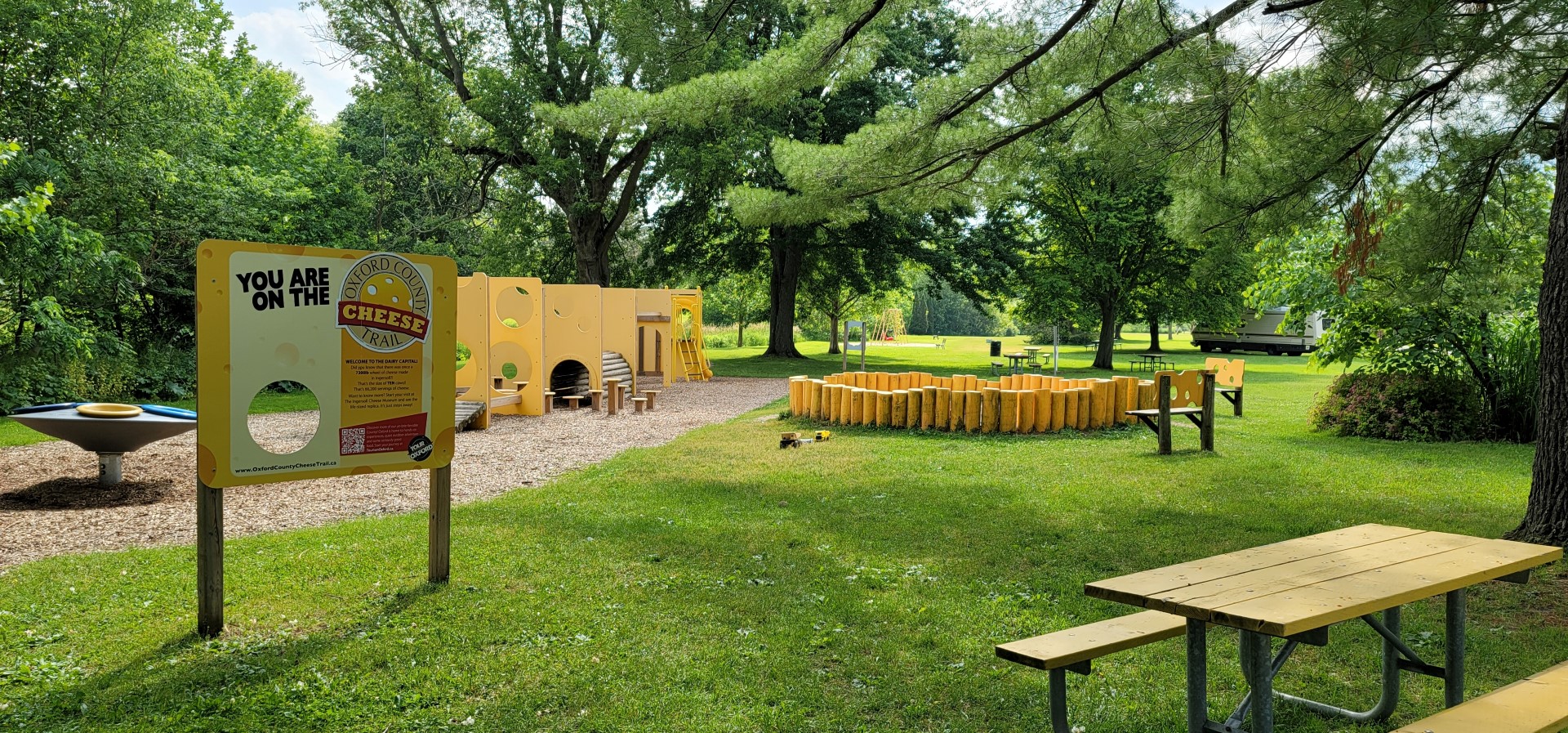 To make your life easier, Download the Oxford County Cheese Trail map! It will show you the various activities in Woodstock and each of the other towns. I'm going to share the various ways we explored Woodstock Ontario and the surrounding area with our kids, Akira and Apollo, who are aged 9 and 7. For our list of things to do in Oxford County we opted for some that were super kid friendly and some that welcomed kids but was really a spot for Chris and I to enjoy!
Meet the Cheesemakers
Mountainoak Cheese : This is one of my all time favourite Ontario cheese brands so it was a thrill for me to experience a visit here! We met with owners, Adam and Hannie, who shared their delicious cheese and family history with us. They were cheesemakers in Holland who immigrated to Canada and started a farm. Today, their state-of-the-art processing plant allows them to continue the tradition of making Gouda-style cheese made with high-quality, fresh milk from their own dairy cows (who you can see when you park at the farm). I definitely plan to return here for a tour of their plant (pre-book these once we move into step 3 – I was told tickets are under $10) because it would be so neat to walk through, see and smell the cheesy goodness being made. Also, be sure to stock up on their Black Truffle Gouda, the kids and I LOVED it. All of their cheese are lactose free by default so even Apollo joined in on the sampling. You can purchase cheese and enjoy it on a bench outdoors.
Ingersoll Cheese & Agricultural Museum : Even during these times when the actual museum is closed, families can still enjoy the cheese themed playground and pick up a scavenger hunt sheet when they visit here. Once things open up, tours will resume and you can also drop by the museum and roam around on your own. Although the actual museum portion may be a bit boring for young kids, adults will find it fascinating. I was surprised by how many items were in the main museum!! From tales about the underground railroad ending in Oxford County to magnificent wood carvings, you find it all at the pay-what-you-can museum. Kids visiting Oxford County will enjoy walking through the old cheese factory and see a replica of the Mammoth Wheel of Cheese and how Ingersoll got on the map for cheese making and dairy farming. I think they will also appreciate checking out the blacksmith barn and the School onsite.
Gunn's Hill Artisan Cheese : Continuing on the Oxford County Cheese Trail, if you want to sample cheese and let the kids explore a small playground, this is a great stop. Their cheese shop is open all week long but if you visit during the week day, you also get to watch the production through a viewing gallery in store. They too will re-start their full tours where you can meet with a head cheese maker, when it's safe to do so but for now, they have a cow statue, picnic benches and playground for families to enjoy. They will also build a cheese board if you want to purchase one and have a variety of goods that can be purchased in store.
Fun Experiences on the Oxford County Cheese Trail
Makkink's : This cut your own Ontario flower farm was a delight to visit! The family run flower farm is open from late spring into late summer and has over 30 variety of flowers. Sunflower season will soon be here so book your tickets in advance! Tickets are $30 per person for one bunch of flowers and families can pay $5 per additional person if they don't each want a bouquet (kids under 13 are free). Upon arrival we were greeted by owner (and mom) Hilde, and handed pails and clippers (which were sanitized in front of us). She taught us how to cut the various flowers and shared some of her own stories growing up in Holland. The kids enjoyed prancing around picking a variety of flowers which were then made into a bouquet. Be sure to save space in your car for these flowers because they are gorgeous and even two weeks later, I write this blog post with the sweet fragrance of the Bells of Ireland engulfing me. If you have time, grab a drink from their store and enjoy some time on their cute patio. One day I hope to rent this spot out for a fun shindig with friends!
Wild Comfort : I absolutely loved our experience at this soap shop. Why is a soap shop on the cheese trail your ask? Goat Soap!!! Yup the dairy byproducts are used in the making of their soap. While it's not always offered, I highly recommend calling ahead to see if you can experience a quick soap felting session. It was calming and the soaps smelled amazing too. Even Chris got into the action where we picked our soaps and were then taught how to take wool and felt it. The cost for this is super reasonable because you pay for your soap (ours was around $6) and an additional $2.50 for the felting process. We took it outdoors and did it on a picnic bench under the shade of a tree. The kids were quiet as they partook in this pandemic friendly Oxford County activity and it was truly glorious! Owner Danielle makes all the skincare items herself and offers soap making classes as well.
Greener Pastures Eco Farm : Our visit to this Ontario farm was a unique one. We were greeted by the family where mom and the young daughters walked us through their farm sharing their space and stories. It was very educational to learn about the cows, the pigs, chicken and even the rabbits here! Akira, our animal lover, was smitten with the rabbits and has kept asking us why we didn't buy one during our visit (grandma being allergic isn't an acceptable response). We learned about their humanely raised and pasture based practices where they rotate their animals and focus on what is good for the soil. It was fascinating to hear how they are leveraging traditional farming methods and bringing in new alternative-based techniques to their farm. At this moment their shop is open and you can purchase meats, cheese and other snacks but there is no formal tours being offered. If you want a tour, simply ask and they'll take you on a walk around their farm.
Snyder's Family Farm : A sunset campfire is a unique experience and I highly recommend booking one in. Tickets are priced at $20 per person and upon arrival our fire was lit so we were able to relax and enjoy the setting. With the booking everyone also gets a marshmallow kit which obviously put a smile on the kids' faces. During our visit the rest of the farm was closed but we were able to still enjoy quite a few things here. We spent more time on the free activities than at the campfire -hahah! We played giant jenga, the kids ran through the playland and Chris joined them at the cart track. And we also roamed through their Christmas tree farm. My favourite part was the ability to order baked goods and drinks from their on-site bakery. Be sure to buy some buttertarts and handcrafted S'mores kits! This family run farm has a lot on offer during the summer but obviously a few things are closed right now. During the day time, when things re-open, you would have unlimited access to farm fun featuring an animal barnyard, jumping pillows, giant peddle cart track, play areas, hayrides, straw jump and more! I have already told Akira that we will return towards Halloween for their horror themed activities!
Thames River Melons : Looking for a pick your own fruit and veggie experience? This Oxford County farm on the cheese trail was offering strawberries, radish and beetroot during our visit. There's more now from I can see online with potatoes, carrots, lettuce, kale, peas, raspberries, blueberries, green onions and so much more! Obviously, if you don't want to pick your own, you can always purchase at the store on site. Be sure to order some made-from-scratch Strawberry Shortcake and enjoy it outdoors. Akira even bought some crackers at the store and fed the chickens on-site. Chickens who also enjoyed eating our strawberries! I highly recommend a visit here because everything is so spread out and it's very easy to distance from others despite having so many options. During our visit there were so many strawberries that we barely had to move more than two feet to get two buckets full! Just remember to pack some large tupperware so you can store things properly for your return trip. I ended up smashing them all and so we're enjoying a lot of strawberry juice and strawberry popsicles here!
Jakeman's Maple Farm : Here's your chance to step back in time. This spot is on the Oxford County cheese trail because they sell maple syrup and maple ice wine that pairs beautifully with brie. Ask them for the recipe when you're there and they'll gladly share! This family run Ontario maple farm has been around since 1876 and they host many community events here. While it's easy to think of them as merely a quick stop to grab maple syrup and maple candies from, I urge you to spend a few minutes perusing the memorabilia at the back of the store. Chat with the owners because they'll be around! There are so many artifacts that will spark conversation between the kids. Across the street is Trillium Woods Trail and so we took a 20 minute walk through the forest and enjoyed nature as we sucked on maple lollipops! Yes, Apollo was shrieking about the bugs. ss
Where to Eat on the Oxford County Cheese Trail in Ontario
Habitual Chocolate : First of all, if owner Phillipe is around, ask him all about the single origin, ethically sourced chocolate they make here. We enjoyed a chocolate sampling and chocolate making lesson before digging in to the real reason this store in Woodstock is on the Oxford County cheese trail… their Brie Ice Cream!! For $7.50 they offer a 4 cup sampler pack where you get a variety of ice cream flavours. Our packs had Chocolate drizzle, Brie, Beer and Strawberry. Now you see why I mentioned how budget friendly the Oxford County cheese trail is? If they aren't busy you can nab the table in the front to enjoy the ice cream on a hot day!
Elmhurst Inn Mansion Restaurant : The patio here was our first patio dining experience since the start of the pandemic and it was so enjoyable! The menu features local ingredients and changes with the season. With a variety of options, I enjoyed my salmon and lentil main course (the lime vinaigrette was perfection) and Chris was thrilled to see a salad on the menu after the fried foods we had been indulging in over the course of the week. They do have a kids menu here and we were surprised by how large Apollo's burger was! The chef even accepted Akira's request of having two separate sauces for her spaghetti! If you have the chance, I recommend taking dessert and enjoying it in the front lawn of the hotel, near the fountain. Things were busy on the day we visited and since it was our first patio experience after ages, we got a bit antsy between the courses and truly enjoyed the sunset dessert spree on the lawn! Even if you aren't staying at the Elmhurst Inn, you can enjoy breakfast, lunch or dinner here!
The Oxford Hills – Theos Restaurant : On a sunny day, this is THE place to be. Located on a golf course, this casual patio is an idea spot to sip on cocktails and nibble on items like hot dogs, fried chicken sandwiches and breakfast wraps. Obviously, Theo's is on the Oxford County cheese trail because their menu features cheese from the local cheese makers. They also carry local craft brews which Chris enjoyed whilst I savoured the cold salt rimmed lime margarita on the hot day we visited. Not to worry, they're great with kids as owners Eric and Jen have kids of their own!
Brick House Brew Pub : This is another one of those brew pubs that Chris and I want to bring our friends and spend an entire afternoon at! Their back patio is totally cute and they not only have 25 brews on tap but they are also a brewery. We bought quite a few Upper Thames Brewing beers back with us! Unfortunately for us, it was raining the moment we pulled in to the restaurant and so we grabbed take-out instead of enjoying that sweet patio. However, we did enjoy a variety of pub-style dishes from here. The Parmesan tots were really good as was the cheesy pretzel. Their Spicy Fried Chicken wasn't spicy for me but the quality of meat was superb. They have a variety of burgers, most of them featuring local cheese and they also have a kids menu. Needless to say, this Ontario brewery will be one we return to very soon!
1909 Culinary Academy : Oxford County restaurants are absolutely adorable and the 1909 Culinary Academy patio is no exception. Chef Zehr had to pivot a few of his plans when the pandemic kicked off but we all agree that the direction they heading in is a fab one. The restored Schoolhouse that is now a teaching academy and restaurant had a patio set up where guests get to dine al-fresco. In addition, they have built and maintained a garden with raised beds full of fruits, vegetables and herbs with walking gardens for the public to enjoy. Everything grown on-site here is donated to people in need in the community. Not to worry, the patio menu also features herbs and veggies grown in Chef Zehr's other garden. We enjoyed craft cocktails with our food which were served in takeout containers so it was easy for us to bring the leftovers home with us. The menu changes often but if the Peach and Asian Salad is on the menu, get it! No going wrong with any of the burgers either. Oh and yes, they have a kids menu here as well!
Early Bird Coffee : Looking to start your day with a small batch coffee tasting and baked goods? This family owned spot is a fabulous stop to sample house ground single origin coffees which can be served in a tasting flight (a la wine and beer) format. All of their beans are sourced with sustainability and social impact in mind and their coffee subscription is one I plan to test out soon for our Canadian subscription list! Not to worry, they also have some fun drinks for kids; mine enjoyed a fresh strawberry milkshake latte (local strawberries from a nearby farm of course) and they even had a variety of dairy free options! In addition to the roastery and café selling baked goods, they also feature local products (like Habitat Chocolate) which can be purchased. How cute are the painted picnic tables in their parking lot? We sat on one painted by local artist Julie Hawkins, whose work I would love to see on a Kimono style wrap one day.
Plan Your Cheese Trail Getaway- Best Hotels in Oxford for Families
Elmhurst Inn : For families looking for a touch of luxury, I highly recommend staying at this boutique hotel. Back in 1865, the James Harris Cheese Factory was situated on what is now known as the Elmhurst Inn. Why is that special? Because a year later, the factory was the birthplace of the 7,300 pound touring " Mammoth cheese" which put Ingersoll on the map and made it the Dairy Capital! The Inn offers 47 spacious guest rooms and 2 luxury suites. We stayed in the Pink Suite which had a pull out couch for the kids in the living room and a separate room with a King bed for Chris and I. Our bedroom also had a jacuzzi which the kids loved. Now, as you may know, I get creeped out when I see bathtubs IN the bedroom but it had been so long since I enjoyed a good soak that even I took some time to unwind in there. I know! Shocking! The suite had a fireplace and a mini fridge which were both put to use! A stay at this Ontario hotel was just what my soul needed. In addition to a restaurant, they also have spa on-site for parents who may need some extra TLC. And the gardens surrounding this historic property is perfect for lounging and picture taking, no wonder many weddings are hosted here! I have wanted to experience a stay at this family friendly hotel for a good while now and I'm so glad I was able to. Their staff are very attentive and every precaution has been taken to ensure everyone's safety. Including mask wearing indoors when you're not in your room, sanitizer stations at every corner (including the elevator) and distancing measures adhered to.
Holiday Inn Express Woodstock : While this isn't a spot I'd regularly highlight, I wanted to experience a stay here for a couple reasons. Firstly, for those looking for a budget friendly option, this is a solid one. Not only was the place renovated and rooms clean and modern, but they are also well located on the cheese trail. During usual times they offer a buffet breakfast and now have a pre-order system where you can grab your orders (including egg muffin sandwiches, baked goods and bagels). The main reason I stayed here was to see what the slide was like…yes they have an indoor pool and slide! Kids will love it. It wasn't open during our visit but as we move into step 3 things will re-open again. I will also mention that they have a coin laundry on-site and both, Burger King and McDonalds (which are across the street), have play spaces for young kids. As you can see, families looking for traditional play areas, will appreciate staying here.
Tips for Planning this Ontario Road Trip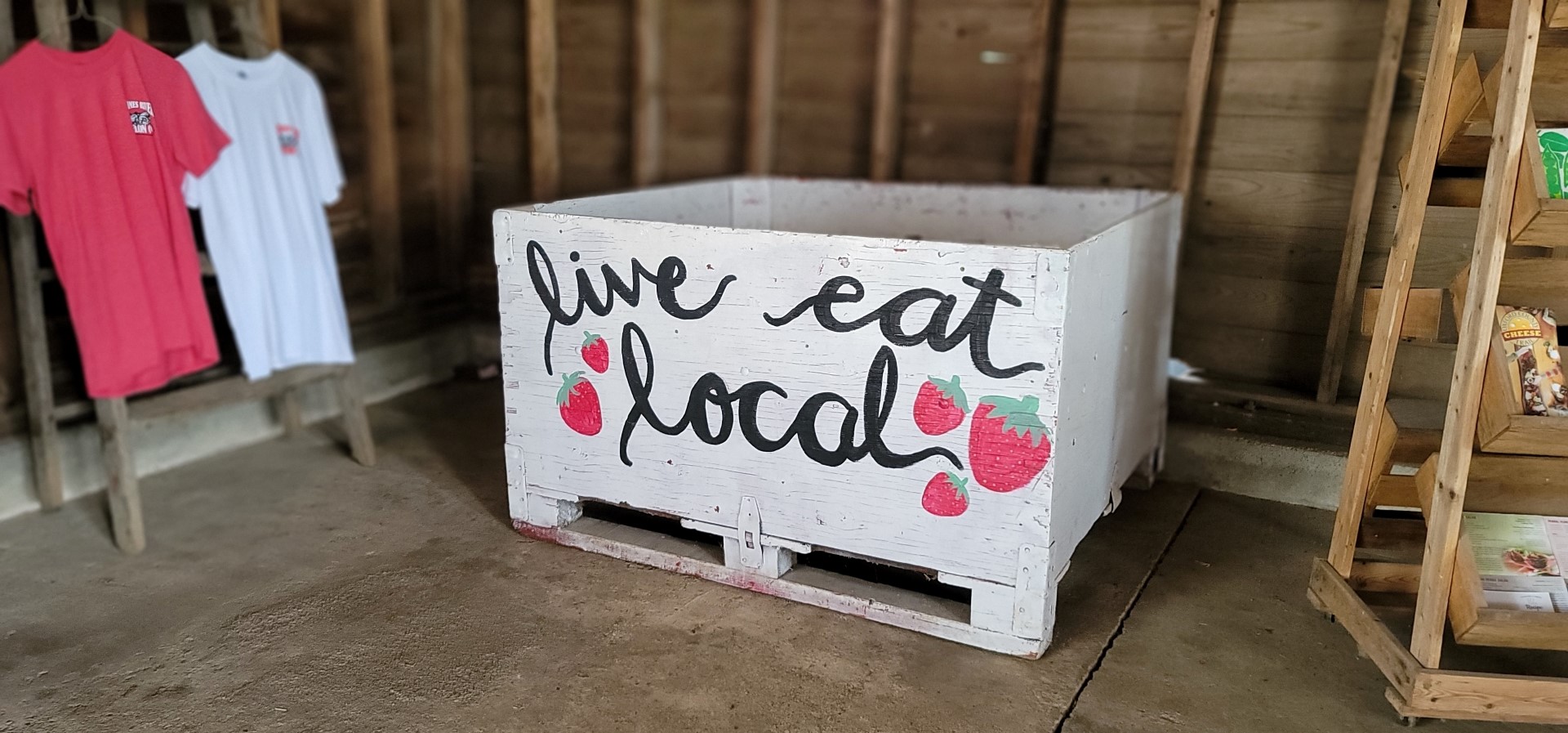 As you plan this Ontario road trip, we have some advice for you. I know I will be visiting Oxford County again because we had an amazing time. Not just because none of us had travelled in the past few months but because the county is so family friendly and welcoming. It was nice to be able to experience new things, meet friendly locals and taste our way through the Ontario cheese trail. As you plan your visit to Oxford County with kids, here are my tips!
Avoid Sundays if you can as several cheesemakers and other stops are closed (you can see our itinerary below to see what was open during our visit)
Pack a cooler to bring back all the delicious meats and cheese you'll be buying
Book your tours in advance (when they are offered)
Pack large containers that will protect your fresh farm picked fruits, flowers and veggies from being bruised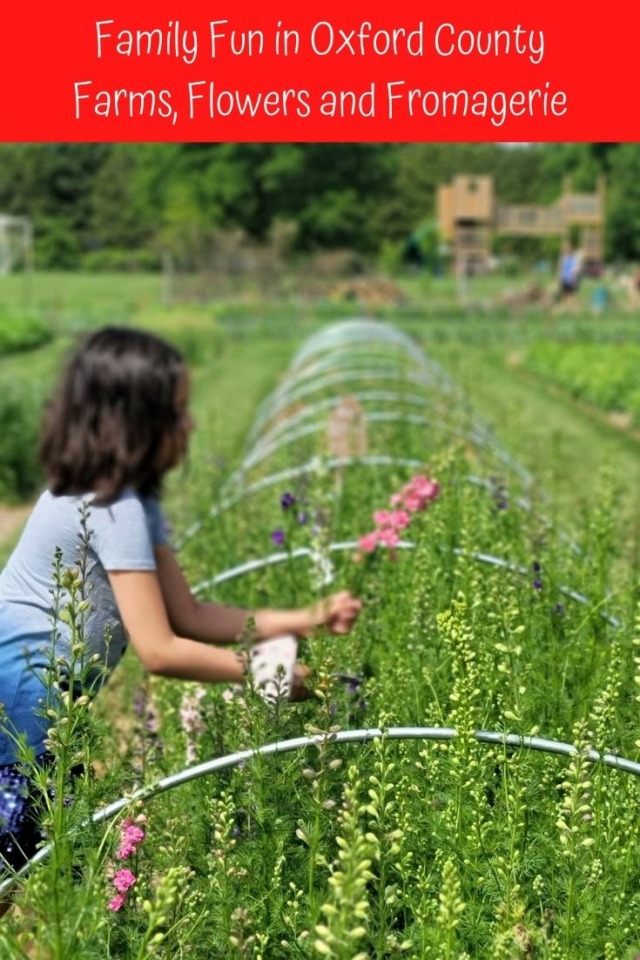 Oxford County Itinerary for those with Kids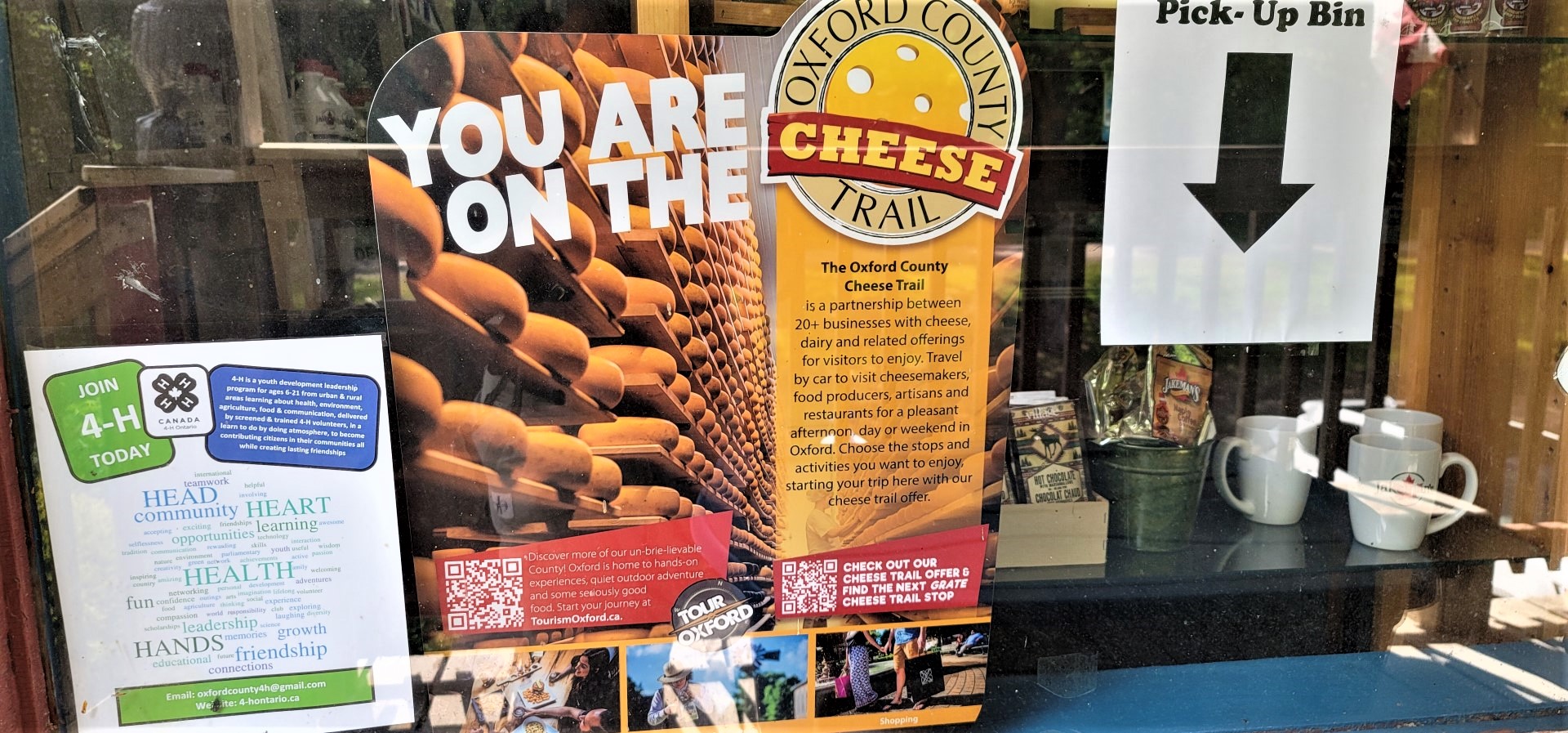 10:30 a.m. Moun
tainoak Cheese
12:00 p.m.
Brick House B
rew
Pub
1:30 p.m. Habitual Chocolate
2:00 p.m.
Jakeman's
Maple Farm and Trillium Woods Trail
6:00 p.m. Elmhurst Inn
Mansion Restaurant
1:00 p.m. Gunn's Hill
Artisan Cheese
3:30 p.m.
Greener Pastures Farm
7:00 p.m. Snyder's Family Farm (2 hour experience)
10:00 a.m. Early Bird Coffee
11:30 a.m. Thames River Melons
1:00 p.m.
1909
Culinary Academy
If you'd like more information about the Oxford County Cheese trail, email at
[email protected]
!