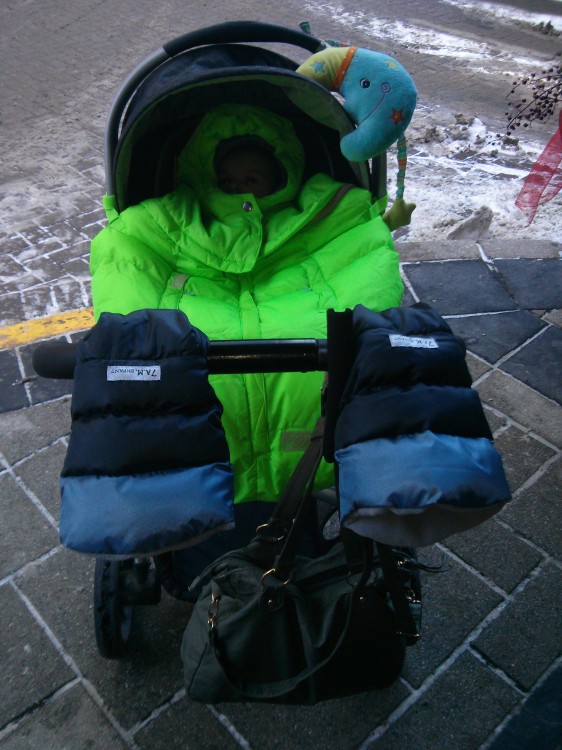 Our weather in Toronto has been absolutely ridonculous. Warm flipflops one day and major blizzard the next so I'm so thankful that I have my 7 A.M. ENFANT Pookie Poncho and WarMMuffs on hand for this craziness. Anyone who's seen pictures of me lately has been asking me about the bright neon green cocoon I've been attached to..well that's the Pookie Poncho!
When 7 A.M. ENFANT initially asked me if I'd like to review it I was absolutely confused…I didn't really fully comprehend HOW USEFULL it would be. Then I started using it. Now it's pretty much always on me…like my engagement ring.
So here's the quick and dirty on what I love about the Pookie Poncho
EXTREMELY versatile  – It can be used on an infant car seat, baby carrier and stroller. Now that's good use of money
SUPER easy to drape – Watch the video above to see me bundle the kids up. I've done it numerous times with a baby in hand and nagging toddler at my knees
BRIGHT colours – There's a variety of colours but if you use public transportation or walk around in the city, I recommend a bright colour. No one bumps into us as they did with my previous black one
DURABILITY – The material is washable, soft, warm and weather resistant all in one. Yes. It is possible
TWO hoods – Easy interchangeable hoods are great for babywearing . The clip on hood is good for  backward facing babies and the zip hood is good for forward facing and ofcourse the stroller and car seat.
EASY to pack up – barely takes any room and I've shoved it in my large handbag during our travels
POCKET – Okay it isn't really a pocket as much as a slit but it's perfect for sliding hands in, either your own when babywearing or for the kids when they're looking to grab something to bring into the poncho
Overall Baby Boy is the one I use this for as I'm always babywearing (we're yet to find that dream double stroller – hunt is on!) but we did test it out on the Little Monkey who's happy once she's in it but as always it's a battle getting her IN the stroller. C'est la vie! On a side note the hoods are great but on a windy day I like to double up with a hat on Baby Boy, just incase it's crazy chilly. Gone are my days of putting on extra layers of clothing and ending up with a sweaty cranky baby (during my days of using a felt cover). With the Pookie Poncho I just use a think sweater or hoodie and we're good to go (with my body heat ofcourse) – even in a crazy winter storm.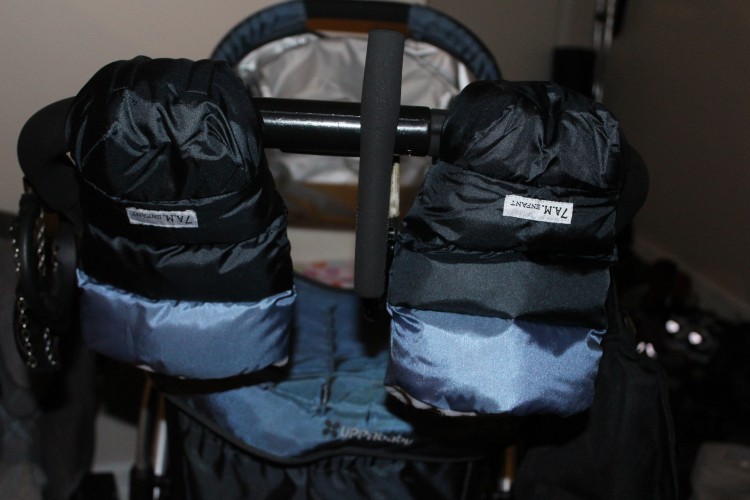 If you're anything like me…when you're out and about you're constantly taking off your gloves to tend to random toddler and baby needs. This is where the WarMMuffs comes in. These are gloves that are ALWAYS attached to your stroller. No more leaving the house having forgotten your gloves (only because you had to run around to tackle the toddler, pick up a bottle of milk and then wipe some drool – all whilst leaving the front door). I've had friends who visit us who love pushing the stroller just so that their hands stay cozy warm. Again available in a variety of colours but this time I matched it to my stroller. Matchy Matchy. Me likey. Just slide your hands in and out without fumbling.
Like I said, I was dubious about bringing in another item into our already crammed up house but the Pookie Poncho and WarMMuffs are definitely one of our favourite items! They will be making our faves list for baby showers! If you live in the tundra and have little ones who are exposed to the snow, hail, wind and rain for a good part of the winter – the  7 A.M. ENFANT Pookie Poncho and WarMMuffs are most definitely FOR YOU!