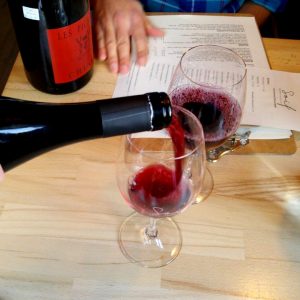 With its abundance of great wine, delicious craft beer, and fine French cooking, Quebec is one of our favorite places to visit. After finding a number of great adventures with the kids in Montreal last year, Yashy and I recently travelled, sans kids, to the the Outaouais region, where we stayed in Gatineau and included a visit to Soif, an exquisite wine bar owned and operated by renowned Canadian Sommelier, Véronique Rivest. It was a treat we won't soon forget. After a day exploring the beauty of Outaouais, we brought strong appetites, early on a Saturday evening last November, and left feeling pleasantly, almost painfully stuffed.
Disclosure : Our visit was part of the prize we won from Tourisme Outaouais and Travel Massive but, as always, opinions are TOTALLY ours!
Soif is a tapas style restaurant where the server brings dishes out one or two at a time. It's offerings during our visit included Boards, featuring charcuterie, cheese or vegetable options, and about a dozen Small Plates that included a mix of seafood, meats, and vegetarian dishes. Some of its more eclectic offerings included duck hearts, fried smelts, and spiced and smoked nuts, leaving us with a nice range of choice for the evening.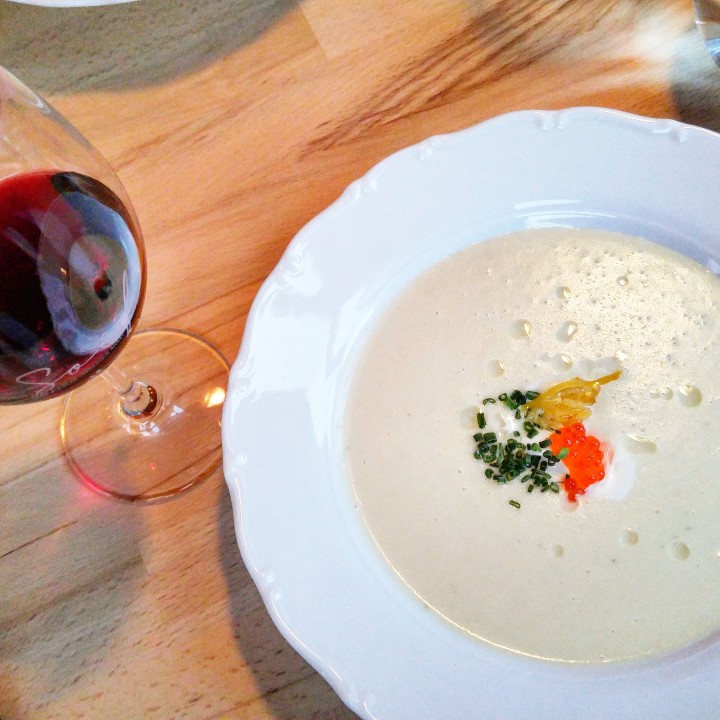 We started with a beverage, wine for Yashy and, for me, the Epic Stout from the GREAT La Trou du Diable brewery based out of Shawinigan, Quebec. Our first dishes were the Charcuterie Board as well as the Salt Cod Potato Soup. The Charcuterie was really nice, and came with 6 different meats, including several sausage types and even jerky, but it was the soup that blew me away. I am a fan of cream based soups and practically order the seafood chowder with every meal when I am visiting a coastal area. Similar in flavour to a good seafood chowder, minus the chunks of seafood and potato, Soif's salt cod and potato purée, made with crème fraiche, capers, lemon, and chives is one of the best soups I have ever tasted. I was lucky too. We only ordered one to share, but our waitress brought us each a bowl. Yashy wasn't a fan of the salted cod flavour and so I got to eat both, which I was very happy to do.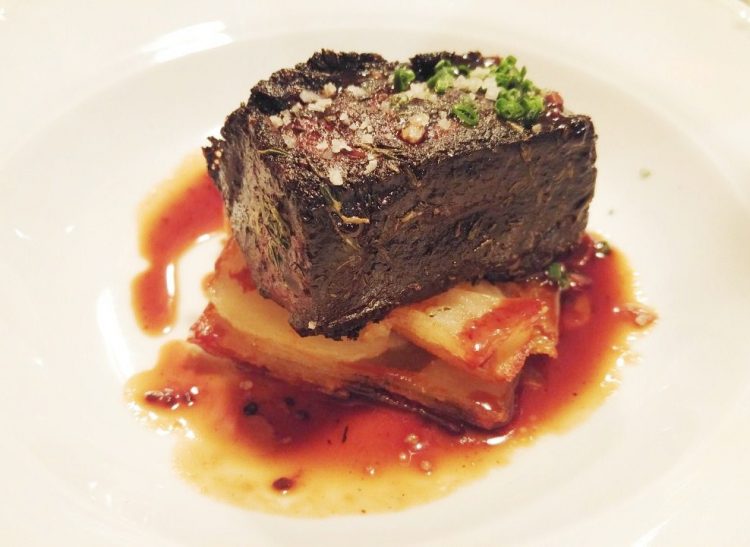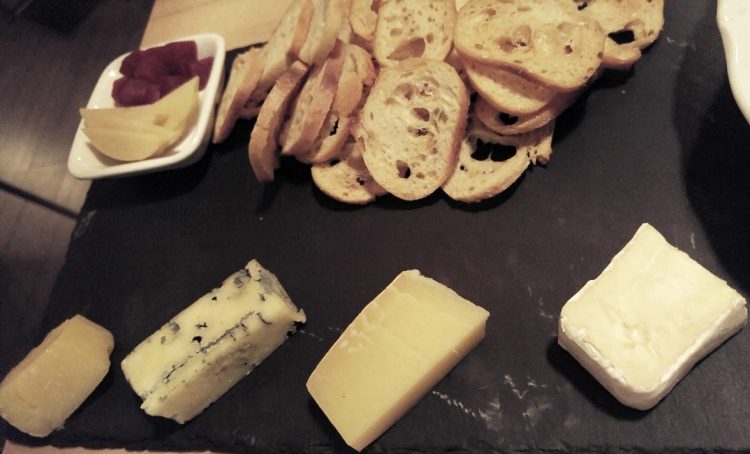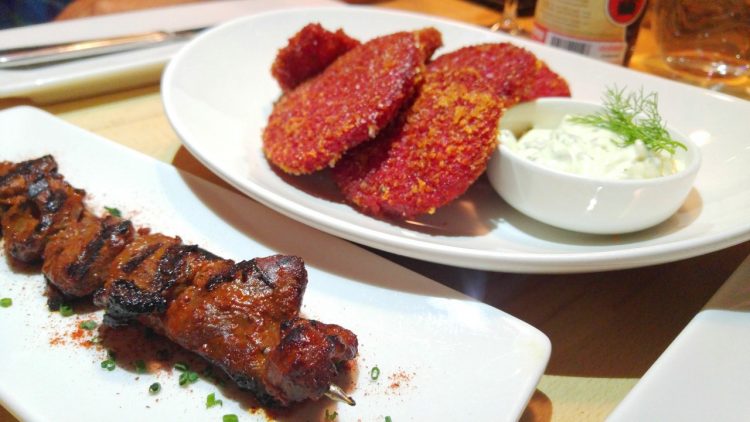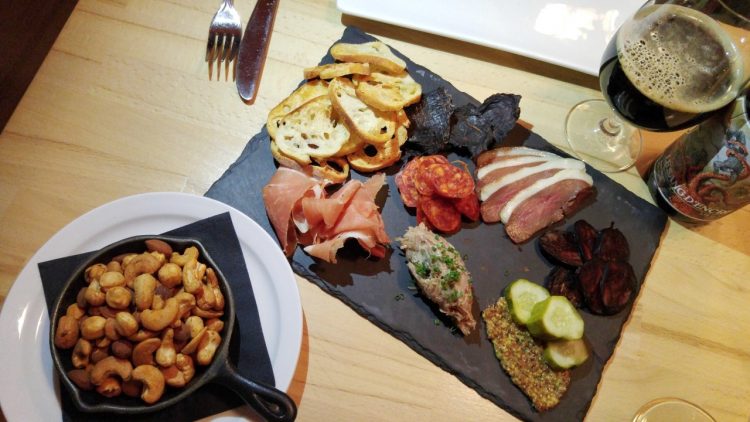 Through the next hour and half, we were served a variety of small plates that included the Spiced and Smoked nuts, the Skewer of Duck Hearts, the Fried Beets, the Cheese Board, and the Boudin Noir, which is a type of blood sausage. The duck hearts and fried beets stood out for me, while Yashy savored the cheese and the boudin noir dishes. Aside from the cheese based dishes, which I am not a fan of anywhere, the whole meal was a joy. I love a restaurant that experiments with ingredients I rarely eat, prepares them perfectly, and raises my expectations with each new dish.
In arriving early, we had the restaurant to ourselves for the first 20 minutes but a group soon arrived to sit down for a wine tasting. Véronique Rivest has twice been named Best Sommelier in Canada (2006, 2012), won the Best Sommelier of the Americas award in 2012, and finished 2nd in the Best Sommelier in the World competition in 2013. Those are some impressive credentials! Soif would undoubtedly be one of the best restaurants in Canada to bring a few friends who are serious about wine discovery. The group near us looked to be having a great time, giving the restaurant a very lively vibe that must make it the ideal spot to hang out during the cold winter months common in the region. Yashy ordered the hazlenut tart for a quick taste but ended up polishing the entire plate despite being full!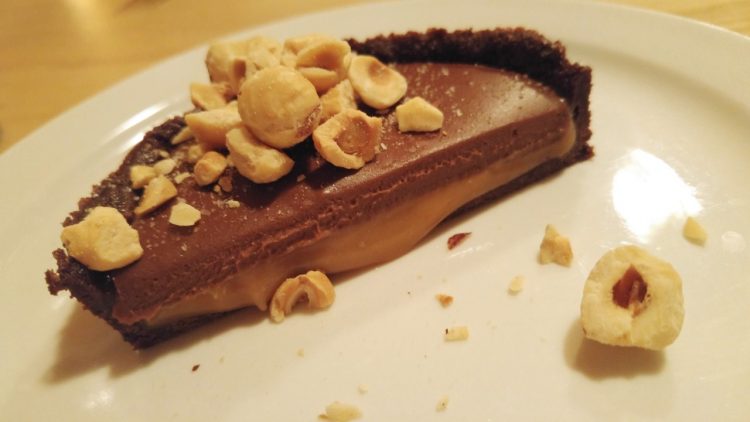 After Yashy finished a couple great wines, and I worked my way through several of the Trou du Diable beers the restaurant carried, we were feeling pretty grateful to have discovered Soif.  Having a wine bar in Gatineau that is owned by such a renowned sommelier is a gift to those living in the Outaouais region, home to the city of Gatineau, located across the Ottawa River from Canada's capital city. Between this restaurant and the Nordik Spa we visited the next day, I am beginning to think that Outaouais is one of Canada's most underrated travel destinations. Here's a great list if you're looking to explore the fabulous eateries in the Outaouais region.