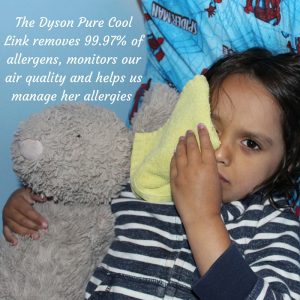 We recently had a minor health crisis in our household. The Little Monkey would get thrown into hysterics, often in the middle of the night, complaining that her eye was hurting. She would wake up crying, clearly in pain, and, for the most part, we were at a loss trying to drum up treatments. A cold washcloth seemed to provide some relief, but not always, and I was spending too many mornings worrying whether the wet washcloth I was finding in her bed was going to make the mattress moldy. Matters got worse when her teacher told us that the Little Monkey had spent almost an entire day holding her hand over her left eye. Then my Dad, the family doctor, was visiting us one weekend and grew concerned as well. He said he had never seen a child come in covering his or her eye and refusing to let go.
Disclosure : We received the Dyson Pure Cool Link for review purposes but, as always, opinions are TOTALLY ours. 
Our own family doctor began to provide some potential explanations, indicating that condo buildings like the one we steadfastly refuse to leave tend to be dry and dusty, and that one of those factors, or possibly both, was likely the cause of eye issues. The Little Monkey was likely experiencing eye dryness, living in the heart of a major city at the center of the continent, or, like me, had developed a dust allergy and was experiencing discomfort due to the high levels of dust that tend to accumulate in condo buildings, especially ones surrounded by constant construction. The doctor provided a list of remedies, which included the use of that wet washcloth, using it to rub each eye four times before bed, as well as an increased diligence in cleaning the floors, walls, and blinds of her bedroom. Also on the list, a humidifier and a dust filter for the AC unit. When we told her that we recently picked up a Dyson Pure Cool Link Air Purifier, she told us that it would be a great addition.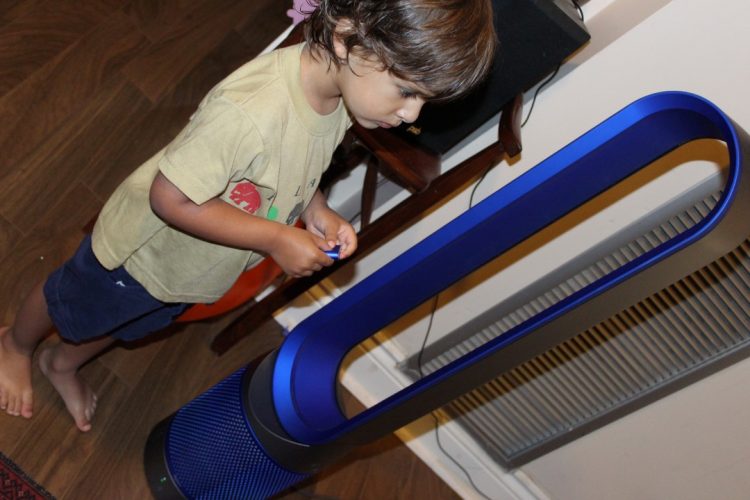 Once we started running the humidifier and air purifier in tandem, the problem stopped within a few days. We still don't know if the Little Monkey has allergies since we are waiting for an appointment with the Pediatric Allergist, but it still feels good knowing that the kids are sleeping in an area that is constantly being purified and monitored. The Dyson Pure Cool Link removes 99.97% of allergens and pollutants as small as 0.3 microns and also cleans the air of bacteria, mold, industrial and auto emissions (a big one for us), pet dander (good for my own dog and cat allergies), as well as odors and fumes (good for gassy family members)!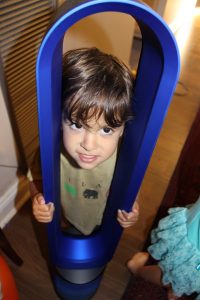 We liked our first Dyson Pure Cool tower so much, we added a second. The newer model activates when an internal monitor in the device senses a drop in air quality. I can also control this one with my iPhone and scan through an app that displays the air quality over time. The app also tells me the temperature and humidity levels of the room (even when I'm not at home and nearby the unit!), and perhaps best of all, the purifier also serves as a fan in hot weather. Not only does the unit come in a lovely blue colour, it also comes in white and you can buy a smaller desk version versus the tower. For our 1037 sq. ft apartment with high ceilings, we found using two towers made a huge difference. We wanted the second one for peace of mind when it came to the Little Monkey's allergies.
Over the past few months we've been monitoring the progress of the purifier in the automated setting. It took 6 days to regulate itself, and we are now comforted to see it start up regularly, usually on one of the lower settings. The fan has 10 speeds that activate according to the level of pollutants in the air. We usually set see it operating between 1 and 4, meaning that the air quality in our house is generally pretty good. However, when Yashy started frying up some bacon this past Saturday morning, the fan suddenly jumped to level 10, swiftly pulling all of those bacon odours from the air. Humans may love bacon, but it seems robots don't! Same goes for the pungent curries. We also interestingly noticed that when Little Monkey let one rip near the Dyson Pure Cool Link, the machine that was turned off started up again at level 6!! We have found the culprit stinking up our house!!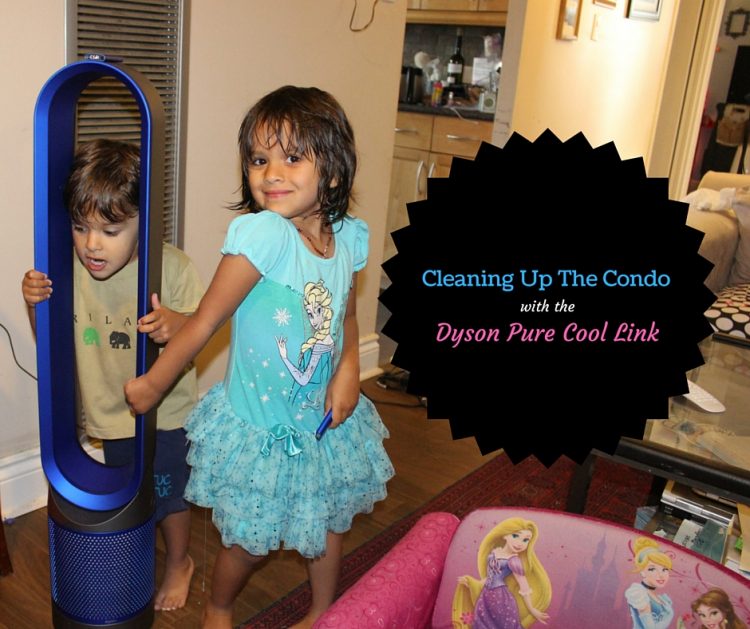 So we are loving it. For someone like me who likes to know the details and wants to monitor things, the app is extremely helpful and helps me keep track of the air quality history.
Clean air, a fan that doesn't make a loud rattling noise when on full speed, and a handy little app to control the device and monitor the air quality in our condo – what's not to love?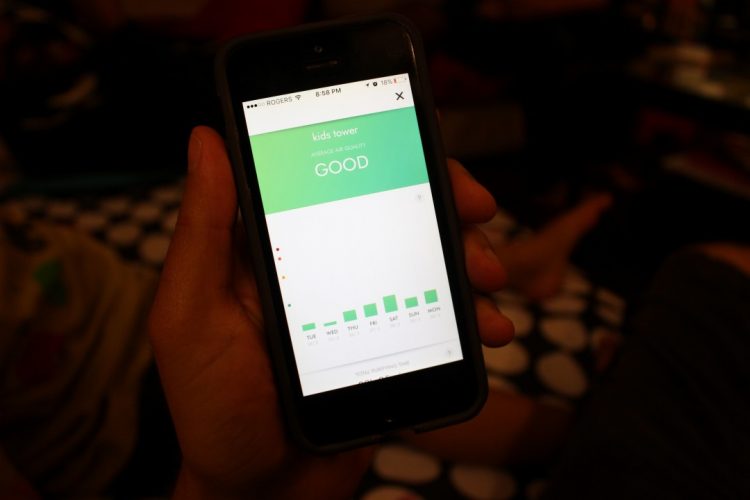 Baby Boy can be quite the terror and the kids are ever curious so I'm thankful that the Dyson Pure Cool Link is not only blade-less (so he can stick his head in!!) but it's also sturdy. The remote is magnetic and sits nicely on the top of the unit, reducing the chances of losing it. If I can suggest an improvement, it would be for a longer cord or better yet, a cordless version!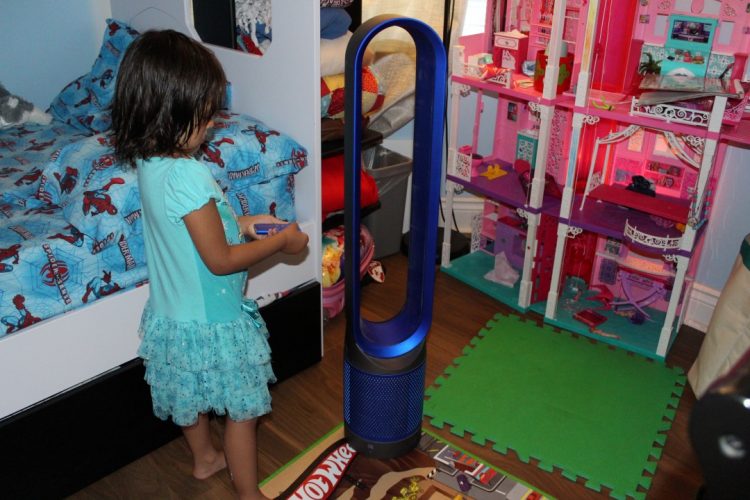 We are noticing a lot less dust accumulating on the shelves, which I especially like, given the amount of stereo equipment I have set up. With the imminent construction of a 30 story building right next store, we could not have picked a better time to discover the Dyson Pure Cool Link. Having owned a cordless Dyson vacuum for over five years (and both sides of our family have been Dyson owners through the years), I can tell you that Dyson products come with a great guarantee and fabulous customer service.
As for the Little Monkey, she rarely complains about her eyes these days, which is a relief. Now if only the purifier could keep her from fighting with her little brother.