As you may know by now, I'm always interested in learning more about the latest in type 2 diabetes research and things to keep in mind all year long.
Since type 2 diabetes is one of the most prevalent chronic diseases in Canada and family members on both my parents' sides have the condition, my doctor monitors me closely. To help combat the condition, I've been making active lifestyle changes to eat better and move more. To that end, Chris and I have been trying to incorporate more vegetarian dishes into our repertoire, so I thought I'd share a delicious diabetes-friendly falafel burger recipe that is a crowd pleaser in our home.
Disclosure: This blog post is sponsored by two of Canada's leading research-based pharmaceutical companies, but as always, opinions are TOTALLY mine!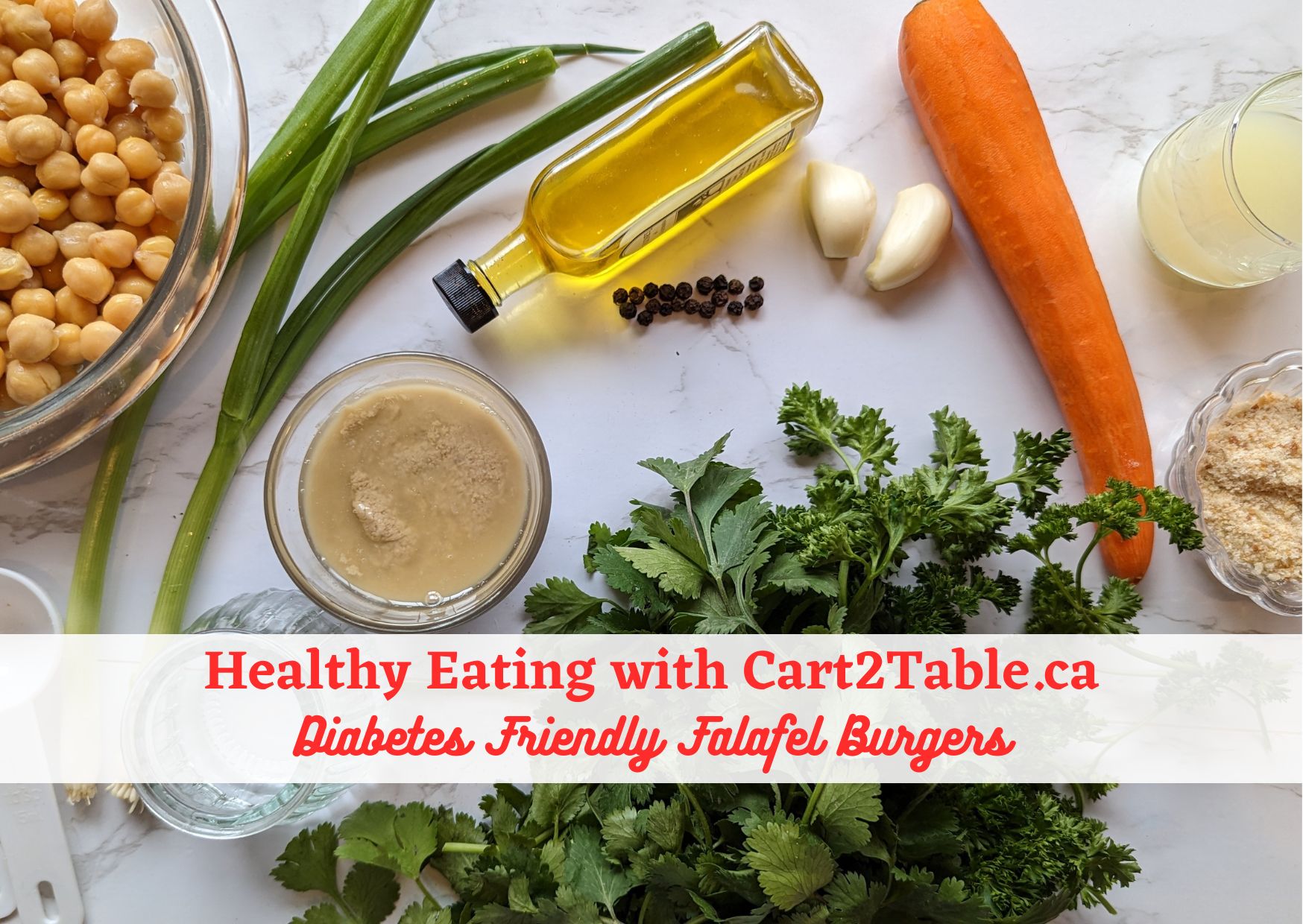 Remember how I told you about Cart2Table last year? I've been going through their type 2 diabetes friendly recipes and I'm looking forward to their website relaunch this spring. Whether you're looking for healthy treats, easy recipes for large groups or delicious cuisines from around the world, cart2table.ca is a great resource. This is especially true if you or someone you are taking care of is living with type 2 diabetes.
Over the last few years, I've told you about MyHeartMatters and how it's one of the best Canadian resources I've found for people living with type 2 diabetes (and their caregivers). While that site shares information on diabetes and cardiovascular risk because death from heart disease at an earlier age is a serious risk for those living with type 2 diabetes, Cart2Table helps us live our best life and enjoy the food we love to eat.
Diabetes Friendly Falafel Burgers with Creamy Sauce Recipe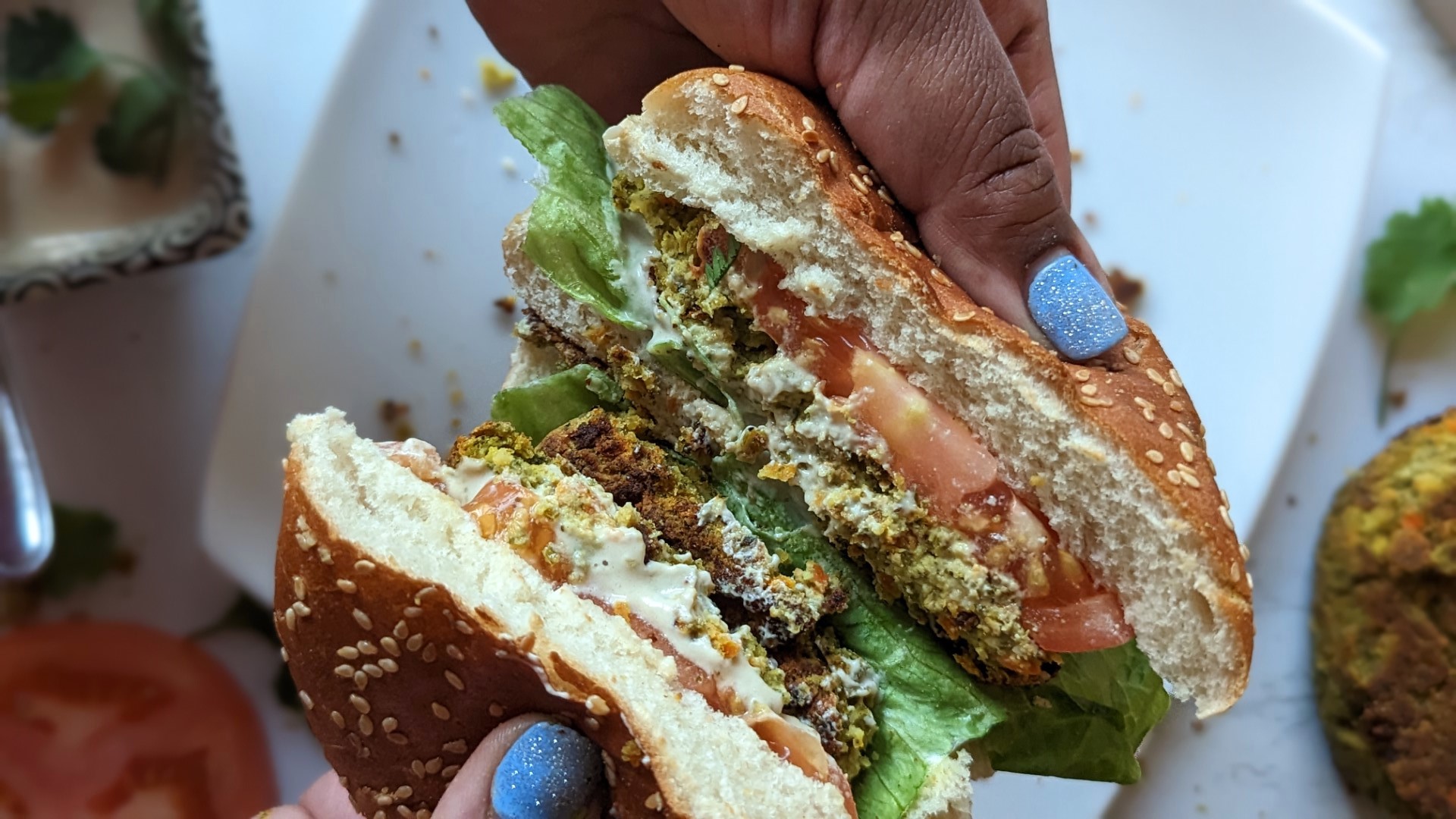 This easy falafel burger recipe is an excellent meatless main dish. I like to wrap it in lettuce leaves, but Chris and the kids choose to use a hamburger bun. This recipe can easily be used to make mini falafel burgers too, which is great for charcuterie nights!! If you're looking for a healthy and filling burger that's bound to please vegetarians and meat-eaters too, this is it.
Akira and Apollo are huge fans of chickpeas and request that I boil some at least once a week. They also enjoy falafels and burgers, so this was a nice way to try something new.
I love how quick it is to whip this up and how I can get the kids involved in prepping the meal too. If you have a great food processor, you'll save loads of time by tossing all the ingredients into the appliance (without the need to pre chop things) and pulsing for a few minutes – the prep work takes me less than 5 minutes.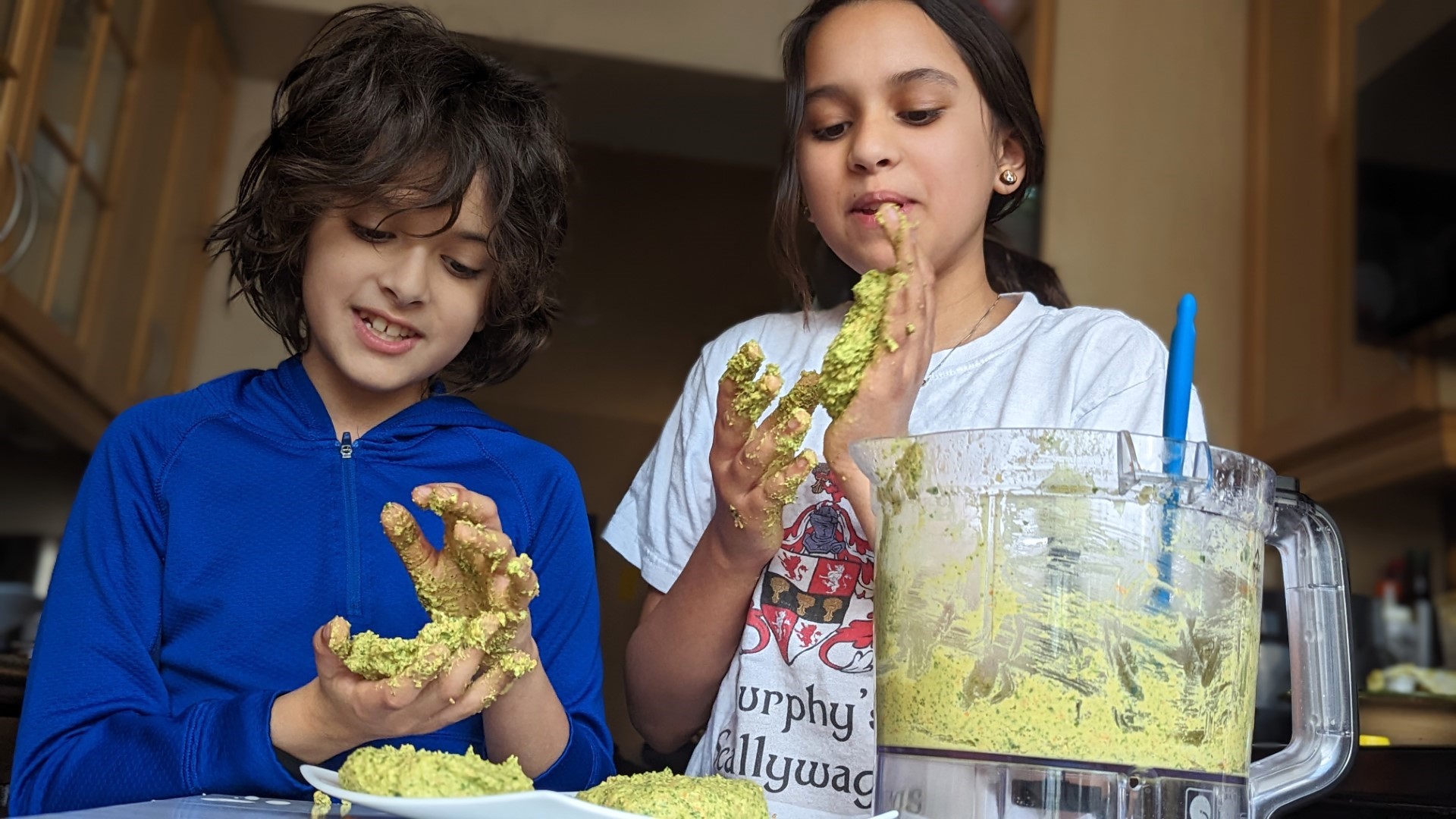 The hardest part is shaping the burgers but if you're not looking for perfect, just have the kids do that task.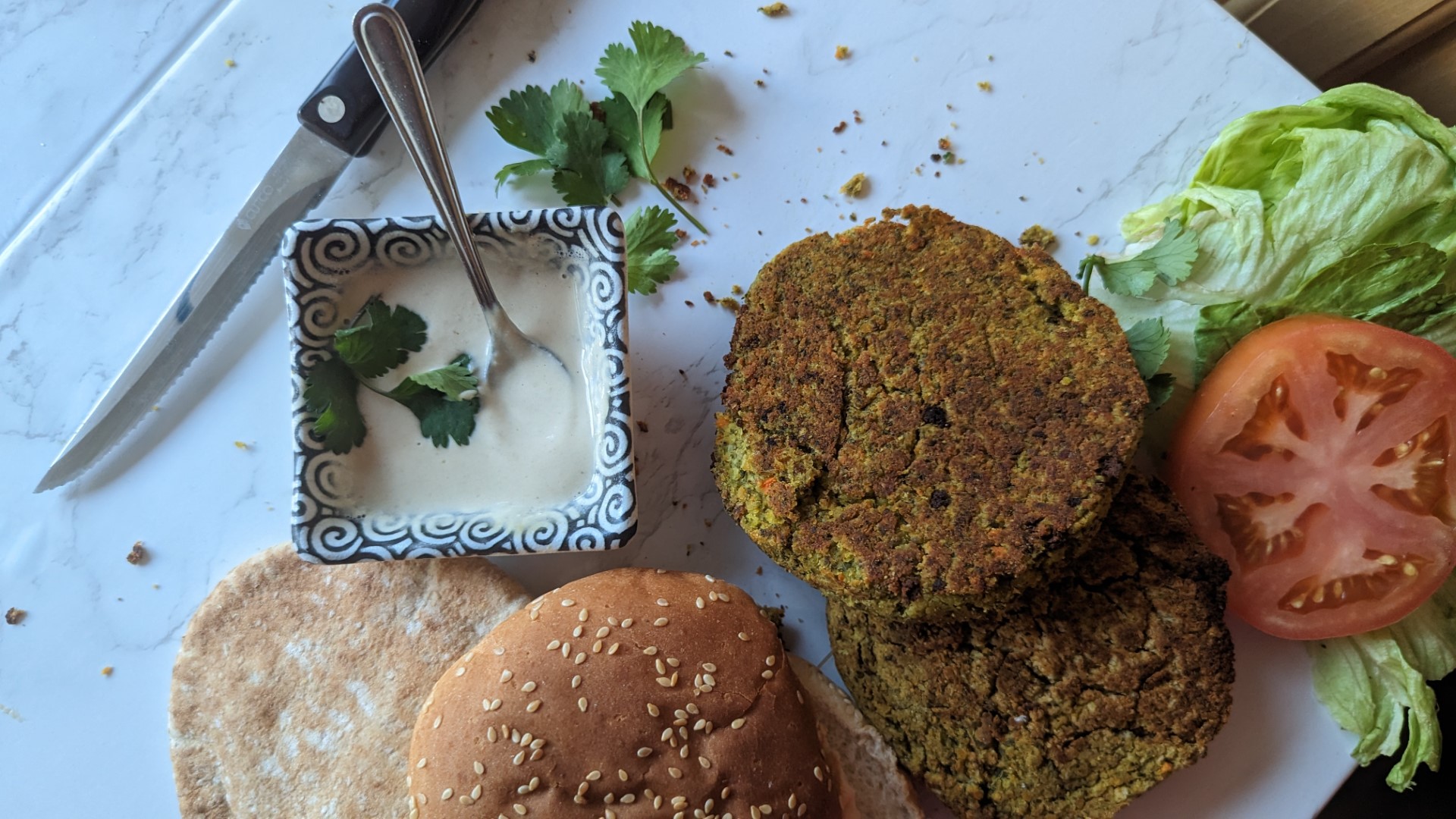 A bun isn't required for this recipe, but our family wanted to have fun with the toppings and play around with the "bun". We use pita, regular burger buns and lettuce as wraps depending on our moods. Since Chris and Apollo aren't fans of sour cream, for them we make the creamy sauce by swapping more tahini in for sour cream and it's just as delicious. I like to mix both sour cream and tahini with a dollop of hot sauce for that extra zing. That's the beauty of this recipe, it's quite versatile and you can add whatever toppings you'd like. Below is the basic recipe but you can play with it to make it your own – just be mindful of any dietary requirements you may have. If you are adding a bun to the recipe, try a whole-grain option and make sure to add the carb-count to the basic recipe below if you are counting carbs.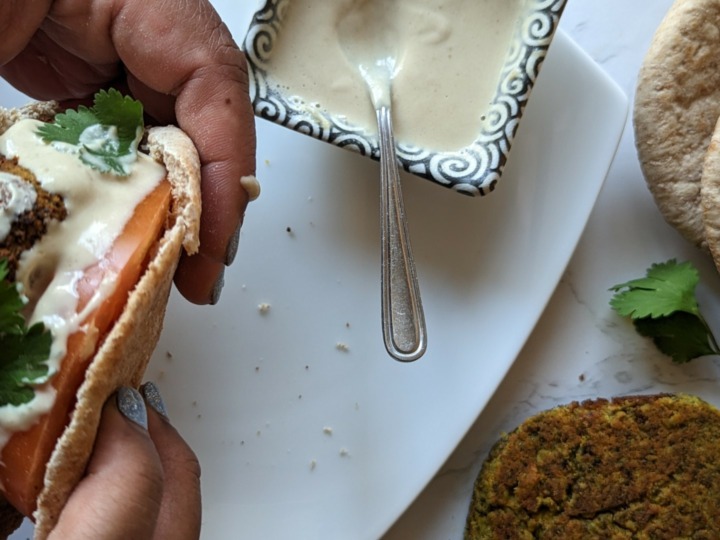 Yield:

4
Diabetes Friendly Falafel Burgers with Creamy Sauce
Here's an easy falafel burger recipe that's diabetes friendly.
Ingredients
Falafel Burger
2 cups (500 mL) drained canned chick peas
¼ cup (50 mL) chopped green onions
¼ cup (50 mL) chopped fresh coriander
¼ cup (50 mL) finely chopped carrots
¼ cup (50 mL) bread crumbs
3 tbsp (45 mL) lemon juice
3 tbsp (45 mL) water
2 tbsp (25 mL) tahini (pureed sesame seeds)
2 tsp (10 mL) minced garlic
¼ tsp (1 mL) ground black pepper
·2 tsp (10 mL) vegetable oil
Creamy Sauce
¼ cup (50 mL) light sour cream
2 tbsp (25 mL) tahini
2 tbsp (25 mL) chopped fresh coriander
2 tbsp (25 mL) water
2 tsp (10 mL) lemon juice
½ tsp (2 mL) minced garlic
Instructions
Put chick peas, green onions, coriander, carrots, bread crumbs, lemon juice, water, tahini, garlic and black pepper in food processor - pulse on and off until finely chopped.
With wet hands, form 8 thin round patties (or 4 thicker ones)
For the sauce - In small bowl, whisk together sour cream, tahini, coriander, water, lemon juice and garlic.
In a non-stick skillet sprayed with vegetable spray, heat 1 tsp (5 mL) of oil over medium heat. Add 4 patties and cook for 3½ minutes or until golden; turn and cook 3½ minutes longer or until golden and
hot inside. Remove from pan. Repeat for the other 4 patties. You could also use an air fryer if you want a crunch patty.
Serve alone with sesame sauce or serve in a pita
or bun. (Nutrition information does not include pita or bun)




Notes
You can prep the burgers a few hours ahead of the meal and the sauce can be made a day ahead - saving you time as you rush to get dinner on the table!
Feel free to swap the sour cream out and add tahina instead to make the sauce!
Using an air fryer is definitely easier than frying in a pan. 400 degrees for 18 minutes -place the wet burgers on parchment paper to make your life easy, flipping half way.
Nutrition Information
Yield
4
Serving Size
1
Amount Per Serving
Calories

305
Total Fat

14g
Saturated Fat

3g
Trans Fat

0g
Unsaturated Fat

0g
Cholesterol

6mg
Sodium

87mg
Carbohydrates

36g
Net Carbohydrates

36g
Fiber

6g
Sugar

4g
Protein

12g
2 patties = 1 serving size
Falafel Burger Recipe Tips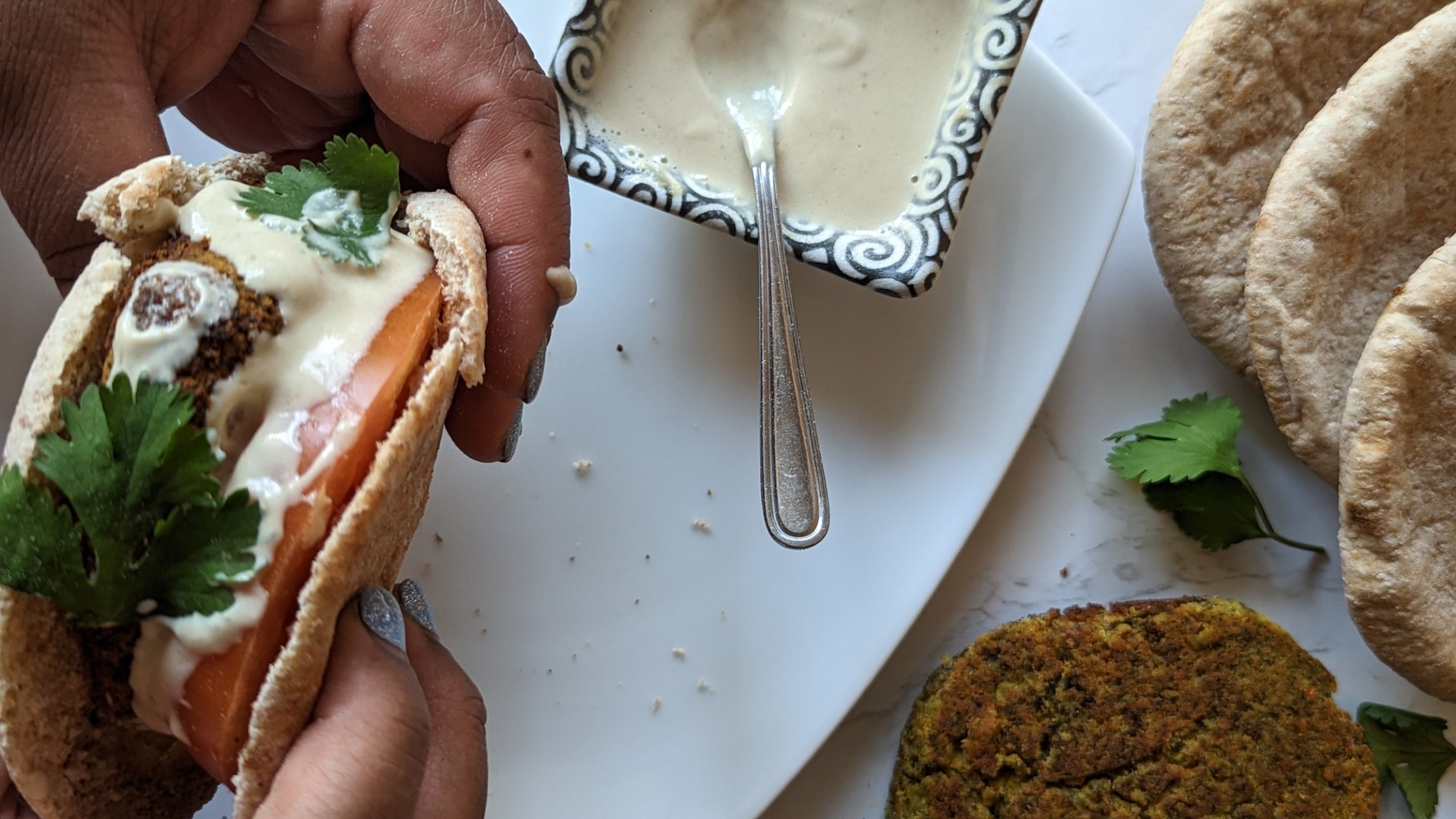 Apollo is a huge fan of this recipe though for our tween, it all depends on Akira's mood. She does love plain chickpeas, so I always have some in our fridge for nights when she decides she doesn't like what I've made. Get the kids in the kitchen for this recipe because they'll love how messy it is! I have the two of them form the patties and even though our kitchen gets very messy, it's nice to have them involved in the cooking the process. Just remember to ensure that the kids have wet hands as they form the shapes, it makes it much easier. Of course if you don't want the kids playing with the food, you can scoop the pulsed mixture into your pan and shape it in the pan itself – I find this method less messy (but also less fun).
I also prefer to "fry" them up in the air fryer vs, a pan because I like a bit of crunch in my falafel burger. Use parchment paper to ensure things don't get too messy and remember to flip the burgers halfway. 400 degrees for 18 minutes works well for my large patties!
I should also mention that if you like thicker patties like we do, then you'll want to make 4 patties with the recipe above (vs. the 8).
Did You Know South Asians Have a Higher Risk of Developing Type 2 Diabetes?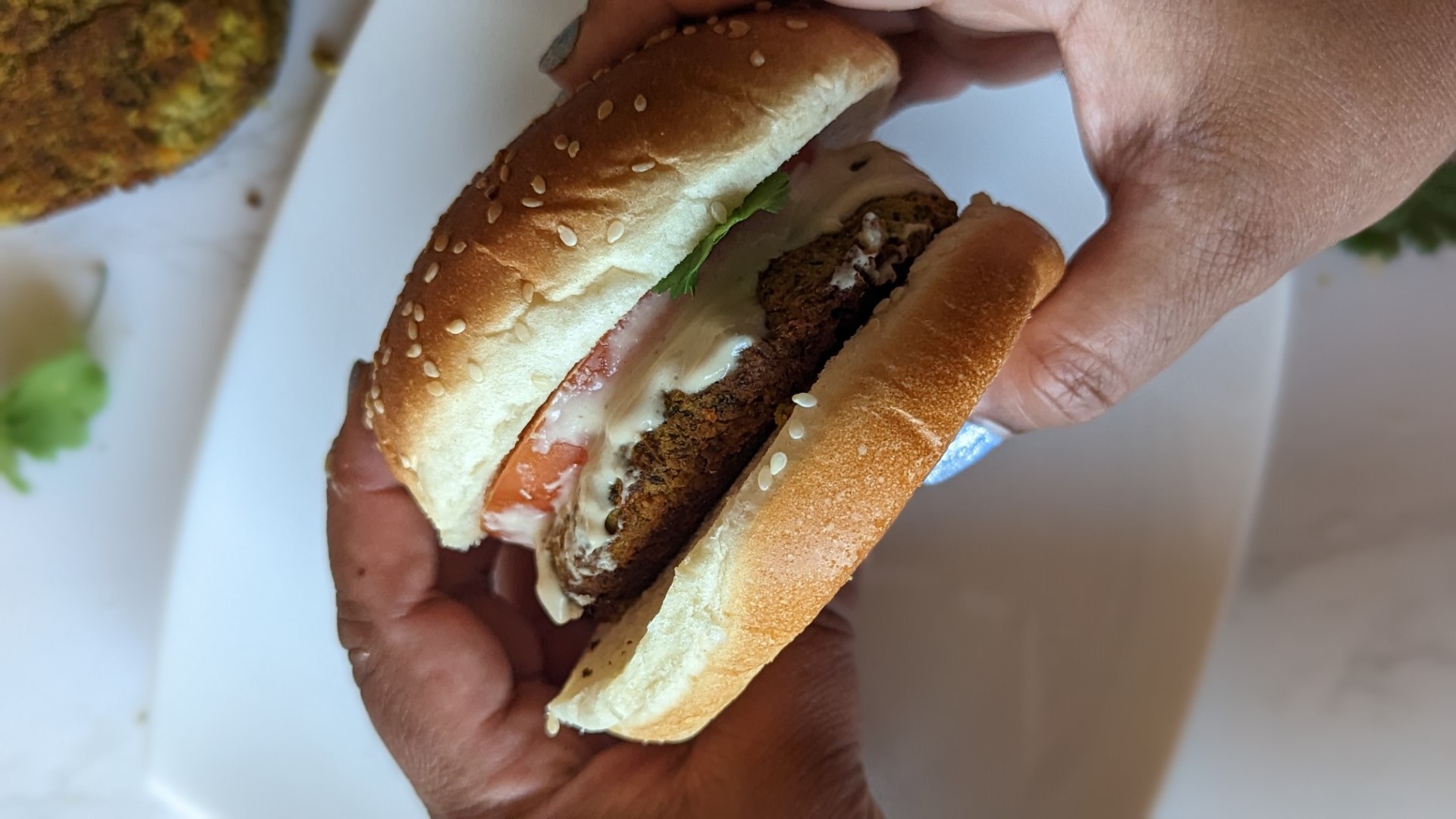 In the past I've shared some shocking stats as it pertains to South Asians such as myself and our high risk for type 2 diabetes. Needless to say, I remind my family to keep close tabs on their health and have conversations with their doctor.
Cart2Table is currently working on a relaunch of their website cart2table.ca. On this site, you'll find great type 2 diabetes friendly and heart healthy recipes. Keep checking in to see when this great recipe as well as other become available. More to come!