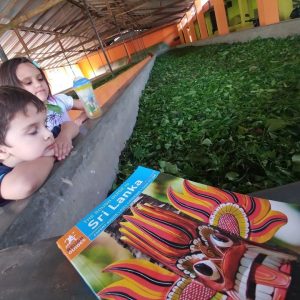 Sri Lanka is known for tea and while everyone around me drank tea as I grew up, I never picked up the habit. I'm that rare person who needs neither tea nor coffee to kick off my day but over the last year I've come to appreciate a cup of flavoured tea before bed. I have my favourites and some of them are from Sri Lanka which is why during our recent trip I wanted to visit a tea estate. I had been to quite a few when I visited Nuwara Eliya growing up but we had no plans to head that way on this trip and my mom insisted that there was no other options. As you can imagine, I love proving my mom wrong! This is how we ended up discovering the Handunugoda Tea Estate located less than an hour from Galle.
Disclosure : This post is in partnership with ROUGH GUIDES but, as always, opinions are TOTALLY ours. 
As I was flipping through the ROUGH GUIDE to Guide Sri Lanka in search of things to do in the South I came across the mention of the Handunugoda Tea Estate. This was while we were still in Toronto and my mom laughed at me saying it would be a complete waste of time because there simply were no good tea estates in the south. Let me tell you, the jokes on her! After our whale watching tour in Mirissa and before we headed towards Yala, I MADE my family swing by the Handunugoda Tea Estate and everyone was thrilled that we visited the estate.
My parents, grandmother, aunt and two cousins joined the hubs, kids and I on this journey and we pulled into the tea estate unannounced. As soon as we got off our bus someone greeted us and asked us if we'd like a free tour of the tea estate. The tour took us about 45 minutes (including many random pee breaks that Little Monkey and my mom needed!) and as we roamed around the tea estate we learned that they are the only growers of Virgin White Tea who produces the tea completely untouched by human hands. The process of tea plucking follows an ancient Chinese tradition from 4000 years ago where the Chinese Emperor employed virgins wearing soft silk gloves to cut the tea leaves with gold scissors into a golden bowl. Handunugoda may not employ virgins but they grow the tea and mimic this tradition by using machinery for the processing.  This white tea is rich in anti-oxidants and is said to be the healthiest tea in the world. Coincidentally it is also one of the most expensive teas in the world costing over 1500 USD per kg!
Little Monkey and Baby Boy loved running through the plantation and tea estate and our guide was very patient with us. Allowing us to stop when we wanted to, ask as many questions (my grandmother had quite a few!!) and he took the time to educate us about the tea, flowers, cinnamon plants and gum trees that grow on the property. We saw the tea buds and then saw the machinery in action and learned about the entire tea cultivation process. It was so neat to see the presses in action as they began grinding and sorting the leaves. I should also mention that as soon as you entered the room that houses the tea leaves, you were greeted with the most amazing aroma of fresh tea leaves. I just wanted to dive right into the pile of tea leaves, and I don't even really like tea all that much!!!
The place is so picturesque and when we were informed that the free tour ended with a cup of tea and a slice of cake, we were totally shocked! Talk about hospitality! We enjoyed our visit and my mom now says she plans to visit again in the near future! HAH! While the tea at Handunugoda may be a bit pricey, we bought quite a few at the tea shop as gifts for he hubs' mom and grandmother who are both tea lovers. I loved that they had tea cups filled with each of their teas for us to taste (yes over 30 teas were on display!). As we were buying our tea we spotted the owner of the tea estate, Malinga Herman Gunaratne (yes, the same one who has written books like the Suicide Club). We chatted with him and learned more about the various signature blends that can only be found at Handunugoda. This is how we came to buy the Sapphire blend to bring back home!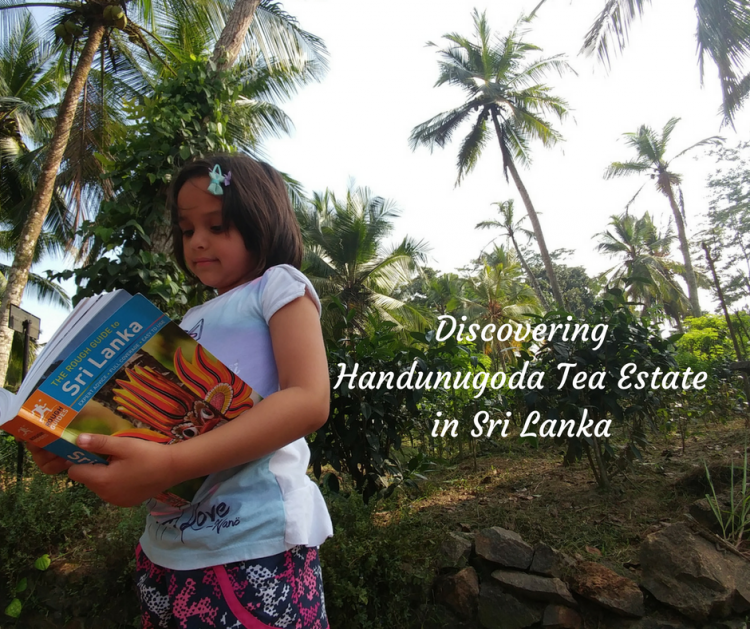 I'm so glad ROUGH GUIDE to Sri Lanka featured this hidden gem of a tea estate as many locals in my immediate circle had never heard of place. It's definitely worth a visit to if you're in the south area of Sri Lanka (home to some fabulous beaches). If you're looking for recommendations for top hotels, award winning restaurants, star attractions and interesting factoids on the country's unique history and charming people ROUGH GUIDE to Sri Lanka is a great resource.