The last time we spoke about The Little Monkey's favourite food it was all about the interesting purées ….well, just when I thought I had it figured out… she goes and refuses the purées and wants finger food. So off I went exploring in my kitchen and surprisingly came up with  dishes that we both like (great for MY snack time!). My Canadian readers (sorry international peeps!) the good folks at Hamilton Beach Canada has sent us a bunch of pressies so scroll down to find out how you can  enter to win! The new colourful baby line is perfect for new parents!
Our current schedule  is as follows (she's a little over 9 months and has two two hour(ish) naps  during the day).  Also remember we started food early, at 4 months (you can read about it here)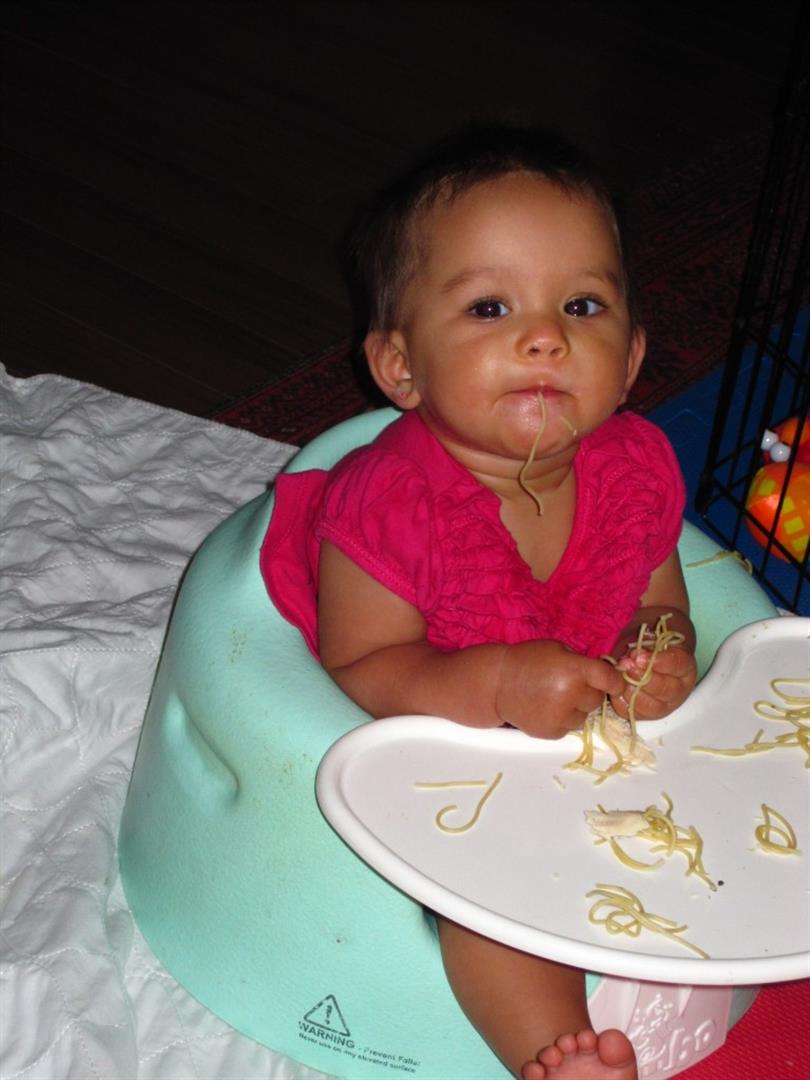 8 a.m – wake up : breast milk
9 a.m -breakfast :  Yoghurt, fruit & cereal mixed together
10 a.m : nap
noon – breastmilk & snack
1 p.m – lunch
2:30 p.m – breast milk & nap
4 p.m – snack
6 p.m – dinner
7:00 p.m –  breast milk & bedtime
And we're finally sleeping through the night! Apparently we were the noisy ones waking her up! The moment we moved her into her own room she slept right through! Doh! That said she is still in the 5th percentile for weight, you win some you lose some I guess!
Recipes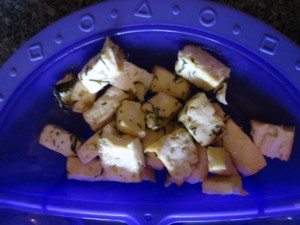 Tofu cubes : This is one of the easiest snacks. Cube firm tofu, spread on baking sheet, drizzle olive oil, toss a speck of salt and layer with  fresh fennel. Bake for about 20 mins at 350 degrees. Voila! This is how I love to eat tofu and apparently the Little Monkey does  too! These are great for travel, we used  them on our recent road trip.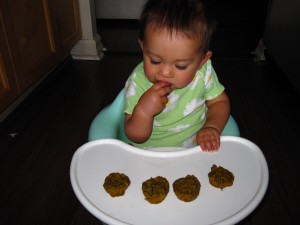 Veggie Cookies : I needed a way to sneak in some veggies so this is what I came up with. Mix a cup of whole wheat flour, an egg, half a cup of puréed carrots (or any fruit or veggie really) and a handful of spinach.  Pour dollops of the batter on a wax sheet  and bake for 30 minutes at 350 degrees (or until they brown). She would wolf down four or five of these in  a sitting!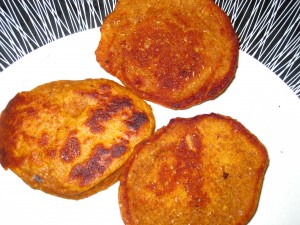 Fruity Pancakes : These are made pretty traditionally, mix a cup of whole wheat flour, a pinch of baking  soda, half a cup of puréed pears and half a cup of milk ( I used breast milk). Heat a pan and drop two tablespoons of butter. To this add dollops of the pancake  batter and shape as desired. Fry them till they are golden. We've played with this recipe and let me tell you that any fruit works well. Bananas and pears are our favourite though!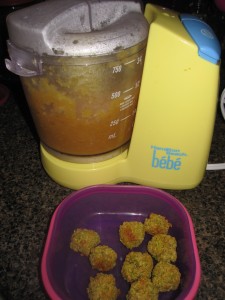 Quinoa Balls : This does involve a couple steps, sorry about that! Hard work pays off though. Chop (not purée) steamed edamame and corn.  Mix together a cup of cooked quinoa (using  a rice cooker to make quinoa yields a perfect result each time for me!) and the chopped food. Toss in a handful of shredded cheese and four tablespoons of puréed carrots (keep it  on the thicker side). Shape the mixture into tiny balls and bake in the  oven for 15 minutes (or till the they look slightly  crunchy). Warning : this is still a messy snack. The Little Monkey likes mashing these tiny nuggets and they do get  everywhere!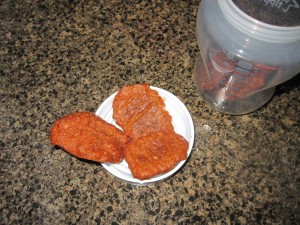 Teething Biscuits : Did I mention that the Little Monkey  still has no teeth? Loves to chew on everything though!  This easy recipe is perfect for her.  Mix a  cup of cereal (yes the store bought variety) with a cup of whole wheat flour. Stir in a cup of "juice". I used the water at the  bottom of the steamer once I steamed beets. You  can use any fruit or veggie water for this. Shape to desired size and thickness and bake for 15 to 20 minutes. Warning : She tends to chew and drool on this more than eat them. My one year old nephew on the hand loves eating them.
And now for the moment you've been waiting for! The folks at Hamilton Beach Canada have generously sent me their new Bébé line to share with my lovely readers. These nifty gadgets make it way easier to prep the baby meals and they come in a fun yellow and blue hue! The Bébé Hand Blender is perfect for whipping up some soup and the Bébé Blender and Bébé Food Chopper is great for the fruits to be included in any finger food recipes above. I wish I had the Bébé Hot Pot when the Little Monkey was  younger! Not only  can you boil water and cook in  it, but you can also sterilize teethers and warm milk bottles! Geezz. I would have been even more anal about sterilizing those soothers! Hah!  I've decided to share these four items with four Canadians! All you have to do is enter through the rafflecopter below and you have till August 24th to do so. Good Luck! UPDATE : Those who have entered – please comment and let me know which item you would like if you win! 
Disclaimer : I have received the prize pack from Hamilton Beach Canada for free, no other compensation was received and the opinions are my own.