A year into the pandemic, our family has been (knock on wood) healthy and safe, if not thriving. Besides being fortunate to work remotely, part of the reason we have managed so well throughout this pandemic has been our eagerness to get outdoors, connect with nature and safely participate in as many local Ontario adventures as we can. Here is a roundup of some of our favourite day trips from Toronto. For those families wondering "where should I go on a road trip from Toronto?" or "Where to drive from Toronto?", this one is for you. If it's not safe to travel yet, please save these ideas for the future when it's safe to roam again.
Before you head out on these day trips from Toronto, please check with each region for the latest rules and COVID lockdown restrictions. As always, please stay within your bubble, distance yourselves from other and sanitize your hands and belongings frequently. Each of these day trip ideas are to destinations that are under two hours drive from Toronto, making it easy for families to return home at the end of the day.
Get Close to Animals in Peterborough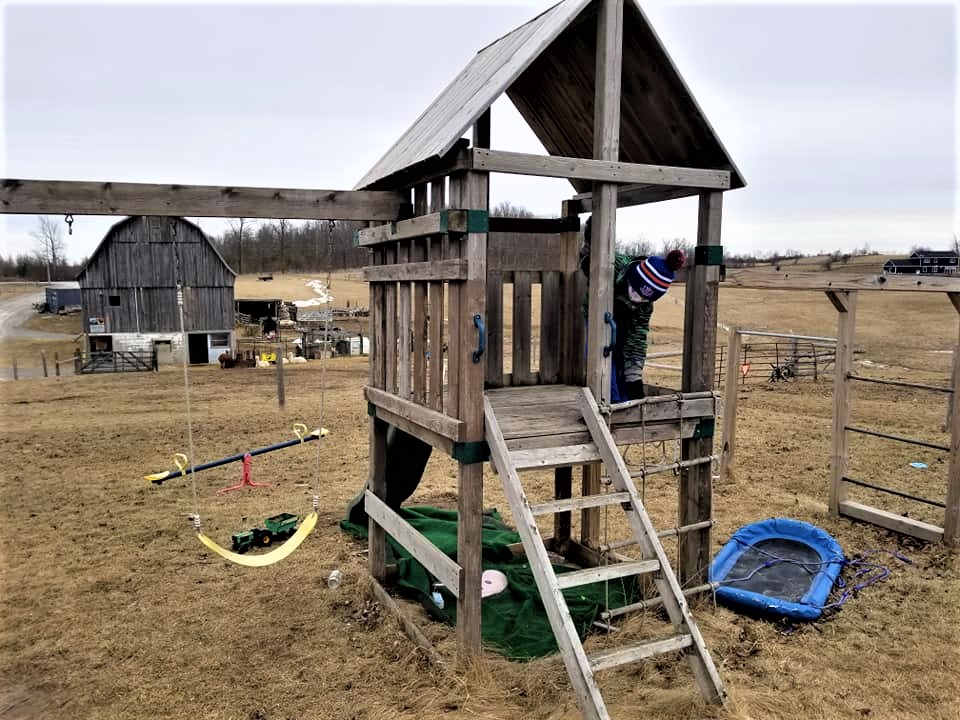 Just two hours east of Toronto is the city of Peterborough, where a lot of my childhood memories were made. Growing up, my family regularly spent weekends in Peterborough, and now having a young family of my own, I am eager to create new memories in a familiar place. Highly recommended is the Millen + Smith Acres farm tour, where city people like us have a chance to experience farm life! Jenn, the owner of Millen + Smith was super friendly and welcoming, but it was really Roxy the dog that greeted us like long-lost friends and welcomed us like we were coming home. We took the guided farm tour with Nessa,
who allowed us to pet and feed the animals and answered any questions that we had. If petting alpacas, sheep, goats, pot-belly pigs, turkeys, and chickens sounds like your thing, this is your perfect day trip from Toronto.
Nearby is Glover Brothers Farms (same family as The Good Harvest Farms), where farmers and owners Katie and Rob, gave us a sneak peek into the cattle "maternity ward". We cuddled with newborn calves, the youngest just 6 hours old! The older calves were energetic and playful, as they displayed their new found skills of running and headbutting. We love supporting local businesses and didn't hesitate to pick up some delicious beef from these responsible farmers. Peterborough is home to many lift locks including the world famous Lift Lock 21, which is the highest hydraulic boat lift in the world. Designated as a National Historic Site in 1979, the lift lock stands 20 meters tall, its massive structure is a spectacular sight. Even more spectacular if you can catch it in action in the summer months. Just outside of Peterborough is the Indian River Reptile & Dinosaur Park, where your kids would love to view dinosaurs come to life from the safety and comfort of your vehicle. Beware: during Hallowe'en, the park transforms into a haunted drive-through so don't be surprised if a ghost or two comes by to scare you!
Embrace European Charm in Elora and Fergus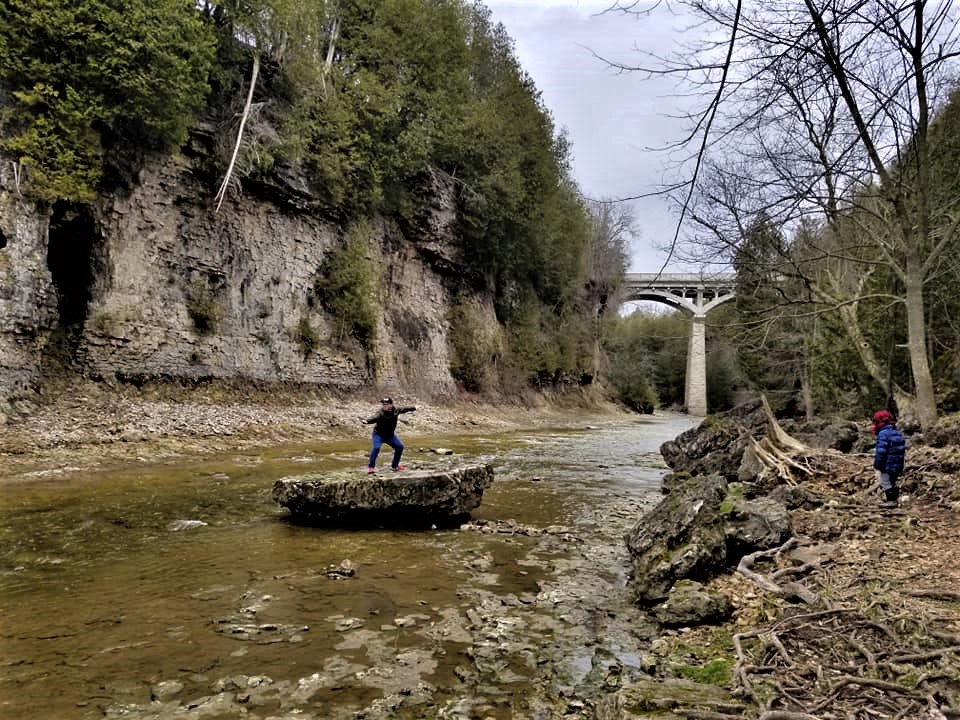 Elora and Fergus are two small towns in the Wellington-Dufferin-Guelph region, approximately 90 minutes northwest of Toronto. Upon visiting Elora and Fergus you will feel like you have been transported to a quaint European town. Historic stone buildings make up the downtown main streets where you will find endless choices of farm-to-table restaurants, all ready for your takeout order. Now we know why Elora is known as one of Ontario's most beautiful villages and definitely warrants a visit on a future day trip from Toronto.
Be sure to stop by Fergies Fine Foods for savoury pies and fresh out-of-the-oven baked treats. Their cookies are amazing! Across the street is Templin Gardens which is filled with interesting sculptures and beautiful views of the Grand River. For a much "grand"er view, the Elora Gorge Conservation Area and Elora Lookout provide paved trails, "gorge"ous views of the gorge and some steep stair-climbing. Perfect for little ones to explore and a calorie burn for parents after all those cookies!
Beach Time in Port Dover and Turkey Point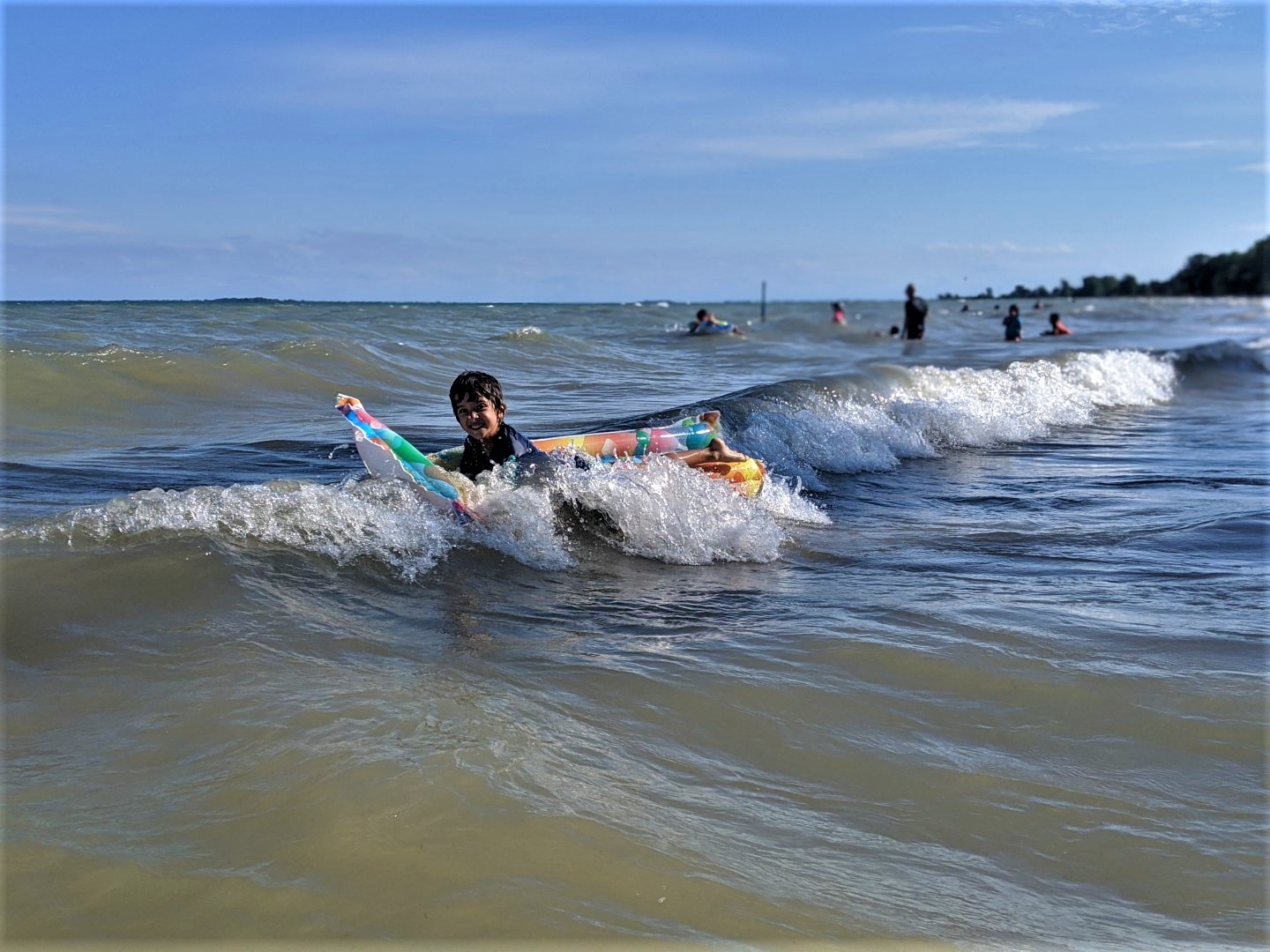 There is something to be said about spending time on the beach, a pastime enjoyed by all families, young and old. A day trip to Port Dover and Turkey Point, less than 2 hours from Toronto, is the best way to bask in the sunshine and enjoy that beach life. There are some amazing beaches in Ontario and quite a few can be found in this area.
While building sandcastles never gets old, another way to explore the shoreline is to rent a pontoon or jet ski from local rental companies, like Turkey Point Watersports. We were given instructions by the owner on how to operate the pontoon safely along with directions to the best areas for fishing and animal watching. Charlotteville Brewing, just up the road from Turkey Point Beach, was where we spent a lazy afternoon sampling beers before selecting a few to take home. If wine is more your thing, Burning Kiln winery is also nearby. Support your local farmers and keep an eye out for veggies and fruit stands, so you can recreate that farm-to-table experience at home. From picking our own produce to cooking together at home, our little chef loves to get involved. Close to Turkey Point is Port Dover, with its own beach, lighthouse and takeout joints such as Willie's for burgers where its popularity is evident with frequent long line ups.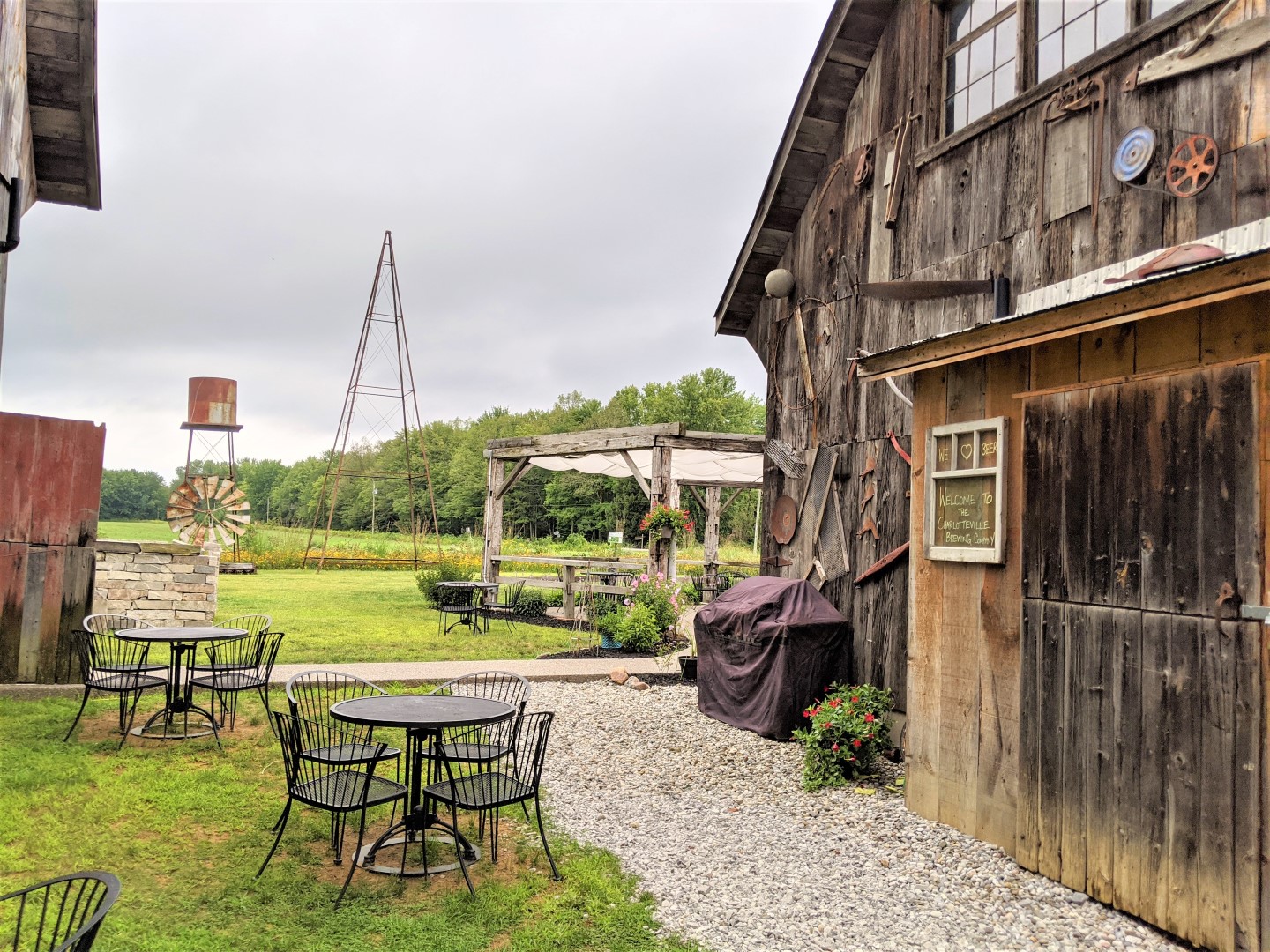 This is one of Yashy's favourite areas to road trip to in the summer and you can find more covid friendly Ontario cottage inspiration here.
Looking for beaches, beer and family fun? Read this for more weekend getaway ideas in Ontario! Don't forget to swing by New Limburg, one of Chris' all time favourite breweries in Ontario!
Hiking and Golfing in Hamilton and Burlington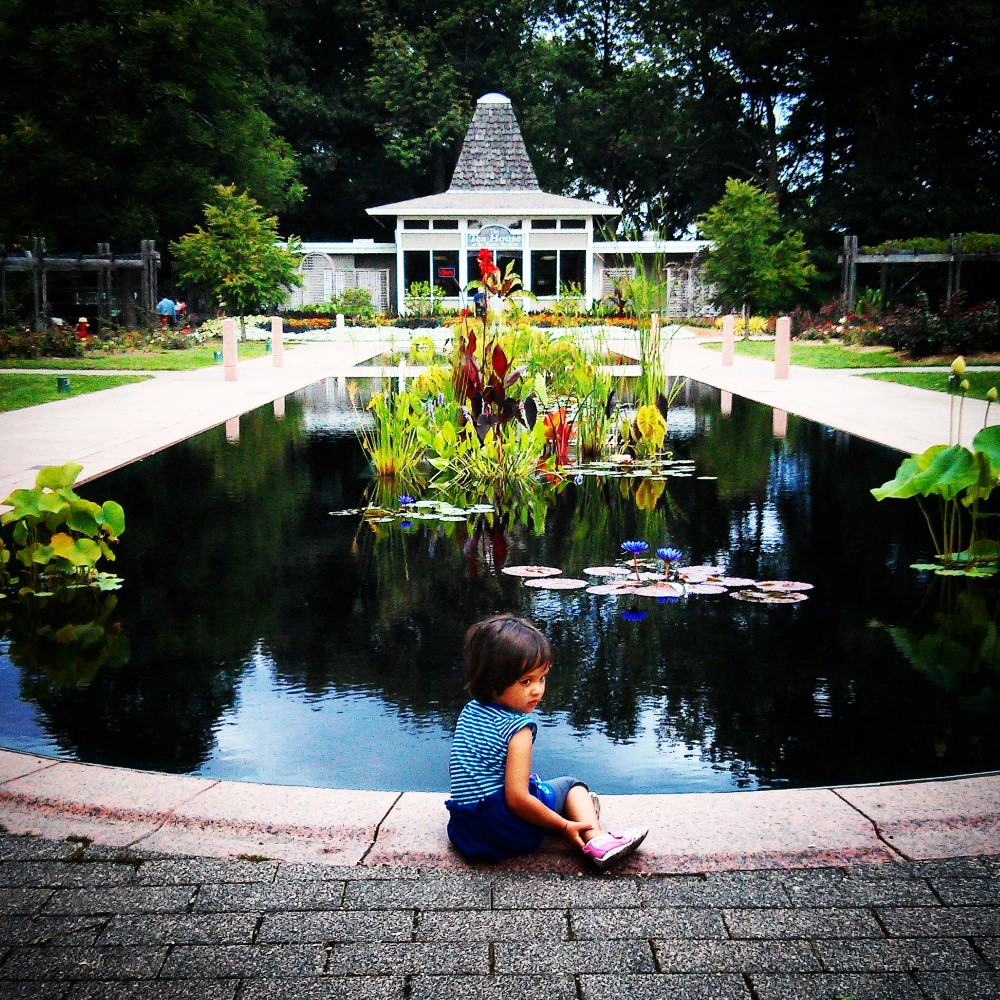 Technically part of the GTA, Hamilton and Burlington are less than 1 hour drive from downtown Toronto. For some people, the view of the industrial part of Hamilton from the Burlington Skyway immediately come to mind. For my family, Hamilton and Burlington are our go-to spots for enjoying the beauty of outdoors and connecting to nature. This particular part of the GTA is quite hilly, which makes hiking and exploring that much more interesting. Our favourite spots are Eramosa Karst Conservation Area where we love exploring the unique cave formations, Smoky Hollow Waterfall for steep hiking and Clappison Woods for a relaxing stroll.
The Royal Botanical Gardens is beautiful and depending on the time of year, you will feel like you are transported to a different place each time you visit. Besides hiking, we also enjoy taking a few swings at the local driving range, Wedgewood Golf Centre, where the prices are super affordable and the owners always greet us with a smile. If you're looking for a dog and child friendly golf course, check out Buncrana golf. It even has a trampoline at the end of the 12th hole – perfect for kiddies and those who are young at heart. Reward yourselves with a stop at Kitty's Garage ice cream parlour.
Lastly, what better way is there to explore the woods from up top? Treetop Trekking Hamilton has something for everyone: Zipline and Aerial Game Trek for the most adventurous, Discovery Courses for mighty little ones aged 5 to 9 and the Treewalk Village suitable for all ages. Swing by Souptogo on your way home for delicious baked goods and scratch-made soup, during the fall season you can even check out the corn maze and pumpkin patch! When you're ready, here's some delicious spots to dine in Hamilton. If you enjoy roaming by the water, the Hamilton Waterfront has plenty on offer for families looking for day trip ideas from Toronto.
Parks and Beaches in Innisfil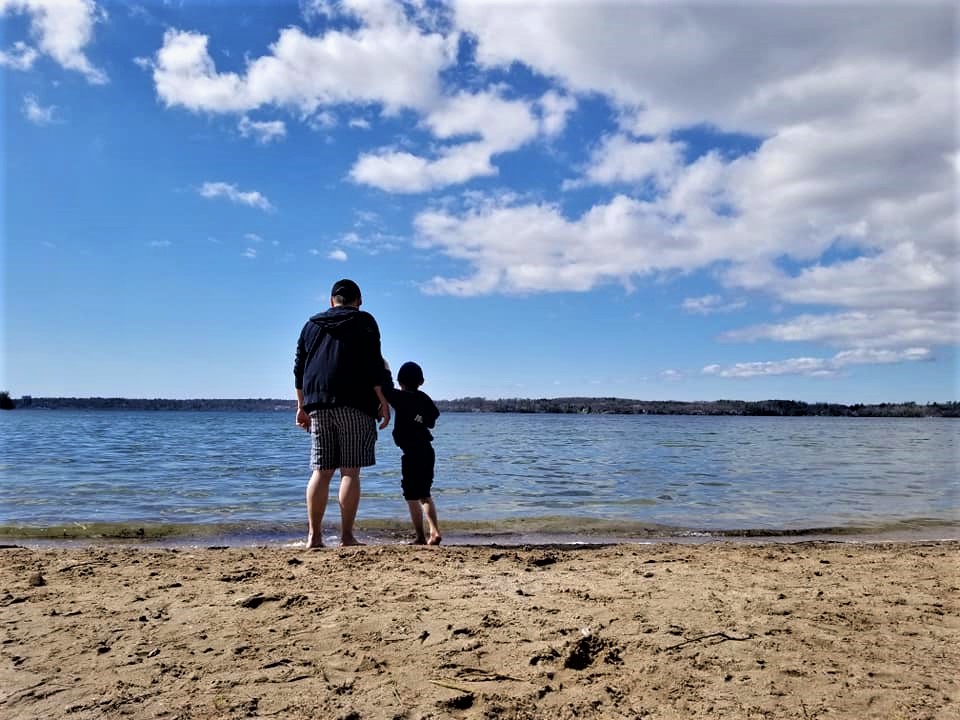 While we've travelled east and west on on day trips from Toronto, most Torontonians think of skiing when they head up north, but there is so much more to explore than hitting the slopes (and we do that too, although a summary of family-friendly Ontario ski hills probably deserves an entire blog on its own). South of Barrie on the west side of Lake Simcoe is the town of Innisfil, away from the hustle and bustle of downtown Barrie. Innisfil Beach Park is popular amongst the locals. At the north end of Innisfil is Wilkin's Walk, a forest with a major trail that leads to the beach and several side trails for exploring. Follow the trail along
the creek all the way to the northern tip, where the beach meets Lake Simcoe. Bring a net and you may be able to catch-and-release minnows! Stop by Friday Harbour Resort on the way home, where you can stroll the boardwalk and grab a bite at one of the cafes or restaurants (call ahead to find out if they are
offering dine-in or take-out only).
If you're looking for other options in the area, check out Tiffin Centre for Conservation, Johnson's Beach and Tyndale Beach.
Flowers, Farms and Fromagerie on the Cheese Trail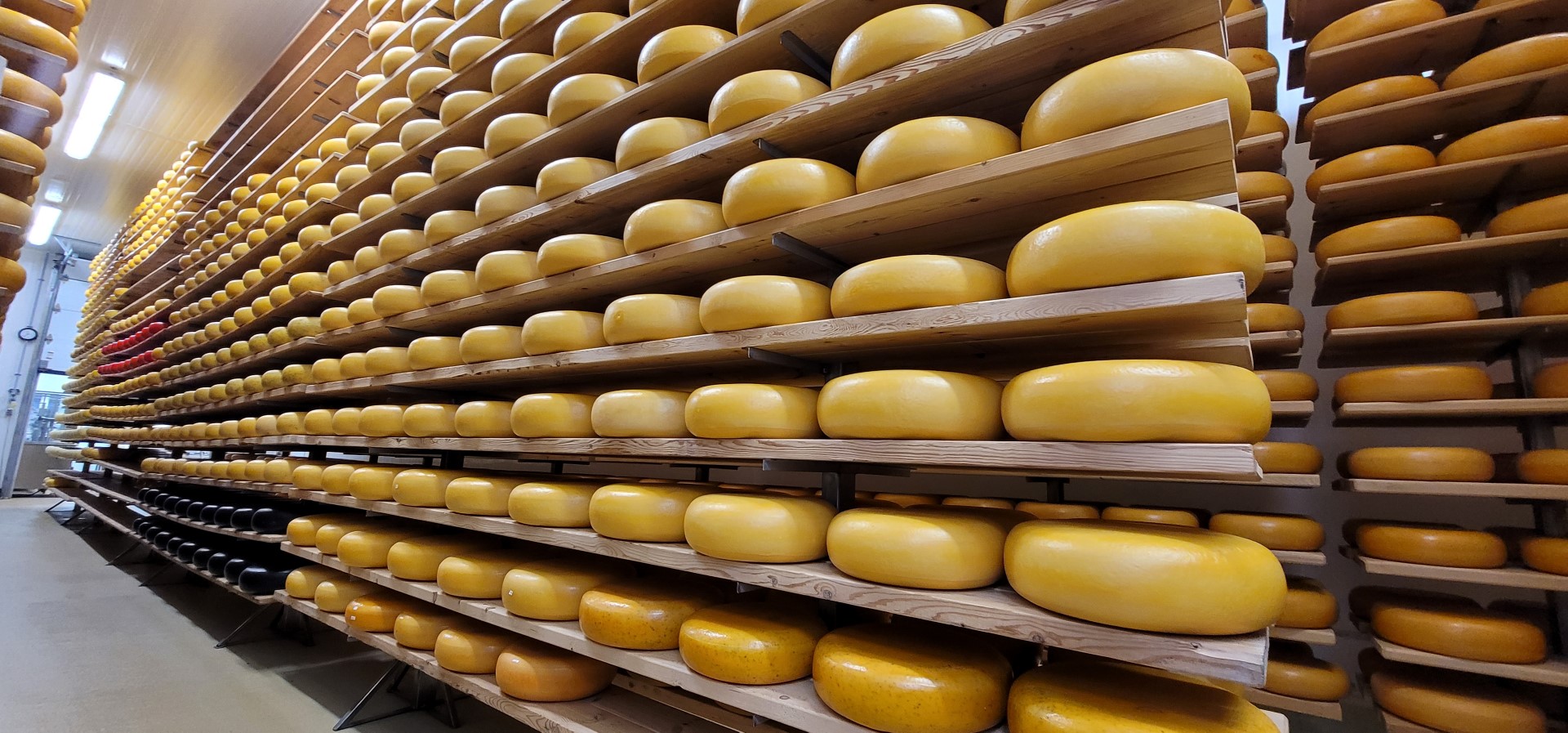 Yes, there is a cheese trail in Ontario and it's only a 90 minute drive from downtown Toronto! If your family is look to connect with farmers and really get to know how farms work, this is a great day trip. There is a cheese museum with a cheese themed playground in addition to over 25 stops where you can stop and sample cheese or products made with dairy. Pick your own fruits, flowers, veggies and so much more! From restaurants to soap shops, we enjoyed our visit here. If you'd like to learn more about a Ontario road trip to explore the cheese trail with kids, there's a detailed blog post!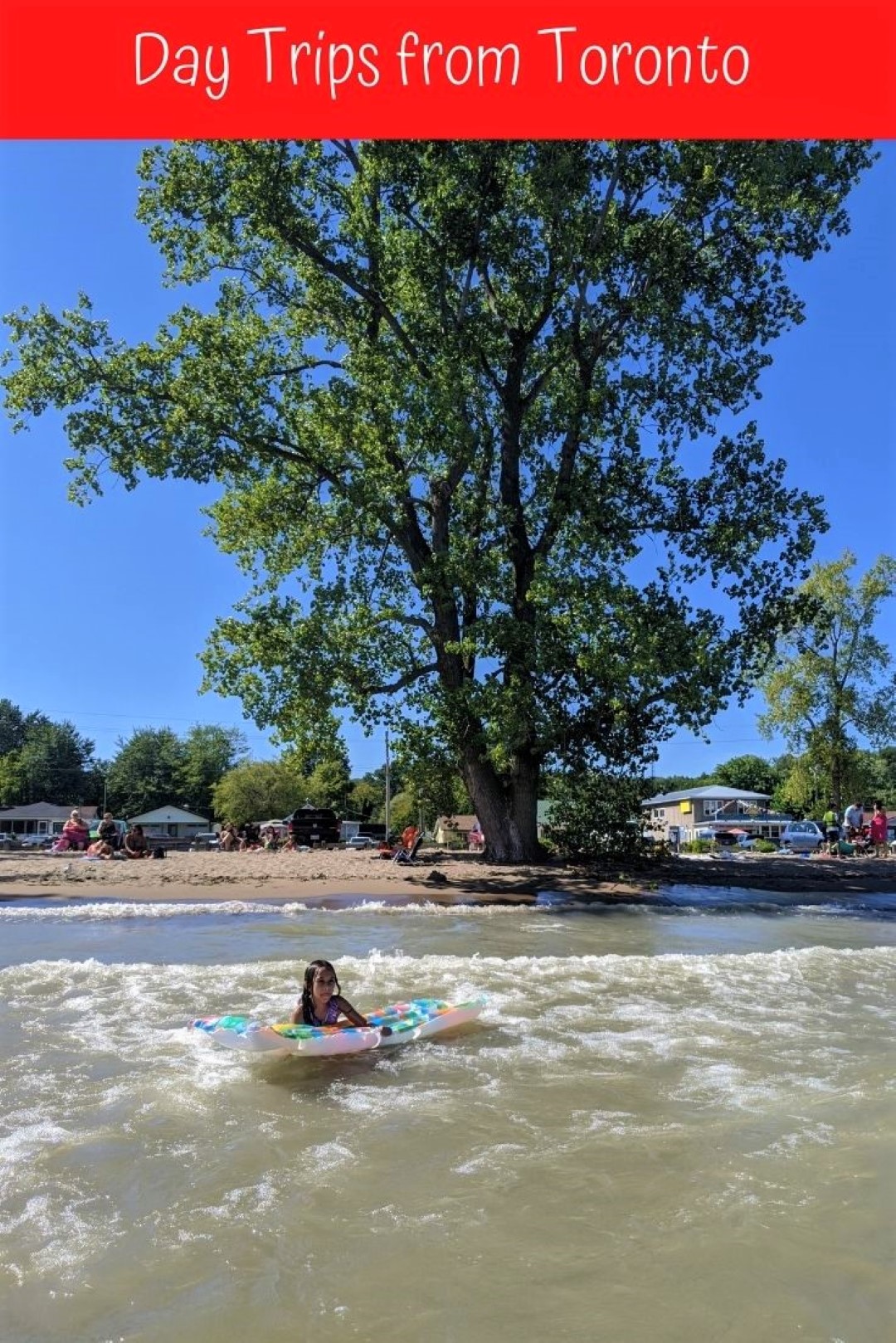 We are now able to gather as a group of 10 outdoors and luckily for us, Ontario has plenty of space enabling us to roam with minimal interaction. As you explore please be respectful of the towns you visit by following the local traffic and parking rules, disposing of your trash in the right places and being respectful of the community that calls the place home. Let us know what your favourite day trips from Toronto are!
About the Authour

Hello, I'm Fiona! I work as an actuarial advisor and a part-time educator. I love living in Toronto with my husband Peter and my seven-year-old son Felix, and I frequently call Toronto Island my "shared backyard." As a natural introvert, I am always looking for opportunities to push myself out of my comfort zone through public speaking and meeting new people. Drop me a note if you're interested in chatting about parenting, raising a family in downtown Toronto, life as a hockey mom, auto insurance, and responsible use of artificial intelligence (not necessarily in that order).