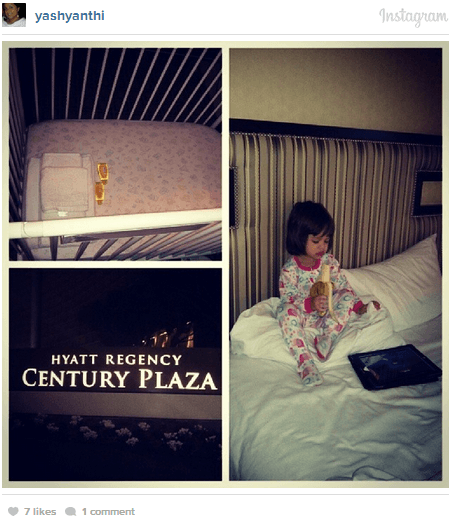 Last week we had the pleasure of checking in to the stylish Hyatt Regency Century Plaza in Los Angeles with our toddler and baby and as soon we arrived we were greeted with a smile and the kids got plenty of attention whilst I went to check in. Check-in was smooth and by the time I stepped outside the gents at the front had loaded the cart with our many bags (we'd accumulated a couple new things by day three of #MurphysDoLA!) and were ready to whisk our stuff away while the valet (reasonably priced given the in and out privileges!) took care of our rental van.
Mind you they have an express web check-in and check-out feature which means less time dealing with the minor details with kids in tow, so be sure to use it if you ever have the chance to stay at the Hyatt Regency Century Plaza. We chose this location for numerous reasons; it allowed us to explore the Beverly Hills and Hollywood area easily and at the same time allowed the hubs to attend a Clippers game at the Staples Centre whilst I popped over to the Westfield Mall.
Disclosure : We were invited for a complimentary stay but as always, opinions are totally mine!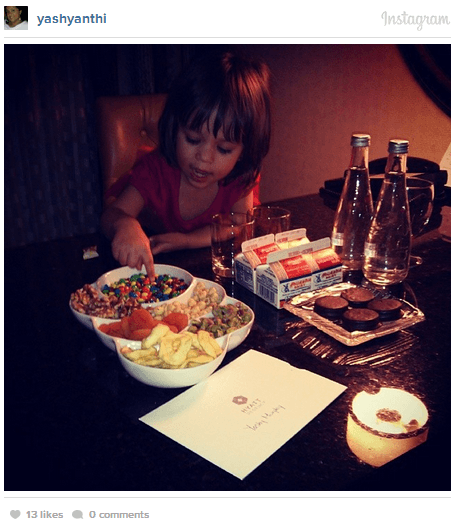 The Little Monkey had quite the welcome awaiting her in the room! Plenty of candy (which I stole) and packs of milk. Whole organic milk which I was able to store in the in-room fridge! Heads up the fridge has sensors so when I moved a couple bottles around and took some out to store the ice pack I was carrying for the pumped milk, it assumed that we had consumed the items even though I put them all back in place prior to checking out. At checkout I noticed the charges and they were soon rectified. Baby Boy's crib came with two sample size bottles of shampoo and extra towels! These little details really made for a pleasant stay. I was very glad for the shampoo since I was actually running low and was planning on purchasing a sample size bottle.
Our room was extremely comfortable with two queen beds… the Little Monkey insisted on having her own bed on this trip. Apparently the crib is no longer good enough! I thought I'd be able to enjoy the luxuries of a king bed with both tots in cribs but alas, that isn't the case! Very glad that we all had comfy beds and we didn't have to share with her! The rooms were plush and extremely relaxing but what I enjoyed the most was the lanai (balcony) with a view of the city and the pool. Nice way to wind down the evening once the little ones were asleep in the room. We usually upgrade to a suite to enjoy a drink and catch up on the day without the need to whisper but having a lanai even in a standard room makes it perfect for young families. Our view of the infinity-edged pool was very tempting but unfortunately we did not have any time to dip in or enjoy the many personal cabanas and lush gardens. Must save something for our next visit right?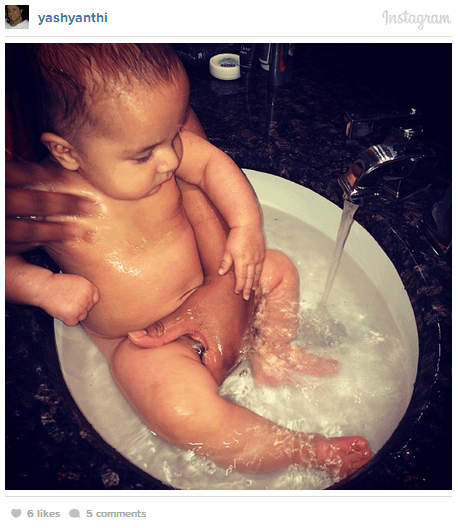 Other amenities in the room included wired high-speed Internet (for a fee), marble baths with full spa products and a 24 hour concierge service. Remember those in and out privileges I mentioned? Well I had forgotten my sandals in the car… all it took was one call and I had them delivered to me! The attention to service is impeccable. Not only did I get a confirmation call to confirm that someone was on the way to drop off my sandles but I also received a confirmation call to ensure that I received them and that everything was to our liking. What do you think? Baby Boy looks pretty comfy in his sink bath don't you think?
The lobby area definitely exudes upbeat charm and I loved that we were greeted by a bar as soon as we entered. The energy is fantastic at this property! You could tell that there was a good mix of business folks and vacationers. My brother and I enjoyed a couple cocktails in the Lobby bar with the Little Monkey and Baby Boy. We were extremely cozy and comfortable in our corner lounge area by the tv and no one seemed bothered by the quiet kids at play. Behind us there was a photoshoot taking place! How very L.A!
The Hyatt Regency Century Plaza definitely attracts the who's who with its swanky yet comfortable vibe. There is an adults only X bar where you can enjoy a fine cocktail and a few nibbles if you're able to secure a baby sitter. As you can see in the video, X bar has a lovely patio which was perfect even on a winter's night! We walked in but did not stay as we had the tots with us but luckily the Breeze restaurant as well as the Lobby Court and Patio welcome families with open arms. There's something for everyone, depending on the mood you're in. The Hyatt Regency has their own line of California wines bottled by the Mondavi winery and we sampled one of the Canvas wines as well as their Maker's SideCar and Manhattan. You can find a range of classic throwback cocktails and many a suit enjoying one of these cocktails.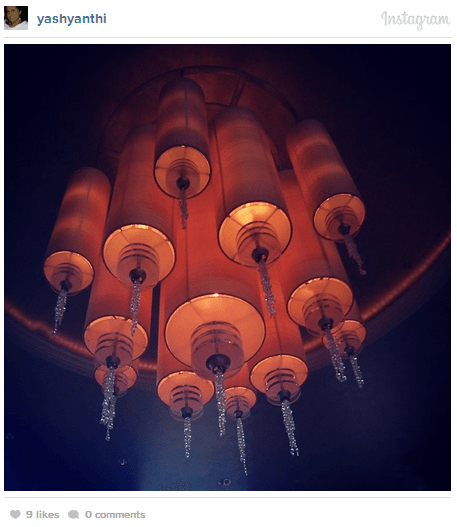 As you may recall during a previous #IGTravelThursday post, my love affair of chandeliers continues. This one at the Hyatt Regency Century Plaza speaks to the posh modern yet classic details  that carry through from the architecture and decor to the friendly service! There's even a Starbucks and Hertz rental car counter in the hotel lobby so you barely need to step away from the hotel if you don't want to.
Have you stayed at a Hyatt Regency on your travels?