Last fall I spent a night at the Muskoka Beer Spa with my girlfriends and had such an amazing time. Last month I spent two nights at the Muskoka Beer Spa with my parents and the kids. Yes…. I know I told you last time that the Muskoka Beer Spa is best suited for a kid free Ontario getaway but I was curious about what a family vacation at the beer spa would look like. So here I am with a full Muskoka Beer Spa review!
Disclosure : We were guests of the Muskoka Beer Spa but, as always, opinions are TOTALLY ours!
A Multi-Generational Ontario Retreat with Kids and Grandparents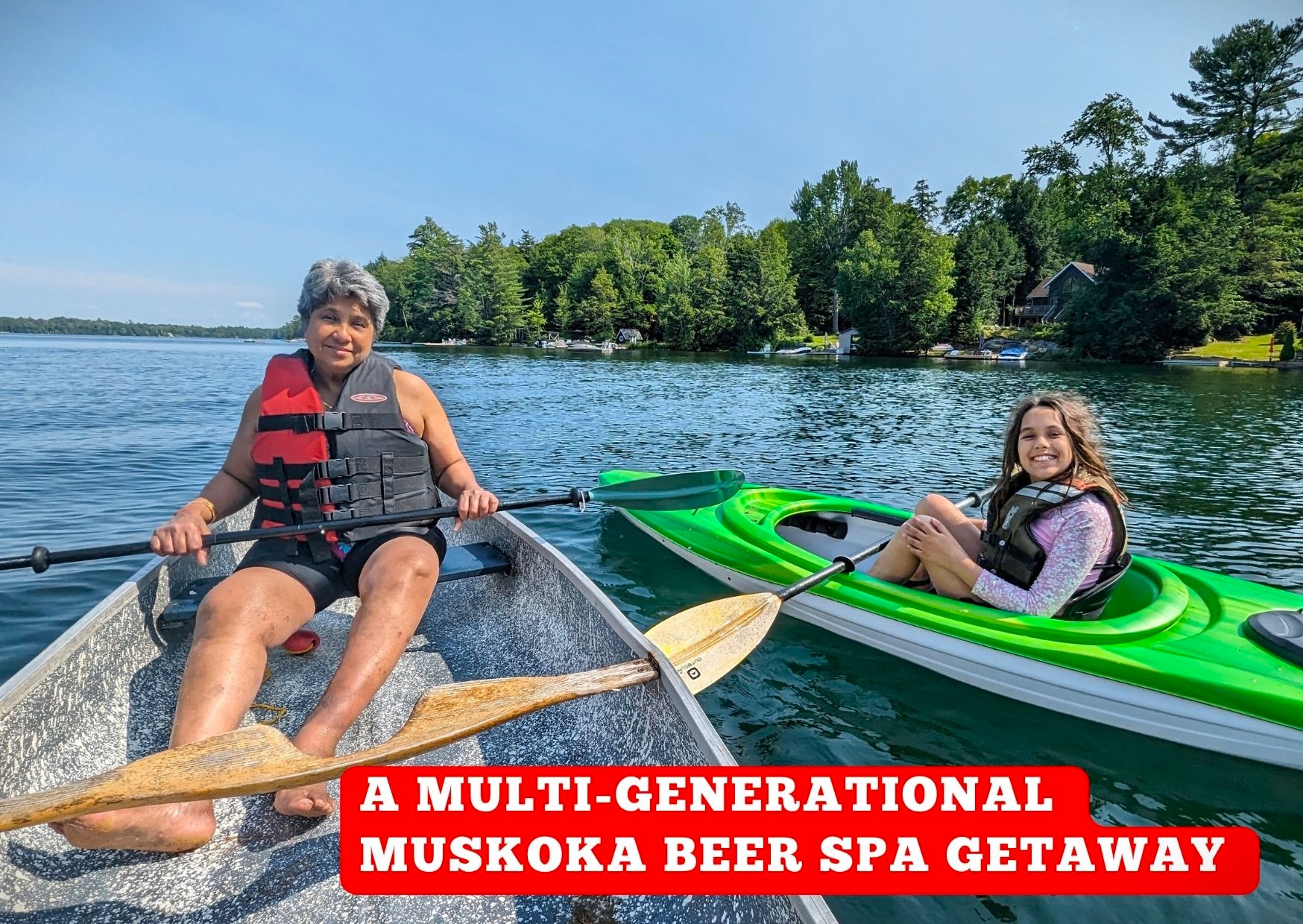 This is the busiest season for my parents who own and run their Niagara on the Lake bed and breakfast so I wanted to whisk them away for a quick relaxing mid-week Ontario getaway. Of course the challenge is that they also wanted to spend time with the grandchildren so I knew we had to find a place that offered a combination of relaxation, various food options and space to spread out. Enter Muskoka Beer Spa. I had heard about their rustic family friendly cabins and was curious to see how my luxury hotel loving parents might fare in the wilderness. What I will tell you upfront is that my parents were able to truly relax and "do nothing" despite being out of their luxury element. So much so that my dad who never sleeps in, woke up at 9 a.m. on the first day, shocked that he was able to do that!
Where is the Muskoka Beer Spa?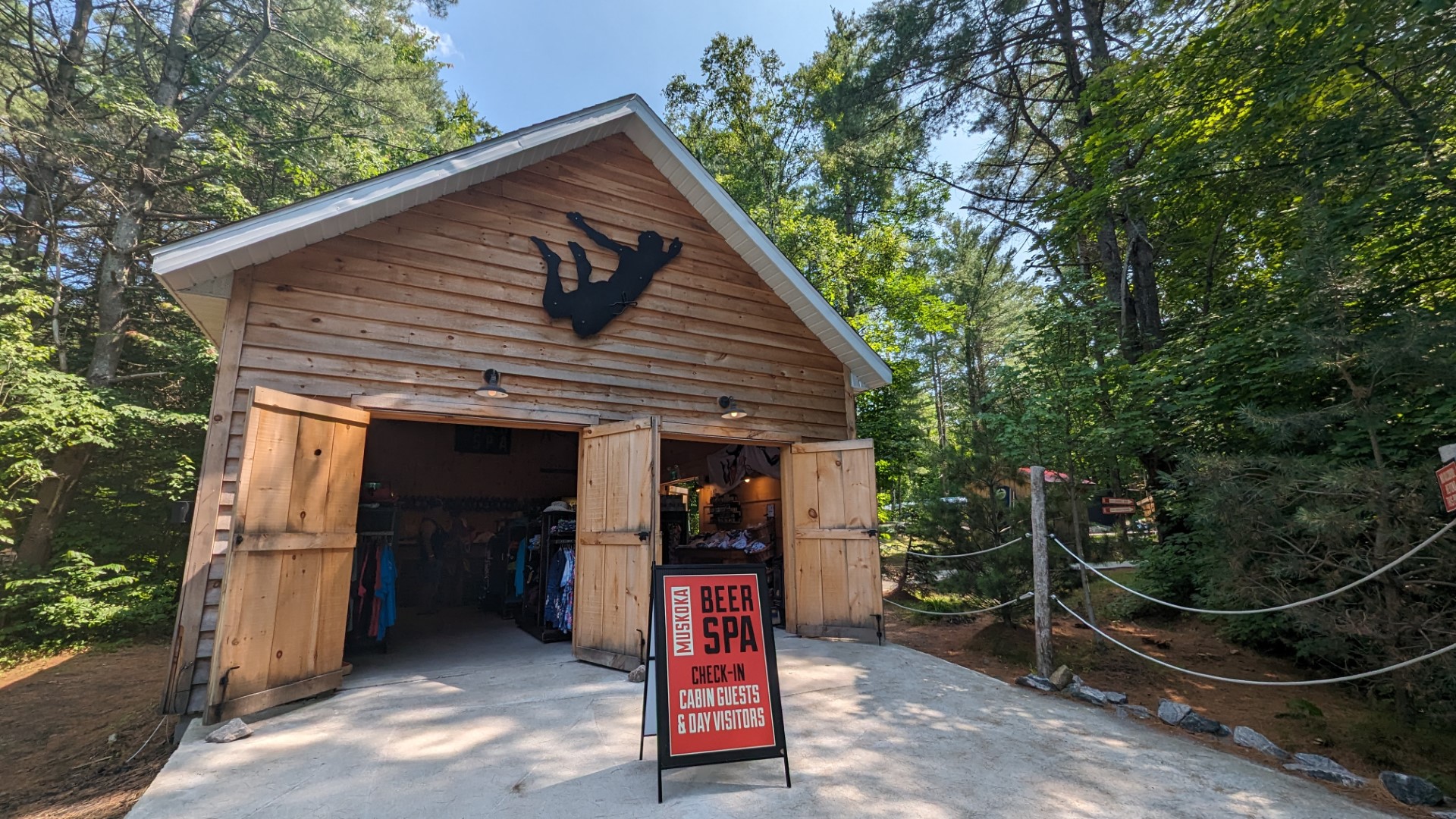 The Muskoka Beer Spa is nestled in the Torrance Bay area which is a dark sky preserve. It is on the traditional territories of the Anishnaabeg, which includes the Ojibwe, Odawa, and Potawatomi Nations, collectively known as the Three Fires Confederacy. The Huron-Wendat and the Haudenosaunee Nations have also walked on this territory over time. This all season Ontario resort is about a 2 hour drive from downtown Toronto and has cabins enveloped by a forest of trees. They offers unlimited use of their spa facilities which include saunas, pools and hot tubs for those 19 years and above. The Beer Spa is open all year long but the pools and hot tubs are only open summer to fall while the saunas and steam rooms are open in the winter too.
You can visit this Muskoka spa for a day visit or spend a night in the overnight cabins and enjoy private beach/lake access as well. If you're doing a day visit, it's super reasonable and priced at $49 per person during the peak season (but complimentary if you stay overnight in one of their cabins). Last fall one of our local friends lucked out because there was a special promotion on during our visit where spa guests only paid $20 if they arrived after 3:30 p.m. – be sure to check their seasonal specials because they always have fun stuff on offer! One thing you should remember is that day time visits are only available spring into late fall and not in the winter. Oh and also, if you have confirmed day pass reservations for groups of 4 or more, you can enjoy a complimentary return trip up to $100! The Muskoka Beer spa will pay up to $100 of the return trip taxi fare, which is about 35km. However, you are responsible for the trip to the spa and any difference for the fare home.
If you're coming for a day trip, leave the kids at home. If you're coming for an overnight getaway, bringing the kids is totally a-ok – especially older ones. Remember, it's absolutely acceptable to use this as a base for a kid free Ontario holiday so don't feel guilty if you go down that route.
What Can You Do at the Muskoka Beer Spa?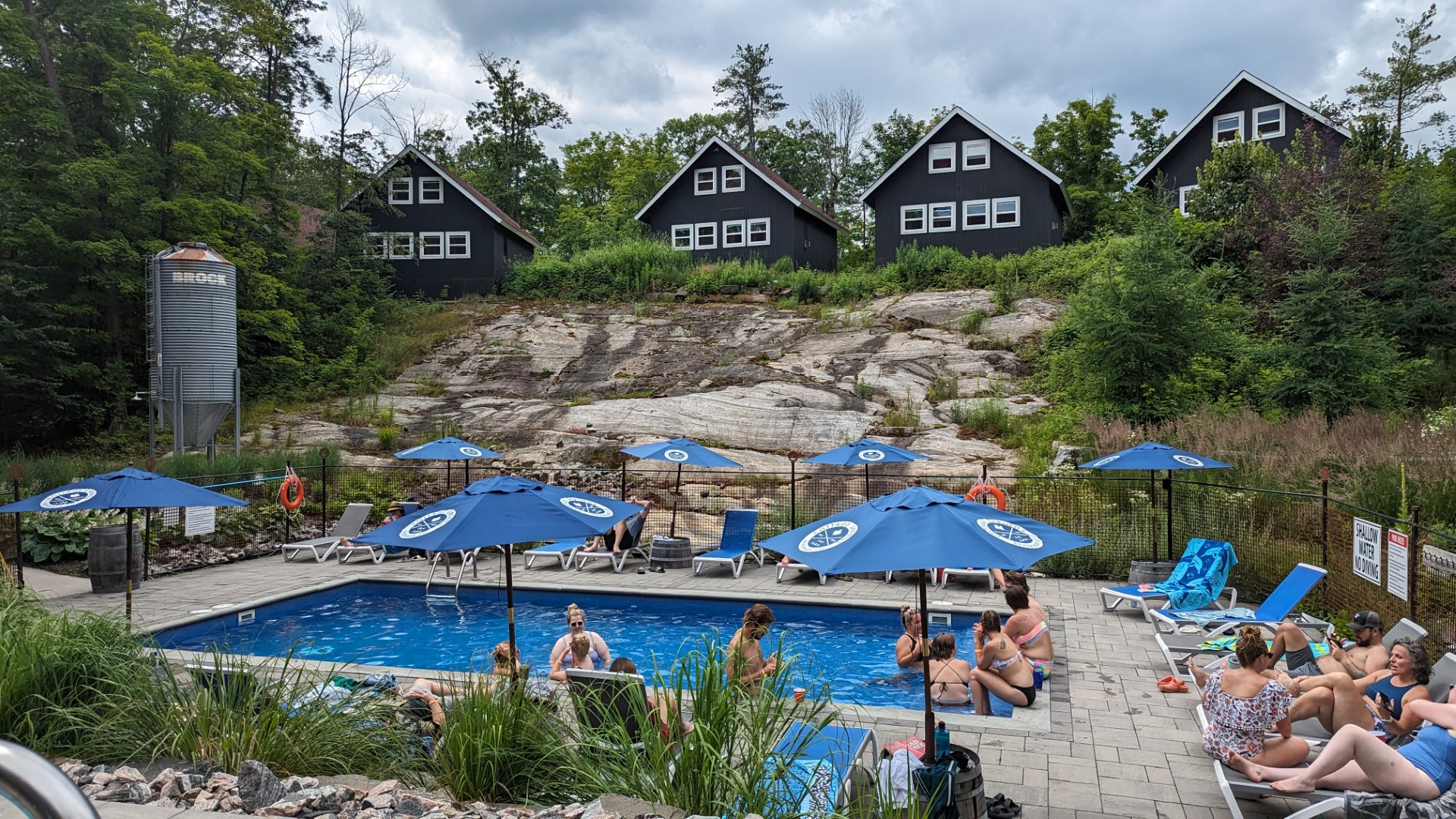 As I've mentioned, the spa facilities are for those 19+ which means parents and adults can truly relax. Luckily for us, our tweens are responsible and old enough to stay in the cabins by themselves for a couple hours, which meant that I was able to 'drag' my parents away from their screens! Don't worry there was plenty of options to ensure we dragged the kids away from their screens too!
Adults Can Indulge in a Wink and Wave Massage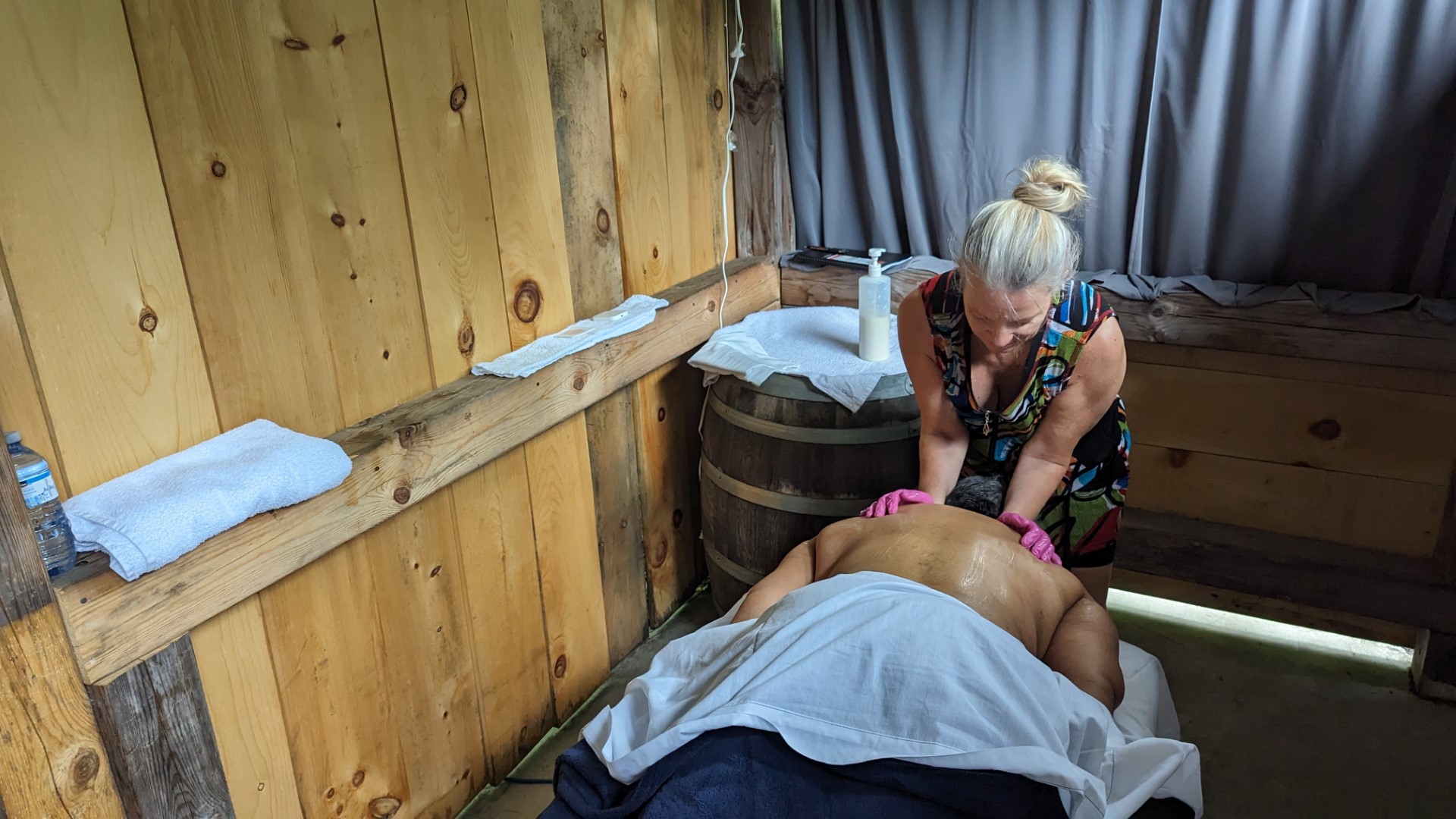 Since you're at a spa, it would make sense to sneak in a massage. My mom and I enjoyed a Wink & Wave massage while my dad hung with Akira and Apollo. You can book a massage with one of the Wink & Wave RMTs at Muskoka Beer Spa in advance of your visit or you may luck out with some open slots by visiting the check-in desk at the entrance to the Beer Spa. The massage cabins are also located in the main spa section and I was able to see the trees through a few open slots in the cabin – which I found to be a nice touch. Though if you're hoping for a quiet massage, know that you may hear other patrons walking around and since this is a popular bachelor/bachelorette destination, you may be subjected to some joyful shrieks and merriment on occasion. Wink & Wave is super mom-friendly and offers in-home beauty and wellness services across Toronto, the GTA, Muskoka and Collingwood.
Get on the Lake as a Family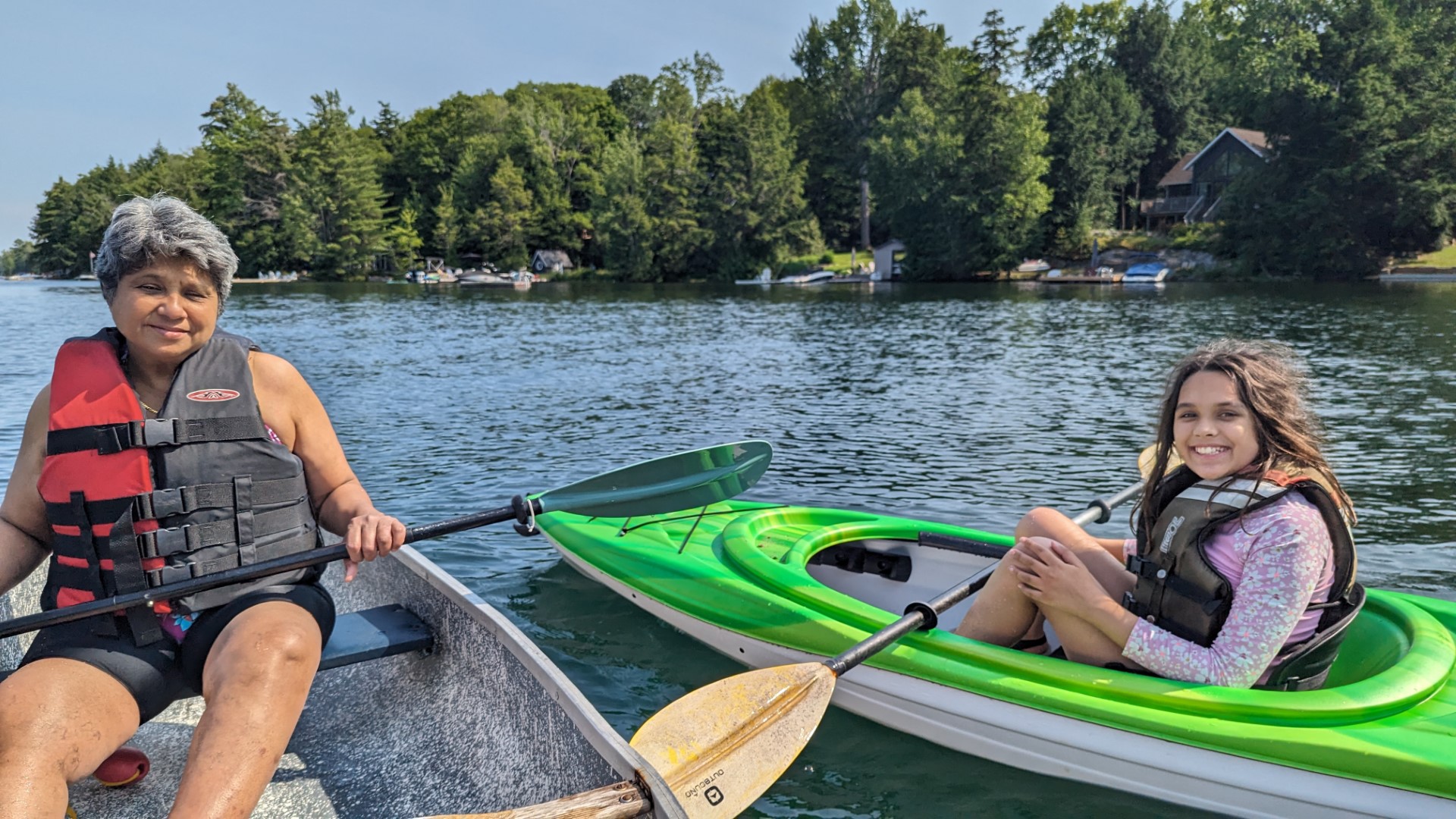 I love that there's a small family friendly beach area with free to use kayaks, paddle boards and a canoe. While my dad was too afraid to get on the water, the kids and my mom were totally into it! I'm not a very confident paddler and we totally sat in wrong formation in the canoe but we had fun and was able to enjoy some quiet time on the water. It's such a peaceful spot and because there are loungers as well, you can enjoy lake views without getting in if you're like my dad! There are adult and kids life jackets but they've certainly seen better times so if you can bring your own, I would, especially for the kids.
Be sure to come by late in the night as well because the stars were really showing off both times (in the fall and summer) and during this most recent visit, Apollo even spotted a shooting star! Being within the dark sky preserve means that the Muskoka Beer Spa takes steps towards reducing light use during the evenings (so you'll use your phone's flash or a flash light to move around the resort during the night time).
Apollo reminds you to bring a bucket because there's tadpoles and fish you can try to catch! It provided them with endless hours of fun and multiple beach front visits during our two night stay.
Chill at the Brewery with Kids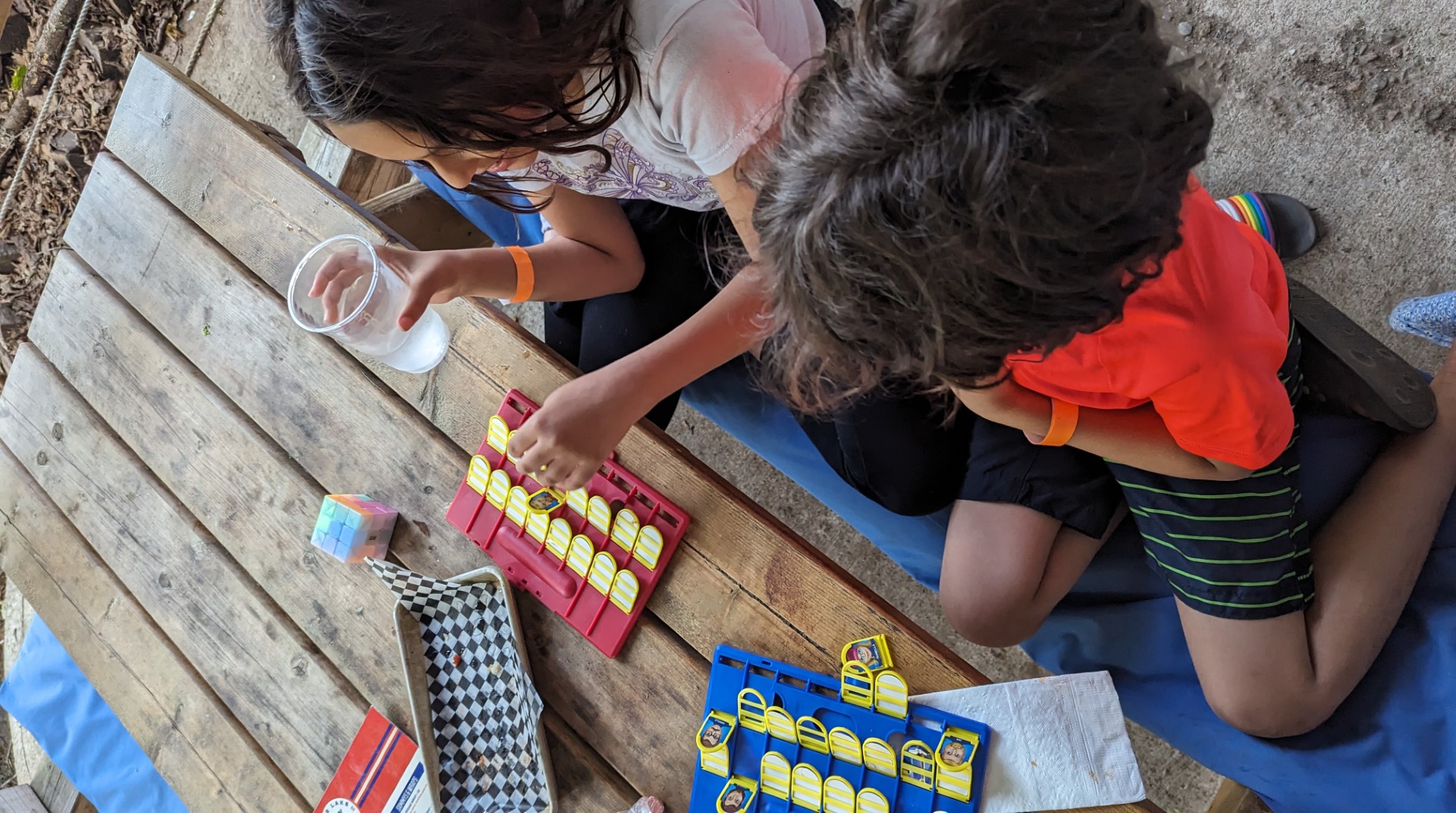 What's a Beer Spa without an on-site brewery? If you're staying at the cabins you can walk over by crossing a small road and arrive at the Clear Lake Brewery. This spot is a total summer vibe! Not only do they have the indoor portion (which we enjoyed in the fall) but they have a full blown out patio with picnic benches, cabanas, playground for kids and a stage. We arrived on a Monday and that night there was a live performance which we enjoyed whilst having some cocktails, refreshing brews and bites.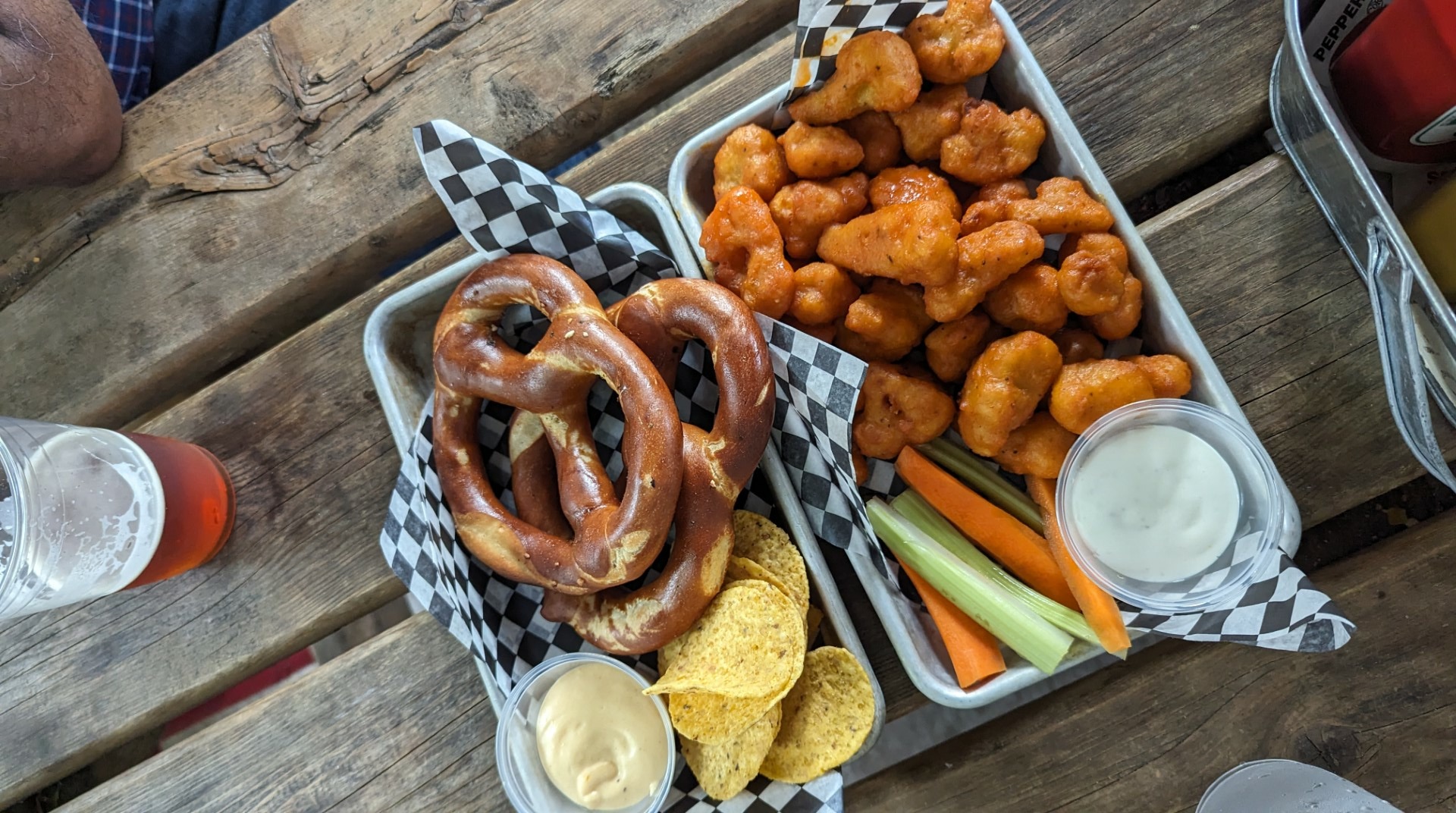 The Buffalo Cauliflower bites were our favourite on this visit and the kids enjoyed the burgers. My mom's a vegetarian and found quite a few dishes for dinner as well. Our tweens enjoyed borrowing the board games on offer at the brewery and also hanging out at the playground (more to distance themselves from the adults and enjoy some independence than actually using the swings and slides, to be honest). Kids also made good use of the corn hole games on offer here. Know that they are open all year long and offer breakfast, lunch and dinner so you really don't need to leave the resort and can enjoy your beverages responsibly.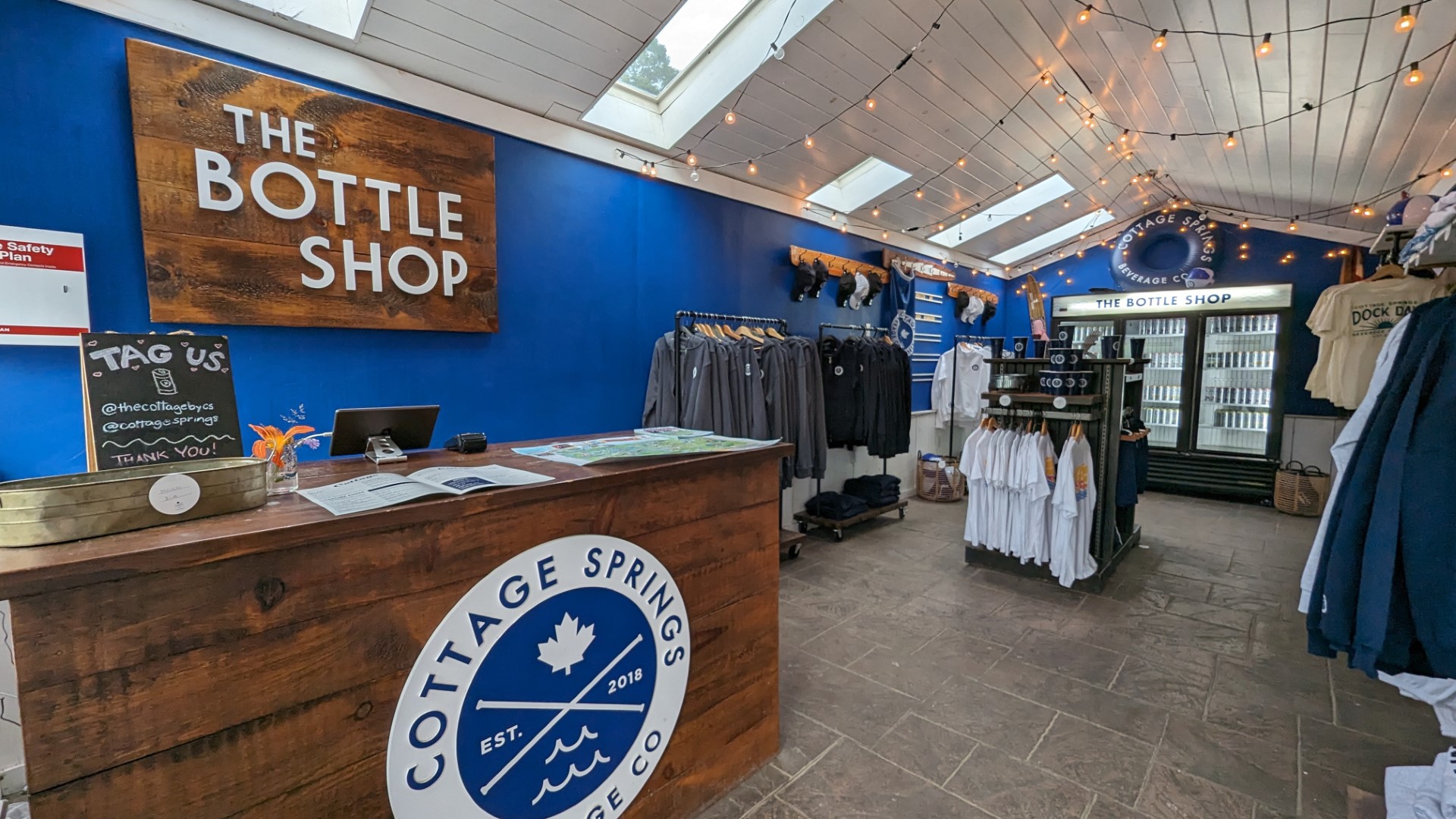 There is also The Cottage by Cottage Springs where you can not only imbibe on their refreshing vodka sodas ( a summer staple for me) but you can also have pizza, salads and burgers. I sadly did not have a chance to dine here on this visit either but one day soon I shall!
Grab Tacos and Ice Cream at the Truck with Kids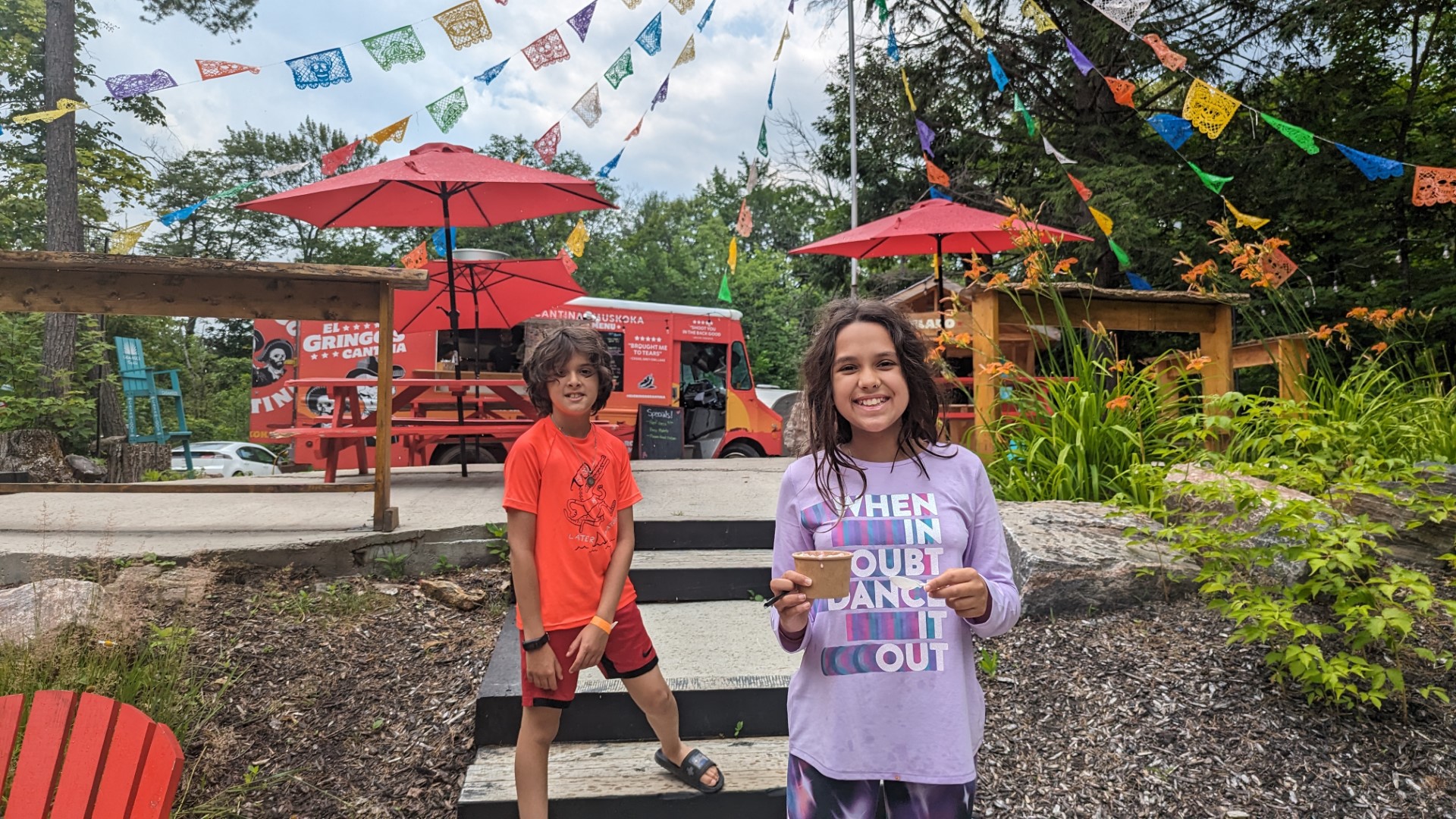 I love the menu at El Gringos Food Truck! They have a fun space within the spa facilities area BUT you're allowed to walk kids through the spa and bring them to this food truck. Keep in mind that if you have young kids they may have a tantrum about not being able to swim in the pools and such.
While Akira and Apollo were disgruntled about not having pool and sauna access (two of their favourite activities ) they were happy to dig into the tacos and helado. Be sure to ask for their hot sauce if you like things a bit spicy!
Adults can Unwind in Nature at the Spa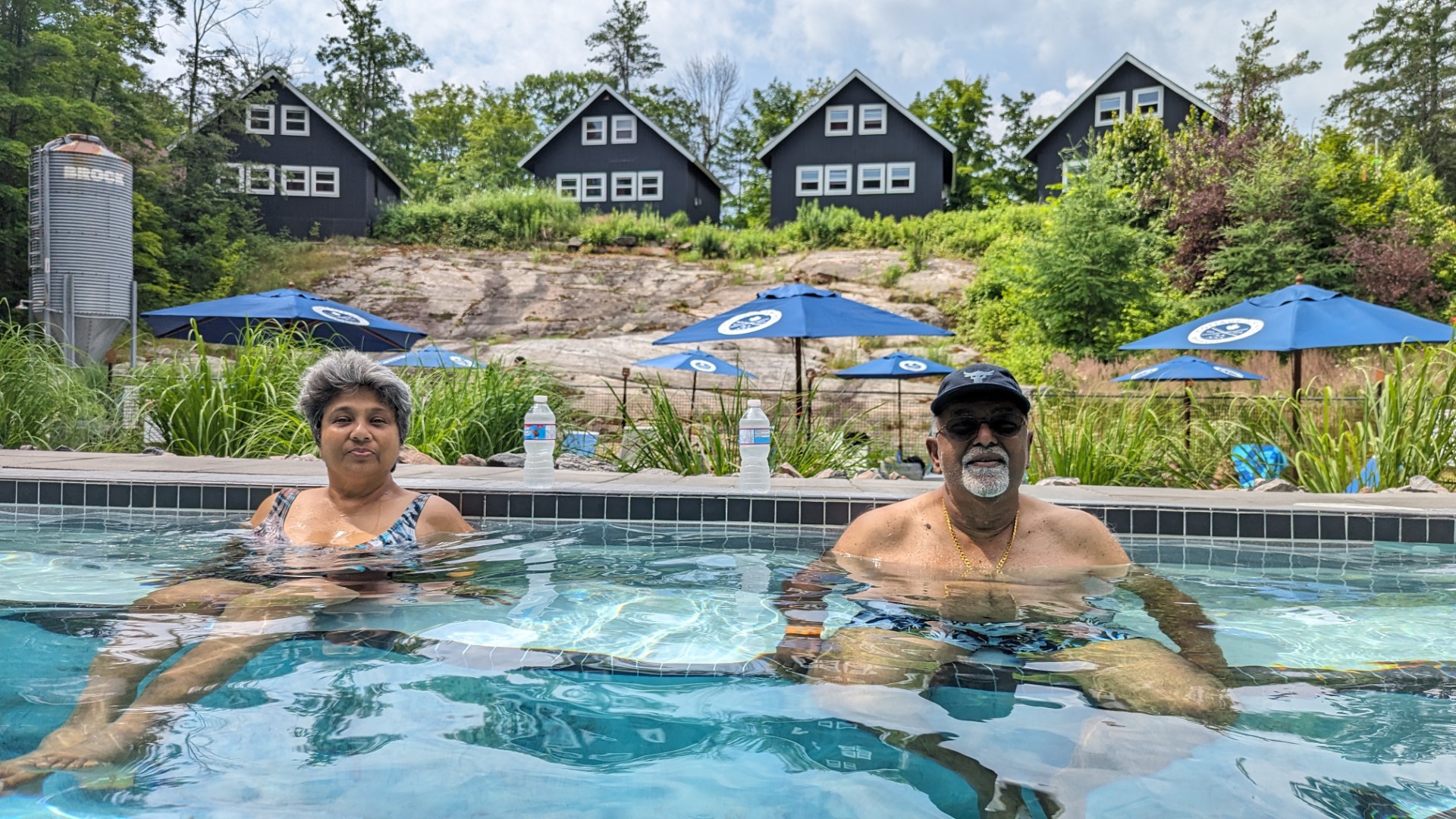 I've mentioned the nature spa a couple times now and the beauty of staying on-site is that you can dip in and out as you want because you have unlimited daily access from 9 a.m. until sunset. You have full day access on the day of check-in and check-out which means that even though we only spent 2 nights here, we had 3 full days of access. This is truly your spot to detox, retox and relax. There are 2 outdoor hot baths, 3 saunas, a steam room, a relaxation pool, forest beach, swinging cabanas, loungers, hammocks, dump buckets, beer gardens and fire pits to enjoy.
On this visit my parents ordered a drink at the Barrel Bar during the day time and received a complimentary foot rub!! Even though my mom doesn't drink alcohol, she was able to have an non alcoholic beer. My dad is all about the beer so a foot soak in beer whilst sipping a Clear Lake Brew was utter bliss.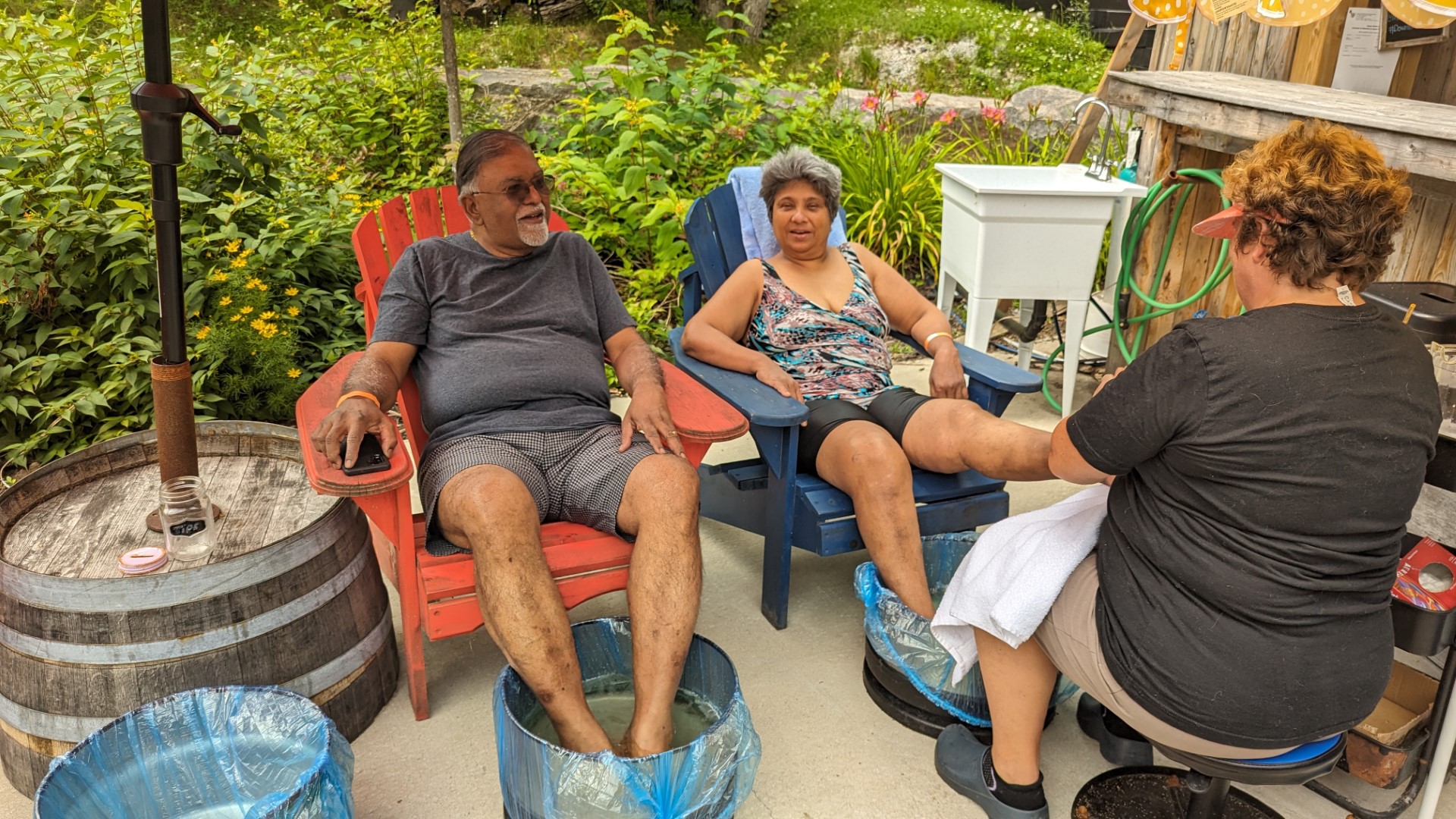 I want to highlight that this Ontario nature spa is very rustic. Don't expect a fancy 5 star experience- you're coming here to be one with nature whilst also relaxing those muscles and getting some bonding time with friends and family. There's no being shushed or being told you're too loud – which is why groups love it here. You can't drink whilst in the pools but you can bring your own re-usable water bottles (ahem ahem) with you to stay hydrated. There are towels available in the cabins but I prefer to bring my own bathrobes and beach towels for use in this section. As much as I love my fancy spas with luxuriously buttery creams, soft fluffy robes and refreshing cucumber water – there's something to be said about being in the woods in rustic cabins. It's very Canadiana and has a charm of its own- but hear me when I say that this is as close to camping as I can get!
Watch VHS Movies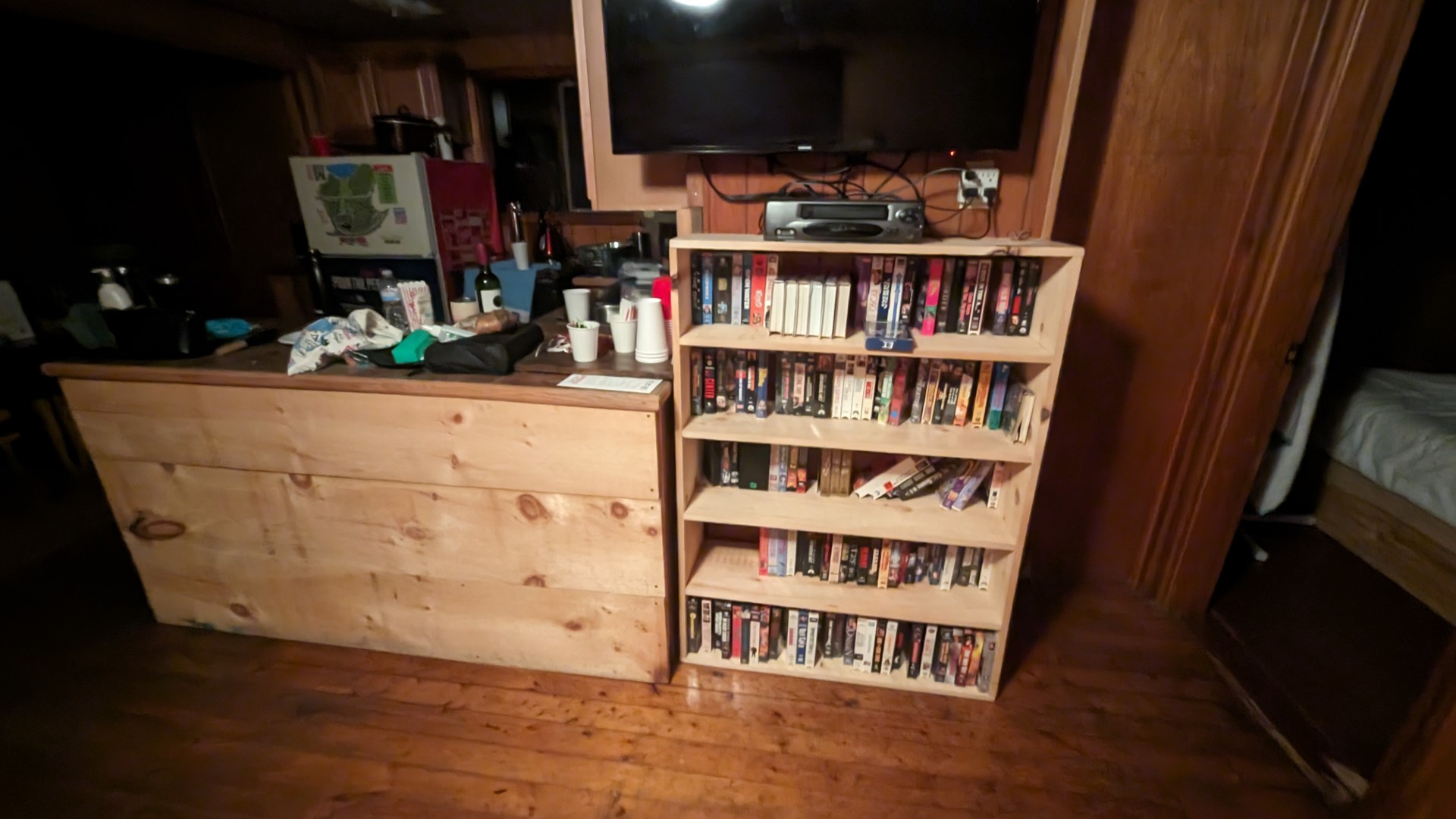 One of the quirky things on offer at the cabins is a wide selection of VHS movies and yes, there's a fully functional VCR player too. Akira and Apollo were baffled with the vintage look of old Flintstones cartoons and opted to watch the original version of Wizard of Oz one night.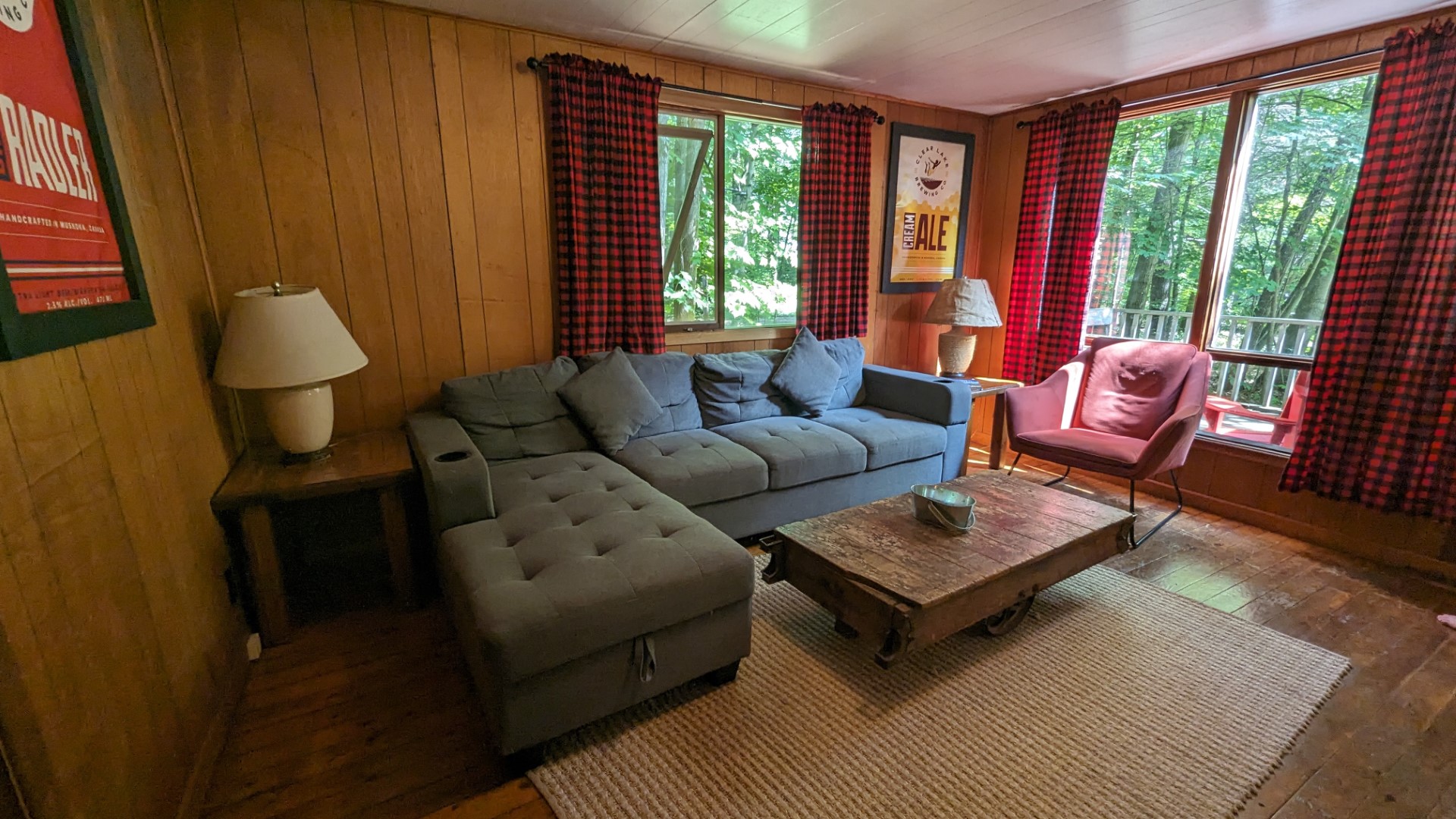 Watching some classics, snuggled on a couch with blankets you've brought from home, surrounded by all the complimentary snacks in the cabins makes for a picture perfect family night at the Muskoka Beer Spa. You could go outside and toast some marshmallows in fire pits next to your cabin and count the stars to end the night!
Get Those Old Muscles Moving with a Class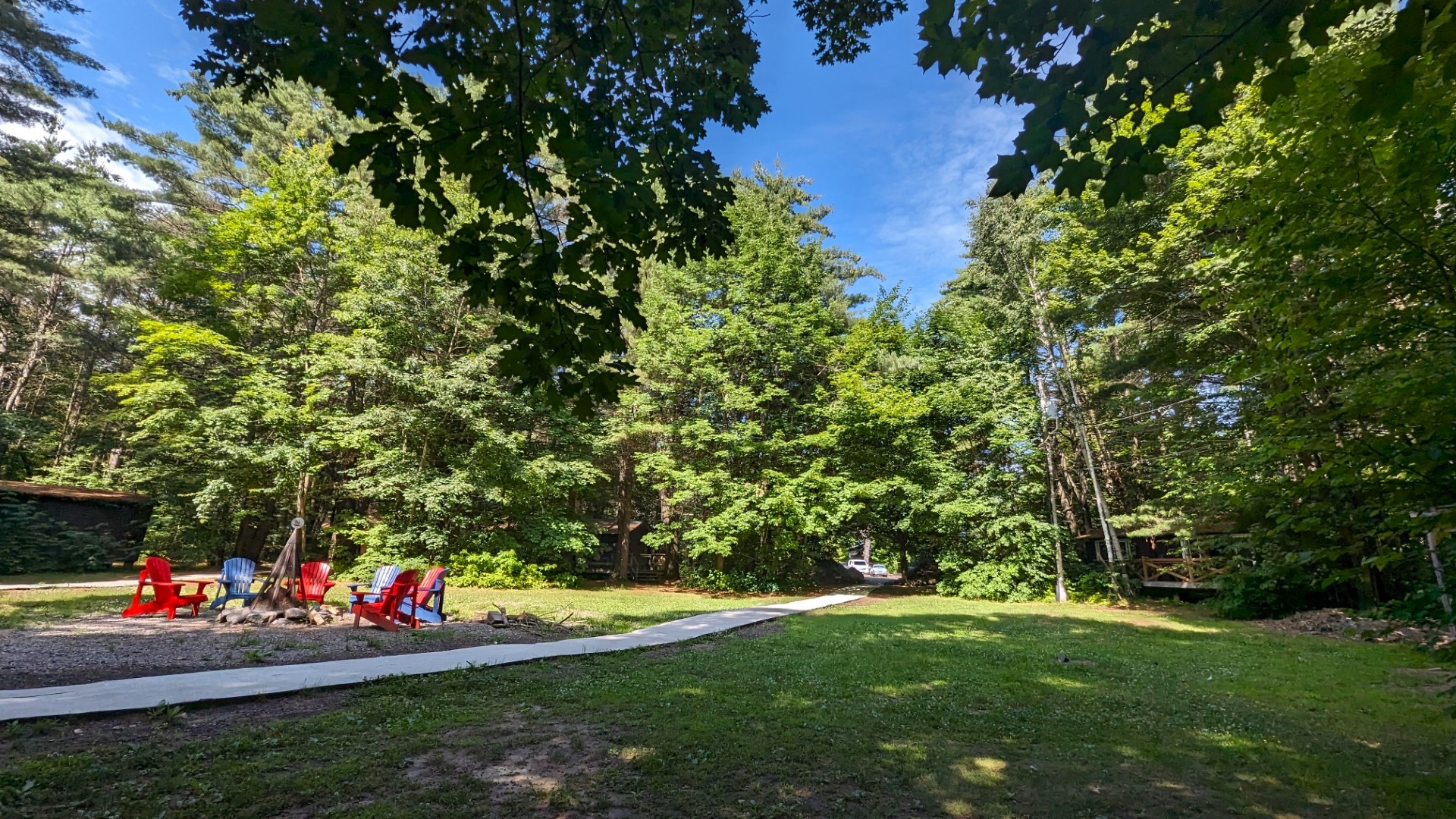 They offer some classes on site during the summer months (hello beer yoga!!) which is complimentary for day visit and overnight guests. We sadly missed the ones during our visit but I know my mom would have loved the yoga while the circuit training sounds more appealing to me!
What are the Muskoka Beer Spa Cabins Like?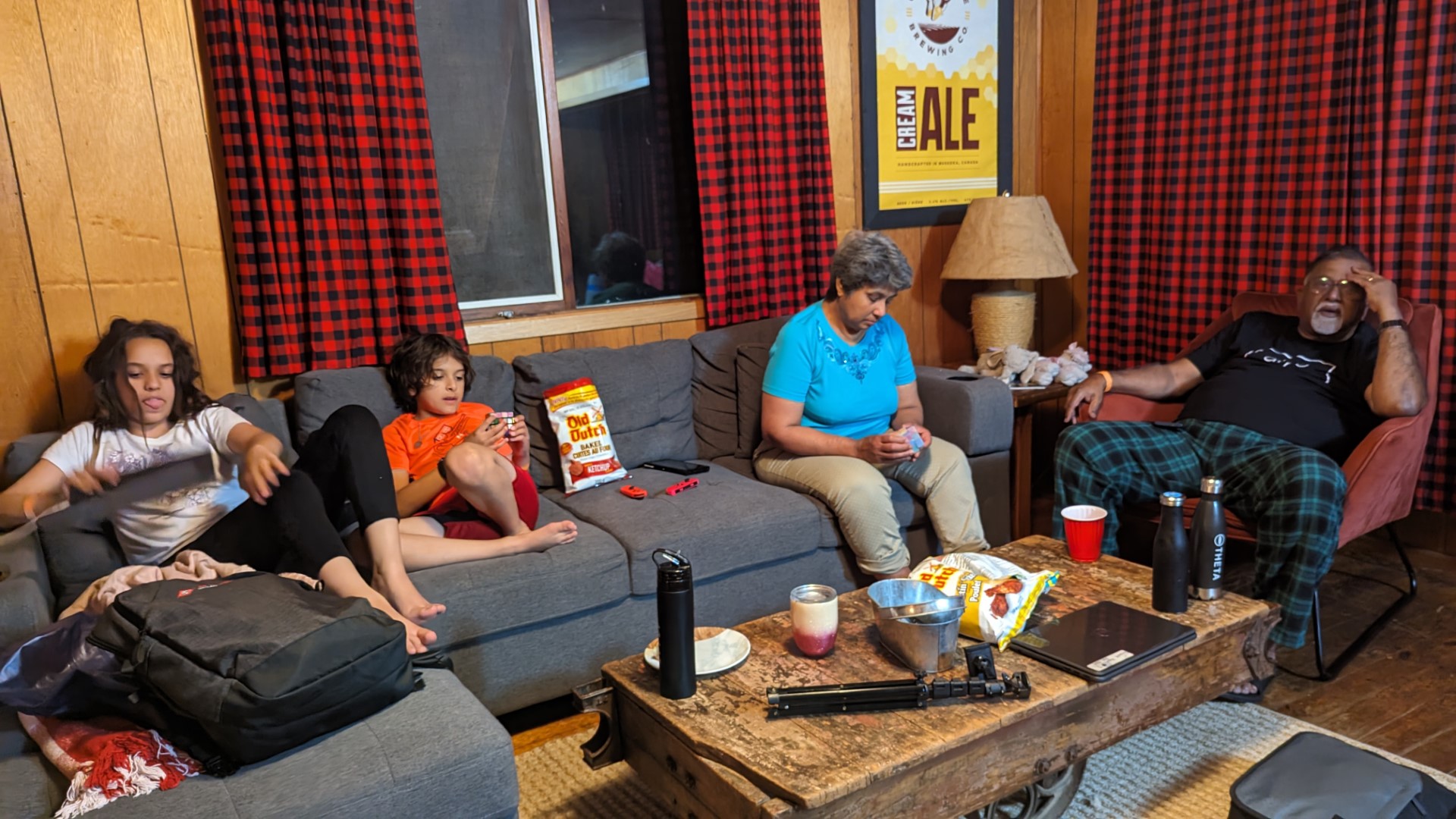 In the midst of this rustic woodland setting, I had the pleasure of staying in Cabin #5 last fall, a charming three-bedroom retreat within the adults-only area (click here to see what this cabin looks like). However, this time, we opted for Cabin #8, a former two-bedroom rustic cabin thoughtfully converted into a three-bedroom lodging. The addition is discernible by its woodwork, exuding a brighter and fresher ambiance. Nestled closer to the beach, Cabin #8 resides in the family-friendly section.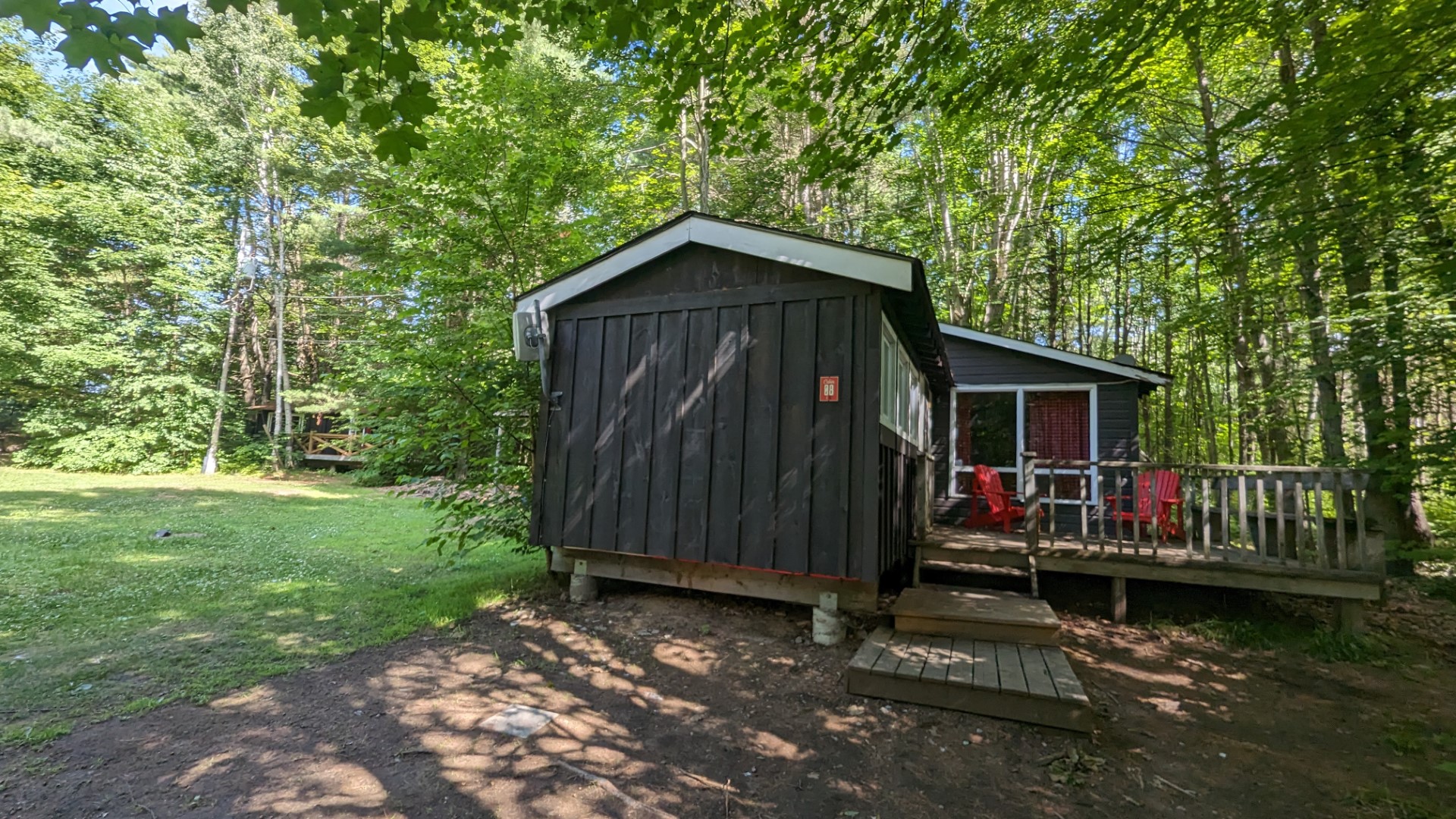 There are ultra rustic 1 bedroom cabins but most of the regular cabins are 2 or 3 bedroom and the cost for each stay is on a per person basis. Kids under 5 stay for free. Each cabin has a microwave and a fridge. The one in cabin #8 had a full fridge and a freezer which is great for families bringing easy to warm meals and such. In cabin #5 the fridge was mostly taken up by the Keg but in cabin #8 there was a separate beer fridge and tap. Yes you can order a keg to your cabin!! There is no stove and you want to keep that in mind as you plan your snacks and food items. We mostly brought cereal, milk, fruit, meat stuffed buns and some ready made waffles to get us through our two night stay. I also brought our own plates, knives, and cutlery as nothing is offered in the cabins (though there may be stuff left behind by previous guests). Oh they do have kitchen towels and a couple solo cups to get you started.
The beds, surprisingly, were incredibly comfortable, a fact even my parents pointed out. We all indulged in a well-deserved lie-in – there's something truly magical about slumbering beneath the sheltering canopy of trees. Each cabin is cocooned by towering trees, and while there's no air conditioning (just portable fans, even in the summer), I was pleasantly surprised by how refreshingly cool it stayed inside. This was a relief for me ( long-time readers of our travel stories will know how much I dread sleeping in the heat). Rest assured, pillows, sheets and blankets are all thoughtfully provided, so there's no need to bring those.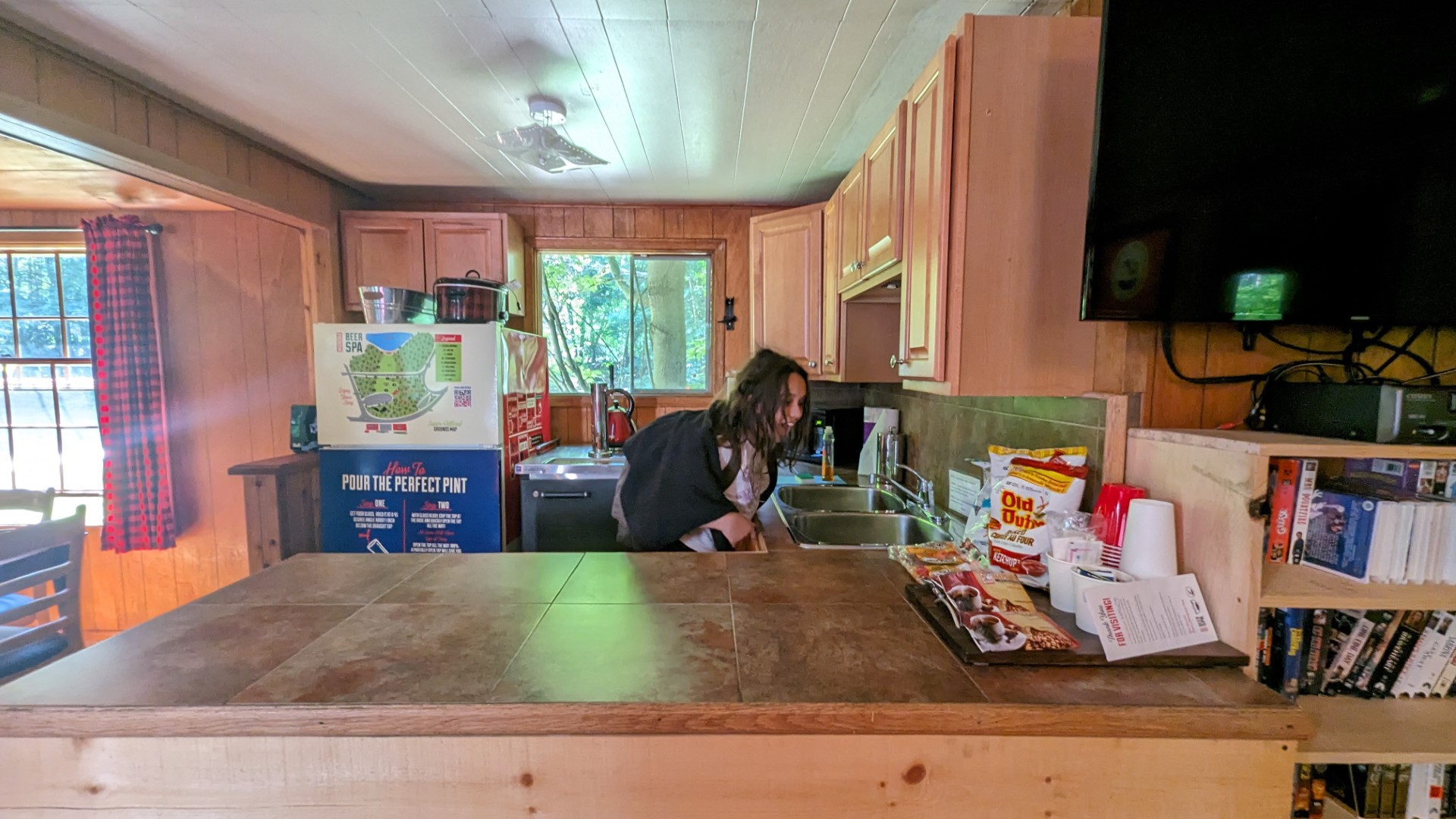 The cabins come with unlimited snacks and sweets which you can easily top up by asking for more at the check-in counter. My parents and the kids got a kick out of this! Last year we needed keys to enter our cabins but this year they installed electronic locks which made it easier for us to pop in and out of the cabin without waiting on each other. The free morning pastries have also ended which was disappointing as it was a nice surprise in the morning! Oh but they do still have the fire starter kits!
The only thing that had us all scratching our heads was the bathroom situation. You see, Cabin #5 had a full tub, and I kinda hoped for the same on the family side. But nope, we got a teeny-tiny standing shower that everyone, especially my dad, found cramped. If there's one thing they should totally upgrade, it's the bathrooms. I mean, Cabin #5's wooden door with slots was a breeze compared to the uber-rustic vibe of Cabin #8's bathroom. They did hook us up with towels, but me, I'm all about those fluffy ones, so I made sure to bring our own this time. Oh, and here's the deal – you gotta pack your own creams, shampoos, conditioners and soap. Or, here's a neat option: you can buy some locally made beer-infused goodies from their gift shop!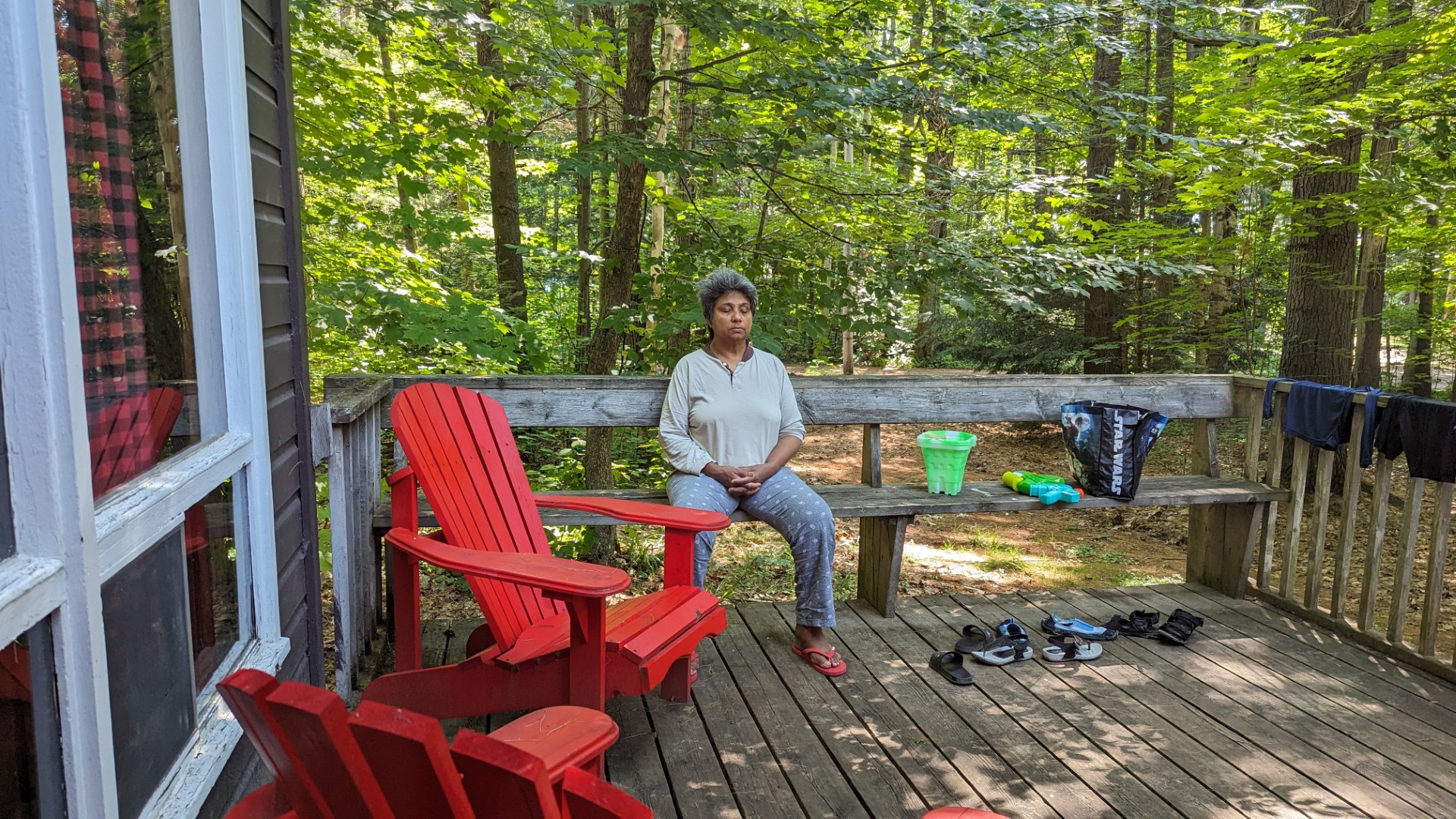 My mom really enjoyed the patio each morning with coffee cup in hand she meditated under the canopy of the trees whilst my dad played some golf on his phone and the kids lounged on their ipads. The slow mornings were followed by spa and beach time before venturing to the brewery or a local restaurant. No agenda in sight. Blood pressures were reduced and fresh air was inhaled.
What Should We Keep in Mind When Staying in Muskoka?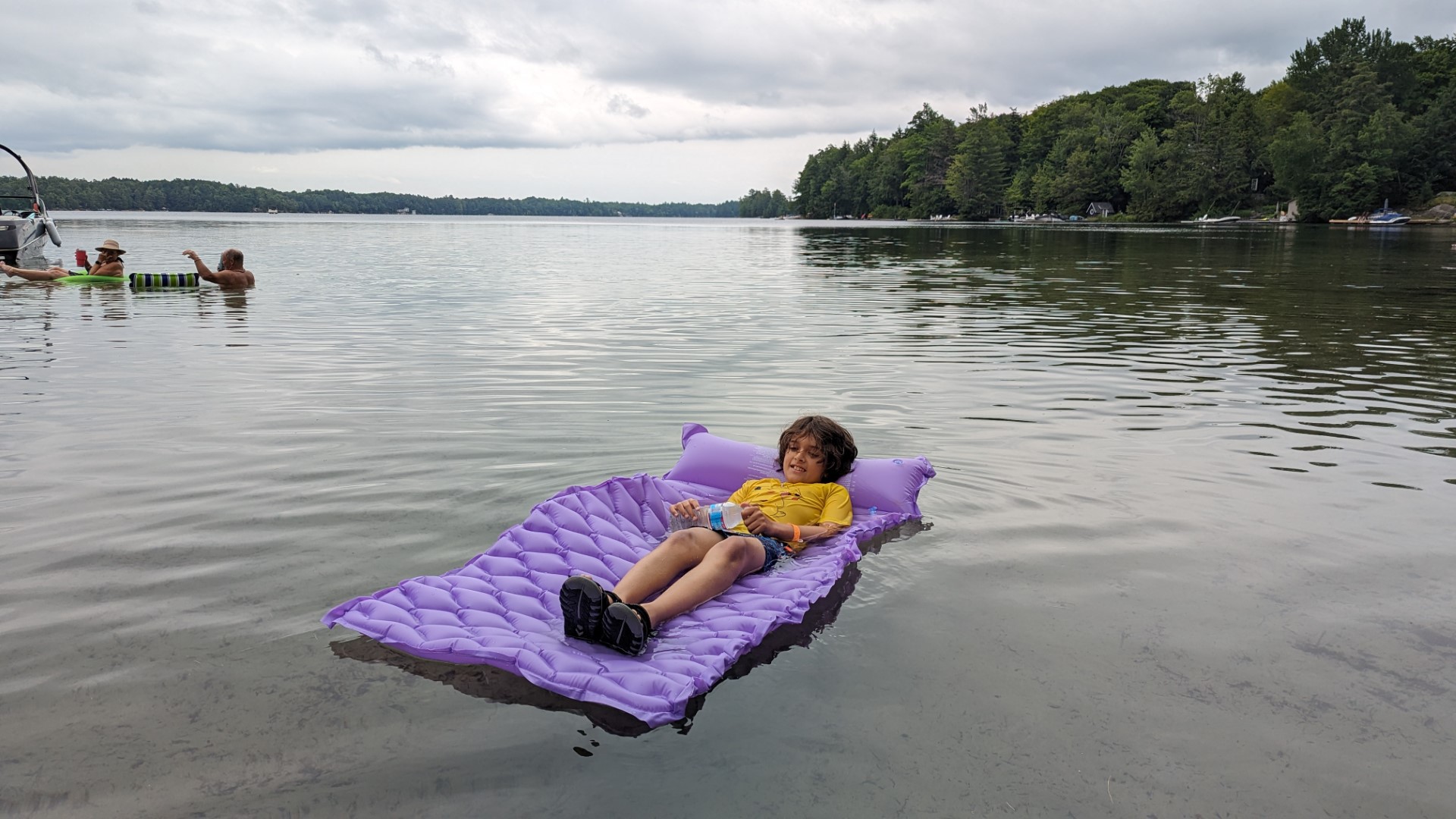 Now that I've stayed at the Muskoka Beer Spa on two separate occasions and seasons, I definitely have tips to keep in mind as you plan this Ontario getaway.
Definitely bring a cozy blanket to snuggle up around the fire or whilst watching a VHS movie.
If you're staying overnight, remember that you have free spa access on the day you check in as well as on the day you check out!
If you're not into disposable cups, bring your own (hard plastic works best, especially if you plan to roam around the property). A sturdy water bottle also works great.
Bring your own plates, knives, cutlery etc.
Buy water to drink because the water needs to be boiled – grab a gallon or two on your drive from Toronto into Muskoka. OR you can take your own jugs to the Brewery and they'll fill it up for you at no cost.
It gets very dark at night and because you're on a dark sky preserve, lights are kept to a minimal so you may want to use your phone flashlight (or bring some red flashlights if you want to keep light pollution low) to get from your cabin to the beach area for an evening paddle.
The cabin comes stocked with towels, pillows, linens etc but you may want to bring a beach towel or a robe for your spa activities. Bring fluffy bath towels if you don't like the thin style ones.
The Muskoka BeerSpa has a gift shop onsite and it has some cute cozy items if you forget anything!
Know that the pools are only open from spring to fall. In the winter time the saunas and steam rooms operate and there's an ice rink onsite.
Remember you're in the woods – there are mosquitos and… other stuff.
Kids aren't able to access the spa facilities but can visit the Taco Truck!
Things to do in the Muskoka Area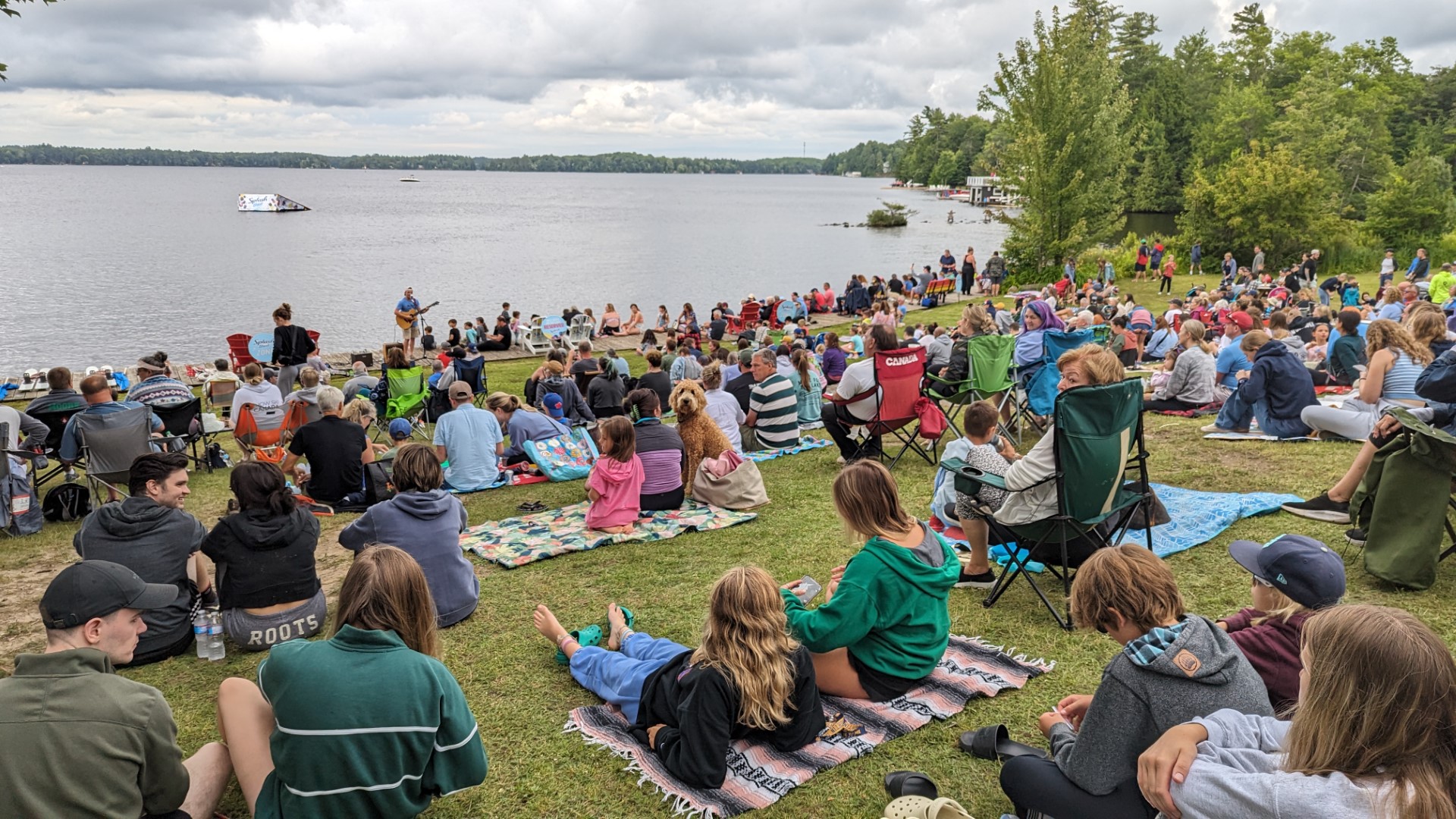 There's no shortage of things to do in Muskoka but you really should relax and enjoy the spa vibes when you're here. That said, there are a few things in the nearby area that are worth wandering towards.
Right by the Muskoka Beer Spa is a coffee cart/truck and a sandwich truck for some day time meals. If you drive five minutes further towards Windsor Park you'll find some more food options. We had some pizza at Scopa Pizza before catching the free Tuesday night Muskoka Water Ski Show. Their "patio" is right by the water and they have lawn games and swings – my only complaint was that they were skimpy on the toppings given the prize point of the pizza. A bit beyond that is the Bala Pub which locals flock to.
Across the road from the Ski Show is The Pearl Muskoka, a newly opened café and restaurant, which you MUST visit. The owners are lovely and they offer a wide selection of baked goods, salads, whole meals and so much more! I wish I was in town when they were open for dinner but I am glad I got to enjoy lunch here right before we returned to Toronto! My mom's still thinking about their white lasagna and falafel a month later! They are also very family friendly and have kids meal options in addition to the elevated dishes for parents.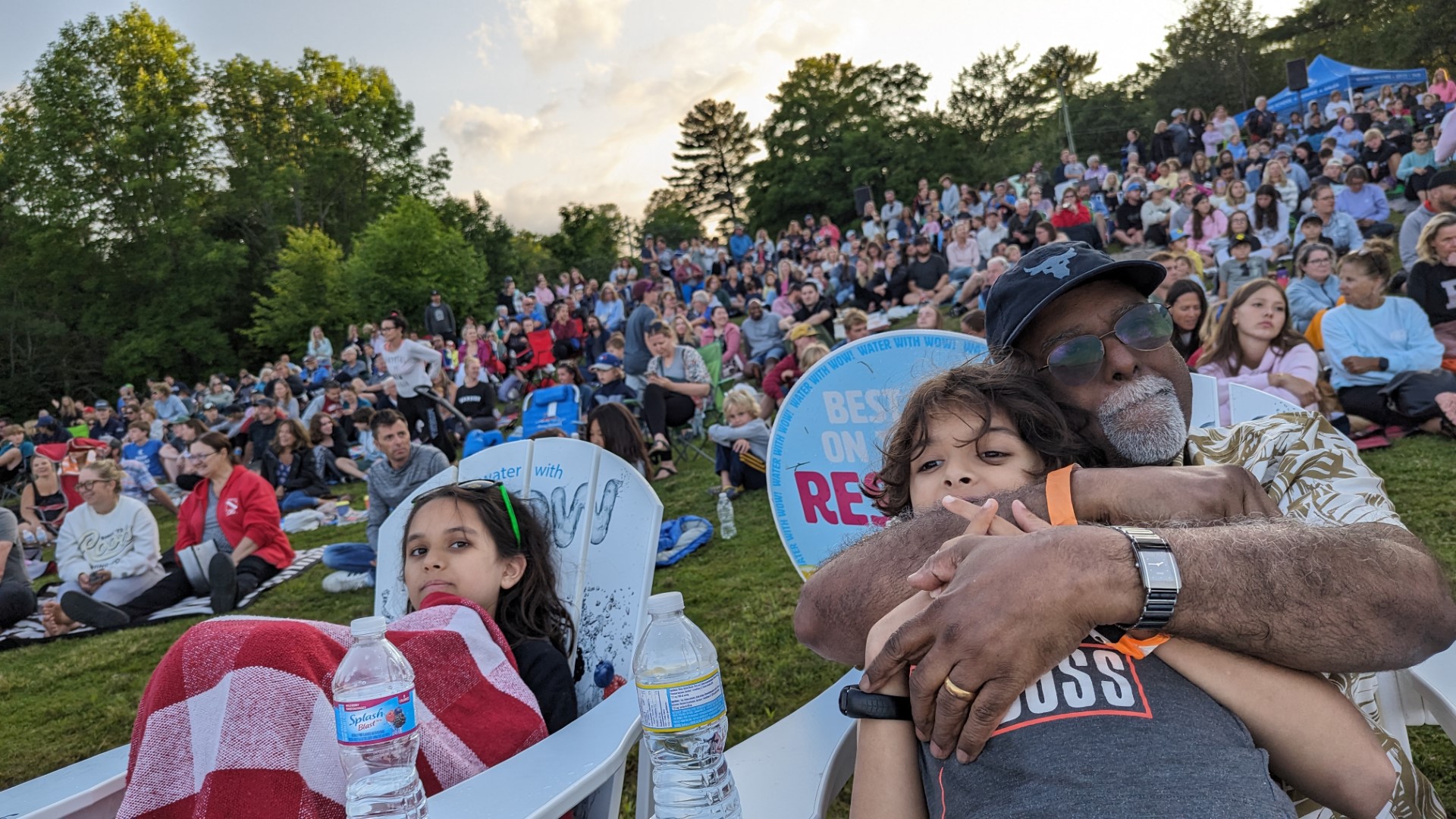 If time permits you really should take the family to watch the SWS Ski Show. There's a good mix of slapstick comedy, death defying tricks and live music. Sit at the very front only if you want to get soaked and definitely bring a towel with you! Bring lawn chairs or a blanket because you'll need those as you watch members of the Canadian National Ski Show Team and Team SWS perform some crazy cool tricks on the water!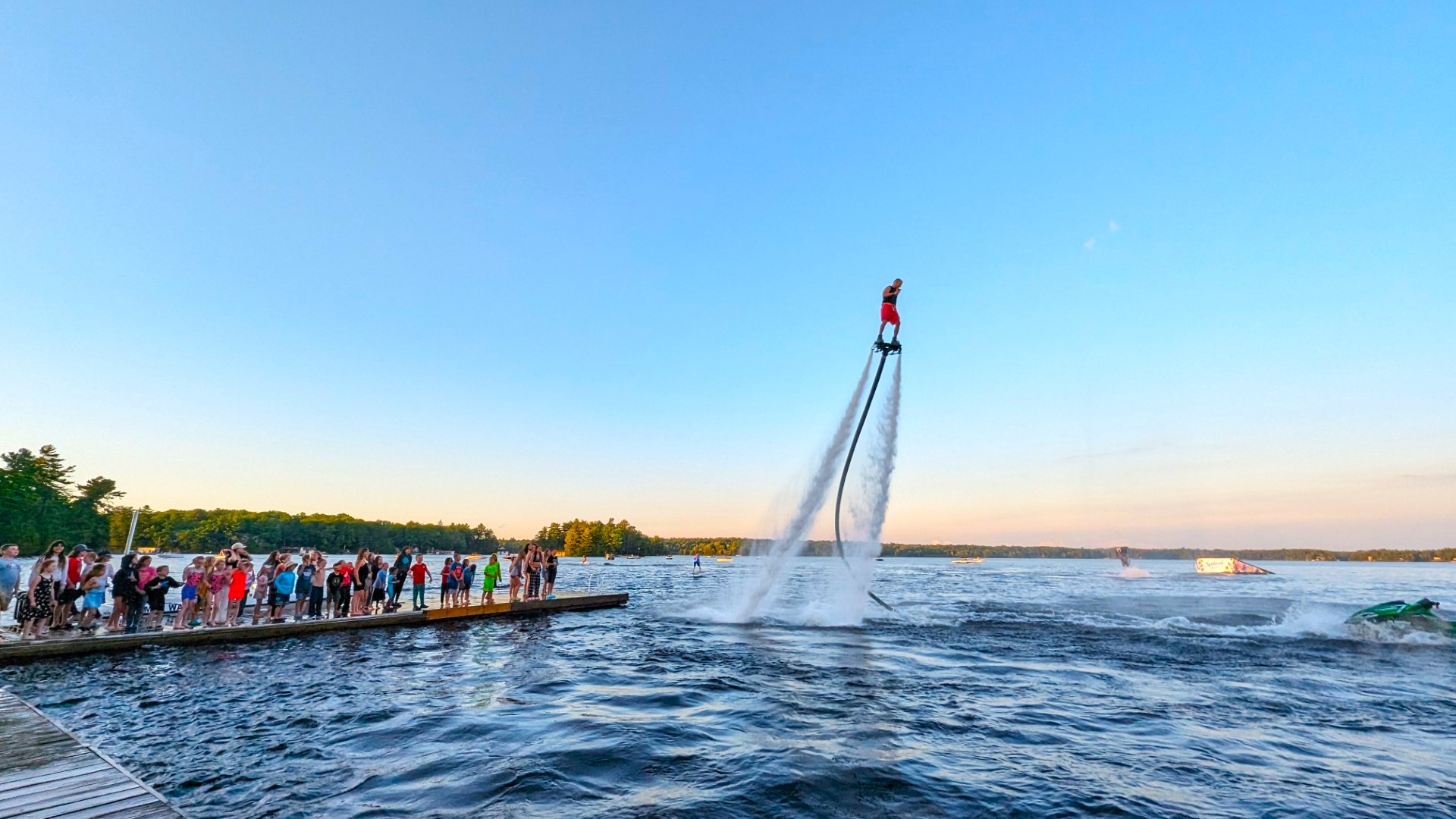 This has been a Muskoka tradition for over 60 years and takes place every summer. This year Splash Blast water is the sponsor and they keep you hydrated during the show with free bottles of zero calorie flavoured water!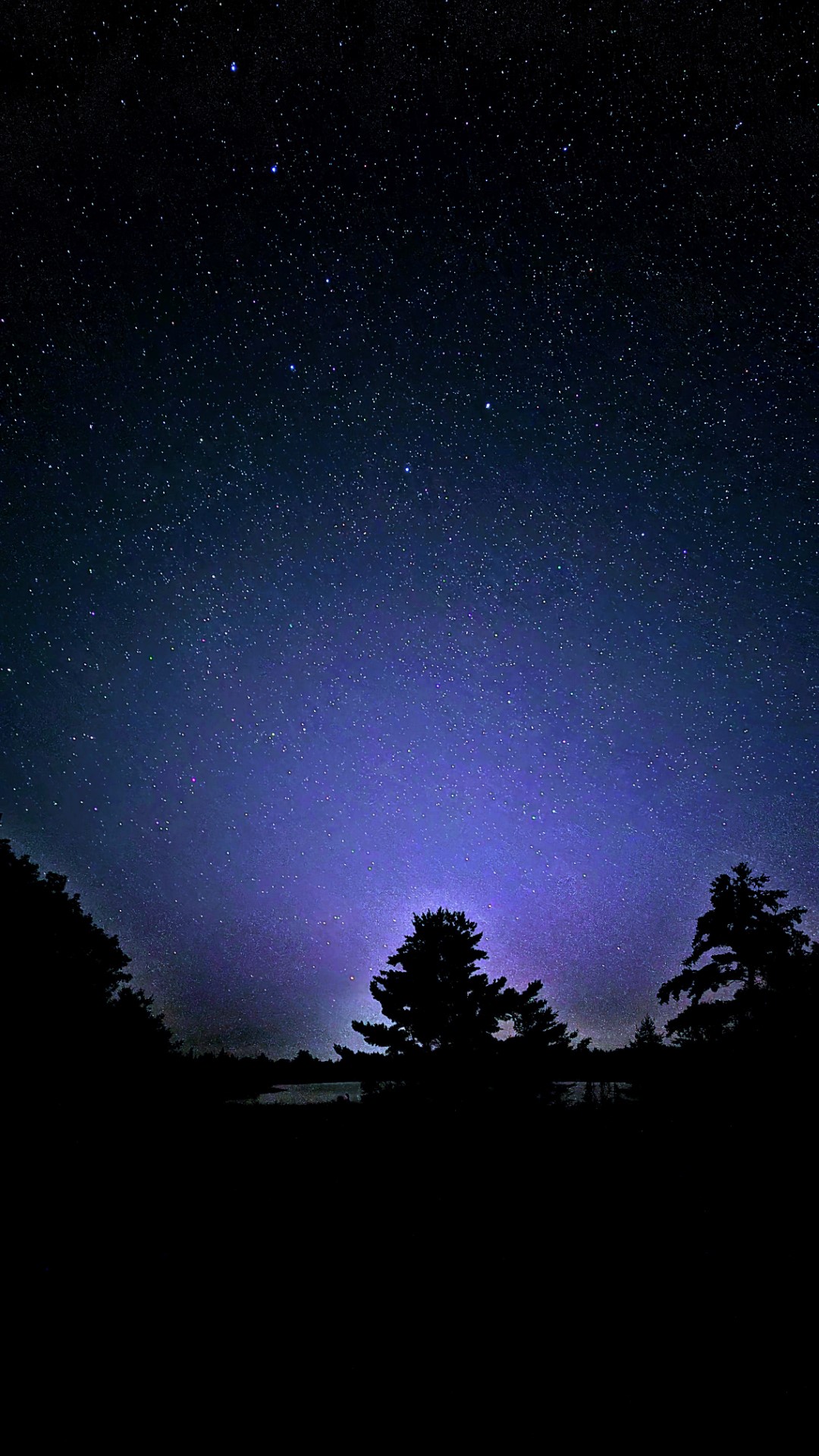 If you're staying at the Beer Spa, you certainly have a great view of the night sky but less than a 20 minute drive away is the Torrance Barrens Night Sky Preserve where there's complete darkness and you might luck out with a view of the Northern Lights. Last summer I drove here and didn't monitor the full moon but on this recent visit, I dragged Apollo and my mom there close to midnight. And WOW! What a magical view it was. Sadly Apollo whined about being bitten and wanting to go to bed and so we didn't stay long enough to catch the dancing lights which appeared closer to 3 a.m. that night (according to tiktok).
If you're looking for more things to do in Muskoka, we have plenty to read here.