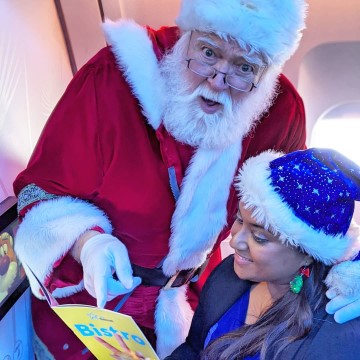 You guys!!!! I was on a plane with Santa! SERIOUSLY! I finally had the chance to be up in the skies with the big guy thanks to the generous invite from Air Transat. As you know by now, I'm a HUGE fan of all things Christmas and I first heard about Air Transat's Santa flight when I first moved to Canada back in 2005. The moment I heard about it, I wanted to be on that plane. Back then it was because I thought it was cool but as the years went by, I soon realized what an amazing flight this truly was and it wasn't just about Santa!
Disclosure : We've been Air Transat ambassadors for the last few years and Yashy was invited to join this flight while the kids were at school. As always, opinions are TOTALLY ours!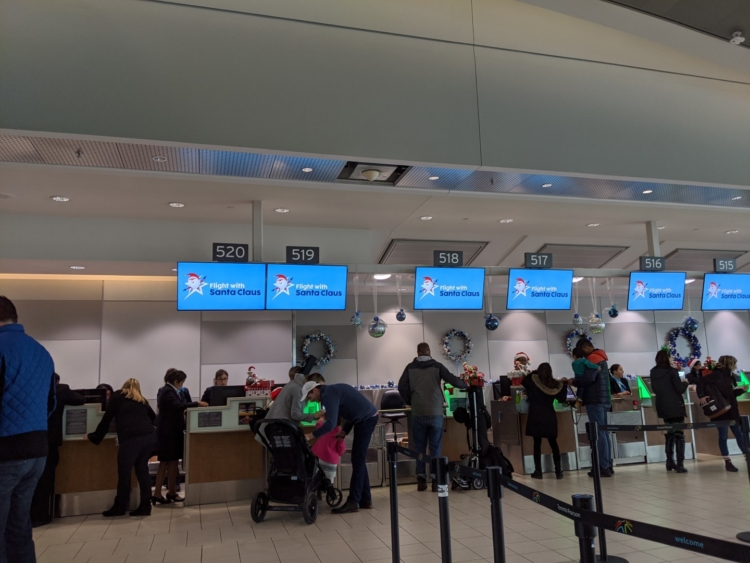 For the past 15 years Air Transat and the Children's Wish Foundation have taken to the skies in search of Santa. What I didn't realize when I first heard about the Santa Flight was that the annual flight was truly a magical day that brings incredible joy to children diagnosed with a life-threatening illness. Make A Wish Canada recently merged with The Children's Wish Foundation and the families I met on board the Toronto flight were true warriors. It was an emotional day seeing the joy on the kids' faces and the happiness in their parents' eyes.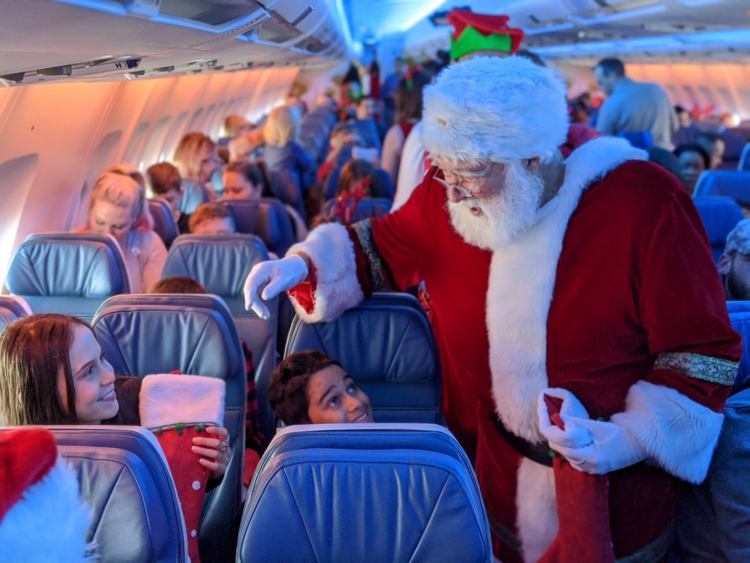 Santa Flights departed from Toronto, Montreal, Vancouver and Paris on the morning of December 4th and I was honoured to be on board the Toronto flight. Upon arrival at the Toronto Pearson Airport the Air Transat check-in area was filled with merriment. There were Disney characters interacting with the kids from the Children's Wish Foundation and there was an excitement like none other I've ever experienced at an airport. Even the security guards were happy as they invited those heading to the North Pole to go through the security process.
Once at the gate there was a band, an activity station, face painting and a treats for families to enjoy as they waited for their flight to board. I watched kids dance with elves, hug Elsa & Anna and chat with the Pirate. Their smiles made me forget all my daily worries and I stood there filled with gratitude. For one day, these kids and their families were able to forget all about the hospital and focus on being kids. It made my heart ache at times but as I told many who messaged me on Instagram, I did not cry!
Once we boarded the 2 hour flight, we had a chance to relax (since I had no kids of my own, I truly got to relax!) and as the jovial pilot was looking for Santa, the flight attendants brought our drinks and a meal. Within twenty minutes we hear that there's been a sighting! Looks like Santa and his reindeer are on our flight path and Santa was invited to come aboard.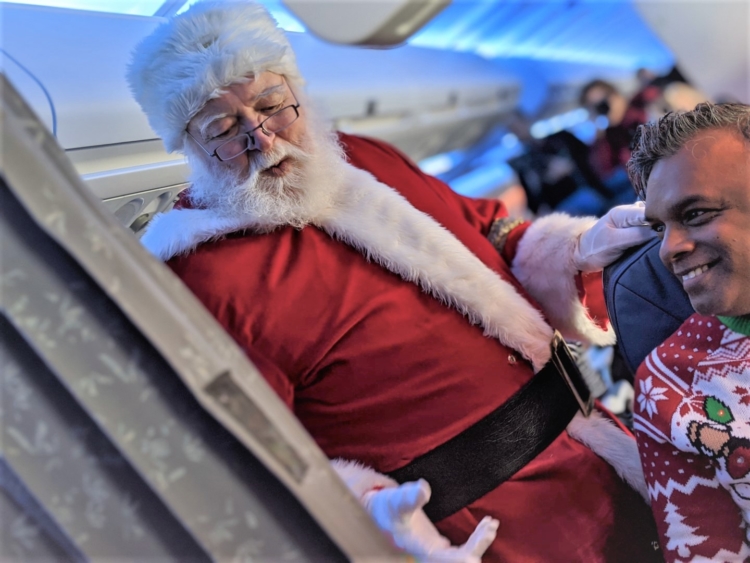 Santa was the BEST! He was the REALEST looking Santa I've ever laid eyes on and he (and his Elves) went up and down the aisles, chatting with every kid and giving  each a present. Seeing Santa, I became a kid again. Watching him interact with wide-eyed toddlers and hold a conversation with the tweens and teens on board, melts even the coldest of hearts. Every parent I spoke to on-board was grateful to Air Transat and the Children's Wish Foundation for giving them the opportunity to have this experience as a family. I can only imagine what it feels like to not think about their daily routines at the hospital.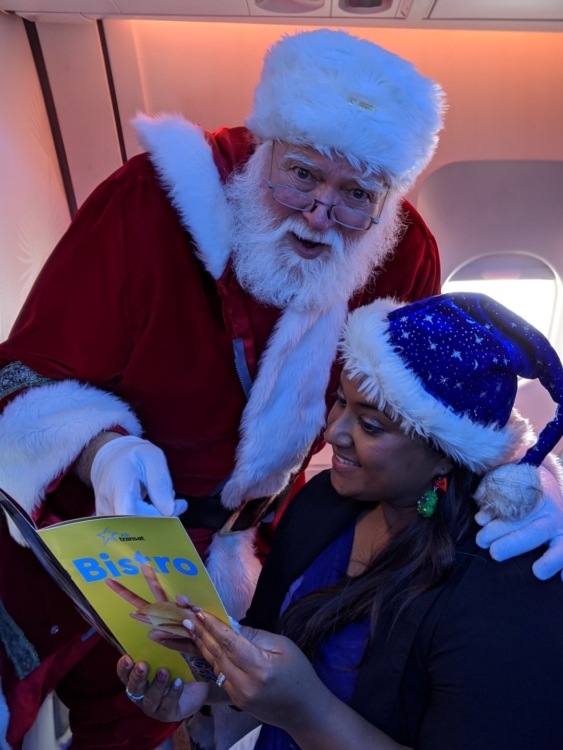 The energy on board was electric. I don't think I'll ever see flight crew as happy and joyous as I did that afternoon. I heard that Air Transat crew members donate their time each year for the flight and that there's such a huge demand! Same goes for the number of children applying for this experience.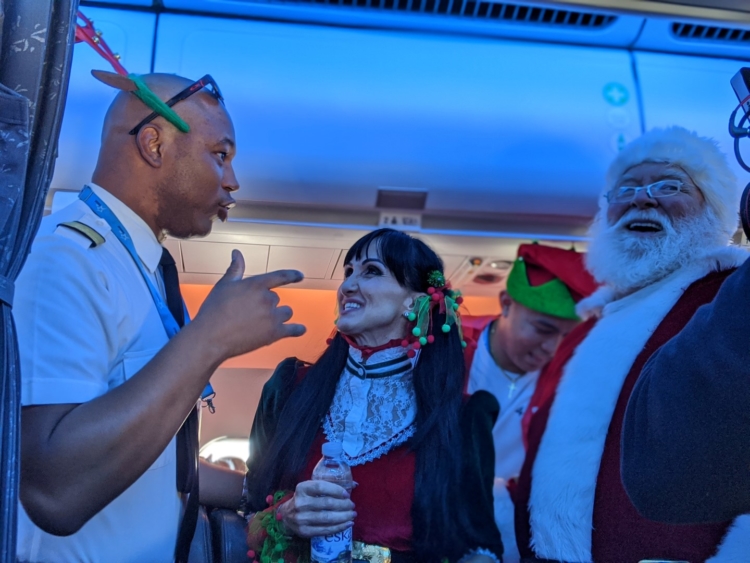 During this magical day, Air Transat announced a donation of $100,000 to the  Children's Wish Foundation, which represents the amounts collected over the past year as part of the Air Transat's Small Change, Big Hearts program. This was in addition to the $6 million raised for Children's Wish since the inception of the partnership in 2004.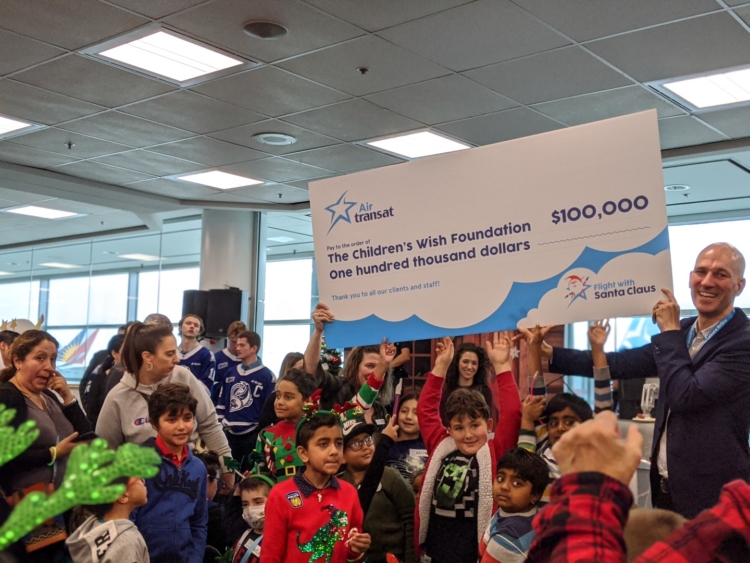 The word "Magical" will forever be saved for this memory on board Air Transat's Santa Flight and I am so thankful that an airline we travel with often, are going the extra mile to spread cheer during the festive season. I'm looking forward to more Air Transat flights in 2020, perhaps back to Europe? Now, go forth and spread some holiday cheer, will ya? Few more sleeps until Santa visits us all!!!