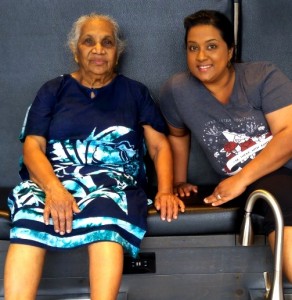 We just returned from a fun-filled weekend at Blue Mountain resort with not just the kids but also my parents and my grandmother. It has been ages since we've had the chance to actually vacation with my parents as they've been busy with their B&B and with my grandmother visiting us from Dubai, this was the perfect chance for us to take our multi-generational travel to the next level. We travel at least once a year with the hub's parents and we've been able to head on urban European and Mexican excursions easily, however, this time around, I really had to plan for a trip that would work for a 2 year old and an 87 year old. Tall order, right?
I decided to stay local and go to a spot that I had only been to once before and that too, with my work peeps. I recall it being a fun winter trip but was curious to see what would be on offer during the spring and summer months. Over the next couple of weeks, we'll continue to share what we got up to but today, I wanted to share some learnings having embarked on a trip with four generations in attendance! Having taken a quick trip to San Luis Obispo with my grandmother two years ago, I thought I knew it all, but oh how wrong was I!
 
 
If you're on a trip with ages spanning from 2 to 87, don't be surprised if
You realize that old age isn't all that bad :

I'm lucky that my parents and my grandmother are healthy and mobile and while there were moments when I though "wow.. they're REALLY getting old" there were also moments when the 87 year old grandmother plays mini putt and whoops your butt at the game!
It takes you four times as long to get to moving :

Between Baby Boy's diaper changes and my grandmother's obsession in braiding her hair "just right"… we left our Westin Trillium House Blue Mountain suite an hour after the planned departure EACH and EVERY time.
You stop every 45 minutes for a pee break :

 The pee breaks were very excessive and each bathroom trip easily took  the older women twenty minutes. Luckily for us, there were tons to amuse us at the Blue Mountain Resort so the rest of us were easily entertained between the shops and restaurants.
The older ladies pack a picnic :

In true brown fashion, my mom had brought enough food to feed us for a week. Luckily for us the two bedroom Westin Trillium House suite had a large fridge and a full kitchen. Waking up to freshly baked croissants and having spicy snacks on hand was quite fabulous. Don't worry, I still nagged her on over packing and not giving us the chance to explore the many restaurants and food joints on site during our two night stay.
The kids are happy to leave you alone :

With grandparents around to take over some of the parenting duties, you now have time to catch up on work or that book you've been meaning to read!
You find yourself sneaking out to the bar :

It was 1 a.m. and the hubs and I knew everyone else was fast asleep so we popped by to the Irish pub on the resort for a quick pint and it was awesome (don't worry, we had given my mom the heads up that we may do that!).
Your camera has over 500 pictures from just one day of exploring :

So many memories are being made that you can't help up capture the many precious moments.
The older generation doesn't know how to relax :

My mom continued to be on duty throughout our trip. I yelled at least four times "learn to relax, just sit down and do nothing!!" but sadly my mom continued to clean up, cook and tend to her grandkids.
This was the reason I decided to check into the Iwa Spa for a quick treatment before our Sunday departure. I rallied my mom and my grandmother and the three of us spent two kid free hours at the Iwa Spa.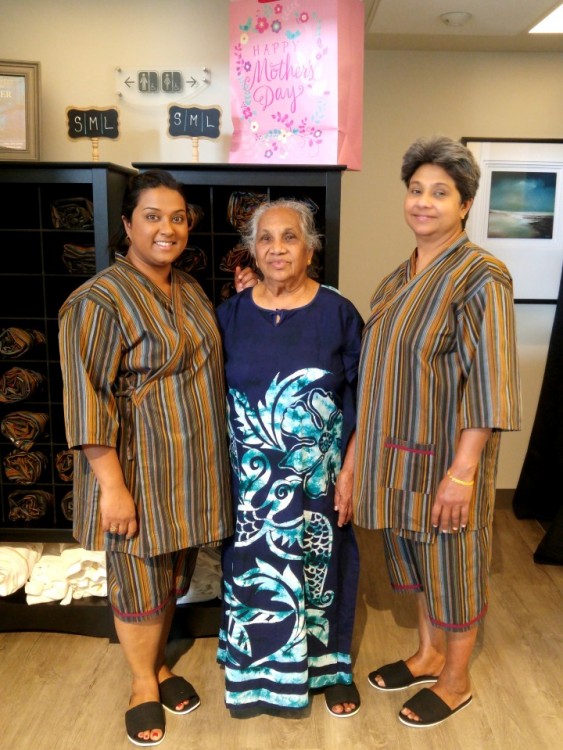 This was the only way I could get my mom to chill and was also my way of ensuring that my grandmother had a chance to rest her feet after all the running around we made her do the day before (more on that next month!). We were welcomed with cups of tea before our treatments and all the ladies there were doting on my grandmother. She and I sat next to each other and had our tired feet massaged as part of the "Beat the Ski Boot Blues"  while my mom sat across from us and enjoyed a much needed manicure. Since the mani took a bit longer than the mini massage we had, we plopped ourselves on the comfy reclining massage chairs and nibbled on some local chocolate as we waited on my mom.
The highlight of a visit to Iwa Spa is experiencing their Ganban Yoku rooms. We were given a private room and clad in the traditional two piece Jinbei robe (my grandmother preferred to stay in her kaftan and that was totally fine) the three of us lay on the heated (to 40-42°C) rock floor. These stone beds soothe muscles, accelerate metabolism, eliminate toxins from the body and allow for increased circulation while heating your inner core. Originating in Indonesia, in the last 10 years it has become popular in Japan and Australia. It was a bit difficult for my grandmother to get herself to and up from the floor but she did it and seem to enjoy the relaxing experience. After thirty minutes on the floor I started sweating and that's when I was ready to head out and cool down with a glass of water (they encourage you to drink water throughout the experience). That said, my aching back and feet REALLY enjoyed the experienced. As for my mom, this was totally up her alley and she fell asleep the moment her head touched the heated floors…and we had to listen to her snoring!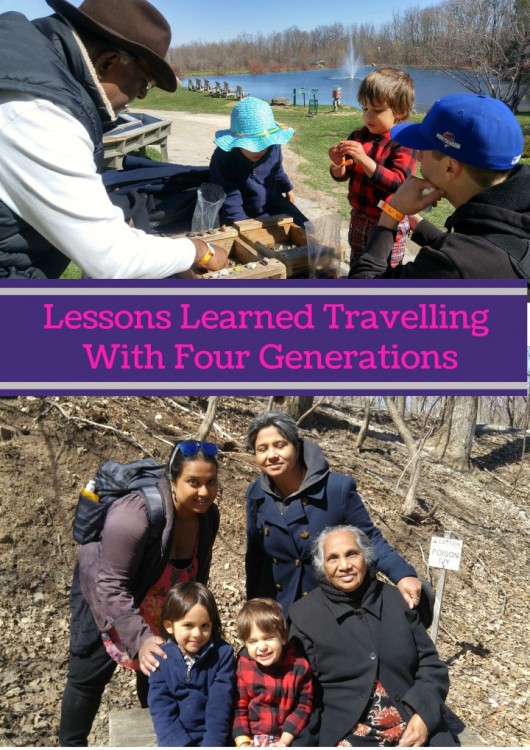 The Ganban Yoku experience was definitely novel and if you're on a multi-generational holiday, it's bound to add a unique twist to the trip and is the perfect excuse to sneak in some time away from the kids. While we ladies were enjoying the calmness of the Iwa Spa, the dads were exploring the kids room at the Westin and ensuring that the kids had a filling breakfast. All hands on deck is one of the reasons I love multi-generational trips and as long as you respect each other (click here for my tips on planning a successful multi-generational trip) everyone's bound to have a great time and you'll be leaving with plenty of memories ( and in my case, a lot of uneaten food!!).