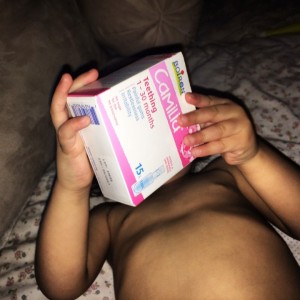 When it comes to actual medicines we use on the kids our household is a bit divided. The hubs runs towards the Tylenol while I run towards the Boiron products. I remember walking through the Baby Times show when I was preggers with Little Monkey and someone handed me these tiny little pellets of 'water' which they said I'd NEED once I had the kid. As with everything during those early stages, I horded them in a bag. A bag I dug into when issues arose. This is how I ended up giving a dose of Camilia one desperate night, well past midnight to a teething Little Monkey. And…voila! She calmed down. That's when I realized the miraculous properties of Camilia.
Disclosure : I am part of the Boiron Family program and receive special perks as part of this association, as always, opinions are totally mine!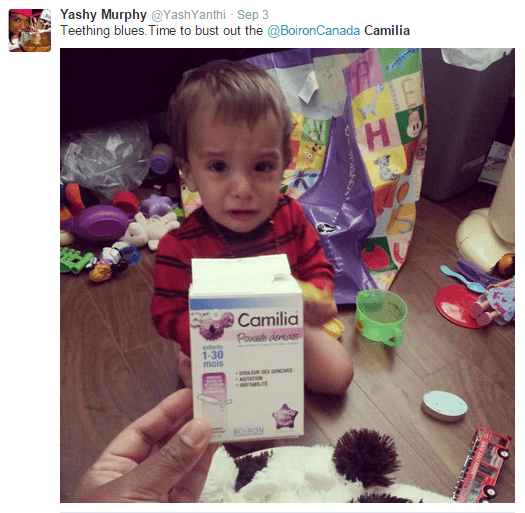 Little Monkey and Baby Boy have been pretty happy babies and their teething habits have been similar as well. We're in the rut of things with Baby Boy sprouting new teeth (6 and counting at the moment) every couple weeks in the last two months. He pulled out the teething necklace I had on him and gets quite fussy when there's a new tooth about to pop through. There have been a couple afternoon brawls and nighttime sessions where he can't stop crying on his own. Little Monkey went through the same stage and I've sworn by those 'water' samples I received back in 2011. I've recommended Camilia to family and friends over the last three years because it works. Pure and simple. As you can see in the picture here, we started the teething process back in September and here we are seven months later and Camilia (with a new packaging design) has been getting us through the tough times.
I like the fact that I don't have to rely on Tylenol for everything and that Camila relieves pain, restlessness, irritability and diarrhea due to teething. It was developed specifically for babies and toddlers (1 to 30 months), is made with sterile water and contains no sugar, no colouring and no preservatives. Yes it is a homeopathic medicine and I've never had to give more than a dose or two within a 24 hour period. More often than not I rely on Camilia once or twice a week during the bad teething sessions. Teething was a seven month stint with Little Monkey but it has been over a year with Baby Boy and I'm always hunting for Camilia at our local stores. Luckily Loblaws carries it and the Boiron site has coupons available for their kids range. Many other stores also carry the Boiron range but the challenge in downtown Toronto is that very few carry products for young kids.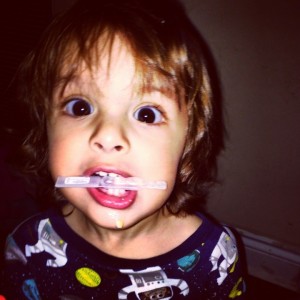 I love that the Camilia capsules are not only easy to carry, fully spill proof and twists off easily but that the portions are regulated -an important factor when dealing with tired parents! The kids think they're pretty fun to drink out of as well and just like wipes and hand sanitizer, I have a few floating around in every purse and bag. I recall being on a flight and realizing that I had forgotten to bring some with me for the then 9 month old Little Monkey. That was a bit of a painful trip as I wasn't able to find it anywhere during our travels. Tylenol makes the kids drowsy I find so I prefer to use Camilia for teething related symptoms. On that trip I was massaging the gums with a cold towel and as usual there was drool everywhere. Here's a few more teething tips if you're in the drooly and fussy teething phase.
Boiron has a variety of products on offer for the little ones and in addition to the Camilia we've also been using their Stodal and Coryzalia range during the flu season. It's a brand I trust and one that will be growing with the kids. How do you deal with the teething tots? Any tips to share?