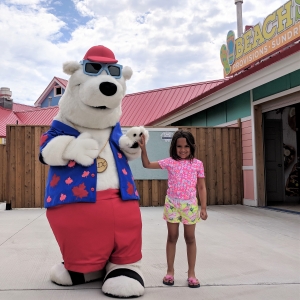 If you're looking to visit Wet'n'Wild with young kids or babies we've got a review for you! Since this post was first written in 2018, we have visited the park a few more times. Yes, we even recently visited Wet'n'Wild during the pandemic in 2021. As you read our review of Wet'n'Wild you will hear tips for visiting with kids of all ages (babies to adults) and there's also a section with tips we learned in 2022.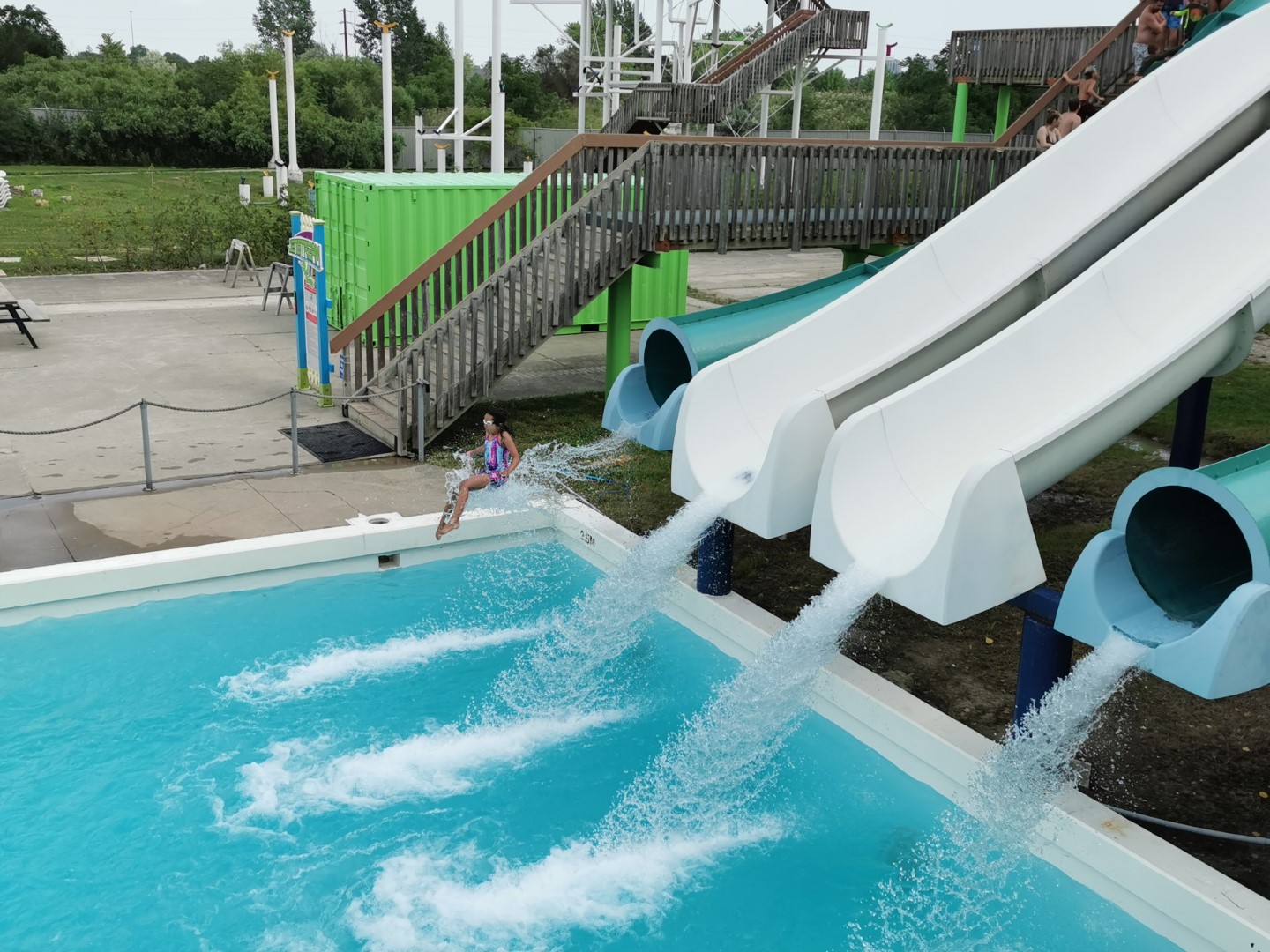 On our first visit to Wet'n'Wild Toronto in 2018 we visited with a friend of mine which meant that we were 4 adults and 4 kids aged 2 to 6 years. If you didn't know, Wet'n'Wild Toronto is a Toronto water park built on the site of the former Wild Water Kingdom and the park features new rides and attractions promising 45 acres of water adventure. This water park is in Brampton and so we always take a LYFT or UBER from downtown Toronto to the Toronto water park (costs about $30 to 50 each way). Since our first visit in 2018 the kids have grown and we've visited annually (except for 2020). Our 10 and 8 year old had a fabulous day in 2022 and we have picked up some new tips as well!
Disclosure : We were guests of Wet'n'Wild and this post is sponsored by Attractions Ontario but, as always, opinions are TOTALLY ours!
On each visit we try to get there for opening and stay until closing. The hours we spend at Wet'n'Wild is immensely fun thanks to the fun tunes blasted at the park, the company of friends, the friendly staff and the fact that the kids are always in a happy mood here. It's hard not to be happy at Wet'n'Wild as it offers enough rides to keep everyone content but at the same time, it's not a massive park and so small kids and those with babies can easily navigate the park without any inconvenience.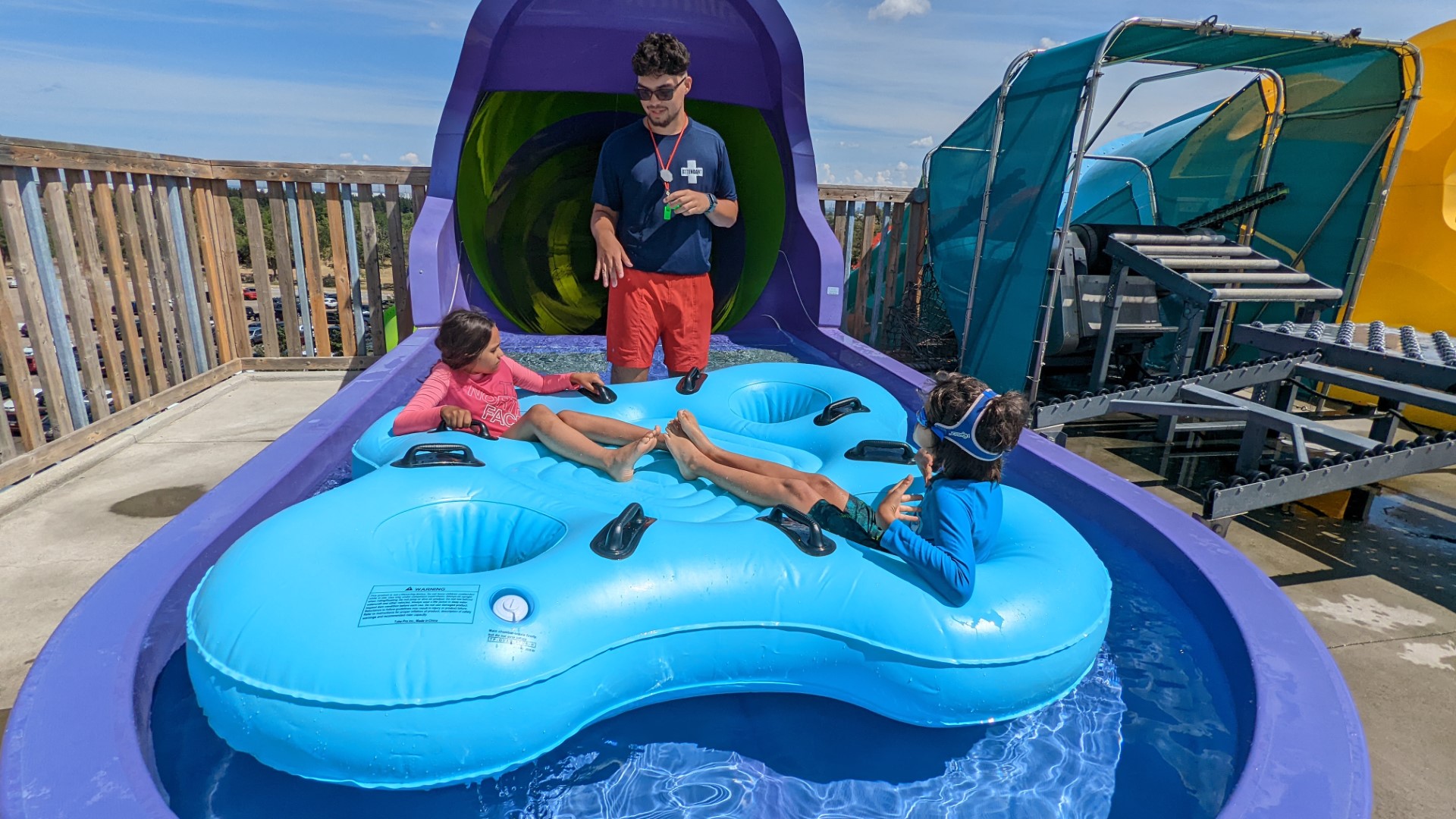 August 2022, I spent an entire day at this Toronto waterpark with Akira and Apollo and a friend of mine. You can see last year's visit in detail on my Yes Day highlight on Instagram. As always, I recommend buying tickets online prior to arriving at the gate and keep an eye out for deals by signing up for their newsletter. In 2022 there is no masking rules as every where in Ontario. We had such a great time and as always, I highly recommend booking a Cabana if possible. There are plenty of picnic benches and tables if you can't get a Cabana. During our 2022 Wet'n'Wild visit many camps thought it would be a great thing to do in Toronto as well but lines weren't that bad to be honest. Longest we stood in line was about 20 minutes but most were under 10 minutes. Keep an eye on the food lines and go before or after the rush lunch hours. We went on each and every ride at least once during our 2021 Wet and Wild visit and in 2022 we made the mistake of leaving our favourite ones for the end of the day and there was a thunderstorm warning that made the park close an hour early. Oh and while the tunes weren't AS great (old school) as previous years, we were still dancing and bopping away to the latest tunes.
When to Visit Wet'n'Wild Toronto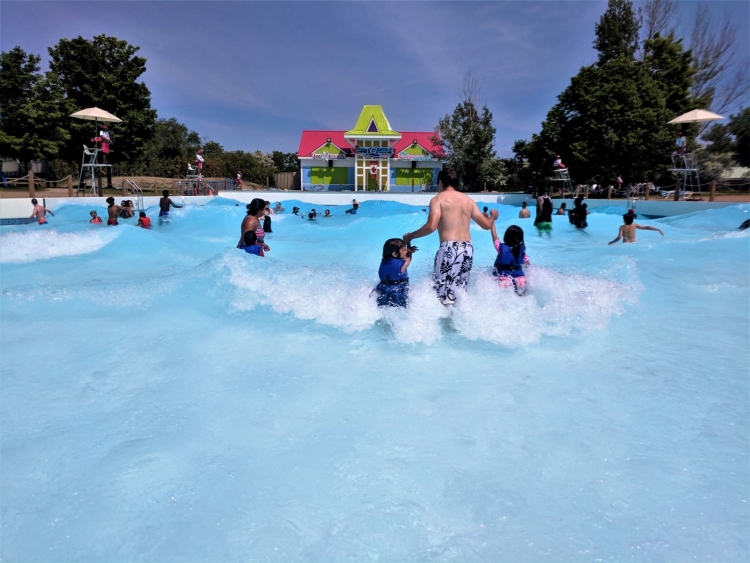 The park is only open for a few months in the summer and having visited the water park during various summer month, it has never been overly busy, which is great! The water in the lazy river and the splash pool were warm during our August visit and on a hot day the cold slides are definitely a nice welcome. I will mention that the water was very cold during our 2018 June visit but it was much better during our visits since then. In 2021, the Wet'n'Wild Jr. section had warm water and even though the slides were for young kids, Akira and Apollo wanted to hang in there. They wanted the bigger slides in Bear Footin' Bay in 2022.
What to Bring to Wet'n'Wild Toronto?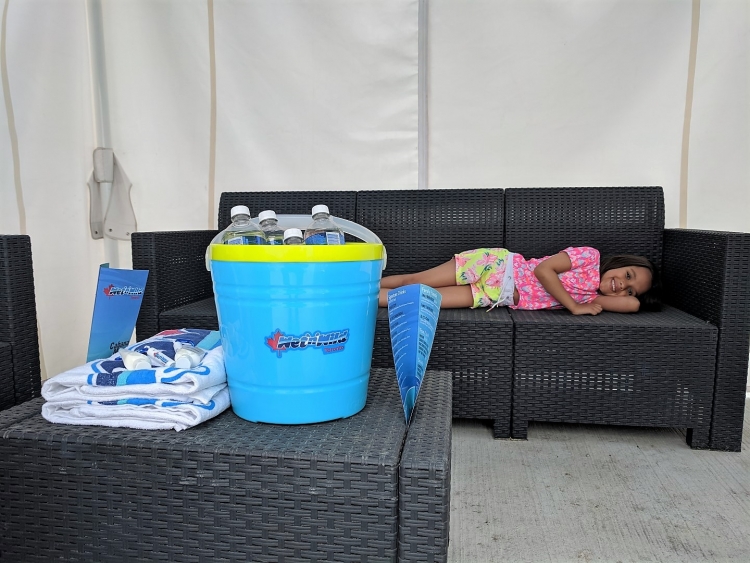 Definitely bring towels, sunscreen and non-glass water bottles with you. My kids ran around without shoes but water shoes would work well, especially for younger kids, though many big slides make you remove shoes before going down them. They have plenty of life jackets on site (but it is first come first served) so you don't need to carry your own but it's always safe to have your own. As always, bathing suits (without any zips or metal attachments- avoid rash guards if you plan to go on Oh Canada!) and a change of clothes will be needed. I also have our travelling first aid kit because I needed it in 2018 when Apollo bruised himself.
Can I Bring Food into Wet'n'Wild Waterpark?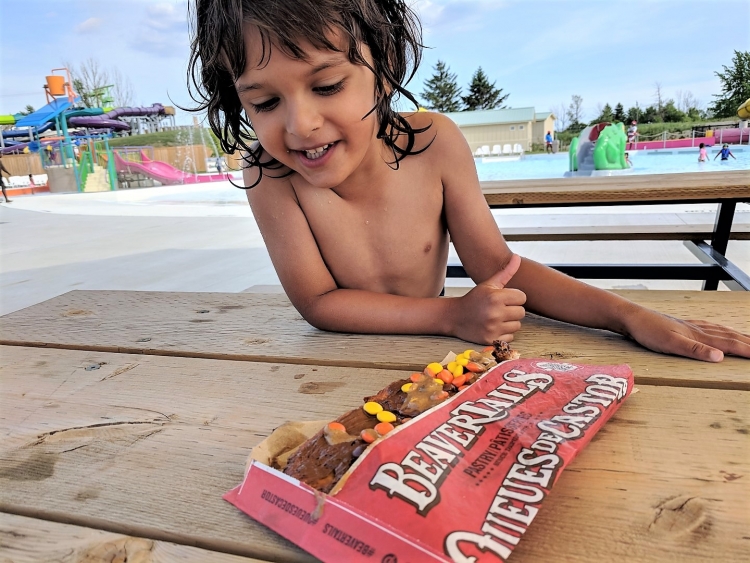 The answer is no. However, if you have an allergy they won't question you twice. My friend brought in a tray of fried rice and the security checkpoint at the entrance let her through. I had some granola bars, gummies and raisins in my bag and they let me through as well. There are no scanners a la Blue Jays style here but they do go through your bag and are quite understanding. If you have young kids who need milk PLEASE bring it with you. My friend visited every single food outlet and couldn't find milk at any of them. You can definitely purchase alcohol on site and Chris was happy to have a beer on a hot day. You can expect to find the regular burgers, pizza and hot dogs at the park (meal deals only come with pop and not juice sadly) but we also spotted fried chicken and ribs on the menu. The kids also enjoyed a Beavertail and some Dippin' Dots (they were $10 in 2022) at the end of the day. There are food options on site for the main meals (as long as you don't have any allergies) but I would recommend bringing some snacks if you can for the younger kids. You have in and out privileges and I heard that many families bring food and go out to eat it in their cars, so you could do that if that's your beat as well. As for us, we tend to purchase Pizza Pizza or Burgers when we're at the park and it works out well for us.
Tips for Navigating Wet and Wild with Young Kids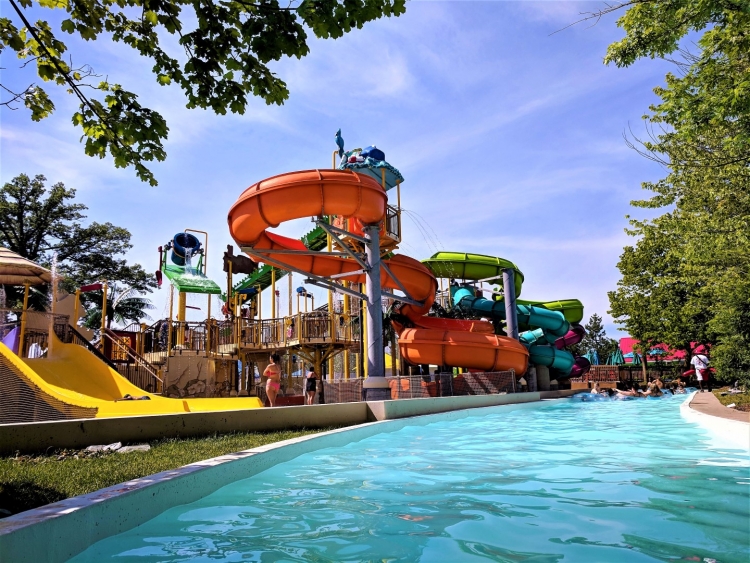 All in all, there are 15 sections here and over 33 slides. Most rides require kids to be 42 inches and when Apollo was 4 years old he was quite disappointed when 6 year old Akira and I went on quite a few rides in 5 sections without him. When he was 5 years old and much taller, he was able to go on quite a few slides much to his delight. 6 sections required kids be taller than 48 inches and in 2021 both kids were able to go on EVERY SINGLE RIDE since they were 7 and 9 years old (obviously in 2022 they were able to do it all as well). That said, there are two dedicated areas for young kids that allow them to splash around and go down slides to their hearts content. Parents aren't allowed on many rides which makes it hard to take really young ones. Many years ago when we visited with a 2 year old, he was happy to stand and splash around but wasn't too fond of going down slides by himself. Luckily he had older friends to guide him on a few slides. Our kids now prefer Bear Footin' Bay. Just watch out for those large buckets which tend to drop cold water at random times. It definitely would not be fun for babies or toddlers to be caught under one of those.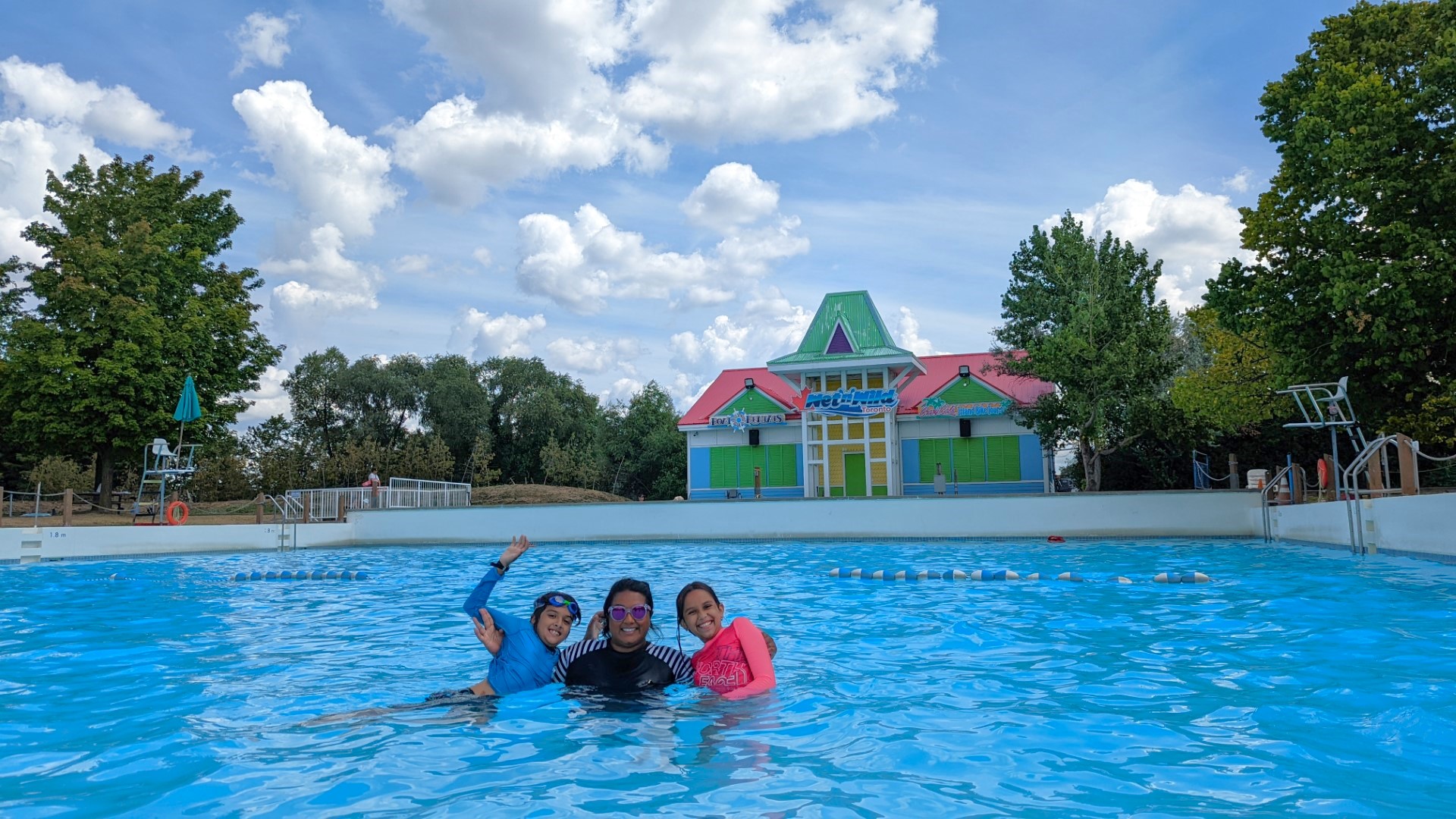 You can bring a stroller or wagon if you have a lot of stuff or if you think your kid will need an afternoon nap. There were plenty of lounge chairs during our visits but I still prefer having our own private Cabana. There are lockers on site if you want to put your valuables in there and they cost between $15 and 25. If you get a Cabana, the benefit is that there's a safety deposit box in there to store your valuables.
The change rooms are quite clean and the family ones will allow you to do everything in one room, which is great with young kids in tow. We also found the staff to be very helpful and the entire park was filled with attentive lifeguards who were always on the look out and watching over the kids.
Is Wet'n'Wild Worth it for Toddlers and Babies?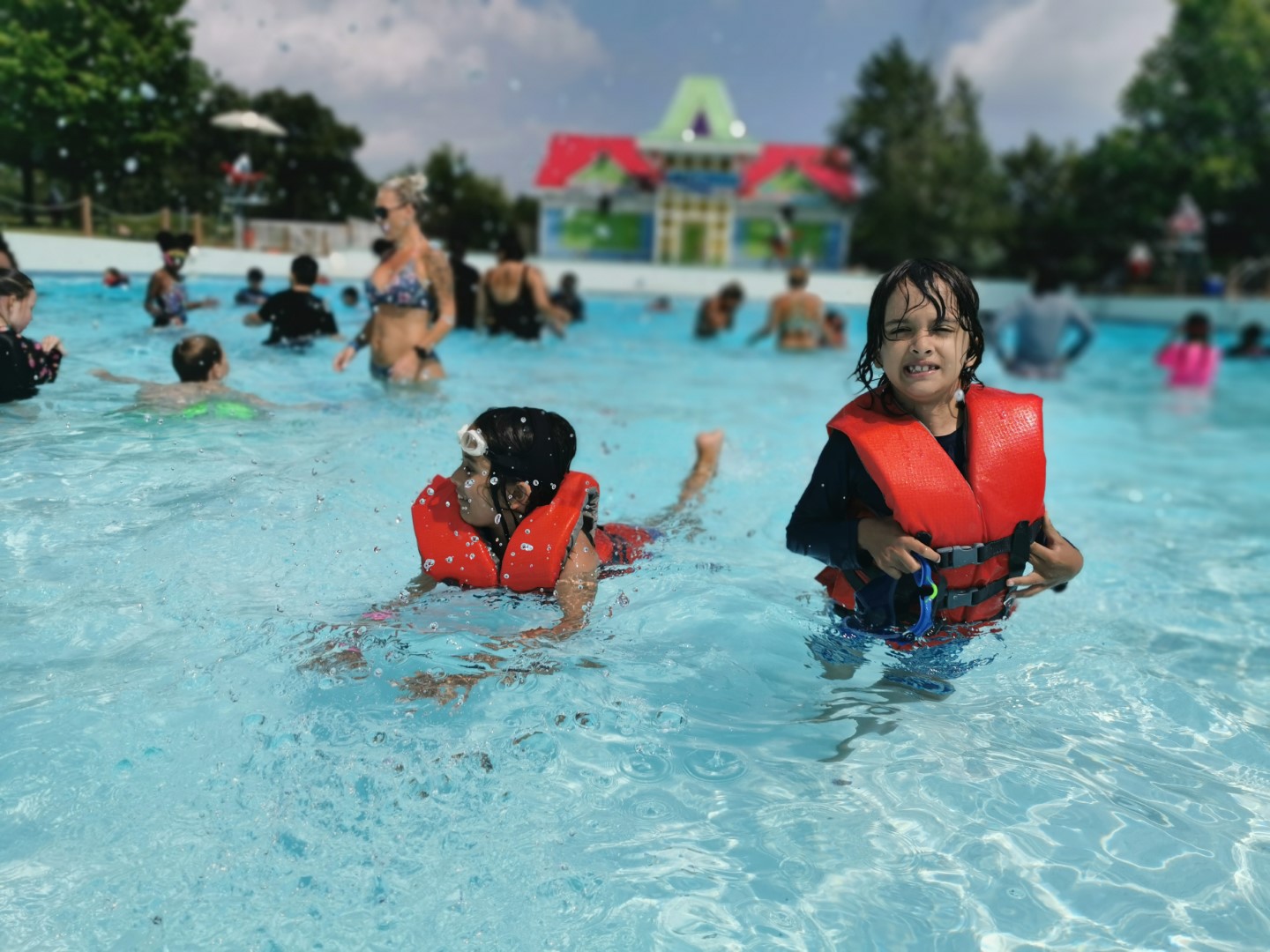 I was asked this question a couple times and the answer is a tough one. It depends on if you scored a deal on your ticket pricing and it depends on your travel time getting there. I don't think I would visit if I ONLY had a baby or toddler but if I had a 2 year old and a 5 year old, then I'd say it's worth it because the 5 year old has plenty to do. It really depends on what you want out of your day. If it's to relax and pretend that you're at an all-inclusive spot, then YES! If it's to get on every ride possible, then probably not. Remember that kids under 2 years of age are free and don't need tickets.
Will Adults Have Fun at Wet'n'Wild?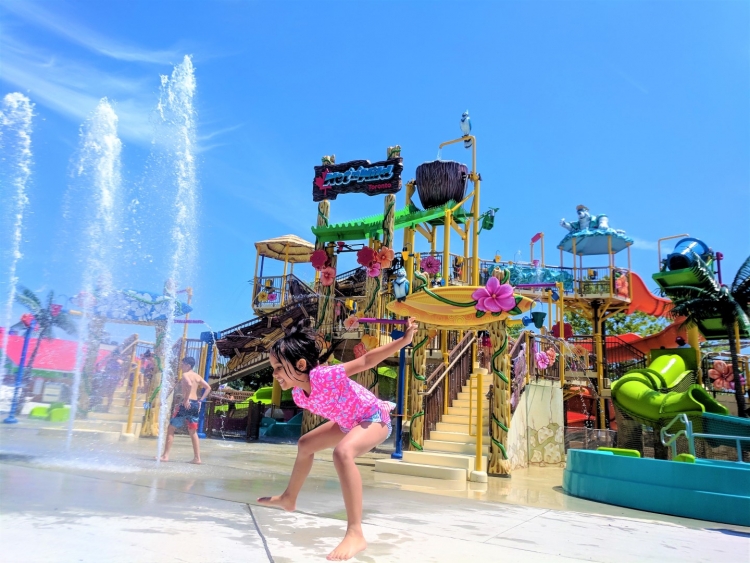 Yes! Moms and Dads will love the adult rides for sure. My friend and I went on quite a few without any kids and we chickened out of some of them as they looked too scary! The park is also geared for teenagers so there's definitely fun to be had by the adults. If you bring grandparents who don't plan on going on any rides they could always watch the kids (but they do have to pay senior or adult price). Also, have I mentioned that there's a bar on-site? The 2022 Pina Colada was delicious!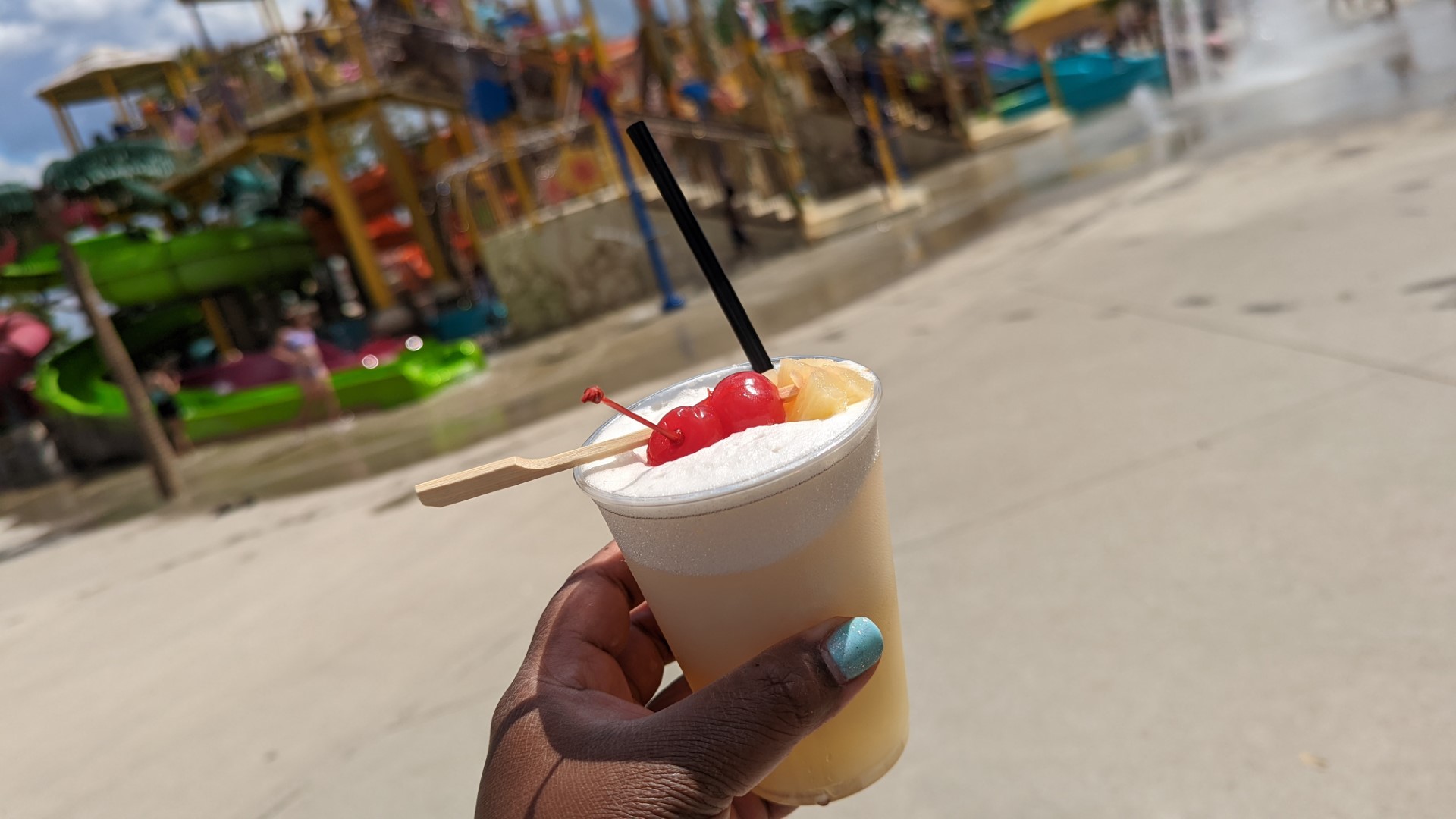 Is the Cabana Worth It?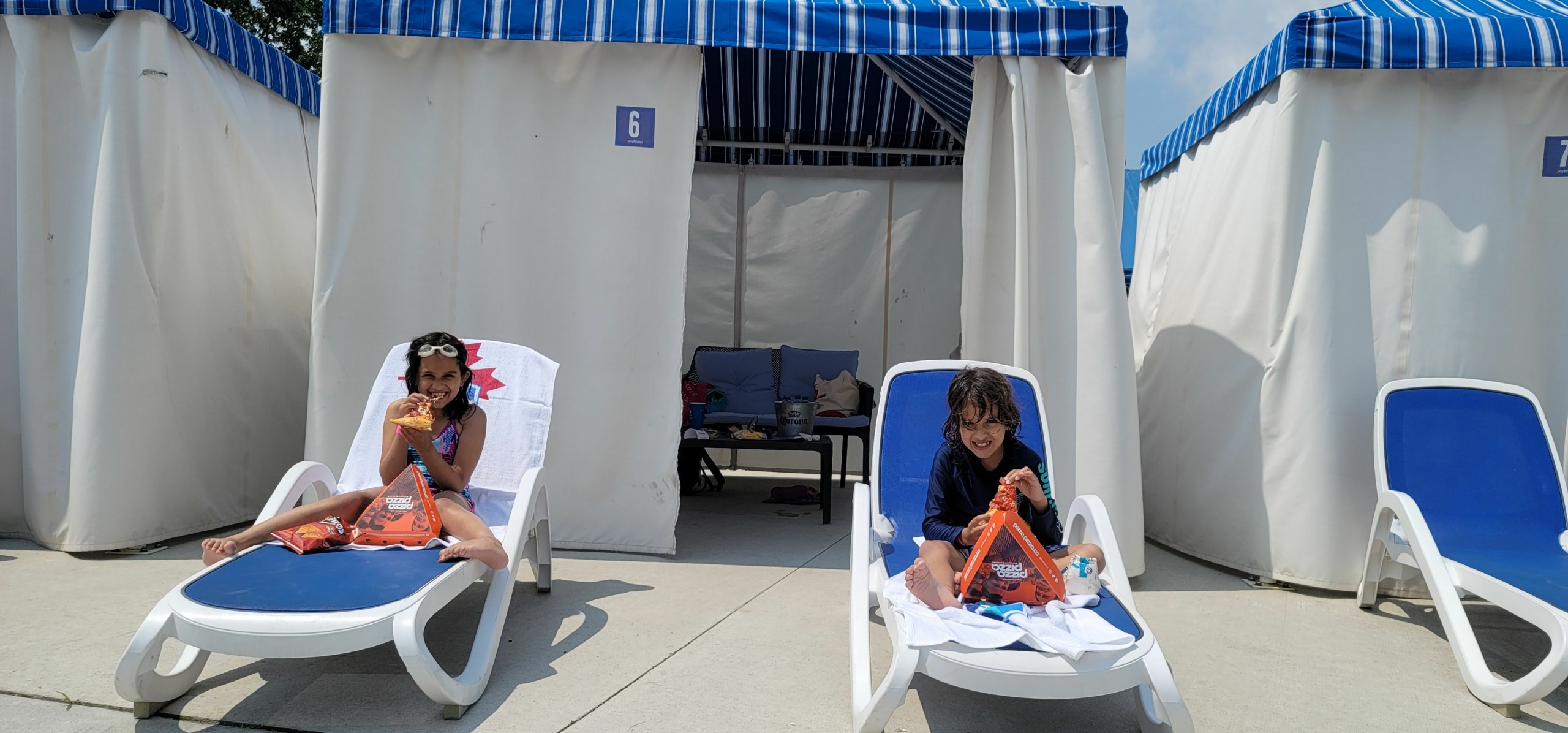 There are 12 cabanas on site and they cost $200+HST during the week day and $250+HST on weekends. You can fit up to 8 people and so you could divide the cost up if you're in a bigger group. The perks of the Cabana is that you have 2 personal lounger chairs, 2 towels, shade at all times and a seating area with chairs. In addition you get a bucket of water and a small safety deposit box to store your valuables in. Given that lockers cost between $15-25 that's some added savings. If you're not one who likes to line up for food, you also have two attentive wait staff who will come by every so often and bring you any food and drink you want ordered. Keep in mind that it might take them a couple trips to bring back all the food if you're in a large group or place a large order. I also liked the fact that we were able to close up the "tent" so that we could change there at the end of the day. It's definitely more of a convenience factor at the end of the day and if the park is busy, you at least have enough seating for 6-8 people.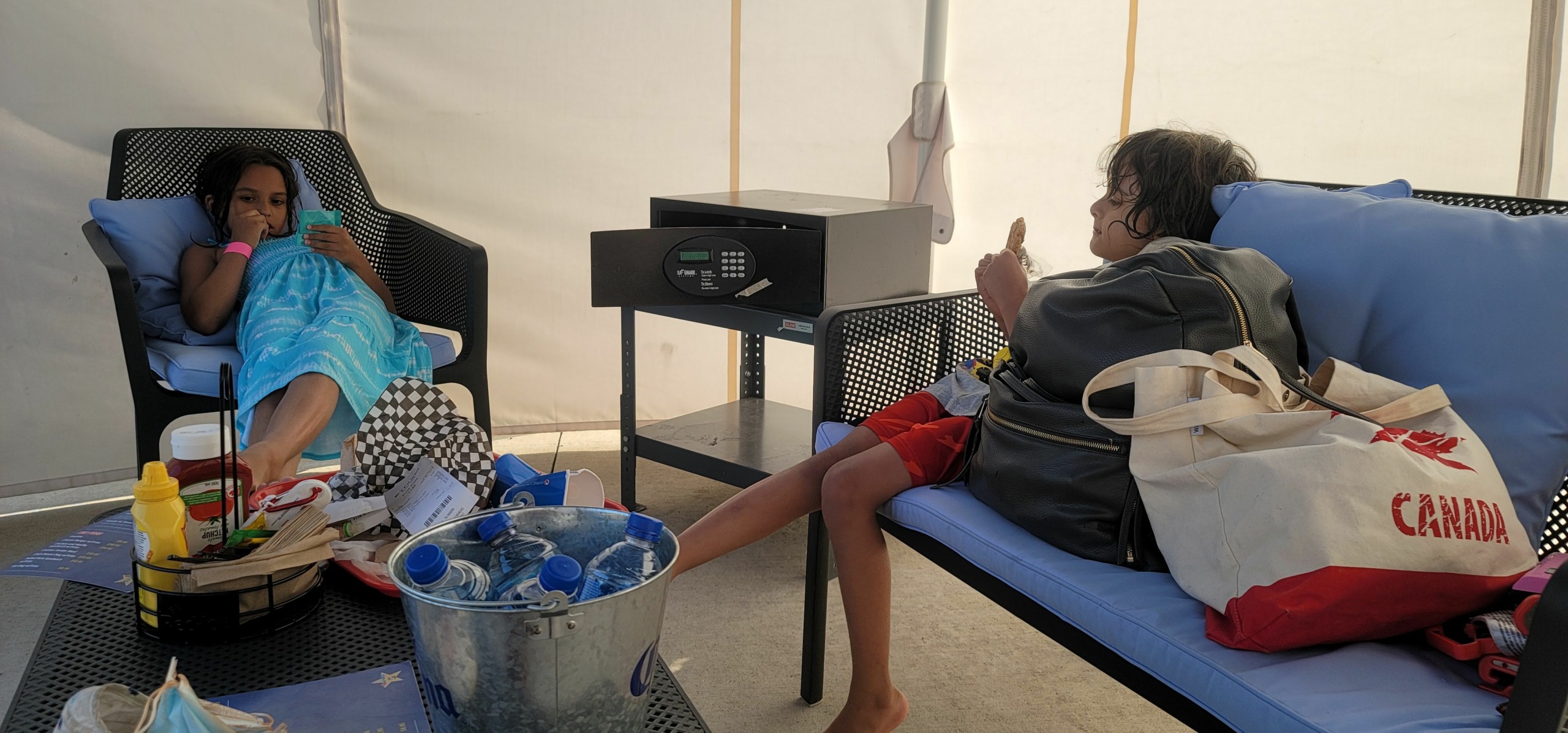 During our 2019 August visit we encountered a huge 15 minute rainstorm and having a Cabana was very helpful as we were able to stay relatively dry and took the opportunity to have some lunch while the rain blew over. One thing I will highlight is that you don't want to leave any bags or items on the floor of the cabana as the water did slide into our tent in certain sections, luckily we were there and able to grab the bags off the floor easily. In 2021, when we felt like the lines were getting too long and busy for us, we were able to come and chill in the Cabana and it significantly reduced any anxiety we may have had being near other people.
Wet'n'Wild Tips to Keep in Mind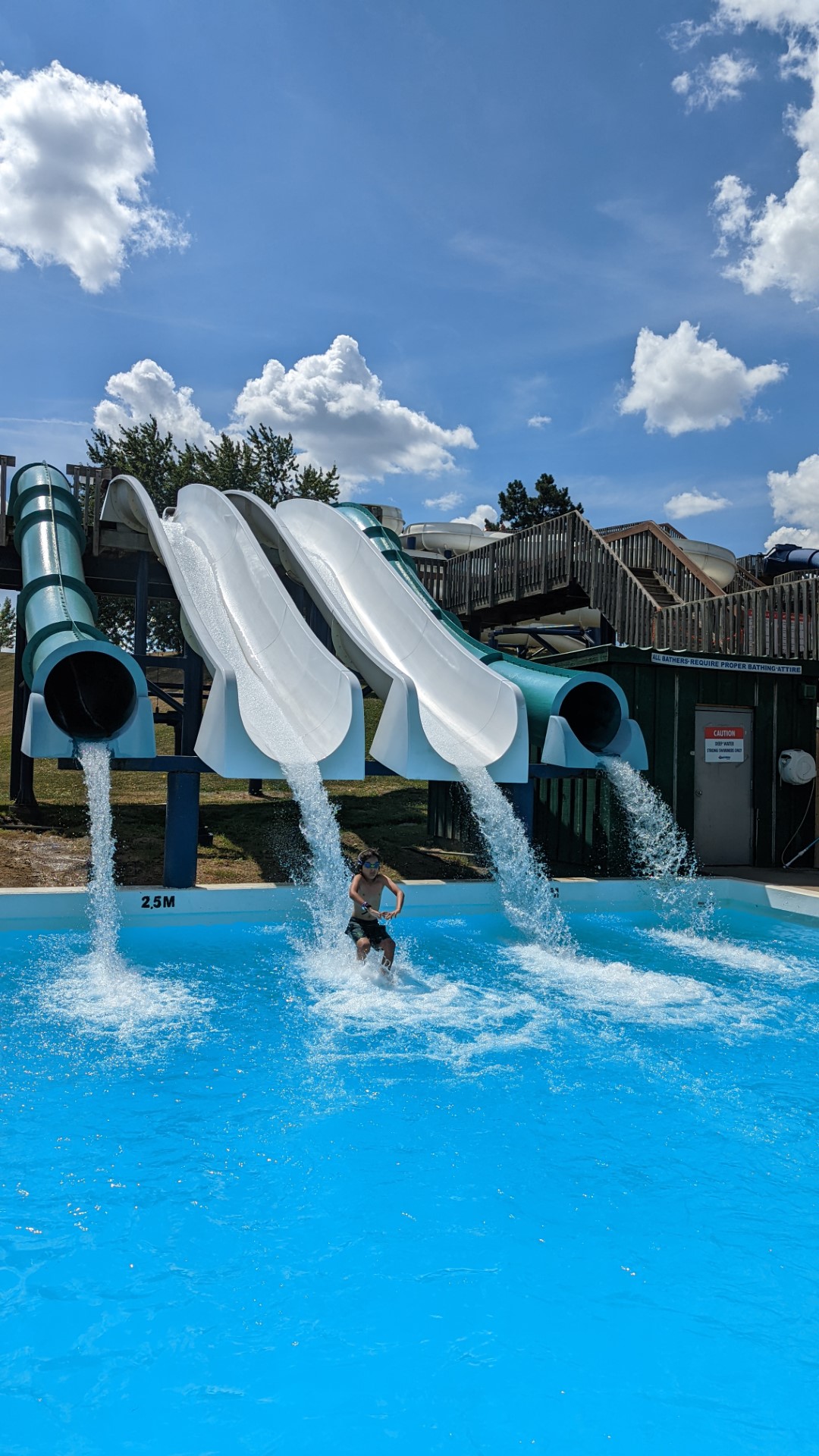 Arrive early and spend the whole day if you can
Splurge on a Cabana if budget permits
Ensure kids and adults wear proper swimsuits. In 2022, those wearing swim shirts were asked to remove them for certain rides. Swim shorts were allowed but men/boys were asked to go bare chested and girls who couldn't remove them were asked to go on other rides
Remove earrings and any piercing when going on Oh Canada ride
Know that you will be weighed before getting on quite a few rides
Know that a quick bag search will take place before entering the park
Those with allergies and toddlers needing milk – bring food and drink with you. Only those with allergies are allowed to bring outside food and drink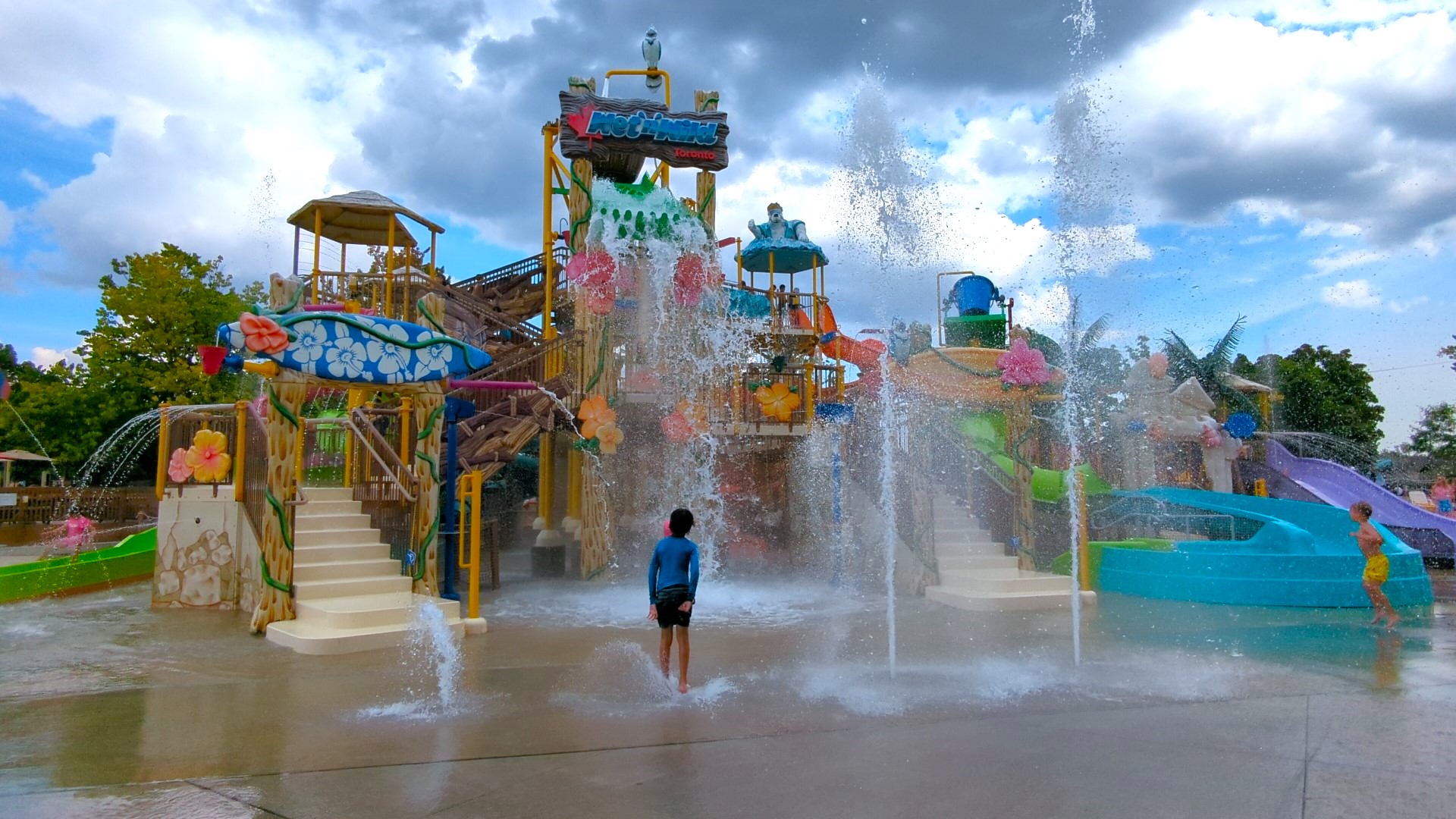 We thoroughly enjoyed our visit and the temperature of the water is really all we could whine about during our 2018 June visit and that wasn't even really an issue in August 2019. In 2022, we have ZERO complaints. We are so thrilled that the park is open and know that we'll be returning before the end of the season. The staff were friendly, there were good tunes blasting and we honestly felt like we were at an all-inclusive resort minus the all you can drink and eat option! We'd totally go back, even with the $100 transportation costs. I signed up for their Wild Reward$ newsletter and have been receiving information and special discounts so it's definitely something to do if you plan to visit!