Last weekend we finally had the chance to experience the new Rogers Stadium layout during a Blue Jays game with kids and grandparents. Since Chris' parents were in town we gathered the local cousins and watched the Blue Jays win against the Atlanta Braves. Now keep in mind that I mostly attend the Blue Jays games for the fanfare. I am not a die hard sports fan, but Chris and Apollo are. You can read this blog post about taking young kids to the Blue Jays game written by Chris nine years ago. I wanted to give you a newer article with all the tips I discovered having walked around the Rogers Stadium whilst the rest of the family watched the game! Also… we're all done calling it the Skydome, right?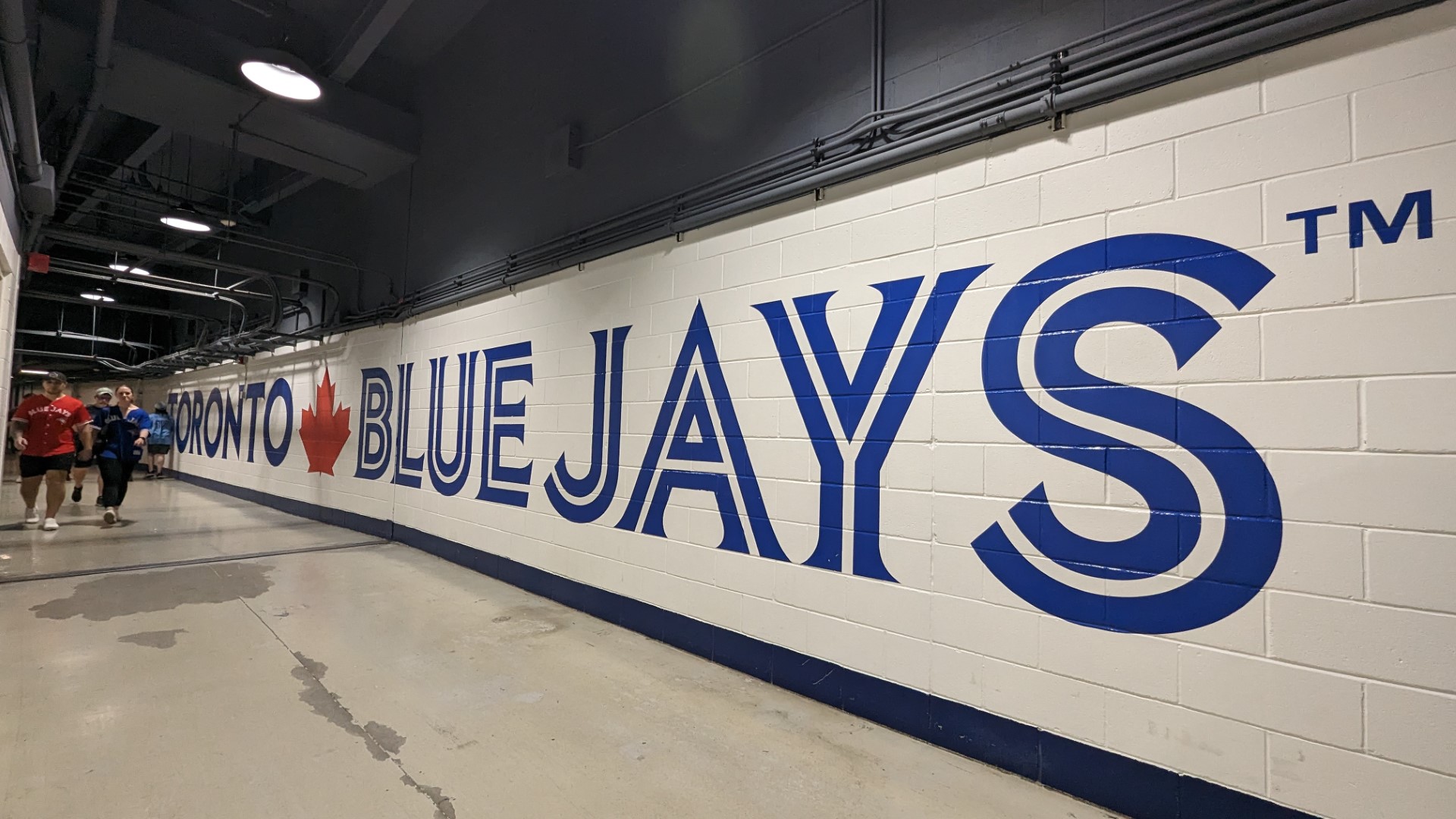 Now. Pause. If you have kids under 14 years of age, go sign them up for the free Jr. Jays Membership. Seriously go click that link and go do it. I'll wait for you to come back and read the rest. This membership has great benefits like 50% off their tickets! After becoming a Jr. Jays Club Member, you will receive access to 50% off Jr. Jays Tickets for all Saturday and Sunday home games during the 2023 season. After registration, members will be able to access this ticket offer all season long through their Jr. Jays Club Hub.
Tips for Taking Kids to a Blue Jays Game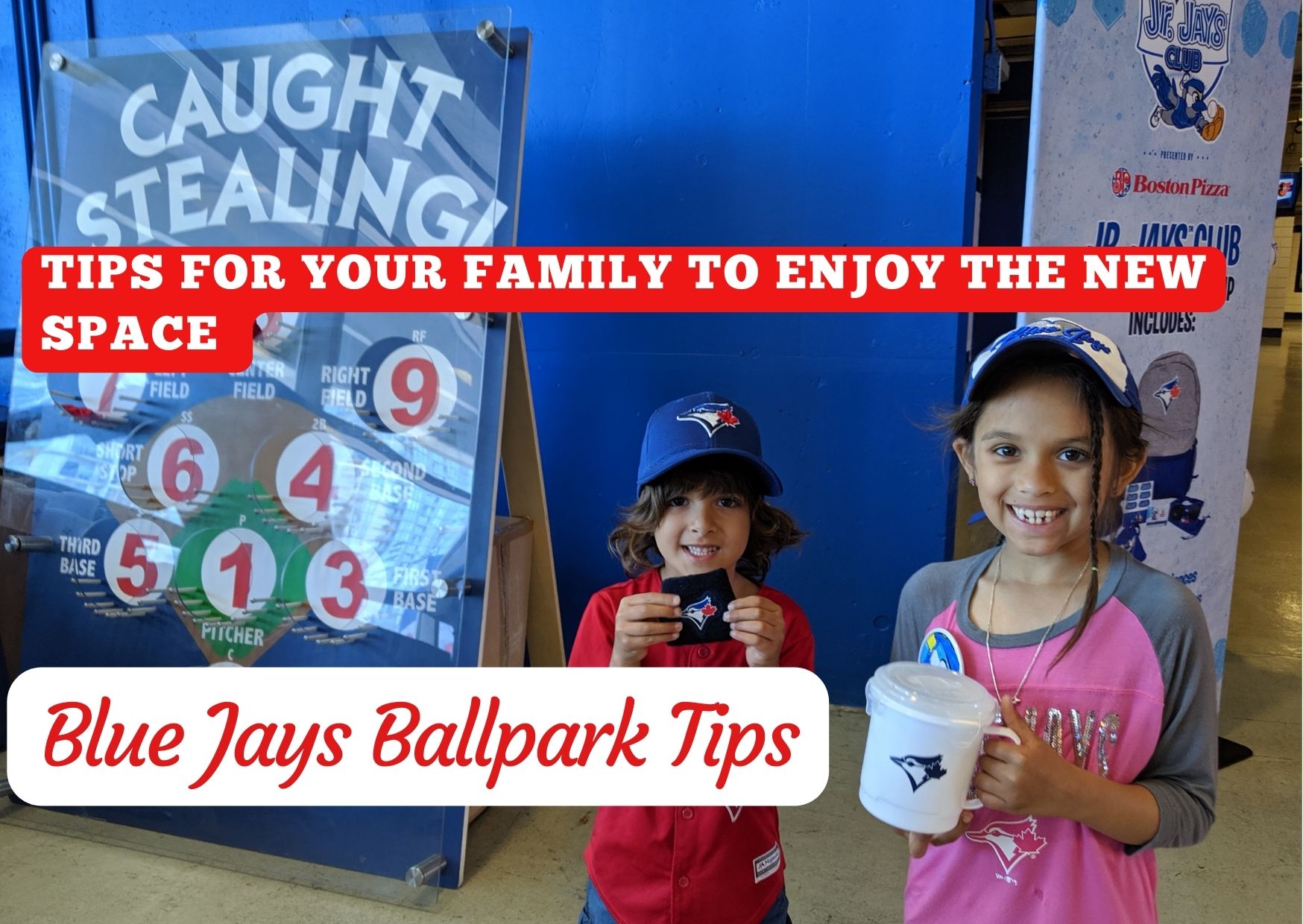 Taking kids to a sporting game can be daunting but we've done it since ours were infants and the best part is that we have wonderful memories from those games. Even if you're not a huge sports fan, you'll have fun at a Blue Jays games with kids and babies because there's plenty of entertainment! The new renovations have made it even easier to NOT watch the game when at a live game – it's true! Read on and you'll see what I mean.
The Blue Jays ballpark renovations have brought us some new spaces which allow for more social hanging at the games, versus being stuck to our stadium seats. There are Five outfield neighbourhoods (Corona Rooftop Patio, TD Park Social, The Catch Bar, The Stop and WestJet Flight Deck). And there are additional social spaces (Rogers Landing, Schneiders Porch, bleacher seats, left field balcony, right field balcony and drink rails). All of these areas have areas to congregate and some have lounge areas with picnic tables and muskoka chairs while others have large format jenga and connect four games. I even spotted a video game area and cornhole stations on the 5th level.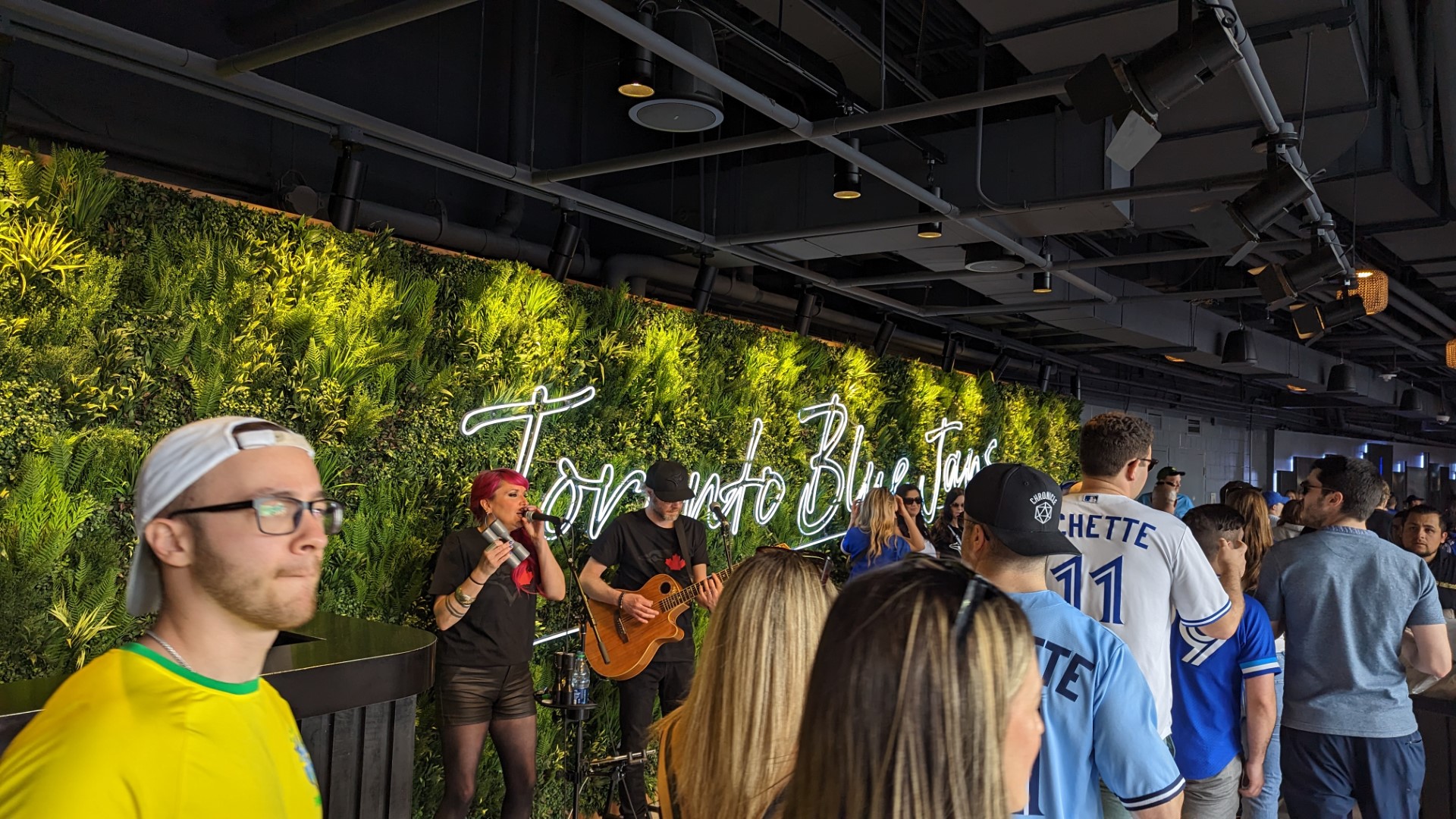 If you're attending the game with young kids, head to the TD Park Social because that colourful area is made for families with young children. For those with tweens and teens, the WestJet Flight Deck in the 200 level has been refreshed with retro arcade games and a new brewery-style menu so that will please everyone. If you're looking to watch the game with adult friends and enjoy some pints of craft beer like Hendersons, head to the Corona Rooftop which may also have some live music.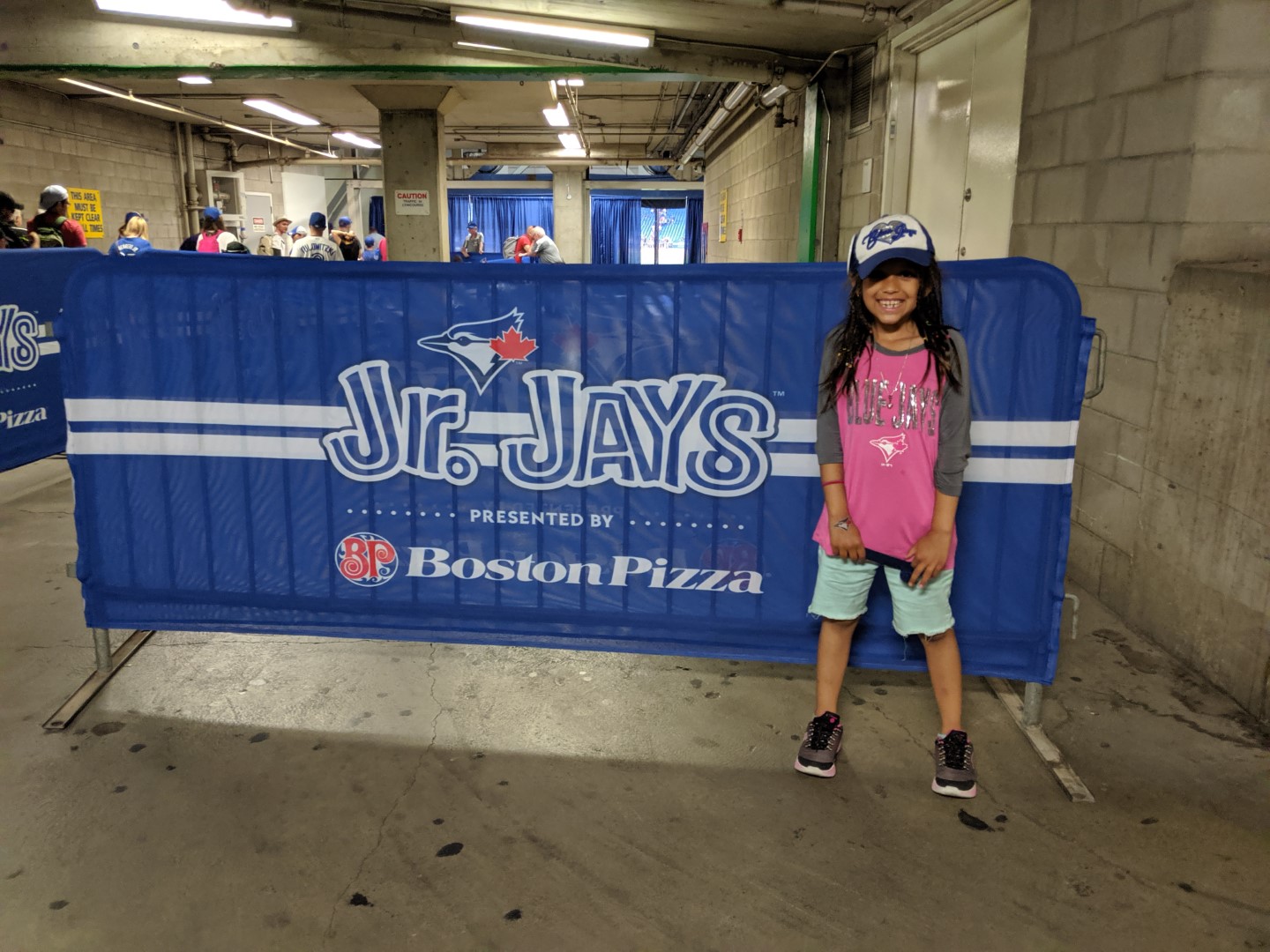 The best time to take kids to a Jays game is on Junior Jays Sunday when a number of sections are designated as Jr. Jays Zones and feature artists, games, and activities, depending on which zone you visit. Kids 14 and under can also purchase special priced tickets in the 200 and 500 levels. Perhaps most exciting of all, the kids are allowed to run the bases like a pro after the game – just be warned that the occasional game goes into extra innings, stretching the game time past the usual 3 hours.
If you're planning to have your child run the bases in 2023, know that there's some new rules in place. Ticket purchasers for a Jr. Jays Sundays game will receive an email 72-hours in advance of the game with a link to register their Jr. Jays to Run the Bases. The registration link will also be added to this webpage 72-hours in advance of the game. This means you HAVE to pre-register now.
Choosing the Best Blue Jays Seats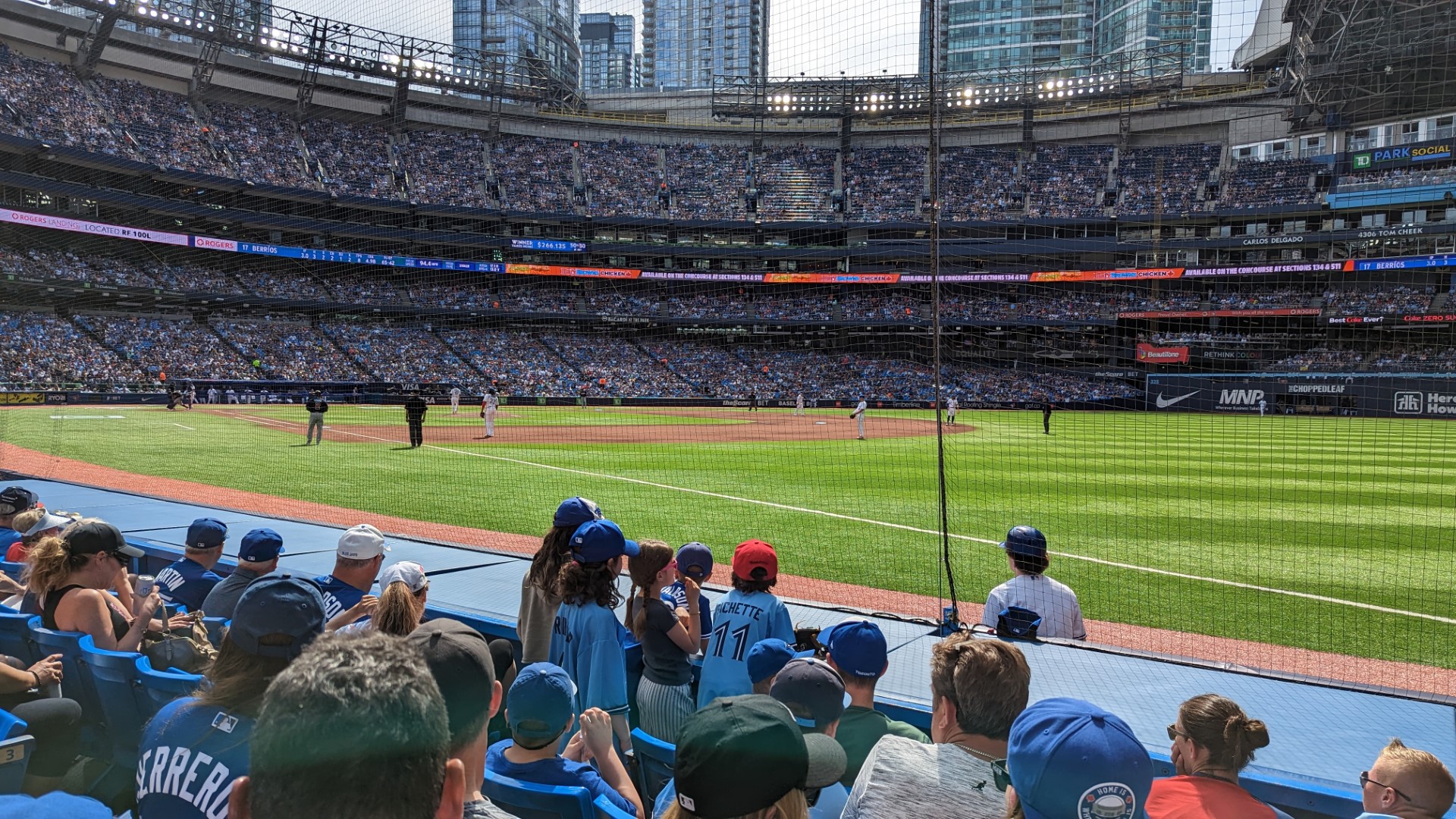 There are so many options when it comes to buying the best Blue Jay seats for a game, especially if you have kids with you. I think this year the most cost effective tickets are the $20 Outfield District ones which give you ballpark entry and general admission to social areas. They do not include a seat in the ballpark. So keep that in mind. HOWEVER you do have seating available on a first come first seated basis at various social spaces including the bleacher seats (just get there really early to nab them!).
If you're heading to the ballpark as a group and not into watching the game from the traditional seats, you have another option. There are group packages at the various neighbourhoods which give you great views of the field. You can find more details on how to book these seats here. Personally I'd like to chill in the private club areas, especially The Lounge which is an all-inclusive experience. So someone invite me okay?
Chris bought us tickets in section 113 rows 5 and 6 but what he didn't realize is that there's a tall net this year so no balls can be caught by the lower seats. Apollo and his cousin walked to row 1 and tried to chat with the ball boy but unfortunately some other kids got the balls and not them. There is potential though!
Oh and my biggest tip for taking babies to the Blue Jays game is that those 2 years of age don't need tickets and there are change tables in both the male and female bathrooms. Gate 7, located along Bremner Blvd. on the South side of the stadium is designated an accessible entrance, and those with strollers can easily get into Gates 5, 6 and 11 as well. In addition, there's designated stroller parking areas at section 205 and 530.
The seats are elevated as you go up each row at the ballpark but there are booster seats available at Fan Services if your child could use a boost! Oh and there's always opting to dine at Sportsnet Grill to watch the game!
Food and Drink at the Blue Jays Game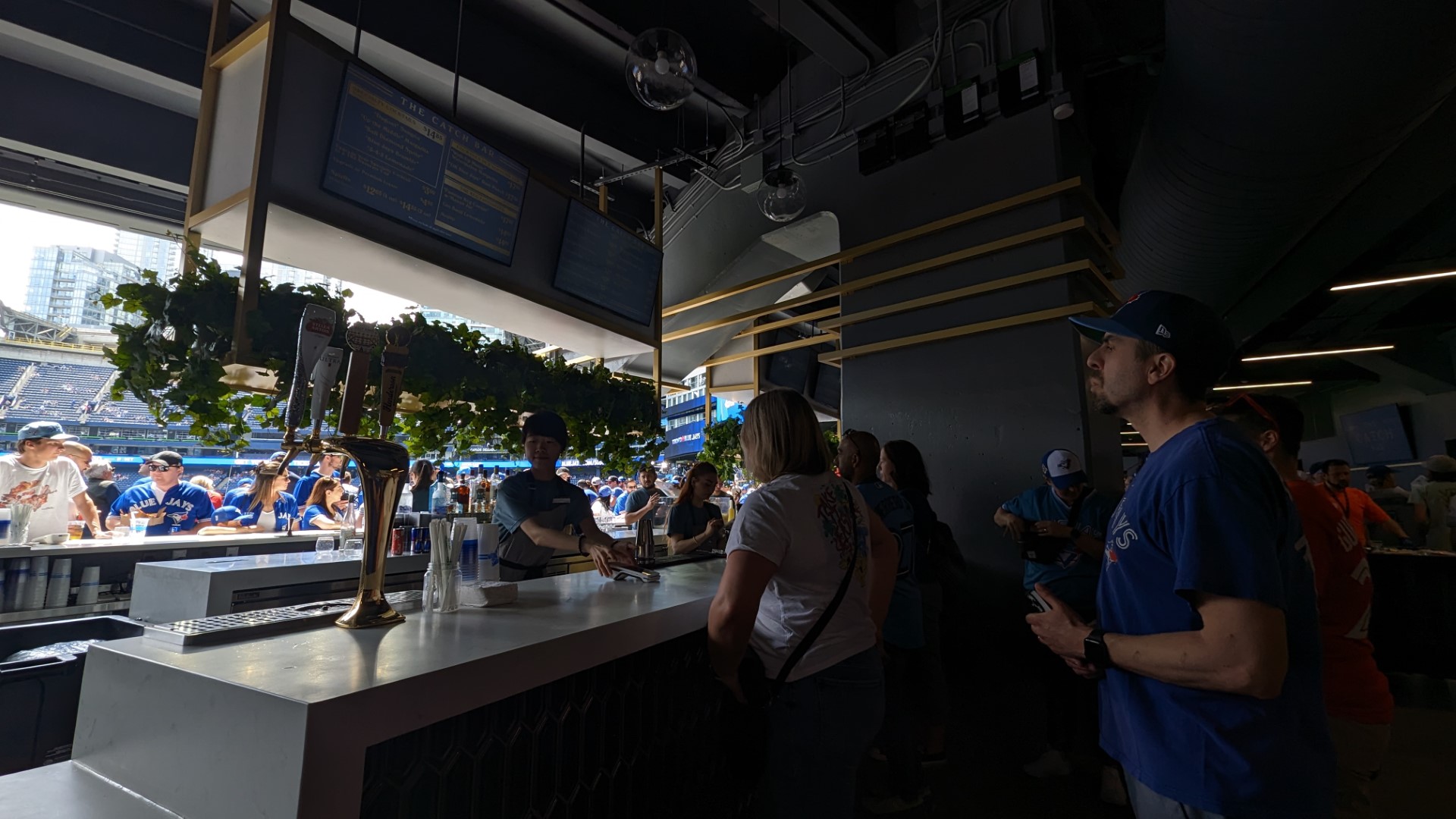 This year the food has definitely improved as have the beer selections. And I'm here for it. Unfortunately on this visit we only ate popcorn due to ill timed brunch and dinner flagging both ends of the game but here's what I can tell you.
You're looking at about $15 for a beer after tax and food items range between $10 to $20. I have shared some menus below so you can see. On the 500L I noticed snow cones and those were probably the best bang for the buck for a young one's treat at $6.50. Although hot dogs would be Akira and Apollo's ballpark food of choice, I was surprised to see many half eaten ones on the floor when the time game to leave after the game. I mean, I didn't even see all that many leftover popcorn bags but those hot dogs were all half eaten. So .. yea. Maybe avoid that?
There are halal items like the Jamaican Patty and healthy bowls as well if you're not into the sandwiches and mac n cheese.
Drinks wise there's craft beer as well as wine and fun cocktails. The margarita is what I will get next time!
Tips to Keep in Mind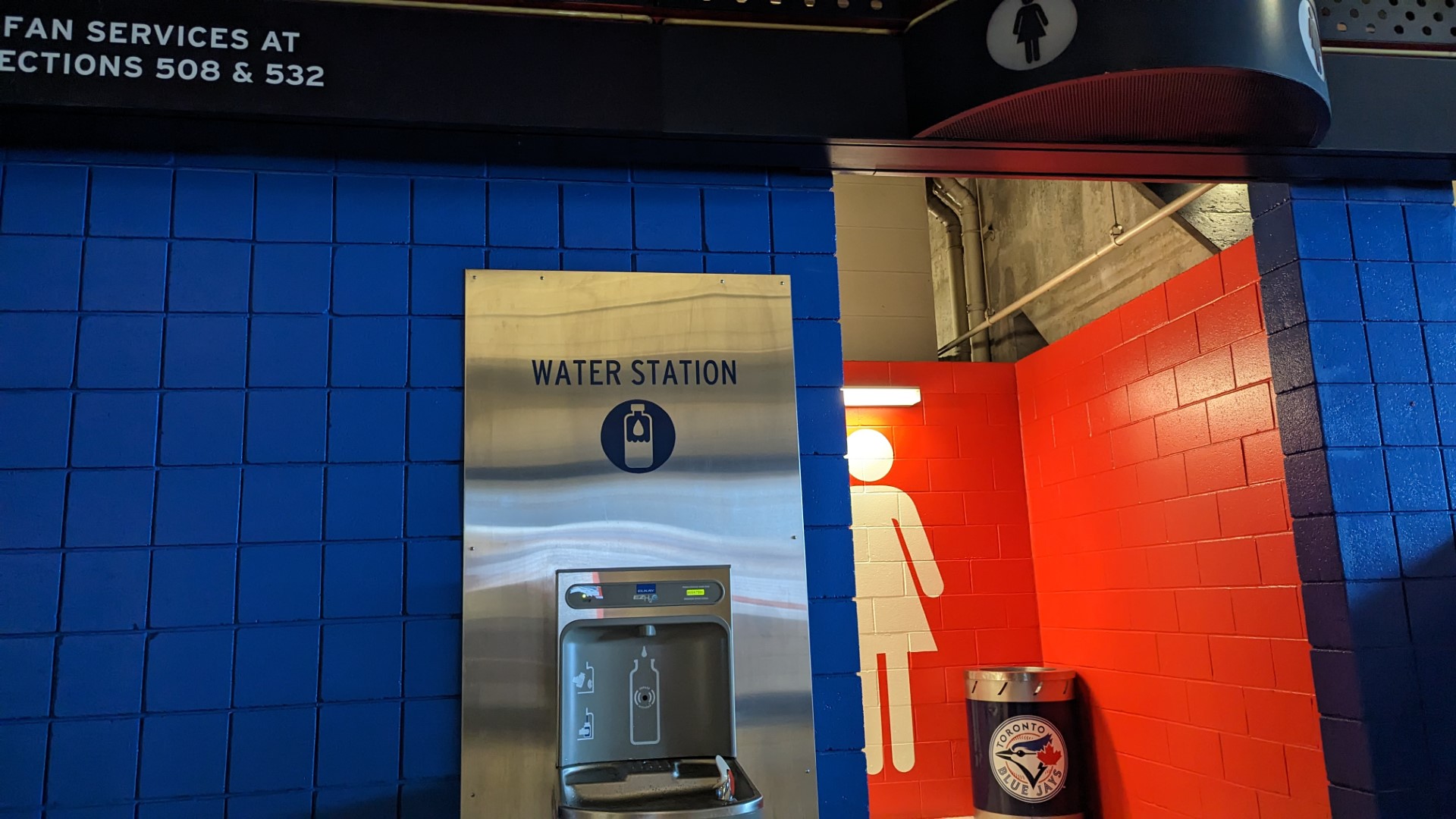 All bags (Only soft bags smaller than 16" x 16" x 8" are permitted) are screened before entering the Rogers Arena and they say not to bring metal or glass bottles.
However you can bring food and non alcoholic drinks in which helps you stay on budget. As long as the items are wrapped, bagged, or left inside a container, you can bring them! Also note that plastic bottles and cans holding 600ml or less of non-alcoholic beverages are permitted. There are water refill stations throughout the ballpark too.
Arrive early because there's always giveaways and fun stuff happening outside the Rogers Centre and on Jr. Jays days they have loads of fun, free activities for kids.
Gates open 90 minutes before the scheduled game time on weekdays and two hours on weekends.
If you're celebrating a special occasion or if someone's attending their first game, visit any Fan Services location and pick up a free commemorative certificate! You can also have names and greetings displayed on the Video Board during their selected Blue Jays home game by making a $135 donation to Jays Care.
If your child has sensory needs, know that there is a Sensory Inclusive Certified venue by KultureCity at the Rogers Centre. Sensory Bags are available at any Fan Services, located on the 100 Level at Sections 120 and 136, on the 200 Level near Sections 212 and 236 and on the 500 Level near Sections 508 and 532. A Sensory Room can also be found at Section 212 behind the Fan Services. There's also quiet areas at 100L and 200L Gate 3 elevator lobby and 500L Gate 13 elevator lobby.
There can be line ups to enter the various stores so try to visit while the game is on. Also know that the shops on higher levels tend to be less busy. Same goes for food and drink vendors.
An Infant Feeding Room is also open at Section 240 across from the Gate 13 elevator.
Plan for all weather, while the dome does stay closed during rainy days, it is mostly down on other days and depending on cloud coverage you may need a hoody or you may want to strip down completely because it's so hot! Bring sunscreen with you!!
IF you're a vampire or just sensitive to the sun like many of us, know that on those scorching days, the shadiest seats are on the third baseline and outfield. Aim for the upper 100-Level rows or anything in the 200 level.
If you're looking to get to the higher levels but they can be slightly hidden so ask the security staff to point you in the right direction. Elevators can be found at Gates 3, 7, 9 and 13.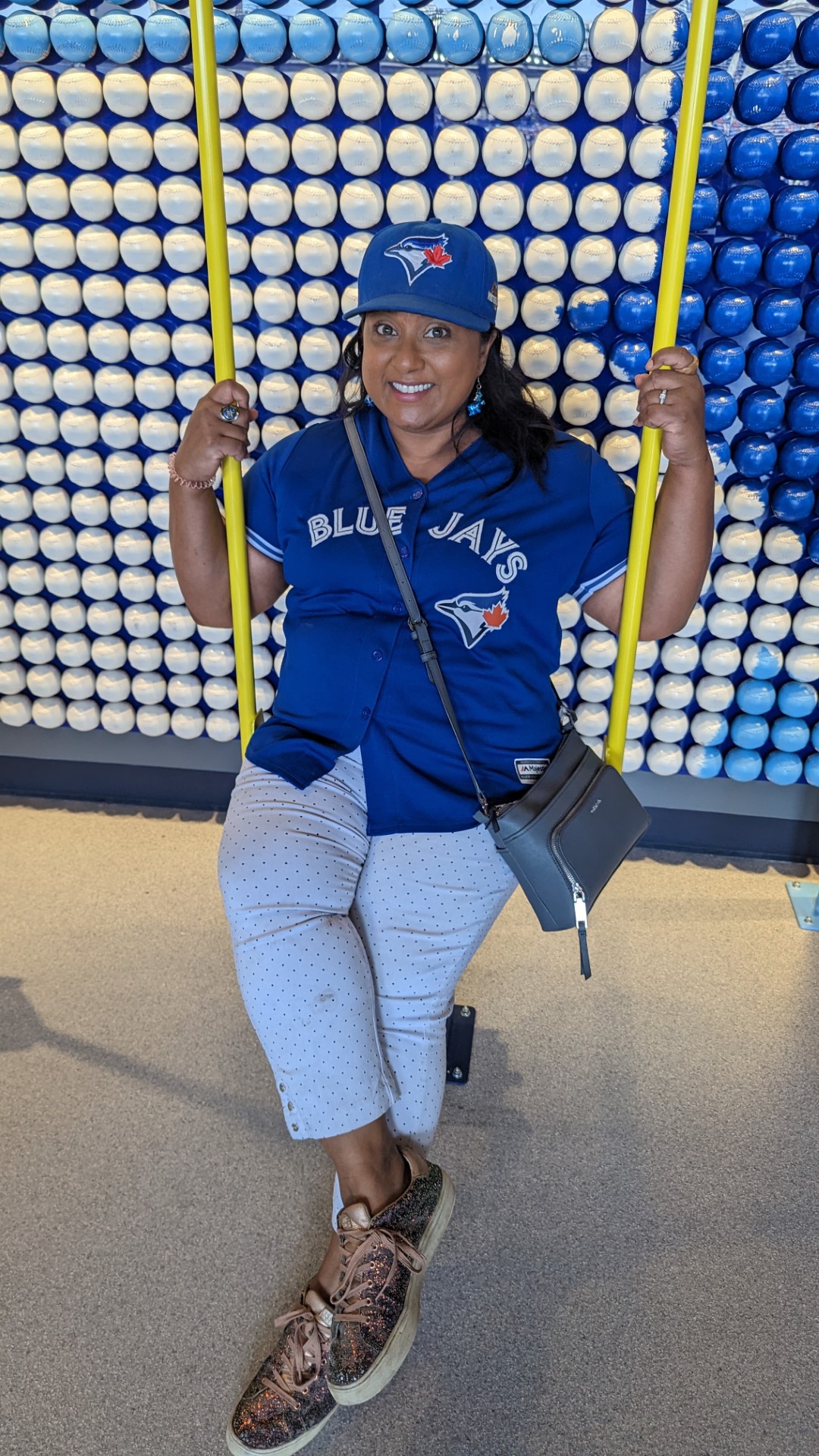 As the season goes on I'm sure we'll be returning multiple times to watch the games so I'll be sure to keep this article updated to help your family plan your visit to a Blue Jays game with kids or without!