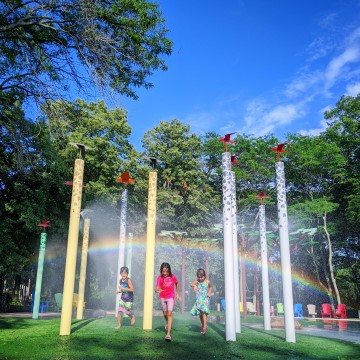 Updated August 2021 with details from our most recent visit to the Toronto Islands with kids.
We recently spent a full day at the Toronto Islands with the kids and it was just what our souls needed. While Chris worked at home, the kids and I met a couple friends for a physically distanced hangout session on the Toronto Islands. So what's it like to explore the Islands during COVID-19? I'm here to tell you all about our experience and the things to do on Toronto Island. In the past, a trip to the Toronto Islands has been an annual summer tradition and Centre Island was always our favourite because of the theme park. Last year Centreville was closed because of COVID and we weren't sure how it would go, but it truly was the best break from the craziness that we're living in. If you're looking for a local spot to pretend that you're on vacation, I suggest wandering over to the Islands! This post was originally written in 2020 but we have visited again in August 2021 and so I've updated this article with the latest tips for visiting the Toronto Islands with kids. Centreville is now open for the 2022 season.
After months of avoiding public transit, we had the courage to step onto a TTC bus and arrived at Queens Quay in time for our ferry ride over to the Islands. Buses have designated seating spots but with kids in tow, it was hard for us to spread out so we ended up sitting on a couple seats that weren't technically for us to sit on. I felt bad about that but didn't want to spread out and take up space when we could cuddle up together easily. Ferries are operating to each of the Islands so it's easy to get over there. Each of the Islands have something to do so it really depends on what kind of day you're after. Beaches, splash pads, lighthouses, mini hiking trails… and so much more awaits you. The reason my friend and I chose to hang out on the Toronto Islands is because we knew that there's plenty of space to spread out and still give the kids a chance to be carefree. One thing we've been struggling with is the fact that the kids are missing their friends and the many benefits of social interactions with their peers. We're still being very cautious but also realizing that it would be in our best interest to teach the kids how to navigate the COVID-19 filled world they're growing up in. Our mission as parents right now is to teach Akira and Apollo how to distance with friends and empower them with the ability to know how to wear masks properly, physically distance whilst still having fun and ask for space when they feel others are coming too close. All this doesn't happen overnight and we started these lessons back in April 2020 and are continuing to practice the same thigs this year. Once they got used to wearing masks (here's our tips for choosing the best mask for your family) we started showing them how we hosted physically distanced lunches and then hosted their friends on our roof tip. We slowly moved to half day trips and spent an entire day outdoors. Just like old times, but with safety measures and quite a few restrictions. Were things perfect? Hellz no! However, we took things in stride and had friends who did not mind when we felt anxious or had to back away rudely. We teach our kids to be kind, welcoming and to show their emotions yet they're now being told not to hug friends, hold hands or help toddlers who tag behind them… it's confusing. We took each lesson in stride and are spending the week talking about how we can approach those situations in the future.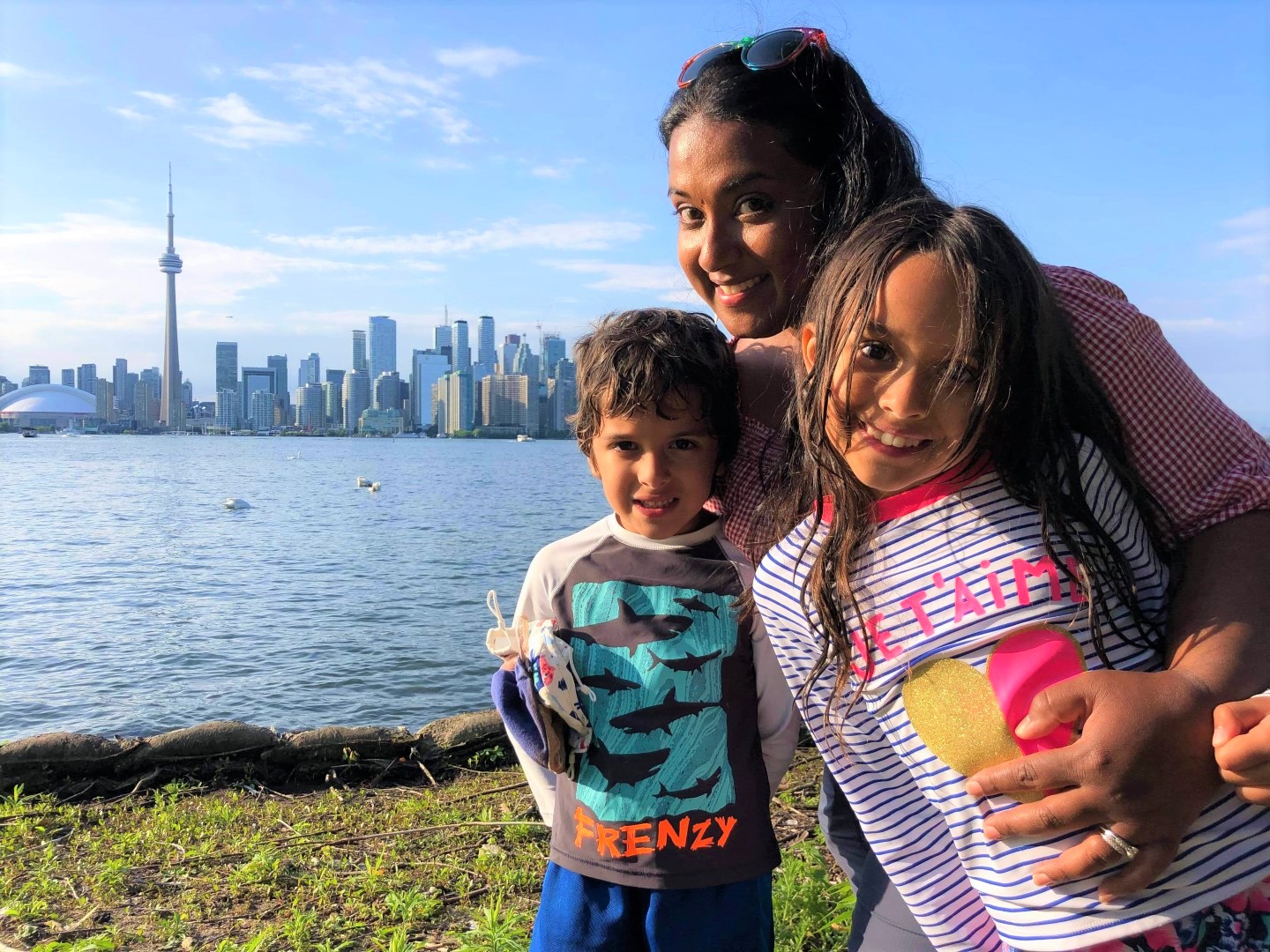 Tips For Visiting the Toronto Islands During COVID-19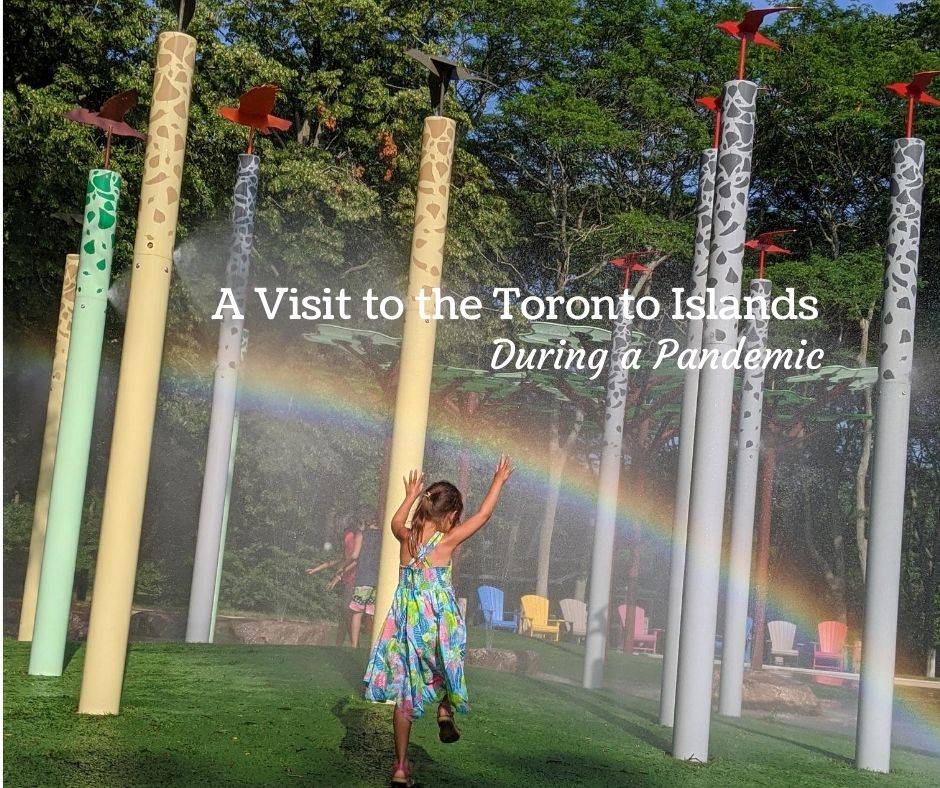 If you are going to use the public ferries you have buy your tickets online and know that they're only selling 5000 tickets per day these days. You buy tickets for the day you're going, not the time. There are hourly boat departures and you only need to arrive 5 minutes before departure. On the Toronto end things are handled really well and there are clear markers on where to stand as you wait to board the ferry. However keep in mind that there's no limits on the actual number on the ferry, which means everyone opting to get on the same ferry will mean that it gets crowded (despite only 50% of the usual number of tickets being sold currently). Having taken the ferry in August 2021, I can tell you that things get very busy on weekends and no one practices distancing when in line for the ferry .
Masks are mandatory on board (thankfully)
There are hand sanitizer stations on the ferry (near the washrooms – which I don't believe are functioning) and we also spotted hand sanitizer stations as soon as we disembarked on the island
I HIGHLY recommend avoiding the Centre Island ferry, especially on the return. Based on our experience ( we arrived on Ward Island and departed from Centre Island) the boarding process when leaving Centre Island is chaotic (this was true in 2021 too). We were pushed together by staff members as we waited to board the ferry and I was told that because I was wearing a mask I can stand shoulder to shoulder with strangers – which is what the signs told us NOT to do! Centre Island is the busiest island so I do understand, which is why we will be departing from Ward or Hanlans in the future. Arriving into Centre isn't a big deal but definitely do your best to depart from another island. The tickets are one and the same for all islands so there's no issues.
Our return trip from Centre Island was a rather crammed one so if you REALLY want to eliminate that awkwardness, take a look at water taxis. These are private rides for the most part and cost approximately $10 for adults and $5 for kids EACH WAY (vs. public ferry RETURN trip costing $8 for adults and $4 for kids). On a following visit we took a ride with The Otter Guy water taxi and while we weren't the only ones on the boat, there were only 3 other couples/families each way. The captain also ensured that everyone was properly masked. The bonus with these guys is that you can enjoy sunset and head back whenever you want as they go until 1 a.m!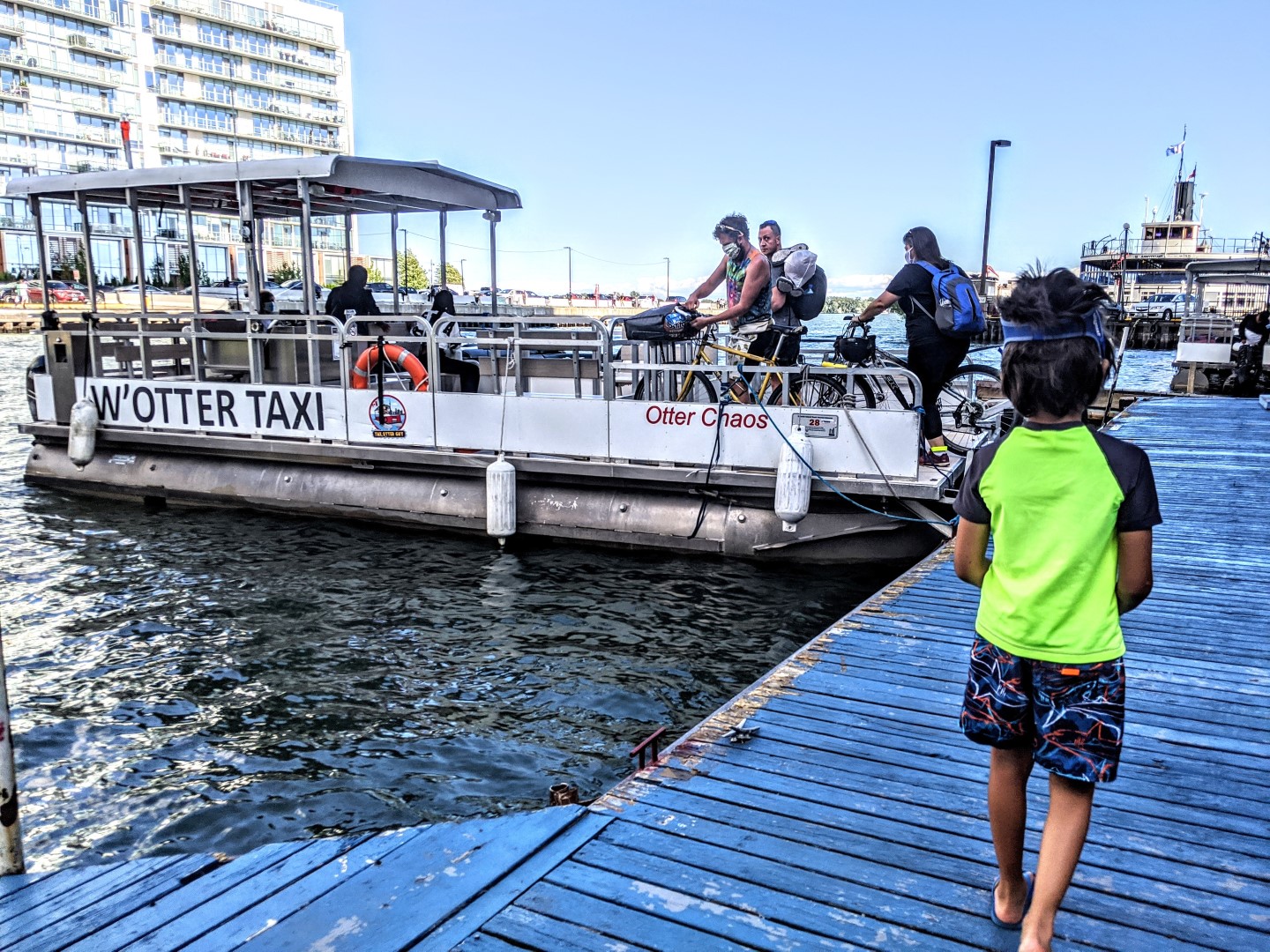 As with everything, week days are a much better option and things get busier towards evening, even on week days
There are a few food options available – we spotted Riviera Cafe on Ward and on Centre Island we saw Pizza Pizza and the Island Greek Grill. There's also a great LOOKING patio at BBQ & Beer. We wanted an icy treat but never found one. We had packed a picnic and glad we did that because the kids and I had plenty of snacks and a full lunch in my backpack. In 2021, the BBQ and Beer spot was awesome not only for the views but the eats were quite good too!
Centreville is open in 2021 but you need to purchase tickets to access the grounds and the amusement park. Yes you need ground access in 2021to use the splash pad there (the one by the playground and beach is still free for all)
Playgrounds are still closed in Phase 2 even though we saw kids on the play structures and swings ( we were adamant and told our kids that those were still off limits). Update – things have now opened and there are play structures on Ward Island and on Center as well.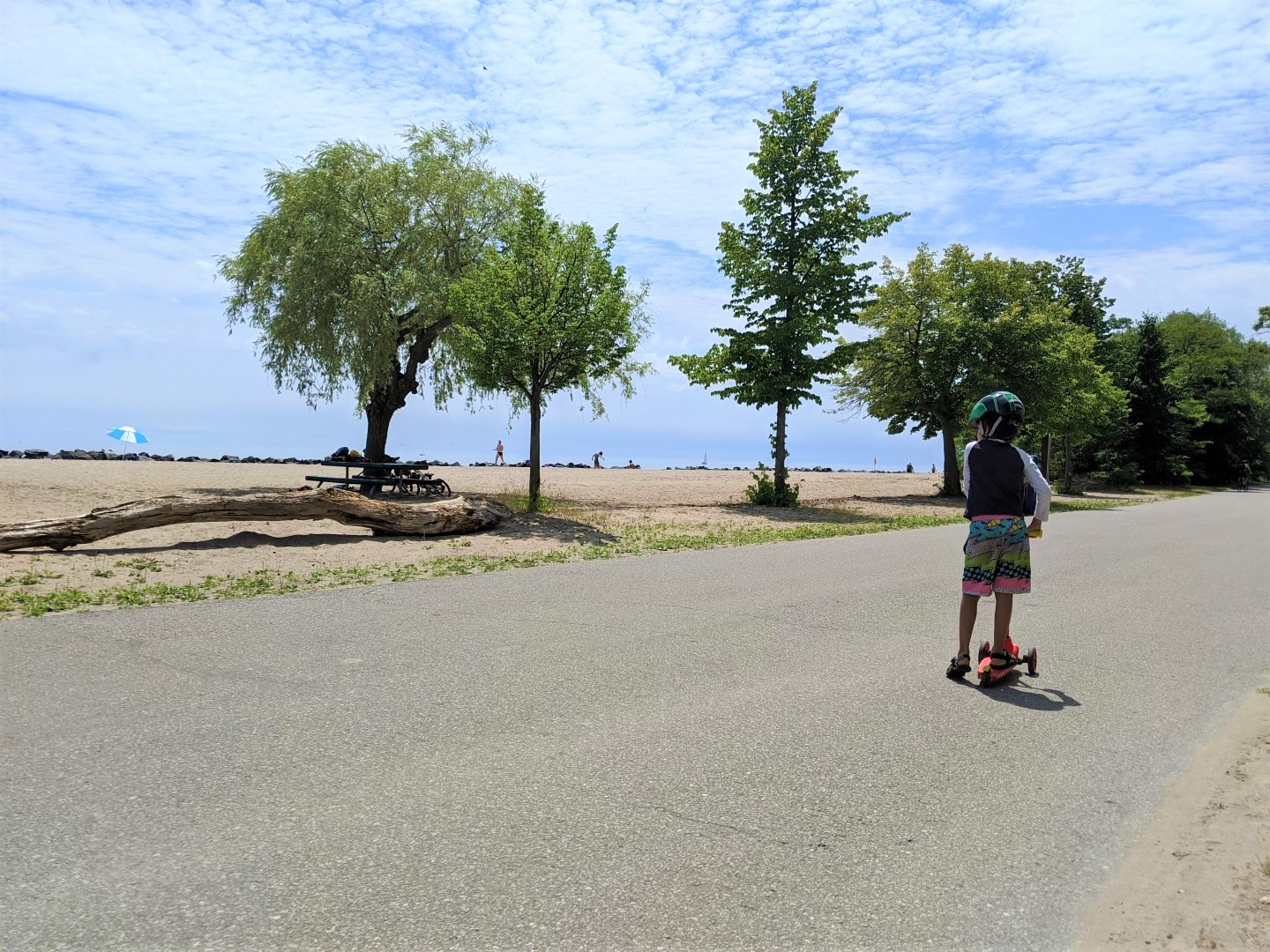 There are bathrooms scattered throughout but I found the ones by the Centreville to be the cleanest smelling ones (it's also the only one I went into but my friend did visit a few others)
Definitely bring a picnic blanket because there are many spots to chill at – we did this numerous times during the day
The Islands and spread apart but connected so our kids brought scooters. I highly recommend bringing bikes, scooters or a wagon to get around the Islands (you can rent them on the Island by the hour but it does get pricey)
We were able to roam around unmasked in many spots were we were physically distanced from our friends. Which was refreshing on the hot day we visited the Islands
Franklin Garden is open and there are staff members who are happy to guide kids around the garden and teach them about the various plants
Things To Do on the Toronto Islands (During COVID-19)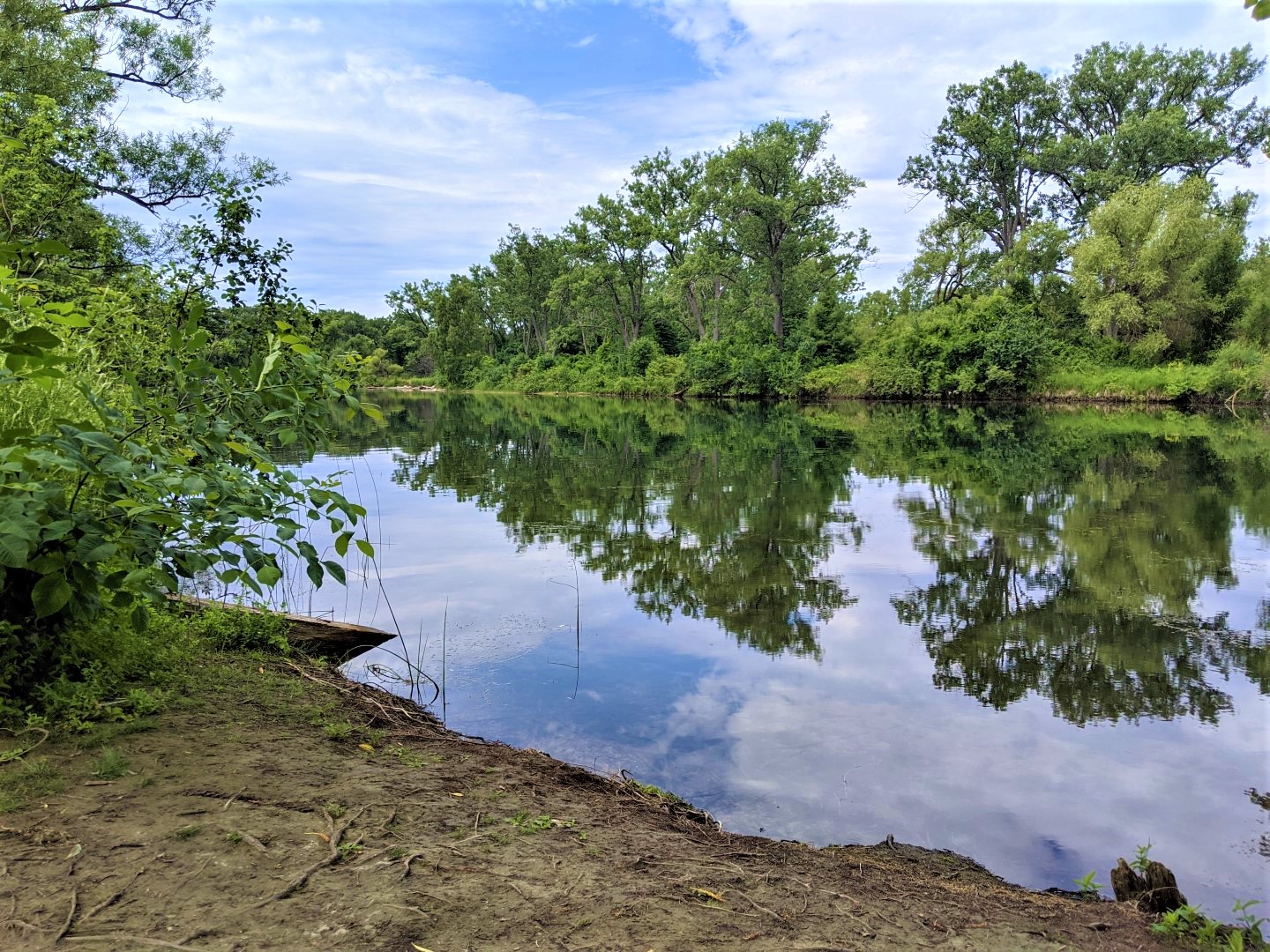 One of the things I love about the Toronto Islands is that it's very budget friendly. The only thing we spent money was on the ferry ride ($16 for 1 adult and 2 kids) but that was mainly because we couldn't find any treats and I wasn't looking for an alcoholic bevvy! If you want to relax, let the kids run wild and recharge your batteries, the Toronto Islands has activities that can fill your cup during these tiring times. I guarantee you'll have a great experience by choosing one of the following experiences.
Update : We went back a few weeks later and took lessons with Toronto Island SUP and so that was an additional expense but SO WORTH it!
Beaches :

There are quite a few to choose from but if you're looking to stay close to Centre Island, Gibraltar Point beach is a great option. Kids looked for sea glass and found pebbles in-between the swim sessions. I wasn't a fan of the stench at Centre Island Beach. Ward's Island beach is always fab too and I'm still not ready for the clothing optional Hanlan's Point beach
Splash Pad :

The one across from Centre Beach is fun but our favourite is the one inside Centreville and you can walk in there with no issues
Centreville :

If you have kids under 8 years of age, especially toddlers, this is THE AMUSEMENT park for them. We've taken our kids to Centreville many times and have shared our tips here. You can buy all day ride bands or tickets for just the rides you want to go one. Walking around is free so you can always turn up and see if it's something you want to do.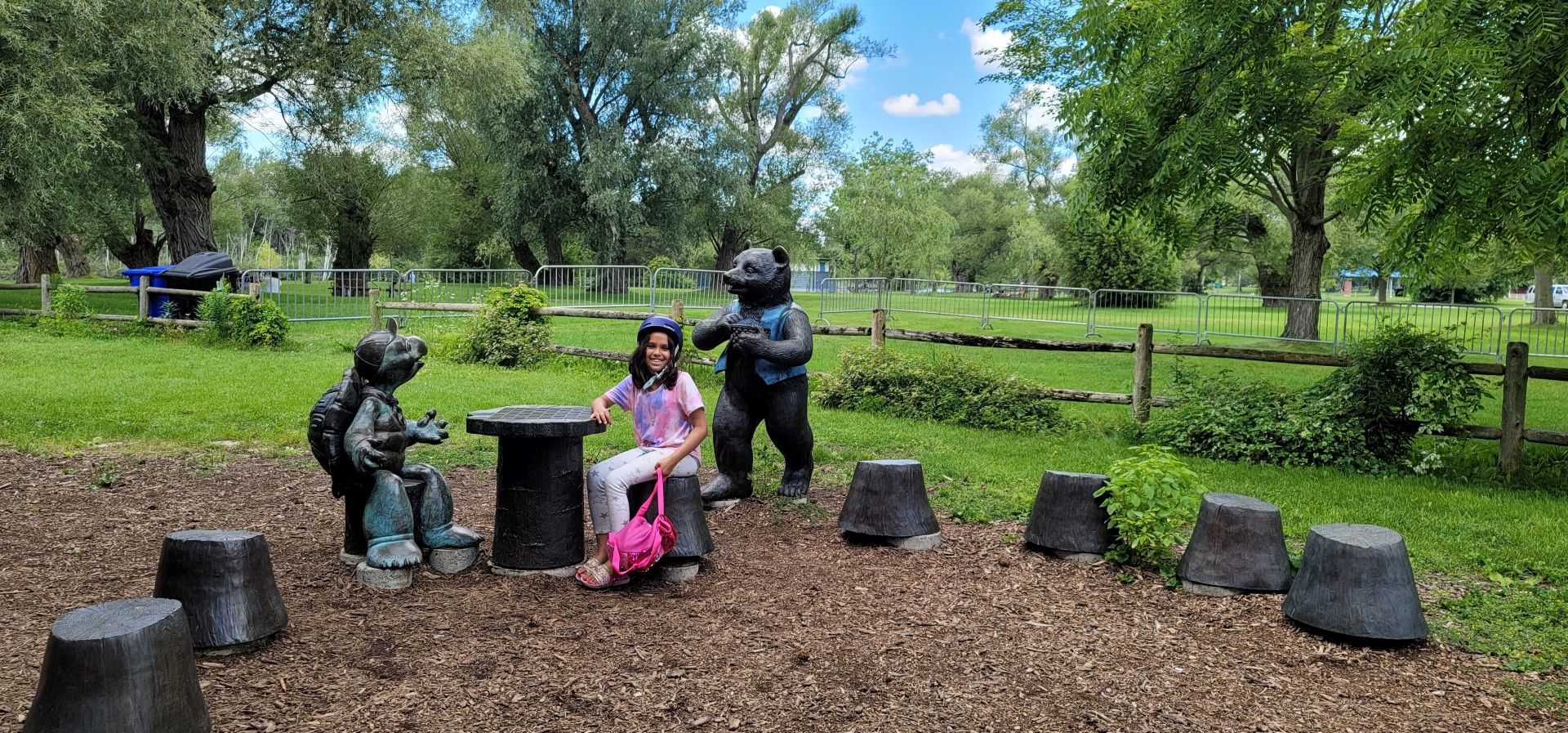 Franklin Children's Garden :

The garden is divided into seven sections for gardening, storytelling and visiting seven child-accessible sculptures from the Franklin the Turtle series. It's another free attraction on the Toronto Islands and staff are happy to guide kids around the gardens teaching them about the various plants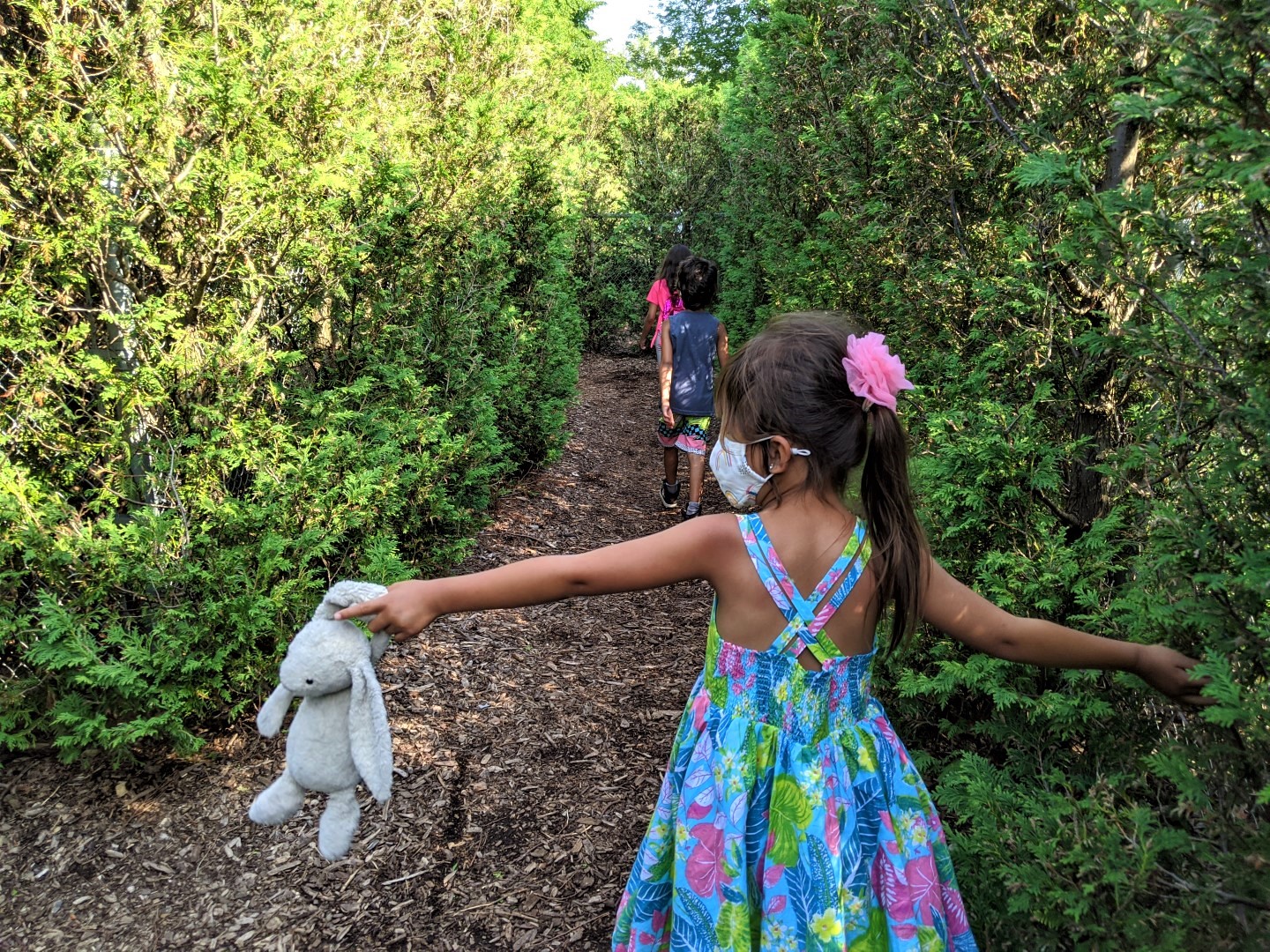 Meany Maze :

Another great outdoor attraction that's free to enter. My advice is to mask up prior to entering the maze because there were plenty of kids running around unmasked and breathing heavily in there
Green Pastures :

We found many lawns to chill at and blow bubbles. You can find them on all the islands and is a great way to enjoy some time with friends as it's easy to distance and have secluded areas to yourself. especially on Ward Island. There's even a Frisbee golf park for those who know to play the game. I mean, I'm all about the naps outdoors under the shade of a tree but my kids have other ideas!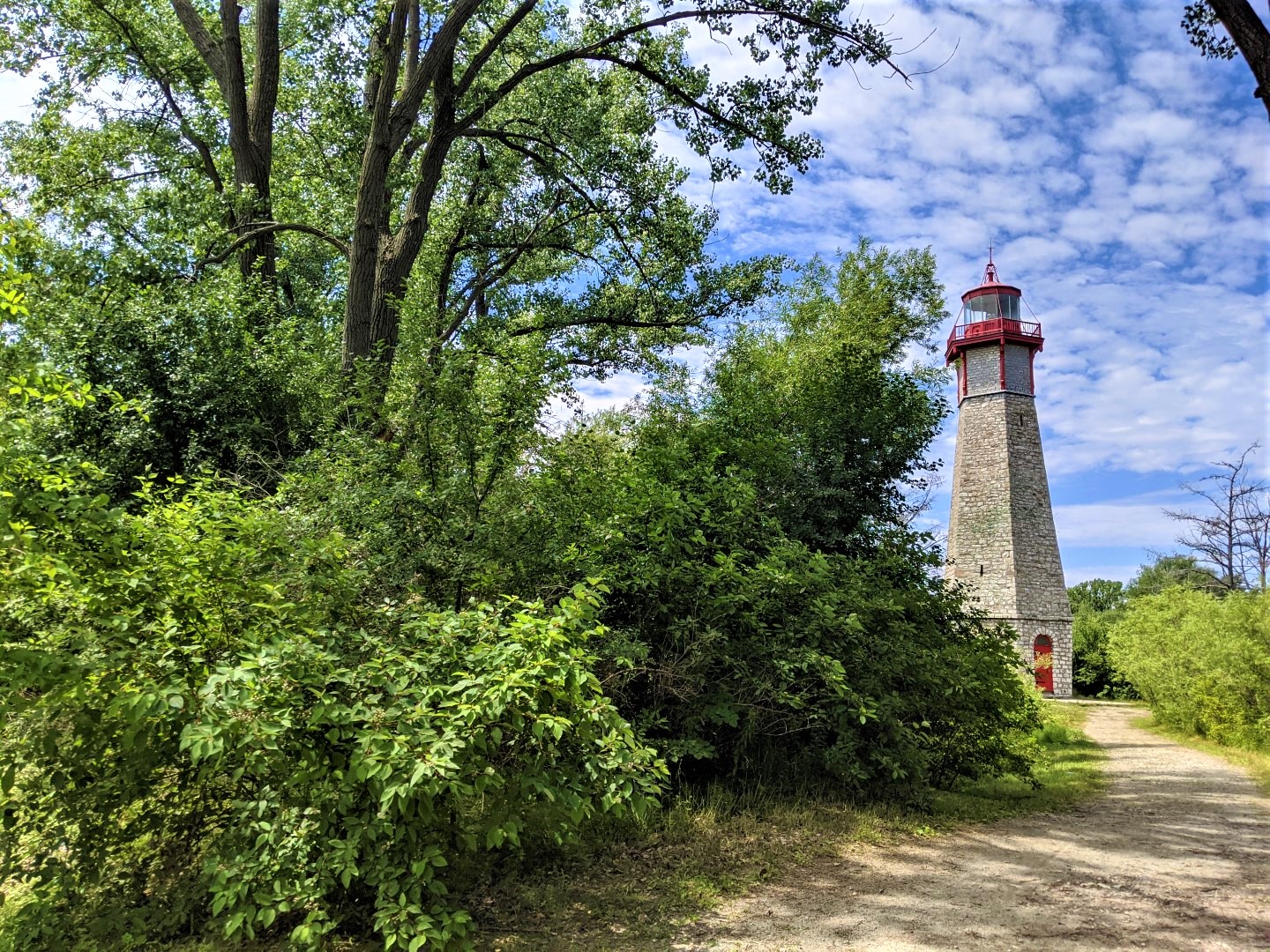 Lighthouse :

They say Gibraltar Point Lighthouse is haunted but it sure does look pretty!

Fire Station :

We did not stop in for a tour BUT there was a fireman standing outside beaming in hopes that the kids would stop for a chat. We'll definitely have to check in with them on our next visit but on this one, the kids were too busy scootering around when we were on Ward Island.

Water adventures :

If you have your own paddle boards and canoes, you can definitely bring them along and get on the water. You can also rent them from Toronto Island SUP or the Boat House on Centre Island
Meals with a view :

On Centre Island, the BBQ and Brews Co. has a fabulous patio where the views of the city are swoon worthy. The Nashville Hot Chicken sandwich was spicy and just what I needed after a day of biking. Kids meals are only $8 and comes with fries or veggies. Definitely one of the better options when it comes to dining on Toronto Islands.

Bike :

You can bring your own bikes or take it up a notch by renting a Tandem or Quadricycle to explore the island

Paddle Board :

We took a lesson with Toronto Island SUP and our instructor was fabulous. There were two others in our group but everyone was able to distance and our kids aged 6 and 8 really got into it. They provide everything so all we needed were our swim clothes and a towel to dry off. I was truly impressed that only Apollo fell in! We left our 75 minute lesson feeling confident and are now thinking about doing it again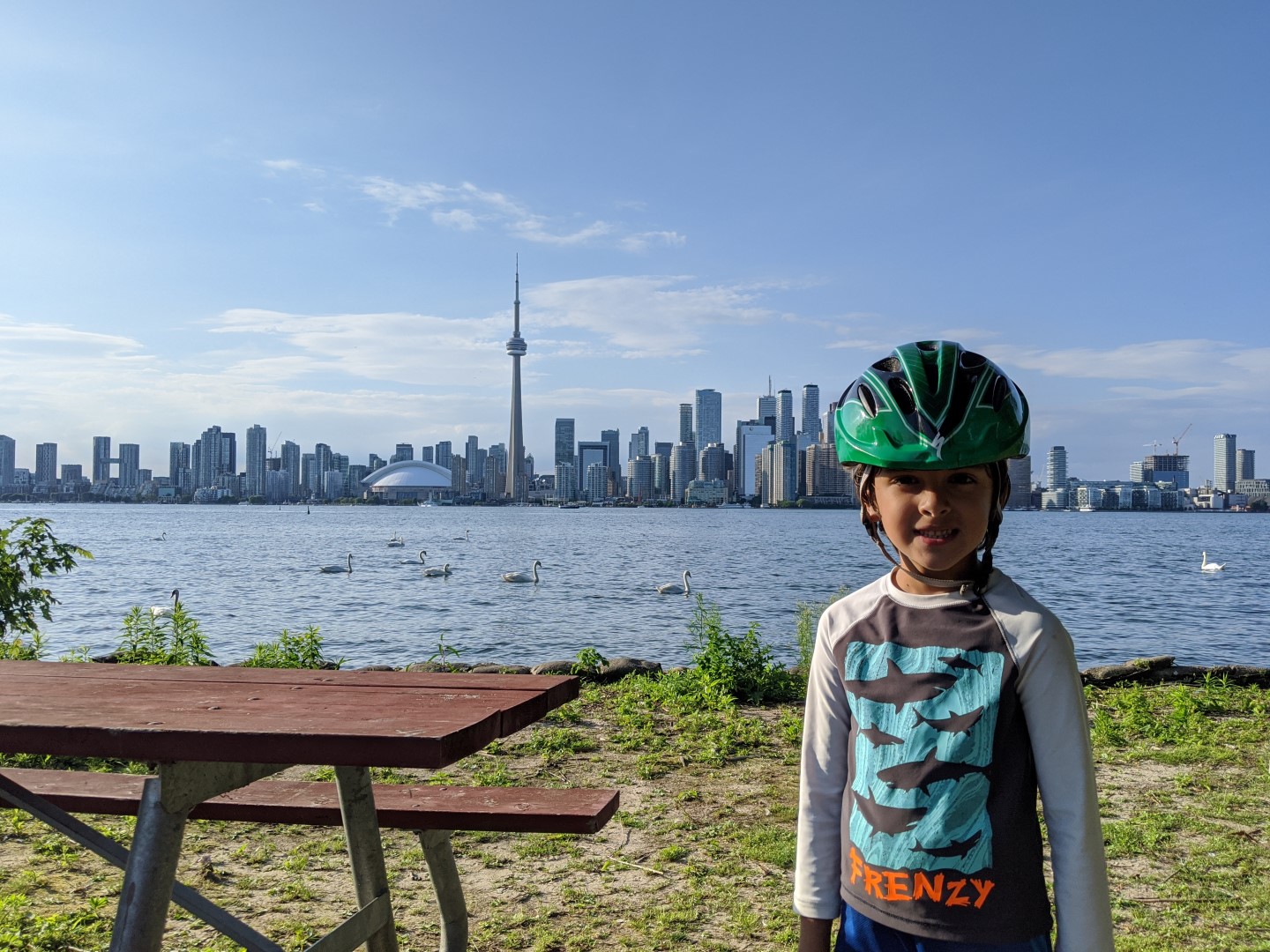 Please note that in 2021 Centreville Amusement Park, Playgrounds and Far Enough Farm are now open. We have been going on weekly adventures and I have been saving the locations as a highlight on my Instastories. Takes me longer to do a full write up these days but you can find out things much quicker by following me on Instagram!