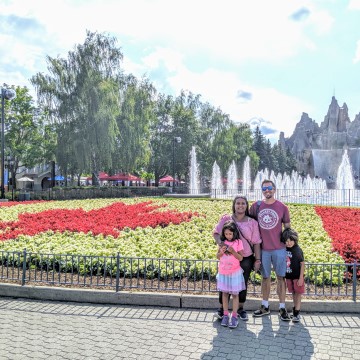 Prior to having kids Chris and I would visit Wonderland, a Toronto theme park just outside the city, on a regular basis. Not only were our bodies younger and able to handle the crazy roller coasters, but we also got a natural high from having our hearts race as fast as they do when you visit Canada's Wonderland. Opened in 1981 it was the first major theme park in Canada and remains the country's largest. As a seasonal park, Canada's Wonderland is open daily from May to Labour Day, with weekend openings in late April and after Labour Day until Halloween. Although Canada's Wonderland is ranked second in the world by number of roller coasters, it's actually easily navigable and that's one thing I've always enjoyed.
Summer of 2015 we received some passes from AIR MILES and took the kids to Canada's Wonderland to meet their cousins there. I unfortunately did not enjoy the visit because soon to be 4-year old Little Monkey was an adventure seeker who was too short for most of the thrilling rides and yelled that the other rides were too boring for her (they honestly weren't!). So we decided that we'd wait for them to be tall enough to ride at least half the roller coasters before we ventured back to this Toronto roller coaster park. This summer 7 year old Little Monkey was tall enough to go on some of the CRAZY SCARY rides that even I did not attempt and 5 year old Baby Boy was tall enough to go on some rides that got his heart racing. It was the perfect age for us to return to Canada's Wonderland with kids and I was able to remember why I loved visiting Wonderland when I first moved to Canada back in 2005.
Disclosure : We were guests of Canada's Wonderland but, as always, opinions are TOTALLY ours! 

Getting to Canada's Wonderland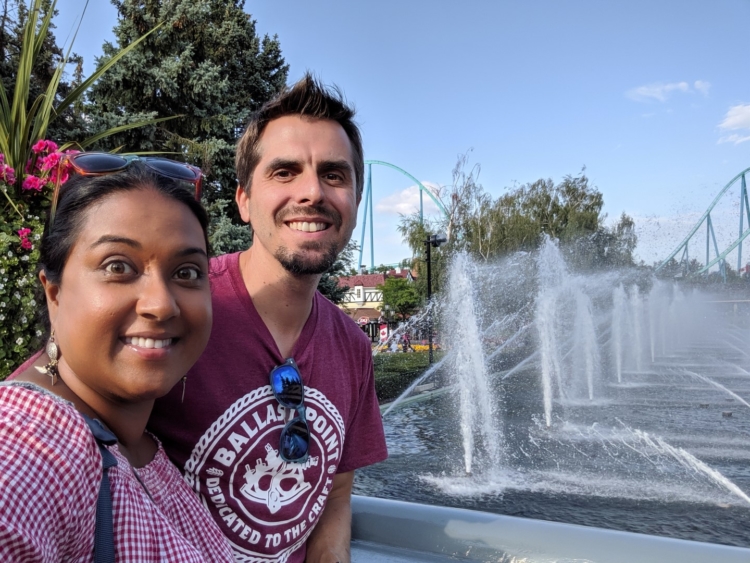 Back in the day we used to take the TTC to York Mills Subway and then transfer to a GO bus (Route 60) but now that we're pressed for time, we tend to rent a car for this trip. For this visit we used some TURO credit we had and used it to "borrow" a car (think of it like a home exchange for cars) for the evening as we had my brother and his friend join us as well. We figured we'd need all the help because Little Monkey was definitely going on ALL the rides and we had to protect our hearts and our backs by dividing and conquering.
If you do want to use public transit, you can also take the TTC to the Vaughan Subway station and then take the #20 Jane Street bus or an Uber/Lyft will cost you about $50 each way from downtown Toronto.
Our Favourite Rides with Young Kids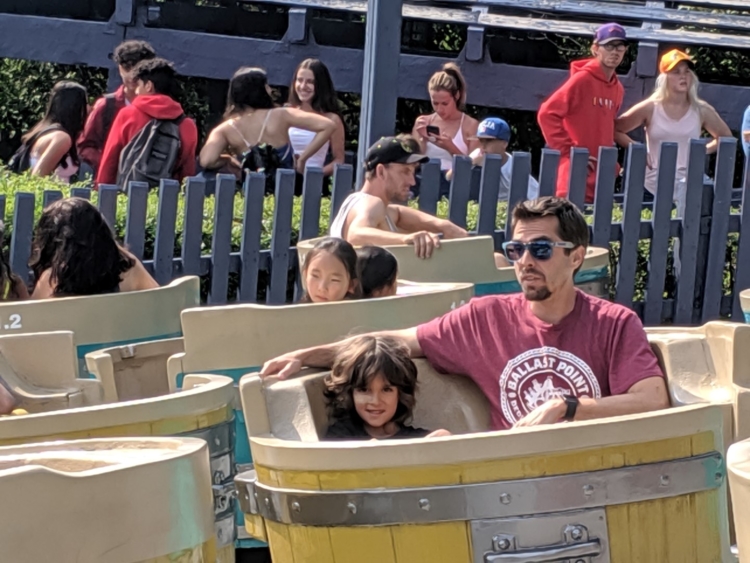 There is a water park at Canada's Wonderland but we've always focused on the roller coasters and themed rides. Technically speaking there are two family-friendly areas, KidZville and Planet Snoopy, where little ones can enjoy more than 25 kids attractions but mine want something "MORE EXCITING" than the usual spiny ones they find at Centreville. Keeping in mind that Baby Boy is still quite small at 44″ and Little Monkey was at the 48″ limit AND that we haven't had the chance to try ALL the roller coasters I asked the kids to list their favourite rides of the day.
Occasionally we take in a show if we can time it around a snack or meal and highly recommend that you do the same because there are some fun ones out each year.
Tips for Visiting Canada's Wonderland with Young Kids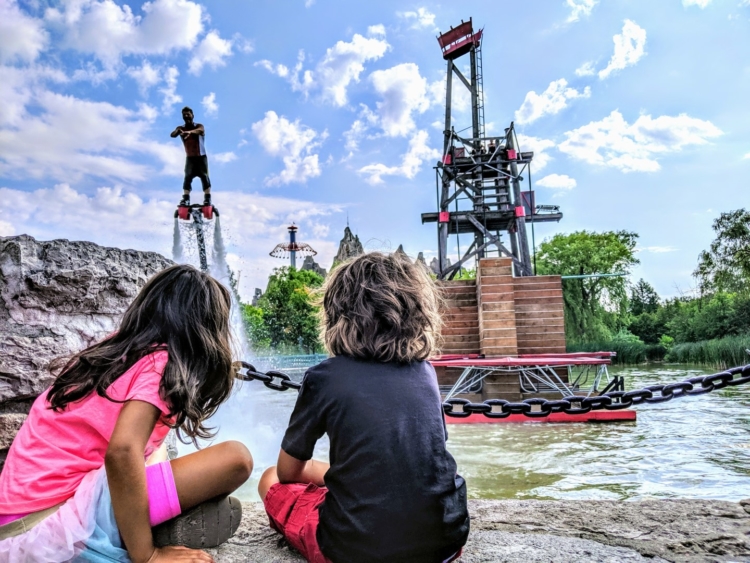 Wear comfy shoes, there's loads of walking. Ensure the shoes are snug because you don't want them flying off on certain rides where your feet dangle
Take a change of clothes (especially if you plan to hit up the water park)
Plan ahead if you can and map out the rides you want to hit up so that you know where you want to go
Officially outside food and drinks are not allowed (if you have allergies you have to email ahead of your visit and get permission). That said, I had some granola bars and a pack of raisins that passed through security. I definitely needed them while we were waiting in lines for rides
Bring reusable water bottles as there are water stations throughout the park
Keep an eye out for special beer deals. We found cheaper craft beer deals at some stands and kept going back to them!
Get a funnel cake! It's tradition!
Arrive as soon as the park opens and hit up the popular rides first. We only arrived around 3 p.m. and got to 8 rides by the time we left at 8 p.m.
As with all theme parks, eat outside of peak hours to avoid line ups (have a late lunch around 2 p.m or an early one at 11). Better yet, bring an empty snack box so you can save leftovers for snack attacks
Minimize the bags you bring… it's easier if you only have one backpack as you have to remove and store them for most of the rides
Get a wristband at the height check station to avoid having to be height checked at every ride
Download the Wonderland app so you can check wait times for the rides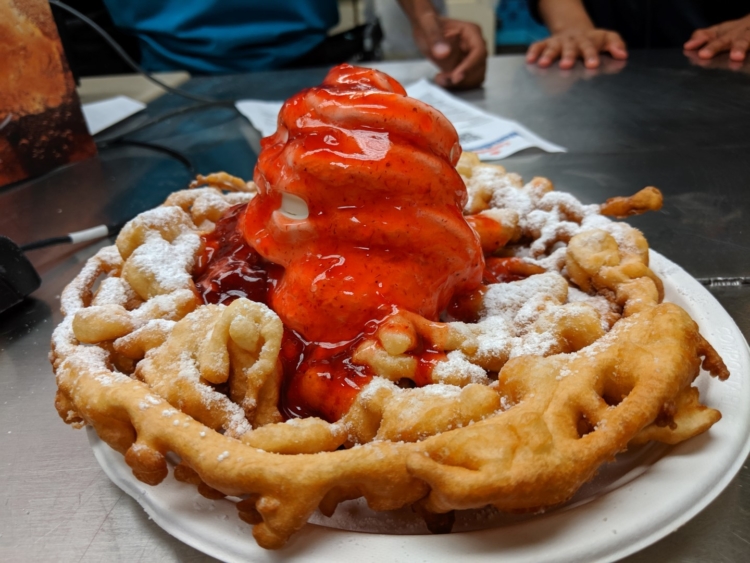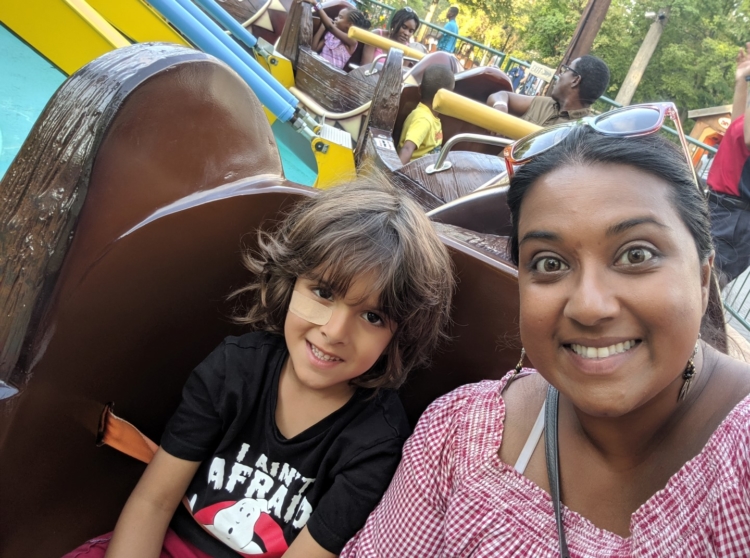 As much as Wonderland is a summer tradition for us, this year I may just have to venture there in November for the Winterfest, because as you know, I LOVE THE HOLIDAYS!!! Little Monkey's friend told her about Halloween Haunt and she's begging us to take her there. Have you taken your kids to Haunt? Do you think it's suitable for a 8 going on 15 girl?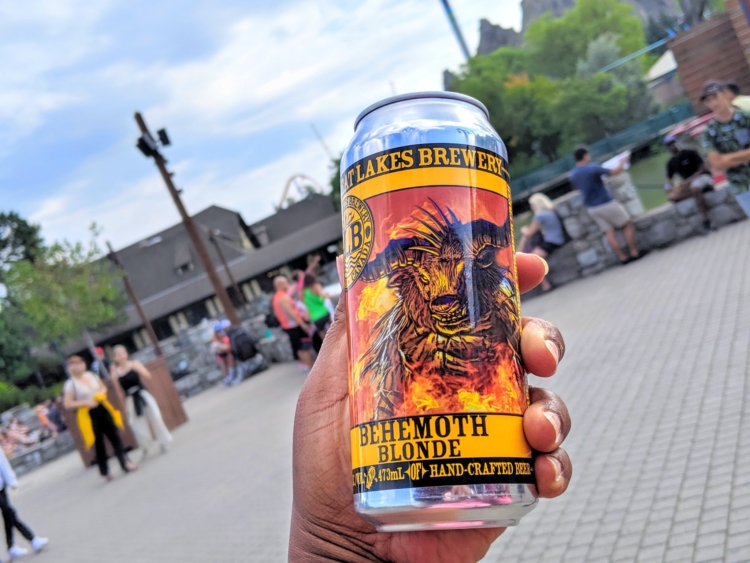 Aged 5.5 and 7.5, the kids were finally able to appreciate Canada's Wonderland and if it weren't so difficult for us to get there, we totally would buy an annual pass. I have a feeling this might end up on their Christmas and Birthday wish lists because they both had a blast of a day. As for Chris and I…we definitely needed that liquid courage to get us through the first few rides!