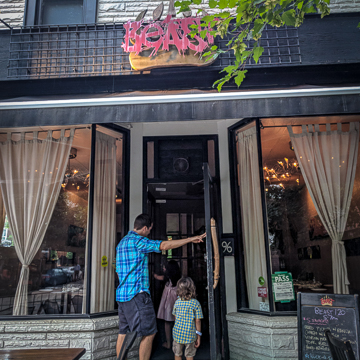 For our anniversary this year, our ninth, I wanted to forgo the gift giving in exchange for a fine dining experience in Toront0. We're city folk (or 'citiots', as an Internet troll once called me), and so the last things we need in our condo are more material goods. Pottery, willow, and leather are the suggested 9th anniversary gifts. Unless one of those items is filled with an nice barrel aged wild ale, it's a pass for me. Yashy agreed to my meal idea, knowing that she would be conning me into buying a new rug a few weeks later. Instead of the usual kid free date night in Toronto, we decided to bring our kids along for this fine meal.
A fine meal it was! Our destination, Beast, which as you might infer, offers dishes for carnivorous explorers. Yashy was aware of the restaurant, but I only discovered it after watching an episode of Anthony Bourdain's The Layover. During his Toronto stop, Bourdain explains that he is visiting the city after Beast owner, Scott Vivian, encouraged him to do so. Bourdain had become a fan of Vivian's cooking and trusted his recommendation. So if the cooking is good enough for Anthony Bourdain, I was ready to experience it for myself.
Knowing that it might be busy, we wisely opted for a 5 pm reservation. We're not early eaters but this would give us a chance to take our time and maybe even get the kids to bed by sunset. The restaurant is smaller than I had expected – it seats 34 diners – but we were among the first to settle in for dinner on the Thursday night we visited.
Beast focuses on serving the whole animal (and even offers "whole animal" dinners on its website). Using fresh, local ingredients, the chefs at Beast offer up an nice range of dishes that are served tapas style. In addition the choices available on the changing menu, daily specials hang above the bar on a hard-to-read chalkboard. After snapping a quick photo for easy reference, we ended up ordering up most of the daily specials.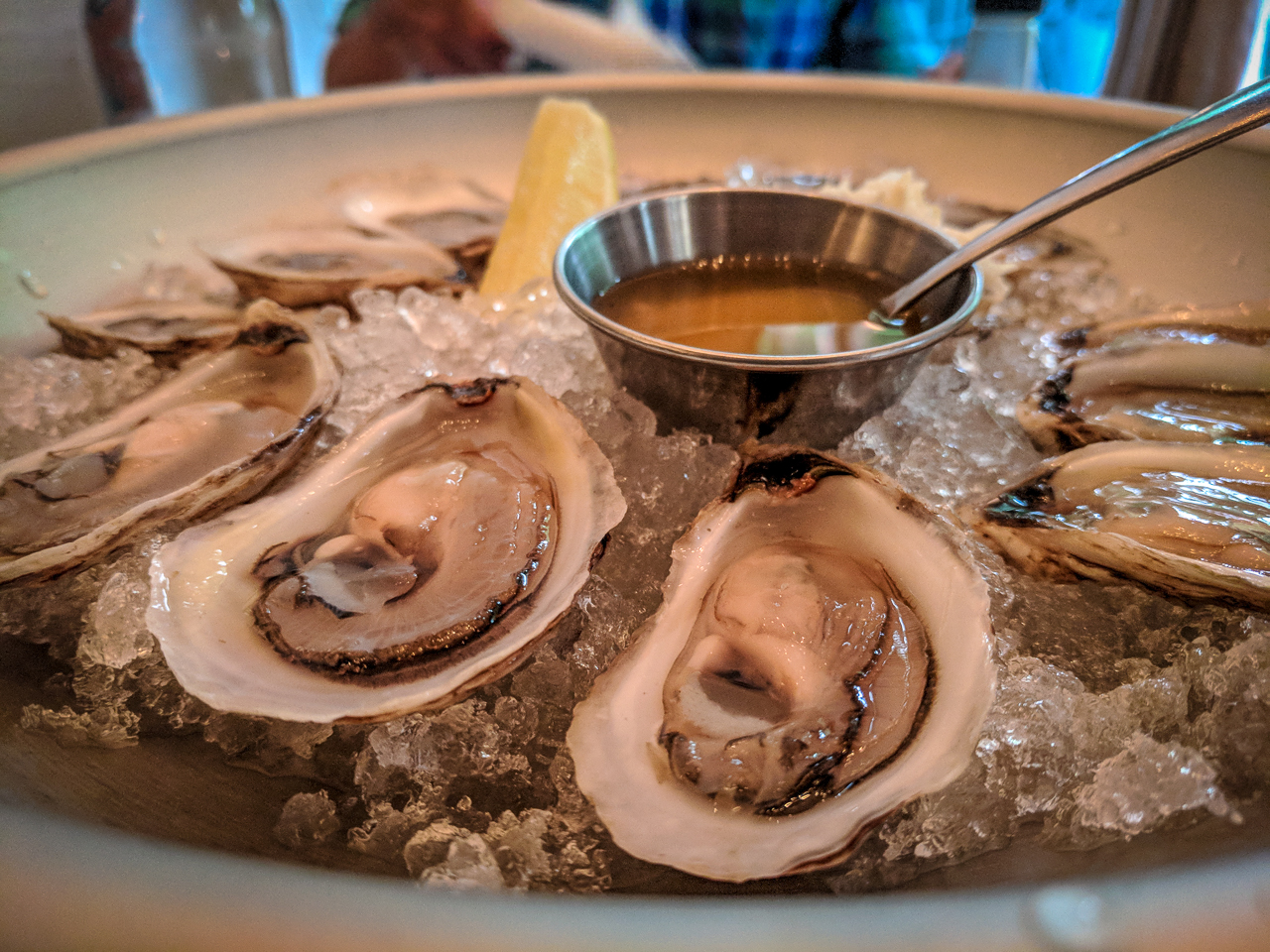 Round 1 – The Daily Specials at Beast
Tapas style dining is almost always the way to go. It's one of the many reasons Yashy and I loved Spain so much. To start our meal at Beast, we ordered a dozen of the oysters on the half shell, which were buck a shuck until 7 pm that night. Amazingly, our Little Man who tried oysters during our visit to Perth, wanted to try it again. He even sucked it down the right way (without chewing it) and promptly asked for more. Two of his favourite restaurant foods are now foie gras and oysters. We may have a mini Bourdain on our hands. Our waiter, unprompted, even brought out a house hot sauce for us to enjoy with the oysters. Was he able to tell that we are hot sauce fiends!?
With the oysters, we dined on three of the daily specials, Chorizo Romesco, the Pork Belly Slider, and the Venison Merguez Meatballs. To our delight, the chef had also prepared a few Bison Meatballs, and so we ordered those as well. All of these dishes were very tasty. Each chorizo slice was served on a nut & red-pepper based Romesco Sauce and topped with an olive. That one brought us back to Spain. The slider contained a thick slab of delicious pork belly between a slightly toasted white bread. The meatballs, which we ordered to keep the kids happy, had a beef tartare-like texture and a lot of flavour.
Round 2 – The Cow
Yashy continued her meal by ordering the bone marrow, served with escargot and mushrooms on toast. Despite our encouragement, the kids would not sample the escargot, but I happily did. The dish I opted for was the grilled beef tongue, which also featured black-eyed pea hummus, pickled strawberries, and dukkah, which is an Egyptian condiment. Having never eaten beef tongue, I was eager to discover its flavour. If it were served to me in a blind taste taste, I think I would have guessed that it comes from a cow. It has a tougher texture than I expected, but I found that its flavour is similar to a roast beef. It was tasty, but I was more pleased with the hummus and dukkah.
We enjoyed the "poutine" for our last dish. This twist on perhaps the most Canadian of all dishes was made with fried gnocchi, wild boar ragù, cheese curds, and crème fraîche. I rarely eat any dish with cheese curds, and so I abstained. Yashy and the kids though, they cleaned this one up pretty quickly. It didn't taste like poutine, if that's what you are looking for, but it certainly pleased our family.
So let's see, we had oysters, venison, chorizo, pork belly, beef tongue, wild boar, bone marrow, and escargot. I am wondering if we should formally apologize to the animal kingdom. If you are vegan, I guess you probably stopped reading this a while ago. With a name like Beast, the restaurant should offer up more than a few meat options, and that's just what it does.
Drinks and Dessert at Beast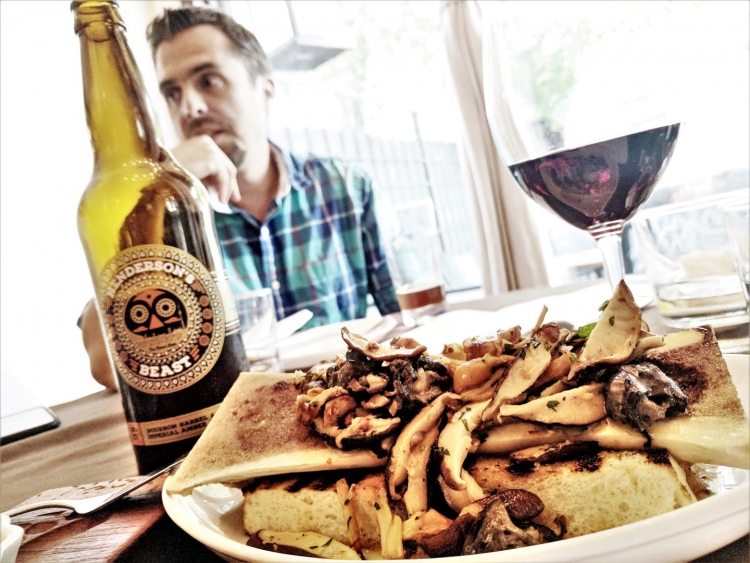 Since a few drinks were also in order, I was happy to find a beer from local brewer, Henderson. The bourbon barrel aged imperial amber ale made for an excellent compliment to the powerful dishes I ate at the restaurant. Aptly, the name of the beer was Henderson's Beast. We also found a small list of cocktails and a few nice scotch and whiskey options.
For dessert, we shared the sticky toffee pudding. Since the kids had eaten a few items outside of their comfort zone, they earned it.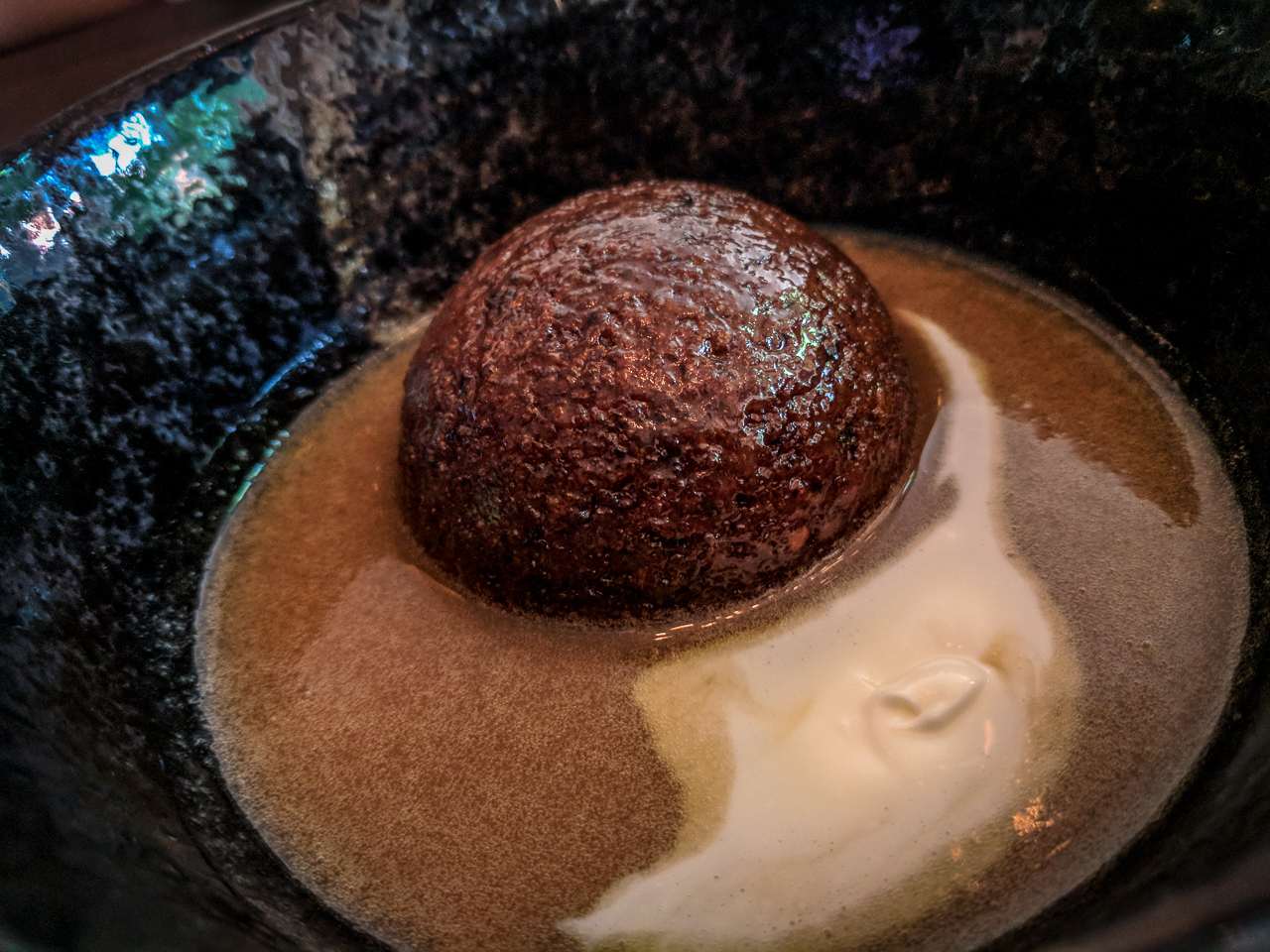 As we have mentioned countless times on this site, Toronto's best feature is its food scene. International flavours line virtually every district in the city and some of the best chefs in the world have opened restaurants throughout the city. We love raising kids in an environment where we can expose them to a world of flavours. At least that's what we tell ourselves, since we selfishly love living in the city because we love food, and we are always looking to discover restaurants like Beast.