— Our list of things to do in Sydney Nova Scotia was updated in December 2022 —
Back in 2009, Cape Breton Island made it to number 3 on Travel and Leisure magazine's reader list of the best islands in the world. It's been a mainstay on the list ever since. Considering the competition, which included Bali and the Galapagos islands, the ranking was a point of pride for Cape Bretoners. Assailed by high unemployment after the collapse of the fishing, coal, and steel industries that employed thousands of residents, my picturesque coastal home seems outside of time and space for many of us who grew up and then left the island. Most of my high school friends went away to university and then never returned home. For those of us with family still living in the area, Cape Breton is a place we visit from time to time. For others, it's just a memory, an intended future vacation spot that may never materialize.
Disclosure : This post is in partnership with Tourism Nova Scotia but, as always, opinions are TOTALLY ours!
Things to do in Sydney Nova Scotia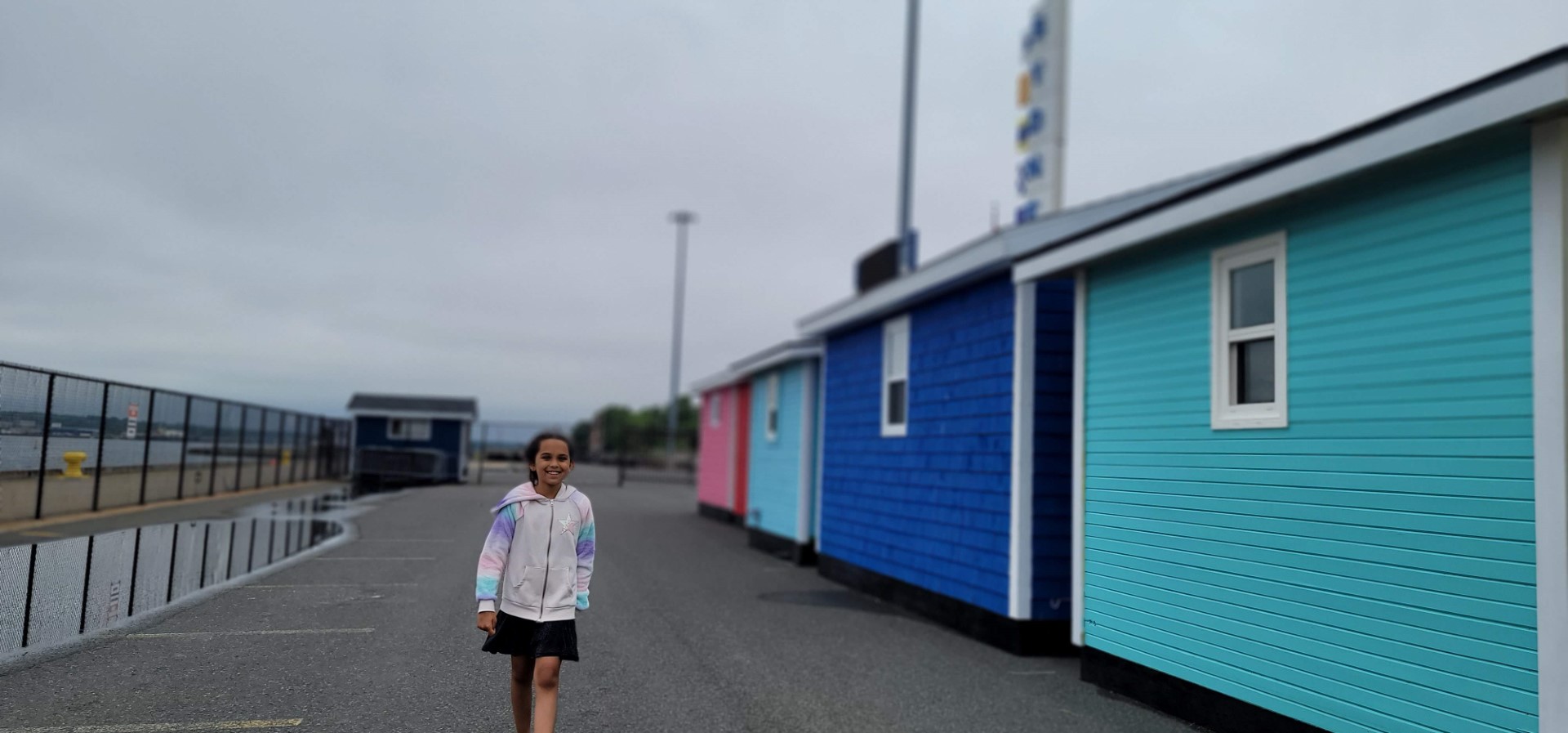 Cape Breton can be reached by land over the Canso Causeway, by ferry from Newfoundland, or by plane into the Sydney Airport. My father is a still a practicing physician in Sydney and it's the city where I grew up. Yashy and I take the kids there every second Christmas and summer, hopeful that there will be enough snow for them to build a snowman (hasn't happened yet – snow always tends to arrive in January when we plan a visit) and in the summer, warm waters to swim in.
These Christmas visits see us exploring this area of Nova Scotia's winter activities, and experiencing the island's beauty, and we visit numerous times in the summer since Akira was born. During these trips, my appreciation for both Sydney and the surrounding area began to grow. The city has slowly been changing in the years since I left. Gone is the Steel Plant that powered the city's economy for decades; in its place is one the most beautiful outdoor parks in Canada. After much rediscovery, I now have a checklist things to do in Sydney, one that I follow diligently when I am in town. During our 2022 visit we even got to dig into the culturally diverse culinary scene in Sydney.
Stop 1 – View the Big Fiddle and Walk Along the Boardwalk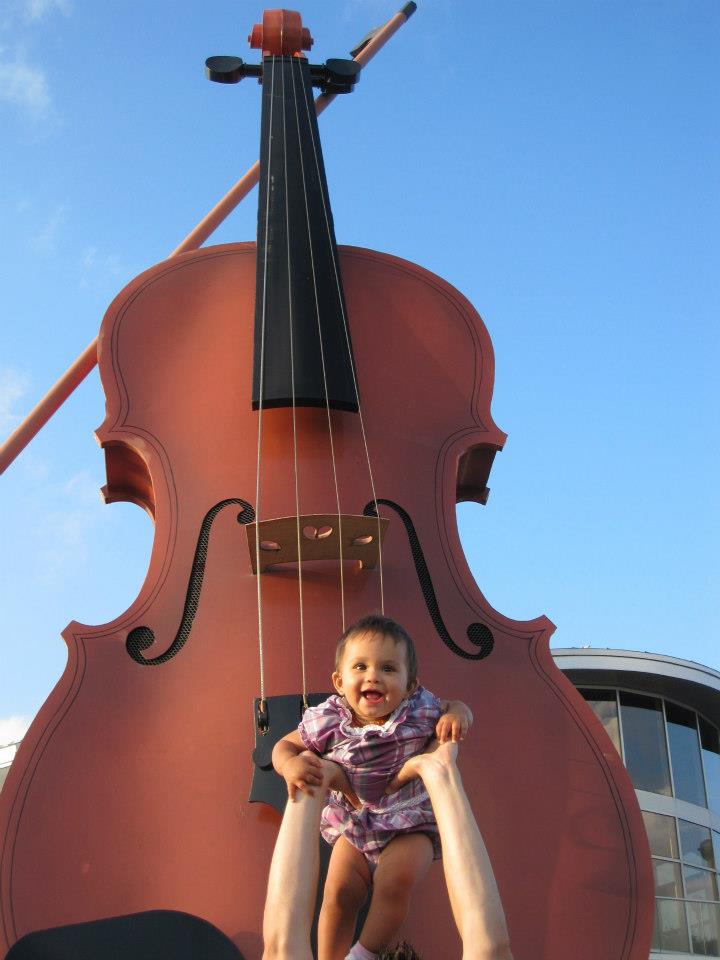 A relatively new addition to the city (and such a fitting one), the Big Fiddle greets thousands of cruise ship visitors every summer. Located on the Sydney Harbourfront and overlooking the harbour and the Big Fiddle Marketplace, the structure provides a great photo opportunity. It even plays fiddle music through a speaker installed within the instrument. In the summer there are amazing local vendors selling crafts and it's a great spot to buy some gifts. From there, a boardwalk extends along the large harbourfront. A great place for an evening stroll and beautiful at sunset. Remember to swing by the ice cream hut and grab some Moon Mist ice cream, one of Cape Breton's famous deserts!
Stop 2 – Take a Stroll along Charlotte Street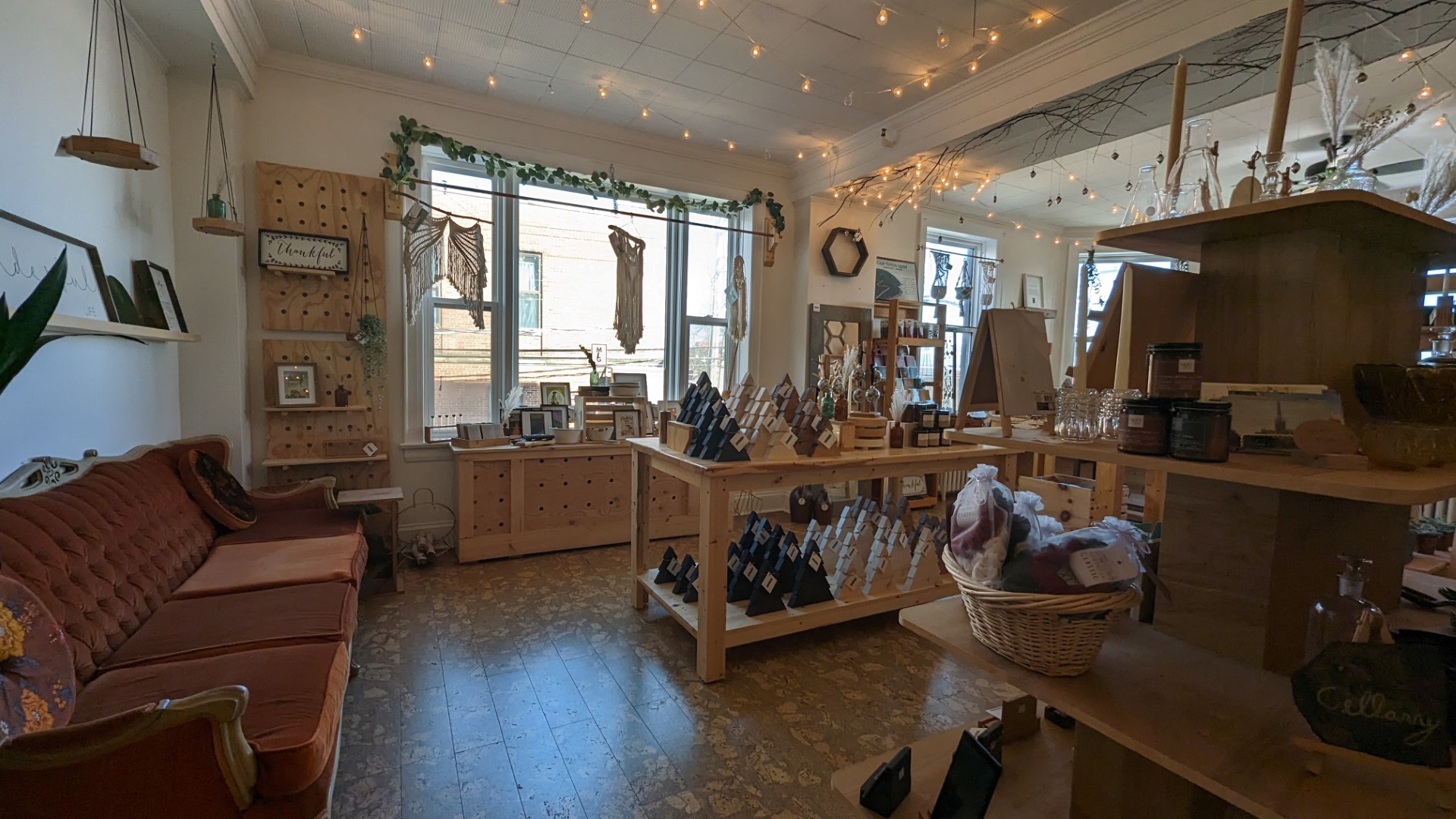 Charlotte street has gone a revitalization (although there's still some on-going construction) and during her recent visit Yashy spent an afternoon popping in and out of stores, shopping for treats and more gifts. Despite visiting annually since 2009, this was her first time actually exploring the street because I always though of it as an old shopping strip without much going on. I was wrong. Clearly.
Her recommendations are as follows : Grab breakfast from Selkie's (the grab and go homemade cheddar biscuit with scrambled eggs, cheese and bacon is so hearty and delicious. Or you could try the famous baloney biscuit) before taking a stroll popping into Cape Breton Centre for Craft & Design (they have AMAZING items from Nova Scotian artists). The Cape Breton Curiosity Shop is another fun stop to pop into. Grab lunch at the No Deli Market and if you're looking for unique items, Middle Ground Market is where you want to head to.
Be sure to grab coffee from Doktor Luke's since you're in the area anyways and vegan friends MUST check out JJ's Plant Based Eats.
If you happen to be in the area during the weekend, the Cape Breton Farmer's market has locals who come to sell their home made goods and crafts.
Stop 3 – Napoli Pizzeria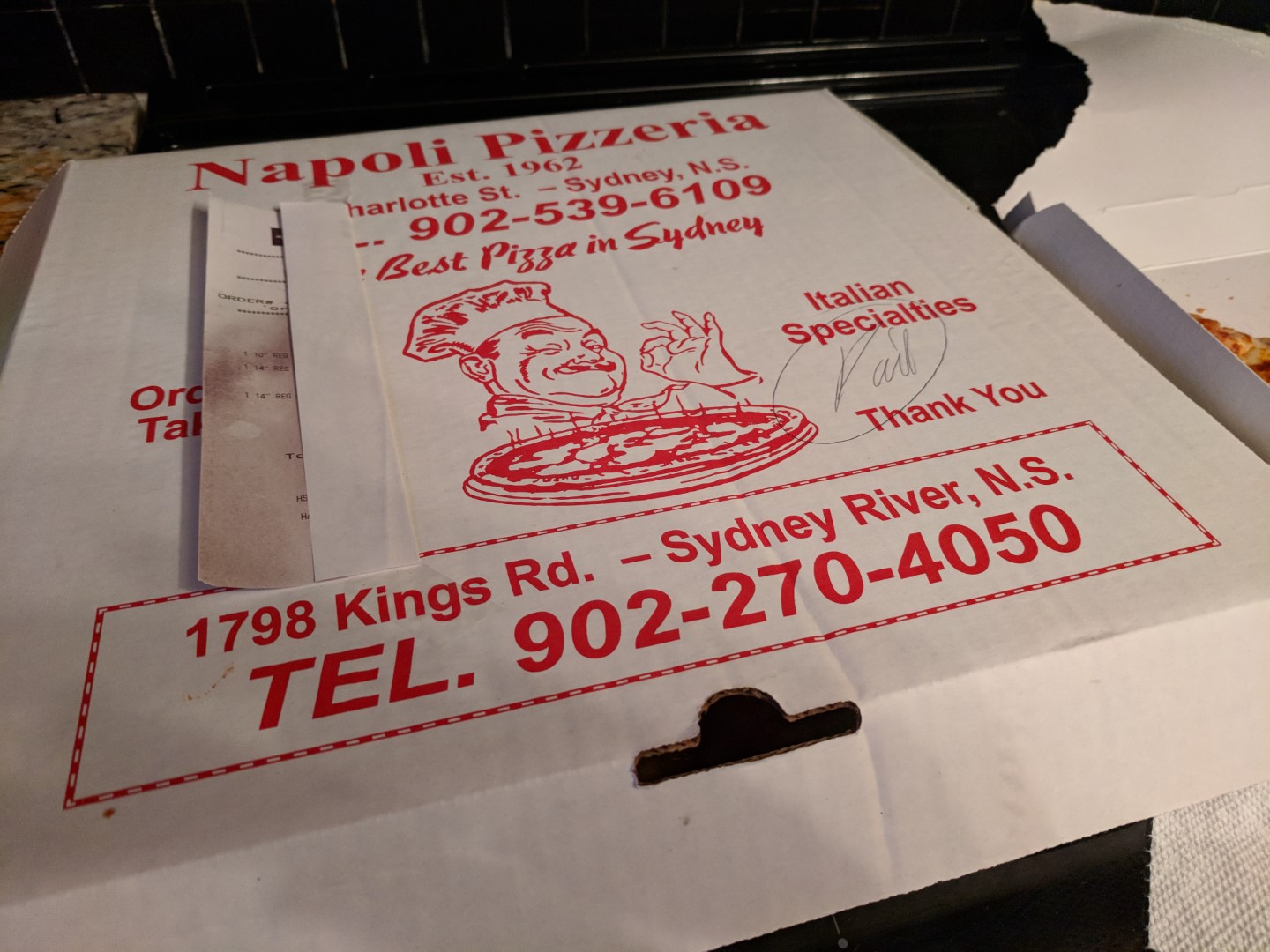 I belong to the cult of Napoli. We followers get together like expats at parties to discuss the virtues and various ways to enjoy Sydney's finest pizza, one that we all enjoyed immensely as kids but now only get to enjoy once a year if we are lucky. Napoli has been operating in Sydney for as long as I can remember. I suspect its original chef studied under the tutelage of an Italian culinary genius before bringing the recipe to Sydney, where it was honed over the years into the masterpiece it is today. The first number I dial when I arrive in the city is 902-539-6109, a number I have memorized, possibly the last phone number I will ever remember. My order is often large. I buy enough to stuff myself that evening, later that night, and then during the next day's lunch, with plenty to share around. Napoli Pizza has not yet been awarded a Michelin star, but I suspect that this is due to some clerical error that will soon be rectified. If you try this pizza and don't like it, then I pity the tastes buds that you are forced to live with.
Stop 4 – Visit Open Heart Park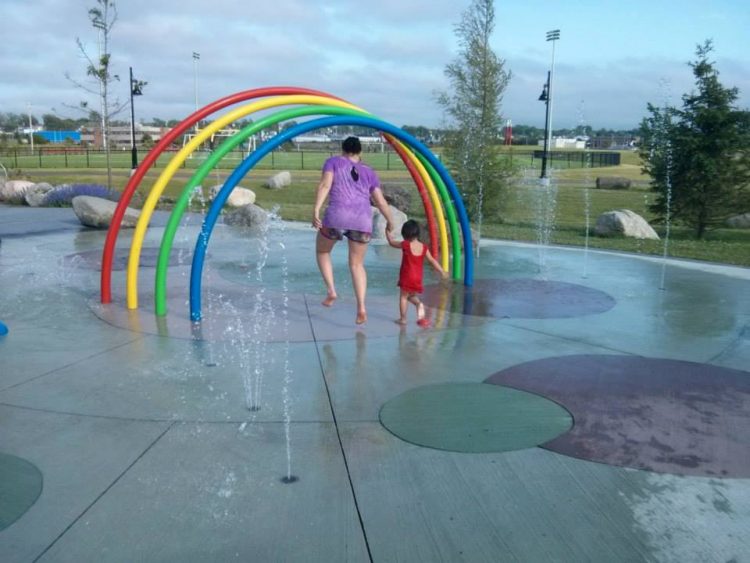 In the bowels of the earth underneath Open Heath Park lie the toxic remnants of the Sydney Steel Plant. After closing 2001, what remained was an ecological wasteland. Known as the Tar Ponds, the land was covered in slag, a byproduct of steel, and was a blight on the area. I had thought that the situation was hopeless. And then a few years ago, my Dad took us over to the site, revealing one of the most impressive green spaces I have ever seen. Toronto certainly has nothing to compete with Open Heart Park, which contains a splash pad, a playground, a large running track, and a full size soccer field. As a parent, every trip to Sydney now includes an afternoon at this park.
Stop 5 – The Highland Arts Theatre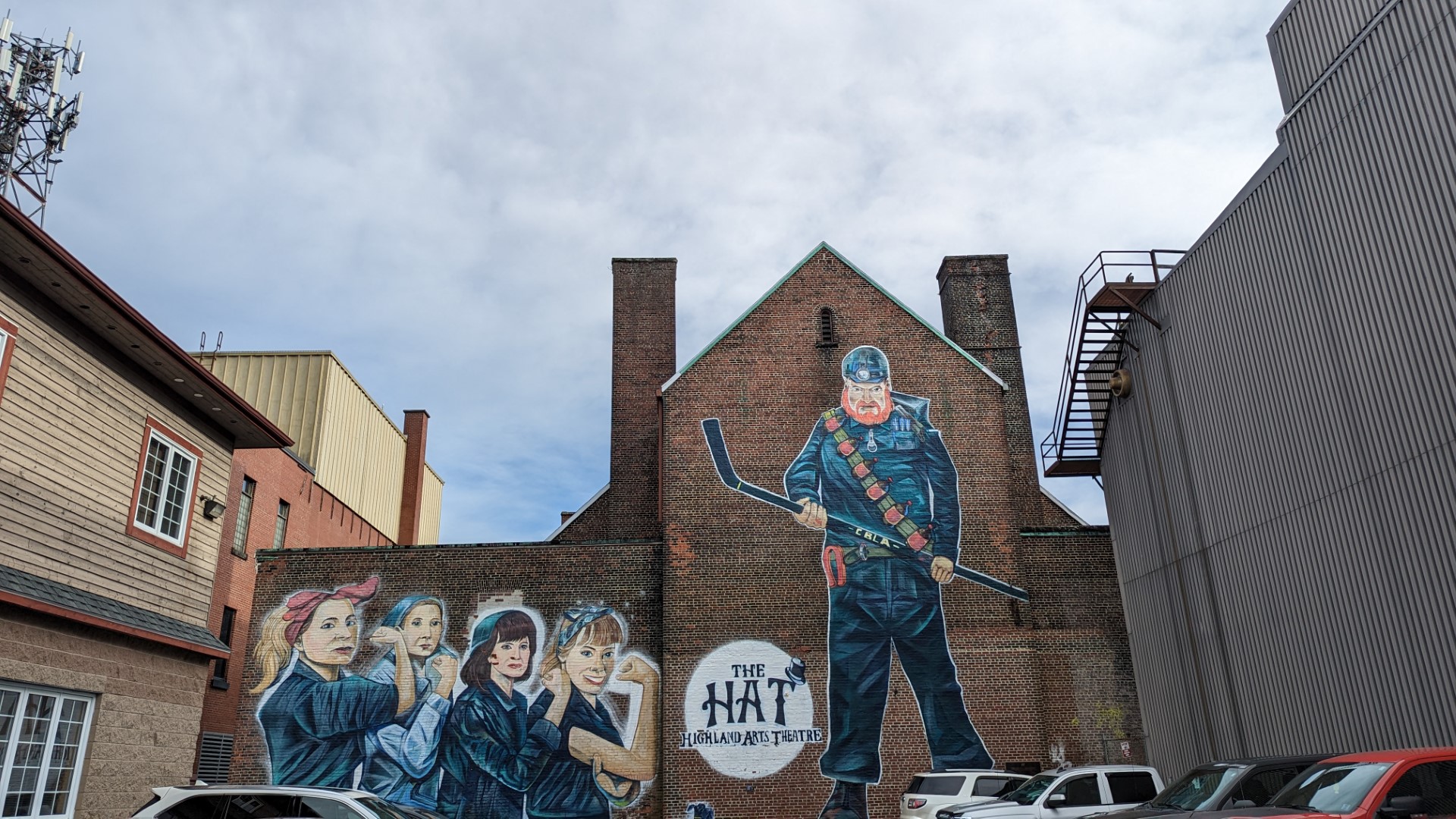 Located in an old church, the HAT, as it is known locally, is the place to go for live entertainment. True to the roots of the island, many of the shows have a musical element. The troupe also performs Broadway hits as well as original productions on a regular basis. When we attended in August 2018, the theatre featured four performances to choose from. For the price, this is a great value.
Stop 6 – Dine at the Many Great Restaurants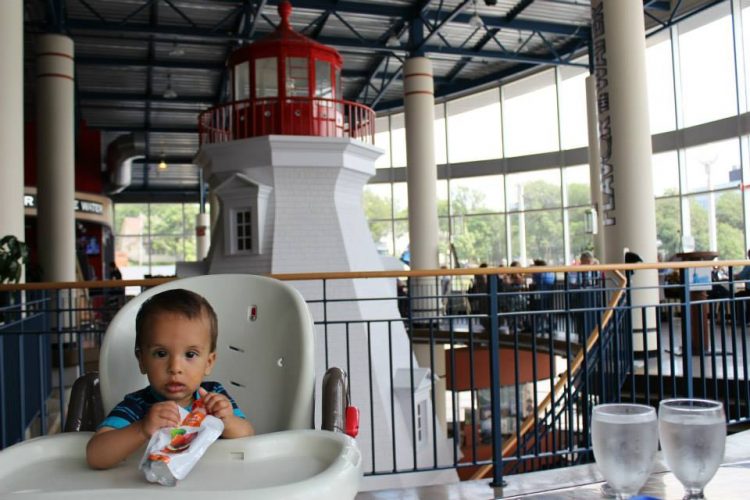 With two locations right downtown, Flavor is an ideal companion stop to the Big Fiddle. The better of the two locations is on Pitt Street. More suited to lunch, but with enough options for a dinner stop as well, the chefs at Flavor product some great sandwiches, a pretty good bowl of Seafood Chowder, and nice range of entrees. Across from the Boardwalk on the Esplanade, Governor's Pub & Eatery features an beautiful outdoor patio that serves local craft beer and a wide range of seafood dishes at the restaurant inside. It's a great place to be at sunset, providing patrons with a view of the harbour and a summer breeze. Upstairs at the pub, you will usually find live music from some of the island's best musicians. Both breweries operate on the island and make delicious beer. When we first wrote this article this was all we had to recommend but having spent some significant time getting a bite of Sydney's culinary scene we also have the following suggestions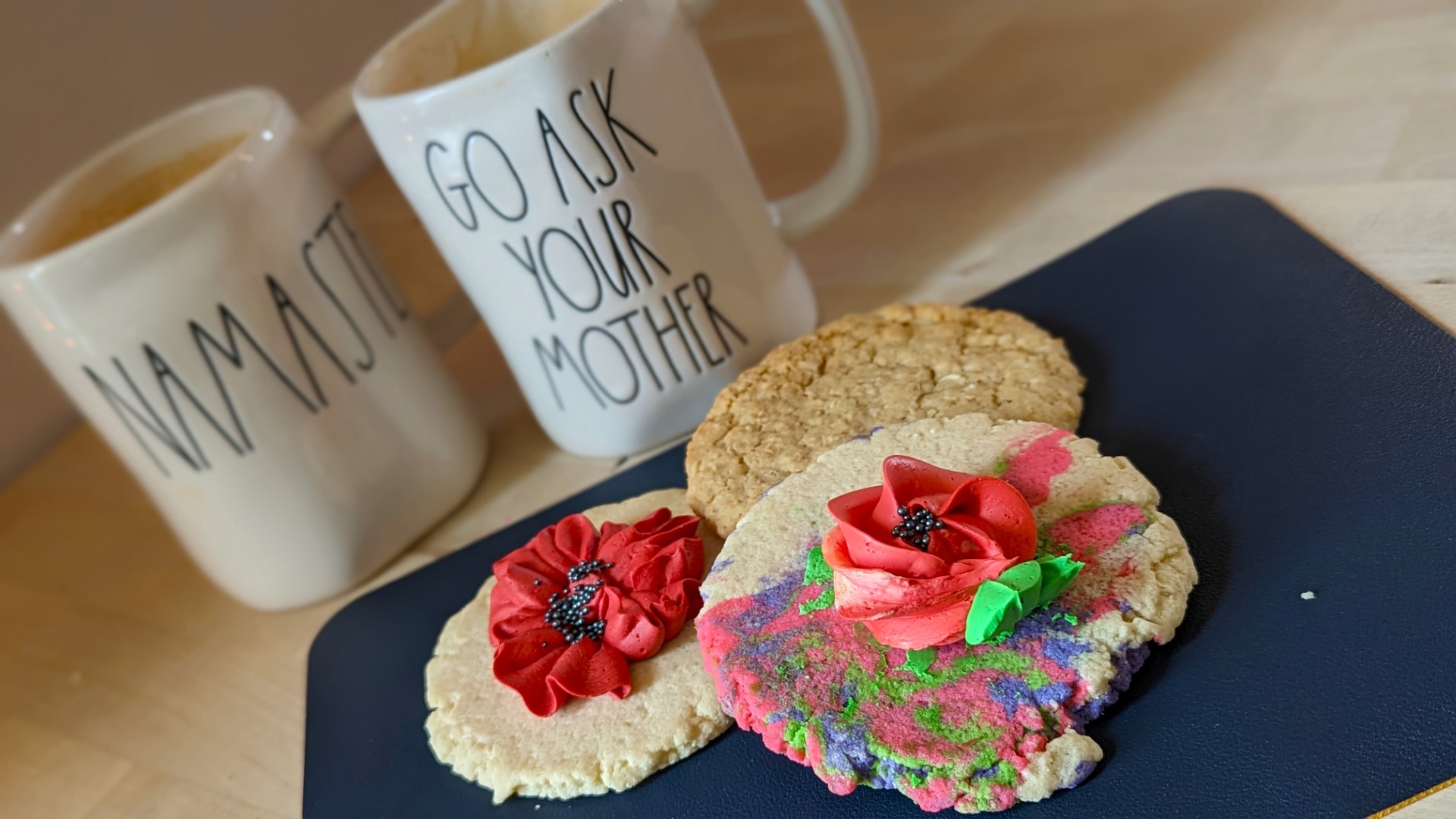 If you love Indian cuisine, there's many options including Ammy's food truck, Little Chef Restaurant and one I hope to get to soon ButterBeer for South Indian dosas. We also had a great Filipino meal at Isla Kusina (a bus load arrived at the same time as us and so it took an hour for us to get our food but it was worth it! Remember to ask for the homemade hot sauce if you're a spice lover). Membertou's Kiju restaurant has an Indigenous tasting menu and it's a fab way to enjoy their cuisine. Lebanese Flower offers a variety of dishes to help you get a taste of Lebanese cuisine. Oh and be sure to visit Gaslight Cafe for delicious pies and baked goods – they even have a Donair Pie and I hope to get my hands on that soon!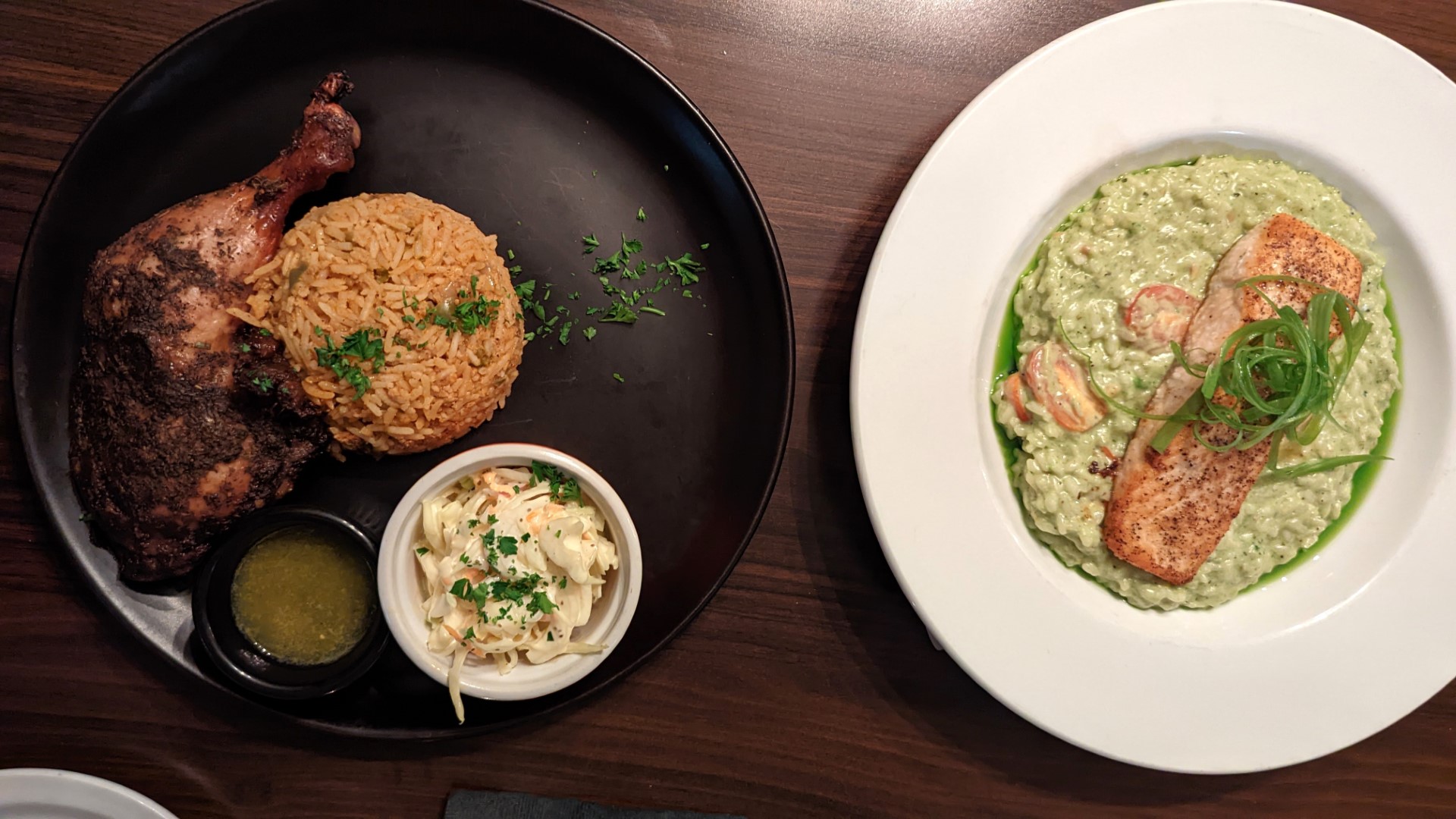 This fall Yashy had a great time digging into the best places to eat in Sydney Nova Scotia and recommends adding Lobster Pound and Moore (a spot we dined out as a family a few years ago too), 7 by 7 and Black Spoon Bistro to your list if you're looking for fine dining options.
Stop 7 – Explore History and Culture at Membertou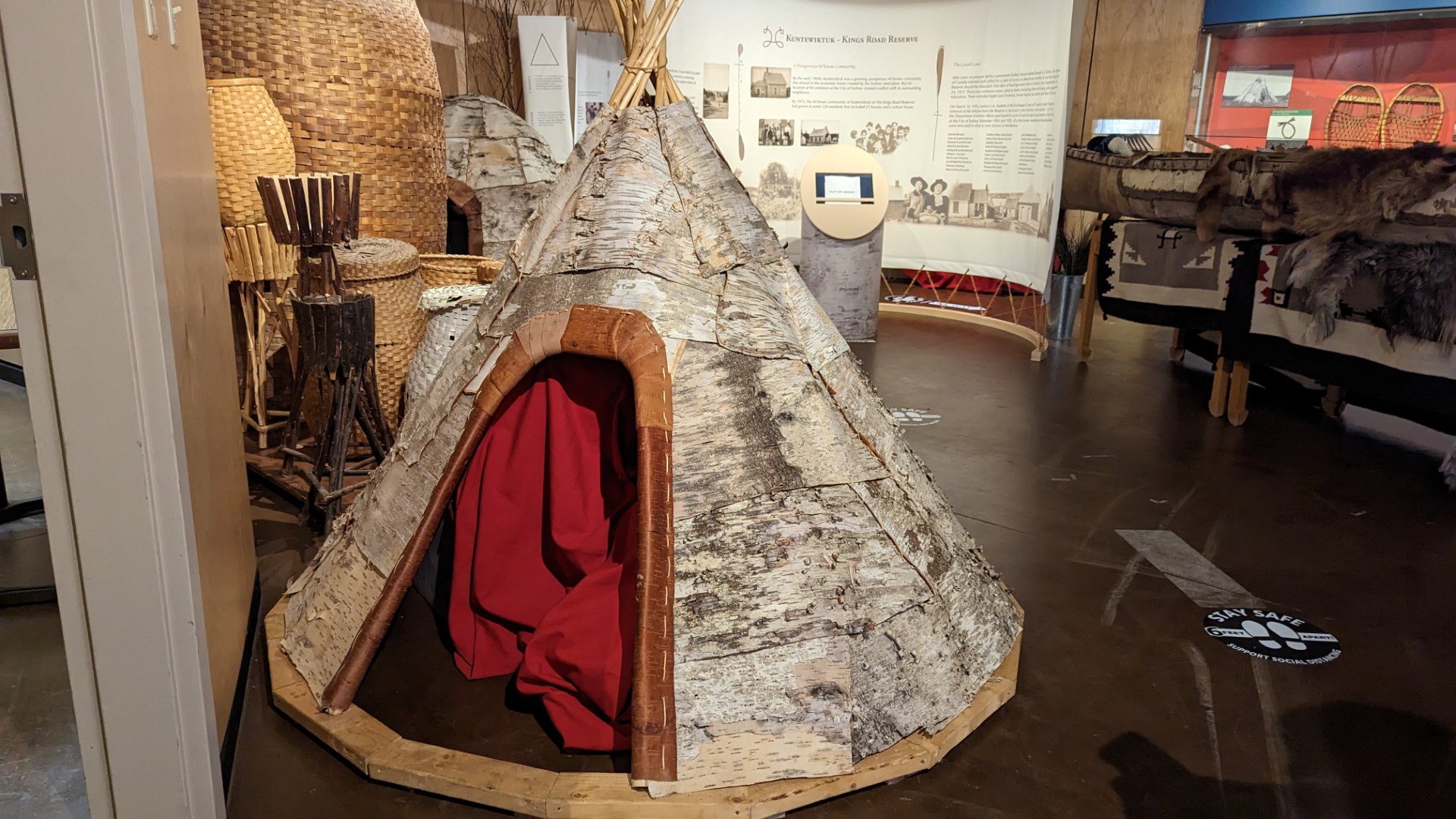 Membertou is a First Nations community located within Sydney. For years, poverty was its defining characteristic. Now, with some wise investments, the community has become one of the city's most vibrant areas, host to year round events and home of the Membertou Trade and Convention Centre, a popular concert venue where Yashy and I also held our wedding reception. If gambling is your thing, there is also a casino that gives you a chance to leave with some extra cash (or less).
But for a true learning opportunity, visit the Membertou Heritage Park, a five-acre site that offers a living history of the people of Membertou. A large indoor exhibit and program area offers the visitor full immersion to an ancient culture and this is a great opportunity for kids and adults to learn together. If you're getting hungry, Kiju restaurant is nearby and offers a traditional Mi'kmaq inspired menu.
Stop 8 – Visit the Odditorium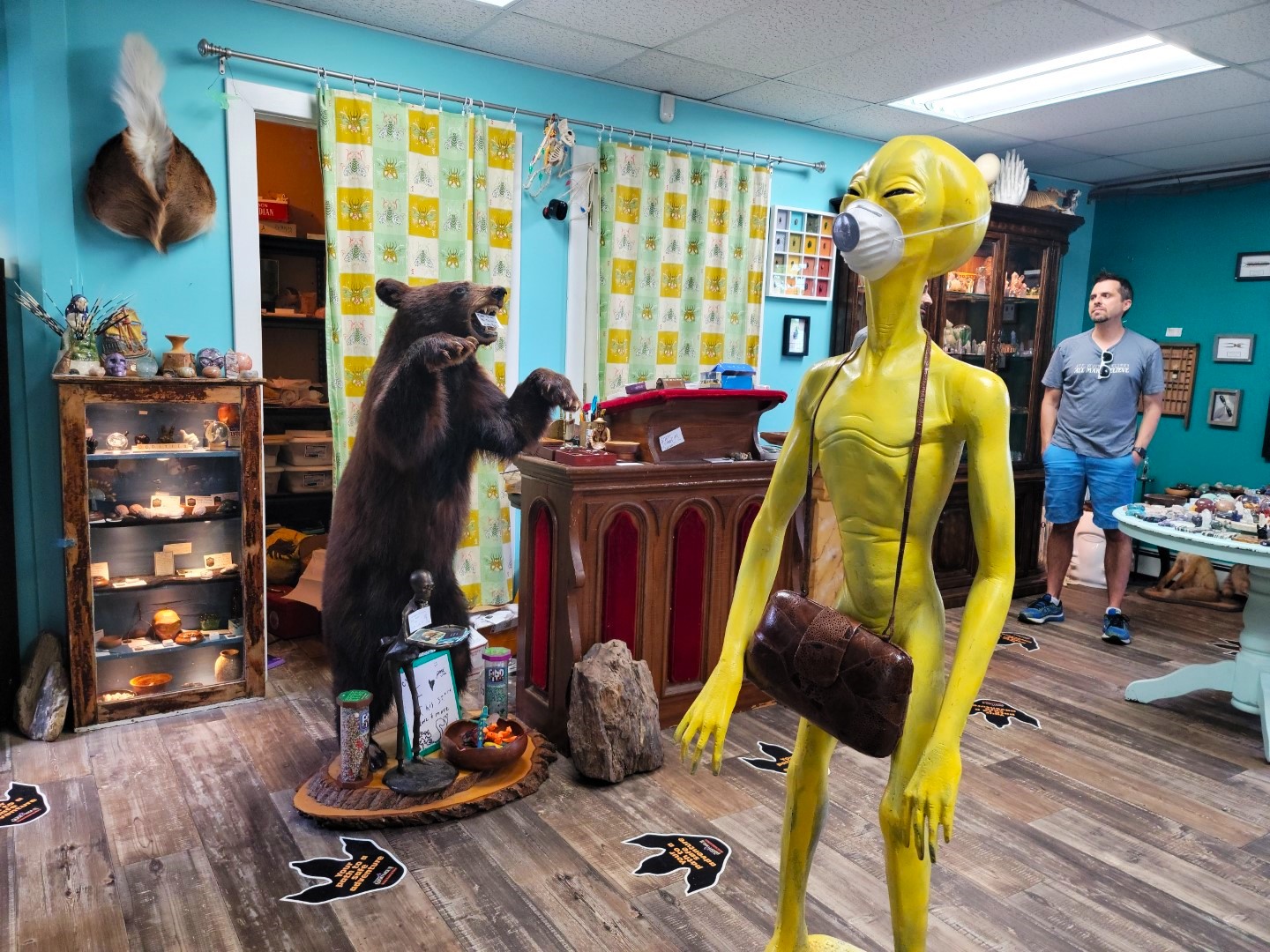 If you're looking to learn about rocks and crystals or have a fossil enthusiast, a visit to this weird and wonderful store in Sydney is a must. The owner is fabulous with kids and has plenty of tricks up his sleeve to amuse his patrons.
Stop 9 – Try Some Beers and Ciders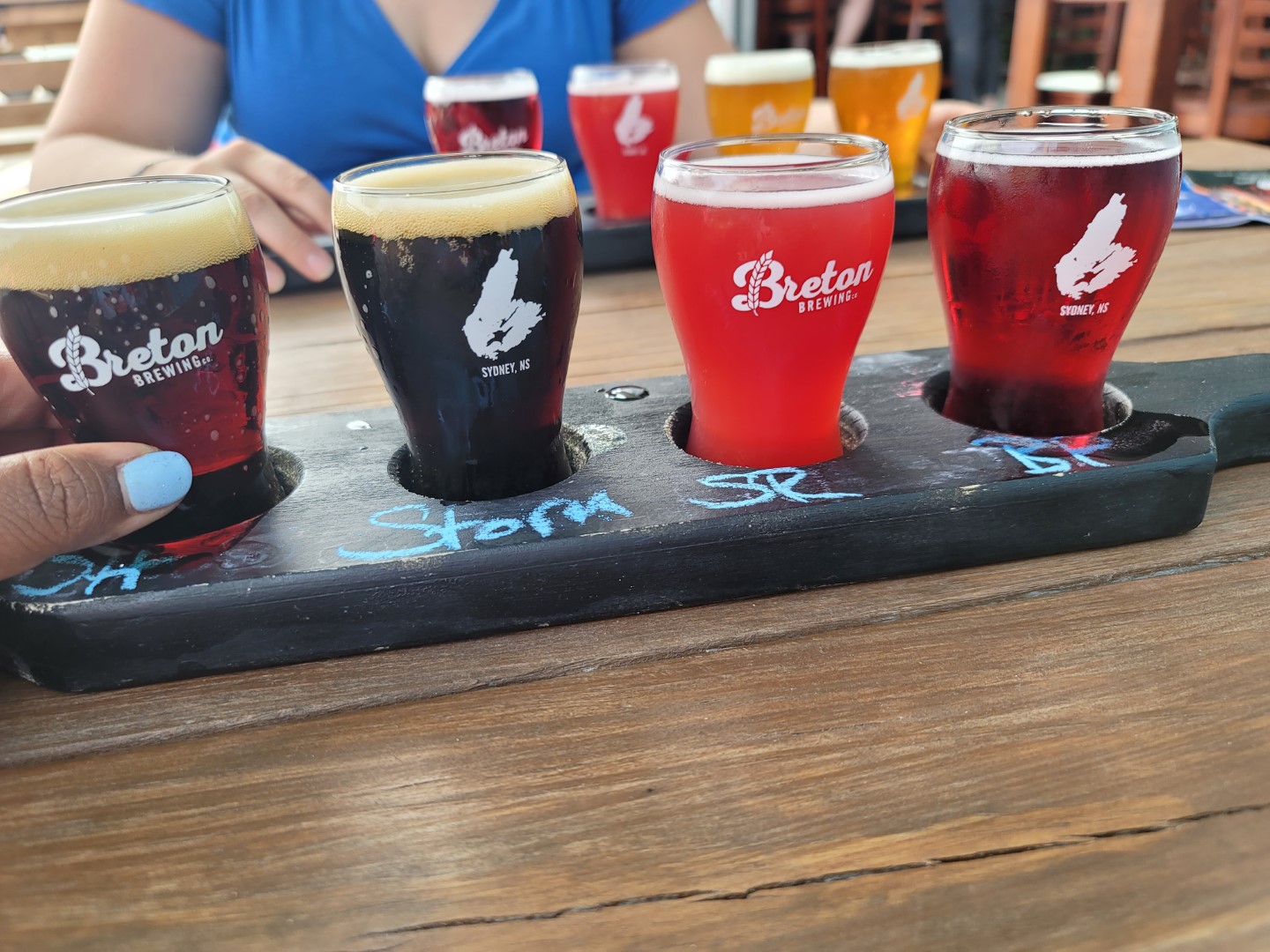 Sydney is now home to some fun beer and cider destinations and so you should definitely enjoy some patio time at Breton Brewing or Island Folk Cider house. Both have fun seasonal flavours in addition to their regular repertoire and definitely worth a visit to. Island Folk Cider house has a fun patio but I totally forgot to take some pics but as you can see below, even their insides are fresh and fun. I'm not a cider fan to be honest but did find some I liked here and they also serve Breton beers for non cider loving folks!
Stop 10 – Experience the Culture via Music and Museums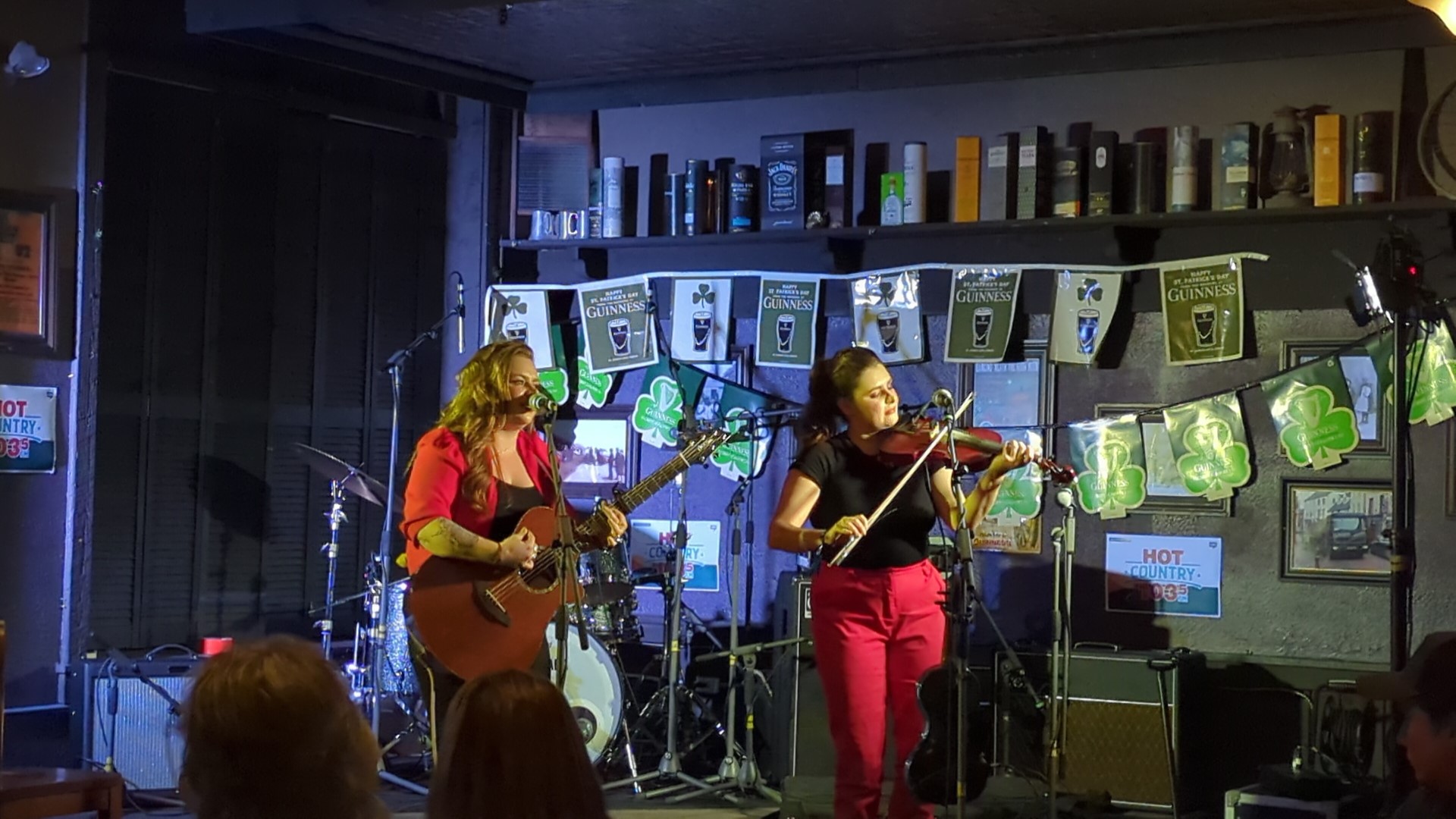 No visit to Nova Scotia is complete without experiencing the local music or learning about the history of the area. When it comes to music, most of the local pubs like Governors and Daniel's Ale House often have live performances on select nights. This website is a great source when it comes to knowing who is playing where throughout Nova Scotia.
If time permits, a quick visit to the Sydney Museum is worthwhile. This interactive museum explores the history and culture of Sydney and area. You'll find children's activities, an oral history listening room, a Virtual Reality experience and various rotating and permanent displays. The space has unique hours so we've only been able to visit this spot on Charlotte street once during our annual visits.
Best Places To Stay in Sydney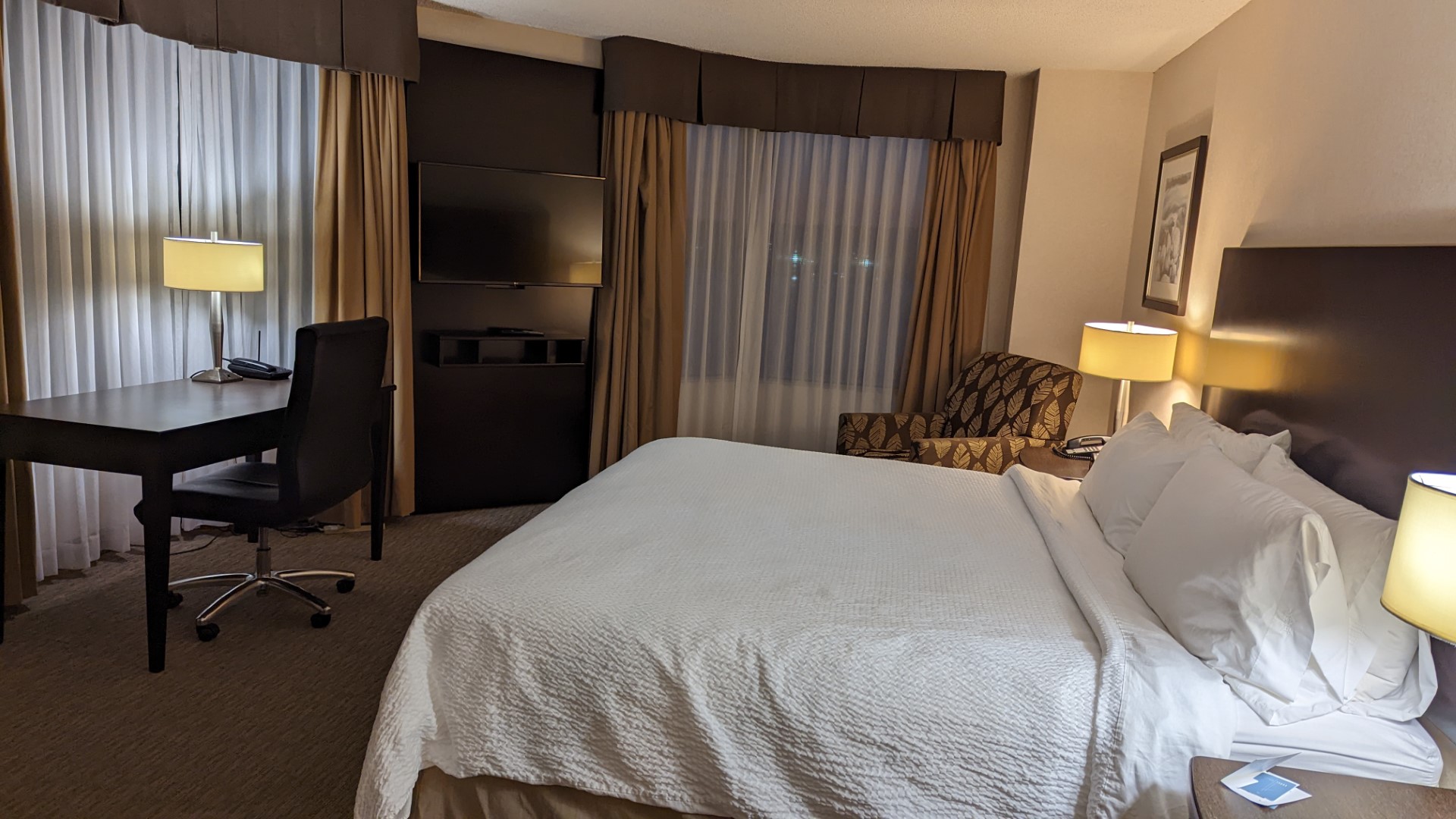 If you're looking for places to stay in Sydney, Nova Scotia, this list is worth exploring. During our visits we always stay in my childhood home but on a recent visit Yashy had the opportunity to stay at two different Sydney Nova Scotia hotels and here's what she recommends.
If you're looking for a family friendly hotel in Sydney, the Holiday Inn Sydney Waterfront is a great option. Not only is it located right by the boardwalk but there's a waterslide, hot tub and pool! In addition, if you choose a room with breakfast, you get to enjoy on-site breakfast at the SaltSpray restaurant where children 6 and under dine for free.
If you're visiting without kids, the Hearthstone Inn would be Yashy's choice. They do have a pool but the themed rooms is what she appreciated the most here. This was the first hotel in Nova Scotia with themed rooms where they had rooms themed after the Fortress of Louisbourg, Alexander Graham Bell, Miner's Museum, Celtic arts, and the Cabot Trail. Yashy's room had a cowboy themed that was carried through from the room decor into the bathroom wall art. In addition, Filipino restaurant we mentioned earlier is also located in the hotel hobby and they're said to have a great brunch!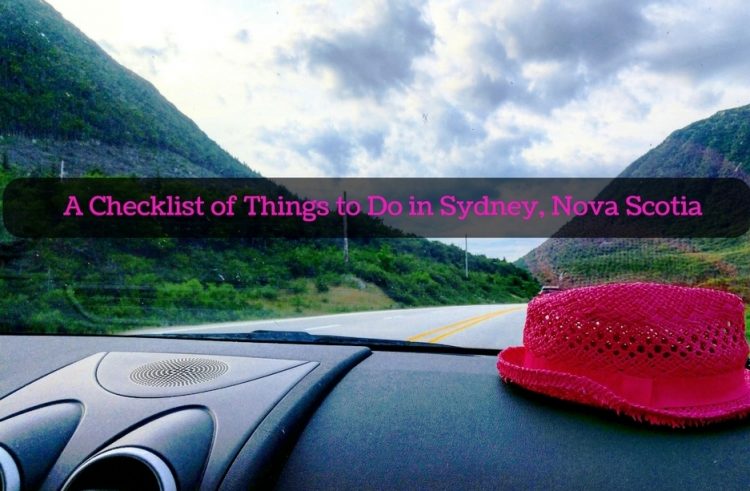 Not far outside of Sydney lies the Fortress of Louisbourg National Historic Site, a must stop for visitors to Cape Breton. In the nearby town of Glace Bay, the Miners Museum is great experience as well. And of course, Cape Breton has a lot to offer for those looking to see breathtaking scenery. We spent a fantastic weekend in Little Margaree in 2014 and made some great discoveries near Baddeck each summer. Exploring Cape Breton is a memorable experience, and for most, the adventure starts at the airport. So if you are flying into Sydney and staying for a day or two, follow my checklist to start the journey off right.