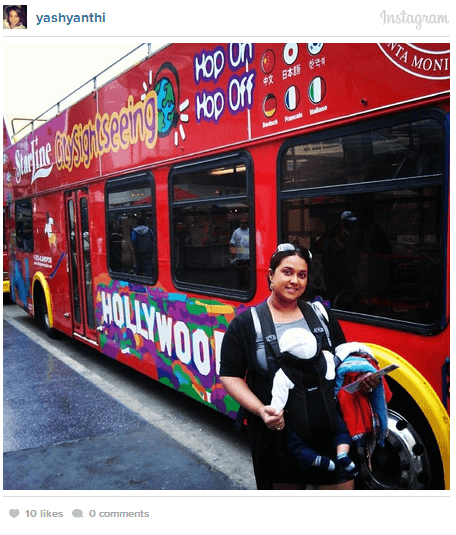 We travel often and most times it's to a new place and one thing we love doing is getting on a hop-on-hop-off bus to get a good idea on what we should see and do during our stay. During our Los Angeles trip we were invited to explore LA through Starline's City Sightseeing tour and even though I had been to LA many moons ago this was the hub's first visit to tinseltown. As always we got a late start to our day and hopped on the red route at Grauman's TCL Chinese Theatre. Our driver was friendly and even stowed away our double stroller. Yes there's room on the bus for a collapsed double stroller.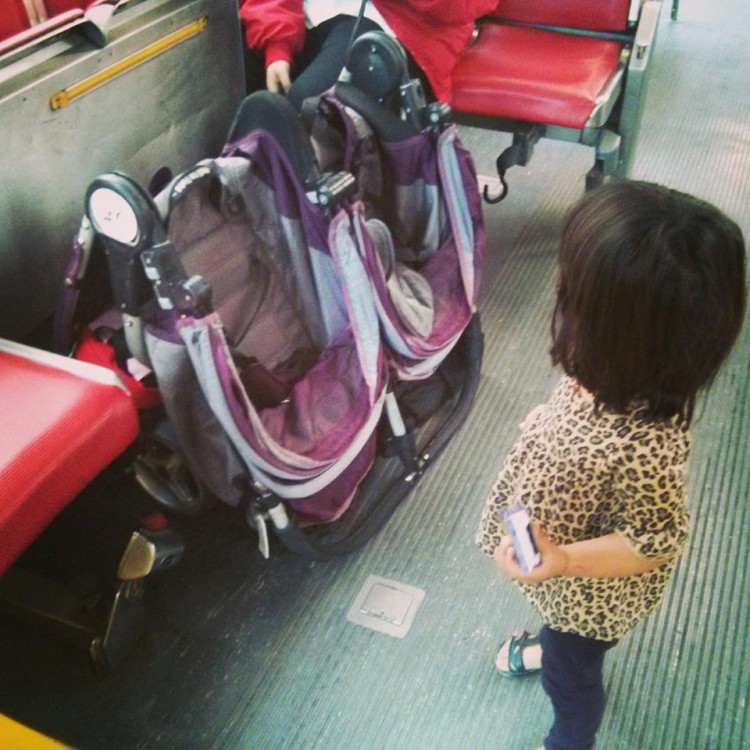 Apparently Starline's City Sightseeing Los Angeles tour, covering over 100 miles,  is  the largest Hop On Hop Off service in the world. There are four main tour routes – the Red Route, Yellow Route, Green Route and Purple Route – covering Hollywood, West Hollywood, Beverly Hills, Santa Monica, Venice, Marina Del Rey and Downtown Los Angeles. We had our own vehicle during our trip but since Los Angeles is so spread out the hubs and I figured this tour would be a great way to get an informed overview of Hollywood, Downtown and Beverly Hills (we had spent a weekend in Santa Monica by this point). That was our plan… Red route and Purple route. They were each about 2 hours so we figured we'd be able to easily spend our afternoon being chauffeured around. Hah. Let me tell you.. things took a slightly different turn! 
We started on the red route and was eager to learn all about  Hollywood, West Hollywood and Beverly Hills. Ten minutes into the tour the hubs decides rather spontaneously that we're to hop off for a quick lunch. Well the glory of Starline's City Sightseeing tour is that you can easily jump off and hop back on with no issues – as long as you have your ticket. Don't worry I gave the ticket to the hubs for safe keeping so that's not what went wrong. We quickly got off and no sooner had the bus left us that I realized that my purse was still on the bus!! Baby Boy's milk bottles and all. GRRRR…. I even had my wallet with about $500 in cash. Go figure. Luckily I had my phone on me.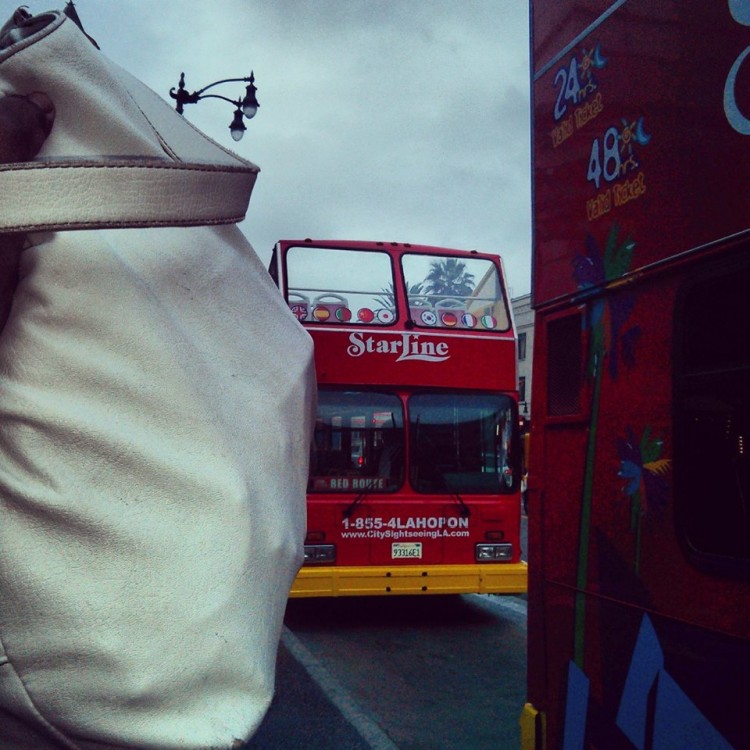 So what now? Well we decided to go eat at the pink Mexican spot that had caught the hub's eyes and I called Starline. Not before I sent our a distress tweet ofcourse! The dude on the other end was extremely helpful and said he'd try to track down the bus but that I'd only be able to get the purse back two hours later when the bus returned back to the Chinese Theatre. He also advised that I not hop on another bus and continue the tour if I wanted the purse as soon as possible. If I was fine waiting till the end of the day (around 6 p.m.) then I could proceed on the tour. No sooner did I hang up that I saw my tweet got a reply!! Talk about service! The community manager also directed me on how to quickly reunite with the precious cargo.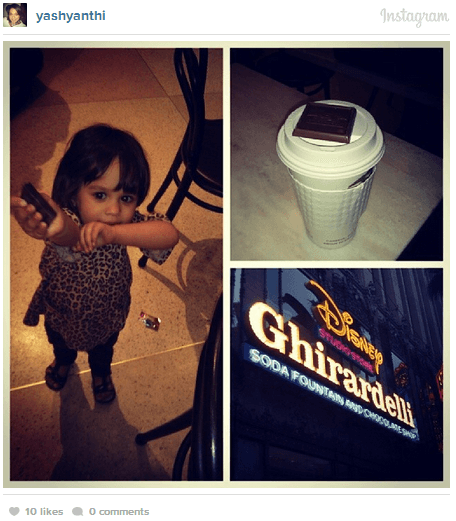 Well let me tell you.. that meal wasn't that great!
Definitely not worth jumping out hastily for. Since we were only a few block up we decided to head back to the Chinese Theatre (with a few beer stops) and timed it well that we got there just as the bus had pulled up. My bag and I were reunited. Breastmilk and cash safely in hand! Given that it was starting to rain the hubs decided to drop the stroller back in the car and the kids and I went to enjoy some chocolate at the Ghirardelli store. YUM!! Things were looking up!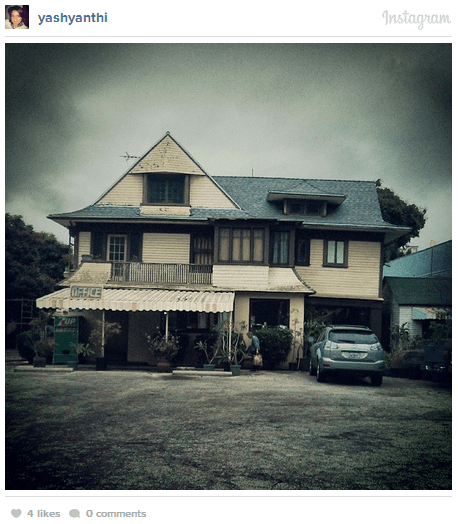 Though I must admit that on the walk back I was able to see an area of Los Angeles I wouldn't normally have gone by. We saw some lovely cherry blossoms (yes that's winter in LA!) and what looked like a house out of a movie scene – complete with an old school 7UP vending machine. Very eerie! While it's hard to take photos whilst staying on a bus we managed to share some fun facts and sights we saw along the way with our Instagram followers. Which is why as part of IGTravelThursday I wanted to share about our day touring in L.A!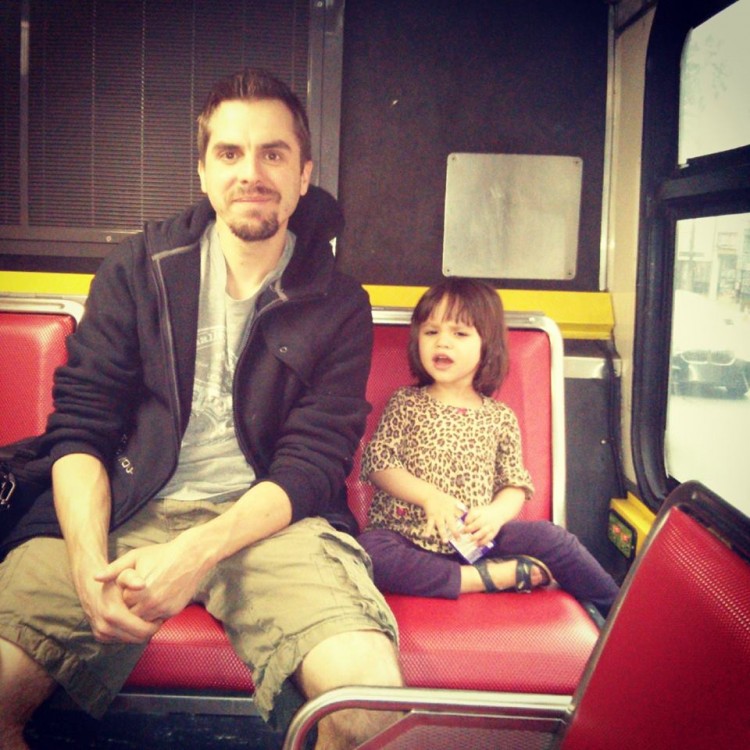 Ofcourse we wanted to continue the tour so we hopped right back on and went to learn all about the Walk of Fame, Chinese Theatre, Dolby Theatre, Sunset Strip, Rodeo Drive, Beverly Center, La Brea Tar Pits, LACMA, Farmers Market and popular Melrose Avenue. Don't forget to pick up your complimentary headsets as you get on board…narration which can be enjoyed simultaneously in nine different languages happens quietly. Which means your kids can ask questions and point at things and others need not miss out on the details. It also means that if you would rather just enjoy the sceenary with no commentary you can! There's no annoyingly bubbly tour guide in your face constantly asking cheesy questions. BRILLIANT! I also liked the fact that the narration had a good mix of topics. We learned about history, got some pop culture anecdotes and were directed towards some great foodie spots. It was like we had a personal concierge!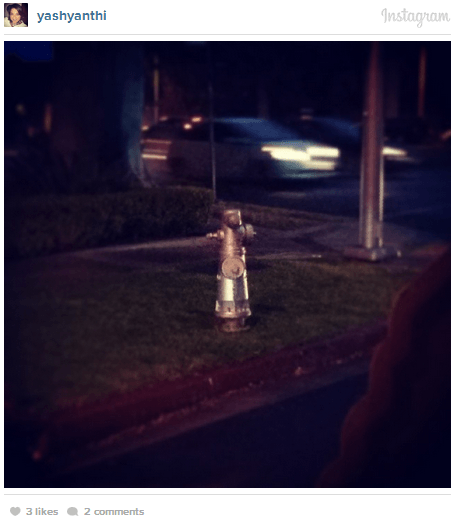 Baby Boy stayed in the Bjorn for the two hours and the Little Monkey sat with the hubs. I liked the seats towards the back of the bus best and thoroughly enjoyed learning fun facts about the area … things like Beverly Hills has silver fire hydrants where as the rest of the state has yellow ones! I know the Little Monkey would have loved being on the top level of the double decker bus but sadly it was a rainy day so we stayed on the bottom level. Keep an eye for ticket deals online as you can easily find promotions that may work to your advantage. Kids two and under are free and adult tickets range from about $45 to $60 depending on if you were getting a 24 or 48 hour pass. In addition don't forget that your pass provides discounts and special access to many local attractions. Grab a bus schedule and hang on to it tightly as it has all the information you would ever need – including the last bus departures and arrivals.
When travelling with a family you can easily explore Los Angeles without a car if you were to rely on Starline's City Sightseeing pass. Ofcourse this is provided that your accommodations were close by to the starting point. All routes are connected so you could enjoy a hassle-free vacation whilst still getting in those family friendly attractions. Starline's website has a great list of itineraries and two of them are focused on family fun for those with young tots! I loved the fact that both the hubs and I could enjoy the beauty of LA without having to follow directions or keeping an eye out for the next turn. To truly appreciate a city's beauty you must be in the passenger seat! 
What about you? Are you a fan of these hop on hop off tours?