Looking for a family-friendly 7-day itinerary for your Vietnam travel with kids? We got you! On January first I booked us flights from Canada to Vietnam and during March Break we enjoyed a fun-filled family vacation in Vietnam. While some may argue that a week is too short for Vietnam, we believe that it's better to experience a little than not at all! Our family loves a good adventure, and this trip was no exception. If you've been following our family travel adventures, you know that we love active travel and jam-packed itineraries just as much as we enjoy our slow travels. This Vietnam trip was certainy a busy one but we are now back in Toronto with so many incredible memories I know our 11 and 9 year old won't soon forget because we found the best things to do in Vietnam with kids. If you're looking for things to do in Vietnam with kids or without, our experience will help you plan an unforgettable Vietnam vacation. Read on for a detailed 7-day Vietnam itinerary that includes the best things to do in Vietnam with kids.
Vietnam Travel with Kids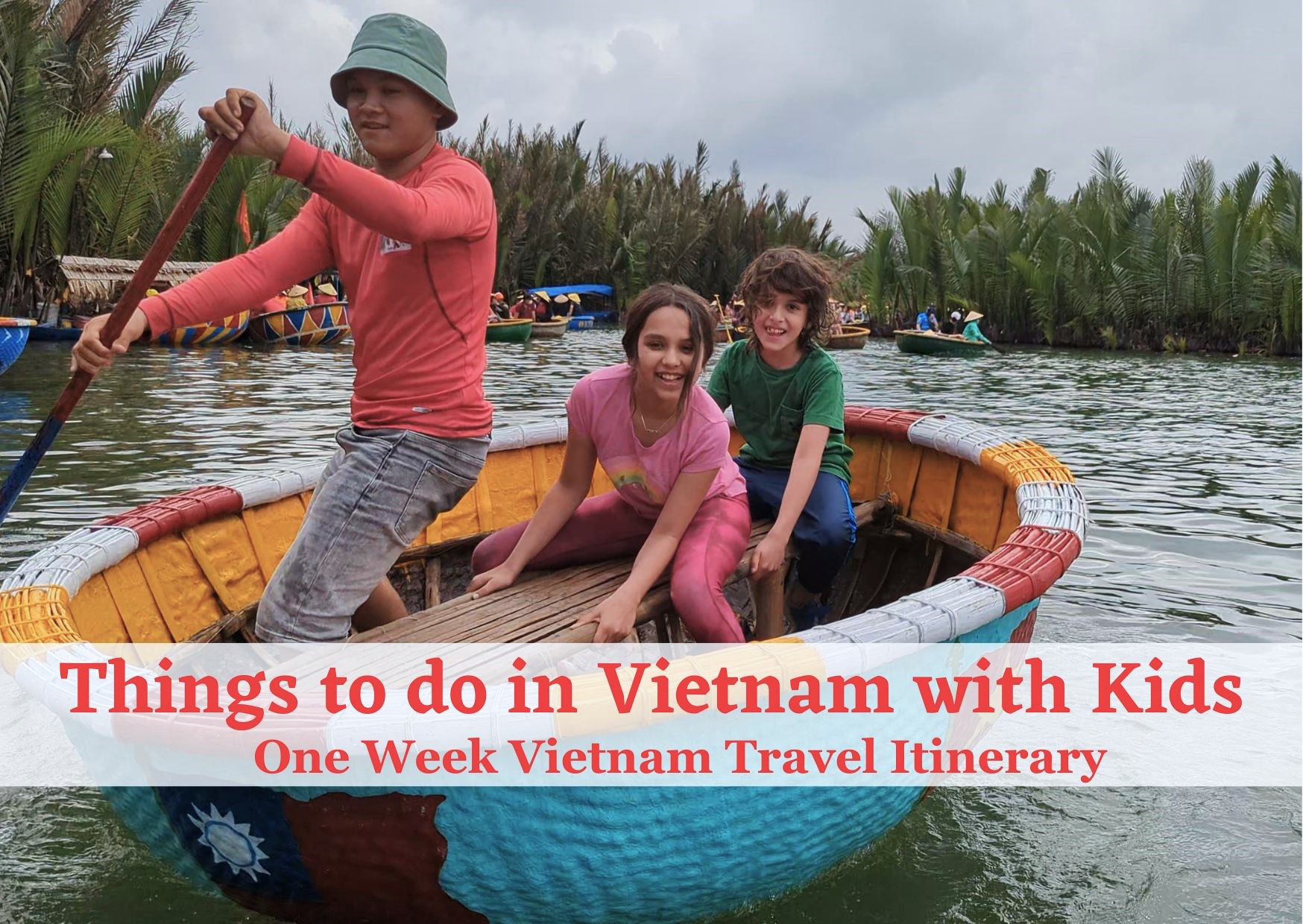 When friends saw our Vietnam travels online some were wondering why we chose a Vietnam family vacation. The answer was an easy one. I have been craving a return to Asia and neither the kids nor Chris have explored much of East Asia beyond our one night layover in China. In addition, my brother and his partner are currently based in Ho Chi Minh City and so we were able to combine some family time into our Vietnam itinerary.I also knew that Vietnam's beauty and new to us experiences would be budget-friendly for us.
Whether you're looking for culinary experiences or to be one with nature, Vietnam has it all. I also found Vietnam to be very easy to explore as the locals not only appreciate tourists (and the funds we bring into the country) but they also make it easy for us to book excursions and experiences whether we're miles away or in the country. Cooking classes, hikes, working in rice fields, swimming in beaches, exploring ancient towns and designing your own clothes are just a few experiences that await you in Vietnam. The best part is that you can do most of these activities with young kids in tow since Vietnam is very kid-friendly.
The country is fairly large and many would opt to spend a week in the north or south, but we chose to land in the south and make our way to the north even though we only had a week. This way we got in some history, culture and great taste of Vietnam. From cruising in Ha Long Bay and spinning in coconut baskets in Hoi An to discovering the best street eats in Saigon and egg coffee in Hanoi, we chatted with locals and came to appreciate the history of Vietnam and respect Vietnamese culture. We even attempted to learn a few Vietnamese phrases and tried every dish presented to us, even bee larva wine! Vietnam is country that will shock all your senses in the best way and it really gave me that jolt I was in desperate need of after having spent most of the last few years in North America (yes I know I was in Ireland and Dubai last year but those were solo trips and I find travelling with Chris and the kids quite comforting and invigorating).
Another thing I'd like to mention is that Vietnam offers experiences for every budget so no matter the size of your family, you'll find ways to discover the best things to do in Vietnam with kids within your budget. You can easily take a $40 boat ride or go on a $1000 yacht and still visit the same places. I appreciate this because I was able to enjoy a few luxury experiences and still stay within budget by weaving in some "cheap" experiences while still seeing all we wanted to.
Best things to do in Vietnam with kids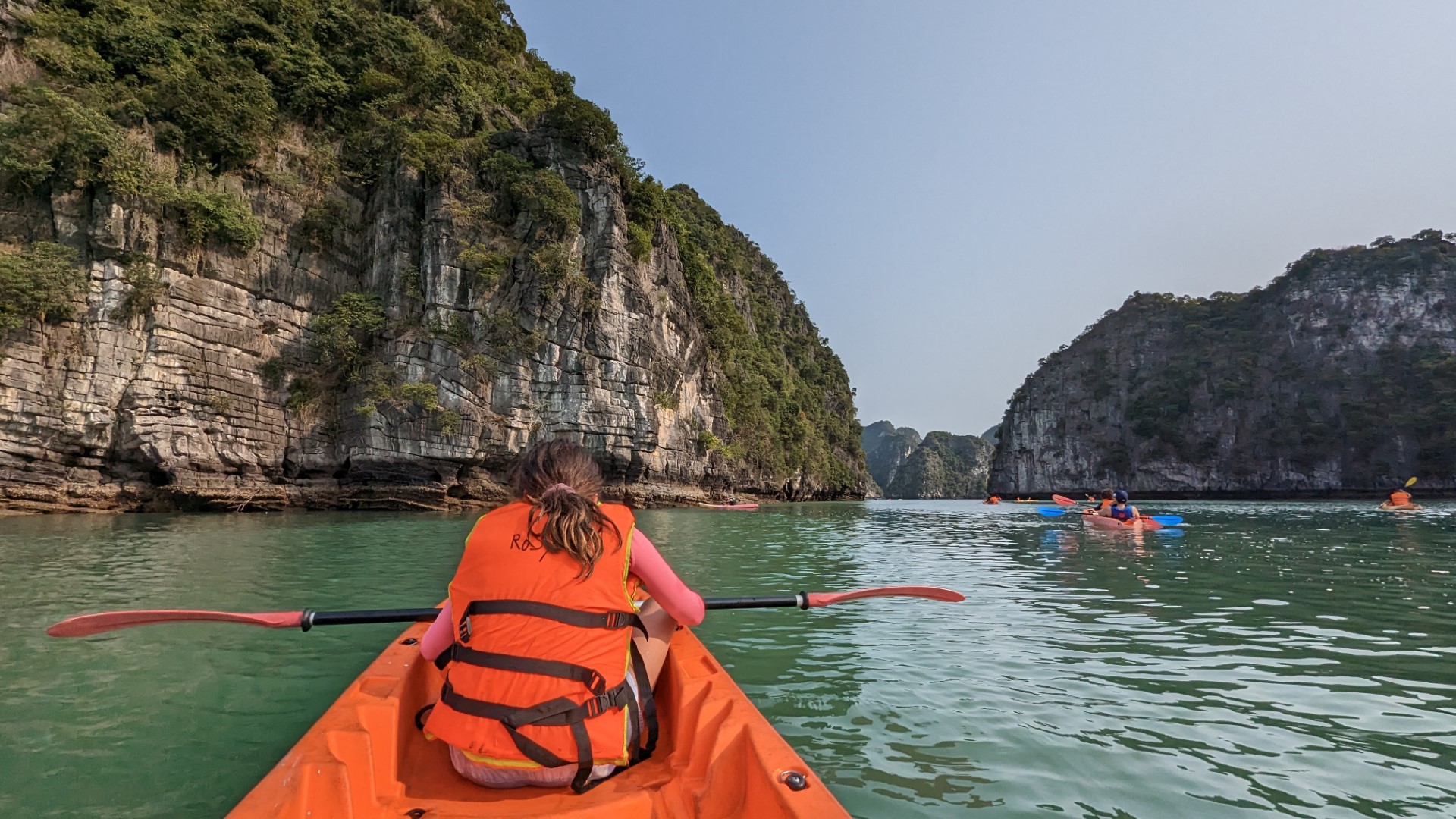 Best Places to Visit in Vietnam with Kids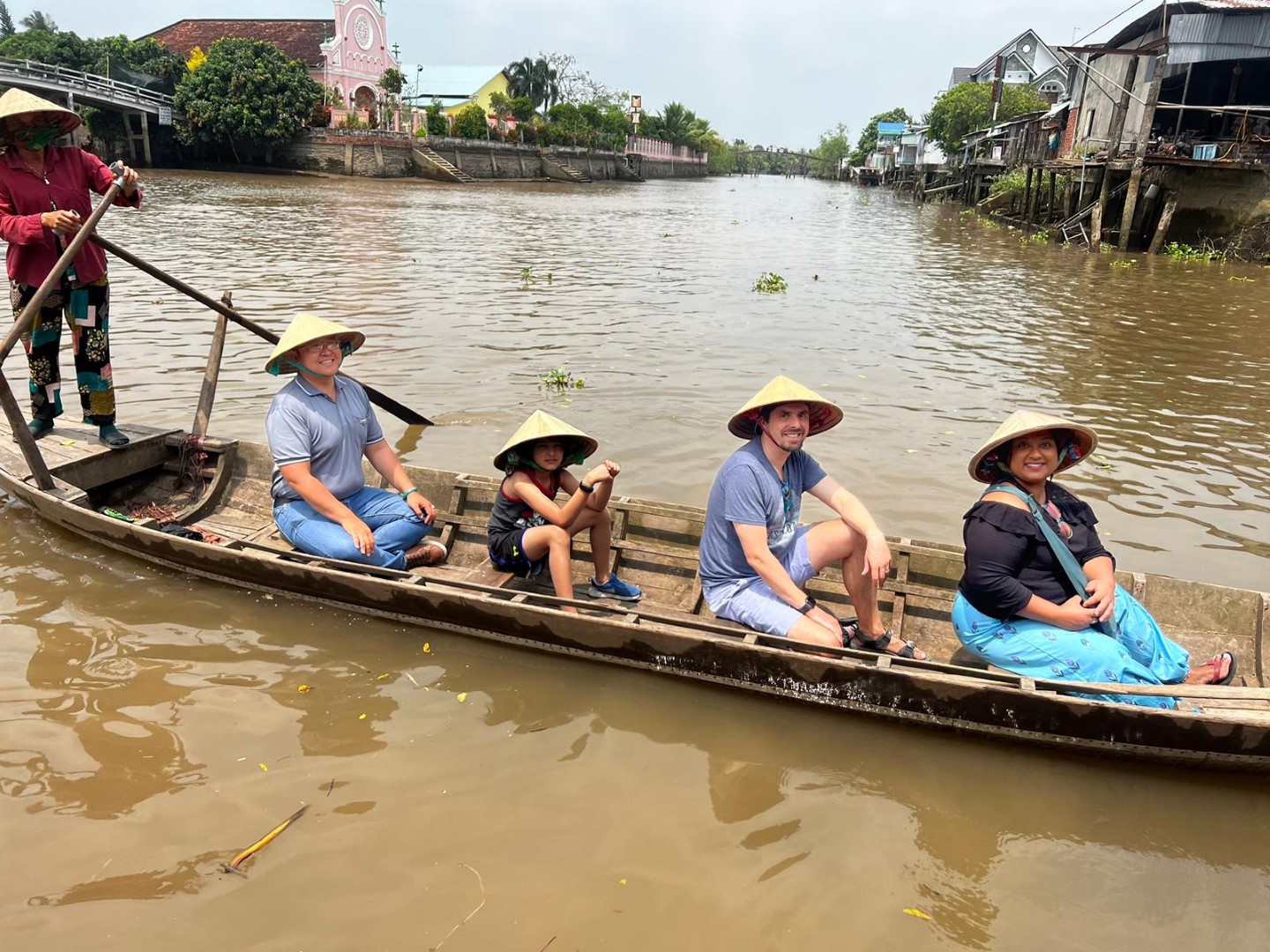 As I mentioned earlier, Vietnam is a family friendly destination because most places welcome kids with open arms and smiles. We didn't actually focus on any child specific activities but instead brought our kids with us to experiences that sounded fun for adults as well. We still discovered the best things to do in Vietnam with kids but with a side of fun for the parents as well. Because we only had a week in Vietnam ( not counting our travel days) I chose a tour company to help arrange local drivers and guides in some of the Vietnam towns. While I would have been able to find cheaper options upon landing, I found that Ecolux Travel DMC was able to secure the same accommodations and tours that I was looking online, at a cheaper rate. Of course, I knew that online prices are higher than booking directly with tour operators at the markets. However, I didn't want to waste my time researching the many local operators upon landing in each place. Also, while I enjoy bargaining, it can get exhausting! So If you're like me and would prefer to have your Vietnam itinerary all set before you land, explore the option of hiring a tour agency to help line up some drivers and guides so that it's easy for you once you land.
We narrowed down our Vietnam trip to the following places : Ho Chi Minh City (Saigon) with a day trip to the Mekong Delta with kids, Da Nang (Hoi An), Ninh Binh, Ha Long Bay/ Lan Ha Bay and Hanoi. We did all of them in a week and if you check out my instagram channel, you'll see that we got in many experiences and still found time to relax and appreciate the slow moments. IF you only want to hit up beach towns and stay at resorts, our route will not be the best option for you (beyond Da Nang of course) and you may want to look at Nha Trang, Phu Quoc Islands and Mui Ne.
In terms of moving around within Vietnam, there are several options. We took local flights (Viet Jet and Vietnam Airlines) because we were on a time crunch but we could have taken buses and sleeper trains to get around as well. I will also mention that no matter where you land, you'll still probably need a driver/car to get you to the various attractions. We did use Grab (similar to Uber) to get around within cities but when it came to exploring Ninh Binh from Hanoi or doing the Mekong Delta tour, we opted for private drivers instead of taking a public tour because it wasn't all that more cost wise given our group size of either 4 or 6 (my siblings didn't join us for a few excursions).
7 Day Vietnam Itinerary for Family Travels in Vietnam with Kids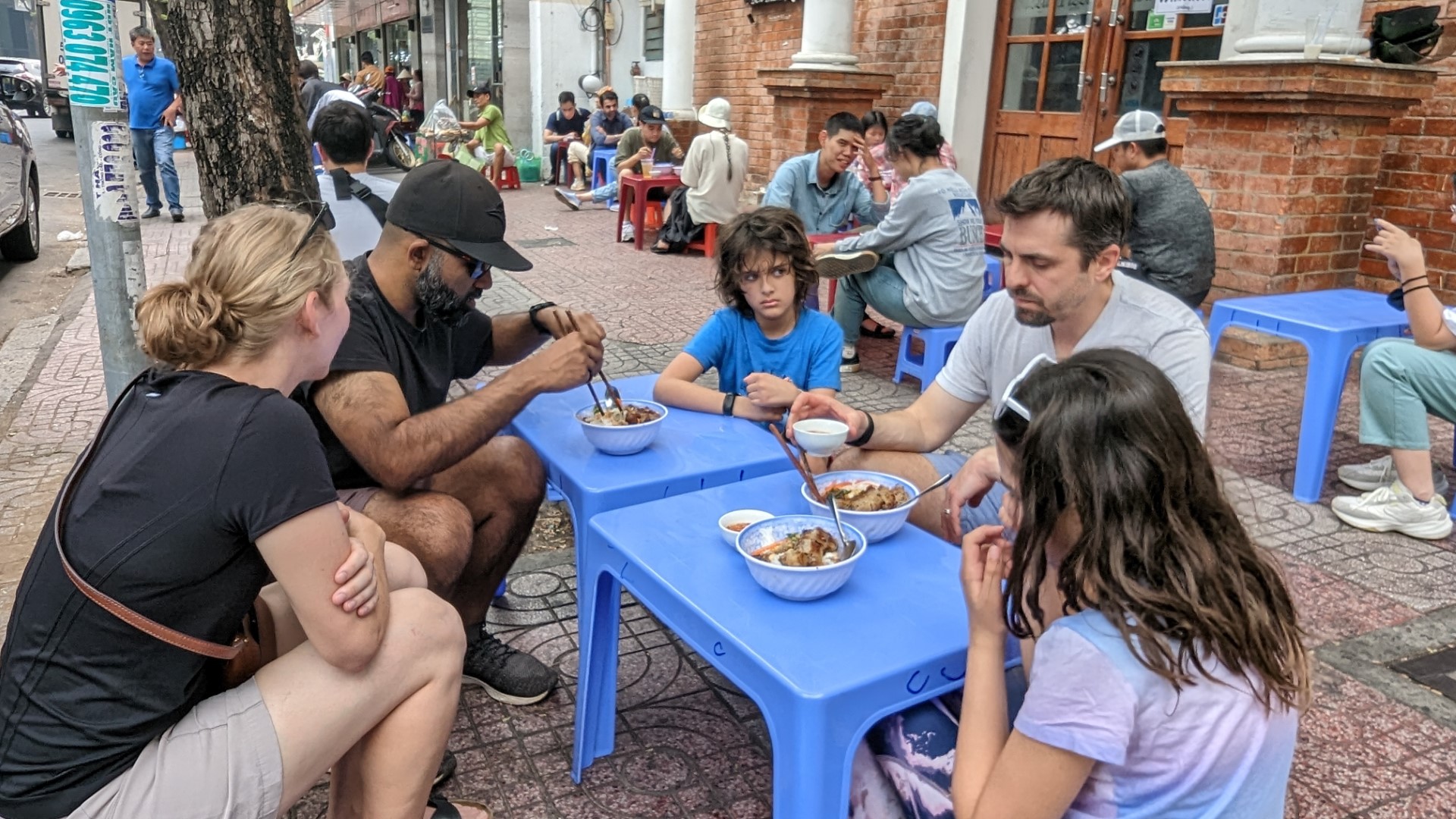 If you're looking to take in a mix of main attractions, local cuisine and culture, our route will satisfy your needs. During our March break trip to Vietnam with Akira and Apollo, we took a fairly common route but no place was overly crowded, which was a great perk!
Day 1: Land in Ho Chi Minh and explore the city. Shopping at Ben Thanh Market, War Remnants Museum, night market, brewery and food stall visits
Day 2 : Mekong Delta day trip
Day 3 : Fly to Da Nang and settle in Hoi An. Walk the ancient town, order clothes, explore the night market and release lanterns
Day 4 : Beach day or get massages, manicures etc
Day 5 : Fly into Hanoi and drive to Ninh Binh and Tam Coc area to visit the temples and caves. See the Hoa Lu ancient capital
Day 6 : Drive to Ha long Bay and take a 1 night cruise
Day 7 : Drive to Hanoi after cruise and spend the evening and night drinking egg coffee, shopping and seeing a water puppet show
I know this itinerary sounds a bit rushed but we truly enjoyed the pace knowing that we were experiencing a lot of things. If you have ten days or more, there are other places to slot in or you could spend extra days at each of these spots and relax more.
Is Vietnam Safe?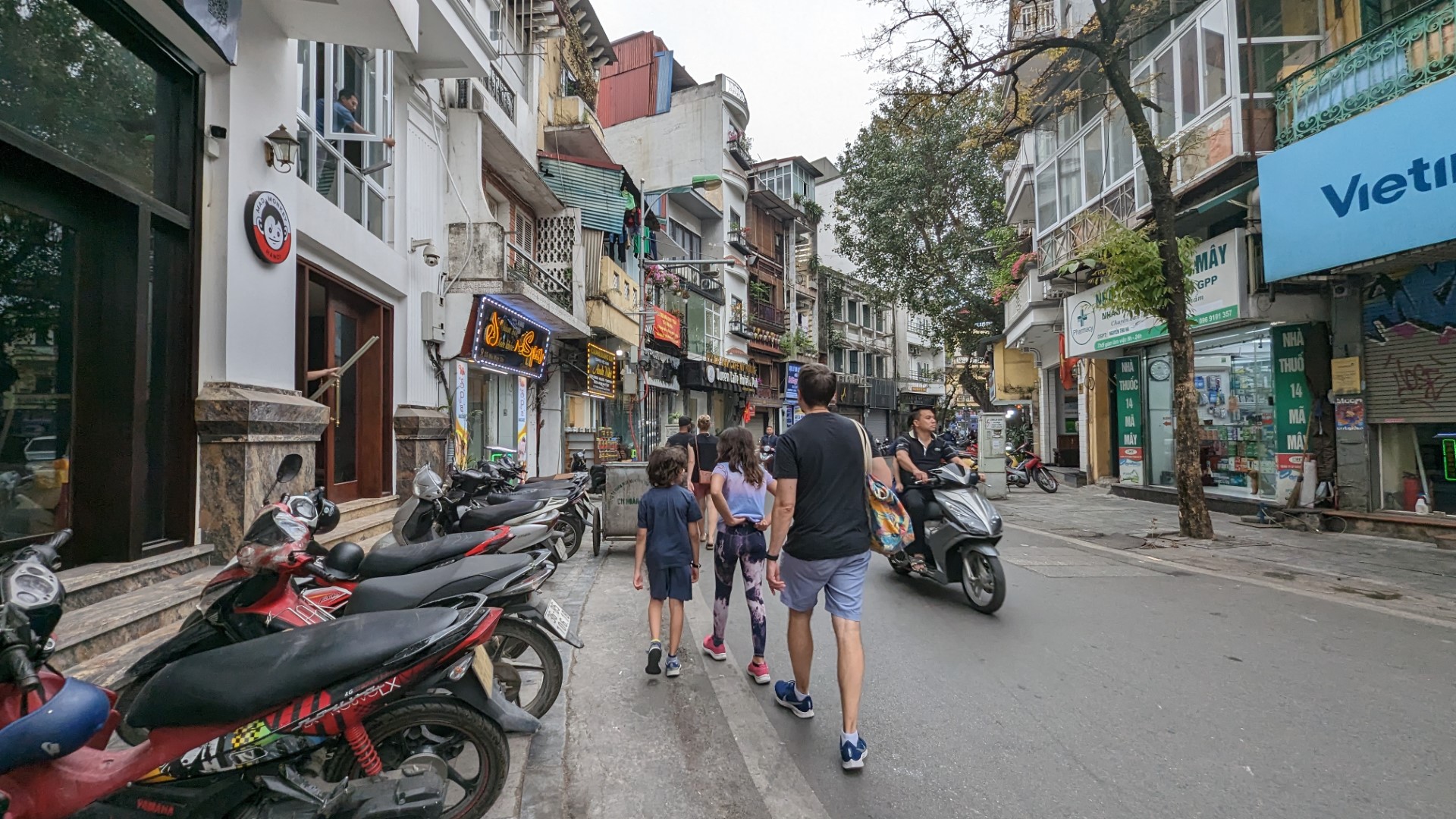 As with any country you should travel wisely but we encountered no issues during our travels in Vietnam with kids. We kept our belongings close to us and kept a close eye on our phones but no one bothered us and because the culture respects kids, I feel like we were always protected. That said, I've chatted with solo female travellers in Vietnam and they too had a safe experience in the country. Most of the locals are so grateful to see tourists return, that they are doing their best to provide the best experiences to everyone exploring their country. If anything the most dangerous thing we encountered was crossing the streets as the motor bikes whizzed around us… but we got used to that quickly as well!
Best time to Visit Vietnam with Kids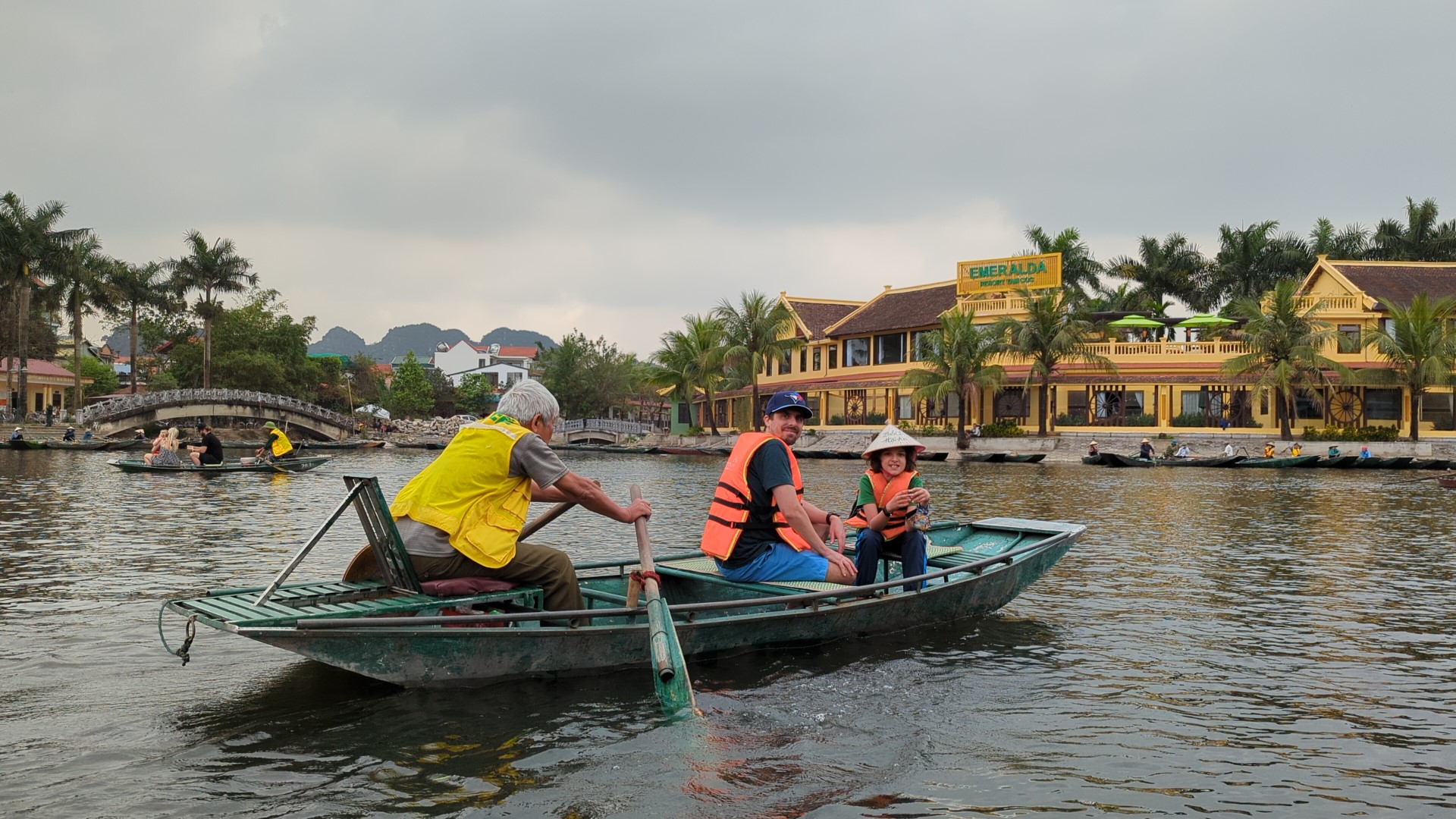 In general I avoid the Asian continent during the peak summer months because the heat and humidity is unbearable for me, despite being born in Colombo and growing up in Dubai, Bahrain and Karachi. I would focus on the winter and spring months when visiting Vietnam. Our March in Vietnam was glorious because it wasn't too hot or too rainy as we toured from South to North. Decemeber and Tet holidays are busy times and peak times for locals travelling within Vietnam so I would avoid those as well.
January to May are the best times to visit Vietnam, according to my research anyways. Weather wise Vietnam has slightly different weather patterns in the north, south and central regions. In the south the dry season goes from December to August ( sunny during the day with low rainfall) and rainy season goes from May to October. March to May is the dry season in the central region and rainy season is from September to January. Although the rainy season goes from October to April, spring and fall are the best times to visit this area. Even during our March visit we did get some rain when we were in Halong Bay but it didn't really affect us too much (luckily).
All that said, if you love the heat and humidity, by all means, visit in the summer because things will be in full bloom!
Toronto to Vietnam Flight and Airport Experiences
When it comes to flights from Toronto to Vietnam, there are a few options but I wanted the most direct route possible, which is why I booked with Air Canada. If we had more time for our Vietnam travel with kids, I would have taken other options with multiple layovers. Our Air Canada flights from Toronto to Vietnam had one layover each way and I booked our flights with an arrival into Ho Chi Minh City and departure from Hanoi which worked out really well for us. On the way to Vietnam, we were supposed to have a 1 hour layover in Seoul but our flight landed earlier than anticipated so we had an extra half an hour. Sadly the food on board was shockingly bad – like frozen food, messed up kids meals being swapped for vegetarian meals etc so we were happy to have a snack during our layover. It was all very confusing because I actually enjoy airplane food and always have a great experience with Air Canada.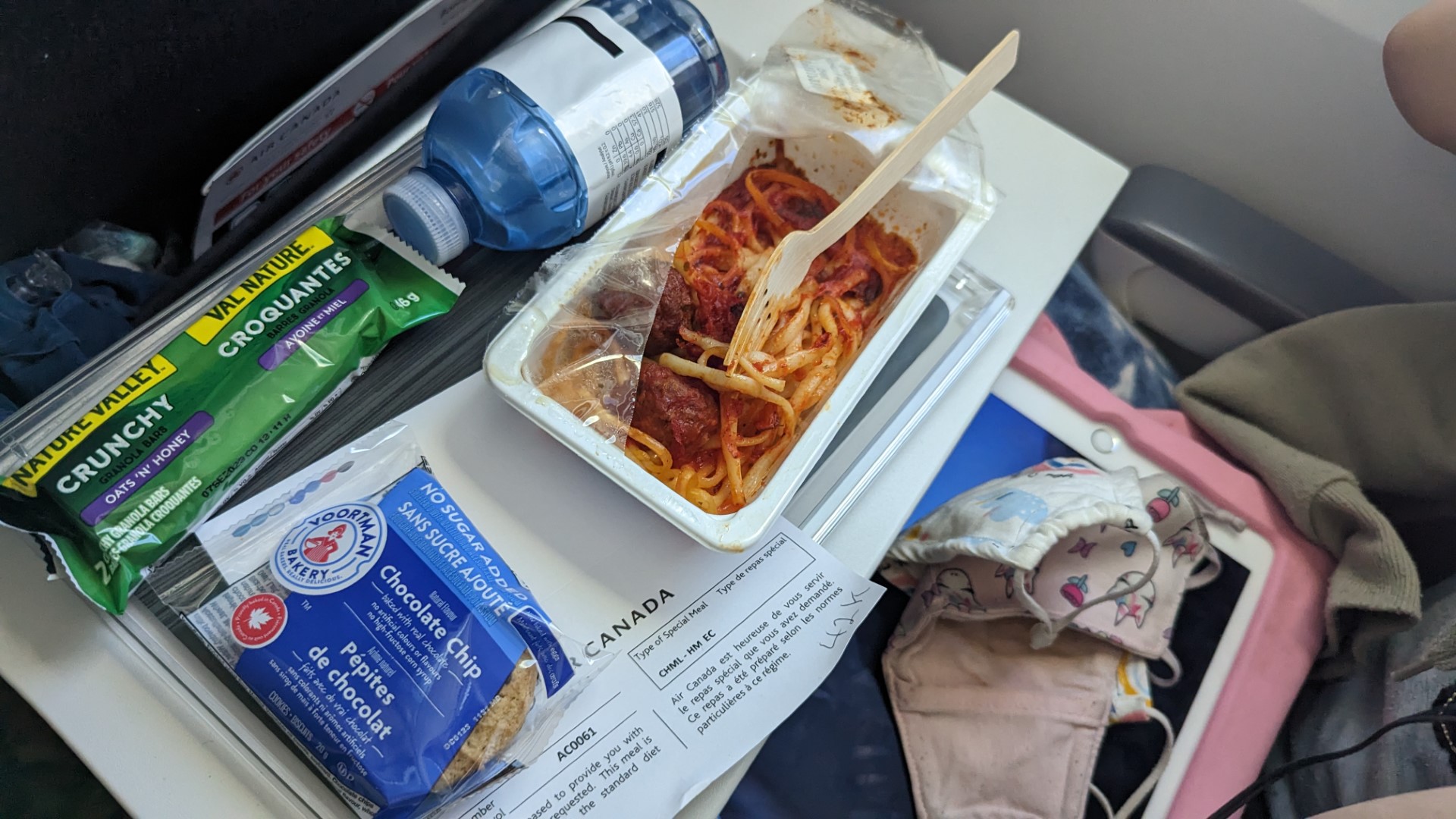 We were so impressed at how big Incheon International Airport is, so those extra 30 minutes was put to good use as we roamed around and explored-it was like being in a huge shopping mall! What was a pleasant surprise was our experience onboard Asiana Airlines. This was our first time flying them and they brought the kids a colouring and puzzle kit (more appropriate for younger kids but we appreciated the gesture) and the food was fantastic. I was so impressed by the many treats and local snacks in the kids box. Like wow!
I thought landing in Tân Sơn Nhất International Airport at 11 p.m. would make it easy to go through customs and security but there were long lines that took us an hour to clear immigration. My tip for you is to keep exploring the various line ups before choosing a line to stand in – the ones the middle seemed to go faster!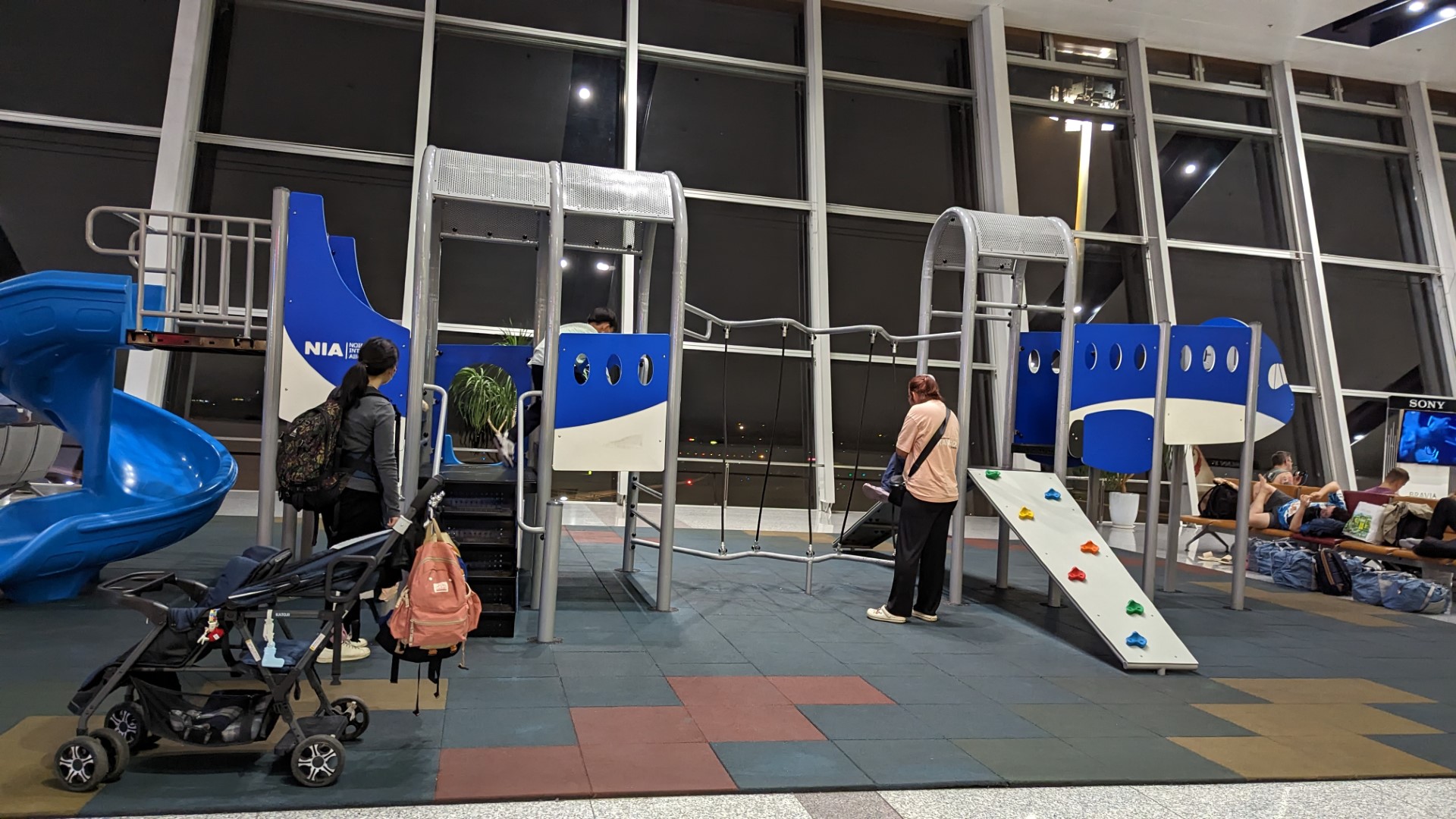 On our way back from Hanoi, the departure process was fairly smooth and while all the duty free souvenirs were priced at least twice what it was in the night markets, the fridge magnets were cheaper- go figure! We also spotted a playground for younger kids and there were water re-fill stations. We did have a 12 hour layover in Japan and I shared what we got up to here if you're curious, and landing in Toronto was quite smooth surprisingly, though our bags did take an hour to arrive!
Airport Lounges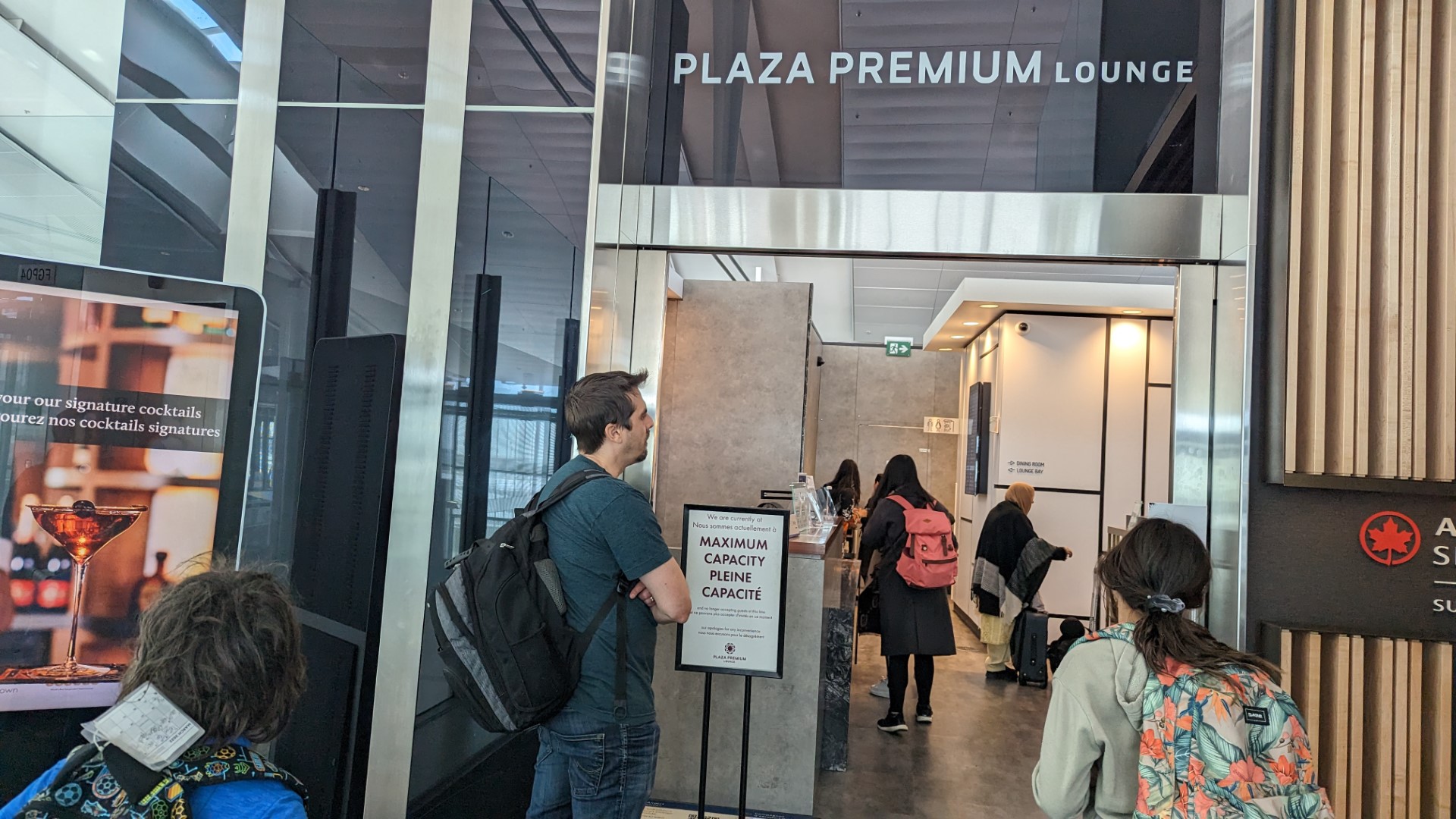 As you may know, I am a huge fan of airport lounges as I believe it really sets the tone for a trip. Even if we're not flying business class, we can be relaxed, stocked up on snacks and have had a hearty meal thanks to the airport lounge access. On this trip, the only airport lounge we had access to was the Plaza Premium lounge at Pearson International Airport in Toronto. We did not find any Priority Pass lounges or ones that my AMEX Platinum gives access to in Asia. If you're flying out of Toronto, you will find a Plaza Premium lounge at each terminal and I find it a good way to unwind with a glass of wine or cappuccino before the flight.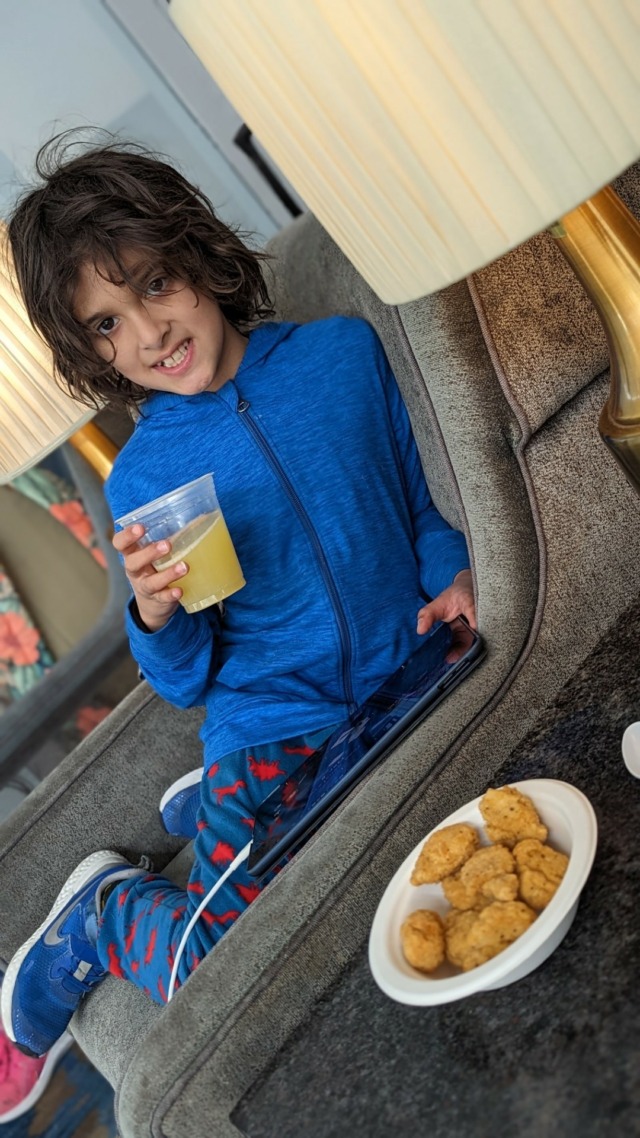 The kids enjoyed the chicken nuggets and tossed their leftovers into their travel lunchbox because they were too busy watching their screens and didn't eat quickly enough before we had to board! During our March break Vietnam travels with kids, the Plaza Premium airport lounges had a "spring into travel offer" and it was the first time I learned about their Smart Traveller app. Signing up for the free app provides additional discounts for future lounge stays and gives you loyalty points for the Arrture program.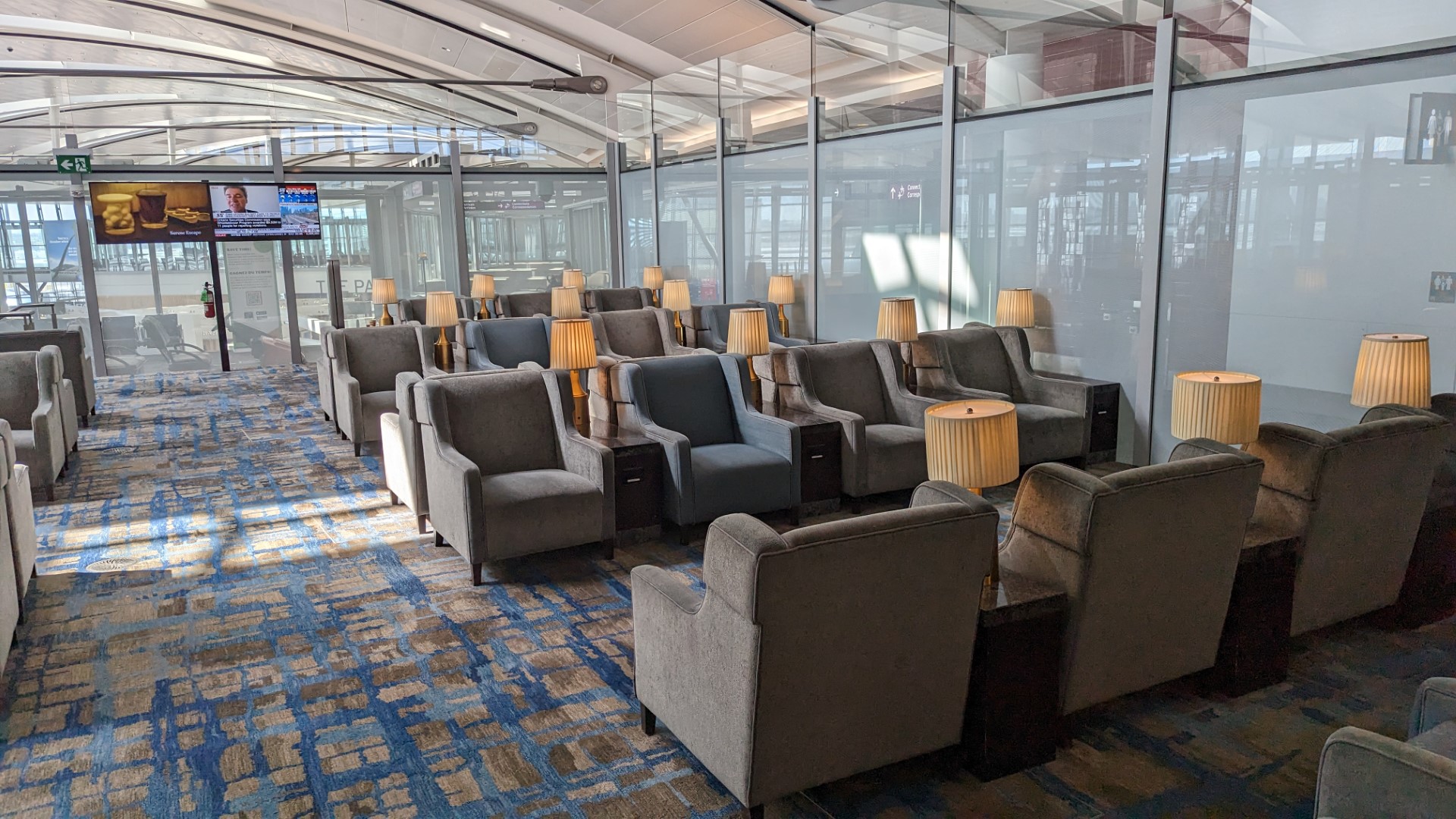 If your credit card doesn't provide you with complimentary lounge access or, if you need extra passes for the kids, look at the PPL Pass offered by Plaza Premium Lounge. The single use pass are sold in packs of 5 or 10 and gives you access to Canadian lounges with up to 3 hours lounge usage each time. These passes are valid for a year and are also transferable and shareable which makes it easy for families to use!
Vietnam Travel Tips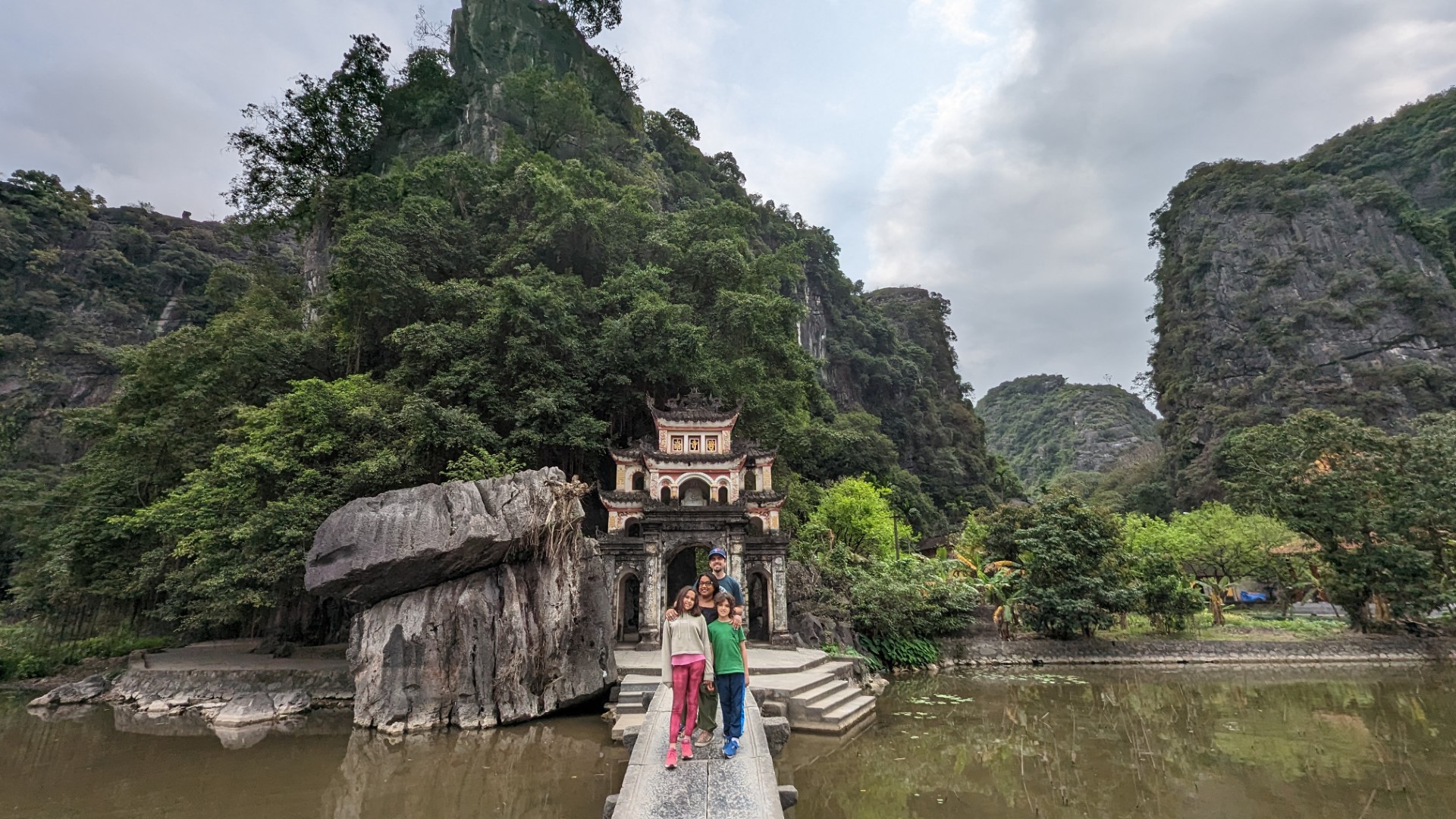 I researched so much before our trip and the most helpful resource was the Vietnam Travellers Facebook group. Between this Facebook group and my brother, we felt prepared for the trip but then learned so much more once we landed and so I thought I'd share some topline Vietnam tips with you.
As you do your research connect with a local travel agent or use a group like Vietnam Travellers to learn about the current state of life in Vietnam and new offers etc.
Apply for your e-visa at least 2.5 weeks prior to your trip (do it a month before if there's holidays like Tet on the horizon)
Buy an e-sim to stay connected if you don't have a good roaming plan because most tour operators like to communicate via Whatsapp. Gigago worked great for us.
You will need cash (Vietnamese Dong) as credit cards aren't accepted in many places beyond fancy restaurants and shops. We were told to exchange money at the gold shops but we didn't find the rate any better than elsewhere but you would save on the service fee. We didn't have to use the ATM as my brother just loaned us the local money and we were able to transfer the funds into his Canadian account but on the rare occasion we did need to change money we found the rates the same as at the airport
We were told 100 USD notes would be easier to change and since we have access to USD funds, that's what we took with us BUT we had a mix of old notes and new ones… no one would take the old ones! So ensure that you have the latest notes in circulation. During our visit everyone (gold stores and banks) would only accept the 2013 print with the colour shifting bell and ink well/3D security ribbon with 100 and bell hologram
Carry small change because you will be ASKED for tips on the many excursions
Carry a reusable water bottle and lunch box – we found our car was stocked with water bottles as were our hotel rooms but it was nice to fill our own bottle during breakfast. Same goes for snacks for kids – I just took some from the breakfast buffet that was included in all the hotels and homestays we did
Bring wet wipes and antibacterial sanitizer – as we enjoyed meals at the various street vendors, these were put to good use!
Don't be alarmed if your passport is photocopied at hotels and cruises. This tends to be a very normal practice in Asia I find
If you plan to hire a driver with a vehicle, ask them to send you images of their vehicles because the drives are long as you will want a comfortable vehicle. We struggled with our vehicle for the Mekong Delta day trip and when we questioned the agency, we found there was a mix up and the premium vehicle we wanted wasn't what we received. They promptly ensured that we had great vehicles for the rest of the trip
Although we didn't encounter any theft, it is always a good idea to have a anti-theft backpack or purse. We also keep small notes that are easily accessible vs. a huge wad of cash to pull out each time
Prior to travelling, check that your vaccinations are up to date for peace of mind
Many tour companies may push for you to have a driver and a guide, but most of the guides we had weren't that great. Do some research to see if other travellers recommend a specific guide and know that you only need a guide for certain places like the Mekong Delta day trip . We found our guide in Tam Coc/Ninh Binh/Ancient Lau to be below average but it would have been nice to have a knowledgeable person to share more of the history and customs with us
Most tour agencies will quote you in USD but it may be in your best interest to get quoted in VDN as the currencies significantly fluctuates frequently
Vietnam Visa Application Experience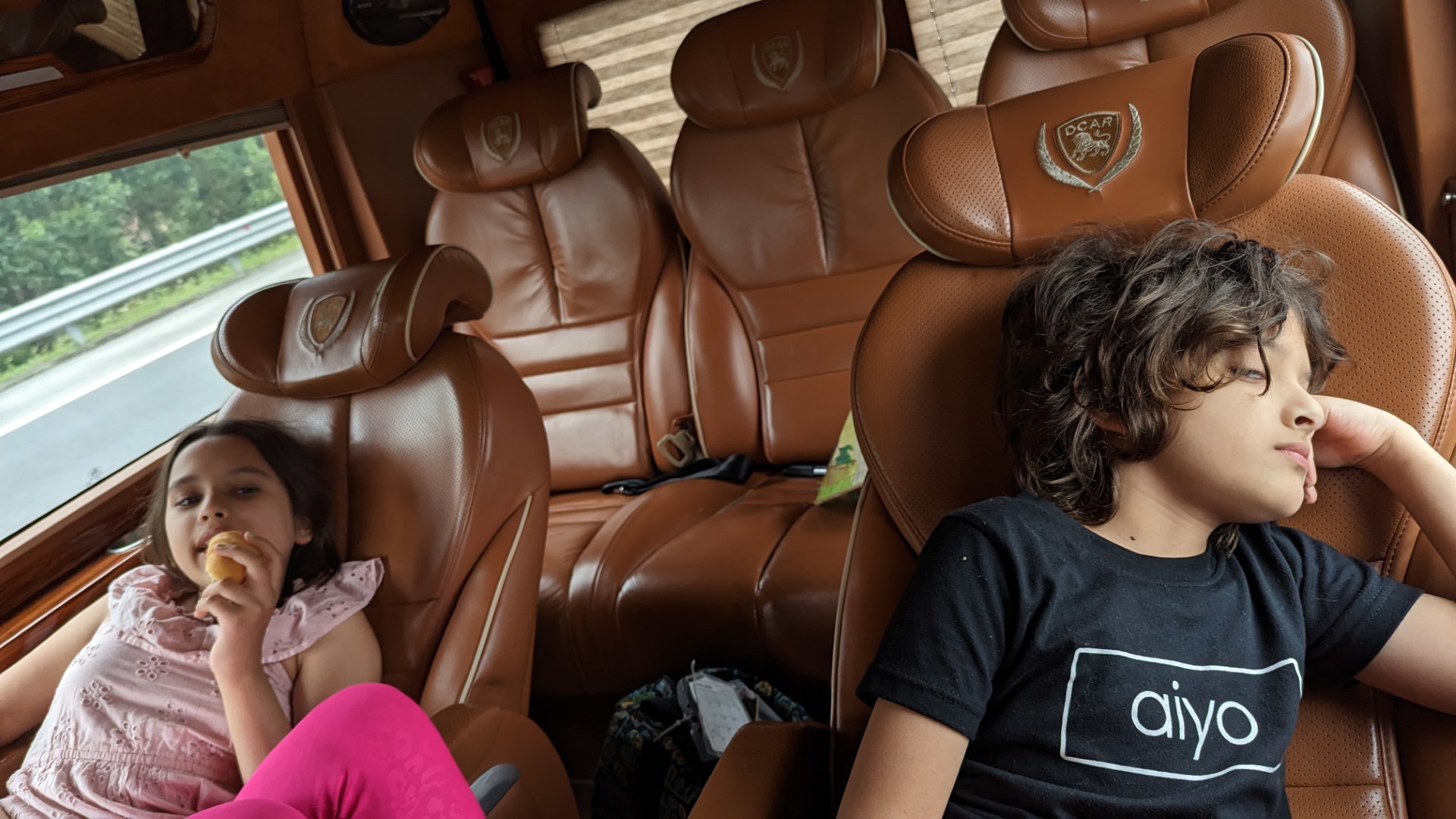 If you are a Canadian passport holder, know that you need to apply for a e-visa prior to landing in Vietnam. I had heard horror stories about the application process and so I took every possible precaution but still ended up anxious prior to landing. First of all, you can use a travel agency to apply on your behalf but the visa application process is quite simple if you visit the official Vietnam e-visa website. Be sure to key in the details according to the photo page with the barcode. If you have a long name that goes into a second page like I do, don't worry – just put the name that's on the picture page (yes even if you're purchasing airline tickets on your full name as per page 2 – it didn't matter that the two didn't fully match up, in my case at least). Pay attention to the spelling and ensure you fill in the landing and departure airport details accurately. It took me about 10 minutes to apply for the 4 of us and I took the headshots myself with no issues. Just sit down with the digital pictures and the actual passports in hand before you apply. My kids have their own passports so they each needed their own visa too. Each visa cost us USD25 so that was 100 USD for the four of us. Also please ensure that your passport is valid for 6 months and that you have a Vietnamese address to share in the application (just use any hotel if needed). Although the average turnaround time is 3 business days for the Vietnam Visa processing, know that official holidays like Tet can add a delay of about 2 weeks. My brother told me to apply a month before our travels, so I did just that. You'll have to keep checking the portal to find out your updates and if they need additional details – it was a very simple process for us and we had no issues.
What we Spent Travelling in Vietnam for a Week as a Family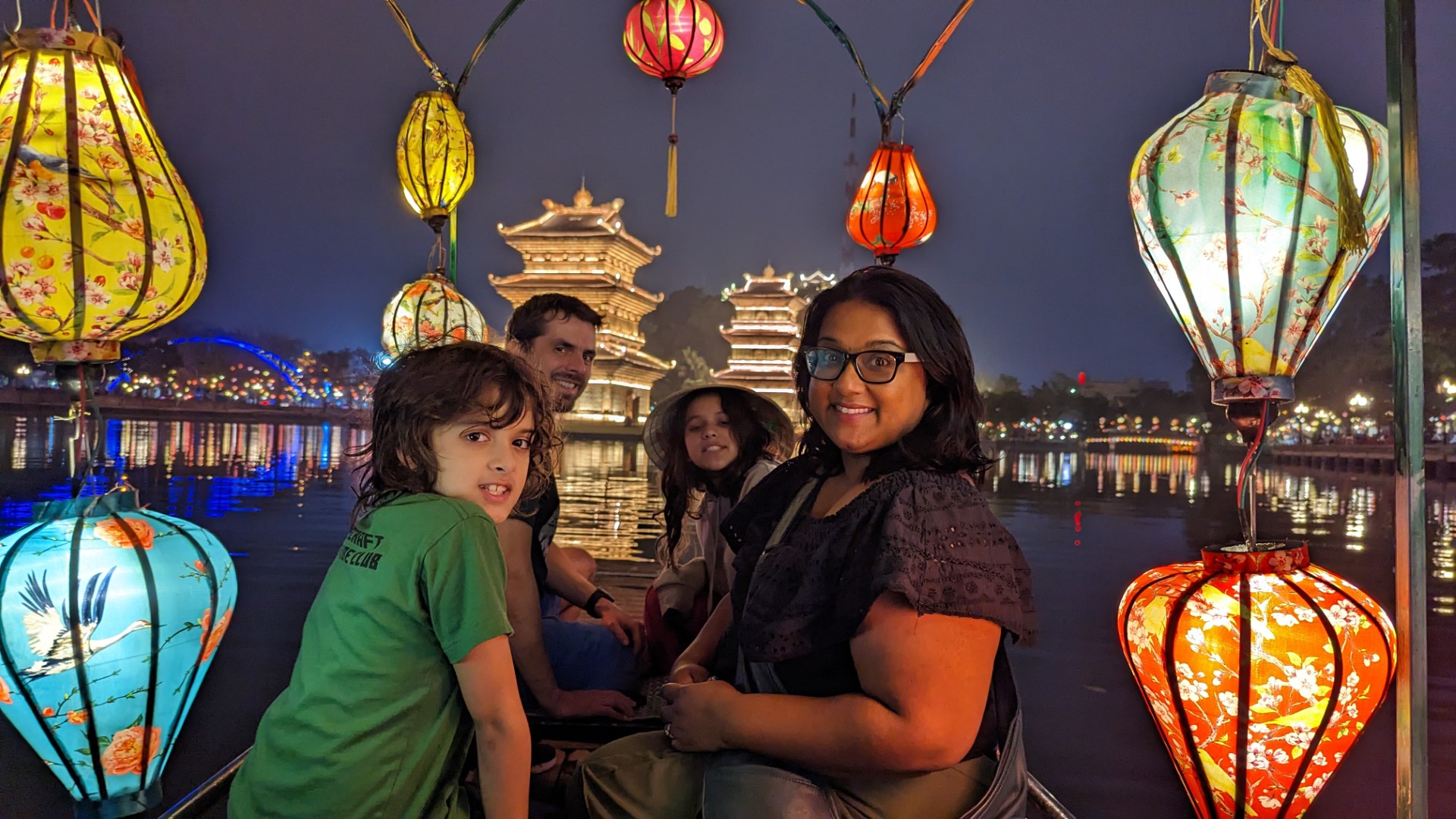 I bet you're wondering "How much money do I need for 7 days in Vietnam?"… well the good news is that food, lodging and Vietnam attractions are extremely reasonably priced! I was shocked at the hotel rates in Vietnam. The cost of a basic room in North America will get you a full on fancy suite with breakfast included for all in Vietnam! We definitely splurged here and there but did not go over board at all. Below is what we spent travelling as a family of four in Vietnam.
The Vietnam travel costs have been converted to Canadian Dollars
International Flights : $7,550
Domestic Flights : $550
Vietnam e-Visa : $140
Vietnam e-Sim : $35
Grab local transportation : $60
Gifts and shopping : $165
Food and drinks: $730 (an average big meal for a family of 4 was about $20 but we also enjoyed some fabulously pricey cocktails and had some meals included in our tours)
Tips : $200
Vietnam family tour packages : $2,070
(4 days of transportation and guide to and from Hanoi, coconut forrest, Rosy cruise, Hoi An and Tam Coc Lodging, all Ninh Binh and Tam Coc attractions and the Mekong Delta day trip)
Grand Total : $11,500
I hope I've answered all your questions about what it was like travelling in Vietnam with kids. If I haven't, comment below and I'll be sure to reply!