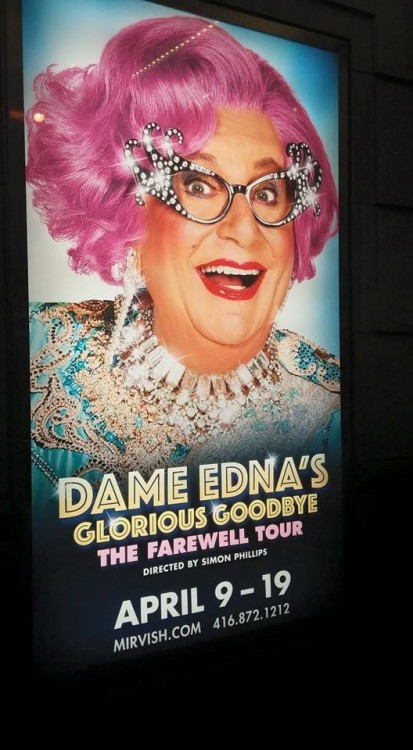 Last week I was planning for a lazy evening in front of the telly in my PJs when a girlfriend messaged with a proposition to join her at the opening of Dame Edna's Glorious Goodbye at the Princess of Wales theatre. Now given that I had no clue who Dame Edna was outside of the adverts lining the downtown streets, I probably should have just said no. However FOMO got me showered and out the door within four hours of getting that initial message. A quick Google search told me that this was going to be a comedic stand up-esqe evening and that's all I knew as I left the hubs at home with the kids for an impromptu night out.
What I wasn't prepared for was how much we'd laugh and how amazing 81 year old Barry Humphries is. This 'old man' has the wit and charm unlike any actor I've seen on stage before. His Australian housewife persona, Dame Edna, is who the world has fallen in love with. I attended the show with an Australian and it made my experience even funnier. My date (and the rest of the audience) couldn't help but laugh at the very tailored opening jokes about ex-Mayor Ford and Jian Ghomeshi. Throughout the evening Barry Humphries sings, dances and dons on some bejewelled outfits that Little Monkey would have swooned over. The set was simple but the mega star personality (and ego) of Dame Edna Everage takes on a life of its own that we barely notice the pianist and four dancers that pop in occasionally.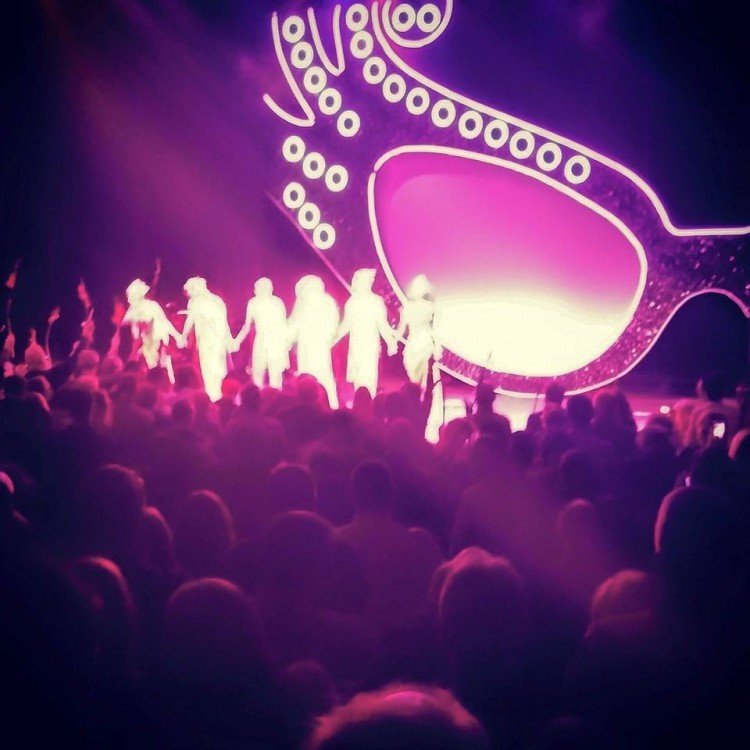 Dame Edna rocks the house and many audience members professed their love for her throughout the evening. There was even an elderly gent who had made quite the trek from the burbs to see the show. He didn't mind being called 'senior citizen' one bit. Dame Edna gathers her 'Possums' and cajoles those in the front row about their clothes, their homes and even their bed spreads! My favourite was when she singled out a theater critic in the audience and without batting an eye she picked on his note taking and potential review. There's plenty of innuendos and witty comebacks but there's definitely a very Aussie laden humour peppered throughout the three hours. Dame Edna takes us through a history of her past and there's even an opening video with Hugh Jackman and Kelly Osborne. Clearly she has a lot of fans!
The highlight for me as I sipped on my beer and licked the chocolate falling off my Hagen Das (I stayed away from the cute cookies!), was when Dame Edna grabed two unsuspecting Possums and tries to marry them off. Hilarity ensues when we realize that they each have partners and she then decides to call the lady's husband. Yes. Live on the stage we hear it all. This was not rehearsed (as far as I could tell anyway) and the poor guy on the other end did a stellar job with the banter.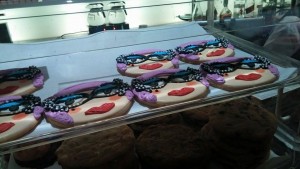 I was most definitely unprepared for the overwhelming feeling of pure amazement when Barry Humphries came out as himself at the very end. He needed no introduction, even to a first timer like myself. We knew who he was and we are not ready for him to retire Dame Edna just yet. Quite a few Possums had tears in their eyes as they waved their Gladioli at him. Can you believe that Dame Edna has been going strong for 60 years? That's an entire lifetime for some! His standing ovation was most definitely well deserved and I'm in awe of this comedian's pure brilliance when it comes to charming his audience despite his character being extremely snooty and grabbing laughs at the expense of her Possums. Now that's just outstanding. Run to catch Dame Edna before she bids Toronto farewell.