Hoi An was high on my list of places to visit in Vietnam with kids because it looked so picturesque online and I knew that the charming city was filled with history, interactive experiences and good eats. I was not wrong, Hoi An with kids did not disappoint! With tweens on our hands, we knew we had to find ways to reduce the whining when away from screens and so I looked for fun activities that would keep them engaged but I also looked for a fun Hoi An resort that would enable all of us to chill when we weren't out. Hoi An is a great spot for families looking to mix relaxation and cultural activities. It's especially great if you're looking for some R&R after touring a busy city like Saigon!
Hoi An Family Travel Ideas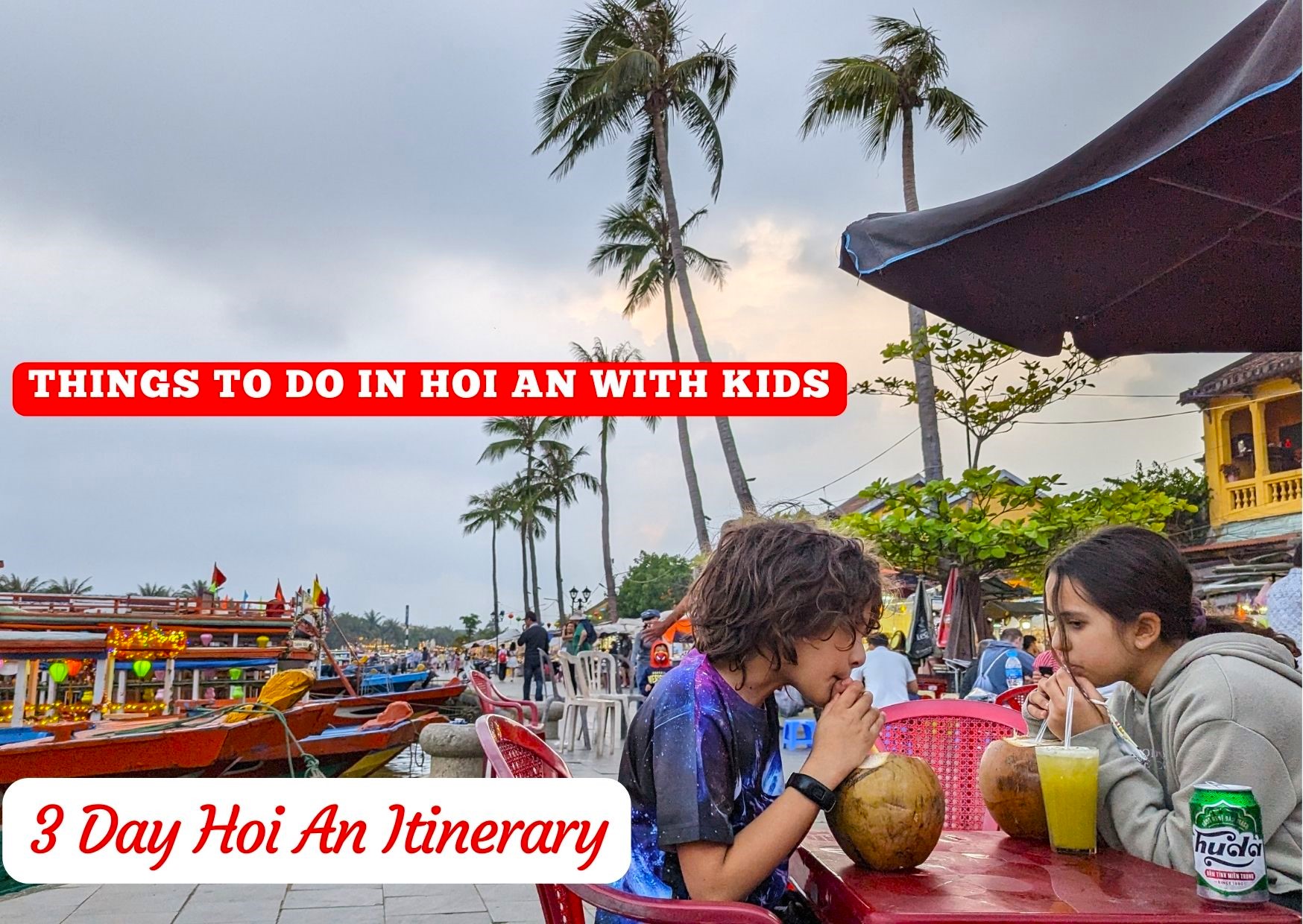 Most of us have seen images of Hoi An Ancient Town and luckily it wasn't overly crowded or over hyped. This part of Hoi An turned out to be a well-preserved example of a South-East Asian trading port. During our visit we were able to imagine what it must have felt like here during it's prime time in the 19th Century when it was a bustling sea port for merchants. What I did not realize until we stepped foot in Hoi An is that there's the Ancient Town as well as a larger city of Hoi An. Beyond the Old Town, Hoi An was similar to any other city where there's restaurants and city life unfolding – this is where most of the locals reside. Because of the Hoi An hotel we ended up choosing, we had the opportunity to experience all of Hoi An.
Best Places to Stay in Hoi An with Kids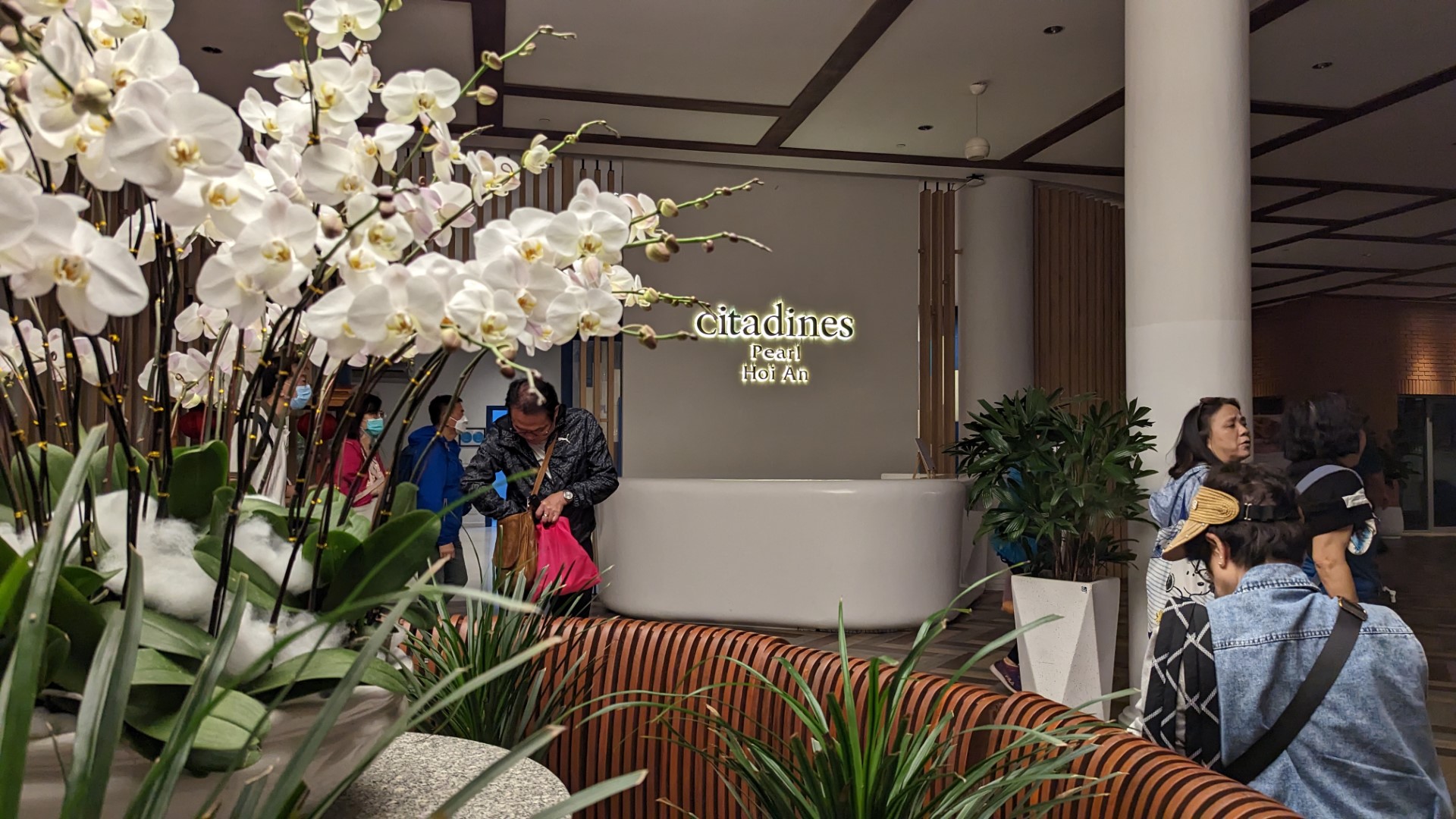 Let's start with Hoi An accommodations shall we? During my research I kept seeing advice to stay in the Old Town because it would be very convenient to walk everywhere but because of my desire for extra space and a beach, we ended up at the Citadines Pearl Hoi An which promised suites, a pool and a beach. When we first pulled up the lobby was gorgeous but we quickly got scared when we saw the conditions of the courtyard. Luckily that fear dispelled quickly when we walked into our two bedroom Hoi An suite. The external faces of the buildings could use a bit of TLC but the insides were modern and just what we needed to relax.
Our room had two full bathrooms, a living area, a kitchenette and two bedrooms. While I did choose this hotel for the beach access (it's located on An Bang Beach) the weather was not on our side during our two night visit so we never did dip our toes there as the waters were very rough. Luckily they have a gorgeous pool which was where we spent our afternoon one day. They also have a cinema on site and apparently tennis courts and a kids club but we did not notice those during our Hoi An family vacation.
The hotel also offered a decent buffet breakfast each morning. It had some local soups and dim sum in addition to baked goods, fruits and your basic continental breakfast menu. The one thing this hotel lacked was service. Not one member of staff said hello or acknowledged us throughout the property and often times we'd have to step in front and wave our hands to get their attention. And even then, it was the bare minimum effort on their end so we never did learn much about the property or the additional services offered here.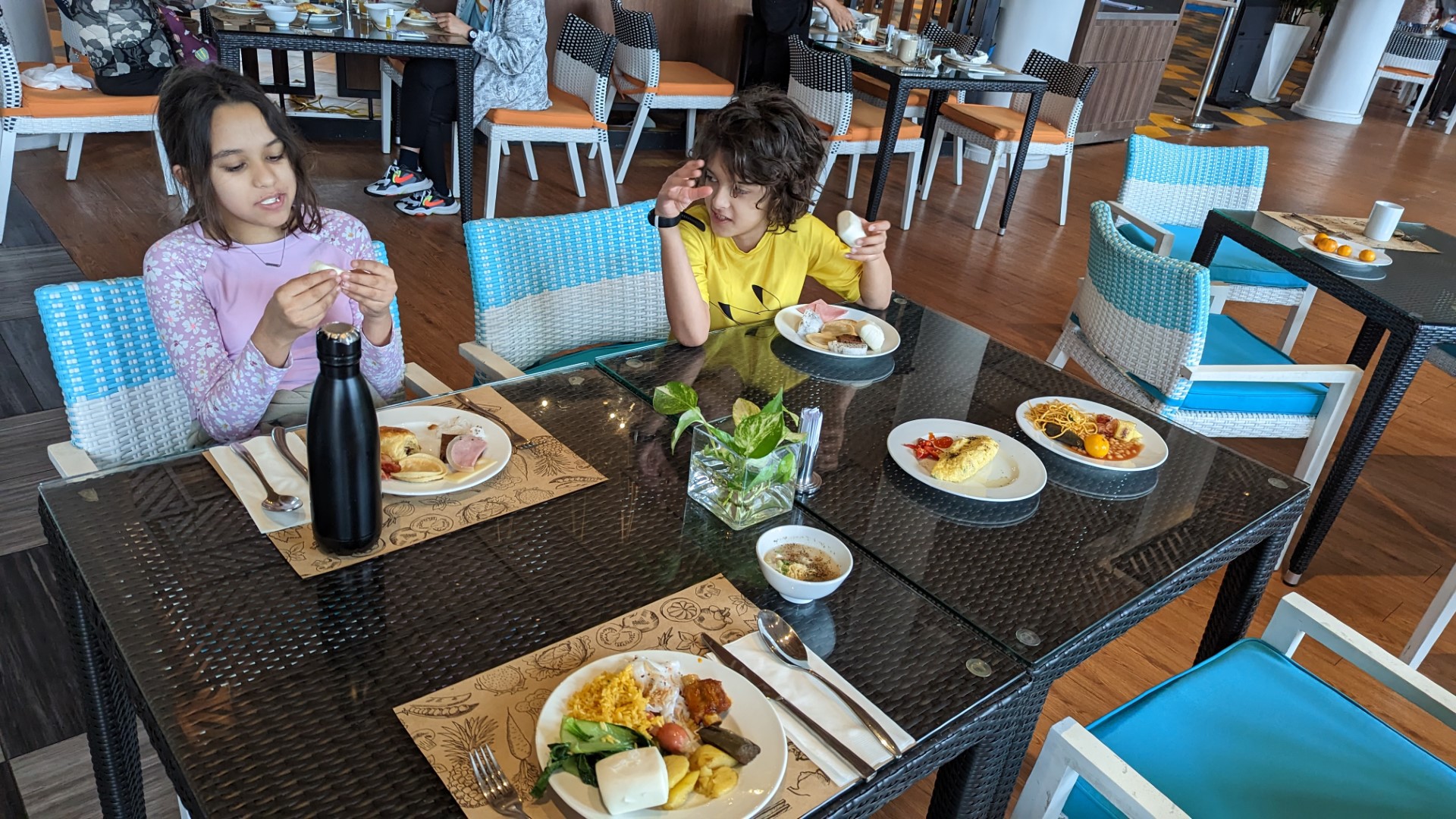 This Hoi An hotel is located only 5Km away from the Ancient Town and they do offer a free shuttle from the hotel to the Ancient Town but the timings never worked out for us. Luckily the Grab taxi app made it easy for us to navigate the city and it was very cheap. If you're looking for an e-sim, use my Airalo coupon "YASHY5624 " to get $3 off your first purchase!
I found great rates for this hotel online but in the end we booked it through our Vietnam travel agent as they got it for CAD 20 cheaper. I would certainly stay here again given the cleanliness, space and proximity to the various places we would visit.
Things to do in Hoi An with Tweens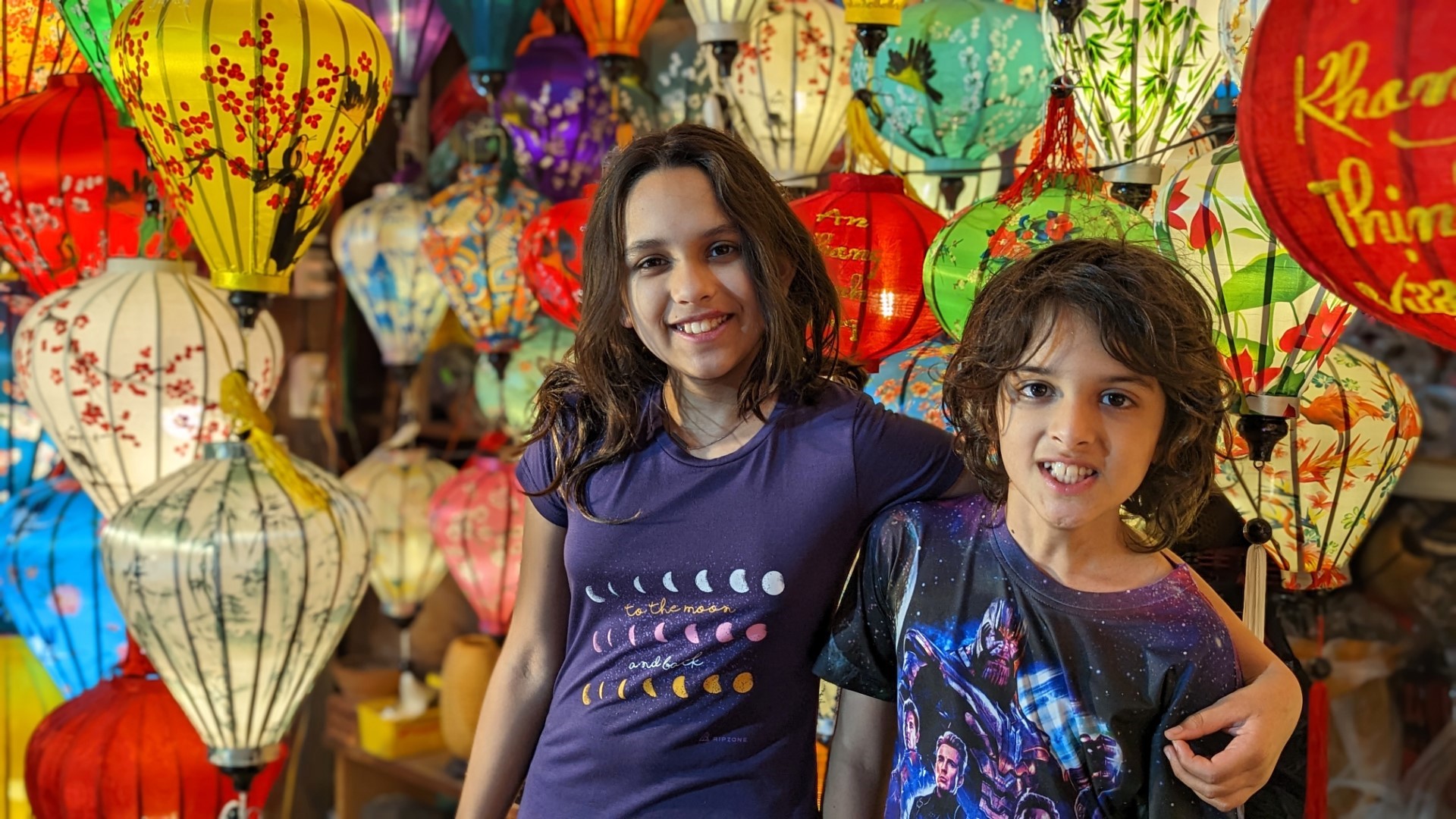 There are many family friendly activities in Hoi An. As we planned for our Vietnam trip, I asked the kids to each choose an activity and Akira had requested a basket boat ride, you'll soon learn why! There are many classes and hands-on activities here to keep tweens engaged but there are also great beach vibes if your kids prefer to relax and take things slow. Hoi An is a great destination to sleep in and then enjoy a lazy afternoon before meandering over to the Old Town to spend the evening and night at. My kinda city!
Explore Ancient Town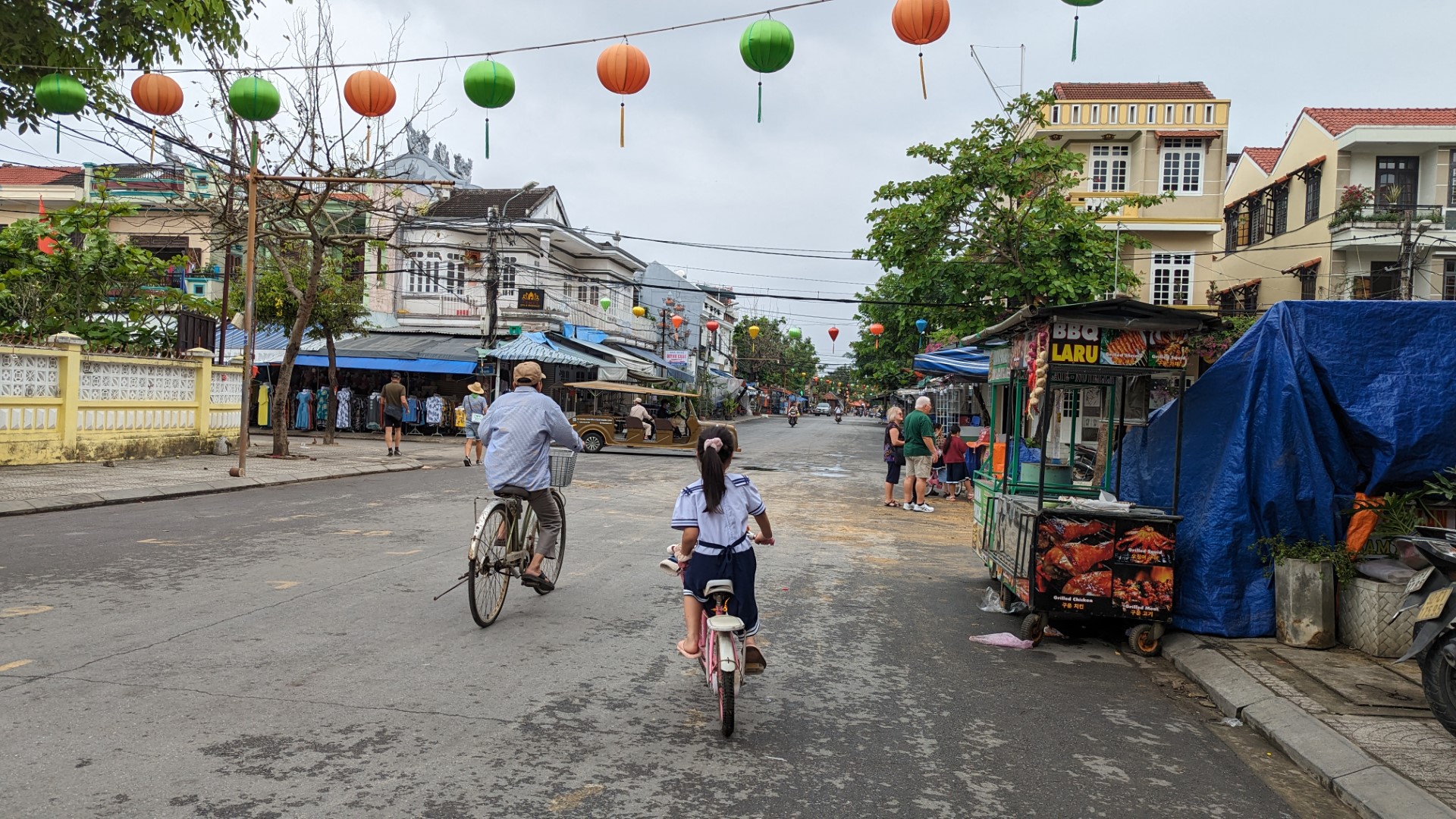 The main attraction is the Ancient Centre (or Old Town) and I loved watching the sun go down here and the lanterns light up. It was magical! However there's so much more to this side of Hoi An. Akira and I had our nails done one morning and then wandered through the Old Town and it was so quiet with only a few cafes open. It was a stark contrast to the bustling streets we had experienced the day before and I highly recommend taking in a morning experience if you can. We also loved that the Ancient Town was pedestrian only during the afternoon and evening, which meant we weren't dodging bikes or afraid of vehicles coming out of nowhere.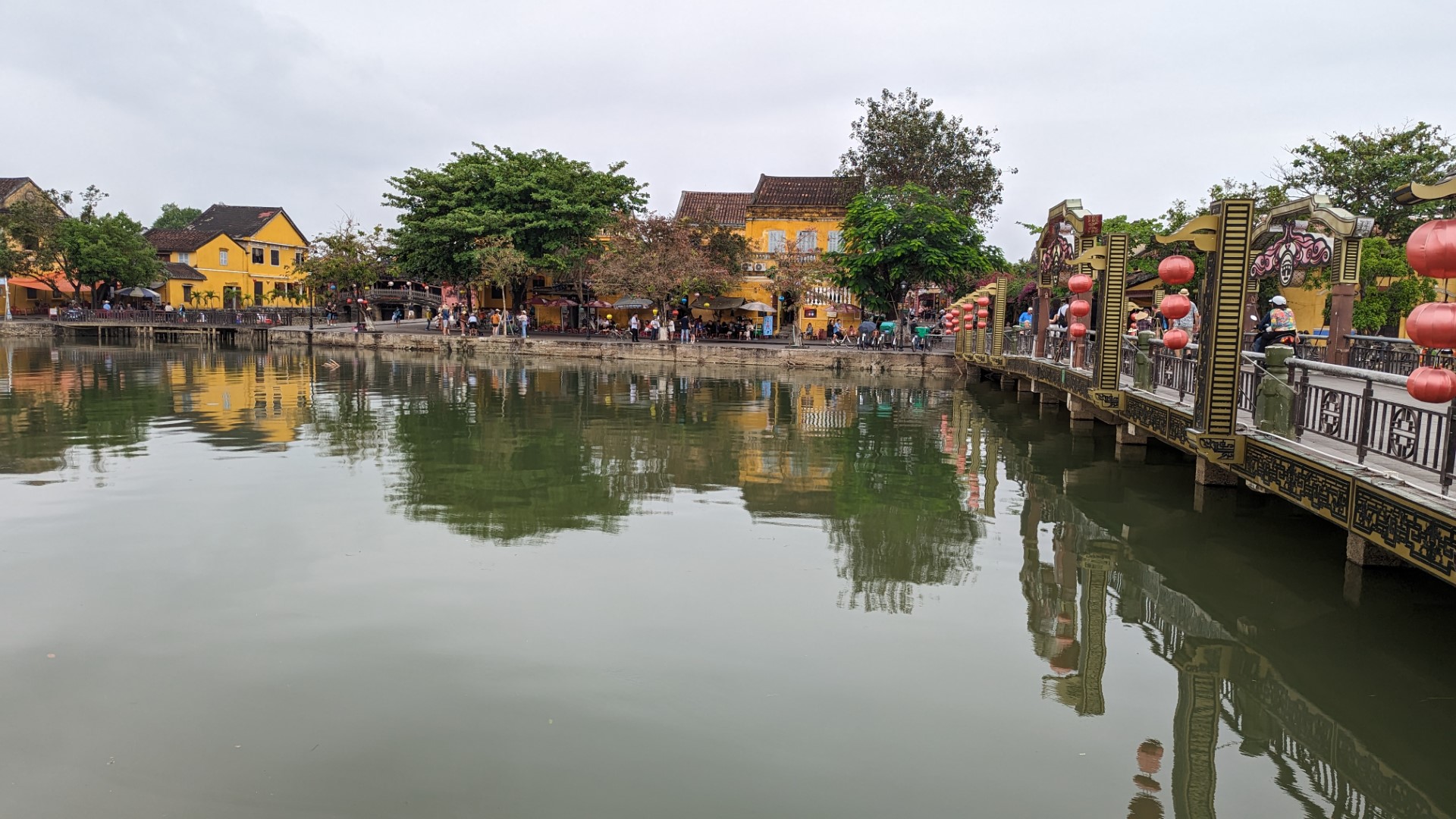 You'll find many things in the Ancient Centre – museums, temples, gardens, lantern making classes, dress makers, all sorts of shopping and food. Just wander around and soak it all in. On our first day we attempted to shop but the haggling and bargaining got too much for us and so after an hour we gave up on making clothes but did buy a few items. On our second night, we discovered another section (it was closer to city side) where the shop keepers didn't wave you in or attempt to sell you anything, they simply sat and enjoyed their day as we walked by. This made us want to shop! So if you get tired of the bargaining, head towards Tran Phú and Trn Quý Cáp (same street at the Cashmere House and 7 Bridges tap room) and you'll find these shops. We also noticed that the prices were very reasonable and some of the clothes we had bought the day before were cheaper at these set price stores!
There are many restaurants and cafes here and we did pop into a couple. Definitely plan a meal at the food hall near Tran Phú and Tiểu La streets. We saw many vendors but spotted the Hai Chien stall where I ordered one of Hoi An's traditional dishes, Cau Lau. This noodle dish was prepared in front of us and not only was it Anthony Bourdain approved but it was also Dine and Fash approved!
We decided to buy some lanterns and get on a sampan boat so the kids could release the lanterns and it was as picturesque as I imagined. You'll find many vendors offering boat rides as you head towards the river area in the Ancient Center but I didn't want a big boat so we kept going until we found the section with the government run vendors who had the low sampan boats and then purchased lanterns from some old ladies and that was it! I was a bit worried about all the paper lanterns floating around in the water but the next morning, it was all cleaned up! I'm glad this tourist activity wasn't polluting the Thu Bon River.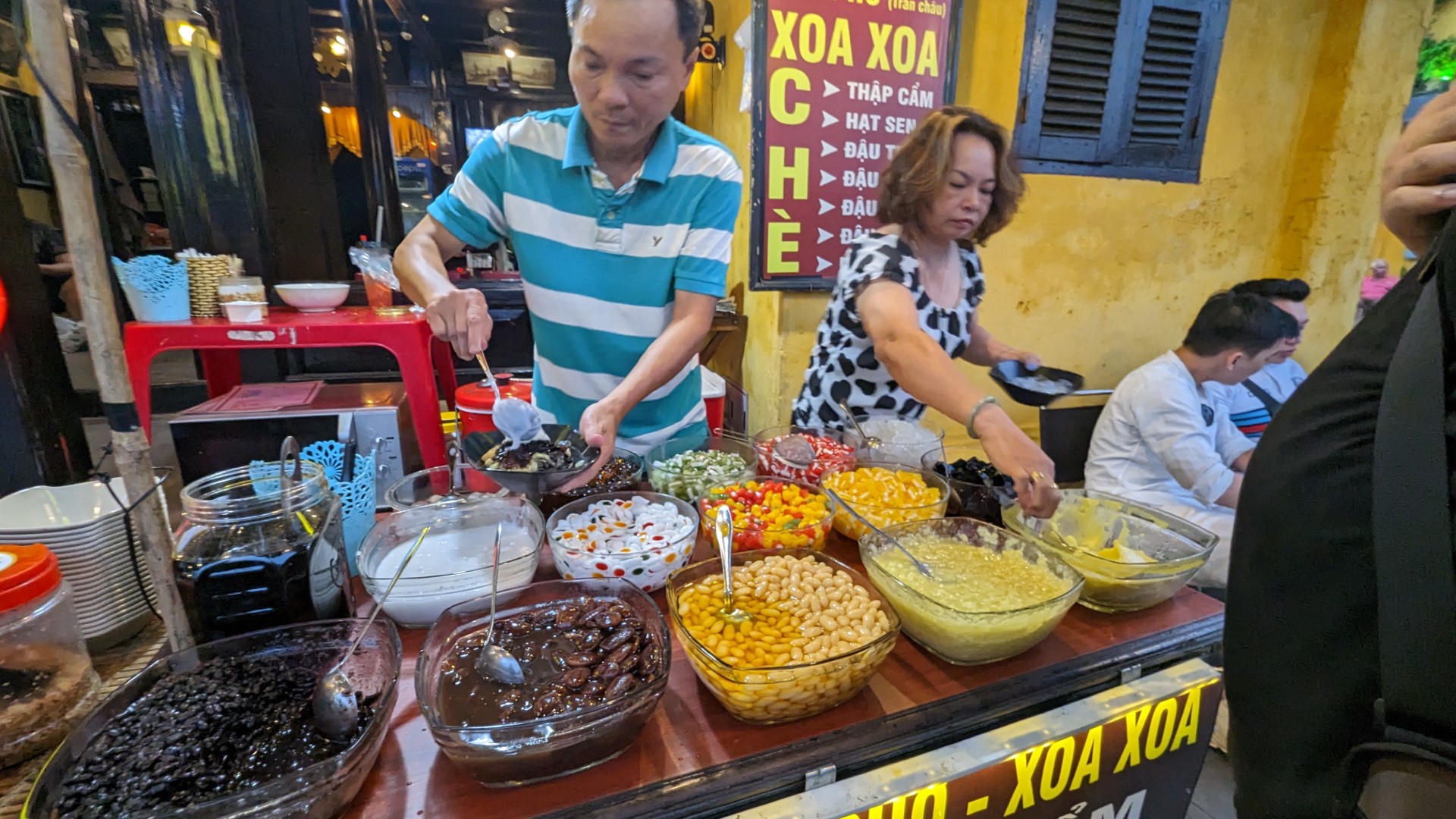 As you roam around Hoi An, don't be afraid to try the interesting looking dishes you see… I had no idea what this dessert was but it was fun to eat the sea moss jelly with various toppings. Apparently many street vendors sells Xoa Xoa but this was the first time I saw a full set up.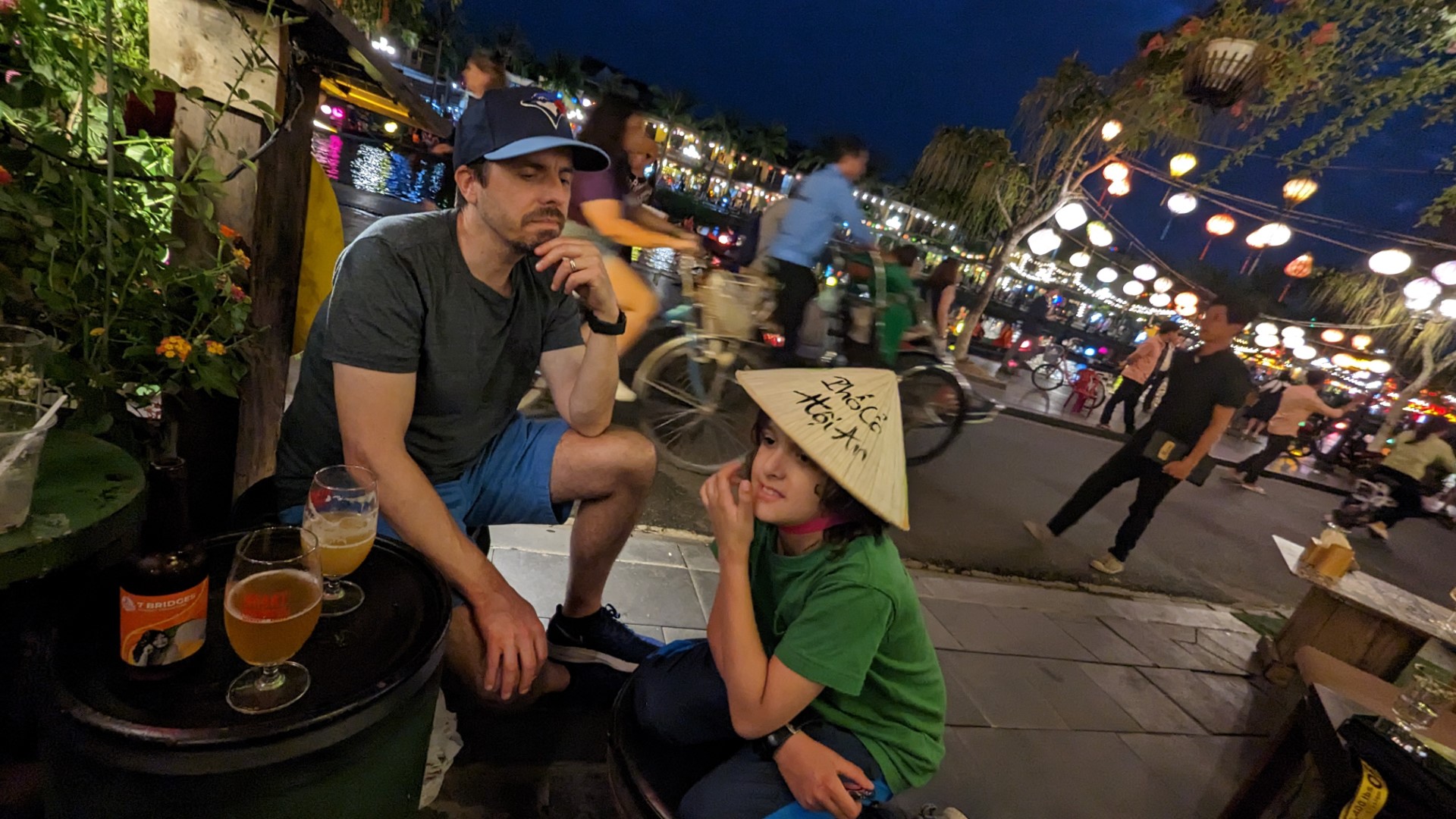 Ending the evenings sitting on a patio is how we closed out both nights in Hoi An.
Go in Search of the Best Banh Mi in Hoi An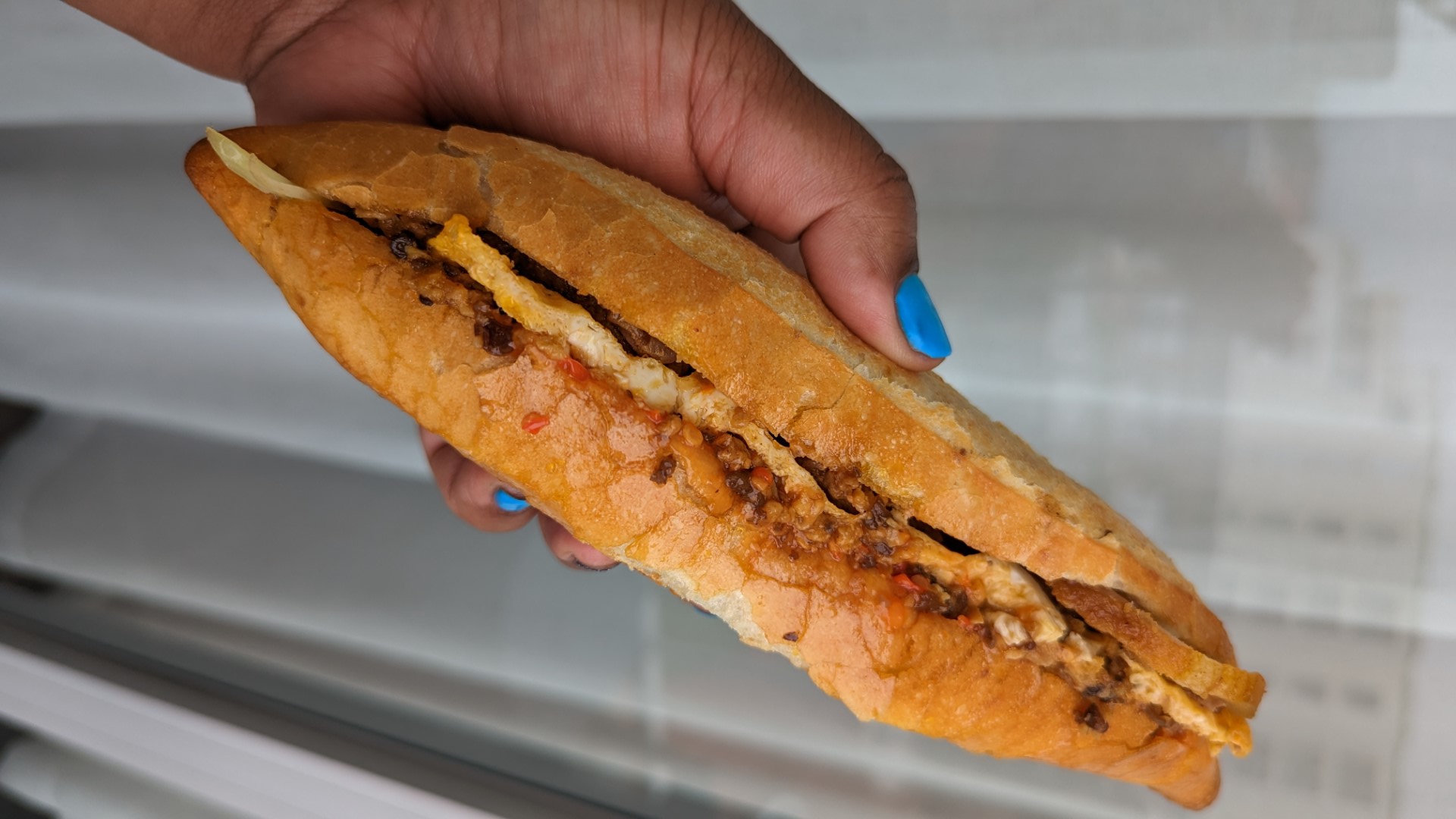 You're probably going to eat Banh Mi sandwiches everywhere but Chris and I found our favourite ones in Vietnam in Hoi An… and they weren't even from the same place! Chris' choice was the Anthony Bourdain approved Banh Mi Phuong. There's always a line here but know that it moves quickly and is certainly worth the 10-15 minute wait.
As for me, my favourite was from Madam Khanh. The coffee here didn't hit the spot but the Banh Mi sure did. I loved the balance of flavours and the taste of the pate here. At the end of the day, you'll want to try all of the Banh Mis because these sandwiches made with a French baguette, pate, meats and fresh herbs are a perfect blend of French tradition and modern Vietnamese culture. It is also hungry tween approved! Akira and Apollo wanted to eat these daily.
Coconut Forest and Basket Boat Tour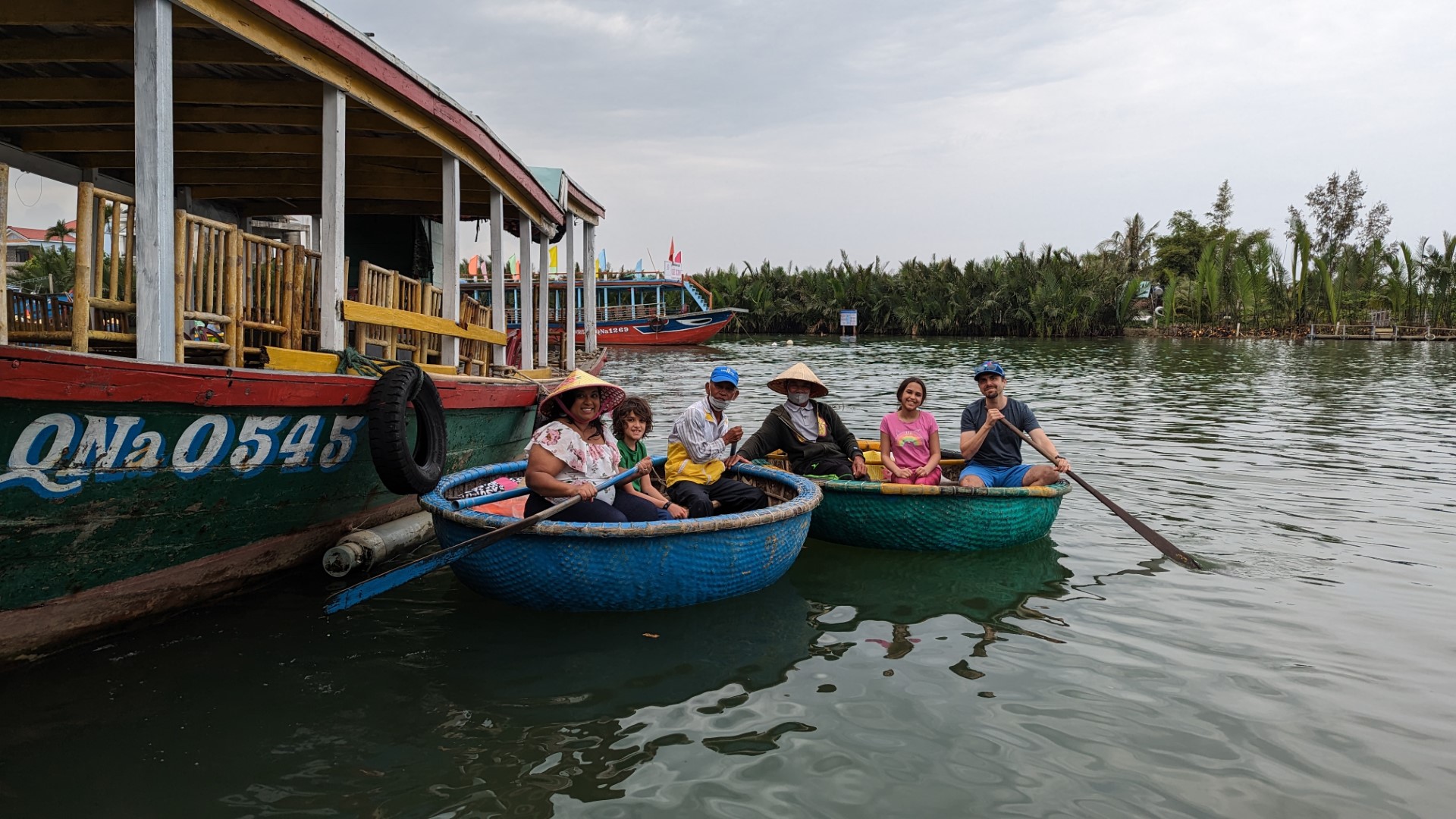 This was certainly a highlight of our Vietnam family travels but I will mention that I wish we just booked this on our own once we got to Hoi An vs. having our Vietnam tour guide book it for us. Why you ask? Because what I envisioned being an hour long trip ended up being 3 hours and to be honest, we only appreciated that one hour on the basket boat and not so much what transpired after. Every hotel will arrange this for you and if you're on the Vietnam travellers Facebook group, you'll learn that a 2 person boat ride will only cost you about 150,000VDN. We paid more because our tour guide prepared a full meal for us (it was sadly not a Hoi An focused menu and instead comprised of dishes we had tried during our Mekong Delta tour) and it was way too early for us to eat dinner at 4 p.m.
BUT let's get to the good stuff! The actual tour through the coconut forest was very fun and entertaining, and just what Akira had hoped for. It wasn't educational but I did ask our guide a few questions which is how we learned that the Bay Mau coconut forest (also known as Cam Thanh) was a revolutionary base area during the French resistance and then during the American resistance, this area was a system of trenches and road side obstacles with layers of fences that were intertwined with bamboo stakes and minefields to prevent the American invaders entering the area. Today the area is purely used for ecotourism activities and the village shuts down after the last tour as no one lives there.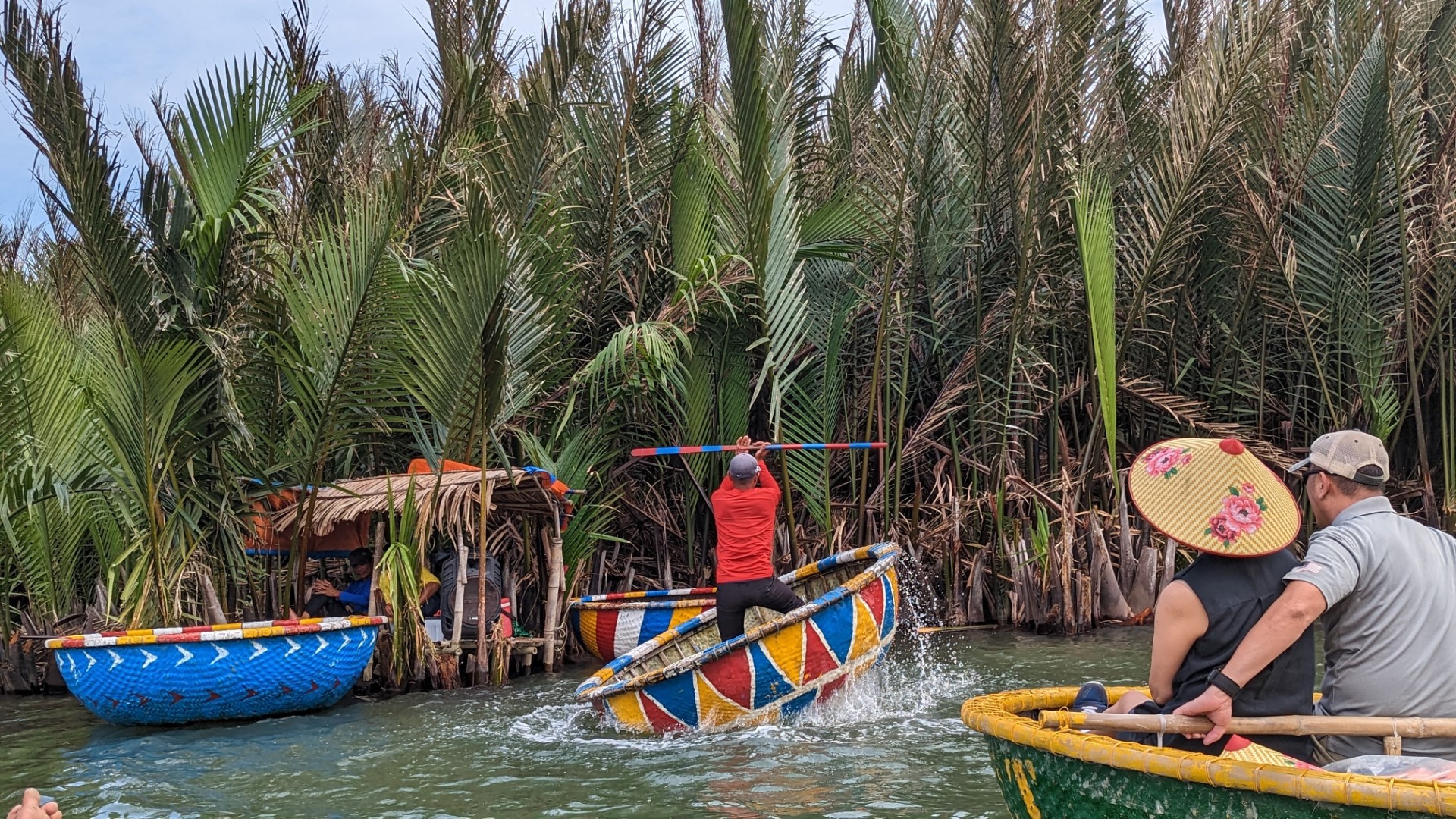 Also when it comes to these round basket boats, it's said that it was originally designed to fish in shallow waters as the circular shape of these boats allowed fishermen to easily navigate and collect fish from their nets. I also read online that some people say that it was first introduced in Vietnam during the French colonial period as a way to avoid excessive boat ownership taxes. The French apparently saw it not as boat but a basket, and therefore did not tax the owner of the basket boat.
Visually the best time to visit the Hoi An Coconut Forest is during the lunar month of August when coconut fruits are in season but during our March visit, we still had a great time. You will sit in round baskets (made from bamboo and palm leaves) and float along the river and through the mangroves until you get to an open area with many boats. It is in this area that you'll see various performances, including karaoke!
This tour is very busy and definitely not quiet or off the beaten path but it was super fun if you're into a mini party vibe. The kids loved having the rowers spin the boats at lightening fast speeds because it was similar to a rollercoaster ride. As I mentioned earlier, I would recommend only doing the 45 minute boat tour which should cost about 660,000 VDN for 4 people with pick up and drop off. Also take some time to ask your guide about the Nipa Palm fruit because that was very interesting but it wasn't shared with us until I asked what it was when we were walking through the village.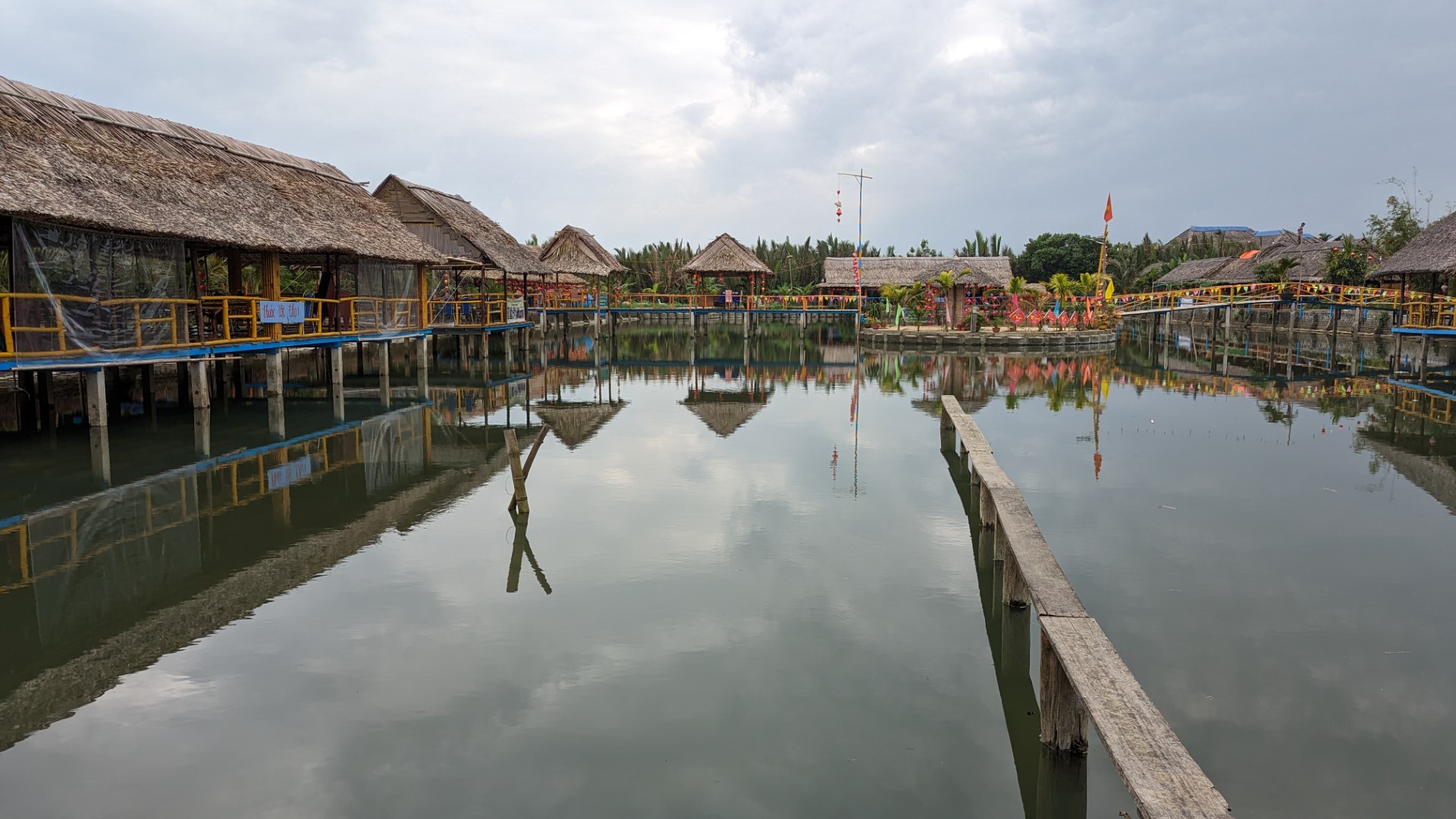 Please note that you need a guide to enter the Coconut Village and cannot roam around alone based on what we observed when we were there (there were officers checking tickets and asking the guides which tourists were with them).
Get Your Shopping On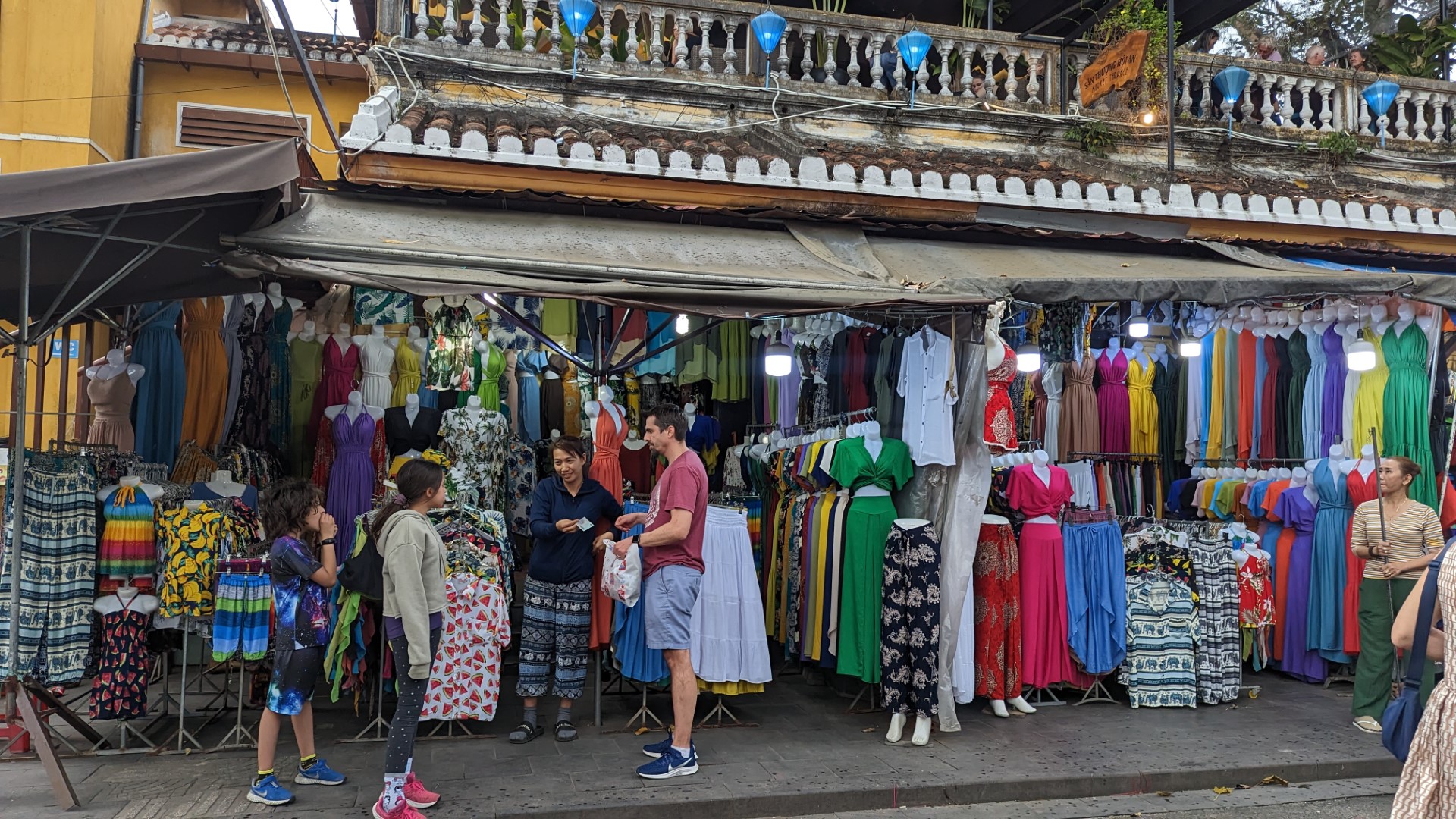 Shopping in Hoi An comes highly recommended, especially if you're looking for clothes because they can be customized and turn around time is very quick. That said, I did attempt to have a traditional Ao dai made but then the bargaining got too much for me and I felt like I was being ripped off so we gave up on that idea and bought some ready made items instead. While they did have some XL sizes, I didn't really find much that fit me but Chris ( who wears medium sized clothing) and the kids did find stuff.
Just walking through the various lanes way in the Ancient Center and the side streets in Hoi An city will lead you towards many souvenirs and wonderful crafts in addition to clothing and leather goods. Tweens in particular will enjoy the shopping because there's cool gadgets and stationary as well.
Take a Cooking Or Lantern Making Class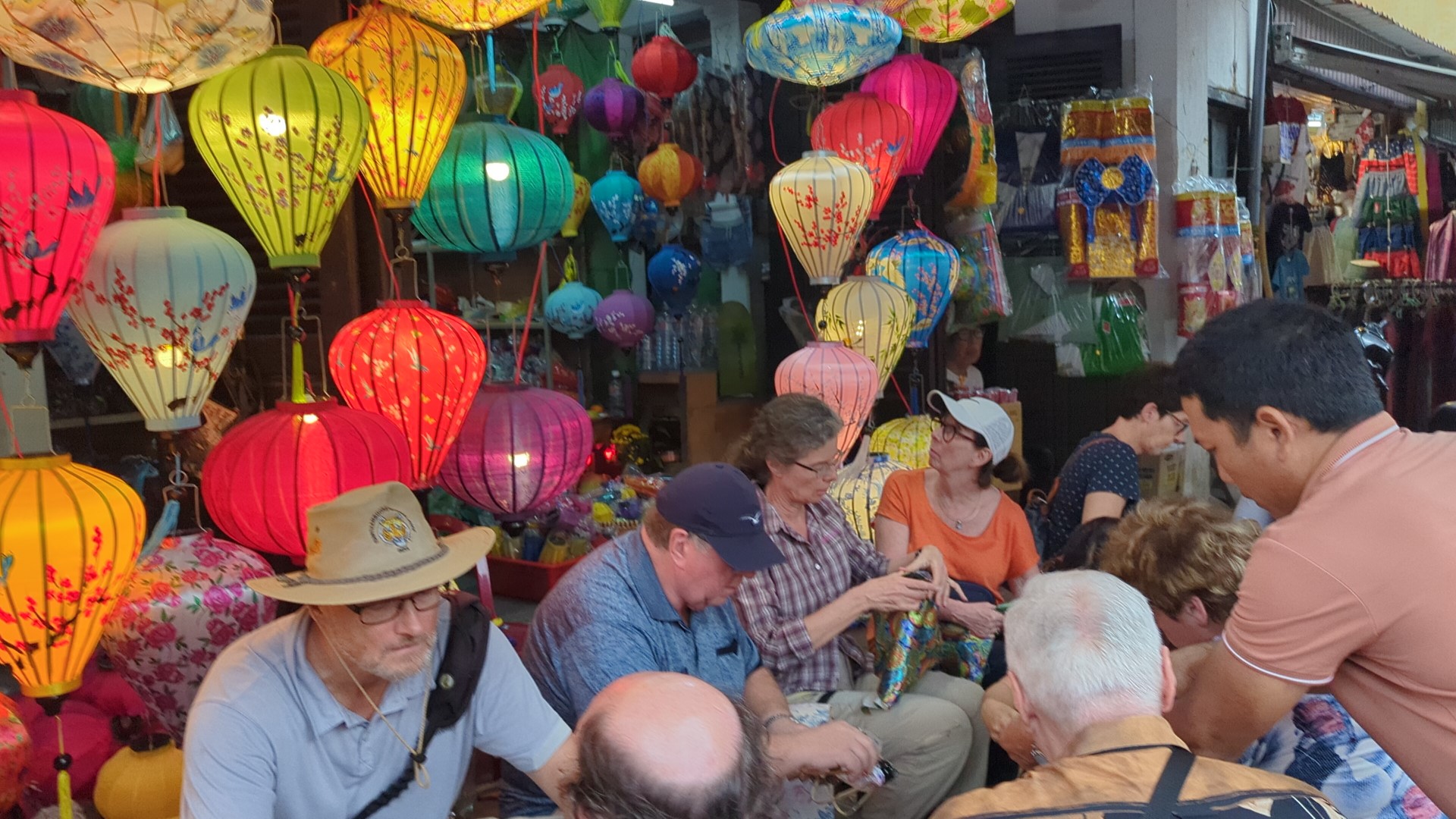 Hoi An offers a variety of classes and hands-on activities that tweens will enjoy. We spotted many cooking classes (including an awesome looking one at the Coconut Village) but sadly time did not permit us to enjoy any of them. On my next visit I'd love to find a cooking class that teaches us how to make the "white roses" Hoi An is known for!
We nearly took a lantern making class in the Ancient Town but at the last minute we realized we just wanted to relax on a patio with a cold drink in hand so we did not join in on the lantern making and settled on paying to take some pictures with lanterns instead. As you walk around the Ancient Town feel free to ask the vendors about any classes you may be looking for because we also spotted a jewelery making class!
Embark on a Day Trip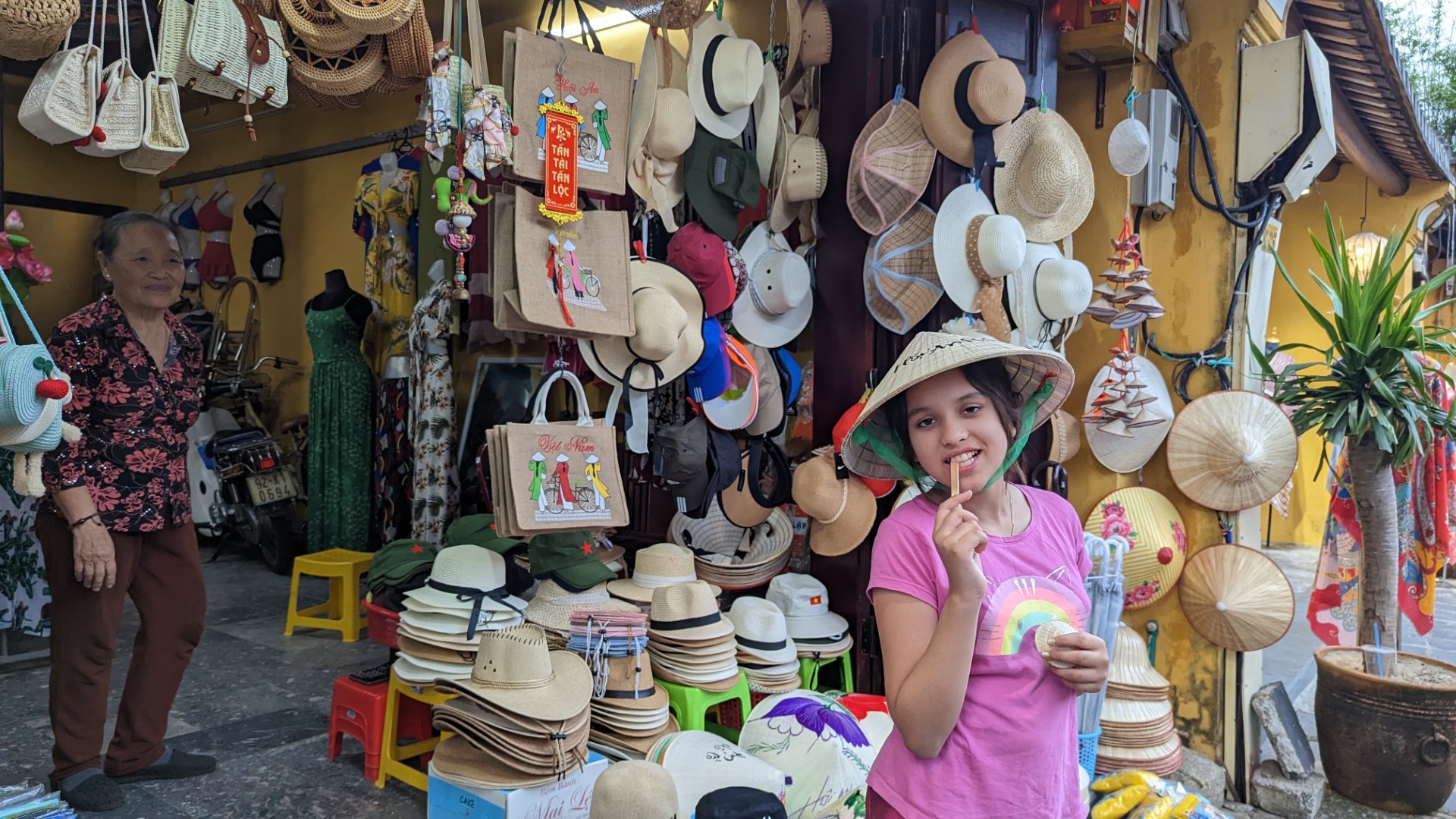 If you're in Hoi An for more than two days, think about doing some day trips. The Vietnam Travellers Facebook group has many drivers offering day trips from Hoi An to various local attractions. About an hour's drive west of Hoi An, you'll find the ruins of the religious and political capital of the Champa Kingdom between the 4th and 13th centuries – Mỹ Sơn. If your children enjoy ancient architecture and learning about various religions, this is certainly a great couple of hours.
My kids weren't into that but they were interested in the Golden Hand Bridge but sadly time did not allow us to do this full day trip. There's also an amusement park here and one day I'd like to spend a night at the on-site hotel near Sun World Ba Na Hills. The entire park, modeled after European villages, offers games, rides and scenic views. I've heard that there's a French wine chateau and a German-themed beer hall as well!
Marble Mountain is another easy trip because it's only a 20 minute drive and can be done in about 2 hours. You get to hike through natural caves, tunnels and Buddhist temples.
Get Your Nails Done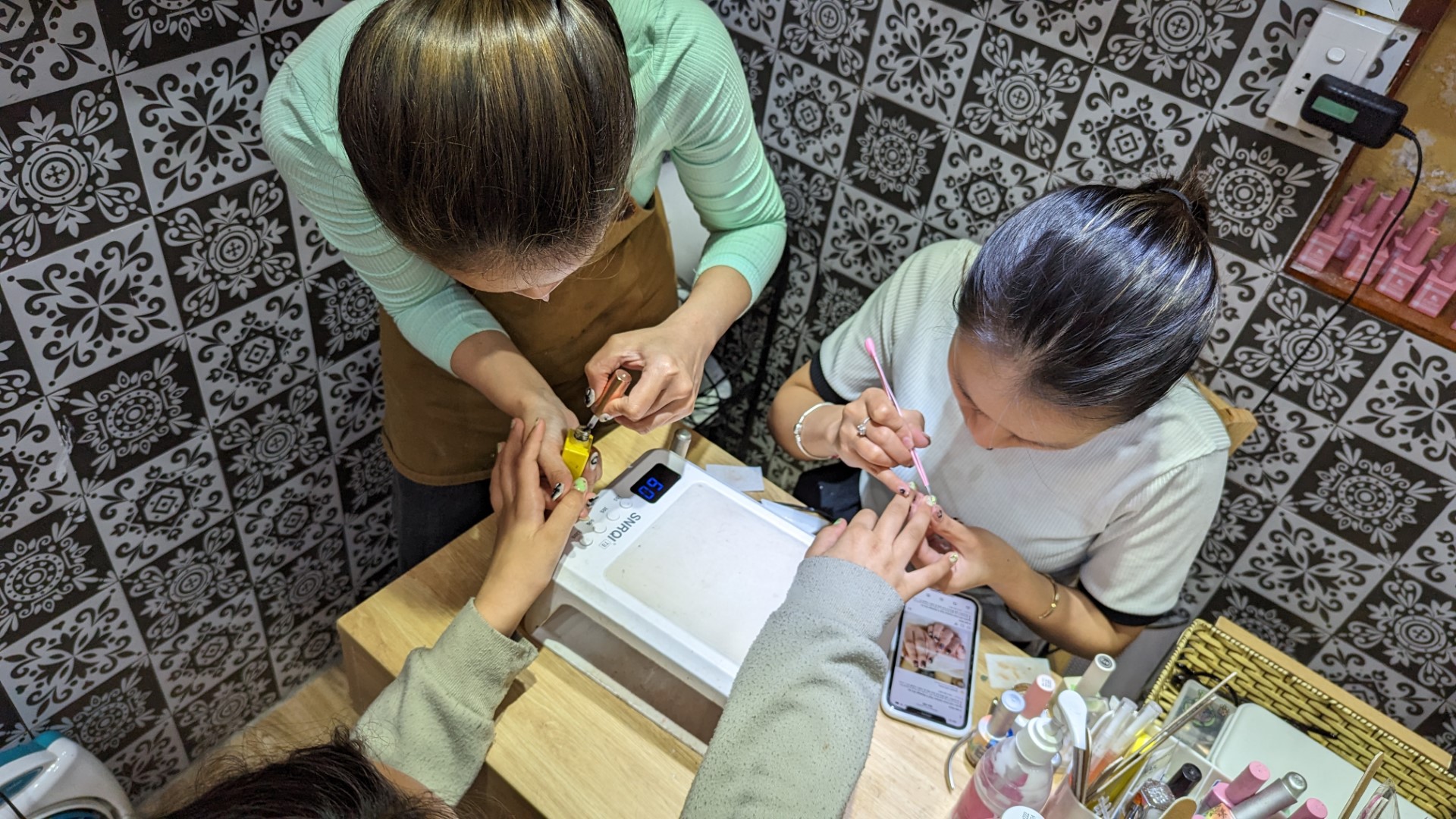 Vietnam has many nail salons and while I was hoping to visit a traditional nail hall, I sadly did not have the chance to do that in Saigon. Luckily we had two hours to spare one raining morning and I found Sunam Nail Salon on Instagram. They arranged for a driver to pick us up from our hotel and this is how Akira and I had a chance to get our nails done. For CAD15/250,000 VDN we got gel manicures and Akira even had some intricate designs on her nails!
Hoi An Tips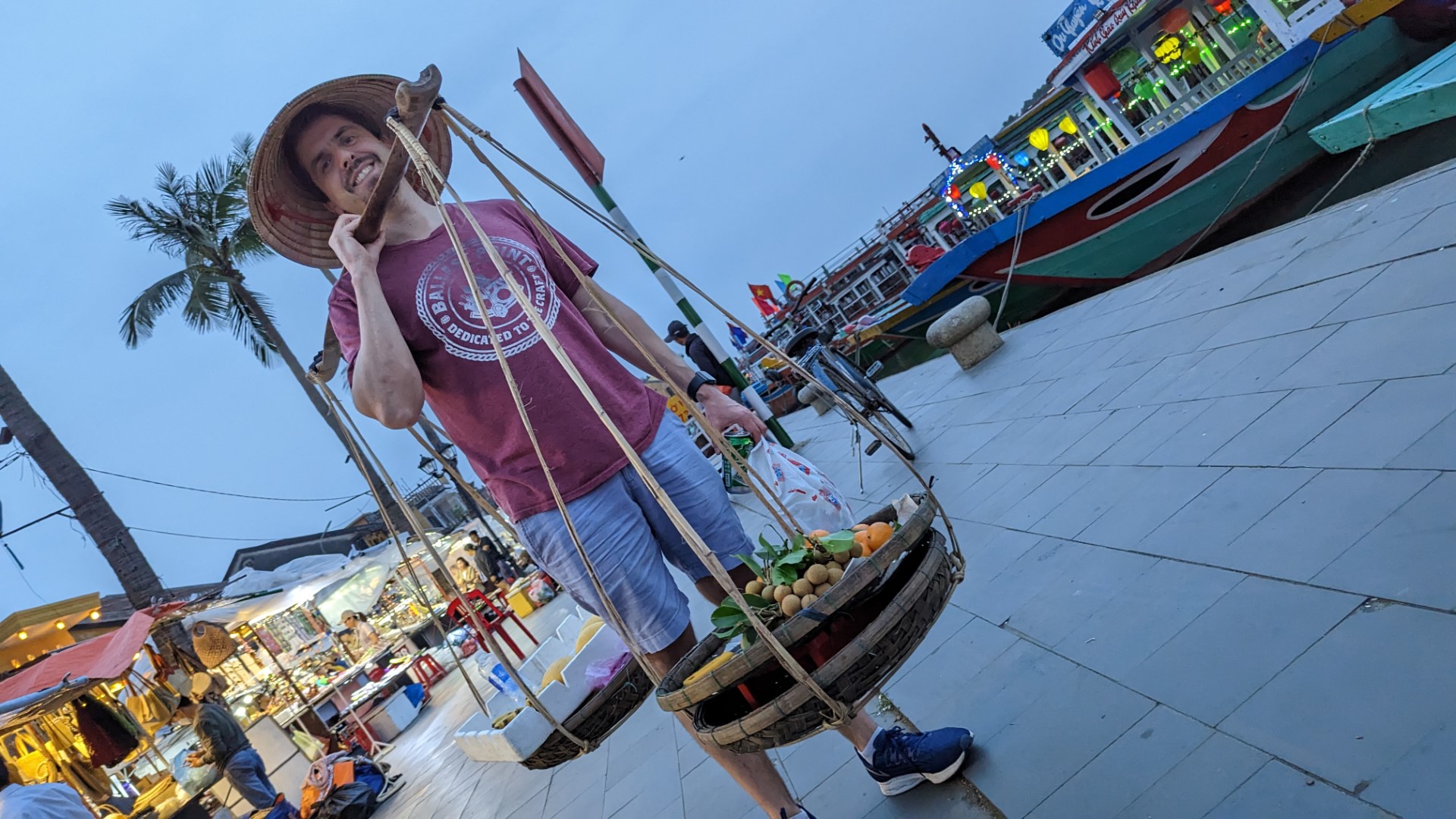 Local transportation : We used the Grab taxi/car share app for the most part in Vietnam but we also found a very trust worthy driver in Hoi An. Via Facebook I was able to message Nguyen who ensured that there was a driver ready for us when we landed (even though our flight was delayed they tracked things well) and we also got a return trip to the airport via them and it was cheaper than Grab. A private 5 seater vehicle from Da Nang airport to Hoi An was 250,000 VDN each way. We were approached by various drivers at random times who kept telling us they were Grab and Uber drivers (even opening their phones to the app) but we quickly realized this was a scam and they wanted cash instead of us paying via our credit card – just a heads up!
Local dishes : Ensure you try Cau Lau, Quang noodle, White Rose Dumplings and Hoi An Chicken Rice when you're in Hoi An. This would be in addition to the usual Banh Mi, Spring rolls and Vietnamese Coffee of course!
Best time to visit : We visited in March and the water was a bit rough so keep that in mind, but everything else worked out great for us despite a bit of rain. I have heard that February to May is the best time to visit Hoi An and that it gets incredibly hot in the summer months.
Flying into Hoi An : Flights land at the Da Nang International Airport which is about a 30-40 minute drive from Hoi An. We flew Vietjet from Ho Chi Minh City to Da Nang and beyond a slight delay, there were no issues with the flight. We checked one suitcase between all four of us and we each had a full-sized backpack.
3 Day Hoi An Family Itinerary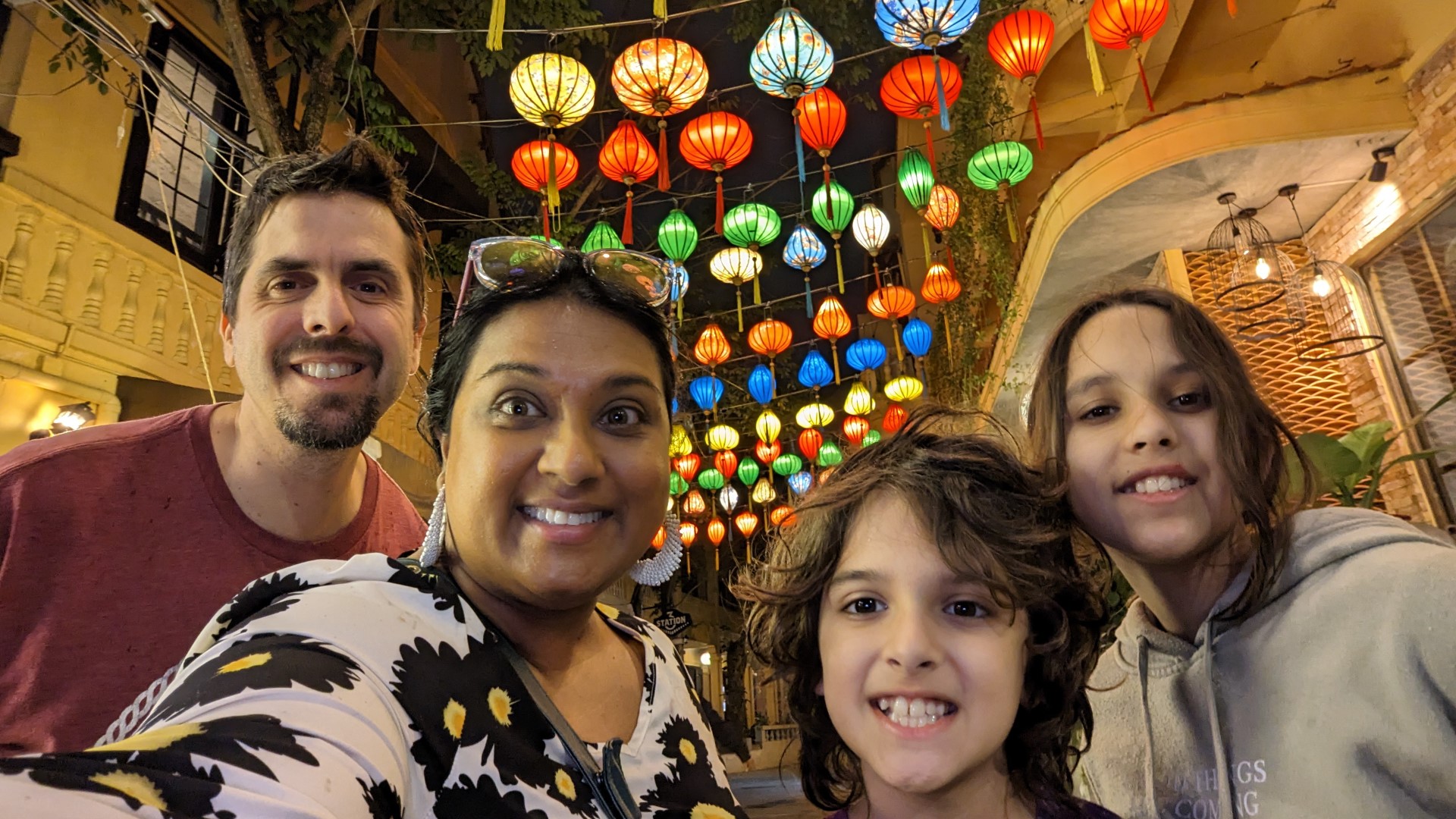 Day 1 – Arrive, unwind at hotel/beach and visit Hoi An Ancient town for evening (do the lantern boat ride)
Day 2 – Walk through Hoi An Ancient town for a late morning/early afternoon stroll, Coconut Village afternoon and then head back to the Ancient town for night market and evening vibe.
Day 3 – Day trip to nearby attractions