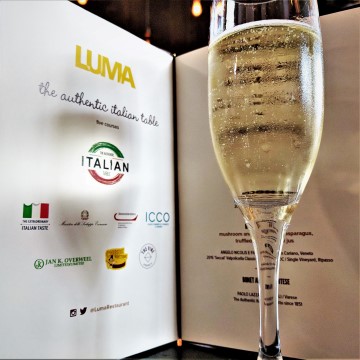 Last week Chris and I were able to escape for a date night as my parents were in town. It had been ages since we had been out without the kids and when we were invited by the Italian Chamber of Commerce of Ontario to experience the Authentic Italian Table at one of my favourite restaurants, LUMA, we couldn't decline. I have visited Italy as a child but for our next BIG trip, I'd love to save up so we can all spend an entire summer roaming through the country, meeting the locals and learning about the cuisine (just like we did in Spain last year). One of my favourite things to do during our travels is to eat (as you well know). I love finding the differences between regions and how traditions differ in each grandma's kitchen. This is one of the reasons I was so attracted to the Authentic Italian Table's mission of educating Canadians on what to look for when we head to the grocery store to buy Italian products.
Disclosure : This post is in partnership with the Italian Chamber of Commerce of Ontario but, as always, opinions are TOTALLY ours! 
Chef Michael Wilson at LUMA presented us with a stunning five-course dinner that was inspired by his culinary journey through the streets and restaurants of Liguria, Piedmont and Valle d'Aosta Chef. He spoke to us about the nuances he noticed during his week long trip with the Italian Chamber of Commerce and how the regional gastronomic delights he enjoyed in Italy influenced the menu he served us at the special event. Beyond the memorable dining experience, the main takeaway for me was something shared by Corrado Paina, Executive Director, Italian Chamber of Commerce of Ontario (ICCO).
"While shopping at the grocery store we encourage Canadians to look for labels like DOP, IGP and DOC on food and wine products. Items that are sealed with these designations are guaranteed to be created following the traditional artisan characteristics and agricultural practices that are required for a product to earn the moniker 'authentic'. This initiative, The Authentic Italian Table, is giving Canadians a close-up look at the heritage behind true Italian ingredients and how they are incorporated into the modern Canadian kitchen."
In addition to Chris and I there were others who had purchased tickets to attend the dinner and at the end of it all, we couldn't agree more- The experience was fantastic and WELL worth the $100 (+ tax and tip). I'll definitely be keeping an eye out for Authentic Italian Table events hosted in the near future because it was executed extremely well, the service was superb and most of all, there was plenty of decadent dishes and beverages for us to enjoy. So what did we savour that evening? Why don't I show you?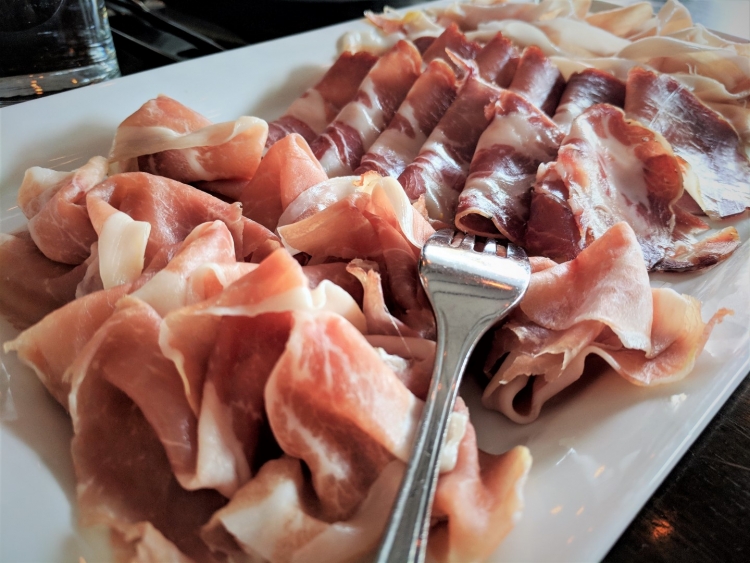 For our first course we leisurely enjoyed a Salumi platter which had some delicious salad accompaniments – Giardiniera and Russian. This was paired with a 2016 extra dry Mosole Prosecco Millesimato (DOC). Starting any meal with meats and Prosseco is a sure sign of good things to come!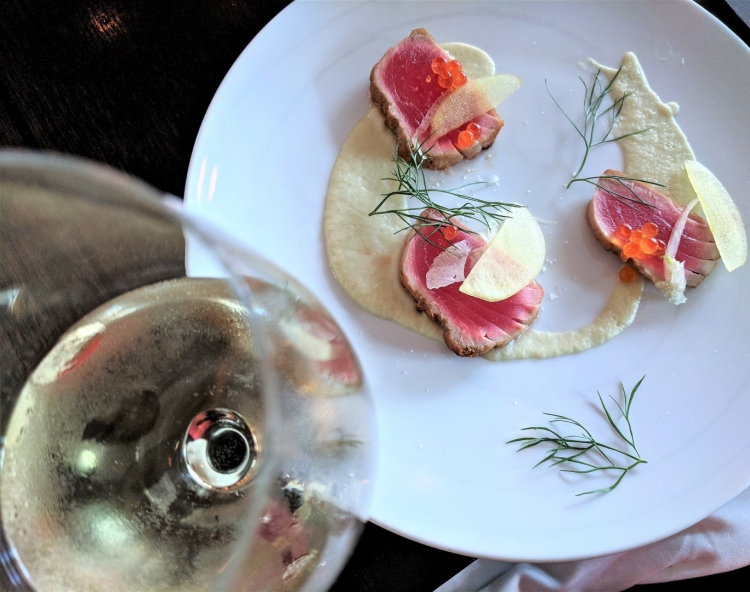 The second course was definitely Chris' favourite! A Seared Yellowfin Tuna which was cooked perfectly and was accompanied with an apple and fennel puree and of course Trout Roe. This paired beautifully with a 2016 Scarbolo Friulano (DOC) from the Grave del Friuli wine region. This course was steeping with the perfect summer patio vibes!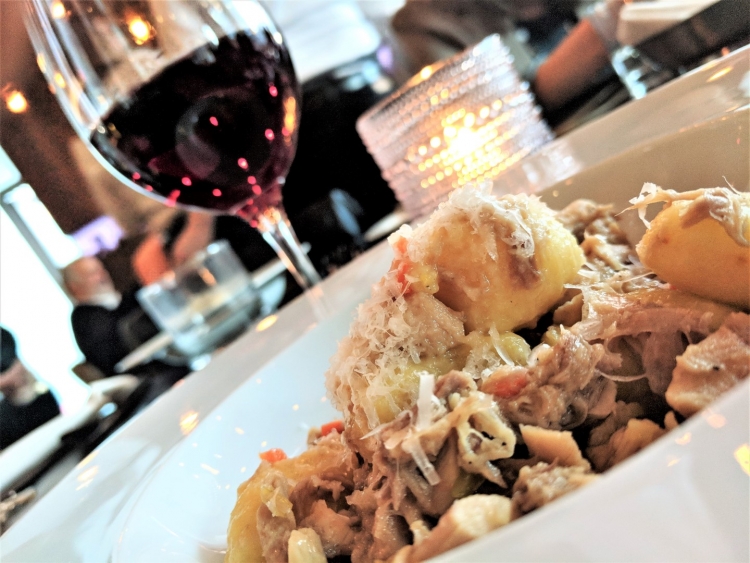 I was ecstatic when I saw that there was a Saffron Gnocchi on the menu as I have been avoiding gluten and this was going to be a "splurge" meal for me. I am a huge fan of Gnocchi and this one in a white ragu and sage white wine sauce with parmigiano-reggiano was finger licking good. It was paired with a light bodied and flavourful 2016 Morandina Valpolicella (DOC) from the Monteforte d'Alpone wine region in Veneto and I almost asked for a second plate (but wisely remembered that there were two more courses on their way).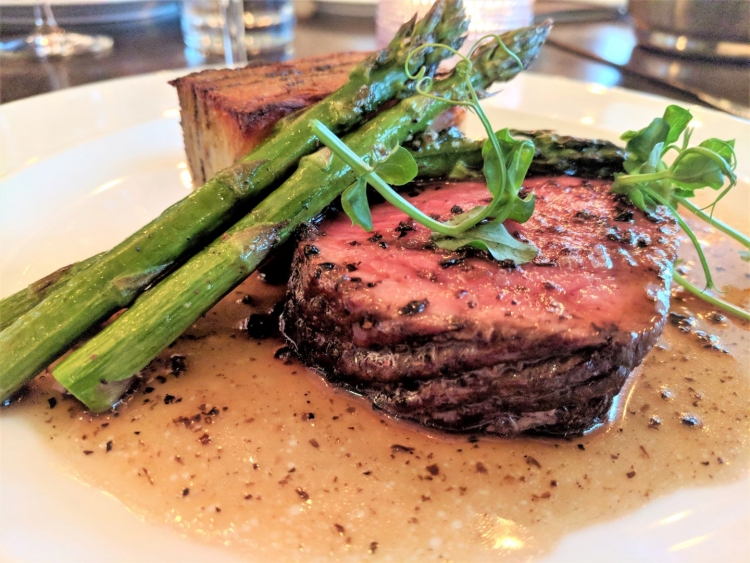 Grilled to perfection the Strip Loin with mushrooms and potato pavé, asparagus and truffled bone marrow jus totally hit the spot. This was paired with a 2015 Angelo Nicolis E Figli Seccal Valpolicella which was quite different to some of the other Valpolicellas I've enjoyed over the years. At this point we were beyond full but I was so eager to see what dessert was!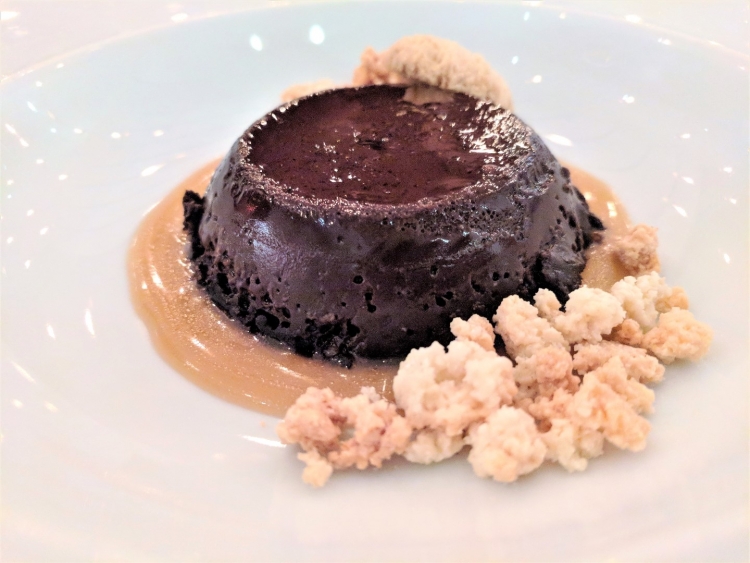 You know this was divine when Chris who does not usually have dessert, dived straight it. The Bonet Alla Piemontese was sinfully delicious and the Authentic Italian Pailo Lazzaroni & Figli Amaretto and Biscotti served alongside is what my dreams were made of that night.
If you're looking for an authentic Italian experience in Toronto, keep an eye out on this page for more events coming up later this year.  If you want to know more about what to look for when you shop for Parmigiano Reggiano, this article tells you everything you need to know. Now, I need to find a recipe for that dessert!