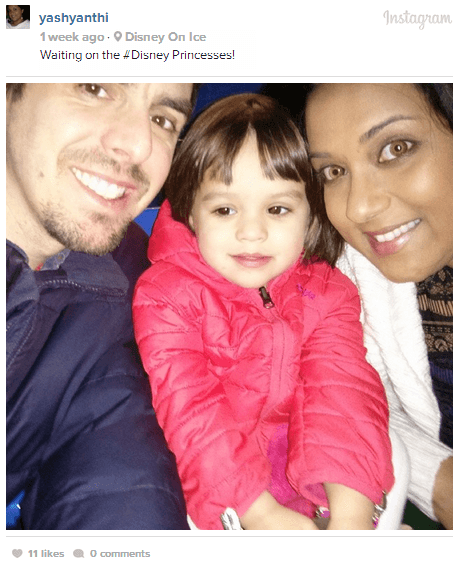 A couple weeks ago we offered one of our readers the chance to attend Disney on Ice in Toronto and luckily we were also invited to attend! Disney on Ice's Princesses and Heroes with the toddler was quite an enjoyable experience. We prepped the Little Monkey for the visit by having her watch Cinderella a couple days before and we were SHOCKED that she sat through the entire Disney cartoon. Quite the attention span there! We told her that mom and dad were taking her…and ONLY her to see some Princesses and she was thrilled! "CinderBELLA" was all she asked for prior to entering the Rogers Centre.
We took the subway and avoided bringing the stroller despite the fact that the Rogers Centre does allow stroller parking at select Guest Services locations. We were running a bit late and the stroller would have delayed us further! Be prepared to walk around the centre to get to the right gate, give yourself ample time. Once you're at the gate, check-in is smooth and best of all you're allowed to bring food in as long as the items are wrapped, bagged or left inside a container to avoid spillage. Cans, glass bottles, aluminum/steel water bottles or drinks larger than 600 ml are not permitted – brought our sippy cup filled with juice and had no issues. Guard the wallet as you walk in as there's plenty of hats, wands and paraphernalia that can attract the older kids.
First things first- Get your kid a booster seat! For the Disney on Ice show they handed these out by the floor area and you had to fill out a form prior to receiving one. Guess they have to ensure they get them back…no stealing booster seats y'all ! The show we attended on the 26th of December was not crazy packed and we had a good view, that is up until a group of adults sat in front of us and then the Little Monkey wasn't able to see as well. Since the rows behind us were empty we hopped behind and then had a better view. Ofcourse you wouldn't be able to do this if it were a packed arena. Since it was the middle of #IceStormTO we had our jackets with us-luckily. The Little Monkey wore her jacket for the entire show… it is Disney on ICE after all.
Once the show started the little one was captivated by Mickey and Minnie and ofcourse every Princess was "Cinderbella". The hubs and I both enjoyed the show and I ( ofcourse!) sang along to Aladdin's A Whole New World! We watched Ariel charm the human, the Seven Dwarfs sing themselves into a frenzy and ofcourse Rapunzel let down her hair. The dragon scene and fireworks were definitely show stoppers for me! Every Princess' wish was introduced by Mickey and Minnie much to the Little Monkey's delight and she even got a chance to see Goofy and Tinkerbell for the very first time. There was one Princess that nether the hubs nor I knew – one in a flapper dress and I had to Google to learn that there's a new Princess in town! Tiana!
The songs, dance and props held the toddler in rapture for the most part. There were a few moments when she got distracted but a sip of juice and some fruit snacks and fries helped fill those spare minutes. The show was about two hours with a twenty minute intermission. We didn't need a bathroom break during our visit (yes we're still in diapers – woe be me!) but given the number of kids I saw rush out during the intermission my advice would be to sneak out a few minutes prior (if you're seated in an aisle seat and won't disturb too many people along the way).
You can expect the magic that only Disney can bring –  from the fantastic costumes, moves on the ice and the amazing backdrops and lighting – the show is a stellar production. While not as interactive as a Dora animation it was still very well received by the two year old and I highly encourage introducing the little ones to live acts as early as possible. My hope is that in the very near future we'll be attending theatre productions! While tickets can be a bit pricey (though deals can always be found) it's absolutely worth the excitement aroused and the gusto with which the little ones rush to the event!