After experiencing a number of wild cab rides in Toronto over the years, I am always hesitant to use taxis when travelling with the kids. When we first starting getting out of the house with the Little Monkey, Yashy did some research on the legalities of traveling with kids in taxis and found out that children in Ontario don't need car seats while in a cab, and so taking a taxi with the kids is always an option in Toronto, but it rarely seems to be a good choice.
When we were making preparations to visit Alexandria, VA and then Washington, DC, we knew that we had quite a drive ahead of us when we landed. The fare from Dulles Airport to Alexandria is estimated on the The Dulles International Airport website at approximately $75 USD, and so we knew that the ride would take close to 30 minutes to reach our hotel (the one with THE FISH!). We figured that there would be highways too, and so it was a relief to see advertised on the airport website that car seats are available from the Washington Flyer taxi service. I had considering bringing our own car seats on the flight, given the length of the ride from the airport, and that would have been a nightmare. We were already dragging two suitcases, a backpack, a purse, a food bag, a double stroller and two kids under 4. Two additional car seats might have broken me.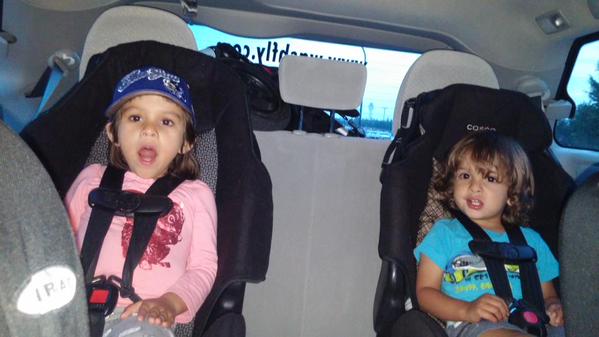 When we arrived at the airport and eventually found our way to the ground transportation area, we found Washington Flyer Taxi and requested two car seats. I had called the company the night before to reserve the service and was told that I just need to request the seats at the service desk, and sure enough, when asked, the attendant pulled out a couple seats and escorted us out to the waiting area (that said, I would still recommend calling and making a reservation while also mentioning the need for car seats). Outside, a small van pulled up with enough trunk room for all of our luggage and space in the back to put the two car seats. Within 45 minutes, we were checking into our hotel. All in all, pretty painless, and most importantly, safe.
The way back was a different story. When I called the same service the day before our departure to request a pick-up with two car seats, we were told that car seat requests could only be accommodated for trips from the airport. Incredulous, I hung up the phone and reluctantly pulled up my Uber App to see what service was like in the area. Having made it into Washington, DC, safe and sound, I was now faced with the prospect of taking a long taxi ride to the airport with two unsecured kids and was not happy, but what did I find but the option to request a car seat with my Uber ride! Incredible. We need this in Toronto. Unfortunately, only one seat could be requested and so the Little Man, being the smallest, was given priority seating. We put a regular belt for the Little Monkey, feeling slightly safer in the large SUV that showed up to transport us to Dulles. The car seat the driver used was a small fold up device that fit easily into his trunk, where two or three more could have been stored, and so the car seat option will hopefully soon expand to accommodate those of us crazy enough to travel with two small kids.
The journey wasn't perfect, nor were the rides cheap, with both showing up at about $130 CAD on my credit card statement. I still can't understand why Washington Flyer offers car seats from but not to the airport, and it would be nice to see an Uber with two or even three car seats available, but we did manage to travel in relative safety on the two long journeys to and from the airport. Next time, though, Ronald Reagan National Airport, which we discovered has subway access to downtown Washington (and flights available to and from Toronto), will be our arrival destination. Taxis are great, but we're city people, subways always win.