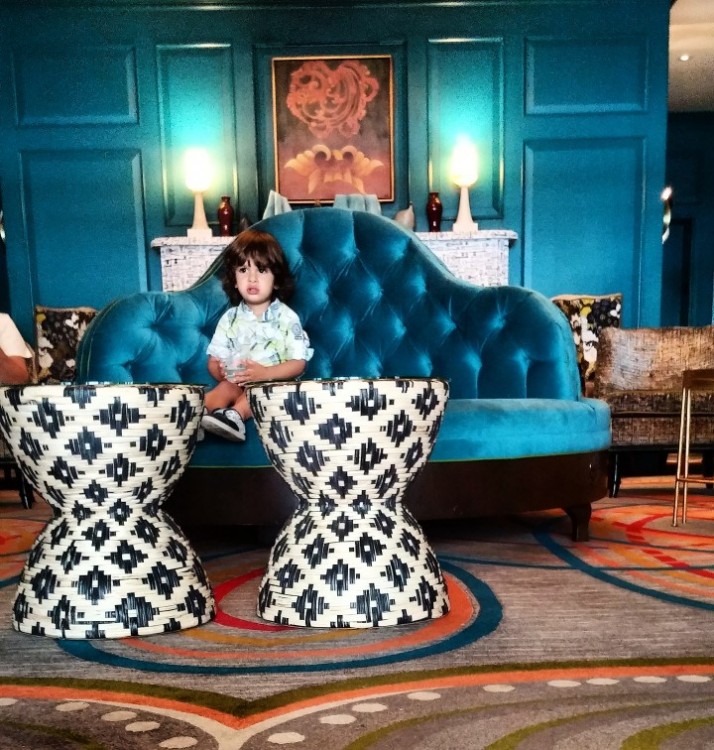 Our recent stay at the  Hotel Monaco Alexandria in Old Town Alexandira, Virginia has made us realize that we truly do need to hunt down Kimpton properties during our future travels. This was our first stay at a Kimpton hotel and we were all pleasantly surprised by how family (and pet!) friendly the Monaco Alexandria is. As soon as we stepped into the welcoming living room (not just a reception area!) I knew we'd be in great hands. The kids quickly darted towards the colourful couch and the hubs and I were able to check in without anyone nagging us! We finally found a boutique hotel collection that caters to the kids and the parents! HUZZAH!!
Disclosure : Our stay was partly hosted, but as always, opinions are totally mine! 
On arrival we were informed that our room already had a goldfish waiting for the kids and that had Little Monkey very excited! As part of the Kimpton Guppy Love program, they allow kids the luxury of owning a pet without parents having to worry about cleaning up after or feeding the fish! The lovely housekeeping staff are supposed to refresh the water and feed the fish when they clean the room each day. As you will see in the video below, this was Little Monkey's favourite amenity at the hotel! I loved many things about the Hotel Monaco Alexandria but most of all, I loved the location. Situated in the middle of Old Town Alexandria, we were able to walk to the waterfront and explore the area quite easily and definitely recommend staying here when you visit the cute uber family friendly town of Alexandria. It was a scorcher of a day and so we loved popping into the hotel every couple hours to relax before venturing out again.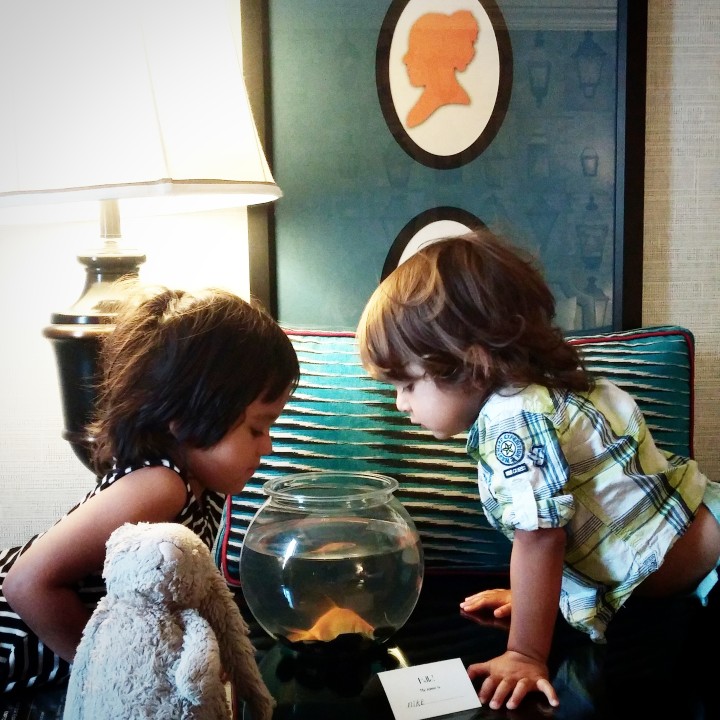 Our room had two double beds (not queen) and yet had space for the complimentary crib, so needless to say, the rooms are quite spacious and what really tickled my fancy was how well decorated the entire space was. The hotel recently underwent a redesign and they pay homage to the Civil War history of the location. There's definitely a sense of playfulness and sophistication with subtle historic nods from the moment you step into the hotel. We noticed the little details, like the carpets depicting the state of Virginia's flower (Dogwood) and the hallways featuring a carpet designed specifically for the hotel.  It referenced the military buttons from the Civil War embellished and had guidon golden thread embroidery which is typically found on uniform sleeves. The bold graphic wallpaper was tailor-made from a textile pattern from a lady's evening dress from the late 1800s found by the designer. How neat is that? Even our room's wallpaper was an artistic graphic collage of flickering gas lamps the designer found around Old Town Alexandria.
What many may not know is that the Hotel Monaco stands in the site that was home to a humble inn named the Marshall House in the late 1800's. On the fateful day of May 24, 1861, the Marshall House was home to a pivotal event in the unfolding of the Civil War when Union Army invaded northern Virginia. Two Martyrs defending each side of the war shot at each other at the Marshall House and the house became an attraction for sightseers. Thousands of soldiers passed through Alexandria during the war to tour the Marshall House, and many carried away souvenirs of the building.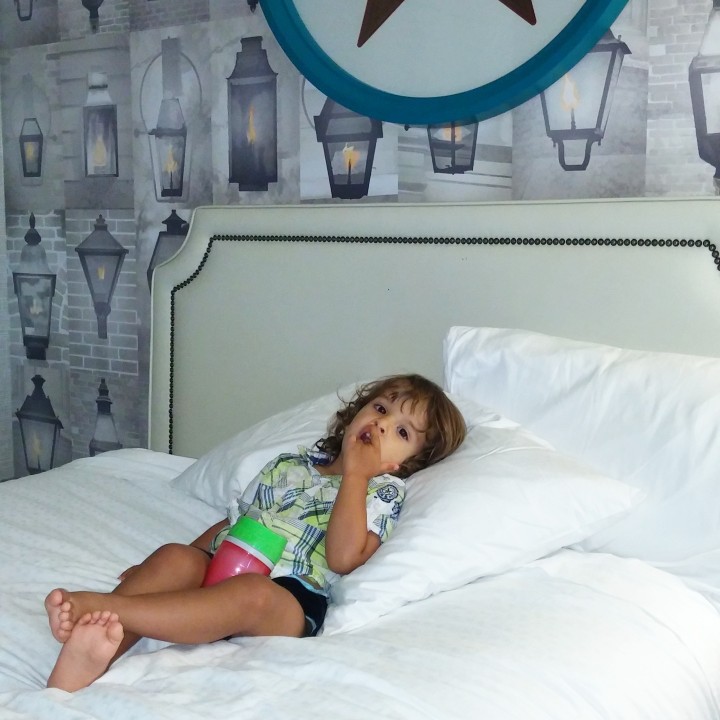 The hubs totally caught me off guard when he suggested that we paint the kids the same Adriatic Blue that can be found throughout the hotel. I hope he's serious because I truly love that colour! I usually rave about hotels offering an in room fridge and a big basin to wash bottles and infants in but this time around, in addition to those, there's so much more! Another thing the hubs truly loved was that for the very first time he didn't have to pull alarm clocks off the socket! We travel with quite a few gadgets and can never charge all our devices ( 11 screens and counting!) at the same time….that is, until we checked in to the Hotel Monaco Alexandria. They had two separate devices and each had multiple USB ports in addition to two full sockets and that was just by our bed! No charging iPads in the bathroom this time (which always gives me anxiety with both kids attempting to wash their hands or brush their teeth at odd times!).
The bathroom was also spacious and extremely luxurious with the marble floors. There wasn't a handheld shower (and travelling families with young ones know how important that is!) but there was a great tap that made it easy to wash the tots without having to get in myself. Just ensure they don't run around with wet feet though, because slipping on marble is easy to do and quite painful!
Kimpton Hotels have a long list of items on offer if you happen to forget anything at home. I'm used to seeing tooth brushes and shavers but never had I seen deodorant, chopsticks, stain removing wipes and fashion tape before! In addition you can call them for childsafety kids that include socket covers and even toilet latches!  Their Kimpton Kids program is quite funatabulous!!
Every single detail was thought of and to top it all off, every day from 4 to 5 p.m. the Hotel Monaco Alexandria hosts a Kids Hour where there's treats and toys for kids to enjoy right in the hotel lobby Living Room. Kids can continue to play because at 5 p.m. it's Wine Hour and you know how happy that makes me! The hubs and I enjoyed a glass of vino each and then because Baby Boy was getting a bit cranky we took another glass up to our room and unwound after our busy day.
Rich American history meets high style and genuine hospitality at the Monaco Alexandria and as we all know, Little Monkey has already put in a request to return. Let's hope she doesn't ask us to take her to a Kimpton property for her birthday next month, because there isn't one in Toronto (hey Kimpton, do me a solid and open one up in Toronto, will ya?). If you love boutique hotels as much as we do, be sure to check out the Kimpton collection, not only is each property uniquely designed but they also welcome kids with open arms!