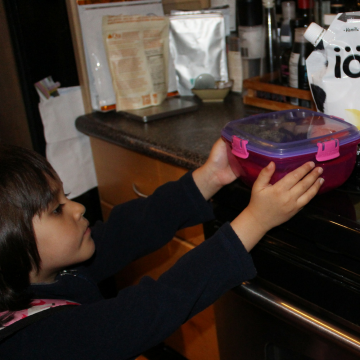 As we come to the last month of our trip we're starting to think about back to school and as you can imagine, one of the things I was never a fan of was the kindergarten lunchbox prep that needs to happen every single day. I've always prepped the lunchboxes the night before and it took me two years but I slowly came to accept the fact that Little Monkey will eat what she wants to and that one day the lunchbox may come back half eaten, while the next day everything will be licked clean. There's no predicting what mood she will be in and so in the past I have ensured that there's a mix of things in her lunchbox. When Little Monkey was about to enter JK for the first time the Toronto Star interviewed us on what's in our lunchbox and three years later, we still have the same things! This September Baby Boy will be going to school for the very first time (gulp) and this kid is ALWAYS hungry so I know I'm going to have my work cut out when it comes to packing his lunchbox. Keep on reading because Gay Lea has a Ninja Blender giveaway this month!! My parents bought us a Ninja three years ago and so I can tell you that it's a good one!
Disclosure :  I am part of the PTPA Brand Ambassador Program with Gay Lea and I receive compensation as part of my affiliation with this group. The opinions on this blog, as always, are TOTALLY ours! 
Variety is the spice of life they say and that's going to be my motto as I pack the kids' lunchboxes but I am also not a morning person so I tend to prep the kids' lunchboxes the night before. None of that early morning running around as Little Monkey and I had a 15 minute morning routine that saw her wake up, get dressed, deal with the bathroom antics and head to the bus stop. I know… I'm impressed that we only missed the bus once in two years! With Baby Boy I will have to wake up earlier as he's a little piglet who will demand breakfast and I'm seriously thinking of making these easy prep-ahead breakfast smoothie barks that he can easily eat as we wait for the bus.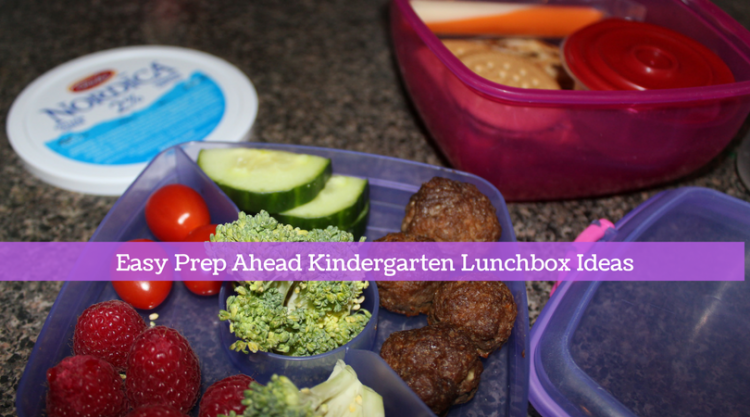 Here's a list of items that have been in Little Monkey's lunchbox for JK and SK. They are mess and mush-free, stays fresh and is stuff she enjoys eating…and they're healthy! If I'm lucky she'll eat the veggies.
2 or 3 Veggies : Carrots, Broccoli (with salad dressing on the side), Cucumber or Baby Tomato
1 or 2 Fruits : Blueberries, Raspberries, Sliced Apples (sprinkled with lemon juice), Raisins, Grapes (I still halve these for school) or Orange Slices
1 Dairy : Yogurt  or Cheese String
1 Protein : Smooth Cottage Cheese, Meatballs, Boiled Egg (I plop a whole one into a small container, the same ones I use for the yogurt and cottage cheese), Chicken Fingers or Sliced BBQed Sausages
Filler : Slice of Raisin Bread, Half a Croissant or Rice Cake
All of the above fits in nicely in the one lunchbox and covers her 2 snacks and 1 lunch. If she ate all her lunch the day before I also drop in a small treat like ONE Smartee or A Gummy bear. Yes just one.
As you can imagine I'm a HUGE fan of left over dinner for lunch and so I usually make extra meat for dinner so I can sneak it into a lunch or two. One of the most popular dinner dishes is my easy protein packed meatballs which are LOVED by kids. Little Monkey and Baby Boy polish these off when I make them for dinner ( I serve it with spaghetti, with rice, with Israeli Couscous… you name it!) and their friends love it too. When I tell parents that I have carrots or beets in them, they all want the recipe! My kids aren't fans of fresh garlic or onions so this version is relatively spice free and I ensure that I puree any of the healthy stuff because THEY WILL notice if I try to sneak in some spinach or basil!
Easy Veggie Filled Meatballs Kids (and Parents) Love
Extra Lean Ground Beef – 1.5 lbs
Nordica 2% Cottage Cheese – 1/2 a cup
Boiled/Steamed and then Pureed Carrots, Beets or Spinach – 1/2 a cup
Ketchup or BBQ Sauce – 2 Tablespoons
Garlic or Onion Salt to taste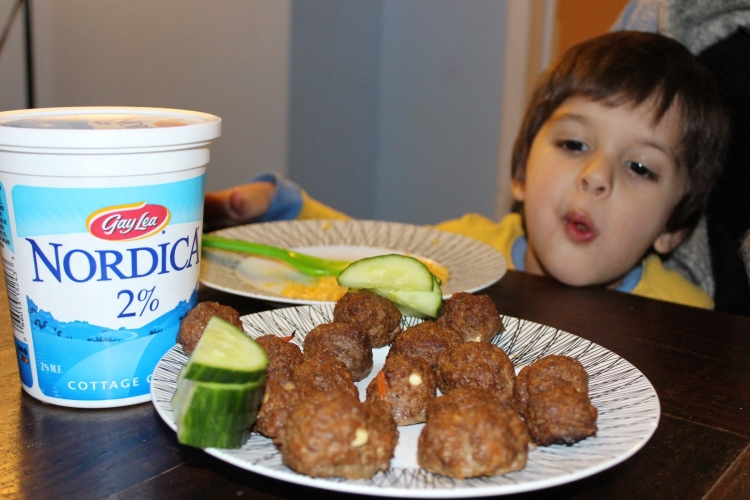 This is an easy one, just mix it all in and shape the way you want. You will notice that I don't use any breadcrumbs or eggs; they stay together great with the sauce and the cottage cheese. Once they have been mixed well, place the mixture in the fridge for 30 minutes before making them into the shape you want. I make them as tiny meatballs (this recipe yields about 32 very small ones) but you could easily use a cookie cutter and make fun shapes as well. I like that they keep well in the freezer if you want to make batches and that I can bake these instead of having to fry them. I place the mini meatballs on a foil lined tray or flat sheet and bake in a pre-heated oven at 325C for 15-20 minutes. Ensure the insides are fully cooked by doing a quick test and then let them cool down before you pack them into the container. No additional sauces needed as you want to keep them mess free and easy for the kids to pick up and eat at school.
These work well for lunchboxes as they get to room temperature by the time lunch rolls around for the kids and they taste great warm or at room temperature. Adding in the Gay Lea Nordica 2% Cottage Cheese takes the protein levels up a notch and keeps kids' bellies fuller for longer. If your kid isn't a fan of the cottage cheese texture, check out the NEW Nordica Smooth Plain Cottage Cheese!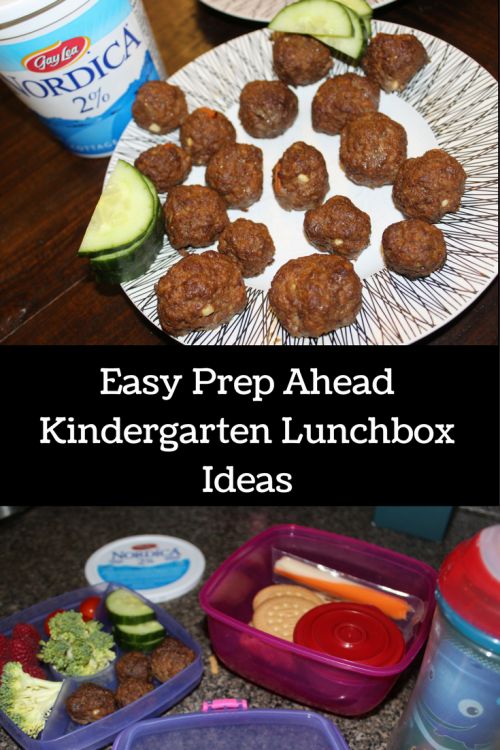 I'm always looking for lunchbox inspirations so do let me know what your kids like in theirs! Little Monkey wasn't a fan of sandwiches but I think she's slowly starting to like them now so, I may try adding some of that into our repertoire. Enter below for your chance to win a Ninja Supra Kitchen so you can get blending and pureeing to sneak those veggies in!