We spent a week in Vietnam with our kids and experiencing a cruise was high on my list of things to do in Vietnam. None of us had embarked on a cruise before and the one night two day cruises seemed like a reasonably priced excursion. Of course the challenge was trying to figure out the best option for our family and as you can imagine, I did a lot of research before settling on the Rosy Cruise that took us to Halong Bay and Cat Ba. If you're looking to learn more about the Vietnam cruise experience, I hope my research and our family's experience helps you create some amazing forever memories!
Tips to Help You Find the Best Cruises in Vietnam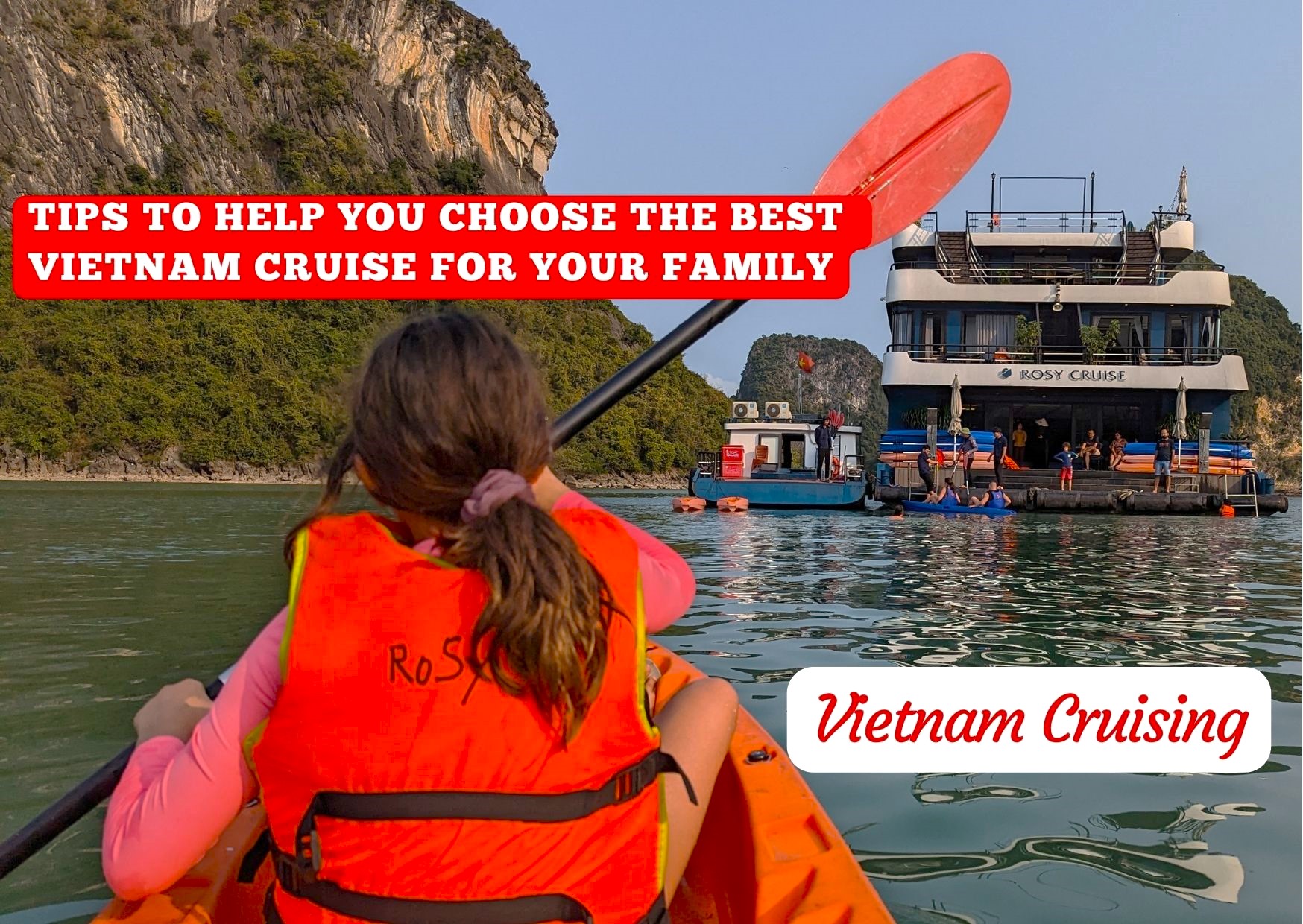 There are SO many cruise lines in Vietnam and each tour operator will give you a different price and recommendation, at least that's my experience. It did get overwhelming and after a month of researching, I decided to just go ahead and book it without doing anymore research… and luckily that worked out for us.
Why Take a Cruise in Vietnam?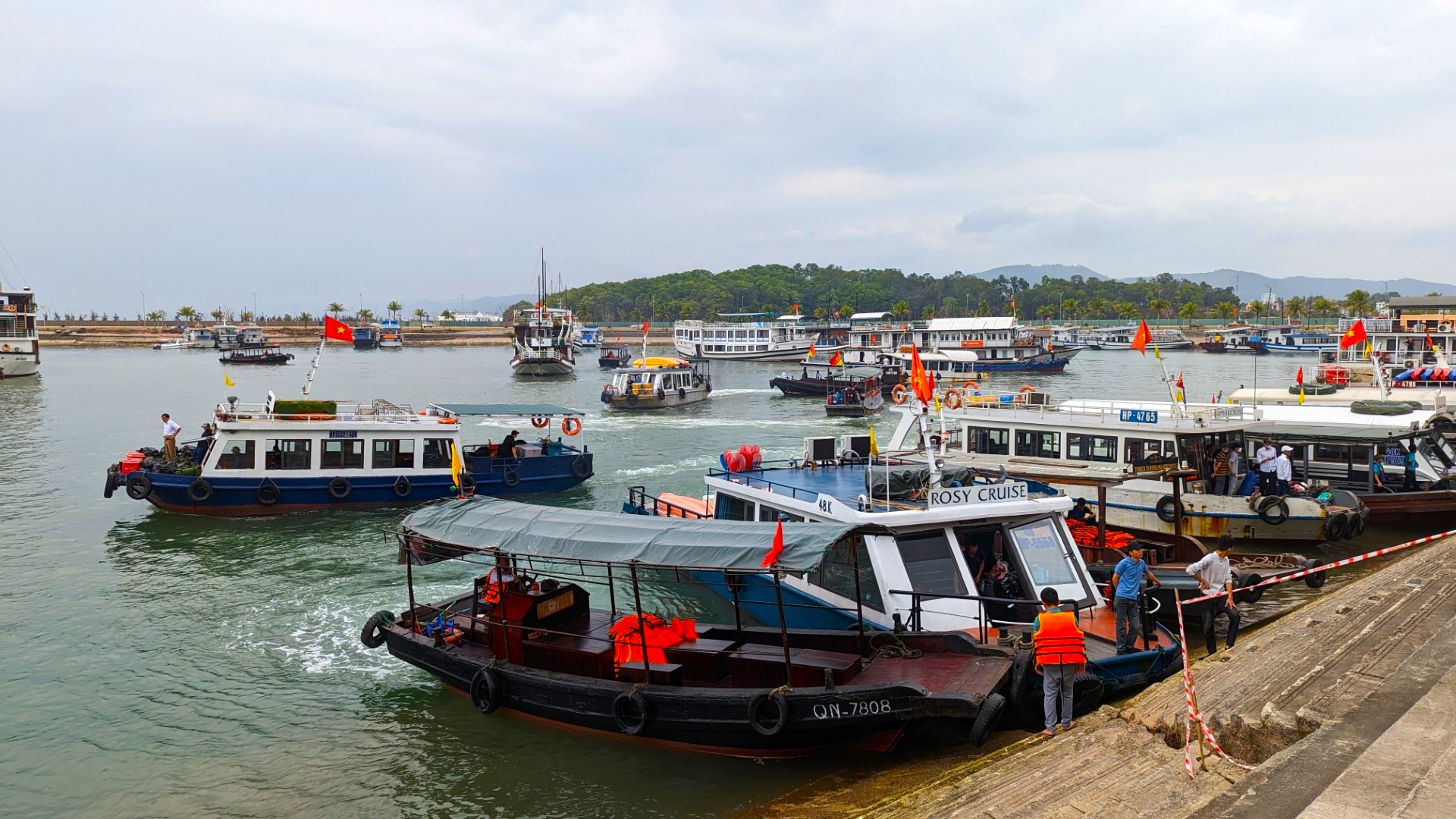 What initially caught my attention was how reasonably priced some of the cruises were but the main reason was to experience the UNESCO heritage Ha Long Bay in a leisurely fashion. As you may recall, our week long Vietnam itinerary was a jam packed one so we were all looking forward to slow travels mid way and while I wish we could have done a 2 night cruise, the one night cruise did allow us to unwind and take it some what slow. The most magical part of this experience was seeing the magnificent limestone mountains rising up from the turquoise and emerald waters. The views are absolutely stunning and as I mentioned in this TikTok video, I didn't see any of the garbage piles I was warned about!
What to Look For in a Vietnam Cruise?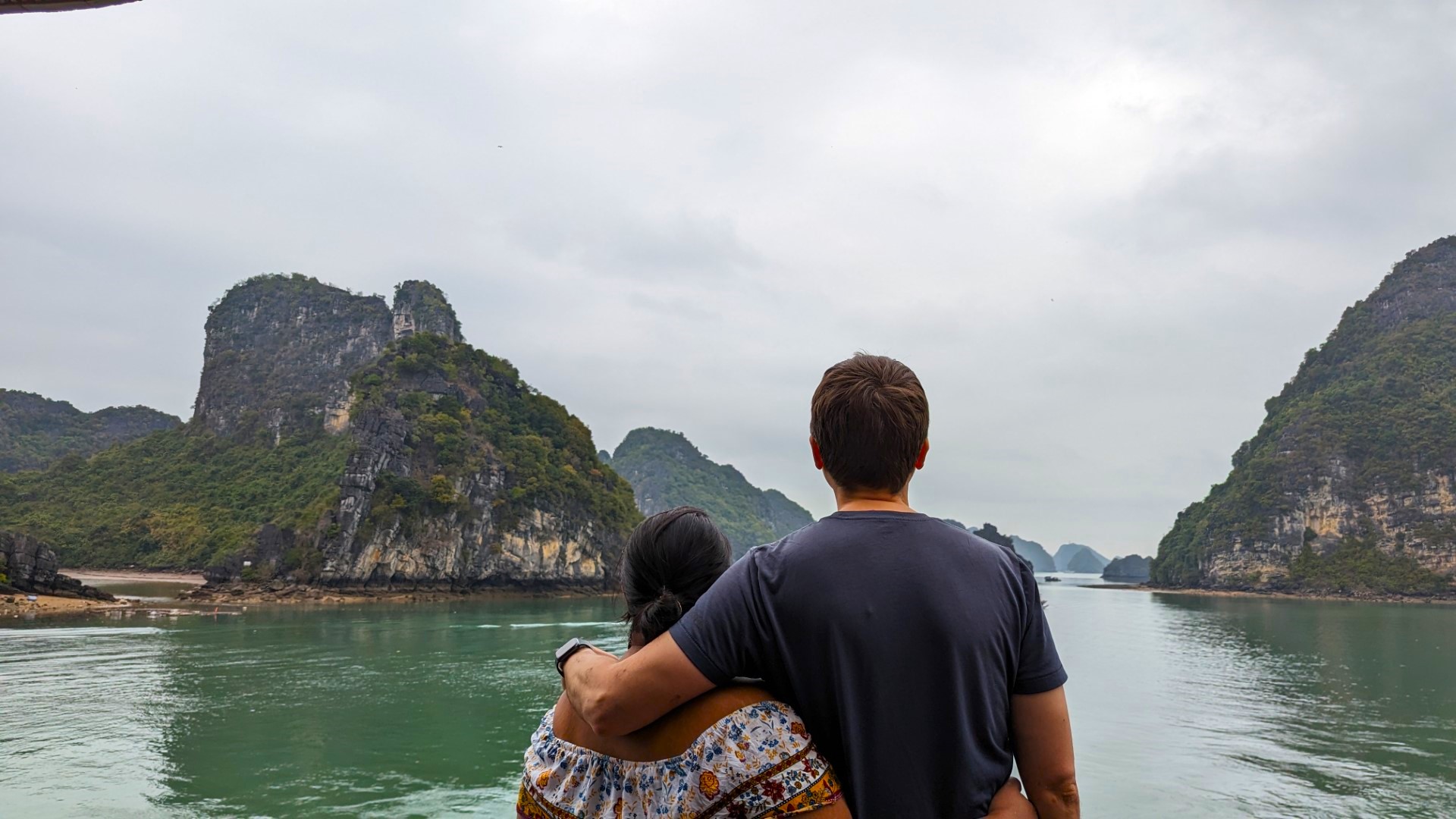 Everyone will have different things they look for when choosing the best Vietnam Cruise for themselves. I would say you should pay attention to the following : Comforts, room layout, price, activities included and food options. For the most part, these cruises all leave at the same time and from similar ports. A nice bathroom and bedroom were important for me, as was the quality of the food offered. Activities weren't high on my list but we lucked out with a boat that had excursions, kayaks and squid fishing included as part of the itinerary. Many of the cruise lines we looked at had some activities included so I knew we wouldn't be bored. I knew we couldn't really determine service because every review I read had different experiences for the top 3 Vietnam cruises I looked at but again, we totally lucked out with the kindest staff who always wore smiles (it was almost Disney-esque when it came to how friendly the staff were!).
Why We Chose the Rosy Cruise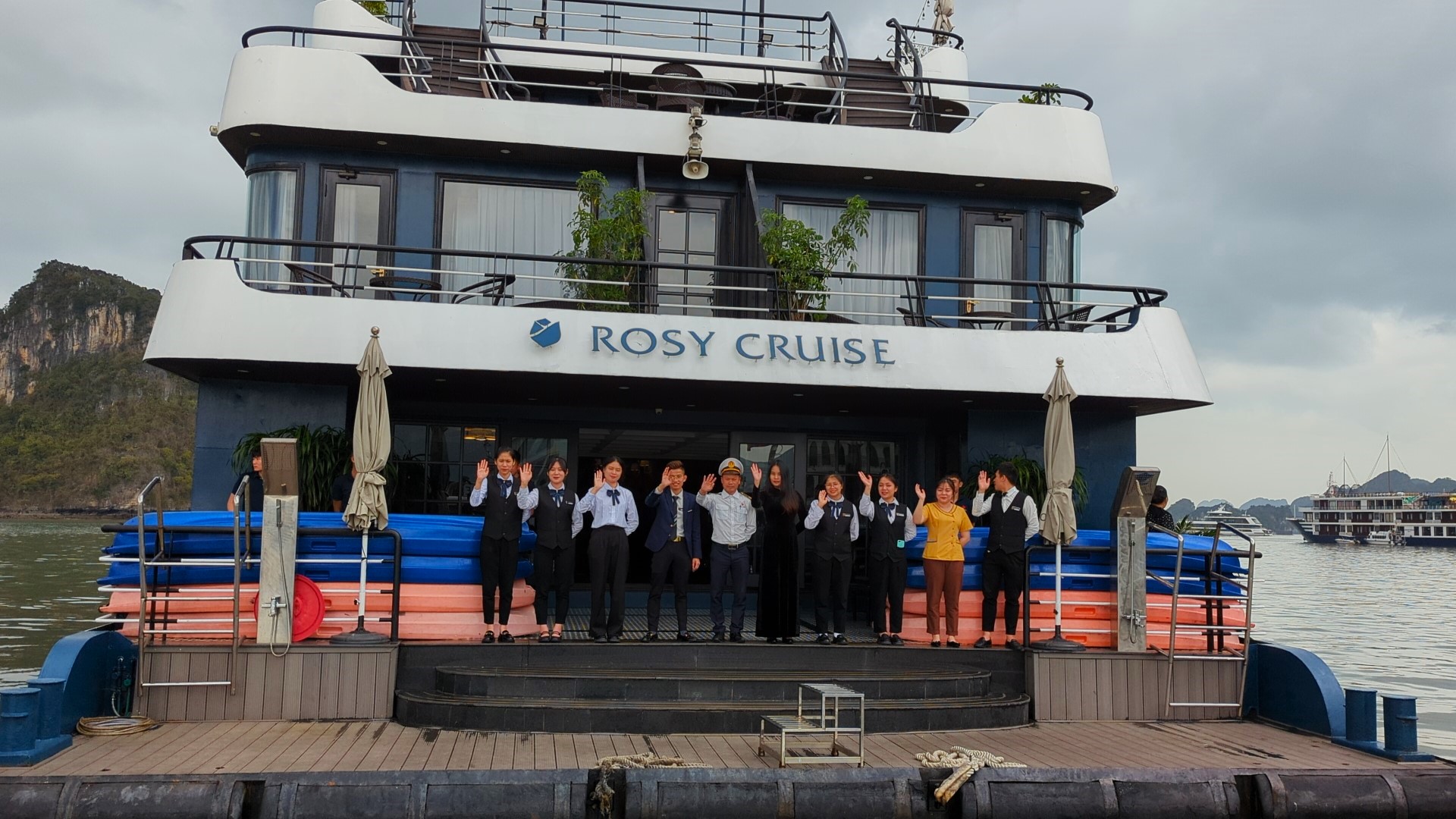 First and foremost, I chose Rosy Cruise because of the price point and the bathrooms. The pictures I saw by snooping various social media channels, showed me that the boats were relatively new and were mostly clean. Could the bathroom have used a power wash? Yes! But it was clean enough for me to soak in the bathroom without being grossed out (and that's saying a lot – trust me!).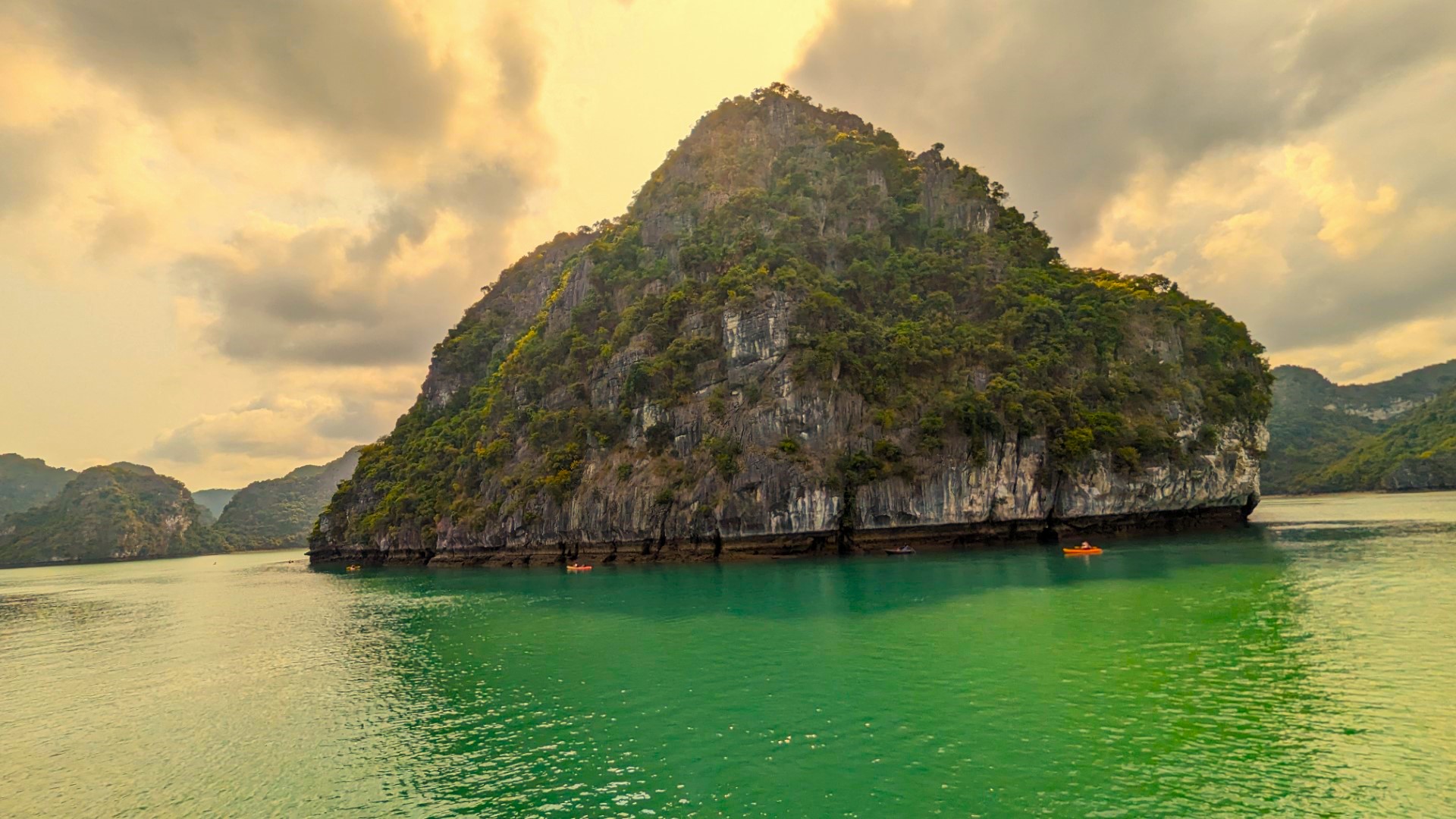 I kept hearing that the food was good but then a minute later I'd see a post saying it wasn't. So even though food on a Vietnam cruise was super important for me, I knew it would boil down to luck. And we sure did luck out – trust me, the food on board was fabulous for a family like ours who eats everything. I also saw them cater to many families who were vegetarian so take comfort in knowing that Rosy Cruise does their best to ensure there's food for everyone.
When it came to looking at the various Vietnam cruise itineraries, I saw that plenty of people mentioned that Ha Long Bay was crowded and that Cat Ba is the "new set of islands". Okay, so yes, Cat Ba is a relatively new route for the Vietnam cruise itineraries and when I saw that Rosy Cruise went to both, Halong Bay and Cat Ba, it seemed like the right choice.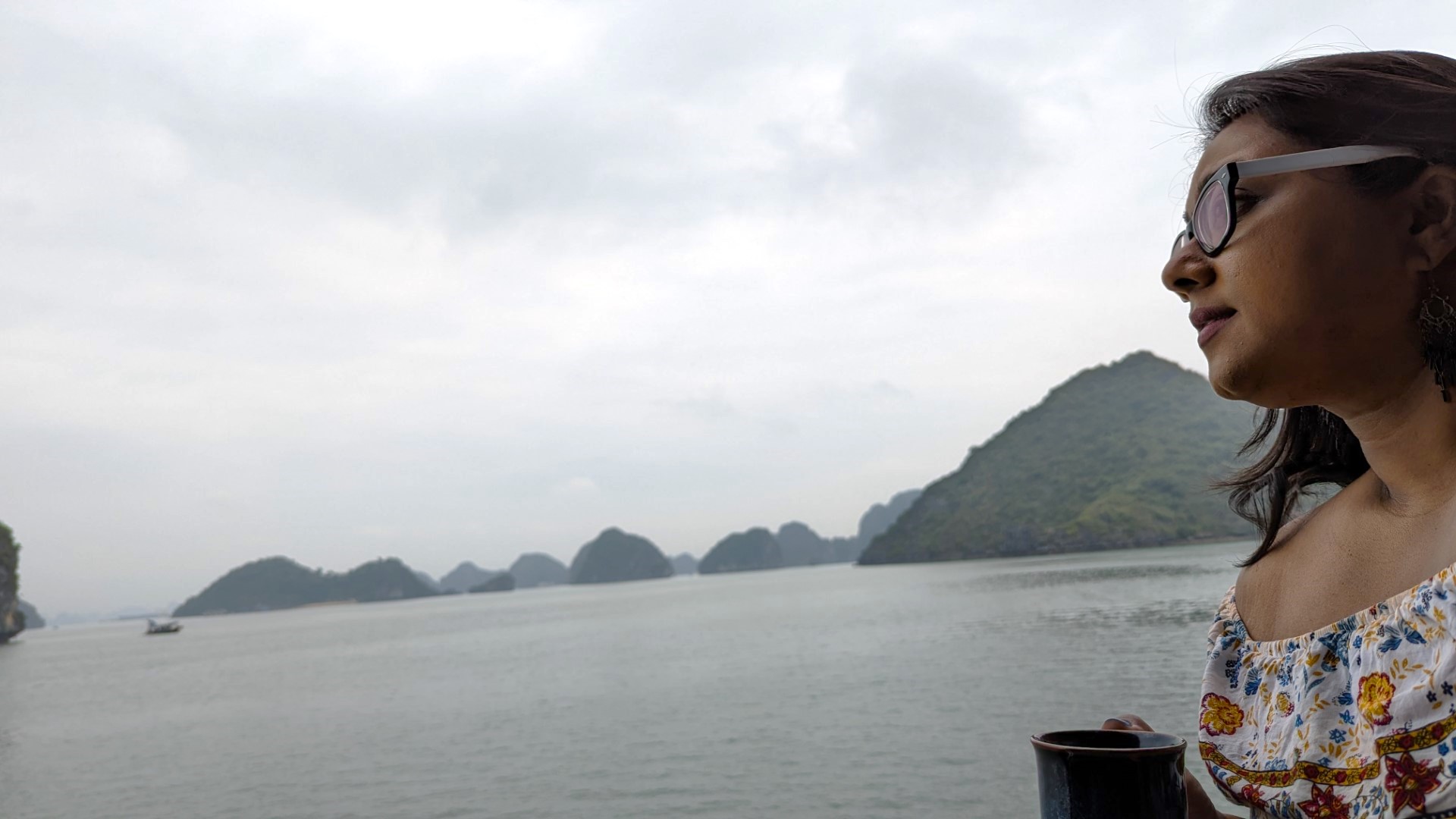 As we weaved through the majestic islands, I didn't really feel crowded at any point except for the point when we anchored for the kayaking experience and saw a couple other boats docked in the same spot.
Rosy Halong Bay Cruise Highlights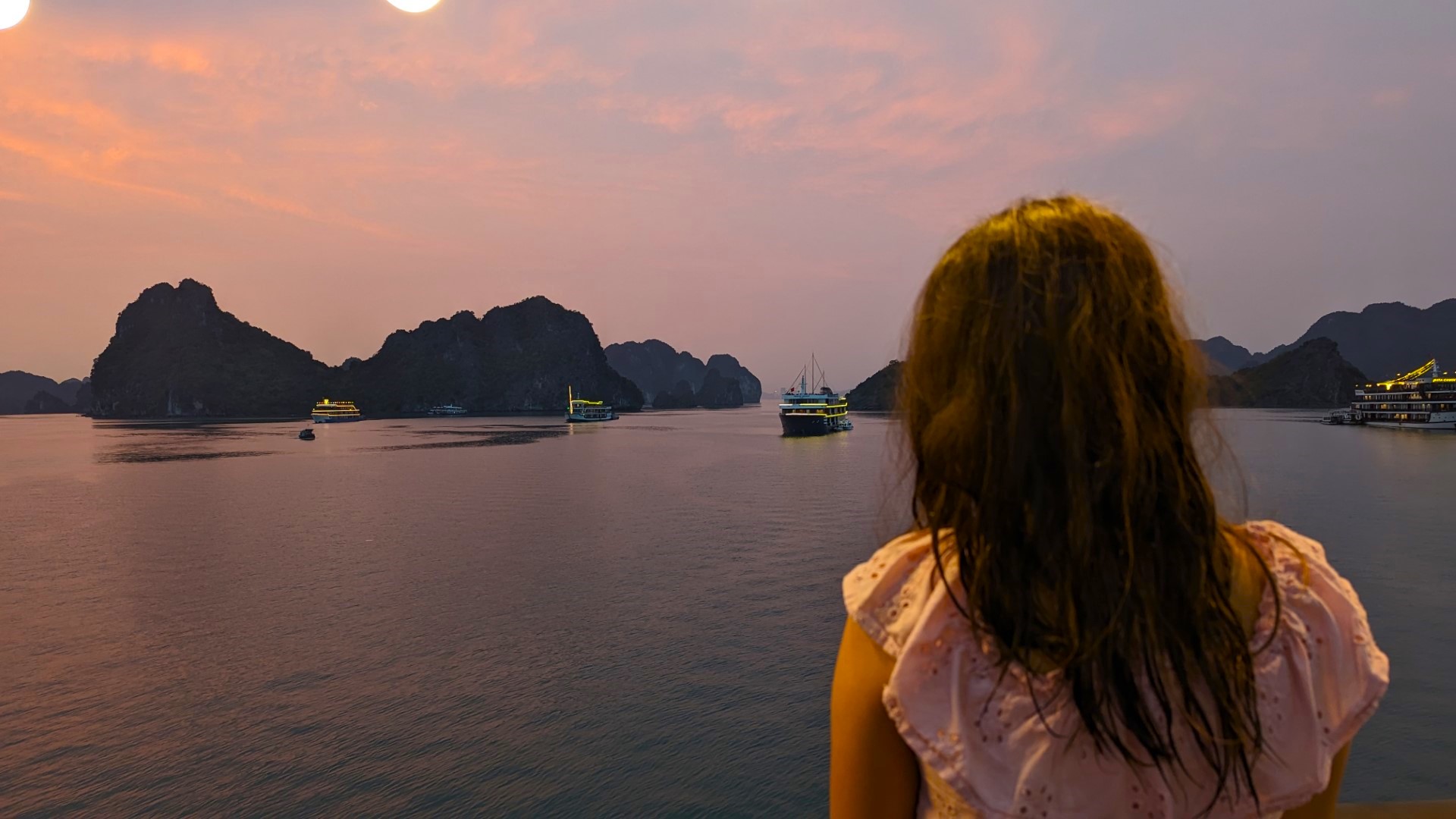 Was this a luxury cruise in Vietnam? I will say yes but truth be told, it was mid range. We have heard of over the top ones and some very dodgy ones as well. Choose Rosy for your family when looking for a Vietnam cruise if you enjoy :
Nice rooms
Fancy bathrooms
Friendly staff
Great food
A couple activities
How Much Do Vietnam Cruises Cost?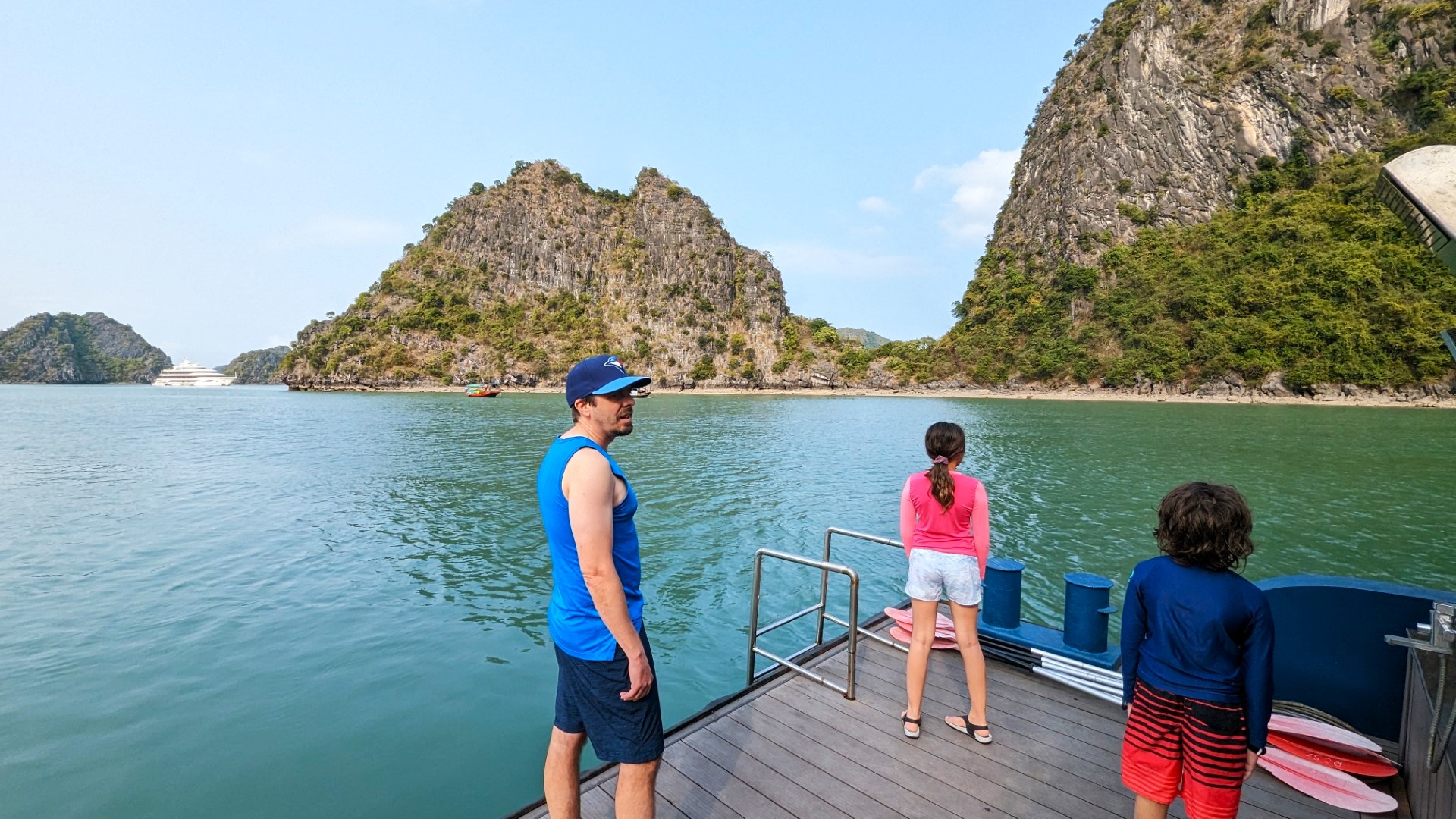 When budgeting for a Vietnam Cruise, I found it hard to figure out costs. For Rosy Cruise, I ended up in a packaged deal with our Vietnam tour operator so I don't technically know how much it cost. I did however get a couple quotes and for a shared room it works out to 150 USD per person for a 2 person room. This included all transfers, food and accommodation for a 2 day 1 night cruise.
What we did Cruising in Vietnam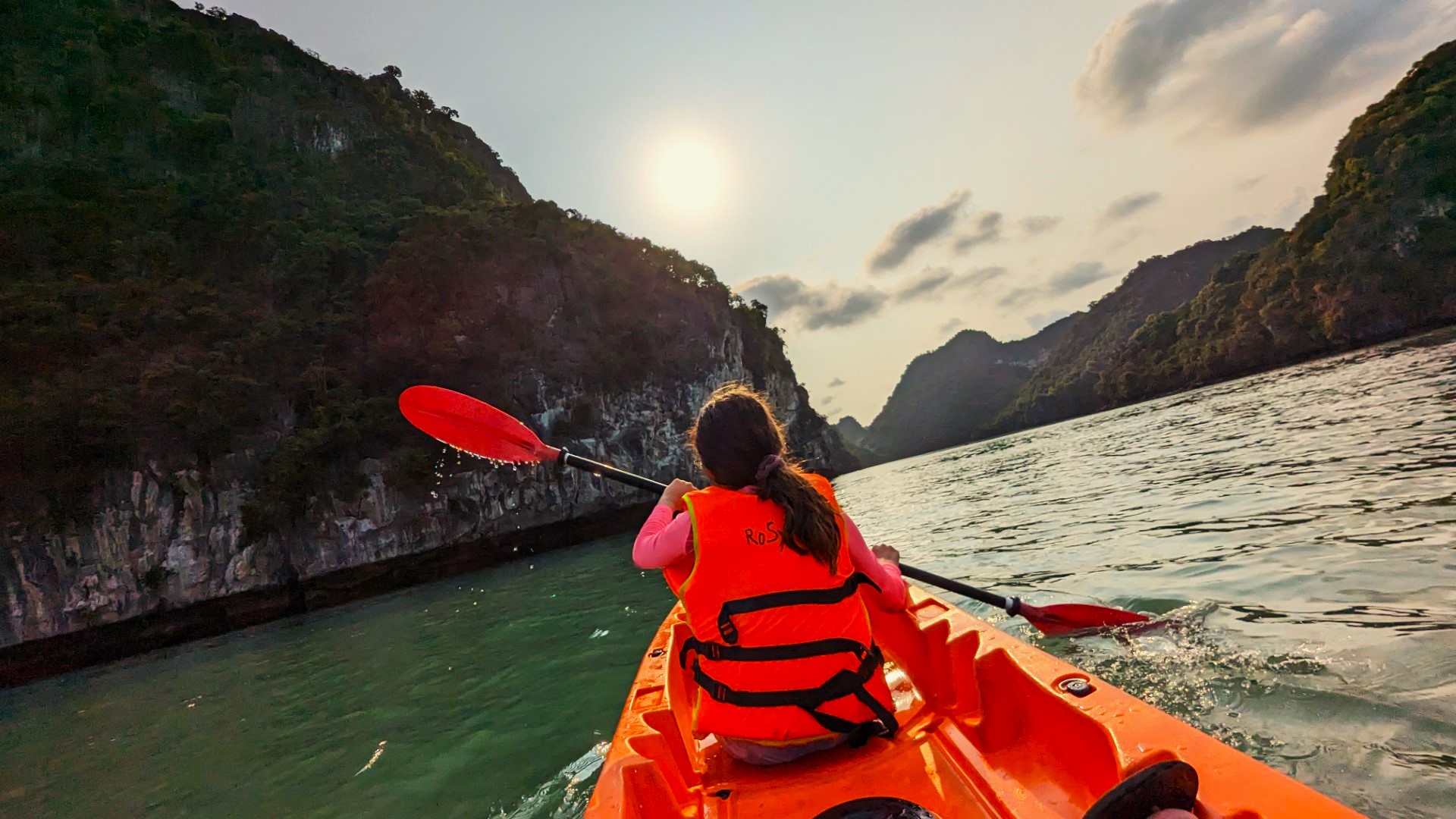 With only 24 hours on board, we stayed busy but snuck in a short day time nap as well. Activities wise, we went kayaking after lunch on day 1 and even swam in the open waters. Kids and I prefer the shallow hot tub on the deck so we did as well.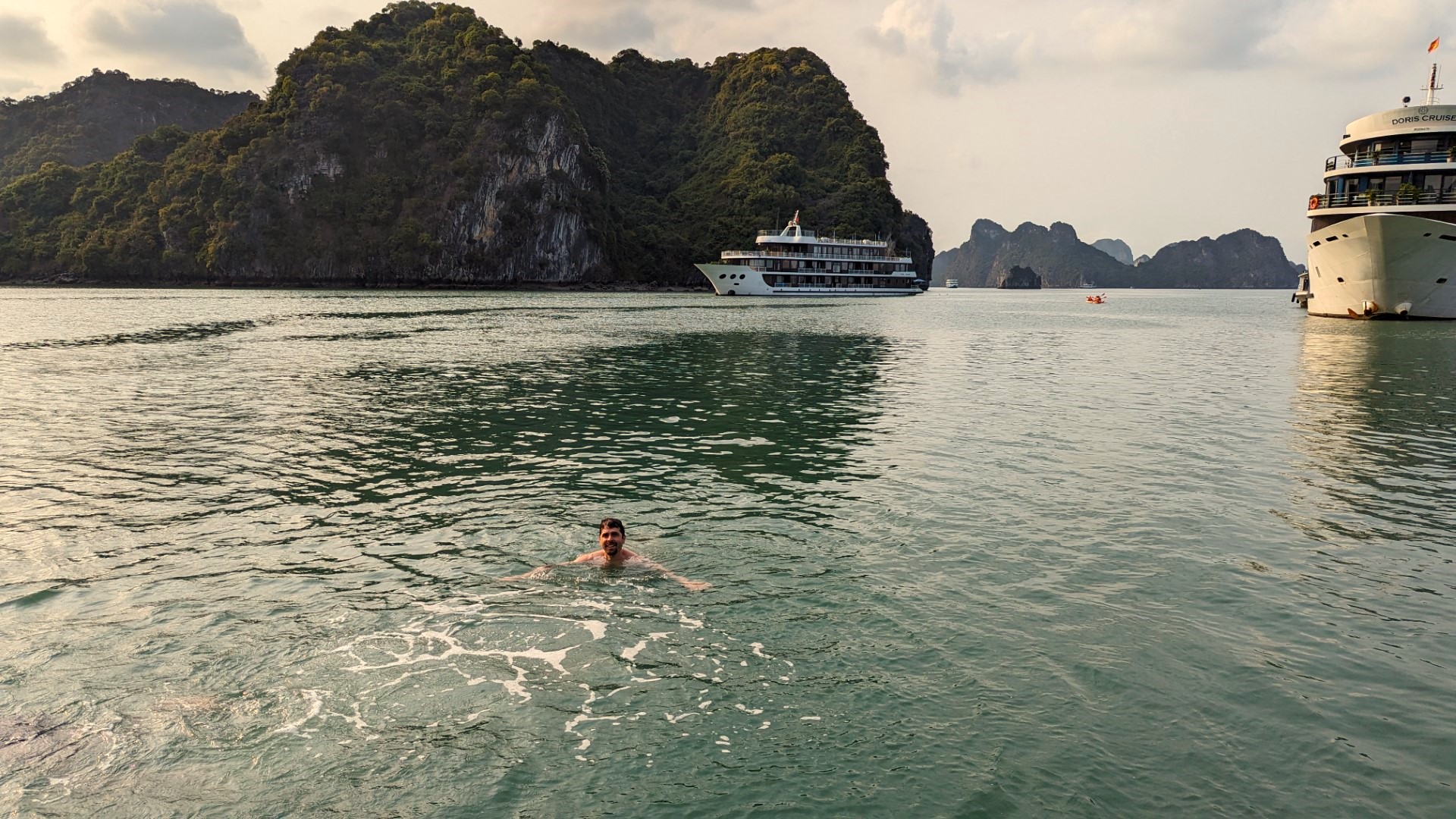 We really enjoyed the sunset "party" (it was a chill vibe) and the Vietnamese cooking class where we all made spring rolls.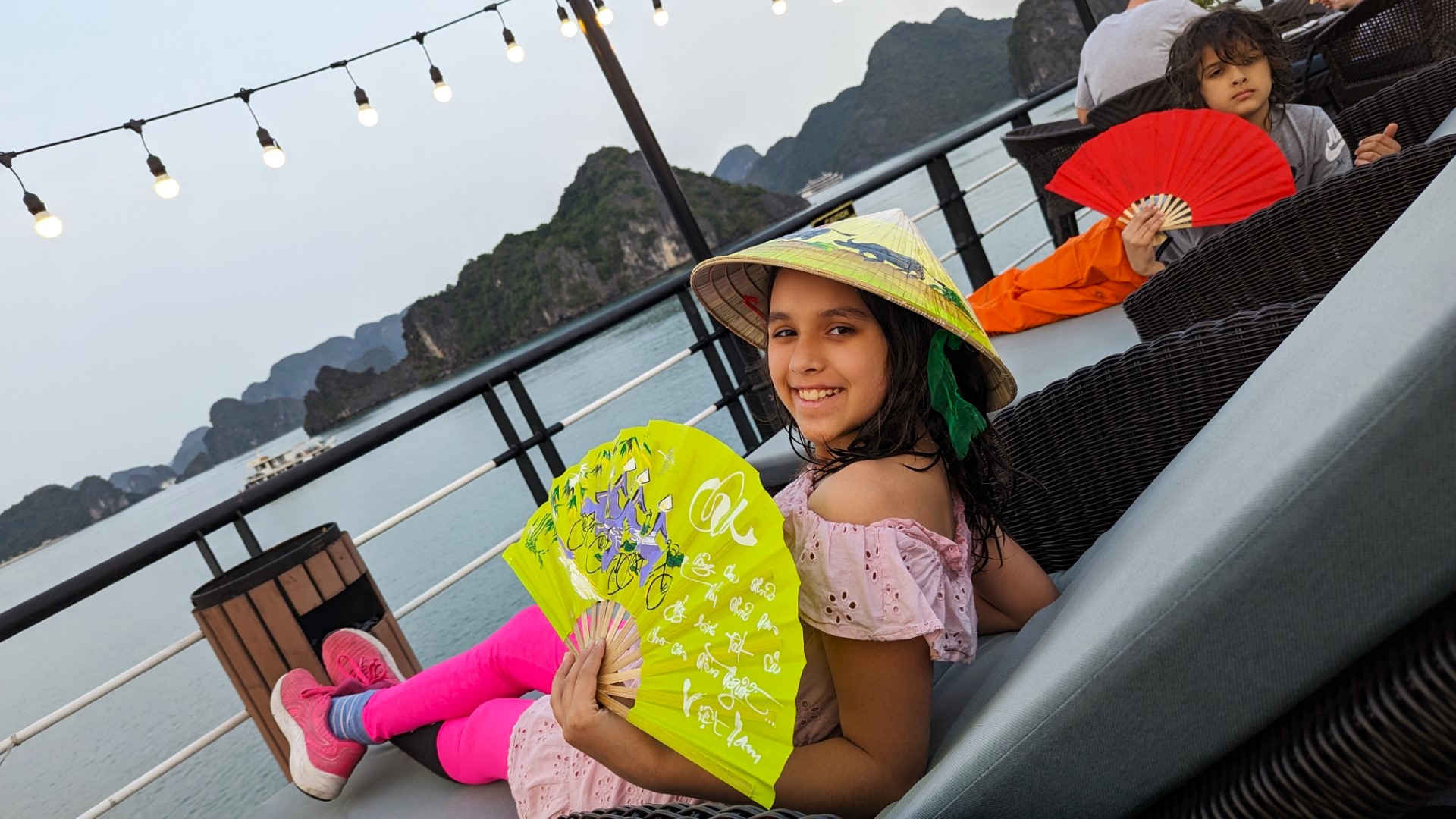 After dinner there was quid fishing but we did not catch anything!!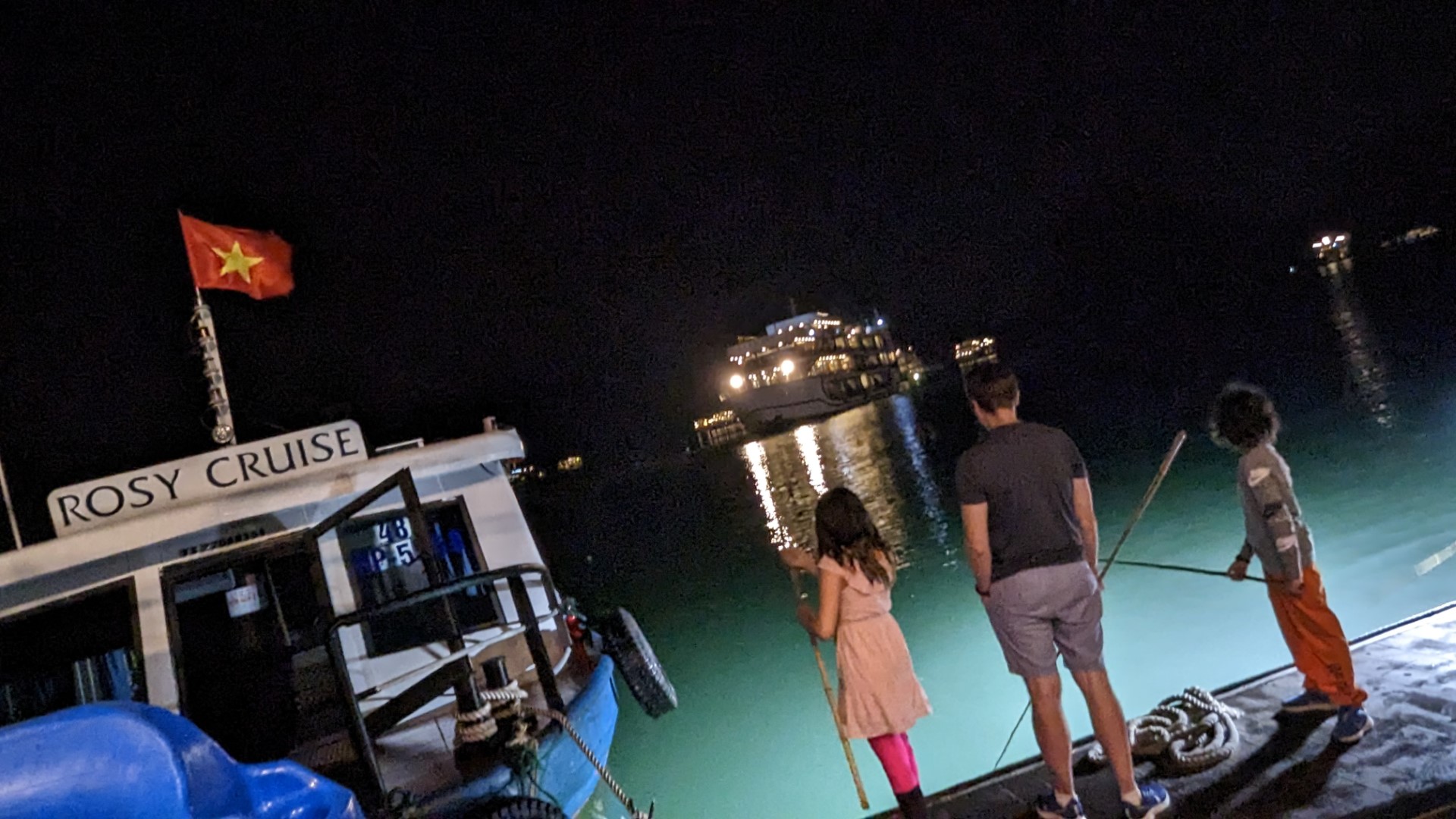 On day 2 I woke up very early to catch sunrise and join the Tai Chi class but there were only two others doing it so it's definitely not a popular option!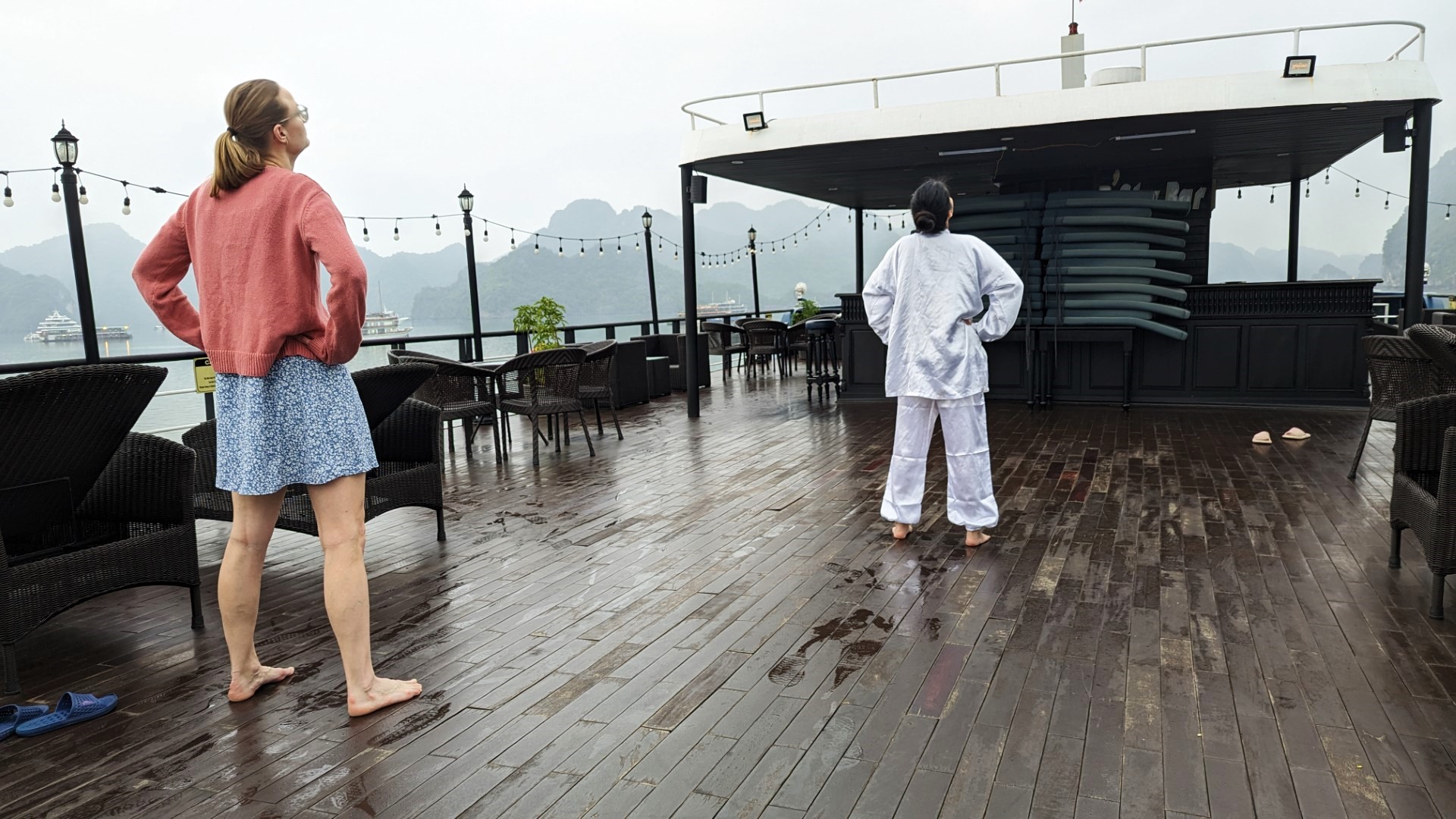 After an early breakfast, all of us got on another speed boat and made our way to a dock where we were supposed to go into the Light caves in a sampan boat. However the water was too shallow at low tide so we didn't really get into the main cave. That said, we saw some wild monkeys and did see the inside of a small cave so it was an enjoyable way to start that day before checking out of the cruise.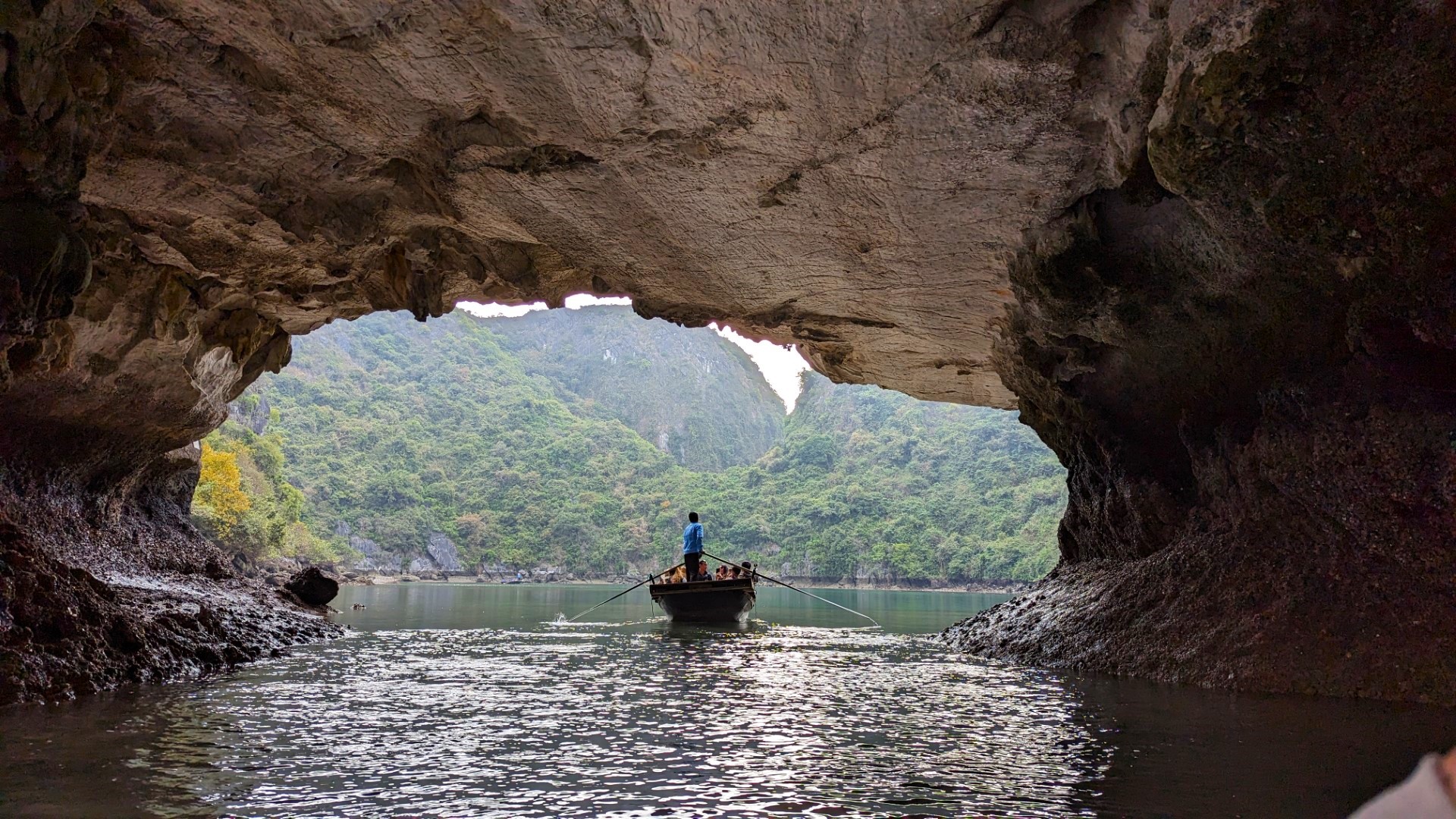 As you can see, we kept busy!!!
Tips for Your Vietnam Cruise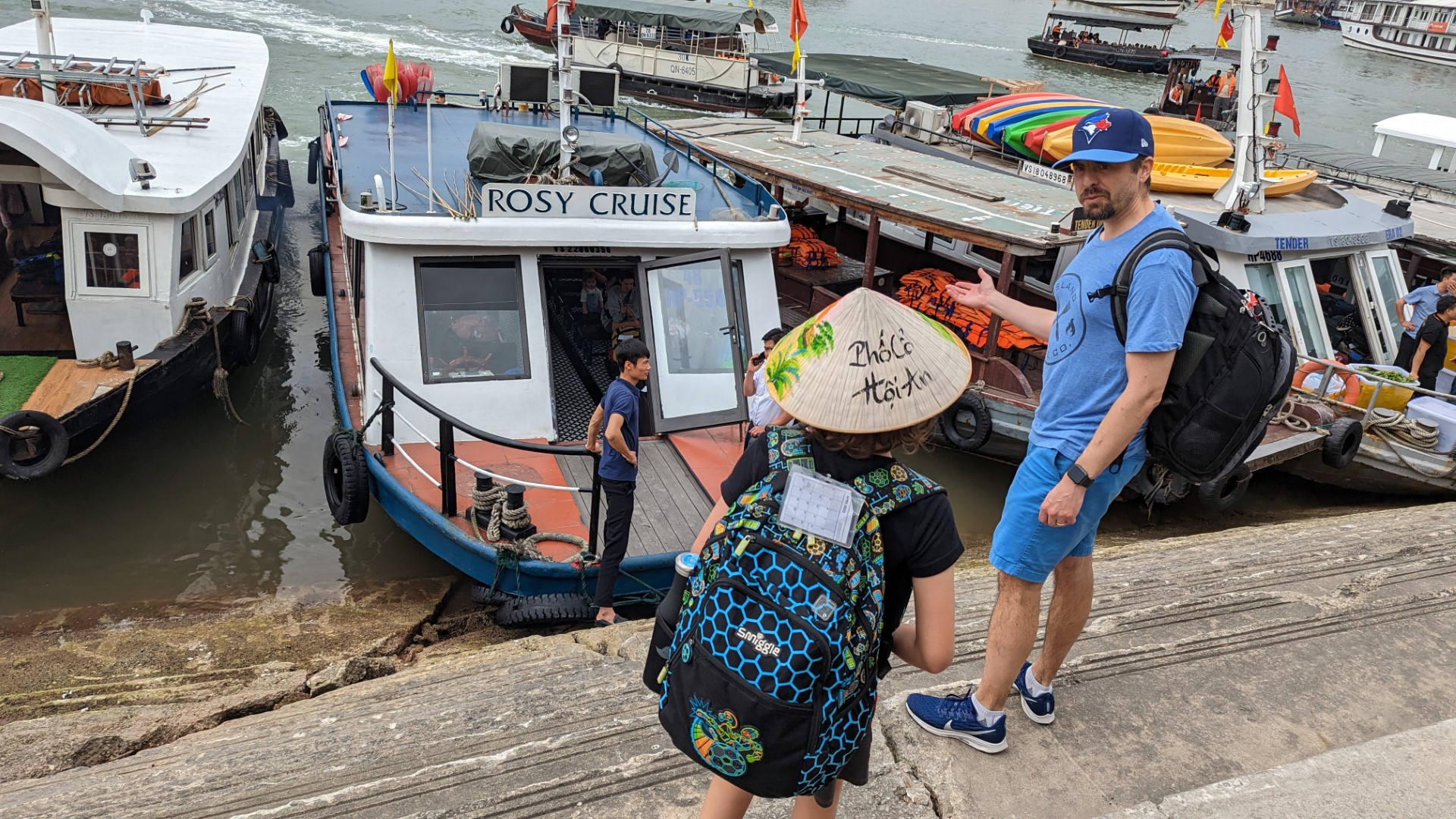 When cruising, packing light is always an issue. In this case were were travelling in one direction (no accommodations to store excess stuff at) and had a very heavy suitcase with us and a backpack each. There was no elevator onboard and Chris' back would have suffered if he had to climb to the top most floor with the heavy suitcase but luckily, we didn't have to lift a finger. "Magically" our bags were delivered to our room and at check out our bags were loaded to the small boat without us having to do any lifting. Huge thank you to the staff on board who made our life easy.
You aren't supposed to bring drinks onboard but no one checks yourluggage. Did we bring some craft beer with us? Well… you know us well, right? Speaking of packing, ensure that you have a range of layers because during our March break visit, we had sunshine, cold winds and rain… in a span of a few hours! You can also buy snacks from vendors on row boats circling the cruise but I'll caution you to stay away from some items because all goods are just out in the open (hot beer anyone?) and not refrigerated.
Also definitely carry a wet bag with you (this is a general travel tip to be honest) because things won't dry in time and you'll thank me for reminding you! Bringing bug spray is also highly recommended because there were mozzies out in March.
Rosy Cruise – Vietnam Cruise Itinerary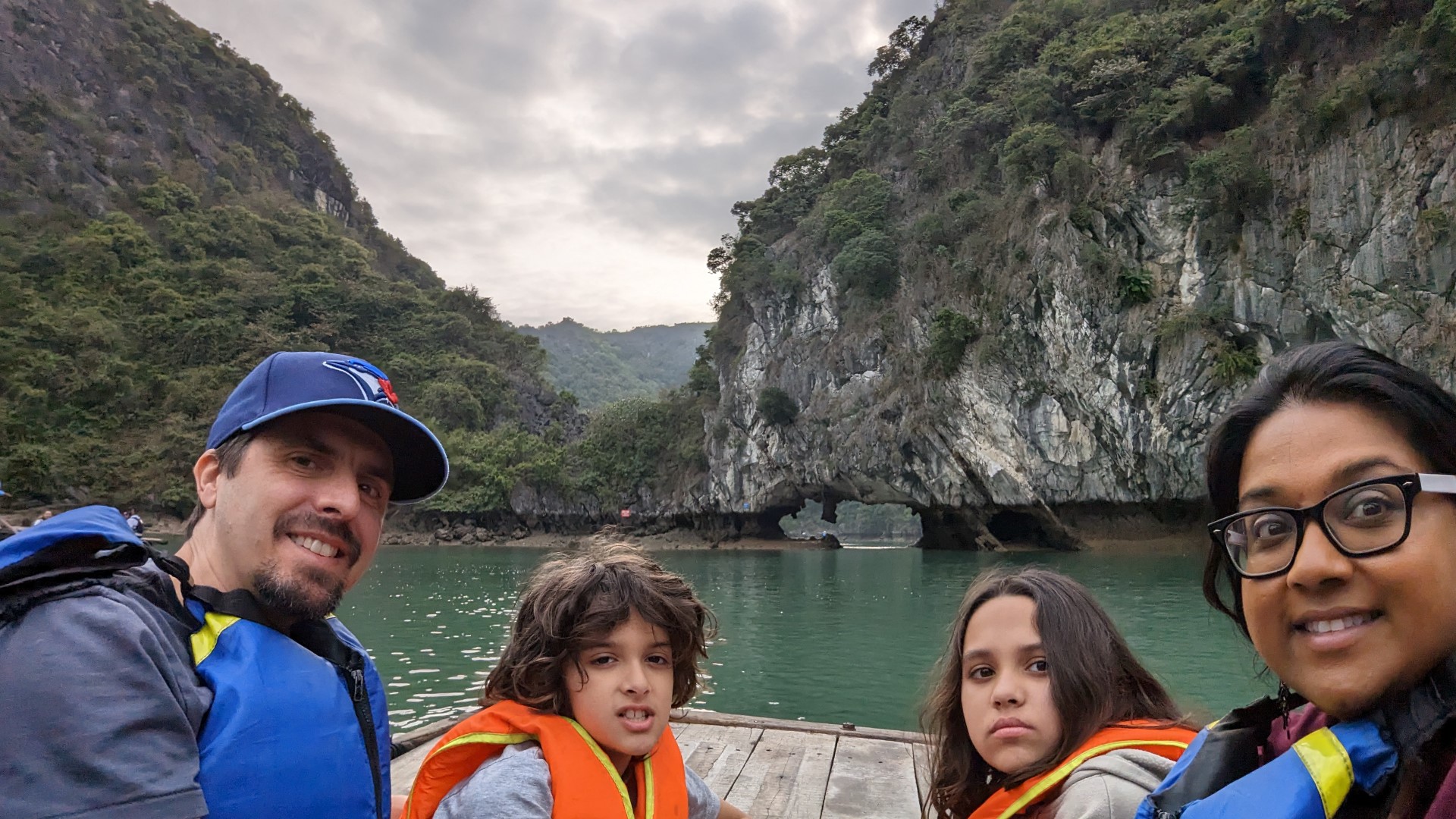 Our Vietnam tour operator shared an itinerary with us and below is how our hours were spent on board Rosy Cruise.
12:00 : Board the smaller boat at the marina and make your way to the cruise
12:30 – 13:00: Welcome drink onboard with briefing about cruise and room key allocation
13:00 : Check into room and the enjoy a typical buffet lunch in the luxury dining room while Rosy Cruise slowly glides between the numerous small islands and the sea
15:00: Drop anchor for swimming, kayaking and sunbathing on cruise
16:30: Come back to Rosy Cruise
17:30: Summit on the sundeck and watch the magnificent sunset over the Gulf of Tonkin. Sunset party (local snacks and fresh fruits)
18:00: Partake in cooking demonstration. Learn how to make traditional deep fried spring rolls
19:15: Sit down dinner is served
21:00: Unwind after dinner onboard the cruise with Karaoke or squid fishing
Day 2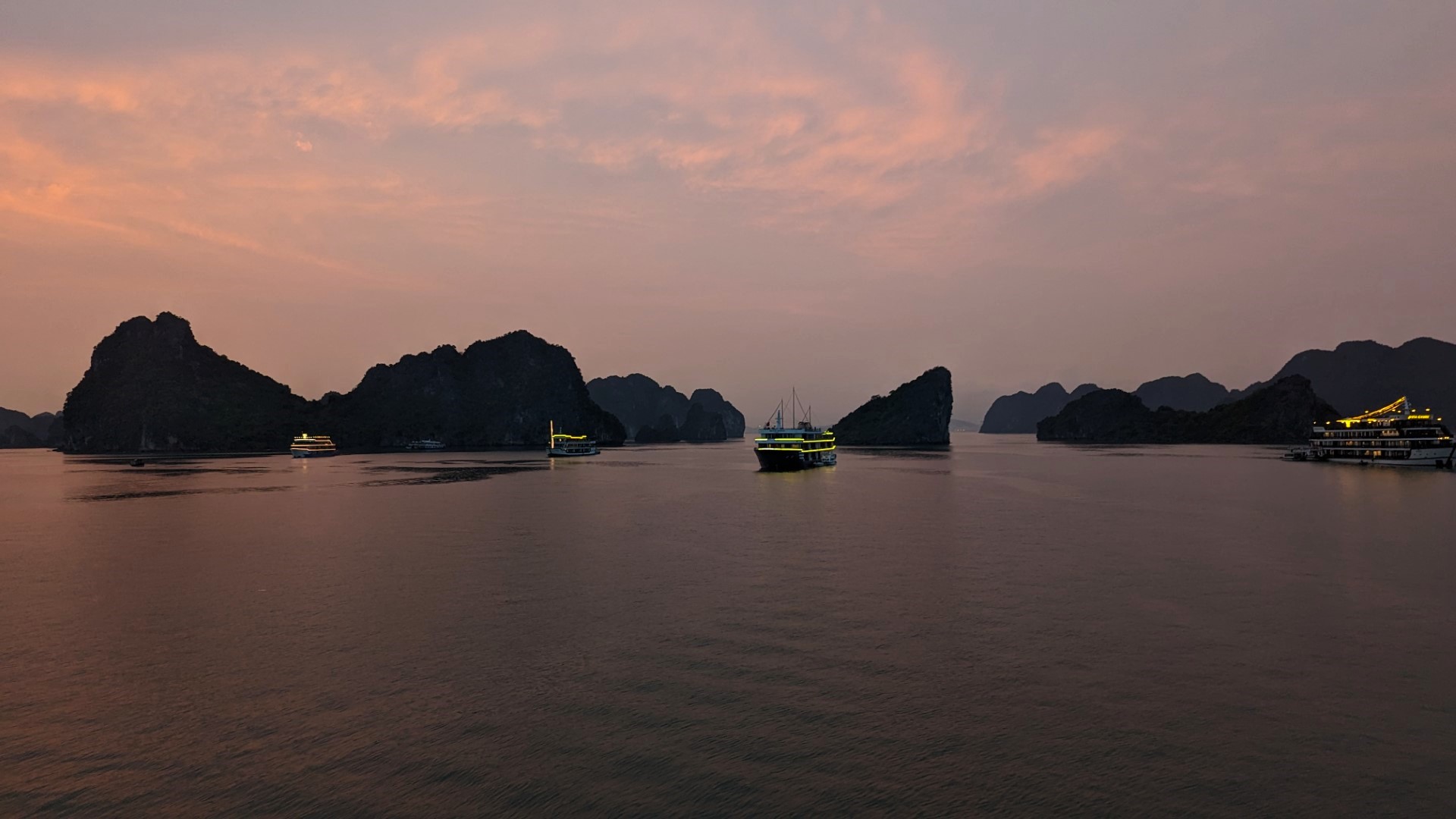 06:00: Wake up early for the sunrise (depends on the season and the weather) and Tai Chi session on the sundeck
06:30: Light buffet breakfast is served in the dining room with the morning view of bay's landscape.
07:30: Traditional bamboo sampan or kayaking activities in the Light cave area
08:30: Come back to Rosy Cruise and pack your luggage
09:15: Checkout, settle your bills and return the room keys at the reception area
09:30: Delicious brunch is served with set sit down menu
10:45: After disembarking from Rosy Cruise, you will be transferred speedboat to Tuan Chau Marina
11:30: Return to Hanoi
I wouldn't hesitate to book with Rosy Cruise and I hope our review of this Vietnam cruise helps you!