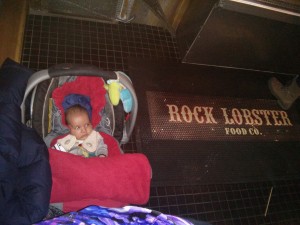 AH! Yes we FINALLY got out as a family to check out Rock Lobster at their "new" Queen street location (They opened in June if you didn't know). You may recall that I met Matt during this blog's infancy and sure enough he's been up to some delicious tricks in the past two years. Long gone are the pop up days but the joy he brings to seafood lovers in Toronto continues.
We swung by one Friday evening in December for my Dad's birthday celebration, after all he's a huge lobster lover! Reservations aren't accepted but as always if you arrive before the crowds ( we got there for 5:30 p.m.) there's a superb chance that you won't have to wait too long for a table. Luckily we nabbed the booth at the very front and if you have young tots this is definitely a good spot for various reasons; It's a booth and you know how I like my booths! There's a window so extra entertainment if needed. If you have a curious toddler be sure to tell them not to play with the wall paintings and fishing rods! We brought Baby Boy in his car seat and plopped him on the floor against the wall. Setup was fab for our group of 5 adults and two babies! If you're short like me…wear mega heels or bring along a footstool because the booth is quite high off the ground… I got down a couple times to check up on Baby Boy and had to literally jump up! Oh and by the way…  they have high chairs – true East Coast hospitality I tell ya!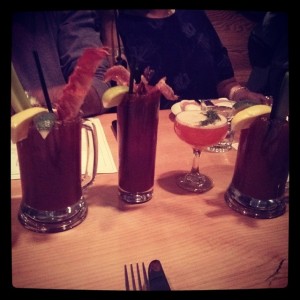 I loved the decor and the food! I hear the decor is a family affair with Matt's dad lending his artistic skills for a few pieces. You get a cool cabin feel as you're surrounded by wooden decor (paddles, fishing rods and random artifacts), taxidermy and Maritime throwbacks. The boys started with the famous Caesars and sure enough my dad kept ordering them mainly because of the lobster  tail that came along! My favourites included the Von Bacon's Red Maple (candied bacon in my drink? WHY YES PLEASE!), Screwed, Blue'd & Tattoo'd and the 49th Parallel. Next time I need to try their Breakfast of Champions which has fruit loop infused vodka and cereal milk!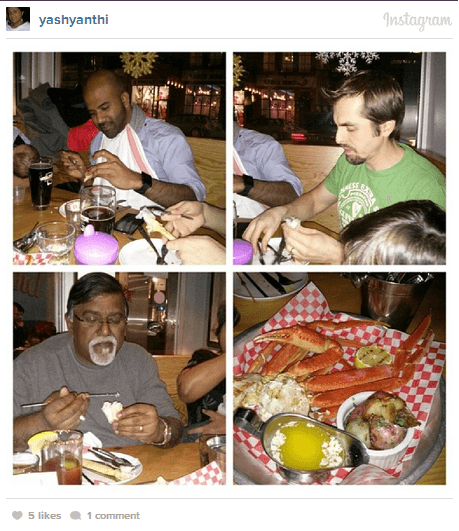 I'm going to start with the show stopper – The Old Fashioned Boil. Just look at the guys digging in! It was fresh and succulent and quite the deal at only $15. We were SHOCKED! Rock Lobster uses some amazeball pickles and no one was happier about that than the Little Monkey! She's quite the pickle fan! Ofcourse we had the Lobster Roll and the Lobster taco but what surprised us most were the Lobster deviled eggs. Not only were they delish but they were Pink! When you see corn dogs on a menu at a spot like this… you get it! I liked the dipping sauce but that was about it. Since we had my mom along we got the few veggie dishes on offer – the tostada and the grilled cheese. She liked the tostada but said the grilled cheese was just okay. The Brown Butter Digby Scallops were the hubs' favourite!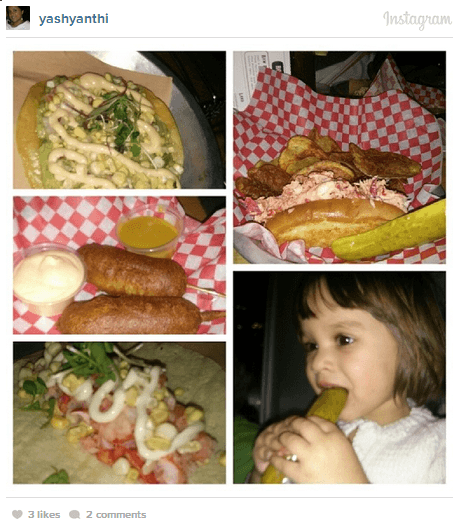 The Little Monkey was a bit cranky due to a shorter than usual nap time and I was very glad that the hubs had randomly decided to buy a Kinder Surprise egg as it pretty much saved us from a complete melt down! That wouldn't have gone down too good! Our dining adventures continue despite the new addition but we're yet to dine out alone without the parental reinforcements – it's only a matter of time!
On a side note I apologize for the blurry pictures – I was too busy eating that I didn't notice that my greasy fingers had the lens all messed up! Oh well… I was there to eat right? We've been talking about going back for the Lobster Sundays and hope to get around to it one cold winter's day.