Sydney, Nova Scotia is a city we return to on a yearly basis so we thought we'd share a few shore excursions for your time in Sydney. While there are plenty of things to do in Sydney, Cape Breton, there are also some fun day trips from Sydney (NS) that are great for families with kids or without. If you have access to a car, the following suggestions are within an hour's drive of Sydney, Nova Scotia and will take you to Cape Breton beaches, museums, bakeries, lighthouses and so much more. Depending on which season you're visiting, be sure to confirm that the places are open because some do close in the off season between November and May.
Disclosure : This post is in partnership with Tourism Nova Scotia but, as always, opinions are TOTALLY ours!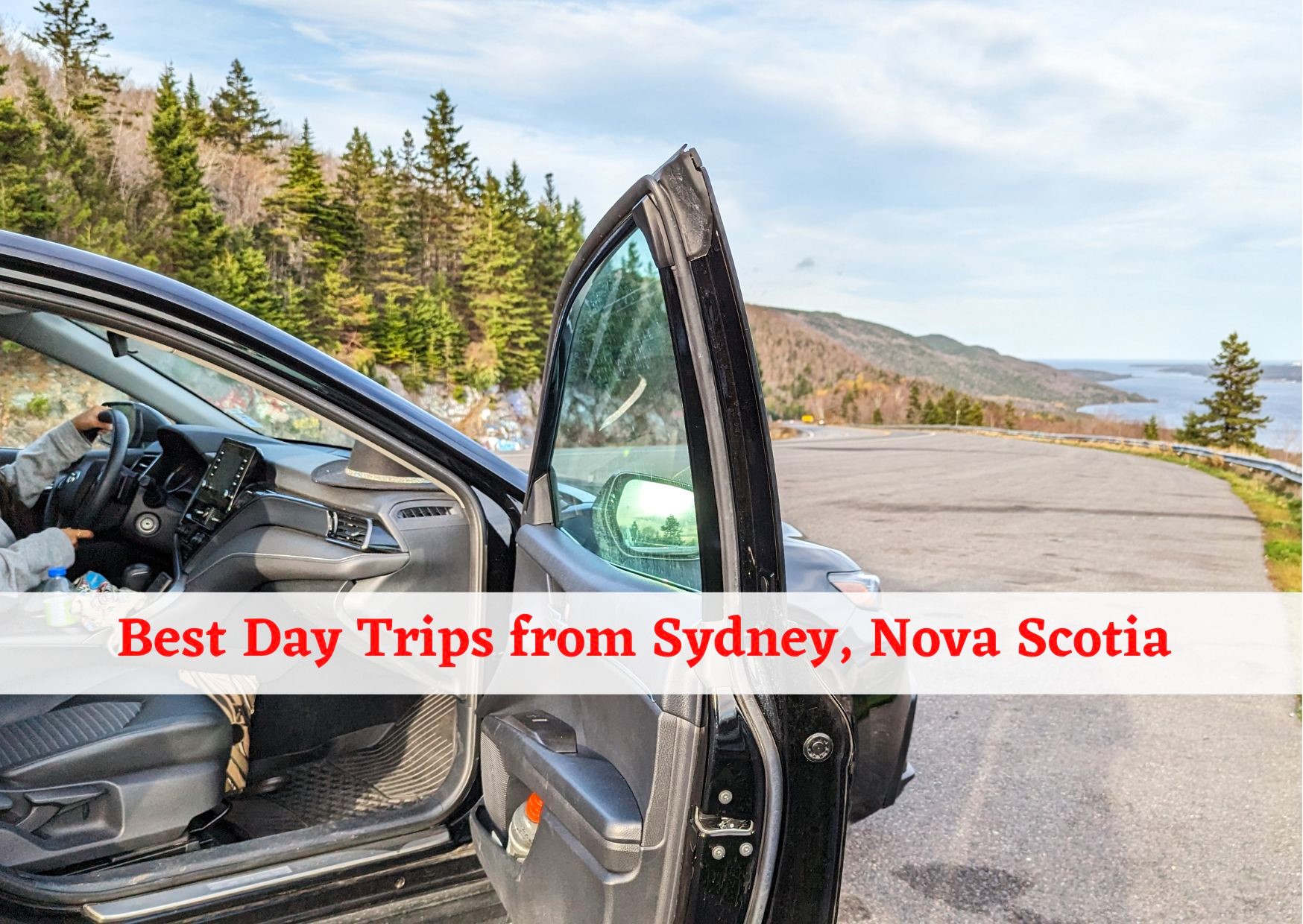 Ideas for Day Trips from Sydney, Nova Scotia
Glace Bay for Museums, Bakeries, Beaches and Historic Sights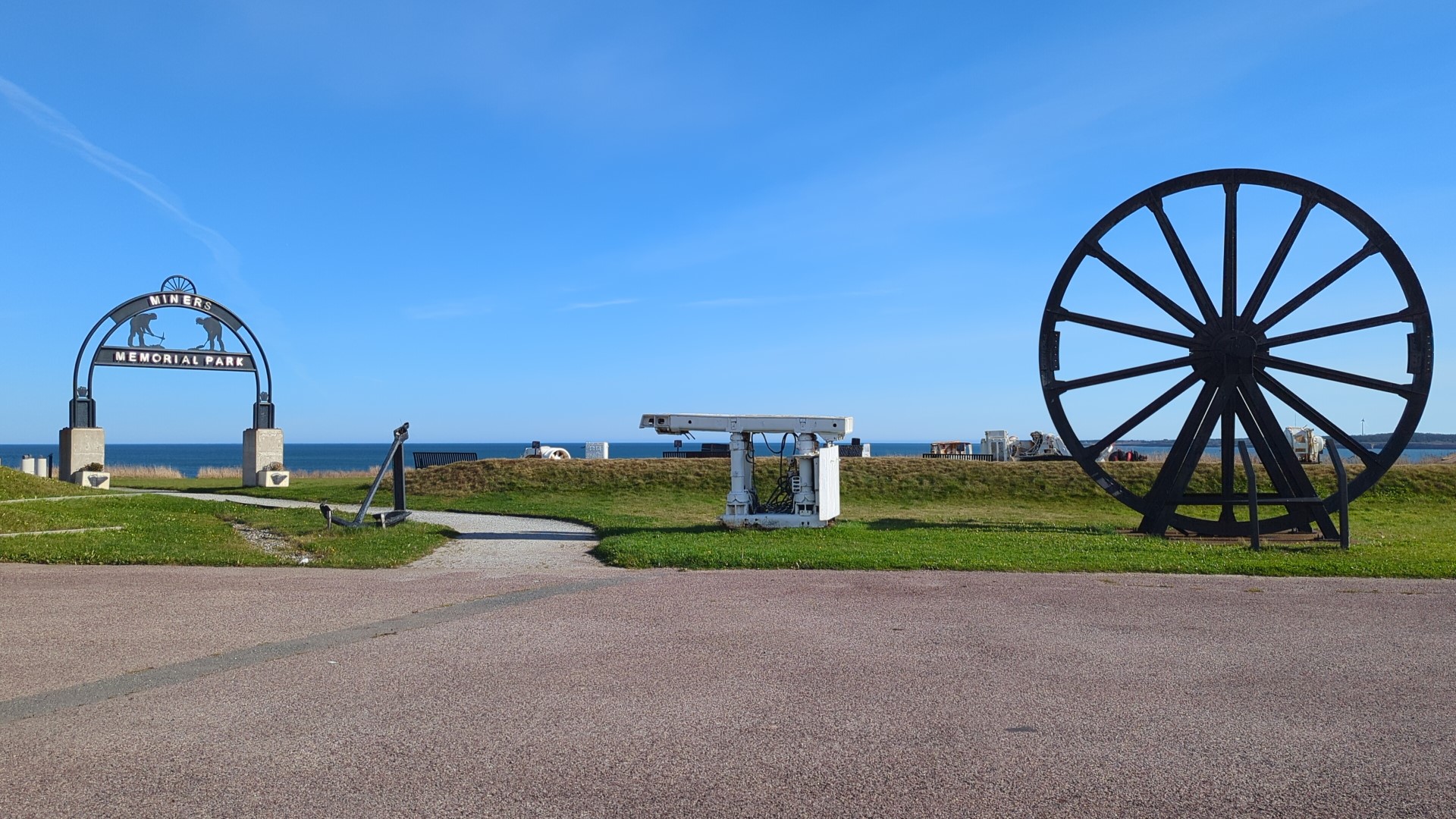 Glace Bay is about a 30 minute drive from downtown Sydney and is a great destination to spend a few hours at. My recommendation is to start your day at the Glace Bay Miners Museum, where visitors have the opportunity to view relics from the past and tour a mine. Guided by a former coal worker, a few years ago our family took a multi-generational trip below the surface to experience the dampness and claustrophobic effect felt in a coal mine. You can find more details about our visit to the Glace Bay Miners Museum with kids. The Glace Bay Miners Museum is an important monument to one of Cape Breton Island's most famous occupations. It outlines a sad history in many ways, but the community of retired coal workers know that they were an important part of Canada's growth. The museum lets them tell their stories, and you are going to want to hear them. If you're visiting in the off season, be sure to call ahead to ensure that the Miner's Museum is open!
When you're in Glace Bay, it's worth stopping by at some of their famous bakeries. Family run Sweet Side of the Moon is fantastic and you can also pop by next door to Bitten Moon pub if you fancy a brew to pair with your treats. I've bought all sorts of goodies like molasses cookies (also known as Fat Archies), donuts and bread from this bakery but they also have lobster rolls and chowder in the summer time. Ensure you visit McFadgen's Bakery, especially if you love a good fruit cake. Theirs is AMAZING! The English Muffins they sell are also gift worthy! Trust me. They're cash only though, so be sure to carry enough with you. The Mom's line of baked breads and molasses cookies are truly amazing. Keep space in your suitcases for these!
If enjoy a walk by the beach, Glace Bay Beach is quite lovely. You can drive around and enter from Port Caledonia or drive by the Glace Bay Hospital and walk along from that end. Even on a breezy fall day, a walk by the water was soothing for the soul.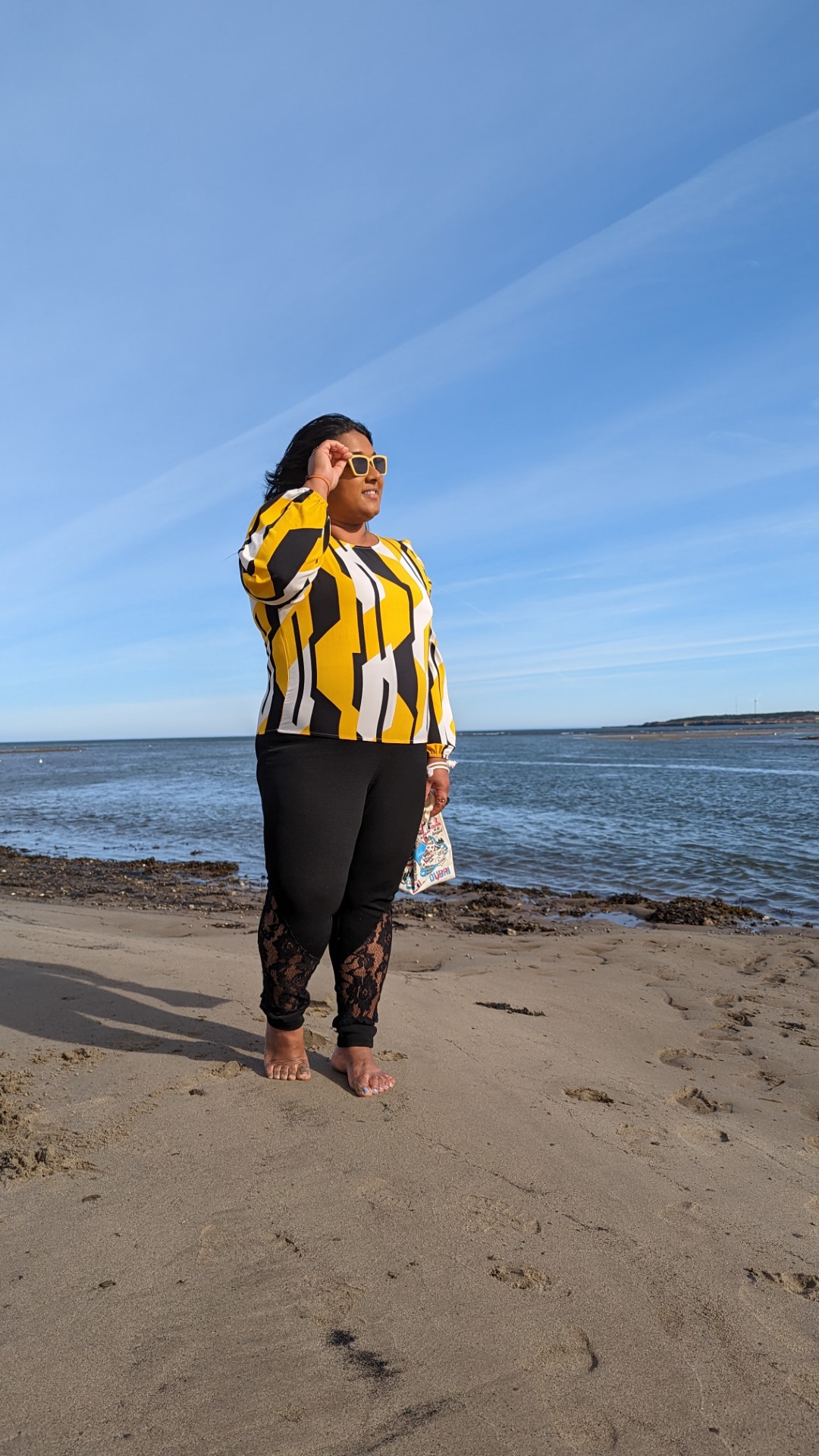 If you're a history buff, you simply must visit the Old Town Hall and Glace Bay Heritage Museum. This historical building was a center-point back in the day and housed their town hall, courtroom and even their jail. Today the property chronicles the past and the every day lives of its townfolks. It is a testament to the struggles and triumphs of its people and is being maintained by volunteers. If you're lucky you may have a chance to chat with Elke Ibrahim, who has been volunteering there for over 20 years and is the passionate person behind the existence of the museum today. If you're looking for gifts, their giftshop is absolutely lovely and features many local Nova Scotian artists.
If you visit in the peak summer months, Parks Canada's Marconi National History site is worth a visit too. Especially if you or someone in your family is following Guglielmo Marconi's work. Table Head, Glace Bay was chosen by Marconi as a transmission site for the first message across the Atlantic using electromagnetic waves instead of wires. Today there's a small museum on the the historic site and it features the remnants of Marconi's transmission towers, exhibits and a modern amateur radio station.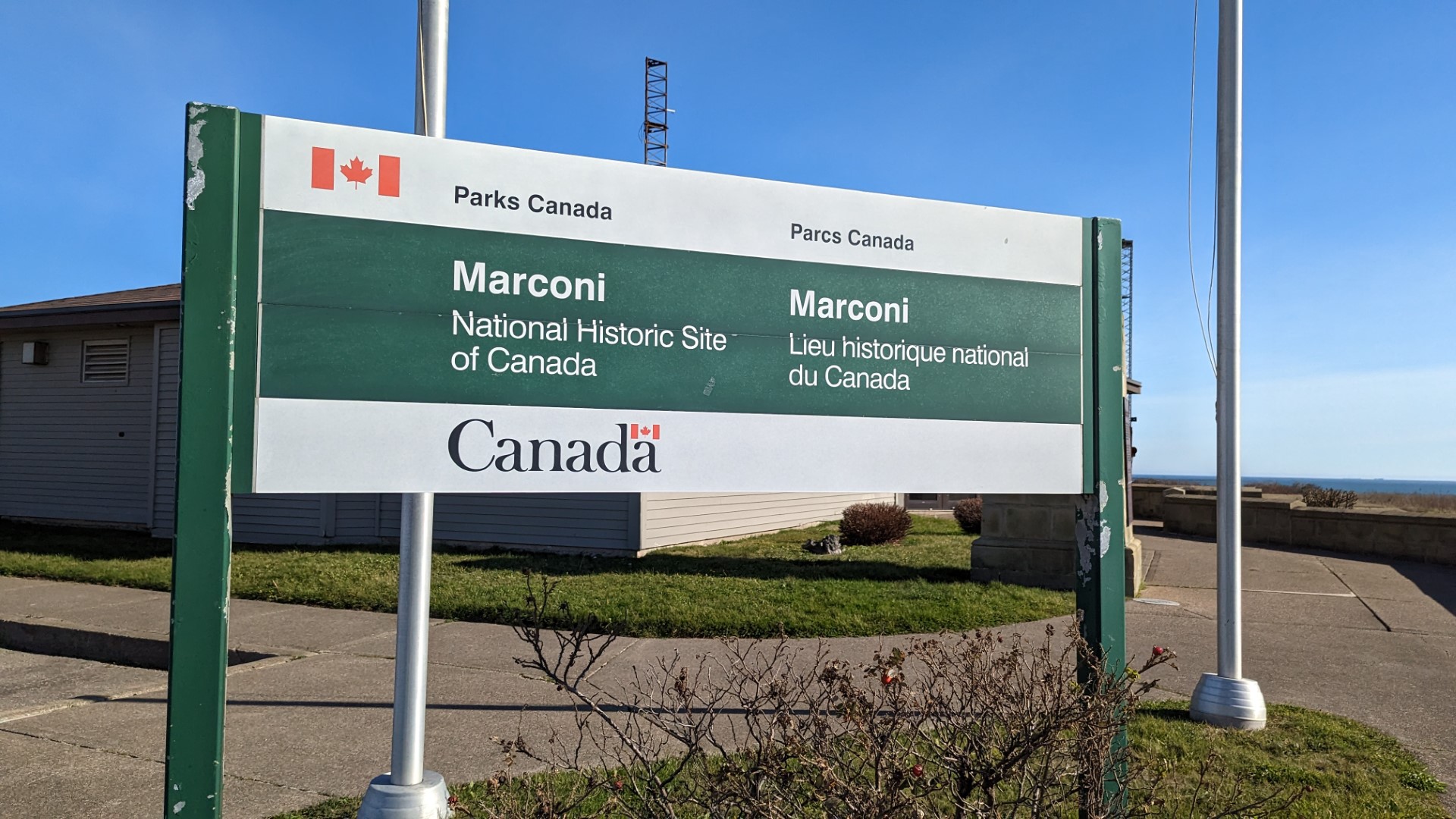 Alpaca Farm Experience at Albert Bridge
Located a 20 minute drive from downtown Sydney, you'll find this Nova Scotia Alpaca Farm in Huntington. This farm allows visitors to meet, feed and play with their alpacas in a safe and friendly manner. An Alpaca hang session can last as long as you want and costs $10 per person or $25 for a family. Although they are open all year long, call ahead to ensure owner Bob and his wife Norma are around.
Louisbourg Lighthouse, Trail and Fortress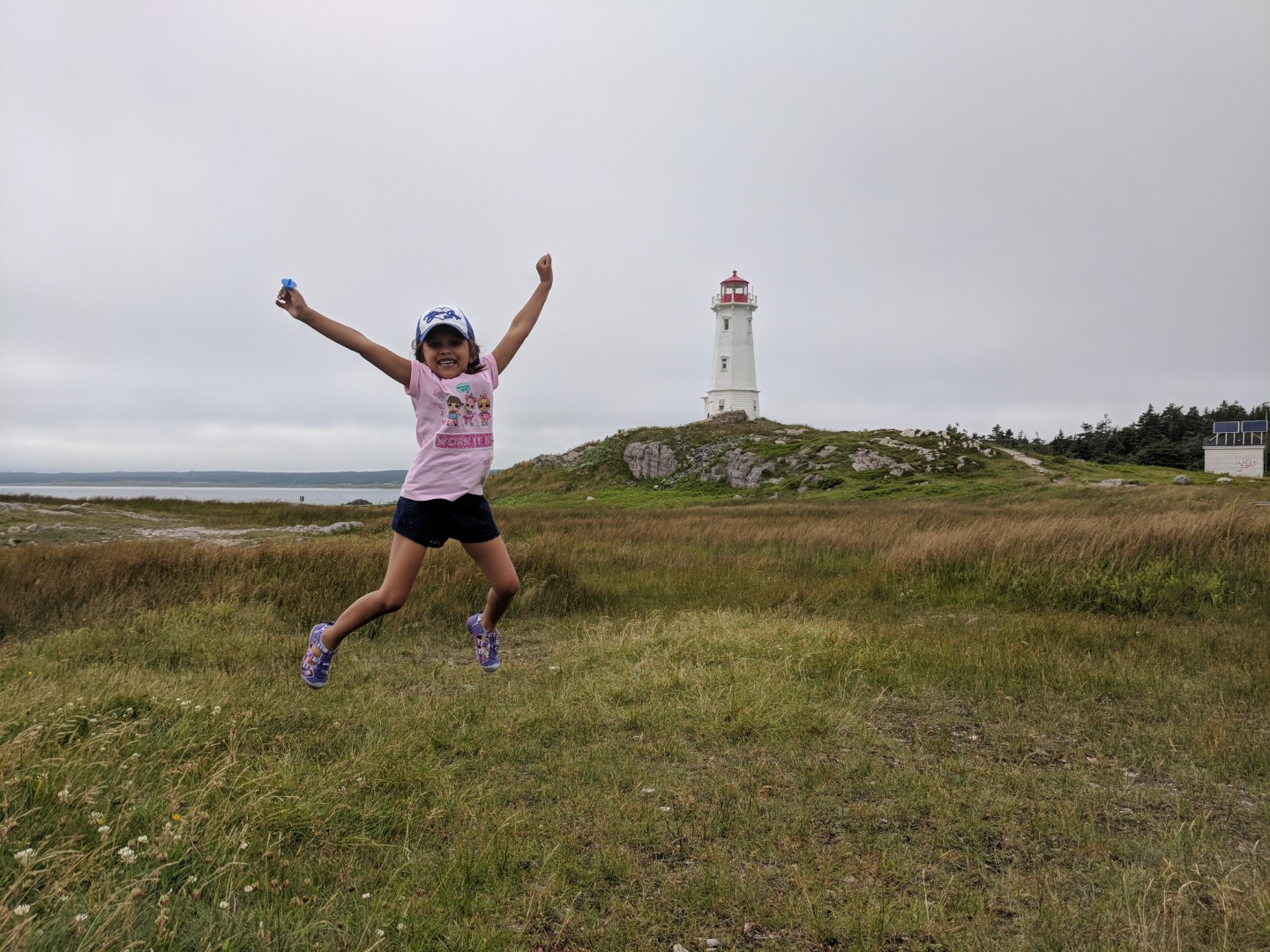 Louisbourg is an easy 45 minute drive from downtown Sydney and has something for everyone! Start your day at a National Historic Site of Canada, the partially reconstructed 18th century French Fortress. We spent 2 hours here with a baby and toddler but you could easily spend 4 or 5 hours taking tours, roaming around the fortress visiting the local baker, picking up a couple buns and chatting with the actors who are happy to engage with you. This stroller friendly spot gets very cold and windy so bring appropriate gear, yes even in the summer!
Next up visit the Louisbourg Lighthouse where you can easily hike around the trails if you wish to do so. Our kids were older when we visited so we spent an hour walking through the trails and throwing rocks into the Atlantic Ocean.
Louisbourg is also home to a theater, a couple cute restaurants and a chip wagon. We dined at Lobster Kettle and enjoyed a beautiful sunset but I wasn't overly impressed by the fare during our 2019 visit. I prefer to return to Sydney for dinner because the food scene there is quite fantastic!
Baddeck for Lighthouses, Boat Tours
, Beach and Alexander Graham Bell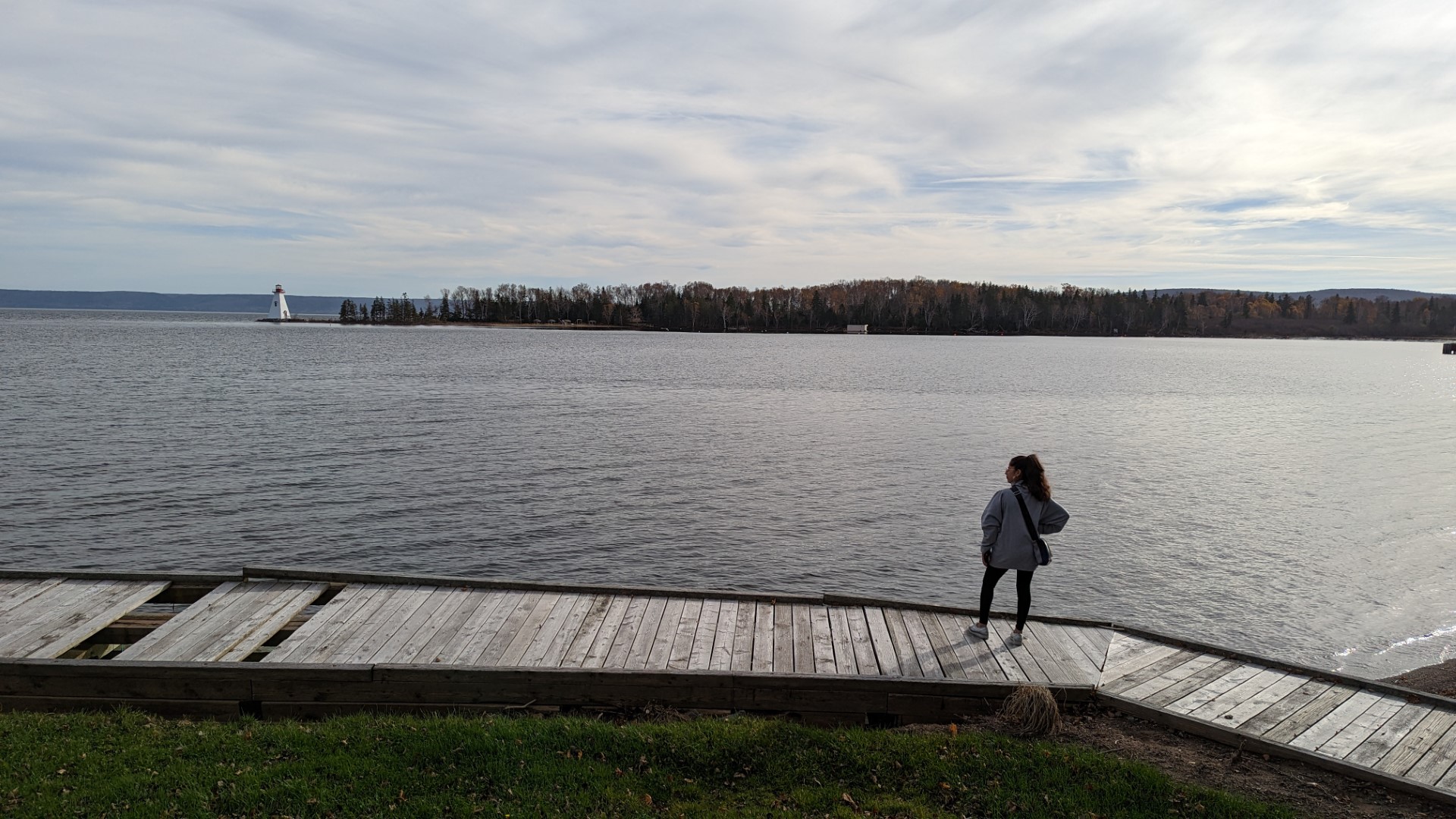 If you're looking for a good mix of things, Baddeck is where you want to visit. It's actually where Chris and I visited the day after our Cape Breton wedding! You could easily spend a couple days exploring Baddeck as it's said to be both, the end and the beginning of the Cabot Trail. Families will love visiting the Alexander Graham Bell National Historic Site because it's a great mix of history and hands-on learning. Kids can partake in many family friendly activities or run around in the open areas nearby.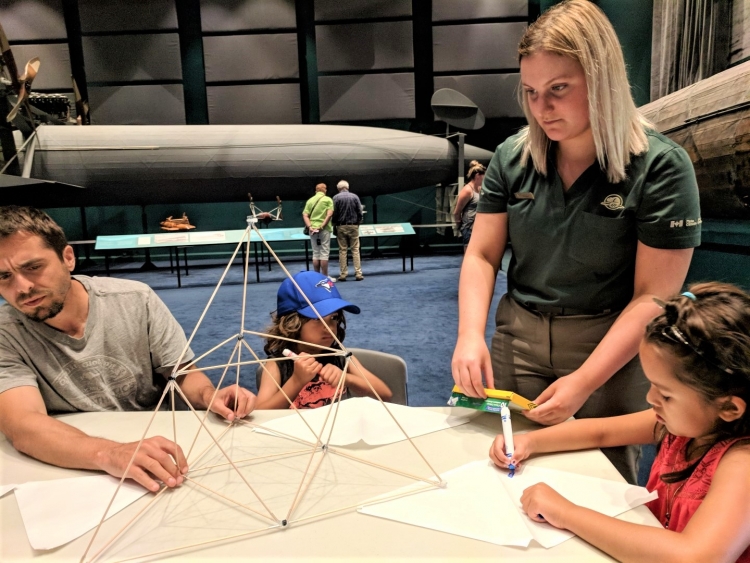 Baddeck is also home to numerous boating tours and a cute downtown strip filled with antique shops and boutiques. Chris' mom loves visiting the Highwheeler Cafe so that's where we always go to grab lunch at but for a true East Coast experience, you should pop by Baddeck Lobster Supper for all you can eat mussels and a fresh lobster. During my 2022 visit I dined at Freight Shed and will definitely be returning because they have a lovely patio by the water, fresh oysters and delicious desserts on offer.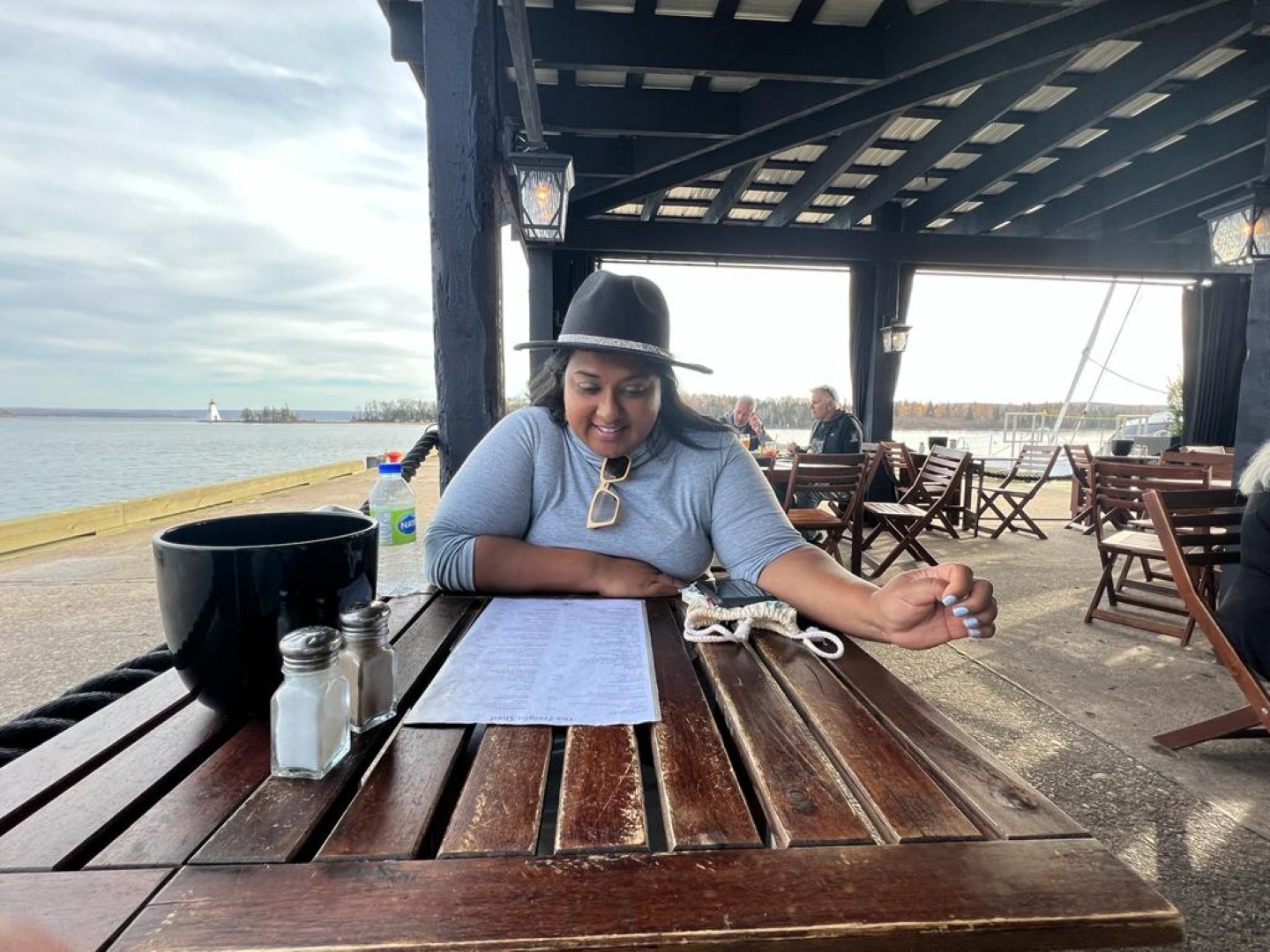 If you have the time, there is a free ferry from the Lions Club to Kidston Island between July 1st and labour day. There you will find a beach with lifeguards, a bathroom and changing rooms. You can hike two of the three trails, one of which brings you to the lighthouse on one end of the island and back to the beach. Also remember that kid friendly Big Spruce Brewing is nearby !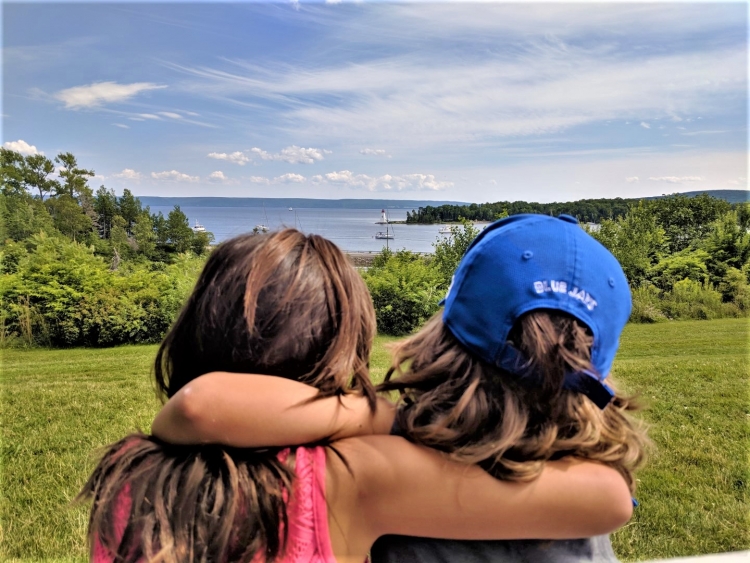 Kayaking in Cape Breton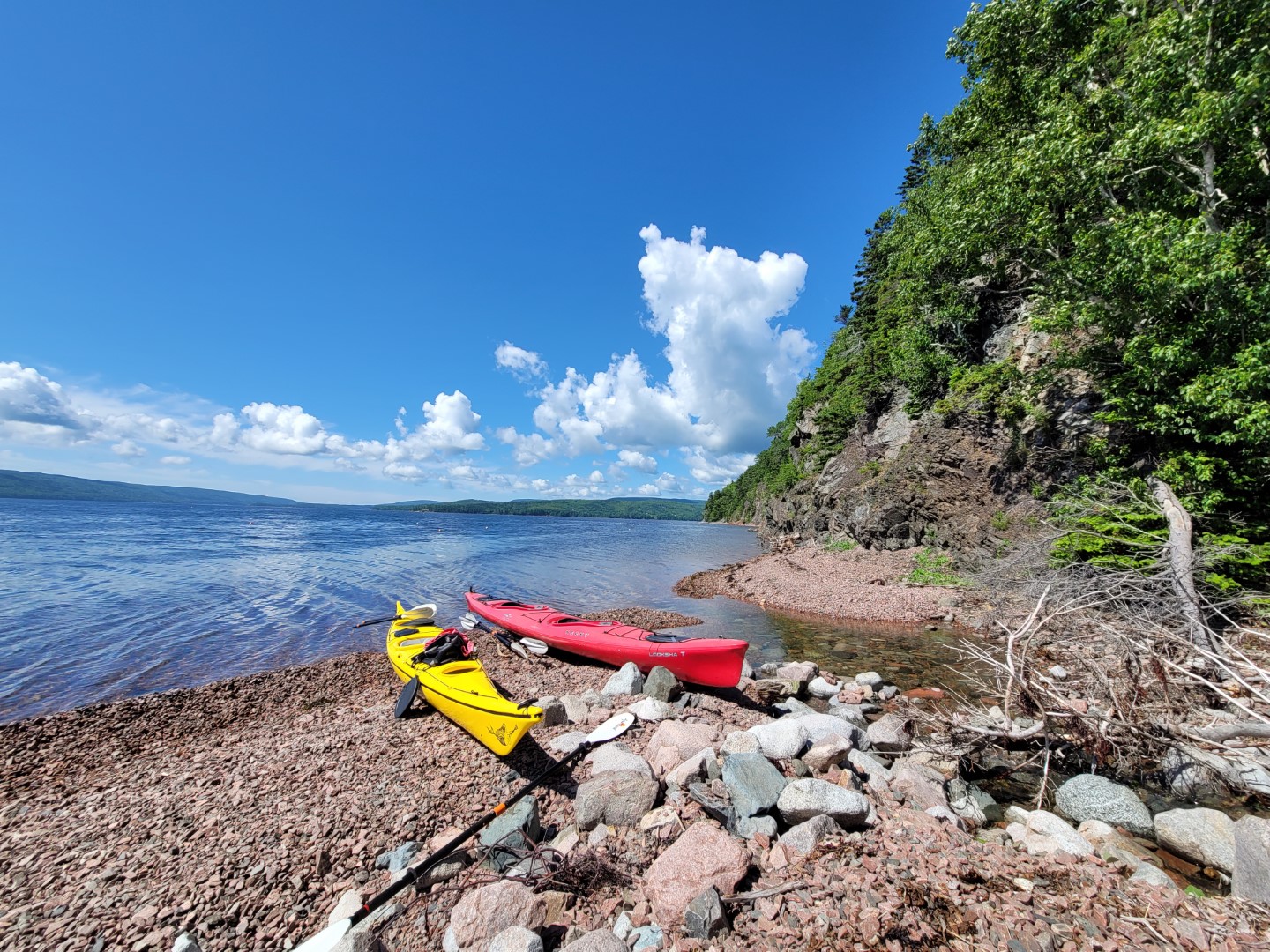 North River Kayak has half day tours that are fabulous for beginners and families looking to get on the water in Cape Breton. Having done this with a girlfriend, I can't wait to take Chris and the kids back because our young nieces and nephew have done it and have great reviews. The half day morning tour was perfect for us. Our guide Katie was fun and knowledgeable making our trip very memorable. We spent two hours paddling on calm brackish water (that was the duration of the return trip) and at the half way point we docked our kayaks and enjoyed some homemade jam and toast with special North River chai. Perfect break! Since I am NOT the best when it comes to water sports, my friend and I shared a double kayak and the training I received at the start of the day was sufficient to ensure that I had a pleasant day on the water.
Two Rivers Wildlife Park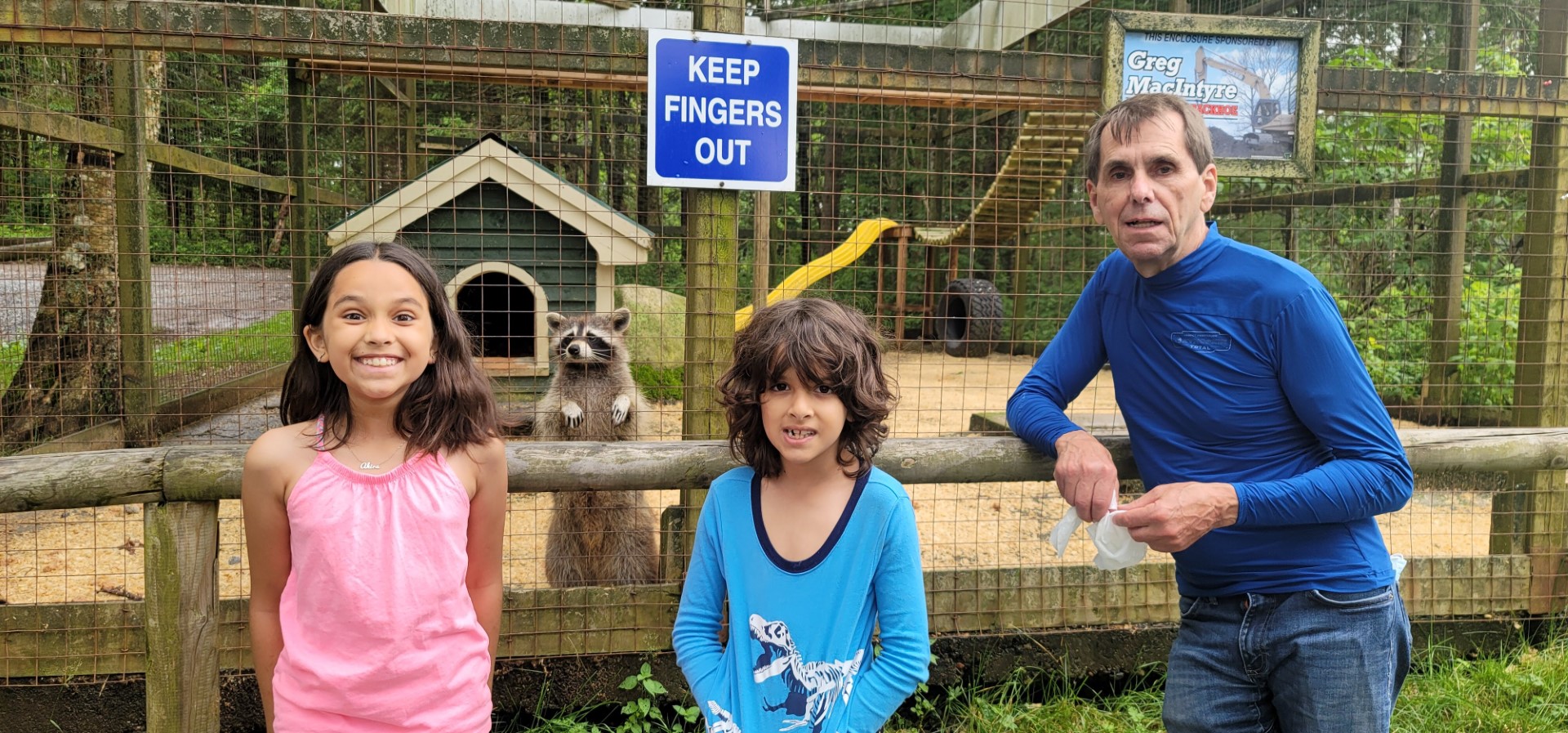 On each visit to Sydney, Cape Breton, we visit this Nova Scotia wildlife park because granddad loves taking the grandkids to see the animals and run around. This is an all-season park and even in the winter, the animals are there in the snow covered park.
This 500 acres park is home to over 50 species of animals and birds, a petting zoo, hiking and cross-country ski trails, wagon and sleigh rides, a "U-fish" pond, children's playground and more. They also have a campground here if you wish to spend a few days and have your own trailer. Young kids in particular will want to spend a fair bit of time visiting the many animals here and since it's only a 25 minute drive from Sydney, this is a relatively quick outing if you need to be back for nap time!
Iona Village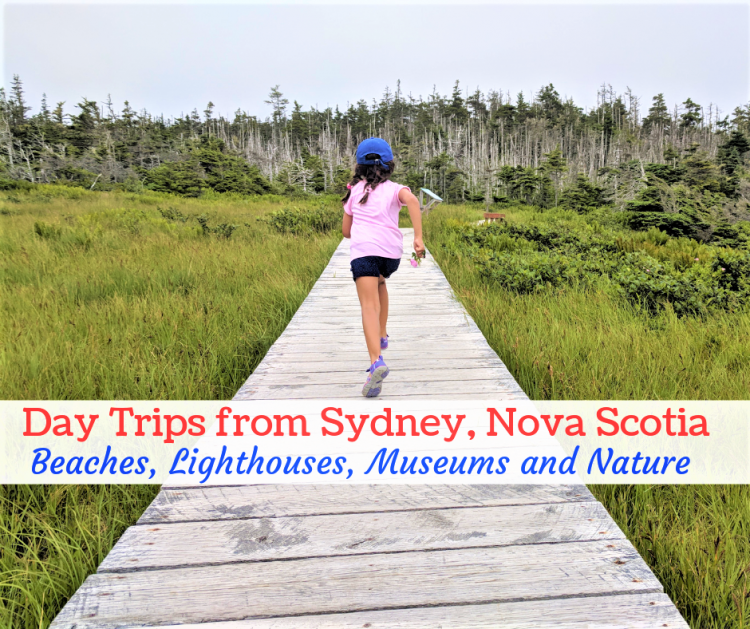 For a truly cultural experience and history lesson, Iona is the place to visit in Cape Breton. Start out at the Highland Village Museum which is an outdoor living history museum dedicated to Nova Scotia's Gaelic folk-life, culture and language (usually open from June to October). Then in neighbouring Eskasoni First Nation, you can experience the Eskasoni Cultural Journeys and Goat Island Trails. Here you will be able to learn about and experience the Mi'kmaq culture and story. We're yet to do this but next time I plan to remember and pre-book these tours. What we have done in this area is enjoy the boat rides. You can go on guided Kayak tours or find someone with a speed boat who can take you to the nearby islands.
If you find yourself in Sydney with a day to spare, these day trips are just a few options awaiting you. The ones we've highlighted are less than an hour away giving you the opportunity to make the most of your visit.