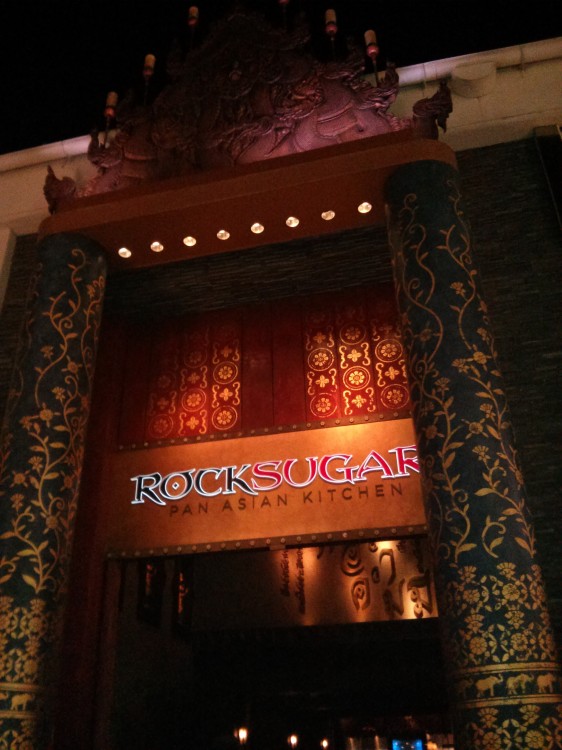 Our love for fusion and sushi meant that a friend of ours guided us towards RockSugar Pan Asian Kitchen in Los Angeles. Since the hubs was at a basketball game I had Baby Boy and Little Monkey out for dinner with my friend and my brother. This swanky spot welcomed us baby and all. They do have high chairs but we would have had to sit on the patio and since it was a bit chilly (you see my friend is a local and the Los Angeles winter is tough on her 😉 ) so we stayed indoors and got a booth as there was no place inside for a high chair that evening.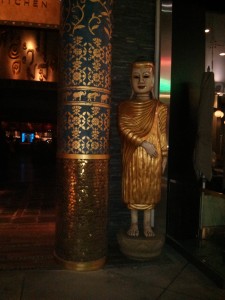 Loved the ambiance here… candle lit decor with Asian statues and details throughout makes this perfect for a date night out with friends or lover. That said.. it wasn't bad even with two slightly cranky kids. Definitely was glad that my brother was on hand to help with the fussy toddler that evening so we could all enjoy the amazing dishes.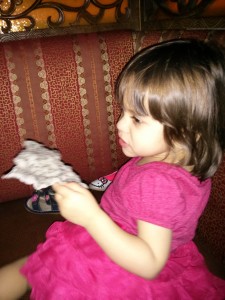 We sampled a wide array of dishes and a couple cocktails and nearly all of them were really REALLY good. I think this is one of those spots where it's hard to go wrong when it comes to the food. I started the evening with a Saigon Bourbon Smash (it really is my year of bourbon!) and nibbled on the complementary Black Sesame Rice Cakes. As you can see from the pictures below.. the Little Monkey loved them too!  Calamari marinated in coconut milk and tiger shrimp with a lime jalapeno dipping sauce is definitely something I must try at home.  Creme Brulee snob that I am.. I simply had to try the trio on offer as they were very unique flavours. Ever tried ginger, black sesame or sweet corn Creme Brulee? I loved the sweet corn one! Who's have thought to mix that in!
Below are just a few of the menu highlights.